Down but not out!
Advertisement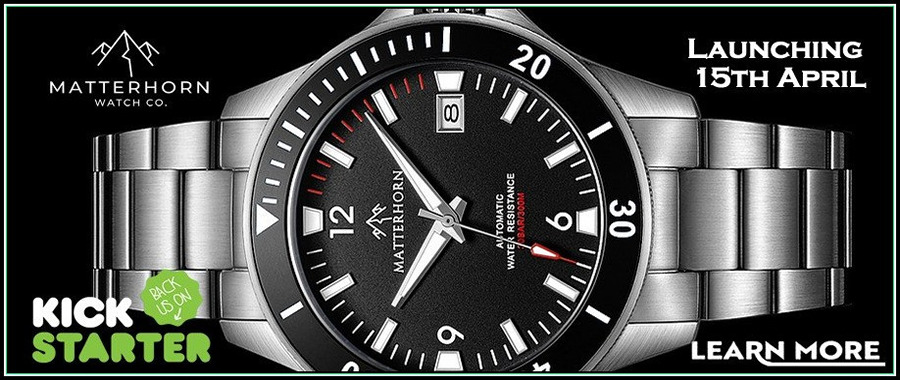 Corona used to be what you reach for when your wristwatch read 5 o'clock. It used to mean "time to relax." We would clock out from our jobs and crack open an ice-cold Corona. At the turn of the decade going into 2020 this all changed… Covid-19, or Human Coronavirus, has pretty much stopped the earth's rotation on its axis, shutting down global markets and confining people to their homes. Human contact is forbidden and everyone is living in fear. Businesses are closing their doors – some for good and some will struggle to bounce back from the loss. There is no denying the effects the virus is having globally.
What does this mean for the small enthusiast driven watch brands?
Micro and independent watch brands thrive on enthusiasts in the community buying their products because of brand reputation and unique design offerings. Many of these brands rely on manufacturing from different parts of the globe to keep their prices low in a very competitive market. Some brands' supply chains spread over several continents – cases could be produced in Germany, and their dials produced in Switzerland etc. So we can start here as global manufacturing had to shut down for several weeks causing long delays for brands to get mid production watches out to their consumers. Many of these brands rely also on pre-order campaigns to fund or partially fund these productions.
Production delays have been known to make or break a brand. For new brands starting out, these delays can be devastating. We are lucky to have a great community where the enthusiasts backing these projects either through crowdfunding or private pre-order campaigns have been very understanding and patient with the brands. That said, this brings up another challenge brands are facing through this pandemic. Crowdfunding campaigns are suffering because our enthusiasts are being laid off work and having to tighten their budgets. This is completely understandable and we care for our community members and want everyone to come out the other end of this crisis happy, healthy, and financially stable.
This issue has been my biggest hurdle through the pandemic. This has been my experience. I launched my Halocline Dive Watch campaign on Kickstarter on March 1, 2020. We had some early success, reaching our funding goal in just under 4 hours. The celebration came to an end about midway through the campaign when several backers reached out to me personally to apologize for having to back out due to being out of work because of the virus. Questions also came in asking how the Coronavirus would affect the production process. As you thumb through crowdfunding sites such as Kickstarter and Indiegogo you will notice many campaigns being canceled or backer numbers dropping dramatically. It is definitely a rough time for campaigns to reach their goals and continue with their pre-order plans.
How can we overcome these hurdles?
Speaking from my experience with my manufacturing team, we are not expecting to hit any delays in production at this time. It seems that most of the production delays prior to the start of Iconic Timepieces production have been caught up and the factories are back on track. We are hopeful that by the end of our production process that the rest of the world will have the virus under control and there won't be any shipping delays. So concerns for manufacturing delays should be minimal.
Advertisement

The issue of losing backers on pre order campaigns is another story. I would not want my friends in the community to overextend themselves, especially in a time like this. We still have supporters and there are creative ways for brands to still get their products into production. In the case of Iconic Timepieces, we were able to get funding through online retail partners such as The Microbrand Store and other partners to help fund the production. We also have worked out a great program with our manufacturing company for low MOQs (Minimum Order Quantities) to make our production cost as low as possible.
What will the lasting effects be from the Covid-19 Virus?
Unfortunately some brands will not make it through this pandemic. Mostly it will be new brands just starting out that are relying on crowdfunding and pre-order campaigns to fund their production. Hopefully they will be able to try again when conditions improve. Existing brands will have to be creative and keep a tight budget until the economy bounces back, which it inevitably will as it has in the past.
The reason I use the term "enthusiast-driven brands" is because the people that buy into these brands truly love and have passion for and a connection with the brands. Enthusiast-driven brands are accessible and for the most part have personal relationships with their consumers. With this much passion and such a tight community, we will definitely overcome anything that stands in our path.
It is definitely troubling to see the struggles of the larger luxury and mainstream brands, such as the major watch events being canceled or postponed around the world, and even the smaller events affected by Covid-19. Fear not though as the absence of these events will only create a larger desire for their return.
At the end of the day we will bounce back. As humans we are divided over many issues and topics, however, when we all face a common goal we ban together to fight for the return of normal life. Watching the community response has been amazing! Seeing people in our community posting lighthearted photos and videos for some much needed comic relief. Seeing community members offering help to one another is truly inspiring and gives us hope for humanity.
Shared on behalf of: