Manufacturer: Barrington | Price: £349 GBP ($440 USD, €390 EUR approx)
This double watch winder from Barrington presents the ideal solution for keeping up to two watches wound at the same time. It is presented in an elegant closed piano black display case with a carbon fiber style interior. The watch winder also has a number of luxury features that make it stand out from your average run of the mill winders. Both watch winders can be individually controlled with variable settings, featuring ultra quiet Japanese motors, digital display & remote control.
Specifications
Dimensions: Height – 26.5cm, Depth – 18.5cm, Width – 23.5cm
Case Material: Piano Black with Carbon Fiber Interior

Motors

: Ultra Quiet Japanese Motors, Individually Programmable, Multi Directional, Variable Turns Per Day

Power

: AC Mains Only  

TPD Settings

: 650, 750, 850, 1000 or 1950

Directions

: Clockwise, Counter-Clockwise or Both

Storage

: Drawer – Space for an Additional 2 Watches/Straps & Space for the Remote Control

Extras

: Remote Control     

Display

: Digital – White on Blue
Warranty: 1 Year     Where to Buy: Barrington Watch Winders
The display case itself measures in at 26.5cm(H) x 18.5cm(D) x 23.5cm(W), which is larger than most dual watch winders that I've experienced. Then again, the watch winders that I've used are what I think the majority of people use, i.e. a £40 example from either eBay or Amazon. To try and compare these winders is like trying to compare a 500 quid Vauxhall Vectra to a £75,000 brand new AMG Mercedes. Totally different ends of the spectrum!
The entire case is beautifully made and feels extremely solid. Just closing that front display door feels like shutting the door on that 75 grand Mercedes with a nice cushioned but solid clunk. It feels like it is built to last and not just fall apart after a few months.
The case exterior has a beautiful piano black finish all round, although this can be a bit of a fingerprint magnet, I'm forever dusting & polishing the thing! The interior however, has a rather delicious "AMG-like" carbon fiber finish. The cushions for the watches are probably the best I've seen supporting each watch perfectly. Not too large and not too small meaning I don't have to adjust any straps or bracelets when I'm taking one of my watches off-wrist.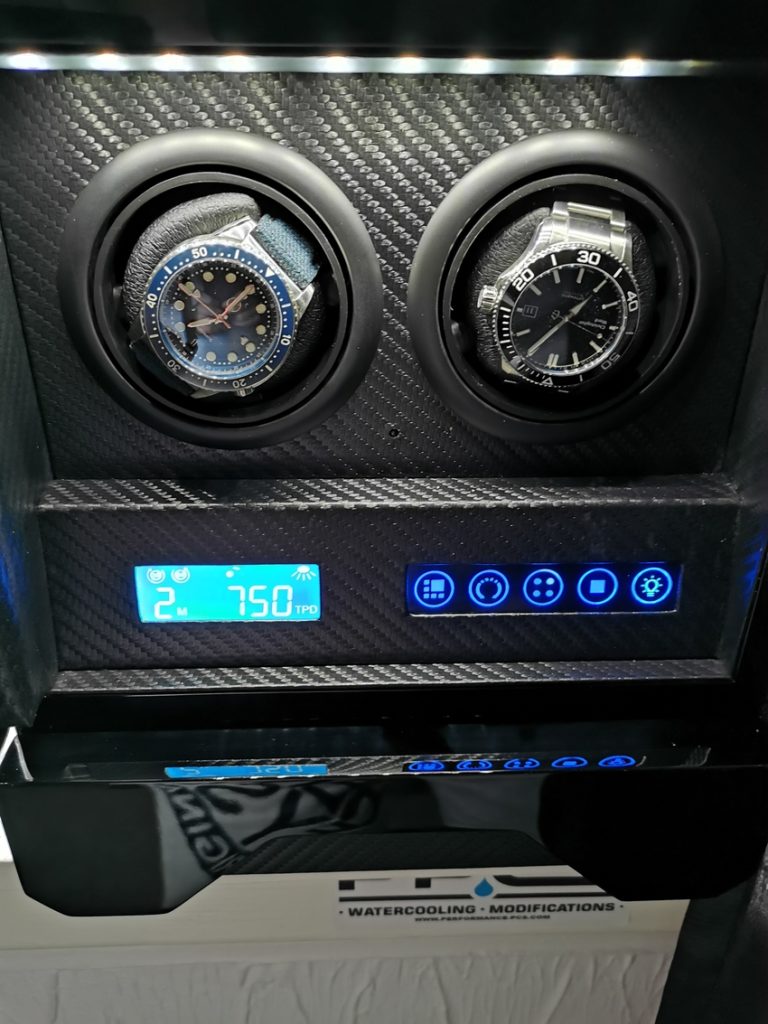 Underneath the display part of the case you'll find a drawer where there is space to safely store an additional two watches. To the right of that there is space to store a couple of straps and still enough room to place the remote control in there too. Since the watch winder arrived around 10 days ago I've not really used the remote control. If I'm honest, if I kept it out of the storage area it's probably something else that I would just loose. I use the touch pads inside the actual unit instead of the remote control, as let's be honest, when I need to change any setting I'm at the winder anyway putting a watch inside.
At the time of writing this review I can't find anywhere that lists the individual types of motors used. However, take it from me, they are whisper quiet. I have the watch winder in my home office and it's only around 4ft away from my desk and I've never heard it kicking in or turning. My Amazon winder is a different story, you can always hear that thing fire up.
The controls are simple to use whether it be using the remote control or the push buttons inside. I say push buttons but it's more like a touch screen. You can select which winder you want to set, change the turns per day, stop the selected winder and so on. A nice touch I thought was when you open the door the white LEDs will automatically come on. I generally have the LEDs set to enabled the majority of the time. Why? I hear you ask… because it looks cool and can sometimes be a conversation starter when people enter my office. "What's that?", "What does that do?" You get the idea.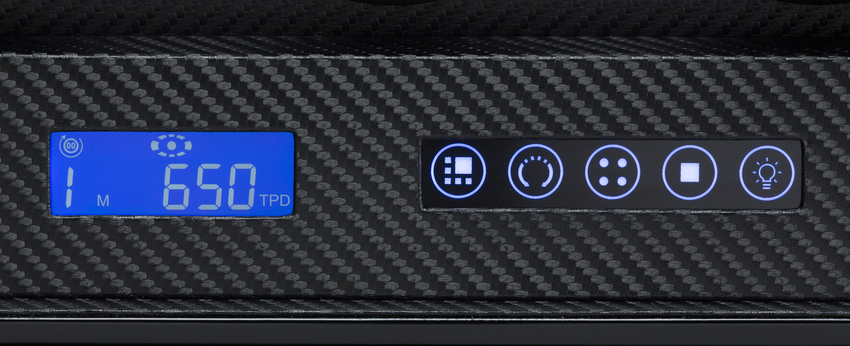 A fantastic watch winder that is definitely what you'd call a luxury item. But then again, isn't all the automatic watches that we own and collect just luxury items? Of course they are! For the price of backing your average microbrand on Kickstarter, you could have one of these instead. This could also be the perfect addition to those that try and stick to a 5-watch collection. Two in the winders, two in the storage drawer and obviously one of your wrist. Sweet!
Anyway, I really think you get what you pay for when comparing this to other watch winders. I don't know about you, but as I mentioned earlier, I'd rather have the AMG Mercedes over a knackered old Vauxhall.
9/10 HIGHLY RECOMMENDED

A big thank you to Sean O'Farrell from Barrington for sending out the double watch winder so quickly.
To view Barrington's full range of watch winders & accessories visit
Barrington
.