Manufacturer: Rothwell | Price: $129 USD (£93 GBP)
It has been an absolute age since I've reviewed a watch box. I've had tons of watch boxes over the years and to be fair, the cheap ones are just crap and really not worth buying at all, unless it's only for storing your cheap Timex or Casio's etc… In my experience you really get what you pay for when it comes to a decent watch box. If you have thousands of pounds worth of watches, you really should invest in a good quality watch box to keep your watches safe as well as dust free. I decided to look and see if there were any watch boxes out there that were any better than my current boxes from WOLF and VOLTA. I reached out to Blacklist Watches who sell a range of different styles and they agreed to send me out this lockable 12-slot storage box with valet drawer. So, is it great or a pile of
?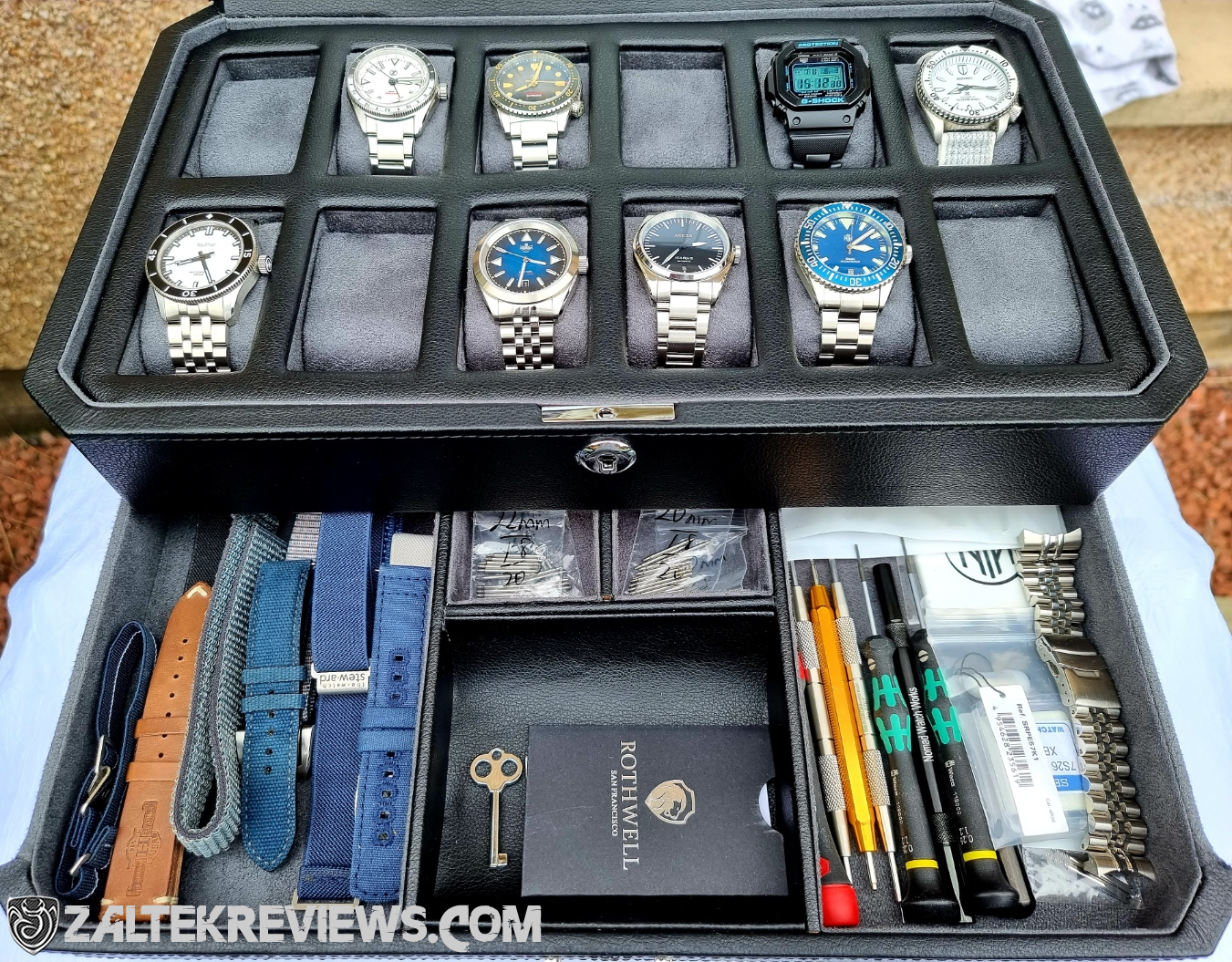 Specification
Dimensions: 406mm x 245mm x 134mm
Watch Slots: 12
Reference: RW12ABG
Exterior Material: Wooden Frame, PU Leather, Glass Display Lid
Interior Material: Micro Suede Fabric (Choice of Colours)
Where to Buy: Blacklist Watches / Rothwell / Amazon UK

Warranty: 1 Year International
Colour Options: Black/Grey, Black/Red, Tan/Brown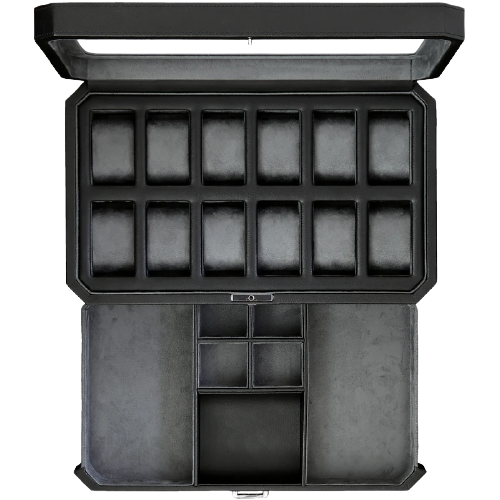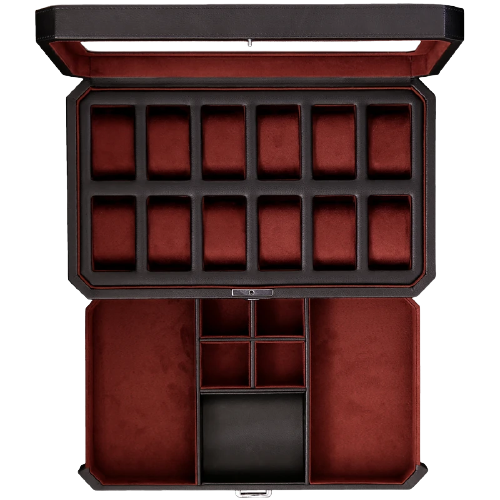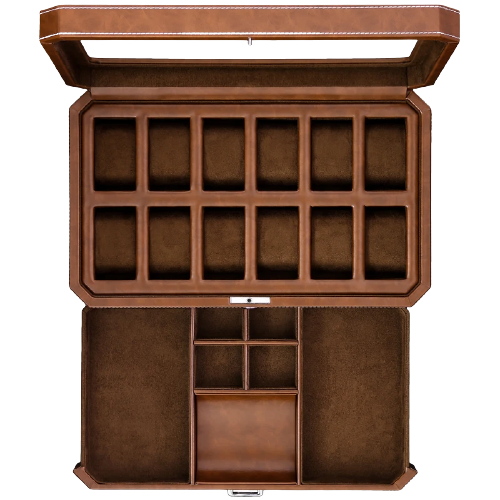 "Say hello to the absolute pinnacle of watch display and storage boxes. The Rothwell 12 slot watch box sets the standard for quality and is perfect for nightstands, dressers or closets. The top of the box holds twelve individual watches, features soft micro suede pillows and is wide enough to accommodate a collection of oversized watches. One unique characteristic specific to our box is that we use oversized dividers in between the watch slots. This allows for the watches to have ample space inbetween one another to ensure that they never touch or get scratched while inside. The elegant design presents your prized watches, evenly spaced out in a beautiful leather wrapped solid wood box. The bottom drawer boasts two large sections that can be used for holding additional watches, watch tools, straps, cash, a wallet, sunglasses, necklaces, bracelets, the possibilities are endless. The middle is divided into one quick grab section and 4 even compartments that can be used to hold items like rings, cufflinks, loose change, keys, or extra links. If you're looking for a gift, then look no further. This box is the perfect size for collectors and enthusiasts of all ages!"
Blacklist Rothwell Watch Box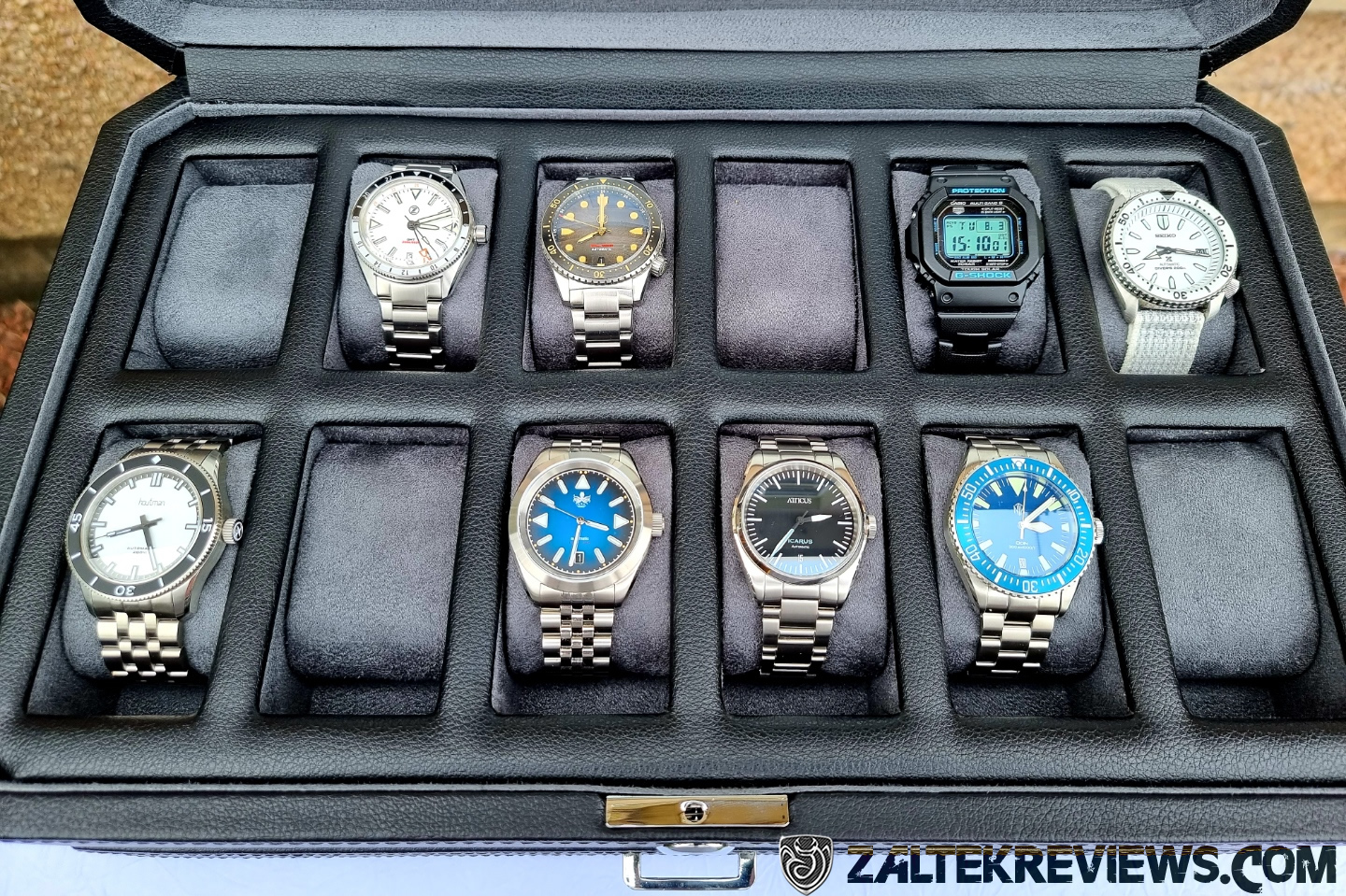 So, the Rockwell 12-slot watch box with valet drawer from Blacklist Watches then… I measured it at a total of 406mm wide, 245mm deep with an overall height of 134mm. The valet drawer itself is 37mm high overall, with an internal depth of 31mm. This version is the largest out of the Rothwell range that stores a maximum of 12 watches. Each watch slot has an overall internal width of 49mm with the dividers measuring 11mm, so you'll easily fit very large watches of around 50mm in this watch box. If you're wearing watches that are any larger, then it's a fuckin' cage you need as you must have wrists like a friggin' Orangutan! The frame of the watch box is wooden, with a very well applied cushioned PU leather, as well as a glass display lid. The cushions are of fantastic quality, that fit really snugly into each slot and they certainly don't move around once placed inside. The cushions are quite firm, but soft enough to accomodate a variety of bracelets and strap styles.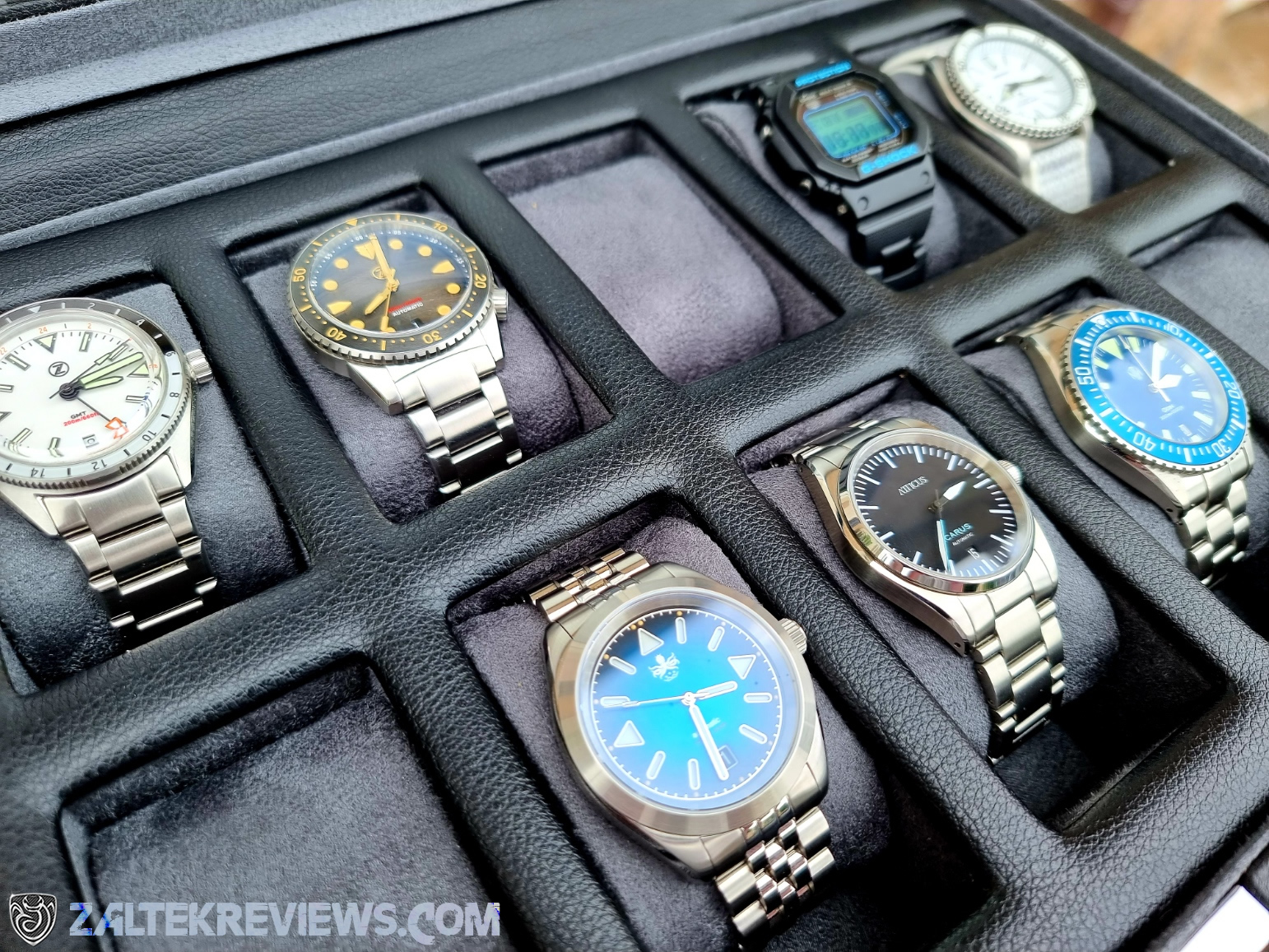 As well as the storage for up to 12 watches, you also get a "valet drawer" underneath. Personally, I'd call it a drawer for all my shit. I digress… On each side, there are large compartments, where I keep some of my straps in one side and all my screwdrivers & tools in the other. In the centre there are 4 small(ish) square sections where I've put all my various sizes of aftermarket spring bars. There's also a larger section below that, but I couldn't think of anything to put in there, apart from the Rothwell paperwork and the key. The lining of the cushions themselves, as well as the inside of the drawer is like a soft suede, finished in grey. Oh yeah, before I forget, this box is available without the drawer and it's also available in a couple of different colours.
So how does this compare to other watch boxes I hear you ask. Well this full size example with valet drawer is under 100 quid. A total bargain if you ask me, as the overall build quality is miles better than my Windsor 10-slot box (with drawer) from WOLF. The cushions in the WOLF box are totally shit in comparison, that just don't fit properly in their slots and have a tendancy to move around, especially if you try and move the box with your watches inside. None of that happens with the Blacklist Rothwell box, the quality is just leagues above the more expensive (£259) offering from WOLF. This Rothwell storage & display box from Blacklist Watches has already replaced my WOLF watch box, so as you can imagine, I definitely recommend it. P.S. Anyone want to buy my WOLF 10-Slot Windsor?
A massive thank you to Justin at Blacklist Watches, for arranging and sending out the Rothwell Watch Box for me to review. Very much appreciated! To view the Blacklist website to have a browse through their stock, or even just to sign up to their mailing list, visit
blacklistwatches.com
.
It takes me a fair amount of work (and time) to do these reviews. If you feel like supporting Zaltek Reviews to help towards my running costs, or even if you feel like just buying me a coffee, then please donate using the PayPal button below. Unfortunately, 97% of my readers just scroll by this section. If you feel like that I've given you maybe a few quids worth of knowledge and/or entertainment, then please take just a couple of minutes of your time to donate. Thanks.