Manufacturer: Christopher Ward | Price: from £635 GBP
*Original review written 20th May 2021 – updated 17th June 2022*
When I first saw the leaked images of the Christopher Ward C63 Sealander range on a certain Facebook group, I knew immediately that I just had to get one. I also knew it was going to be a complete pain in the arse to get one through the normal press/media channels. It's not as easy as contacting a microbrand, where 9 times out of 10, I get to speak to the brand owner. HELL NO! Christopher Ward use a press company called The Ideas Network, who are a complete and utter NIGHTMARE to work with! Anyway, long story short… I thought fuck it, I'll just buy one. I toyed with the idea of the C63 GMT that everyone seems to be drooling over, but after coming to my senses and realising thatI need a GMT like my wife needs a third tit. Where was I? Oh aye… I just don't need a GMT, as my wheelie bin goes out more than I do! Anyway, after checking on the miniscule finances that I had available, I eventually went ahead and pulled the trigger on the white C63 Sealander on bracelet. Two days later it was here, sat on my desk…
Christopher Ward C63 Sealander Unboxing
Full Specification
Dimensions: Case – 39.1mm, Thickness – 11.4mm, Lug to Lug – 45.7mm, Lug Width – 20mm
Movement: Sellita SW200-1 Elaboré 'Colimaçoné', 28,800vph, Hackable, Self Winding, 38hr Power Reserve
Case: Brushed & Polished 316L Stainless Steel, Light-Catcher™
Bezel: Fixed, Circular Brushing (Top), Polished Lower Edge
Dial: Polished Lacquer, Applied Hour Markers, Date at 6, Brushed & Polished Gunmetal Hands
Lume: Swiss Super-LumiNova® Grade X1 BL C1
Bracelet: Brushed 316L Stainless Steel, Solid Links, Pin & Collar, Custom Milled Clasp
Crystal: Flat Sapphire, Inner Anti-Reflective Coatings
Water Resistance: 150m / 15 ATM / 500ft      

Caseback: Screw Down, Exhibition Display, Sapphire Crystal, Unique Serial Number
Crown: 6.5mm, Screw Down, Embossed Logo

Weight: 139g (Sized up for my 6¾″ wrist)
Where to Buy: Christopher Ward
Options: White, Blue, Green or Black Dial, Stainless Steel Bracelet, Vintage Leather, Hybrid Rubber, Tide Ocean Material®
Warranty: 60 Months, 60 Day Returns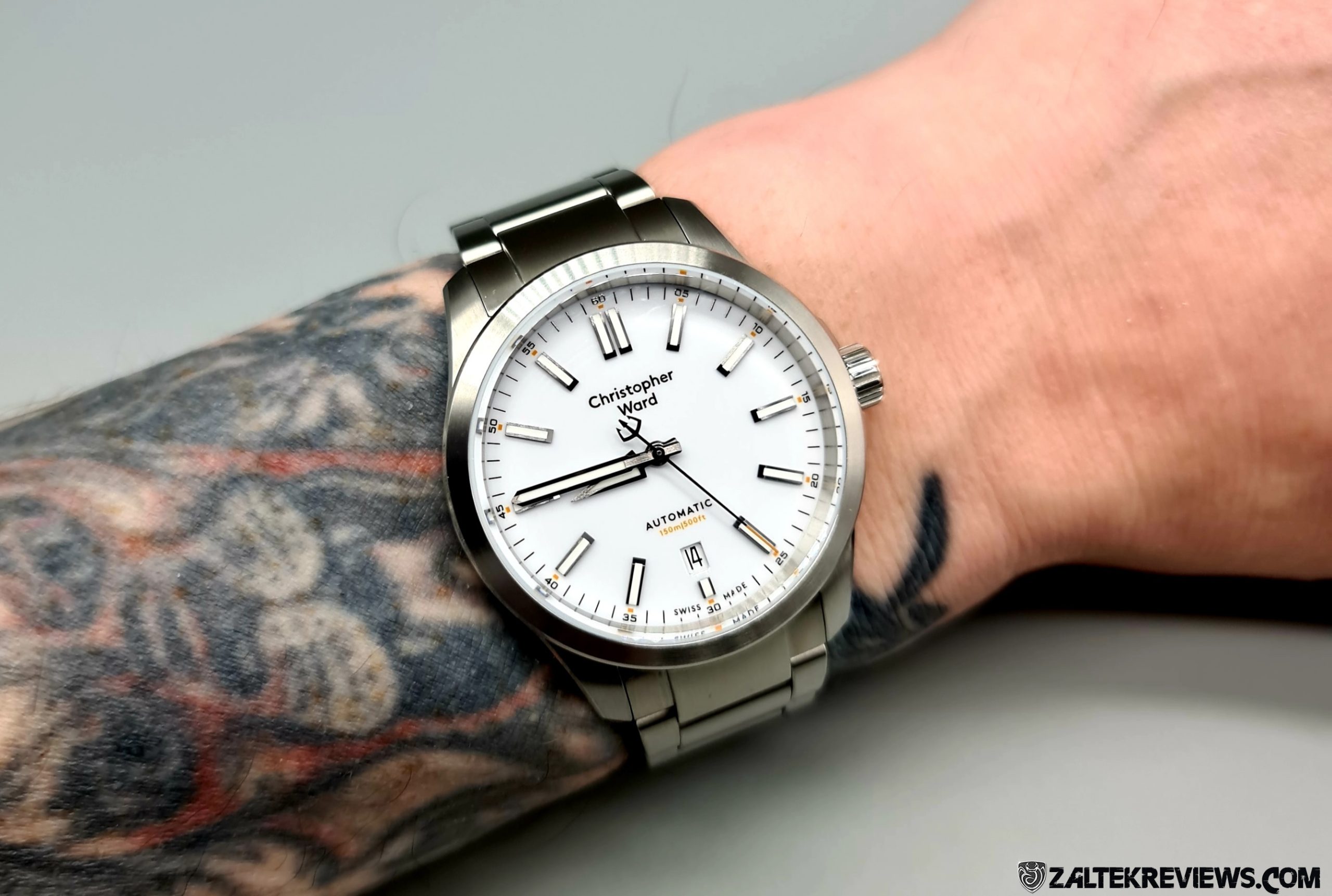 "The luxurious-but-practical 'sports-explorer' has long been a staple of elite watchmaking. And while Christopher Ward boasts an iconic dive collection (Trident) and a vintage-style retro-dive range (the C65's), it's held back on joining the sports-explorer market. Until now. Enter the three-model C63 Sealander range; a set of go-anywhere, do-everything watches that can't be beaten on quality or value. Sealanders are made for a world in flux. A world where home and office mingle, where jeans and trainers are the acceptable uniform of business; and where provenance trumps ostentation every time. A Sealander is the natural choice for the digital worker. If you make your living behind a laptop, consider yourself a citizen of the world and care deeply about the environment, you need a watch that reflects your values – and your style. The Sealanders provide just that."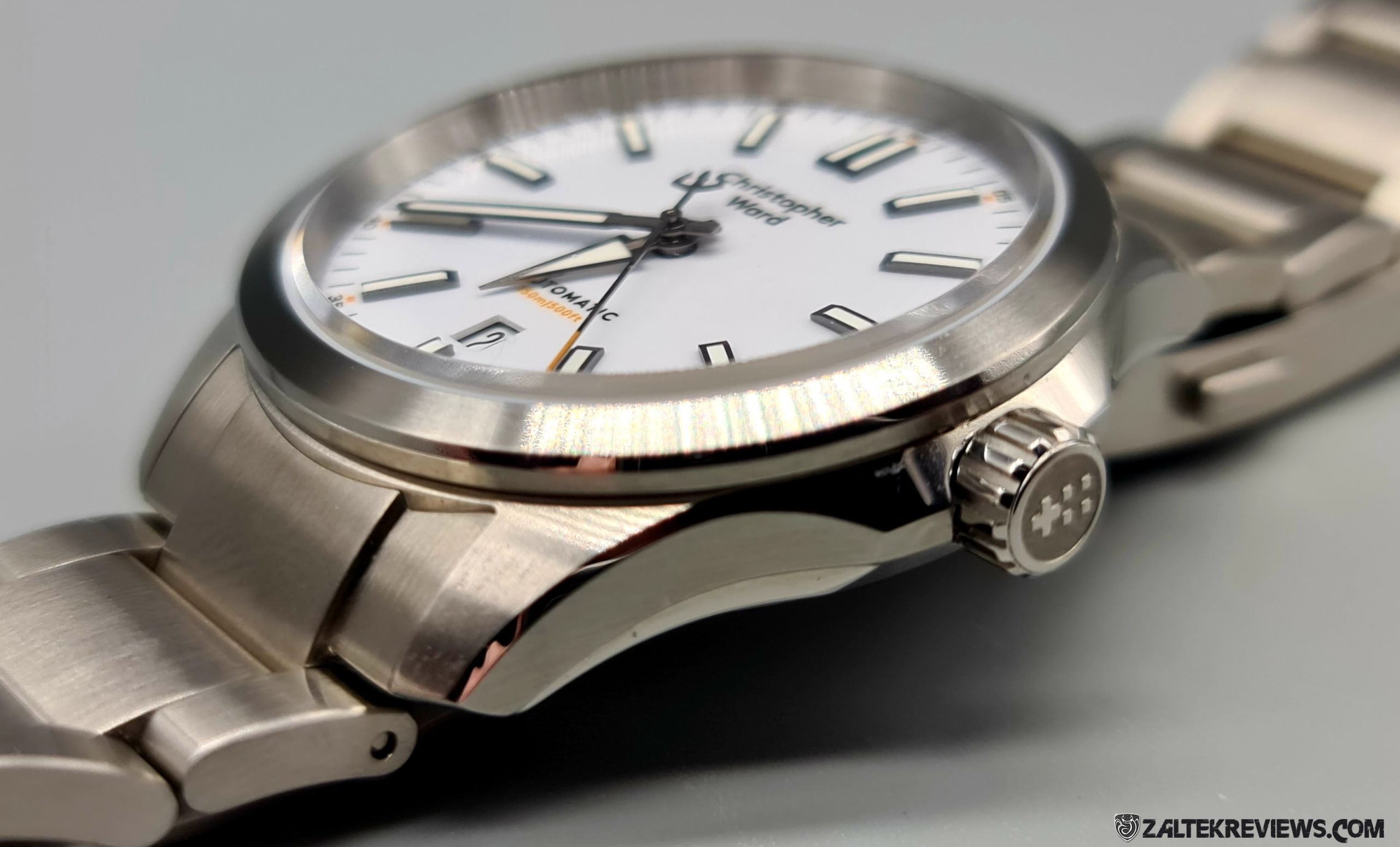 The case of the Christopher Ward C63 Sealander Automatic (to give its' full Sunday name) has a diameter of 39.1mm. The lug to lug is 45.7mm and the overall thickness I measured in at a rather svelte 11.4mm. The case, caseback surround, bezel, crown and bracelet are all 316L stainless steel. The finish of the watch is mostly brushed, but with the addition of some super sexy polished accents that run along both the top and bottom of the case, as well as the lower section of the bezel. Overall, it looks utterly gorgeous and I can only describe the transitioning between both finishes as totally flawless! Christopher Ward call this their Light-Catcher™ case and it's pretty obvious why… no pictures really don't do this thing any justice whatsoever.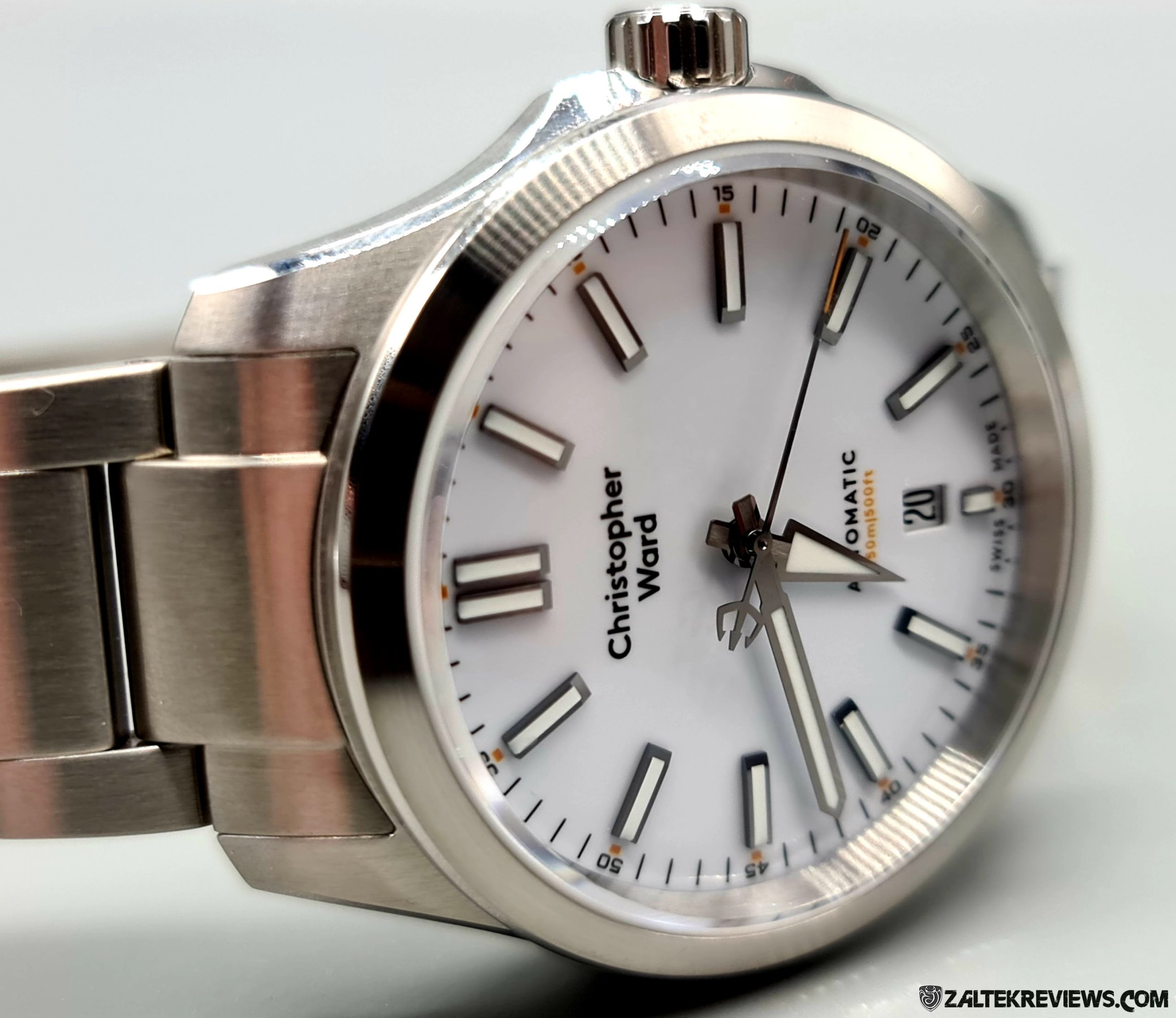 The C63 Sealander has a total water resistance rating of 150m, thanks to the addition of a screw down caseback & crown. 150m is also the perfect rating for this go anywhere, do anything sports watch. The proportions of the C63, in my opinion are absolute perfection! The C63 wears so well on wrist and is extremely comfortable. The signed crown is perfectly sized at 6.5mm, it looks fantastic and is a total piece of cake to operate. There's zero wobble either when the crown is in use and you can also feel a nice wee pop as you unscrew it. The exhibition caseback, with sapphire crystal is also very nice, allowing you to take a wee peek at the Sellita SW200 Elaboré grade movement and custom Christopher Ward rotor.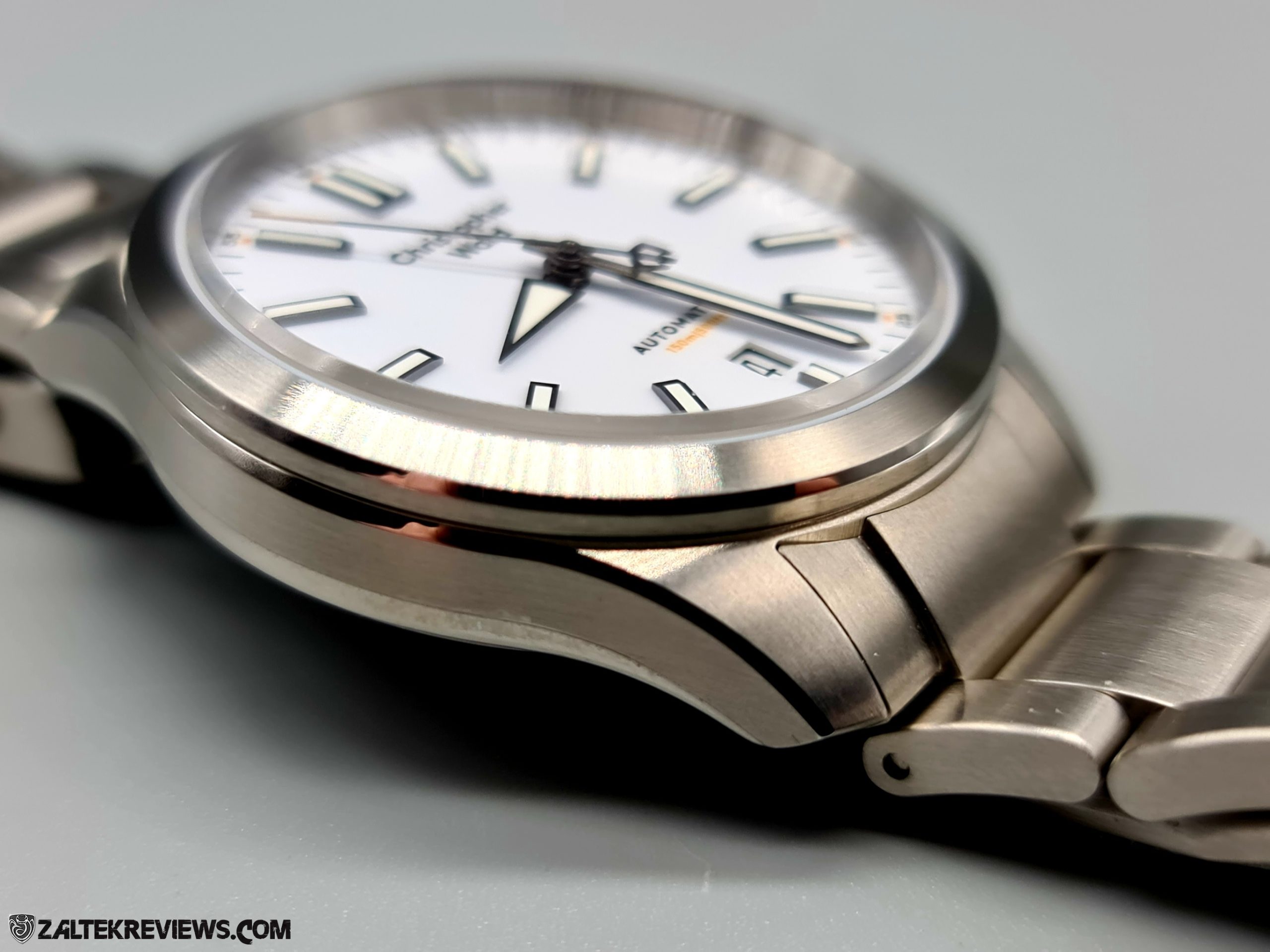 The C63 Sealander is available with a multitude of strap options, however me being me, I opted for the more expensive bracelet option; and for good reason too, as it's always a better idea to get the bracelet first, rather than trying to initially save cash and opting for the cheaper strap option and subsequently trying to source the bracelet at a later date. As bracelets go, this one from Christopher Ward is absolutely stunning and worth absolutely every single penny. In fact, I'd go as far as to say, it's actually a bit of a bargain! The bracelet itself is fully brushed, with not a hint of polishing to be found anywhere, not even on the clasp. It's made to a three-link design, with solid links throughout, quick release end links, as well as an on-the-fly adjustable, dual button release, fully milled clasp, that just screams premium! If you're not aware, other companies have tried to replicate this clasp, but none of them have come close to this level of luxurious build quality and/or refinement.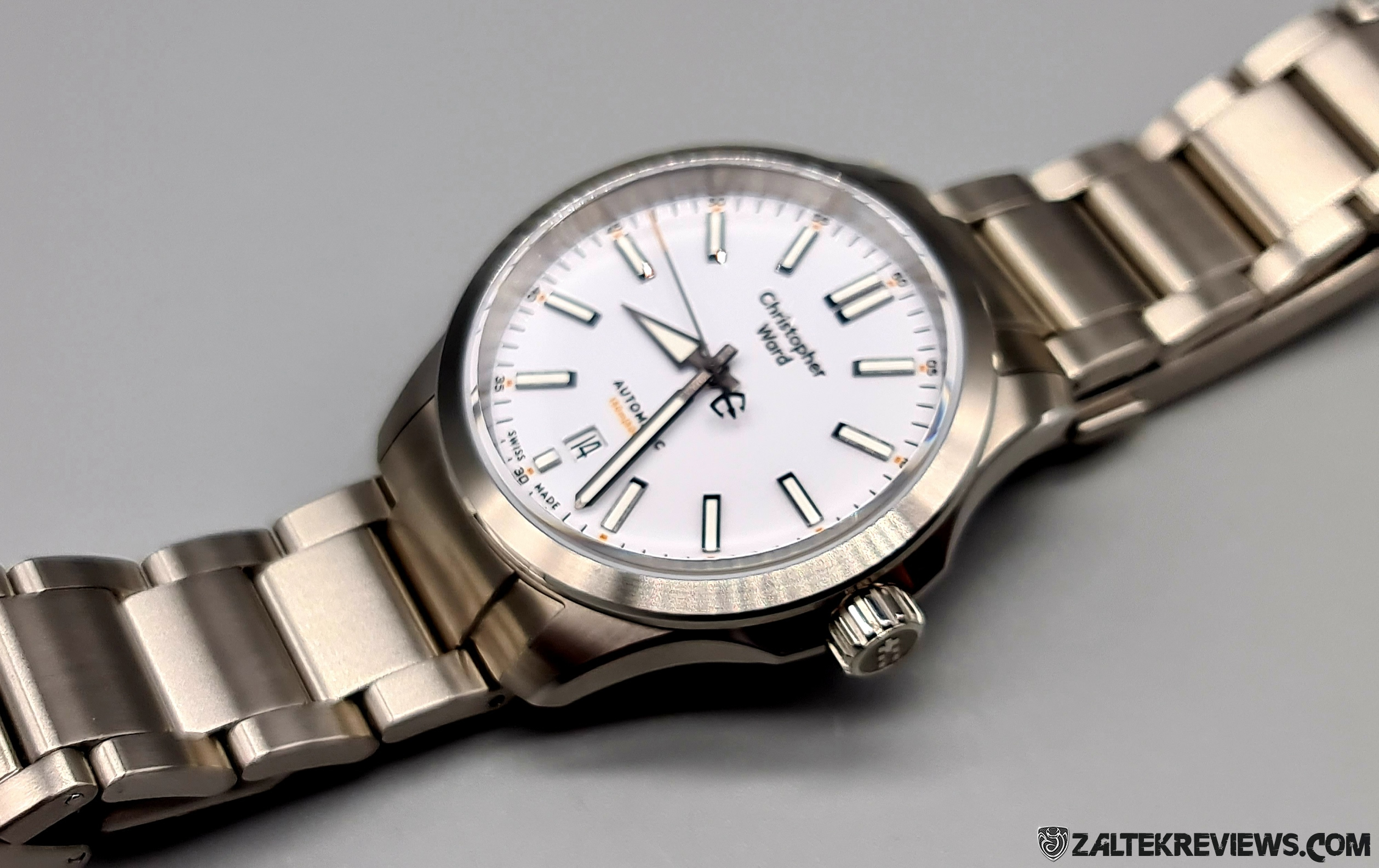 Christopher Ward still utilise the rather fiddly and somewhat dreaded pin & collar system for their bracelets, which is slightly unfortunate as they are a complete and utter pain in the arse to resize. However, when ordering your C63 Sealander with the bracelet option, go ahead and throw Christopher Ward a measley 10 quid and they'll resize it specifically for your wrist size. BARGAIN! It certainly saved me swearing like a bastard and pulling my bloody hair out trying to size it myself. Measurement wise, it's pretty much what you'd expect… 20mm at the lugs, tapering down to 17.5mm and back up slightly to just 19mm at the clasp. If I had to say anything negative with regards to this bracelet it would be, I'd have much preferred to see female end links for immediate articulation at the lugs. Although saying that, the male links fitted here are sloped to the perfect angle, so that it actually does conform to your wrist pretty much perfectly, without increasing the effective lug to lug length.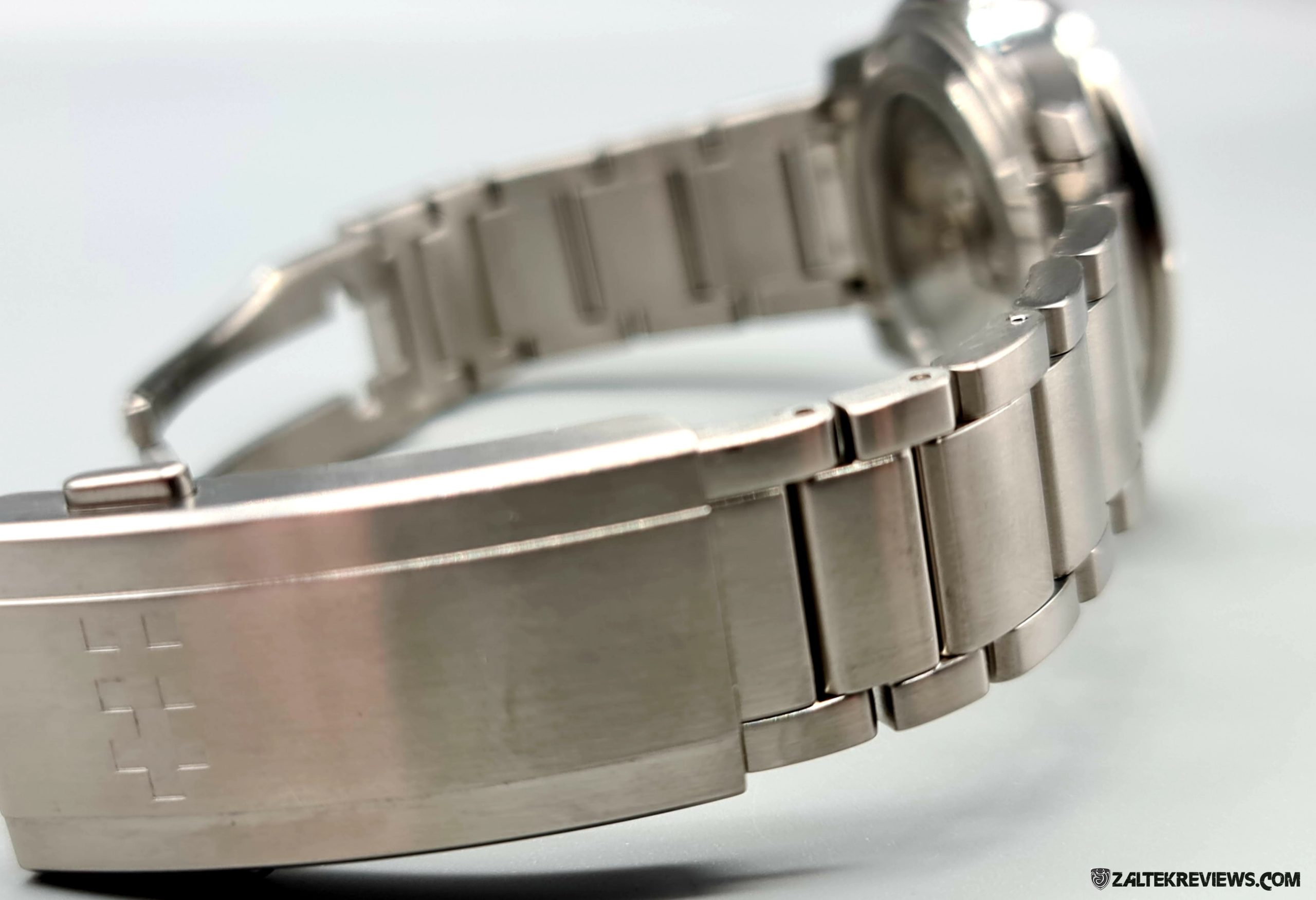 The movement selected for the C63 Sealander is the Sellita SW200-1 Elaboré grade with Colimaçoné finishing. This Swiss movement is self-winding, has 26 jewels and the oscillating weight spins up, giving you up to a 38 hour power reserve. The balance runs at 28,800vph (4Hz) and the movement is also hackable. Checking the accuracy after running the C63 Sealander for around 2 weeks, both on wrist, as well as in my watch winder, I was very impressed by the final results, with the C63 showing an average of just -3 second per day. Awesome! I'm over the moon with that level of accuracy!
The C63 Sealander 12 Months Later…
Video Scheduled for Publishing on 17th June 2022.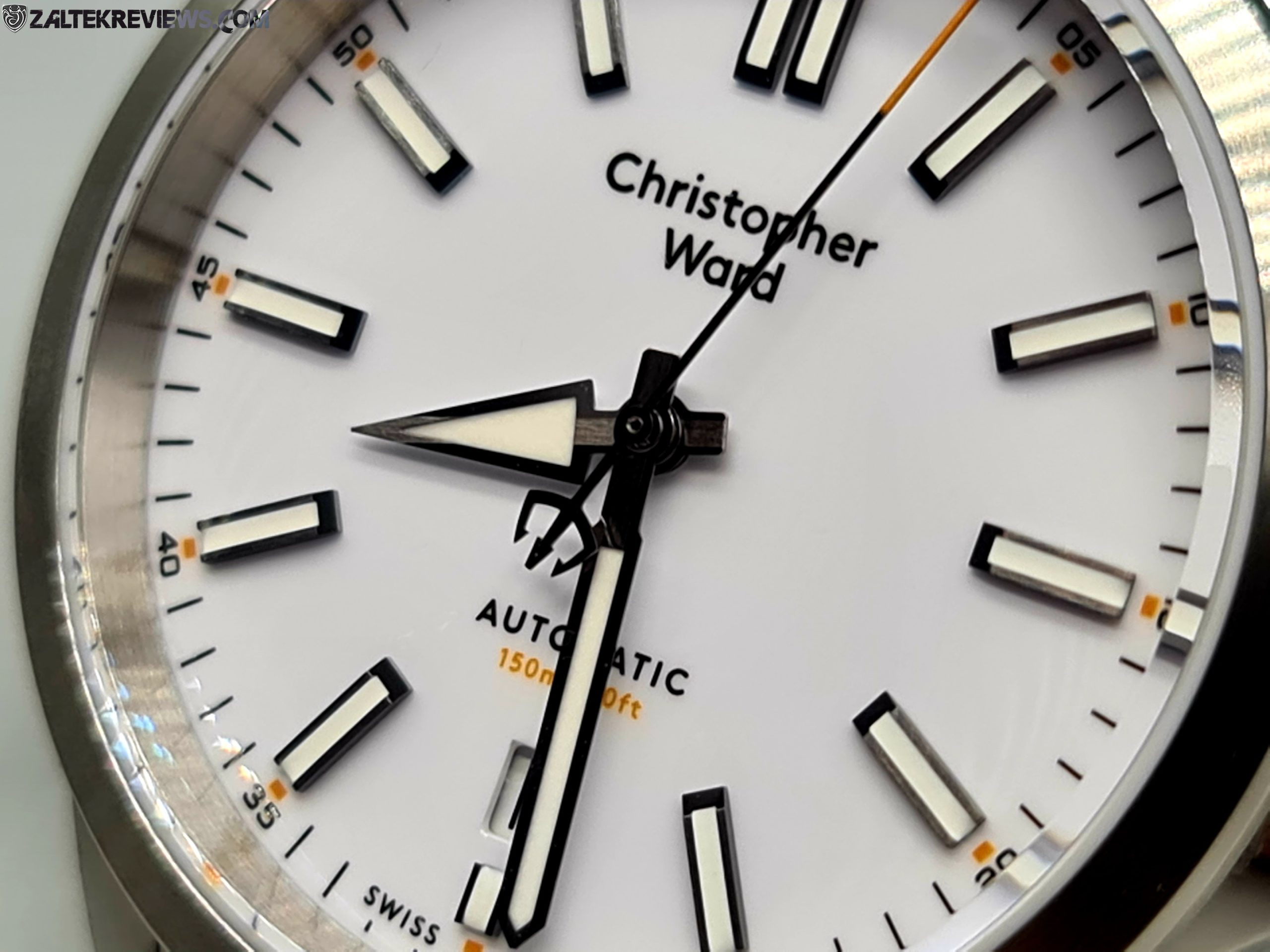 The C63 Sealander obviously has a completely fixed bezel and it is of outstanding quality, with very fine & buttery smooth circular brushing that has a lovely mirror polished edge just below, that certainly matches both the refinement and aesthetics of the Light-Catcher™ case. The printed text on this beautifully simplistic dial is just the word Automatic, with the depth rating of 150m/500ft just below, finished in a nicely contrasting shade of orange. All the greeting faced wee bastards out there can now stop crying into their prams, as the Christopher Ward logo is now placed at the more traditional spot of just under the 12 o'clock. I must admit, I'm pretty bloody happy they made that change too!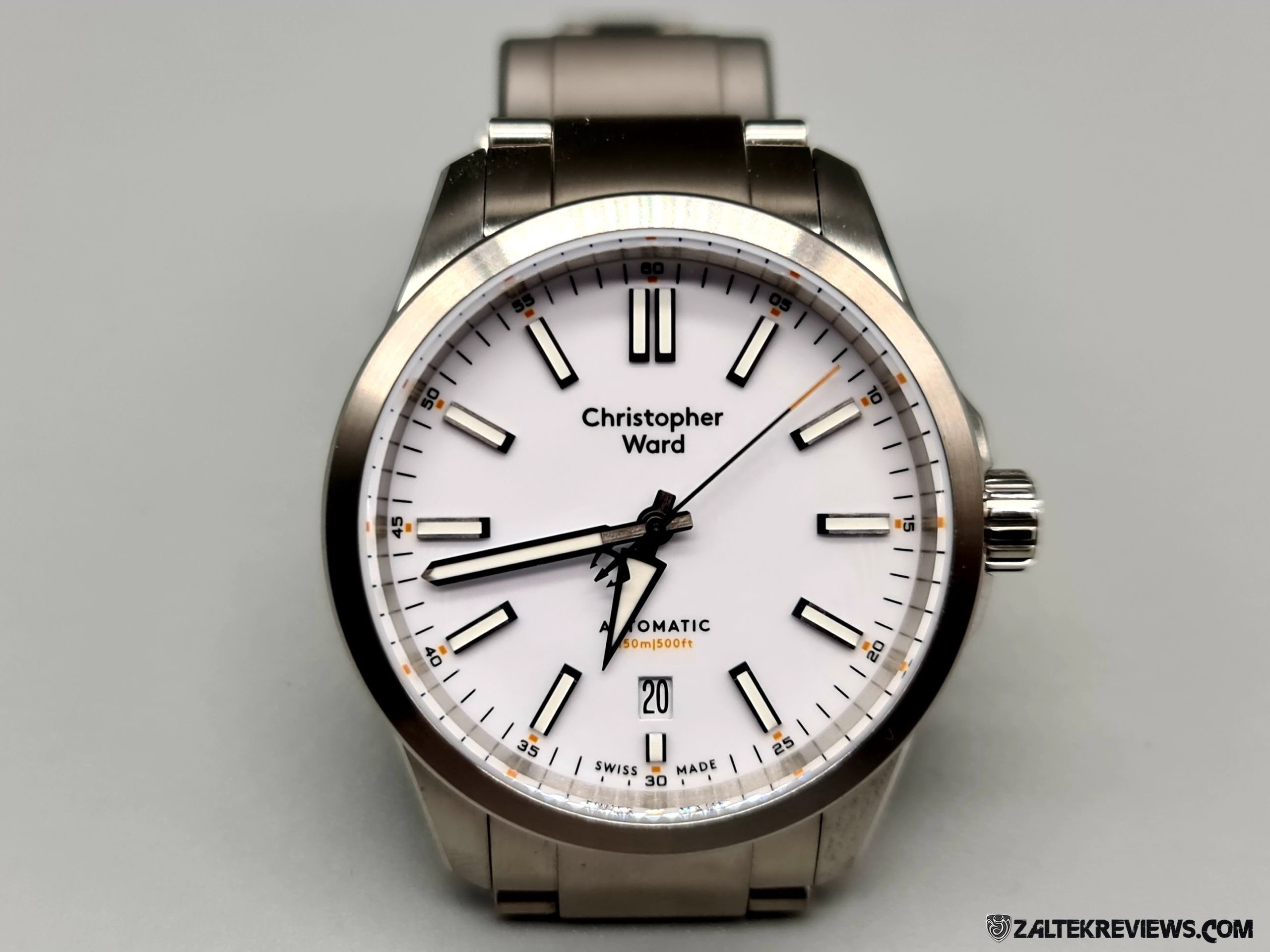 The hour markers are all applied, with double batons at the 12 o'clock position. Sensibly, this white model has what appears in most lights, a gunmetal surround on each and every hour marker, where as the black version has the more traditional silver surrounds. Thankfully, Christopher Ward also opted for a date complication at my favourite position of 6 o'clock, and the best part, they are both colour-matched, no matter whether you opt for this white version or any other colourway. Next up are the hour and minute hands… as previously mentioned, they are exquisitely finished in a dark gunmetal, with their very unique, yet somewhat polarising design. In my opinion, they are way better and a lot more modern than those old fashioned cathedral style hands, found on quite a few previous Christopher Ward models. The seconds hand is also lovely, with it's trident counter-balance, as well as its tip that reaches right out to the inner edge of the minute track. Perfect.
I'm struggling to find negatives with this C63 Sealander and the lume is of no exception! The execution of the lume is totally flawless and it is the best I've seen to date on any sports watch! The actual formula that's been used on the C63 Sealander  isn't any cost saving exercise either, as it's the all singing, all dancing, Swiss Super-LumiNova® Grade X1 BL C1.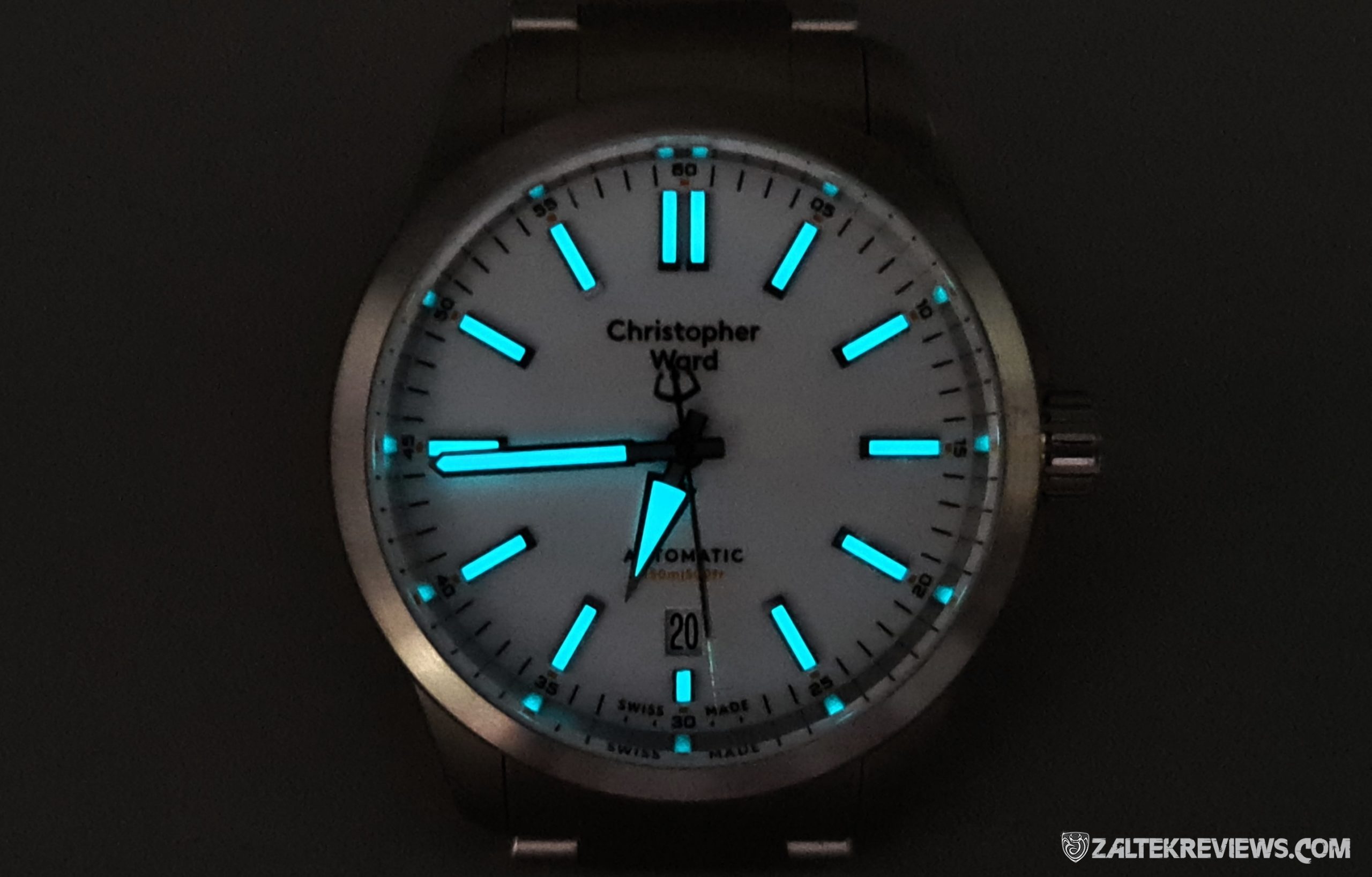 Some people might come to the conclusion, that because I bought this watch, is probably why it's getting such a good review… UTTER BOLLOCKS! If it was shite, I'd just sell it, lick my wounds, take the loss on the chin and subsequently move on. Fortunately for me though, it's not shite, as it's a truly phenomenal watch. I've really struggled to find any faults with the C63 Sealander. Some people have said to me, "oh, you should have got the C63 Sealander GMT". I've explained why I didn't earlier in the review. Others have stated, "ffs Will, it's just a C60 Trident Pro with a fixed bezel". Well, as a previous owner of quite a few Mk3 C60's, I can easily state that the Christopher Ward C63 Sealander is much more than that! Everything I didn't like about the C60 Trident Pro Mk3, has been fixed or rectified perfectly to my tastes. It's almost as if I was invited to Christopher Ward HQ, punched their main designer in the throat and was let loose to design my very own watch.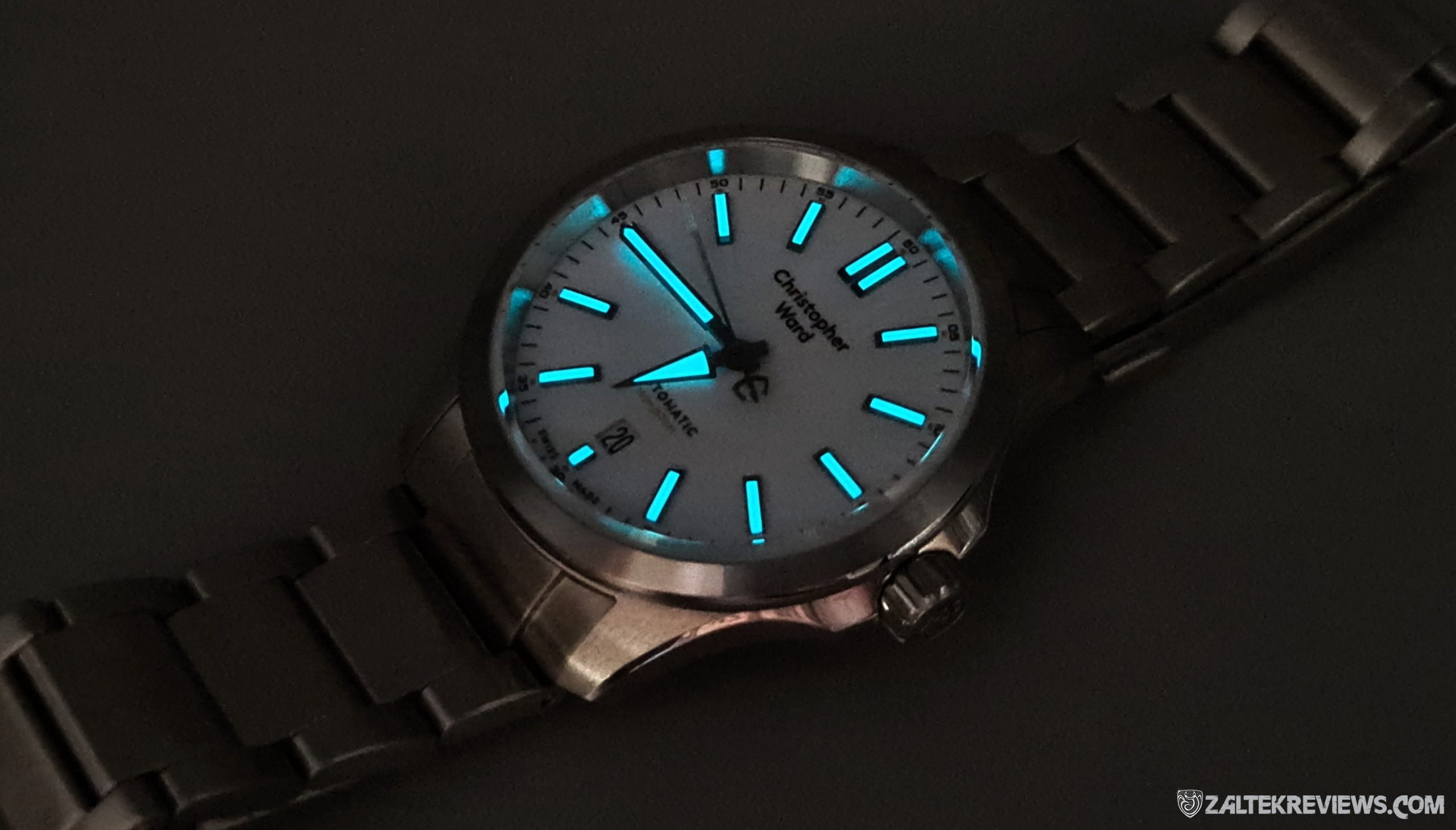 The C63 Sealander; a pure white dial (or black, blue or green), a perfectly executed colour-matched date complication at the 6 o'clock position, with no gawdy (fugly) chromed frame, gorgeous finishing throughout, with flawless build quality & outstanding attention to detail, with an extremely accurate 4Hz Swiss automatic movement nestled inside. I've often toyed with the idea of starting my own brand and I have thought (A LOT) about what would be my first design. Well people, Christopher Ward must have read my mind and produced what is, 99.9% my ideal watch! I never thought I would ever see the day I'd say that. I 100% wholeheartedly recommend the C63 Sealander and even although it's relatively still an expensive watch, it is undoubtedly superb value, especially when you consider what you're getting for your money. And that my friends, is coming from me, a tight-arsed Scotsman!
To view the Christopher Ward website, or to sign up for their newsletter for details on new releases etc, visit
christopherward.com
. Please subscribe to
Zaltek Reviews YouTube Channel
, as well as following me on
Instagram
,
Facebook
&
Twitter
. Also, please feel free to join our Facebook group
WatchChat
, a very busy & active community for both watch enthusiasts and collectors alike, with an absolute shit ton of images and in-depth discussions.
It takes me a fair amount of work (and time) to do these reviews, so if you feel like supporting Zaltek Reviews to help towards my running costs, or even if you feel like just buying me a coffee, then please donate using the PayPal button or QR code below. Unfortunately, 97% of my viewers/readers just scroll on by this section. If you feel like that I've given you maybe just a few quids worth of knowledge and/or entertainment, then please take just a couple of minutes of your time to kindly donate. Thanks very much, Will Duncan – Zaltek Reviews.