Manufacturer: Newmark Watch Company | Price: £279 GBP ($345 USD, €320 EUR)
For those of you that speak to me over on our Facebook group, WhatChat, will know that I'm a big fan of Newmark Watch Company. I'm also friends with the owner, Ewan Wilson ever since I contacted him well over a year ago, when I first heard rumours that Ewan was releasing the Newmark 71. I subsequently reviewed that prototype and thought the watch was absolutely outstanding! I thought it was so good in fact, I backed their Kickstarter campaign. A few months later I bought another one… fast forward to last week, yep, I went and bought another Newmark 71. So, as you can probably tell, I was extremely eager to get my hands on their new NP Panda Chronograph. Obviously, it has shown up, but is it any good?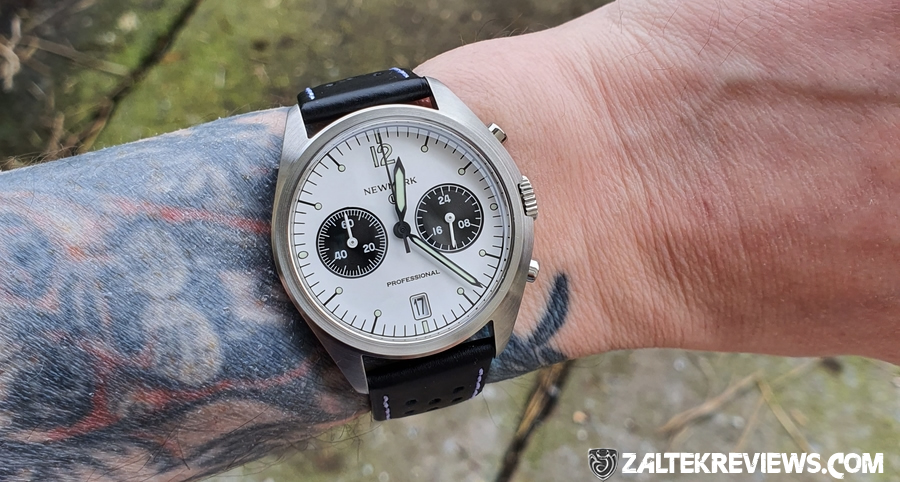 Specifications
Dimensions: Diameter – 39.1mm, Thickness – 12.3mm, Lug to Lug – 45.1mm, Lug Width – 20mm
Movement: SII VK64 MecaQuartz, 3 Year Battery, 24hr & 60min Sub DIals
Case Material: Brushed 316L Stainless Steel
Strap: Genuine Black Leather, White Stitching, Polished Buckle
Crystal: Domed Acrylic, Underside Anti-Reflective Coating
Bezel: Brushed, Fixed          Water Resistance: 50m / 5ATM
Lume: Swiss Super Luminova® C3
Crown: Push/Pull     Caseback: Screw Down
Warranty: 2 Years    Overall Weight: 72g       
Where to Buy: Newmark Watch Company

The Brand - A Brief Introduction
"Headed by a long-time watch enthusiast, we are based near Cheltenham in the United Kingdom. The Newmark of now is not the Newmark of old. We are however, extremely proud to be able to bear the Newmark name on our watches. Conceived in late 2016, initially with the objective of reproducing the rare and desirable Newmark 6BB Chronograph, by late 2018 we had succeeded and spurred on by this achievement we look to the future with a large back catalogue of watches from which to draw inspiration for upcoming models.

Dating back to 1875, the original Newmark company imported Swiss watches until the late 1940s when they received a government grant to enable manufacture of watches in the UK. By 1950, production was underway and over the following decade between 6 and 7 million watches were manufactured at the Newmark factory in Croydon, near London. Newmark reverted to the import of Swiss watches in 1960 and over the next 20 years there would come a plethora of designs from dress to dive watches. In 1980 the company supplied the 6BB Chronograph to the Royal Air Force – this was possibly the last watch to bear the Newmark name…until 2018 when we successfully introduced the new 6BB.

Our use of the Newmark name came quite by accident when we were pondering what might be an interesting watch to manufacture. What we didn't want to do was sit and think of a brand name – besides, we're not creative enough! Quite simply, the idea of producing a modern version of the Newmark 6BB chronograph, by default, required the use of the Newmark name. In a world of 'cutting out the middleman' or 'disrupting' or 'redefining' all we aim to do is produce wearable, reliable and attractive watches. It's as simple as that! We are lucky to have the support of a growing number of followers and supporters and for that, we are very grateful. Our watches now adorn wrists the world over and that in itself is something that we are very proud of."
The case of the Newmark NP Panda has an overall diameter of 39.1mm. The lug to lug is 45.1mm and the overall thickness, including the domed acrylic crystal, I measured in at a very nice 12.3mm. The case, caseback, bezel and crown are all 316L stainless steel. The overall weight of the Newmark NP Panda on the supplied strap, came in at just 72g.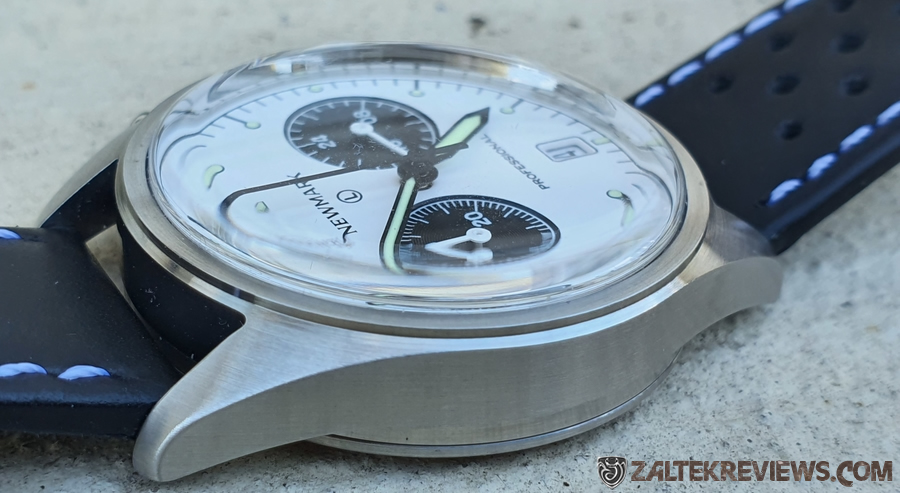 The Newmark NP Panda has a water resistance rating of just 50m/5ATM, mainly down to the inclusion of a screw down caseback. The proportions of the watch, in my opinion, are pretty much spot on, with the watch sitting on wrist very nicely as the lugs do follow the curvature of your wrist.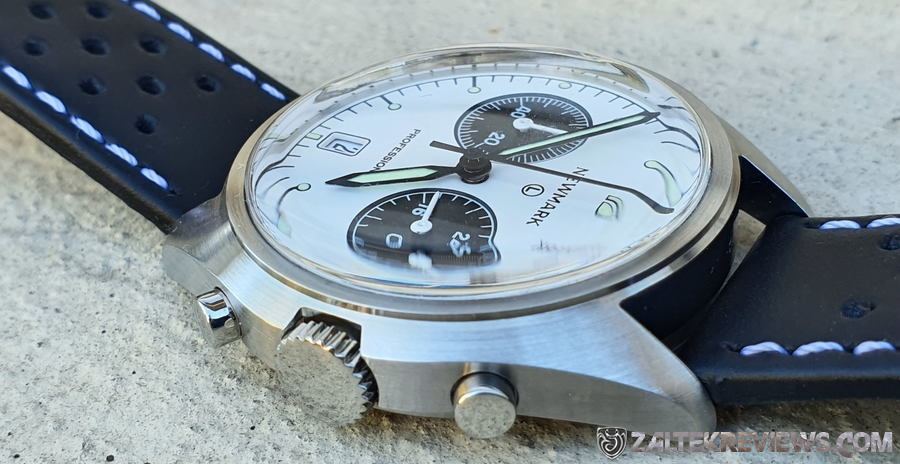 The crown is great, nicely made and has a vast amount of grip. Unfortunately though, it isn't signed, which I thought was a bit of an unusual decision by Newmark. Maybe it was to replicate the vintage aesthetic that this watch is based on. Still, I would have much preferred if it was signed, it is 2020 after all. Same goes for the decision to use acrylic for the crystal, I would have much preferred a more modern approach with the use of sapphire. The caseback too, is a rather sterile affair, with just Newmark NP etched into it. It doesn't bother me that much, I just find all these design decisions a little dull.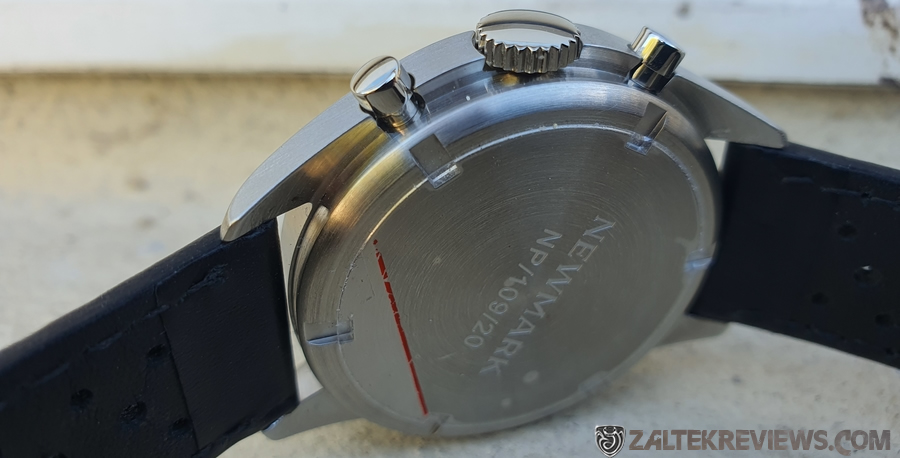 The NP Panda comes fitted as standard with a 20mm genuine leather strap. I have to say, even although it is pretty comfortable, I don't think that the strap is anything to write home about. Nothing stamped anywhere, apart from genuine leather on the underside, makes me believe it is just an off the shelf item. I may be wrong, but the buckle isn't signed either. It's also fully polished too, which is a bit odd, considering the case has an entirely brushed finish.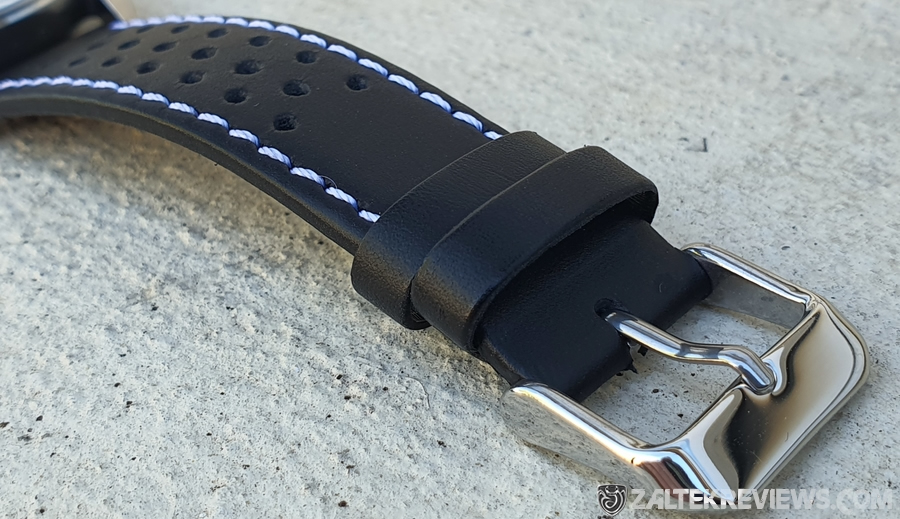 It's a weird one if you ask me… my friend Dennis thought the same when he had the watch for a few days, so much so, he decided to take it a step further… He removed the standard leather strap and fitted an engineer style bracelet that just happen to fit (well, sort of). A total transformation if you ask me! A little bit of work on the actual bracelet fit & finish and it'd be an awesome overall package and in my opinion, far more desirable!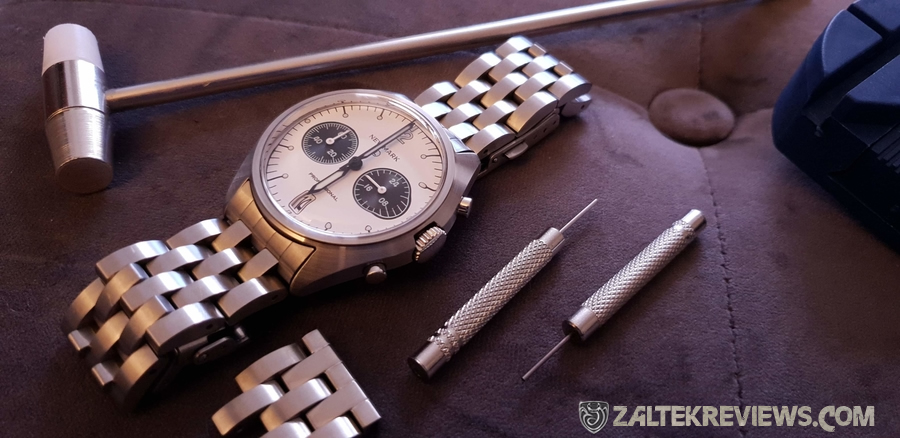 The Seiko SII VK64 that's used in the Newmark NP Panda is part of the hybrid mechanical quartz (MecaQuartz) movement line. It is a chronograph movement that uses quartz technology for the main functions of the watch, and a mechanical module for operating the chronograph. Seiko states that the expected accuracy of this movement is less than +/- 20 seconds per month! The battery life is around 3 years with normal operation / average usage. For more information on MecaQuartz movements, head on over to Caliber Corner.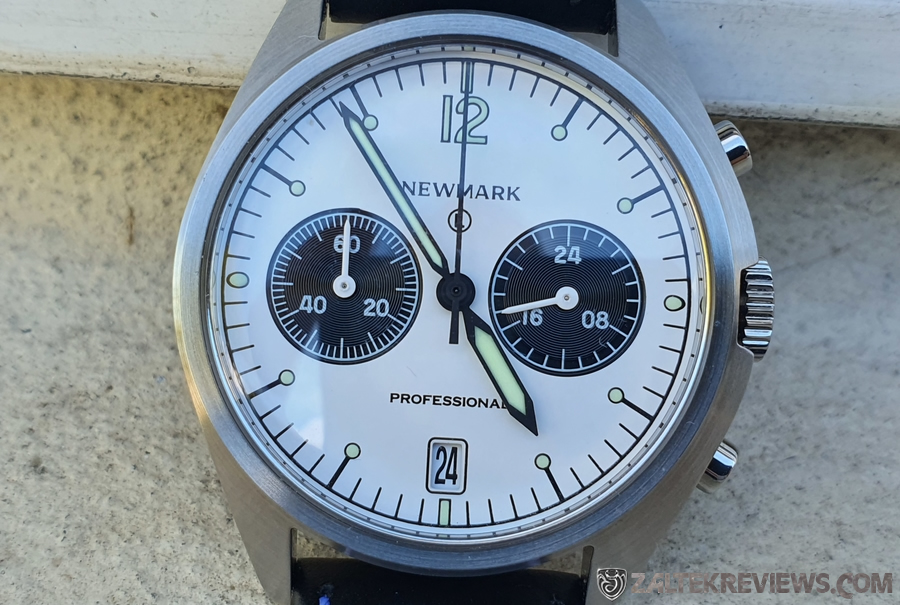 So far, I've pretty much ripped this watch a new arsehole since the start of this review, but this is where it gets good, the dial! The text on the dial, all of which is printed in black, are just two words, NEWMARK and PROFESSIONAL. There is also a perfectly executed date window cut out at the 6 o'clock position with a nice thin black border.  Oh, and what's this… it's colour matched! Yeah, I know, it's a panda dial, it'll obviously be colour matched, blah, blah… I don't care, I'll take it!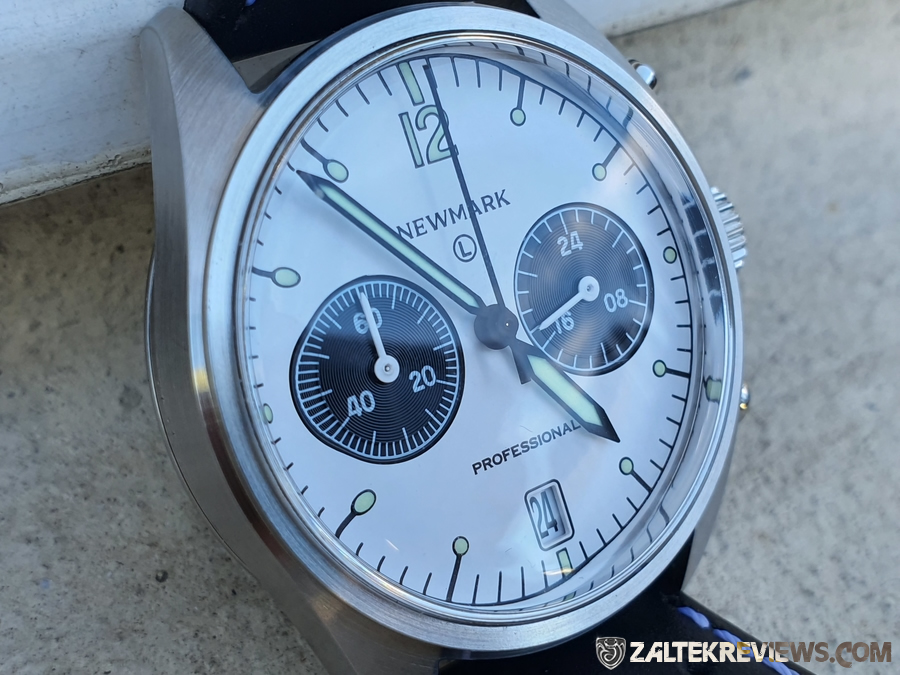 As you can see in the images, the hour and minute hands are very nicely done with their near sword style appearance. The size of the hands too, are pretty much perfect compared to the size of the dial. The matching all-black chronograph hand is very nicely designed too, with it's tip reaching right out to the outer edge of the minute track. Talking of the minute track, it is all printed with slightly larger hour markers all around the dial with lume dots applied to the tips. The black sub dials are also rather sweet looking done in black (hence the 🐼), with a 24hr indicator at the 3 position and a 60min timer at the 9 o'clock position. All said and done, it's one of the nicest panda dials I've seen. 👍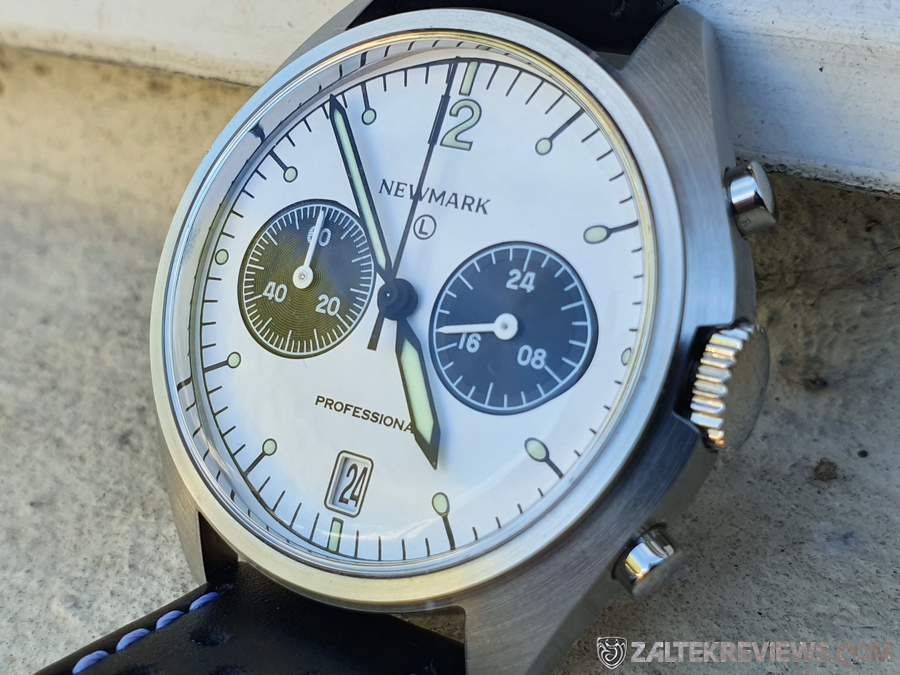 The lume on the Newmark NP Panda I can only describe as nothing less than superb. I can honestly say, it's the best lume I've seen on one of these MecaQuartz chronographs. The lume that has been applied is Swiss Super Luminova® C3, and trust me when I say this, it has been applied 100% properly, even when the dial itself doesn't have all that much lume real estate. Great job Newmark, the lume is not only initially bright, it actually lasts for many hours.
Even although I started off this review giving the Newmark NP Panda a bit of a hard time, I do actually still really like this one. The simple, clean layout of the dial, the addition of the perfectly implimented date complication, great lume, there is a lot to love here… The good thing in regards to the owner of Newmark, Ewan, I'm sure will take my slightly negative points as nothing more than constructive feedback and not throw his dummy out of the pram like a fuckin' 2 year old, like some brands I could mention, but won't.
Sure, I'd prefer the watch with a sapphire crystal and a signed crown/buckle, but these are additions that would be just finishing touches to really what could be, the perfect little all-round package. It is still a gorgeous watch on wrist and is very comfortable. Also, thanks to the choice of movement, it's also a great grab n' go timepiece that does still tick all the functional boxes for that perfect everyday watch.
Newmark – Could do with a couple of tweaks, but it's still a gorgeous wee panda diol chronograph.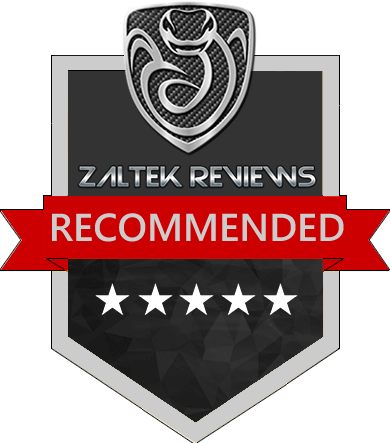 A huge thank you to Ewan from Newmark for sending out the NP Panda for review. Thanks man, I really appreciate it.
To view the Newmark website, or to join their mailing list to be informed of new models etc, visit
Newmark Watch Co
.
Follow Zaltek Reviews on
Instagram
and
Facebook
and please feel free to join our Facebook group
WatchChat
, a busy community for watch enthusiasts and collectors, with tons of images and in-depth discussions.
At Zaltek Reviews, we encourage the companies whose watches we've reviewed to comment on our articles. We invite any company representatives to respond in the comments section below. Thanks very much.