Manufacturer: Phoibos | Price: $390 USD
So here we are then, I've finally managed to get a Phoibos in for review. I had to pay for it myself though, so it's just as fuckin' well I liked the initial renders that I saw. I ordered this Nebula model on the day of release, and just a few days later it arrived from their warehouse in the UK. Yup, you're right, I didn't know they had one either! Since I started Zaltek Reviews back in 2018, I've tried to get various models in for review from Phoibos, but never received a single response to any of my requests. Hopefully they'll read this and consider me for future models. Try as I might, even to this day, I am still disappointed that I never got to review their Great Wall model. It's not as if I can buy everything, I'd be fuckin' bankrupt quicker than you can say, "You're putting weight on Will…" "aye, cause everytime I shag your wife, she makes me a sandwich!" I digress… this new Phoibos Nebula sports watch then. Is it any good, or just a hyped pile of dog shit?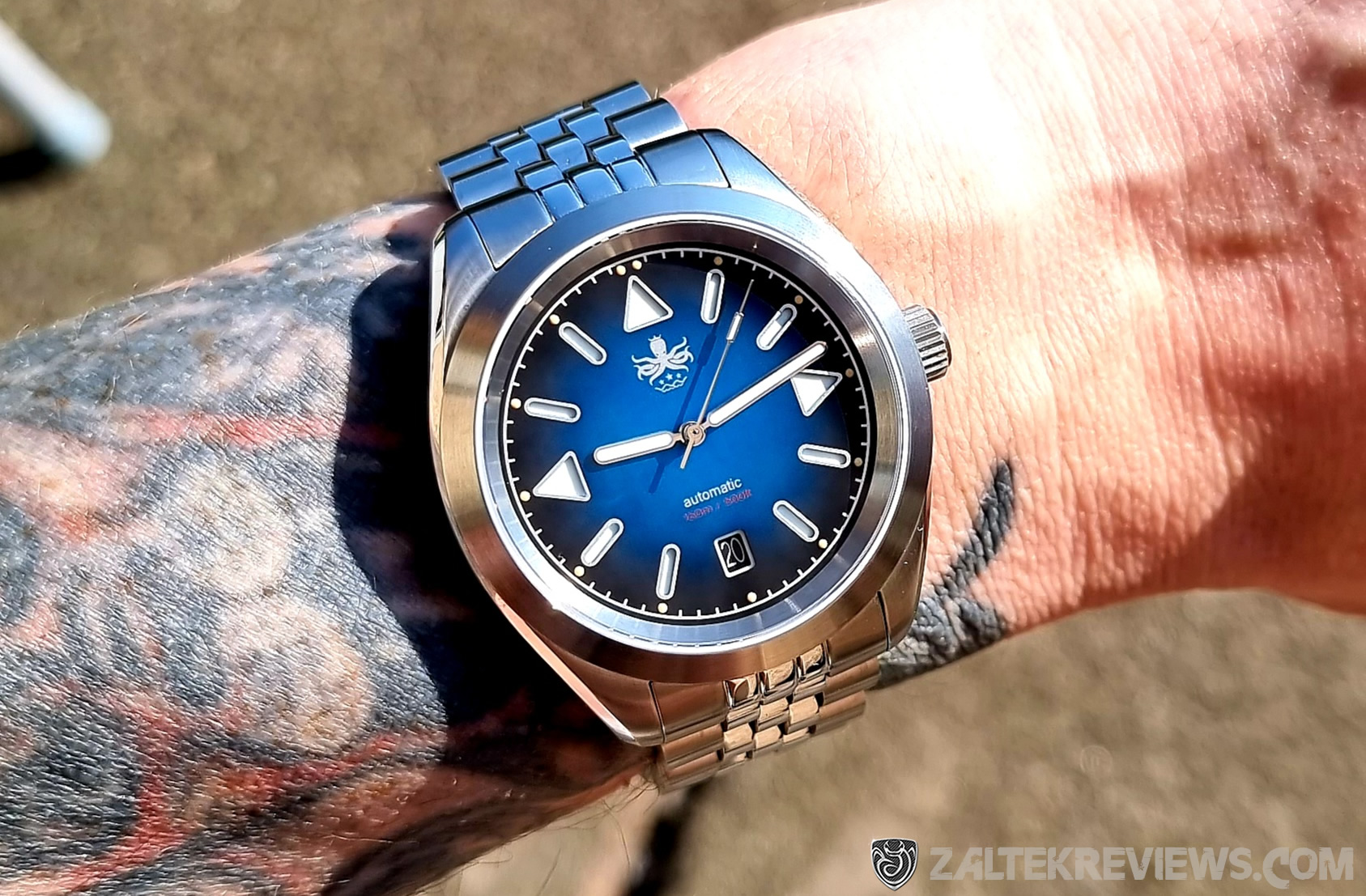 Full Specification
Dimensions: Case – 40.3mm, Thickness – 10.8mm, Lug to Lug – 45.8mm, Lug Width – 20mm
Movement: Miyota 9015, 28,800vph, Hackable, Self Winding, 42hr Power Reserve
Case: Brushed & Polished 316L Stainless Steel
Bezel: Fixed, Brushed 316L Stainless Steel
Dial: Gradient Vertical Brushing, Sandwich Construction, Date at 6
Lume: Swiss Super-LumiNova® BGW9 (15 Layers)
Bracelet: Brushed & Polished 316L Stainless Steel, Solid Links, Screw Pins, Custom Milled Clasp
Crystal: Flat Sapphire, Anti-Reflective Coatings (3 Layers)
Water Resistance: 150m / 15ATM / 500ft

Caseback: Screw Down, Embossed Phoibos Logo
Crown: 6mm, Screw Down, Signed

Weight: 141g (Sized up for my 6¾″ wrist)
Where to Buy: Phoibos / Phoibos Europe

Warranty: 2 Years International
Phoibos Nebula Colour Options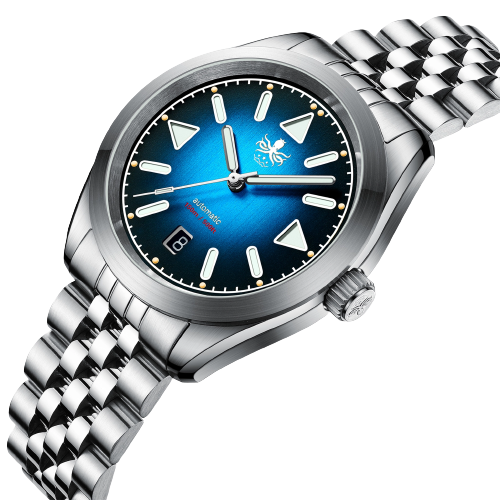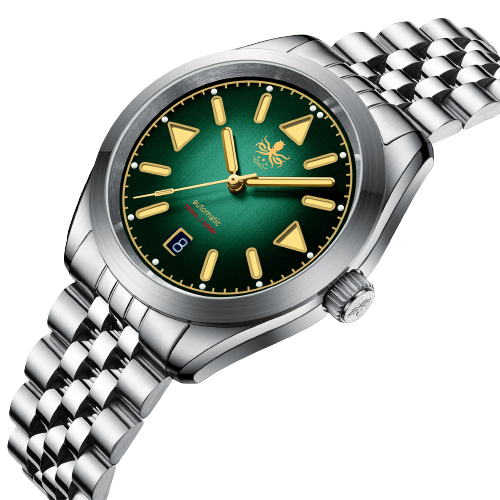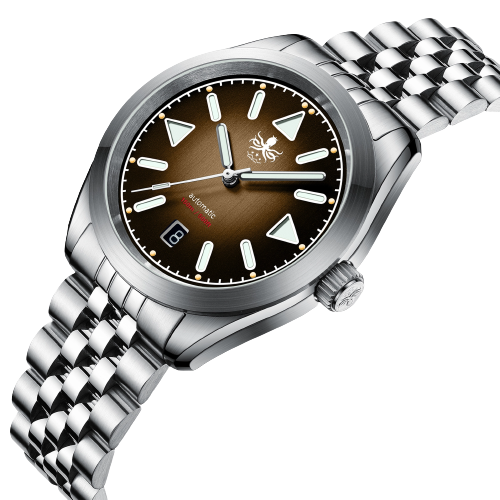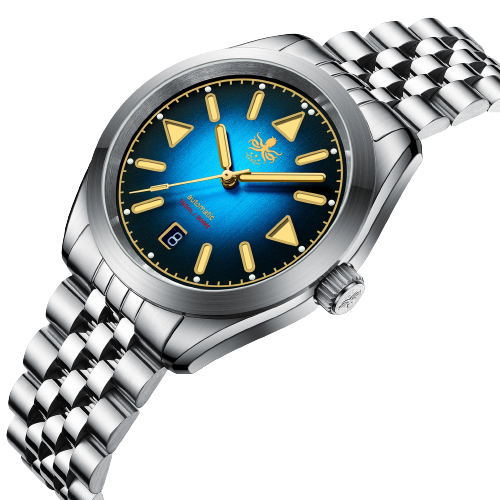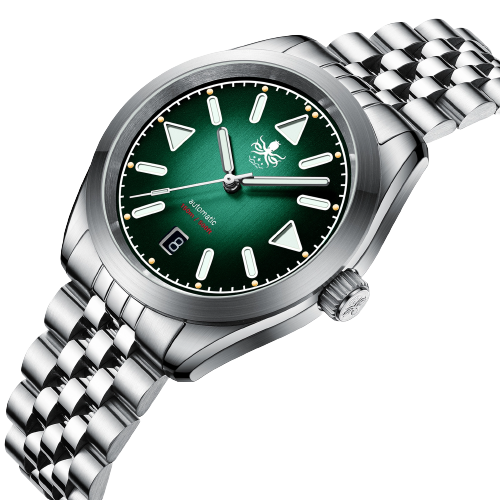 "Phoibos has always created watches around the perfect combination of functionality and style for underwater adventures and everyday wear. With this clearly defined principle in the mind, Phoibos have made a sporty yet elegant timepiece, the Nebula, that is akin to a dress watch by removing the ratcheting diver's bezel and slimming down the case to a more wrist-friendly 11mm thick, while still passing on the diving heritage of Phoibos, with the 150 meters of water-resistance. In place of a unidirectional rotating bezel, a highly brushed outer lip is made around the dial to make the whole look exceptionally simple, pleasantly smooth and particularly clean in the company of the fine polished stainless steel case and bracelet. Beating inside the 40mm diameter case is a Miyota 9015, which is capable of being used in a slightly thinner case. All these elements create this incredibly thin wearing "dress diver", that won't overwhelm your wrist. The sandwich dial surface is a faded-color and is exquisitely executed by a vertical brush, on which the hour markers are simple yet considerably decorative at 12, 3, and 9, with triangles making them pop beautifully and add a touch of flair to the dial. The identical shape of rest markers and hands in this simplified design makes the balance of the proportions, adding a certain elegance to what's otherwise a pure tool watch. The makers and hands aren't just pleasing on the eye, they're also coated in Super-LumiNova BGW9 or Old Radium for optimum night-time visibility. With its uncomplicated dial design, superior durability and ultra-reliable movement, the Nebula is a great and affordable choice no matter if it's the office or beach you want to go."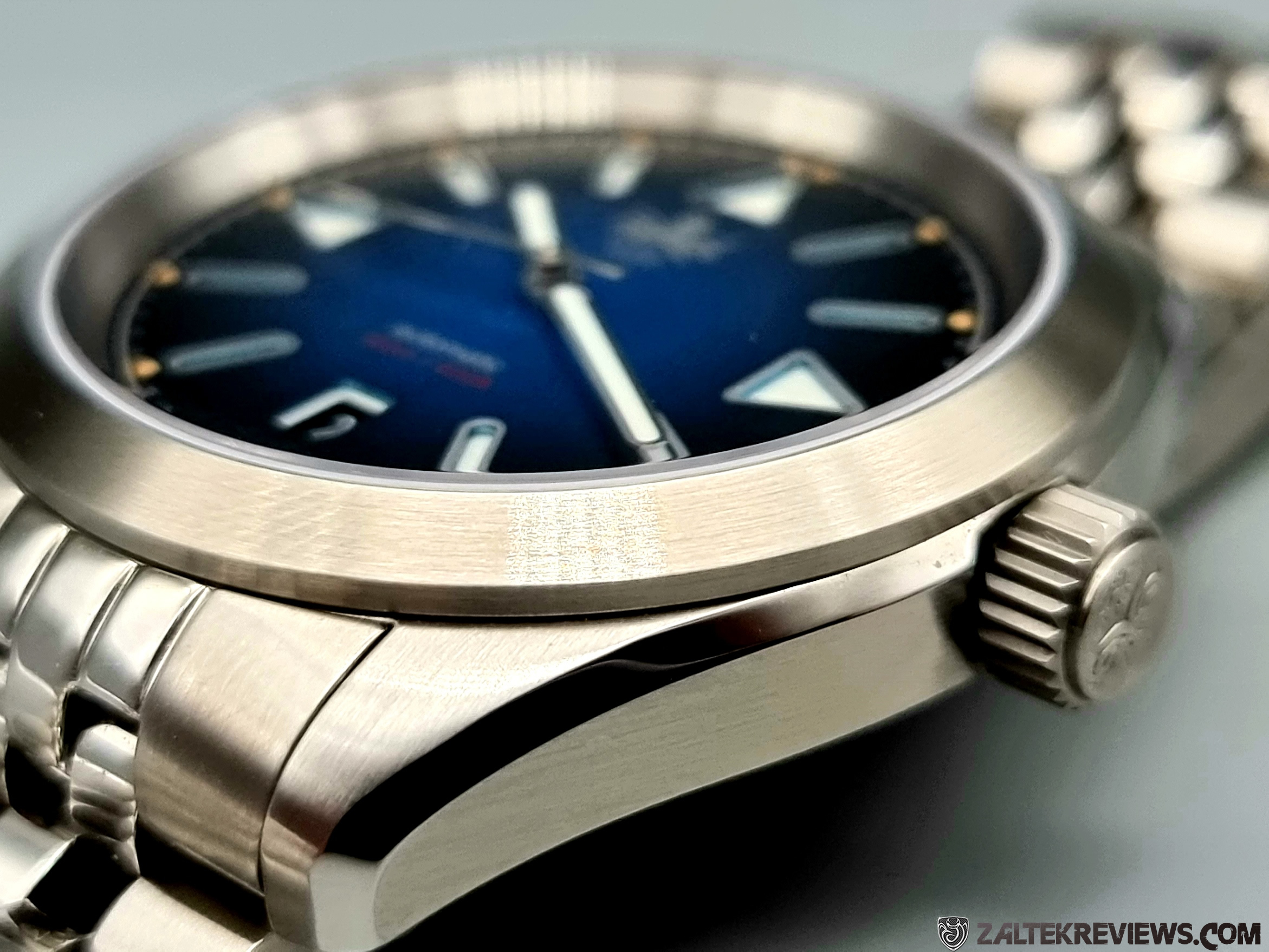 The case of the Phoibos Nebula has a total diameter of 40.3mm. The lug to lug is 45.8mm and the overall thickness I measured in at a beautifully svelte 10.8mm. The case, fixed bezel, caseback, crown and bracelet are all 316L stainless steel. The finishing of the case is mostly brushed, but with the addition of polished chamfered edges that run along the top edge of the case and down over the lugs. Overall, it looks stunning as the quality of the finishing is top notch! The brushing is lovely and buttery smooth to the touch. The polishing too, is like a mirror. It's certainly a step above, quality wise, over most microbrands that I can think of. The Phoibos Nebula has a water resistance rating of 150m, which is more than enough if you ask me, considering that this is essentially a sports watch.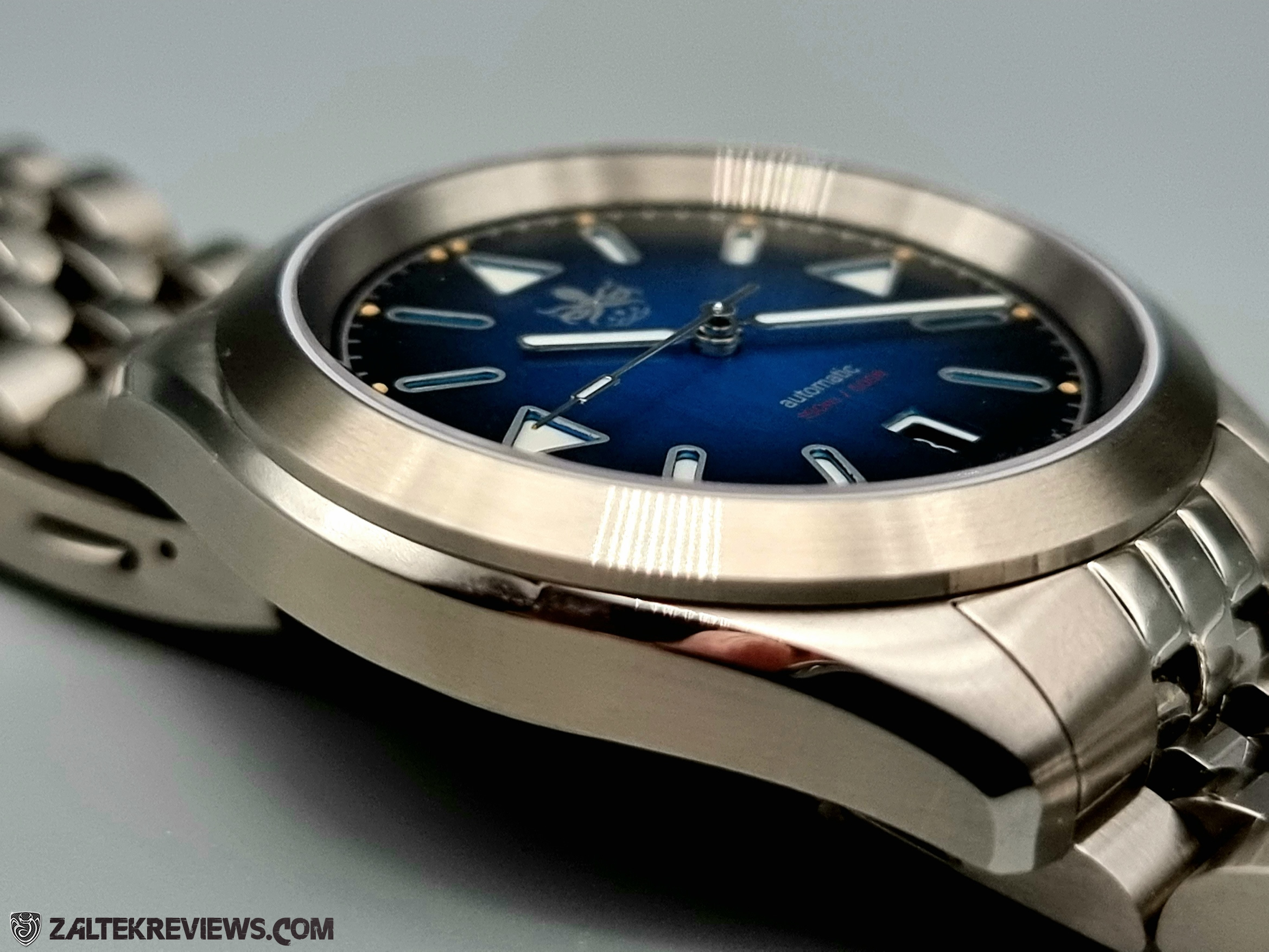 The proportions of the Phoibos Nebula are absolutely spot on, with its relatively compact design, super-comfortable bracelet and it wears so bloody well on wrist that I sometimes have to check to see if I'm still wearing a watch. The signed crown is nicely sized at 6mm, looks great with it's nicely detailed embossed logo and there's no cheesy polishing to be found on it anywhere. The crown is also a piece of cake to operate with oodles of grip and there's absolutely no wobble either when the crown is in use. As you can see in the image below, regarding the screw down caseback, we are greeted with yet another Phoibos logo staring back at us. Some aren't keen on Phoibos' choice of logo. Personally speaking, I think it's great, it's certainly way better than just boring old text, that's for sure!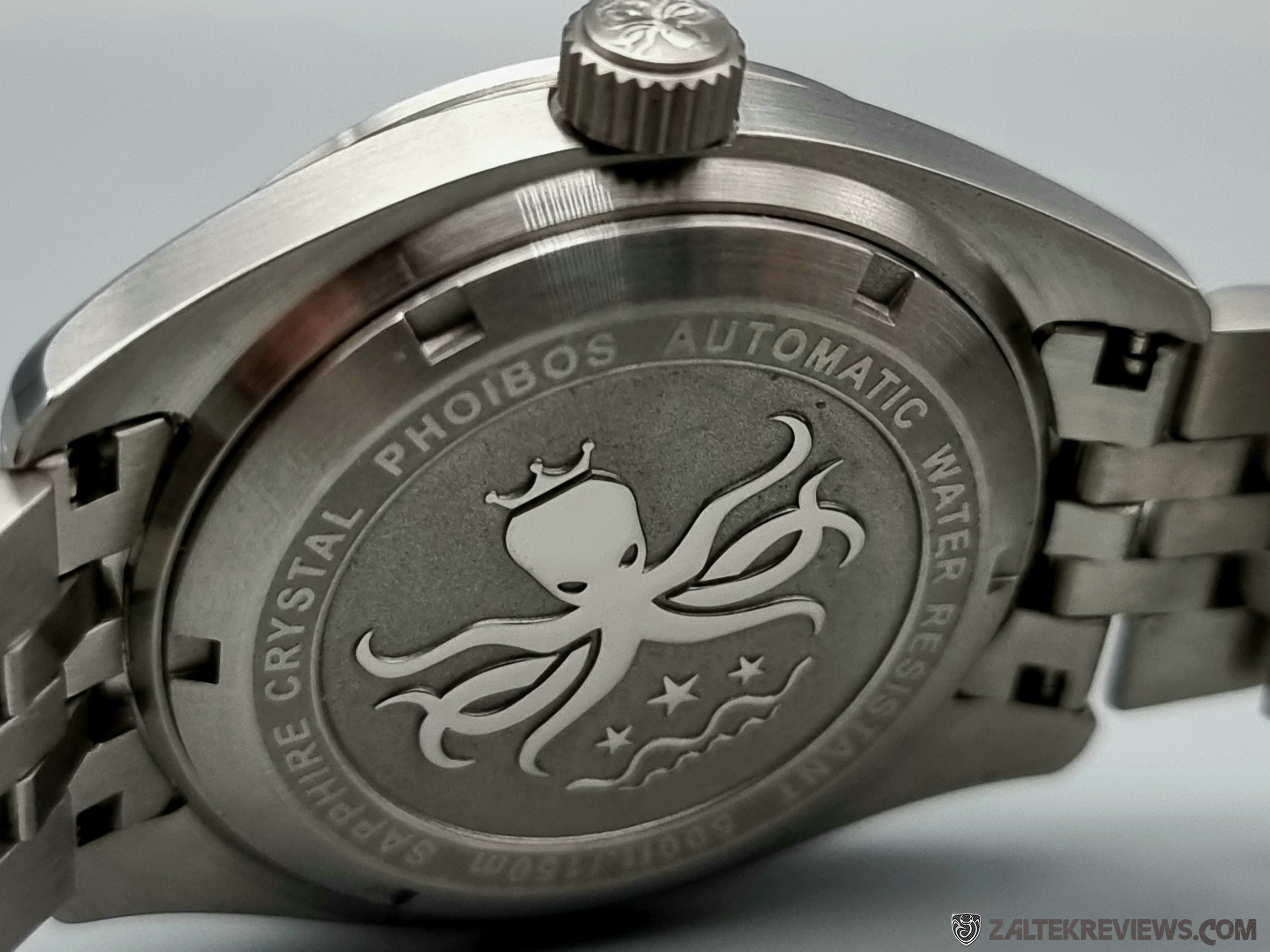 Forget absolutely everything I've ever wrote in my past reviews regarding bracelets that other microbrands have used. You might think that this bracelet looks like just any other jubilee right? WRONG! This bracelet is definitely not an off-the-shelf item. The bracelet has most definitely been manufactured with only the best materials available, the build quality is friggin' outstanding and the tolerances are tighter than erm… a nun's fandango!?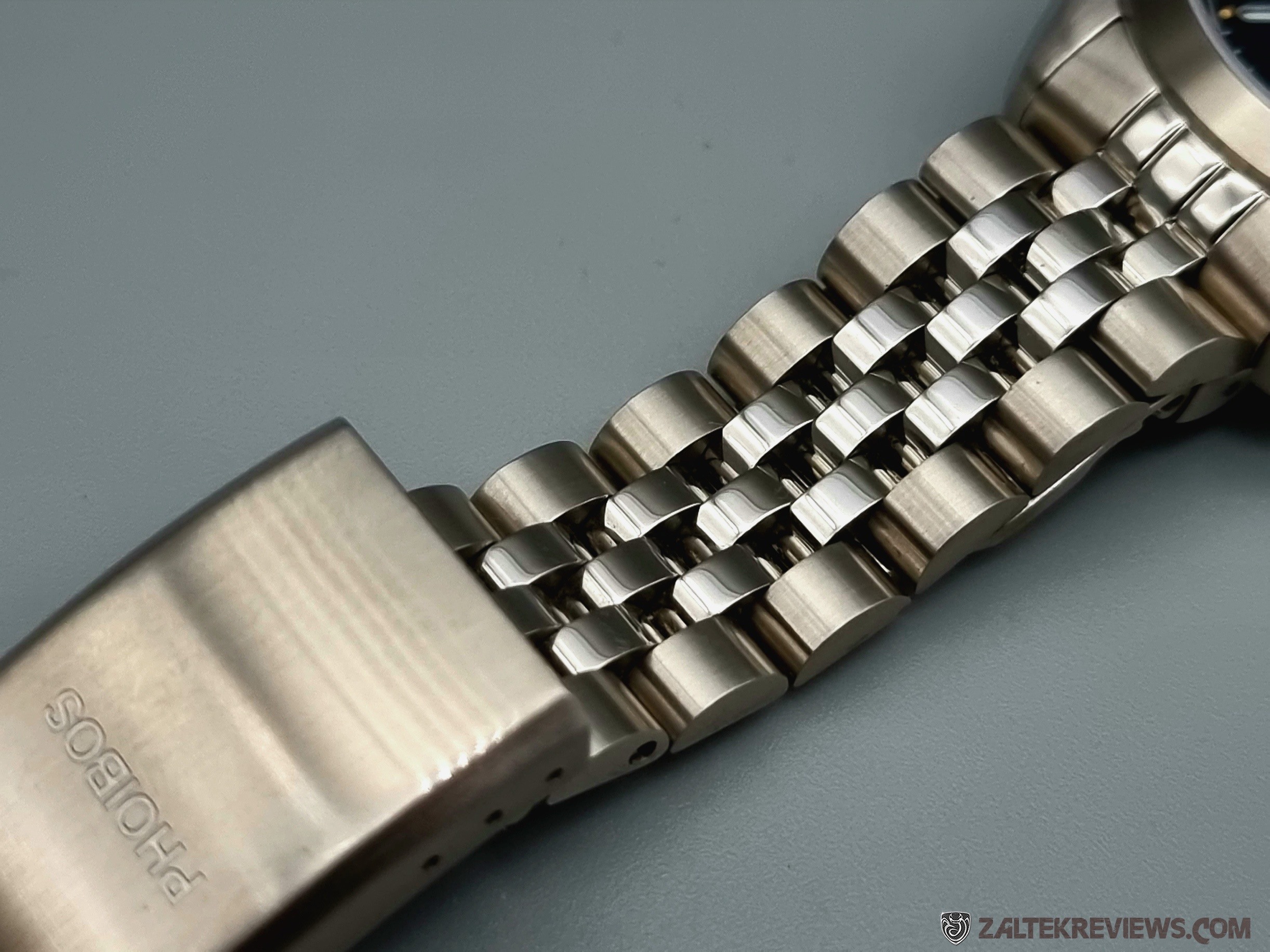 We also certainly get all the key aspects of a very good premium bracelet here that I'm forever banging on about in my reviews, solid links throughout, female end links, top quality screws and a fully milled custom clasp, that should make you look twice once you see it in person. The links themselves are relatively short and a tiny bit chunky in comparison to other jubilee's I've seen, but the 3x micro-adjustment holes are plentiful to ensure you get a perfectly snug fit. *Edit* Oh aye, I've forgotten again… measurements… the bracelet is 20mm at the lugs, that tapers down to 17.5mm and it's 20.5mm at the fully milled & signed clasp.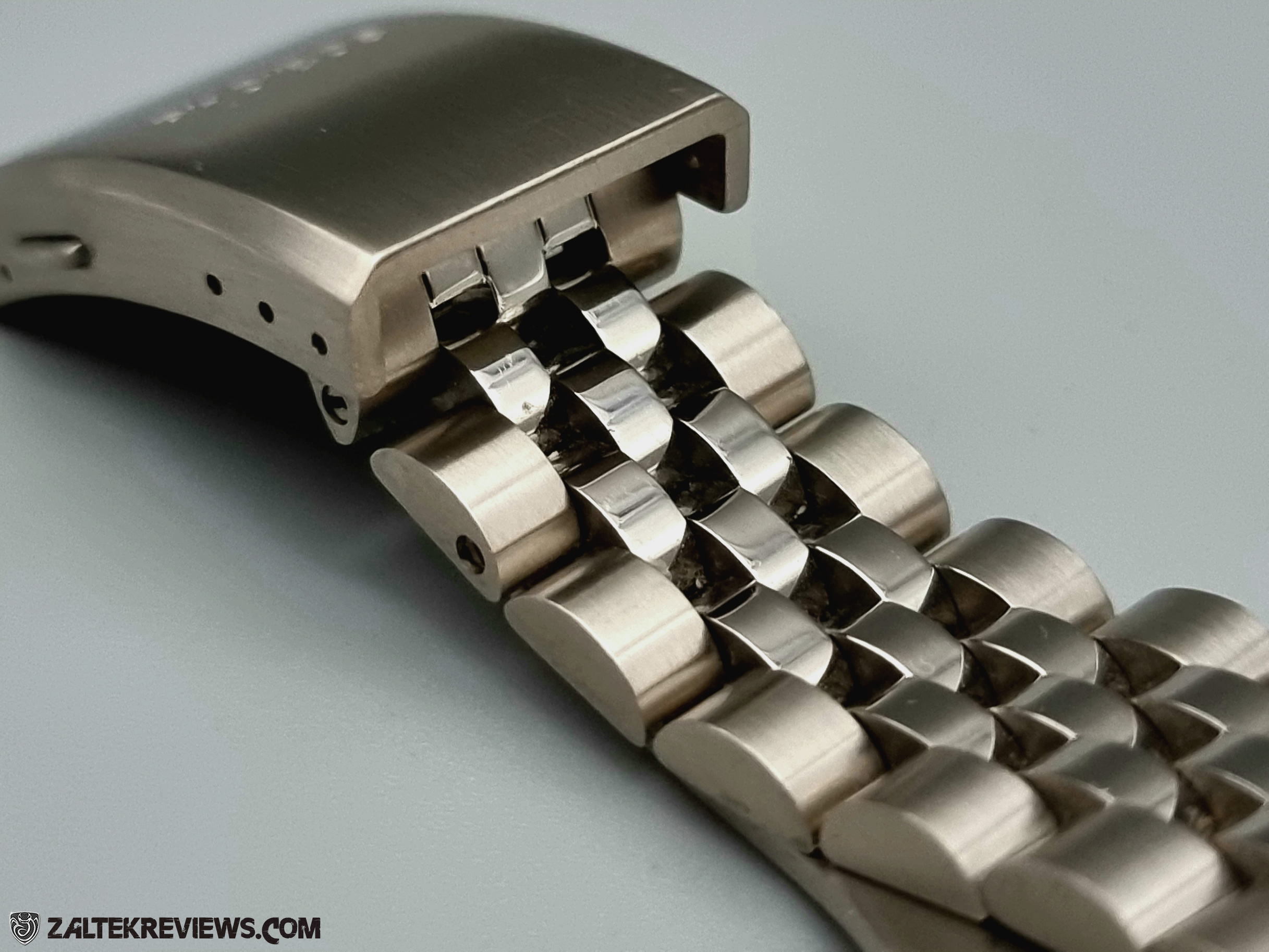 The chosen movement for the Phoibos Nebula is the high beat, smooth sweep Miyota 9015. This slim, Japanese movement is self-winding, has 24 jewels and the oscillating weight spins up, giving you up to a respectable 42 hour power reserve. The balance runs at 28,800vph (4Hz) and the movement itself is also hackable. Checking the accuracy on my trusty timegrapher, after running the Nebula for approximately two weeks, I was extremely impressed with the final results, with the Phoibos Nebula coming in at precisely +/-0 seconds per day, with zero beat error. I can't really complain about that can I? Total perfection!!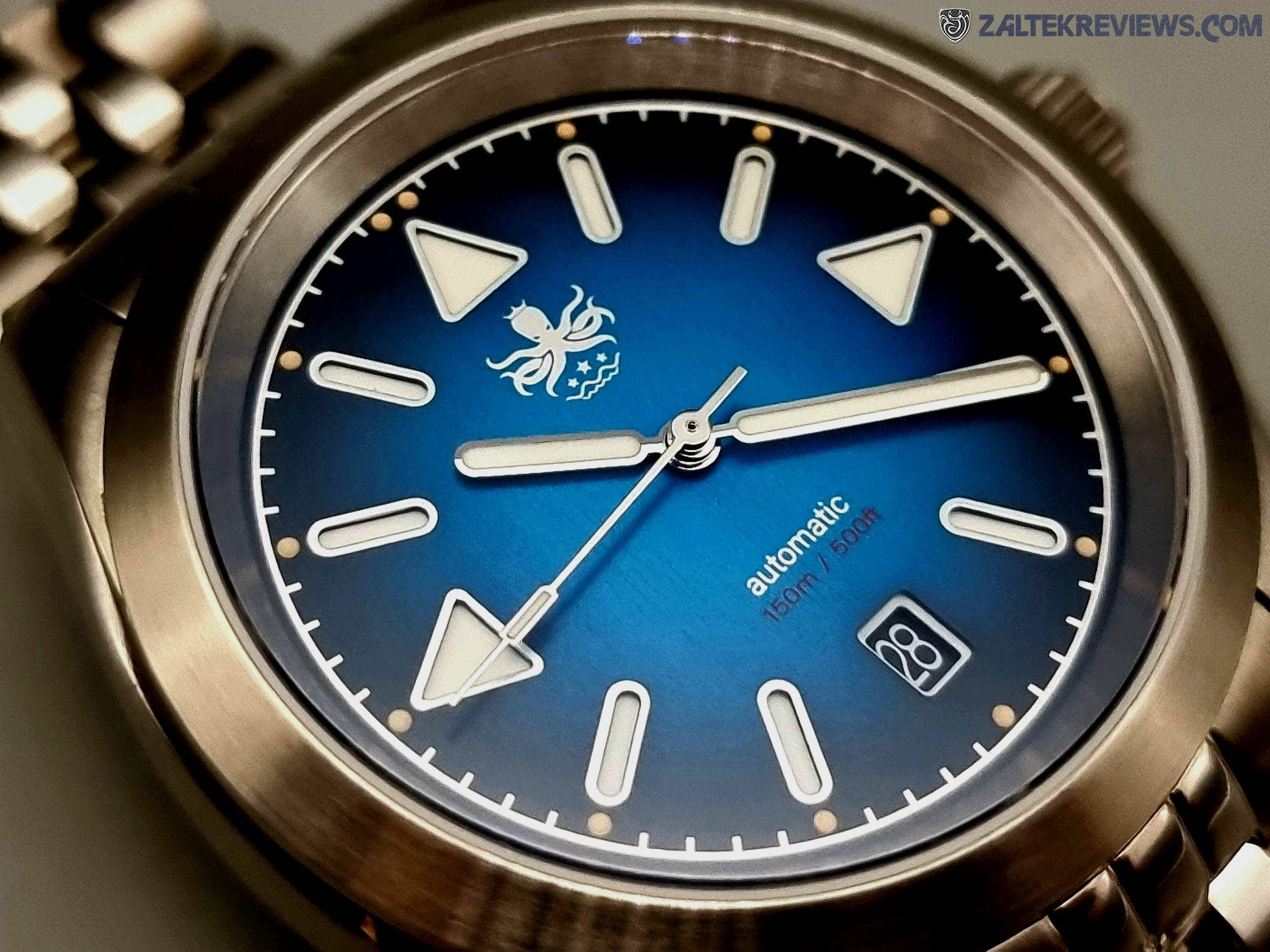 This blue version of the Nebula has a totally fixed bezel with a smooth brushed finish that matches the finishing of the case perfectly. The sandwich dial construction has very neatly done cut-outs for the hour markers, with larger triangular markers at the 3, 9 & 12. The printed text on this gorgeous gradient blue dial is just the word automatic, all in lowercase, with the depth rating of 150m / 500ft  just below, printed in black, The Phoibos logo is at the usual spot of just under the marker at 12 o'clock. This blue model also has defining white printed borders on each triangular and baton shaped hour marker. The minute track is also printed in white with small lume plots at every hour. Taking everything into account, it all adds up to a beautifully designed, uncluttered dial. Love it!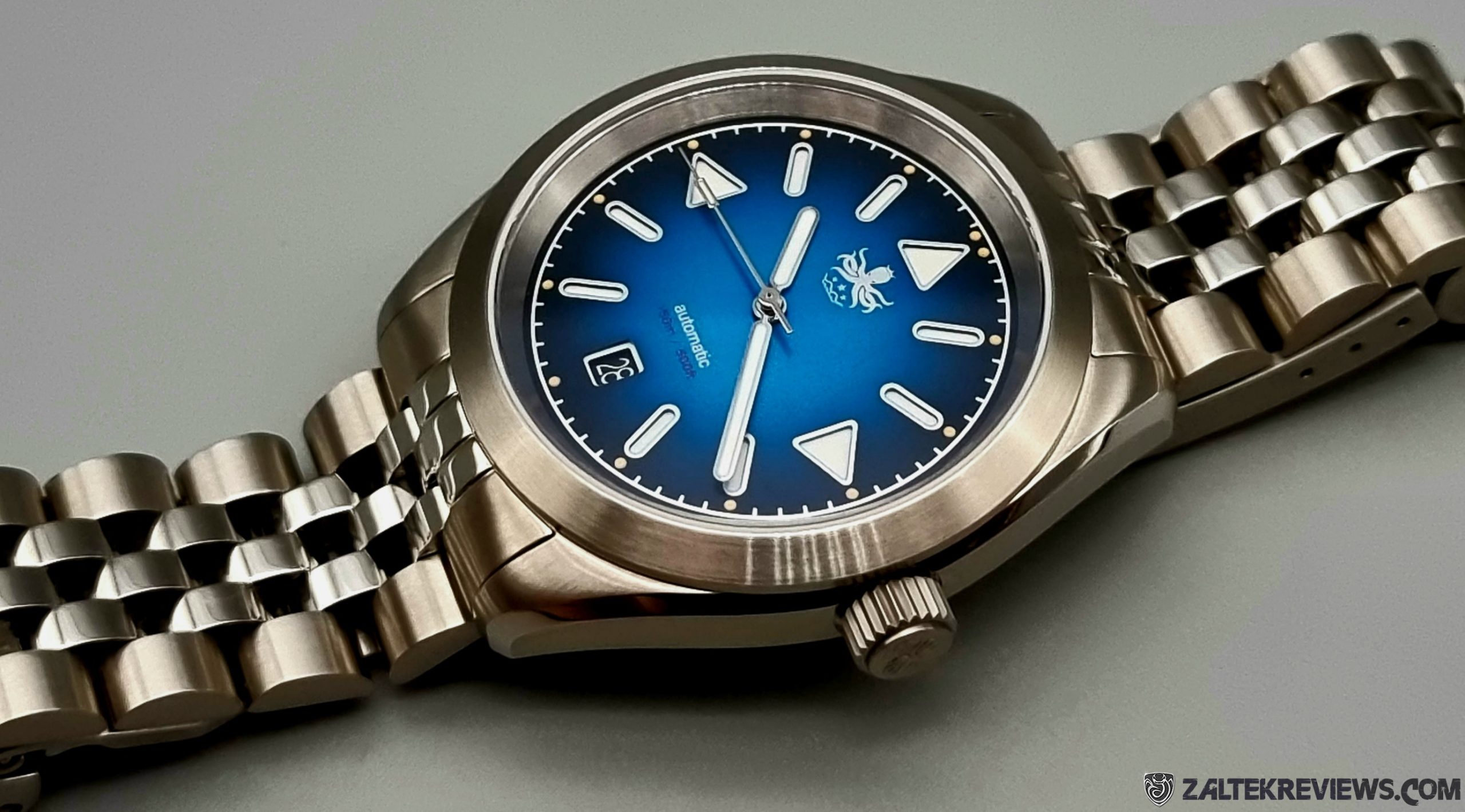 Thankfully, Phoibos also made the decision to include a perfectly executed date window at the 6 o'clock position, that's colour-matched too. Sweet! Next up, are these proportionately styled hour and minute hands that are actually really nicely executed and manufactured. The lumed baton shaped section of the seconds hand is rather scrumptious too, and the actual tip of the hand does reach right out to the very inside edge of the minute track. It might have been a good idea to finish the tip of the seconds hand in a contrasting colour though, maybe? I dunno, I'm just thinking out loud. As I said, it's just an idea from a design prospective.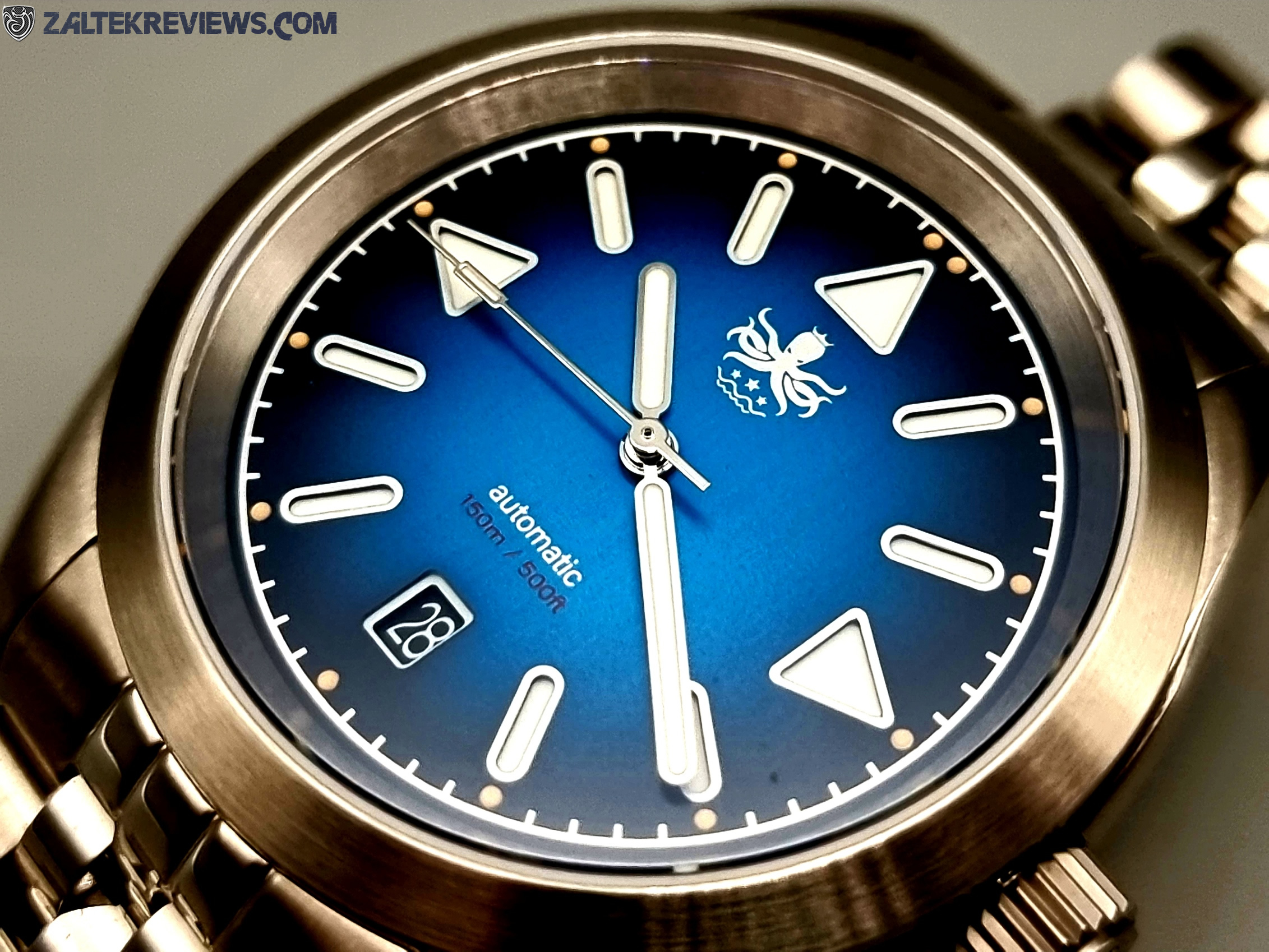 The lume of this Phoibos Nebula is actually executed very nicely indeed. Initially, it is quite potent and even although it will of course fade over time, I still found it legible during the wee small hours. The actual formula that's been used here on this version of the Phoibos Nebula is Swiss Super-LumiNova® BGW9. There are other versions of the Nebula however, that utilise Super-LumiNova® Old Radium, which is normally rather shit in my experience, although to be fair to Phoibos, I don't have any other version here, so who knows, it might actually be half decent. Personally speaking, I would stick with the BGW9 versions of the Nebula.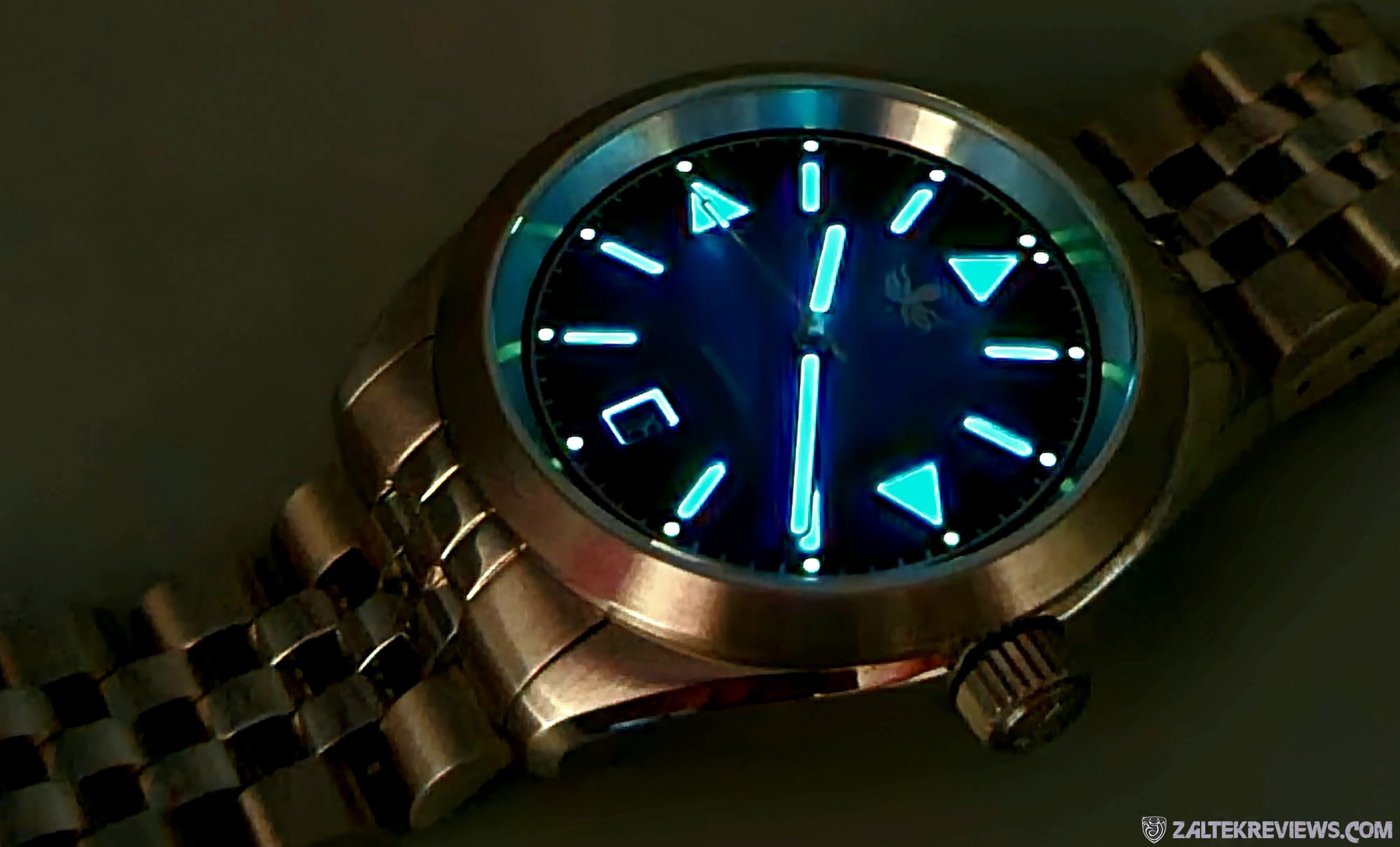 The Phoibos Nebula is a bit of a bargain when you take everything into account and actually take a moment to consider what you're getting here for your $390. The fit & finish are just bang on, the execution, the tight tolerances, just absolutely everything about this watch is nothing more than just, let me think of the words that best describes the Nebula from Phoibos… ABSOLUTELY FUCKIN' AWESOME! I'm actually really glad I bought this, as it's going nowhere anytime soon. I love the design, the way it wears on wrist, and that bracelet & clasp are just fantastic! The Nebula is definitely up there with the best microbrands I've reviewed.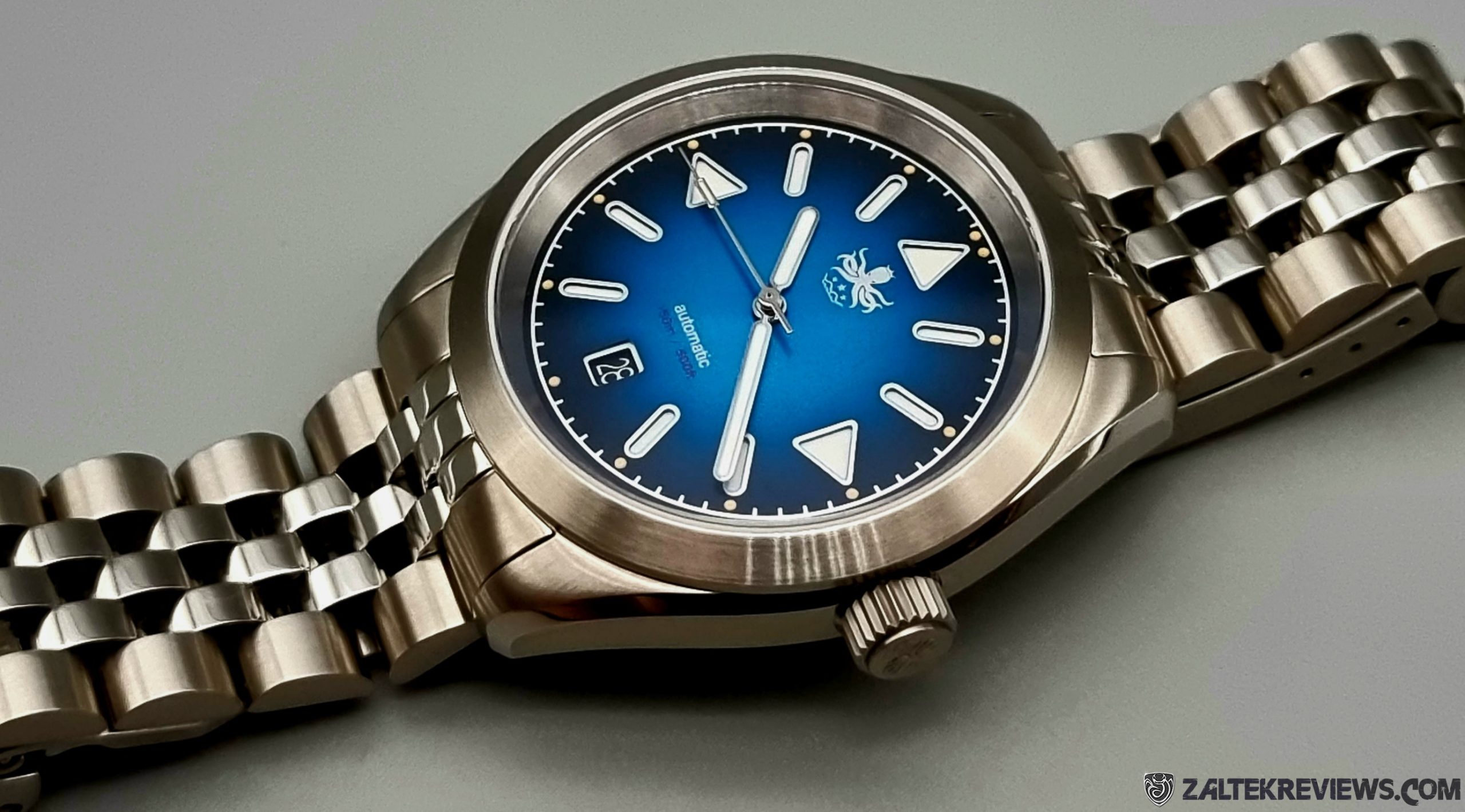 A massive thank you to my fuckin' wallet again for emptying itself to purchase this bloody Phoibos Nebula, just to get it in for review! (
It has been money well spent though
). To view the Phoibos website, or even to join their mailing list to be informed of new models etc, visit
phoiboswatch.com
or
phoiboswatcheurope.com
.
It takes me a fair amount of work (and time) to do these reviews. If you feel like supporting Zaltek Reviews to help towards my running costs, or even if you feel like just buying me a coffee, then please donate using the PayPal button below. Unfortunately, 97% of my readers just scroll by this section. If you feel like that I've given you maybe a few quids worth of knowledge and/or entertainment, then please take just a couple of minutes of your time to donate. Thanks.