Model: Seiko SKX007J1 | Modded By: Tempus Watch Mods | Price: Varied
This is the 2nd Seiko SKX that I've bought, but this time around I went for the 007J1 model. As soon as it arrived, I started to plan what modifications I'd like to do to it. My initial plan was to just do a bezel and insert swap, so that I could easily do it myself. The more I thought about it though, I decided, what the hell, just go balls to the wall and get everything done. I wasn't planning on doing the full list of mods myself, so I started looking around at various modding companies.
I had spoken to Paul from Tempus Watch Mods around 2 years ago, when I had my first SKX, but I didn't go ahead with modding it, as it was the SKX013 and felt it was too small for my wrist, so I ended up selling it pretty much straight away. With this new one though, I shared my plans with Paul and between the two of us, came up with a list of proposed mods.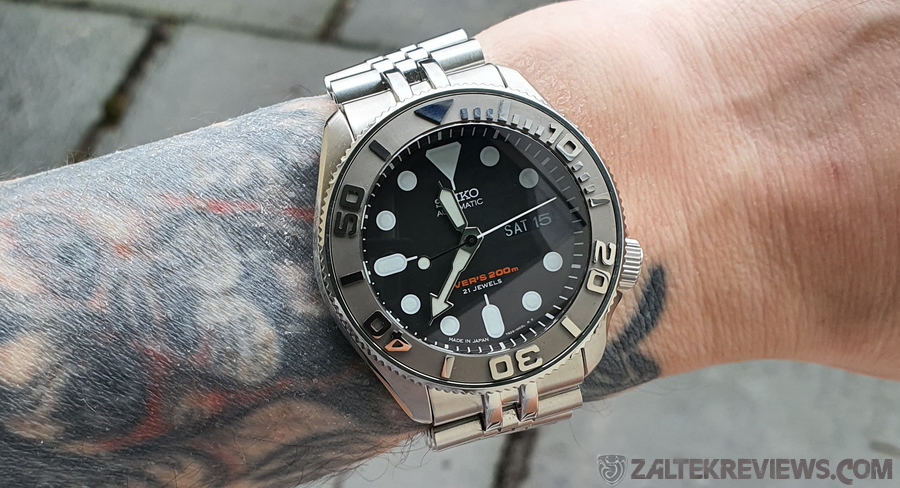 Specification / Modifications
Base Model: Seiko SKX007J1, OEM Rubber Strap
List of Upgrades
Movement: Seiko NH36
Bracelet: Strapcode Super-J Louis
Crystal: Double Domed Sapphire, Clear AR, No Bevel
Bezel: Coin Edge, Polished
Bezel Insert: Sloped Silver Yacht Master Style
Crown: Oversized, Signed 'S' Logo
Day/Date Complication: Negative White on Black
Tempus Watch Mods - The Company
"Tempus offer a range of repair, modification and customisation options at extremely competitive prices. Our personalised approach and emphasis on high-quality customer care means that whatever the scope of your job, we can tailor our service to meet your requirements. Our fully equipped workshop enables us to offer a huge range of services, from bench work through to case finishing techniques like bead blasting, cerakoting and polishing. Coupled with our design expertise, knowledge of parts and processes we can help you to create a one off timepiece unique to you. We pride ourselves on top quality service, from initial quotations through to final delivery, and we're continually striving to find ways to innovate and improve. By utilising the latest parts and techniques, we generate genuine value and satisfaction for our customers."
I could sit here all day and try and describe the work that has gone into modifying my Seiko SKX. Luckily though, Paul from Tempus Watch Mods sent me an absolute ton of images showing practically every stage of the mod. Pictures speak a thousand words as they say. Well here is around half a million of them. Just hover over the image or click to enlarge.
Pressure Testing / Regulation
When I sent Paul my SKX this part of the mod was a bit of a surprise as I wasn't expecting the watch to be fully pressure tested to 200m, nor was I expecting my beloved SKX to be regulated in 5 positions. Average of +4spd, oh yes please!!
Sometimes a company will come along that just goes the extra mile to make sure that you are more than completely satisfied with the service that they've provided. Tempus Watch Mods are one of those companies. Paul kept me informed at absolutely every single stage of the modifications that were carried out to my Seiko SKX.
From the minute he received it, to taking images and sending them to me after each stage to informing me with tracking information once he had sent it back. He even messaged me a couple of days later to make sure I was 100% completely and utterly satisfied with the work carried out. That my friends, is the definition of quality customer service!
I haven't mentioned the costs involved, mainly down to it obviously depends on what work you want carried out. From maybe a sapphire crystal upgrade, or a movement upgrade, to a full blown mod like this one. The parts you'll obviously pay for at pretty much cost price. The actual labour that goes into building / modifying your watch, trust me, it's cheap!
Tempus Watch Mods – No summary necessary. 10/10! I love my modified Seiko SKX. It is stunning. Thank you so much!
10/10 - HIGHLY RECOMMENDED!
Follow Zaltek Reviews on
Instagram
and
Facebook
and please feel free to join our Facebook group
WatchChat
, a busy community for watch enthusiasts and collectors, with tons of images and in-depth discussions.
At Zaltek Reviews, we encourage the companies whose watches we've reviewed to comment on our articles. We invite any company representatives to respond in the comments section below. Thanks very much.