Manufacturer:

Alsta Watch Company

| Price: £795 GBP ($1,049 USD, €885 EUR)
If I asked you to name the top 10 most iconic films of the 1970's, the chances are that Jaws (1975) would feature fairly high on that list. A police chief, a marine scientist and a fisherman protect their island from an abnormally large shark. In the 70's, this was the stuff nightmares were made of… probably. I'll admit, I've not seen the film, but that's an argument for another day. Watches that appear in movies have a tendancy to create hype around those timepieces that may not have existed otherwise. This is the case with the Alsta Nautoscaph Superautomatic that we have here today.
This fateful watch was spotted on the wrist of Matt Hooper, the plucky young oceanographer, who was hired by the police chief to help eliminate the killer shark. The 1970's was filled with a plethora of weird and wonderful watch brands, many of whom fell foul of the dreaded quartz crisis at the end of the decade and early into the next. Alsta was one of these brands that did not survive the end of the mechanical watch world. That would be the end of the story, but Alsta had one thing going for it. Its Nautoscaph dive watch featured prominently on the wrist in the classic movie Jaws…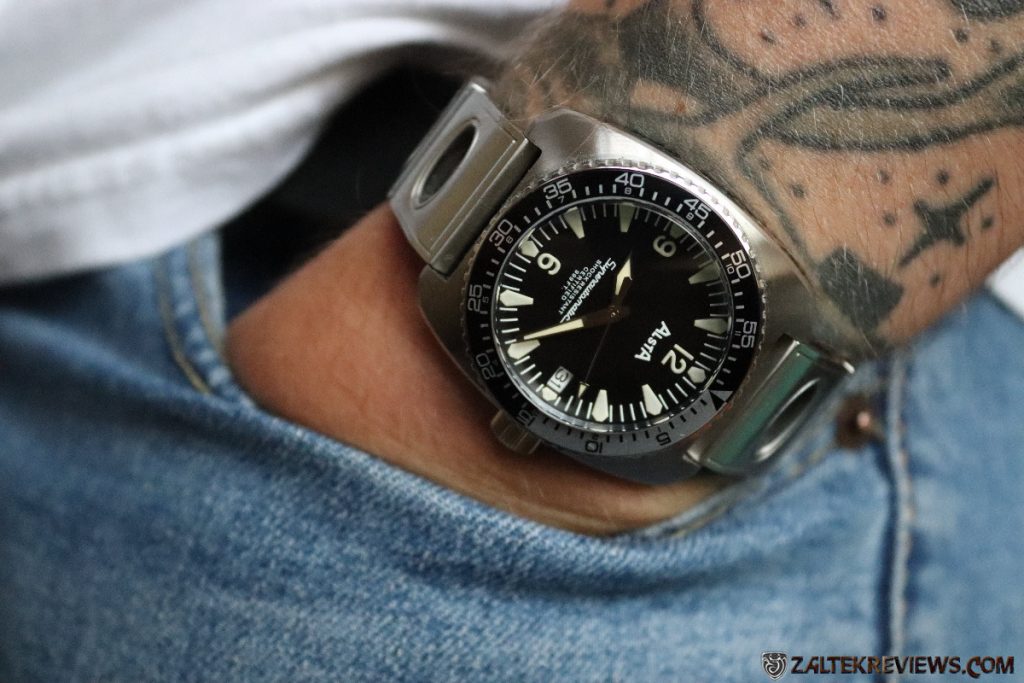 Specifications
Dimensions: Diameter – 38.3mm, Thickness – 15.1mm, Lug to Lug – 43.1mm, Lug Width – 20mm
Movement: Seiko SII NH35A, 21,600vph, Hackable, Self Winding, 41hr Power Reserve
Case Material: Brushed 316L Stainless Steel, Polished Sides
Bracelet/Strap: Brushed 316L Stainless Steel, Polished Sides
Crystal: Sapphire, Anti-Reflective Coating
Bezel: 120 Click Unidirectional, Aluminium Insert
Water Resistance: 300m / 30ATM / 990ft
Lume: Swiss Super Luminova® C3
Crown: Screw Down, Signed
Caseback: Screw Down, Unique Serial Number
Anti-Magnetic: 4,800 A/m
Warranty: 1 Year      Weight: 147g
Where to Buy:

Alsta Watch Company
"The new Alsta was created to bring romance back to wristwatches. We don't simply carbon-copy old models and rely purely on our past. For sure, we are inspired by our fabulous portfolio of time pieces from our past, however we believe in bringing modern thinking and design touches to our new watches. We are about style and aspiration, but not for mere consumption, but for conservation, protection and legacy. Typical Alsta wearers are independently-minded men and women. They are global citizens, successful, motivated, lovers of adventure and the great outdoors. They will admire explorers of the early 20th century, style icons of the mid-20th century and technology, business and creative pioneers of the modern era. Inspiring those around them, they will be creating their own footprint.

Ideals and ideas drive them as opposed to material wealth. Aspiring and inspiring to learn, teach, conserve and protect the truly important things such as our lands and oceans and all that live on and in them is more important than mere consumption. Sure, they may own and enjoy nice things – we all need a little reward for our efforts – but not because these things are expensive; because they admire their style, longevity and craftsmanship. Equally, he or she may be just beginning to discover and develop their own tastes in personal style signifiers, like wristwatches or may simply need robust "tool" watches that will withstand the knocks and bumps of the sea, surf, snow, rock or even the studio or boardroom! Don't confuse the Alsta man or woman with someone who can afford anything, but knows the value of nothing. These are people who own and covet what they want and not what others tell them to want. An Alsta wearer cares, dreams, romanticises, aspires and inspires."
The case is rather nicely made and measures a very wearable 38mm. At the moment, I am really digging the sub-40mm case size so it's nice to see a 38mm dive watch. They're not too common these days due to the obvious requirement for good legibility, but Alsta ticks both of these boxes with the Nautoscaphe Superautomatic.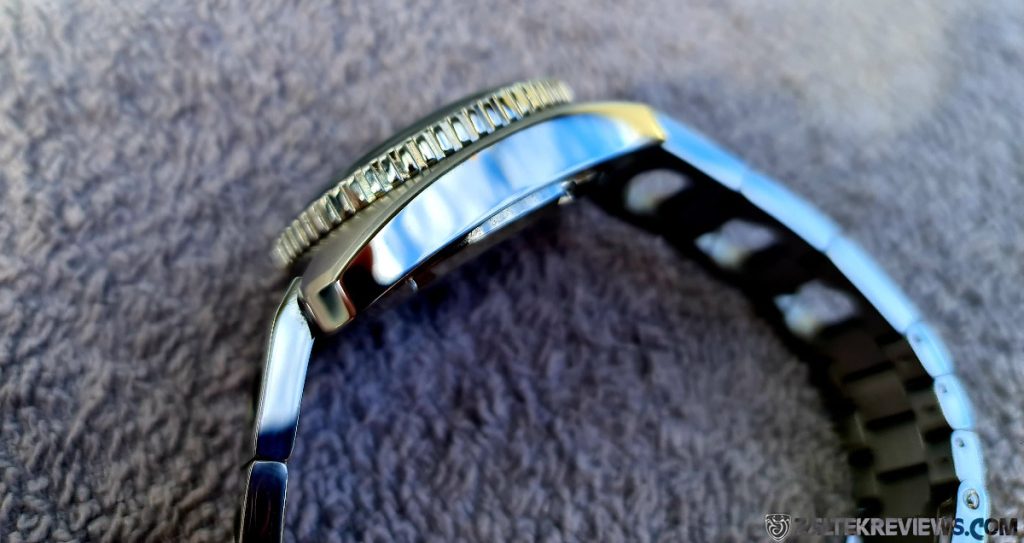 Whilst the Nautoscape is nice and small in case diameter, this does unfortunately have the knock-on effect of exaggerating the case thickness. It measures in at 15mm including the boxed sapphire crystal. Now normally this wouldn't be too much of an issue on, say, a 40-42mm watch, but on this compact little 38mm watch the effect is really rather pronounced. It does feel like it's sitting quite high on the wrist as a result, which is a shame. Now I don't know how feasible this would be from a technical point of view, but I'd certainly prefer a slightly lower crystal and slimmer case, even if that meant sacrificing some of the water resistance. 200m would be more than enough for most uses, so would 100m for a piece like this – especially given that it's not a true dive watch as there's no lume on the bezel insert.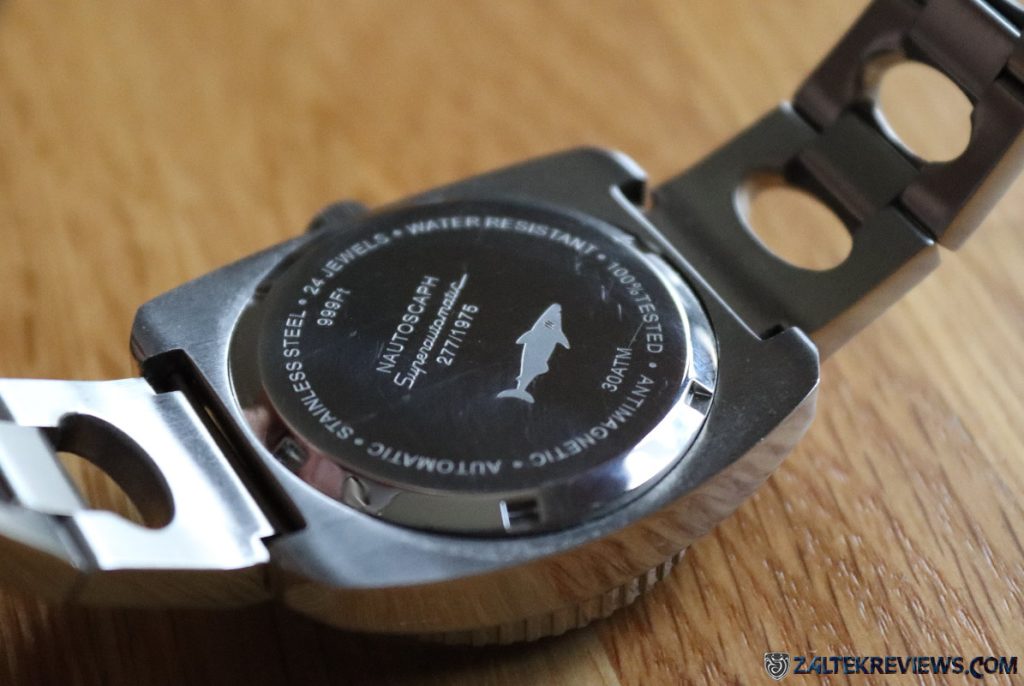 The bezel looks great on first inspection, as does the contrasting black and silver. Again, as I just mentioned, there is no lume on the bezel. No pip at 12 to mark the start of a dive. Visually this is not much of an issue and it certainly looks cleaner, but it also means that the 300m WR becomes slightly less important. In operation, I was not a fan of the bezel. It was very stiff and slightly seized. I don't know if this was a one-off or just a QC issue, or if the bezels are all this tight. It was very difficult to turn and I couldn't physically do so while on my wrist. I had to remove the watch and use both hands to turn it. Not exactly a selling point. Even if this is a one-off QC issue, for a £795 watch, I expect far far better.
This is where the watch really let things down for me. Whilst the bracelet was nice visually and kind of comfortable for the most part, if you have any hair on your arm… you won't for much longer. It's amazing how some bracelets just really rip the hairs from your arm and others don't even touch them, but this Alsta was firmly in the former category. Strike 1.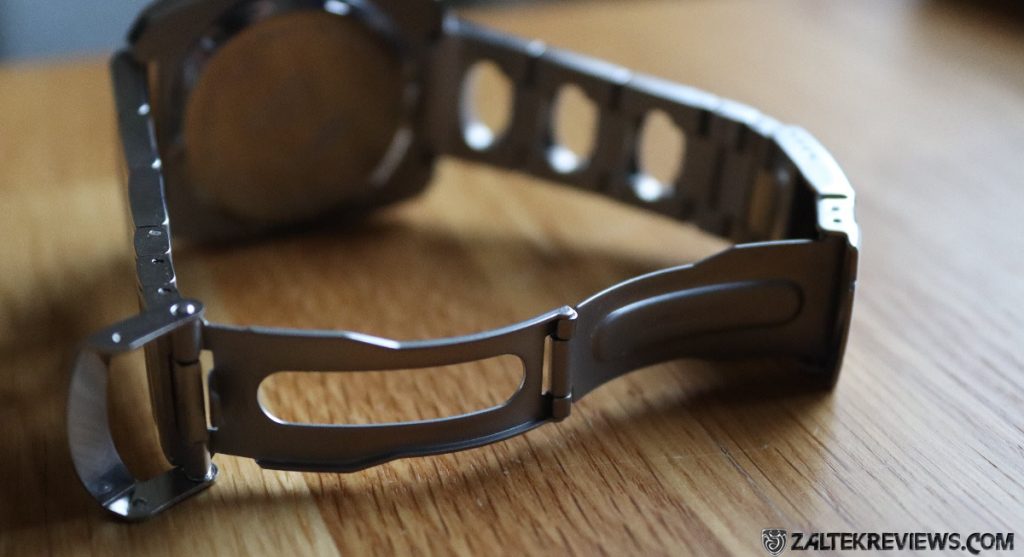 Strike 2 is the clasp. I feel like Alsta ran out of budget here and decided this was the corner they were going to cut. The clasp is a pressed metal affair with a very lightly engraved shark on it. I was not a fan. It felt cheap, it looked cheap and I assume that it was cheap, in the grand scheme of things. For a watch costing £795 I expect far better. This is the second time in this review that that I've said this and that's a real shame. Overall, this is aesthetically a nice watch, but the price tag adds certain expectations of quality that were just not met and on more than one occasion.
There's not too much to be said about the dial. That's not a negative thing, but it's a clean simple dial, which pays very close homage to the original from the 1975 version. The hands are nice and well finished and the lume is even applied to both the hands and the dial too. No complaints there. The lume longevity isn't fantastic, but again this is not going to be used for serious diving, so I take that into account. It is sufficient.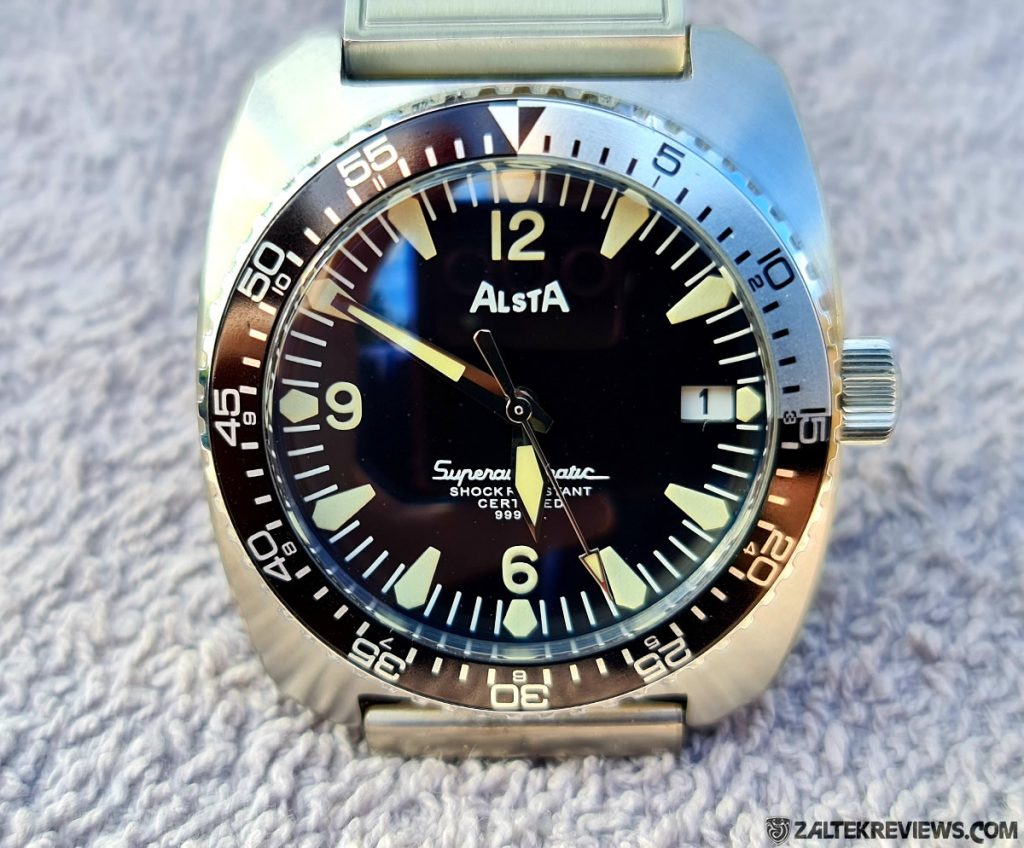 The movement of choice here is a Seiko NH35. I won't bore you with the technical details, as this is a movement we are all very familiar with. It's a solid, cheap workhorse of a movement, that offers longevity at a very affordable price. I don't have any issue with this.
Some will scoff upon reading this and say that a watch with that movement should never cost anywhere near £795 in the first place, but I disagree. A watch should be judged on the quality of the entire build. Some of the production budget can be saved by choosing this solid little movement, had it been reallocated to a fantastic clasp, or with outstanding case finishing, then that would have been fine. If the overall package felt like it warranted parting with £795 I wouldn't have anything to quibble with, but alas the Alsta does not.
I thought about this for a while and the only fathomable reason I can think of for the price, is that Alsta are attaching a certain value to the watch because of its Jaws movie ties. To some collectors and enthusiasts that may be so and they may value it more because of this, but the everyday watch collector will not. Collectors who also happen to be big fans of the Jaws movie are a very niche group to target.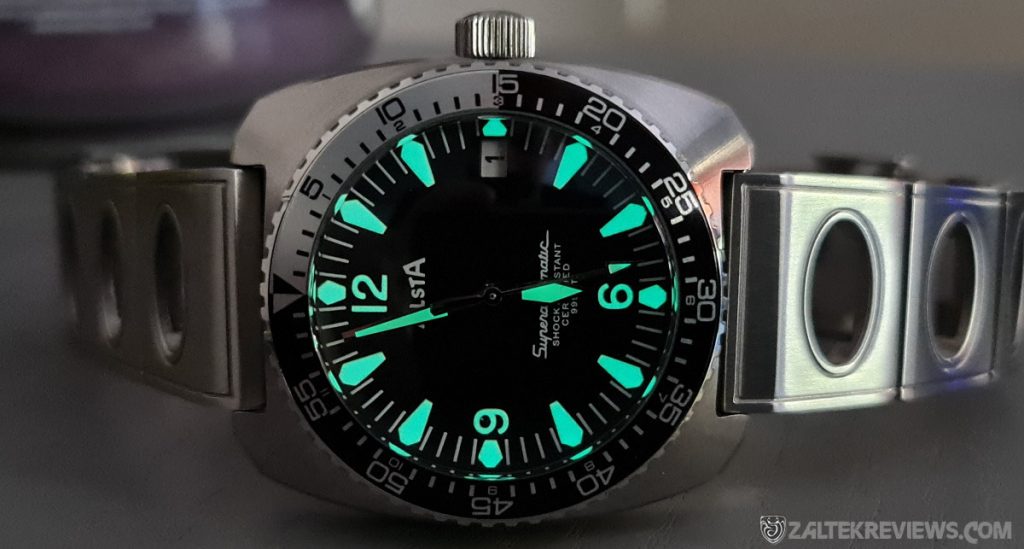 I think Alsta has made a slight error along the way with the Nautoscaphe. Were it maybe £300 or even up to £400, there would be some value here and it'd make a nice little addition to any collection of someone looking for a smaller size, vintage style dive watch. Alas, at this price I can't say I feel like this is money well spent. £795 is a lot of money and could easily get you a couple of watches of equal quality or one far better. I just think Alsta has not done enough to warrant this price tag. It's not an inherently bad watch, it is just not a very good value proposition unfortunately.
5.8/10 - MISSES THE MARK ON THIS OCCASION
It's a nice enough watch as a whole, but at this price, the value proposition just isn't there.
A massive thanks to Angus at Alsta for sending the Nautoscaph Superautomatic out for review. Much appreciated.
To view the Alsta website, or to join their mailing list to be informed of new models etc, visit
alstawatch.com
.
It takes a fair amount of work to do these reviews. If you feel like supporting Zaltek Reviews to help towards our running costs, or even if you feel like just buying me a coffee, please use the PayPal button below. Thanks very much.
[paypal-donation purpose="Donate to Zaltek Reviews" reference="Ref:Zaltek" button_url=""]