Manufacturer: Audric Watches | Price: $600 USD (£465 GBP, €535 EUR approx)
Today we have something new! It's the Seaborne, the first release from a new microbrand, Audric watches. It's a chunky chap with a definite presence on wrist but first impressions are fairly positive. There's a few cool/fun colour options available, so when Audric offered to send us a prototype to review here at ZR, we jumped at the chance. It's always nice to be able to see what new microbrands are doing and how they're thinking. Often, their first model is their purest design as it's not been inspired or affected by past successes or otherwise. So, without further ado, let's see what we have here…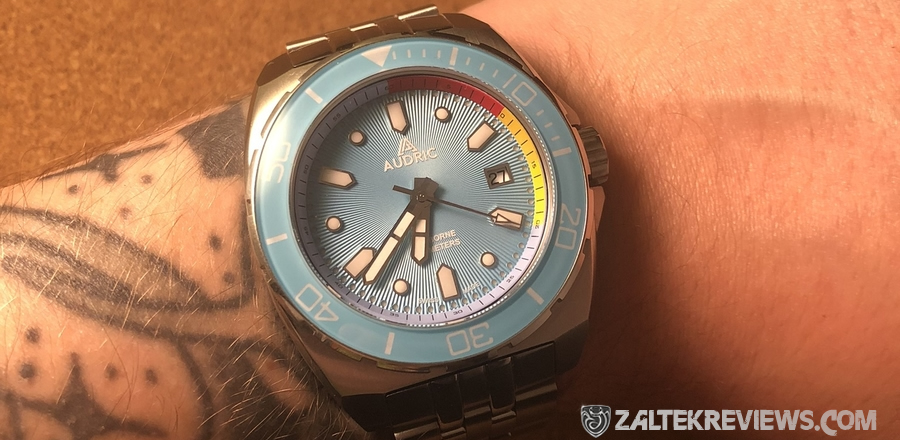 Specifications
Dimensions: Diameter – 43mm, Thickness – 15.4mm, Lug to Lug – 51mm, Lug Width – 22mm
Movement: Sellita SW200-1 Elabore, Automatic, 28,800vph (4Hz), Hackable, Self Winding, 38hr Power Reserve
Case Material: Brushed 316L Stainless Steel with Polished Accents
Bracelet: Brushed 316L Stainless Steel, 5-Link, Solid End Links, Screw Pins, Signed Milled Ratcheting Clasp
Crystal: Flat Sapphire, 5 Layers of Underside Anti-Reflective Coating
Bezel: 120 Click Unidirectional, Sapphire Insert, Fully Lumed
Water Resistance: 500m / 50ATM / 1640ft
Lume: Swiss SuperLuminova® BGW9
Crown: Screw Down, Signed and Lumed
Caseback: Screw Down, Etched Turtle Logo
Warranty: 1 Year
Where to Buy: Coming to KickStarter Soon!

Options: Colour – Black, Grey, Green & Powder Blue
Audric Watches - The Company
Audric is a Singapore-based, Swiss Made watch startup with a factory located in Neuchatel, Switzerland. At Audric, we are committed to delivering high-quality and rugged watches with utilitarian features. Our ingenious designs, impeccable materials and attention to detail fortify our commitment to produce beautiful timepieces which creates unique value for our customers. All of our watches are Swiss Made to ensure that they meet not only the highest standards, but also impart that luxurious feel to the customer.
The case is a chunky lump of solid 316L Stainless Steel. For a 500m watch I expected a decent heft and accompanying wrist presence and the Seaborne delivers in that regard. At 15.4mm thick, it's not the easiest watch to be tucking under a shirt cuff, but that wasn't why this watch was built. It was built as a tool and that is what it does – no complaints. At 43mm wide and 51mm lug to lug, the size is manageable if a little on the larger side of things. Given the current trend for smaller watch sizes, the Seaborne ensures that the larger wristed folks amongst us are not being left by the wayside. 
In terms of the finishing, overall it's pretty good. There's a mixture of predominantly brushed surfaces, with a few polished accents thrown in for good measure and some sandblasting on the sides of the case in the recessed parts. The level of the brushing is quite subtle too. I like the recesses in the side of the case as they add an extra level of depth and detail to the case, showing that some thought has gone into the design. I want to also add that the case's lines are quite angular, yet at the same time, they're also somewhat svelte and curved. This is a really clever and purposeful case design as it effortlessly blends the tool-watch chic with some dressier aspirations (despite the size). Nice work guys!
The water resistance of the Seaborne is rated to 500m or 50ATM (or 1640ft for you imperials). There's also a helium escape valve at 9 o'clock too. 500m is a whole lotta' depth and as a personal opinion, I think it's a bit overkill. 99.9% of people are not going to be in a situation where they require a 500m WR rating over, say, a 300m rating. I personally think 200-300m is the sweet spot, especially seeing as the most extreme action that most watches will see is a hotel pool or paddling around in the surf whilst on holiday. I know it might look and sound better written on the dial, but it's pretty much just a vanity thing in my opinion. Just because you can have these things, it doesn't mean you should…
The helium escape valve is for use by saturation divers – and I mean no disrespect, but a professional saturation diver is unlikely to consider this watch as their tool of choice, or many other microbrand for that fact. If anything all it does is add a potential point of failure. Indeed, around the edge of the valve hole, there's some rough machining and the valve looks like it's been forced in rather roughly. Probably not quite enough to be a cause for concern (Edit: Akshay has acknowledged this issue and it will be fixed at production) but enough that's worth mentioning. I personally think that forgoing the HEV and leaving that 9 o'clock edge bare would have been a better idea. Again, just my opinion!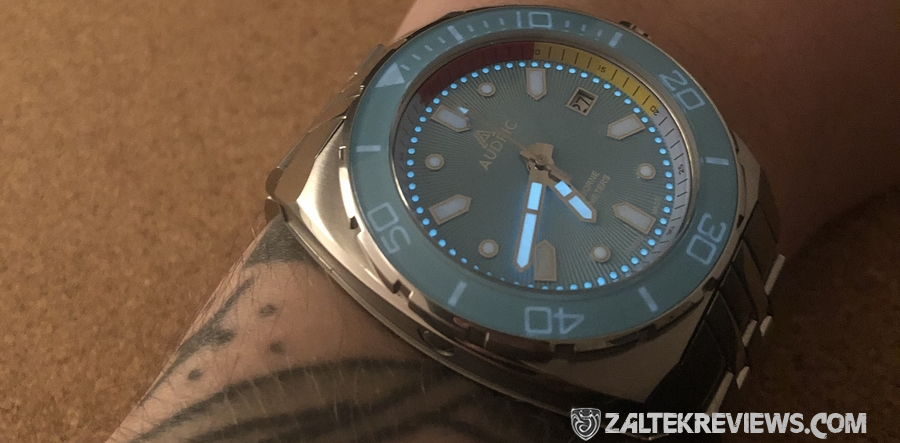 It's worth saying that the above points on 500m WR and the helium escape valve are not solely directed towards Audric. Many brands use (abuse?) both of these features regularly, but in my opinion they're somewhat useless for most people. By removing them, the brands could reduce the size a little bit and also reduce the costs. I think that would appeal to a lot of enthusiasts just as much? Just a thought!
The proportions of the watch are surprisingly nice for my 7″ wrist, despite the 51mm lug to lug distance. The Seaborne wears well enough, but some people may need to get a little used to the weight. At a recent RedBar Manchester meeting, the Seaborne was described as a potential weapon by more than one onlooker! Not an issue for me, as I do like a bit of heft and I like to know my watch is still on my wrist! Heck, I used to like the big, chunky, original 3G Motorola phones for the same reason. You know the ones that were literally like a small brick? Yeah, well I was one of those people and I like to think I rocked that mobile brick like a boss…I digress!
The signed crown is good and chunky and matches the case. It looks great with its fully lumed logo too. There is barely any wobble when the crown is in use and you can also feel a solid 'pop' as you unscrew it. The edging of the crown is similar to that of the bezel, but it's just different enough to be a slight missed opportunity. Matching the two styles properly would create more cohesiveness throughout the watch's design. The bezel uses a boxy/angular scalloping, whereas the crown is more rounded. It's not a dealbreaker by any means, but still would have been nice.
The Seaborne comes with a solid stainless steel bracelet as standard. Nice to see Audric include this right off the bat rather than hide it away behind a stretch goal. Plus points from me right there! The bracelet itself is 316L stainless steel and it's very nice. It's a substantial 4mm thick. One of my common complaints with bracelets is that they can be a bit 'thin' for my liking and they can throw off the weight balance of the watch.
The Seaborne has nailed it here and done a very good job. The bracelet style is a cross between a 5-link and engineer type. If there's a specific name for it, I don't know it!! Let me know in the comments! Oh…and the middle links are polished, FYI. This is quite a subjective point, but given the polished accents on the case, it complements the overall design rather well.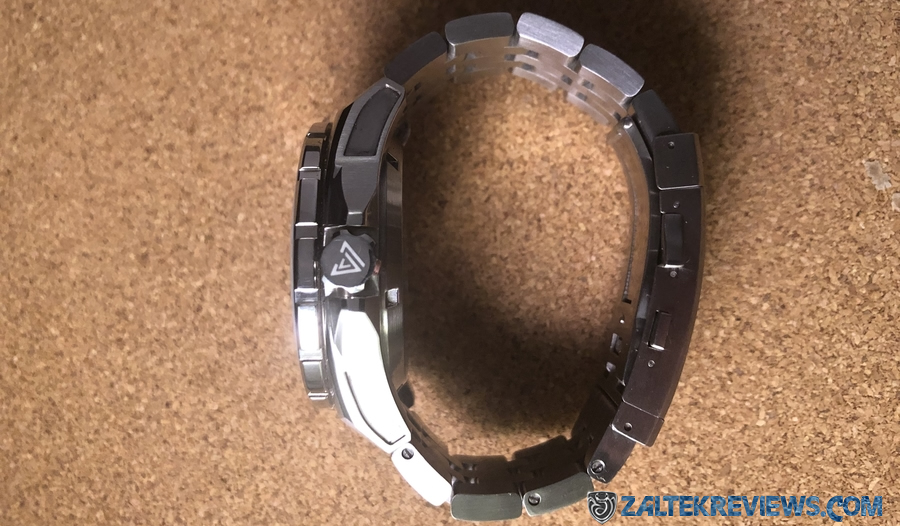 The clasp is a ratcheting one and it's the standard type we're seeing in many microbrand divers. It's signed with a nice etched logo. Often this type of clasp can feel a little unwieldy as it's quite long (40mm) but here it fits the aesthetic very well. On the above point about the welcome chunkiness of the bracelet, this clasp would not work as well on a thinner bracelet so well done guys! The clasp works exactly as expected, but it is a little sharp on some of the edges. Again, this is not on Audric per se, as I'd had the exact same issue with these clasps from other brands. Seems to be a common theme. Maybe another point that could be addressed at production perhaps?
The movement here is the Sellita SW200-1. This is fast becoming a very popular Swiss movement of choice for simple three hand automatics. As the ETA supply becomes throttled and more difficult to find, we're seeing this movement used more and more often. It's a solid choice though and keeps very good time.
The Audric website seems to suggest that they've created a custom rotor for it, but I don't see the point of that added cost as it's (quite rightly) hidden behind the etched caseback? The Sellita isn't an 'ugly' movement at all, but it's nothing that demands being shown off either. Anyway, great solid movement choice here.
The dial and bezel are blue. They're very blue, an icy/snowy/powdery shade of blue. Not even a shade of blue that I've really seen before either! That's not a bad thing as such, as it's nice to see something a little different, but this shade of blue feels quite limiting to me. It certainly wouldn't suit all social situations. The black, green and grey colours are more subtle and would be better all-rounders, but this blue one is a bit loud!
To me, it is an ideal summer watch, even though I described the shade and icy/snowy… go figure! Sat by the pool or on the beach it'd look right at home, but I can't see this colour fitting in too well outside of water-based, summer activities. I do appreciate that this is just my personal opinion! I want to stress that I don't hate the colour, it's just a little loud for me. The black or green would be my preference.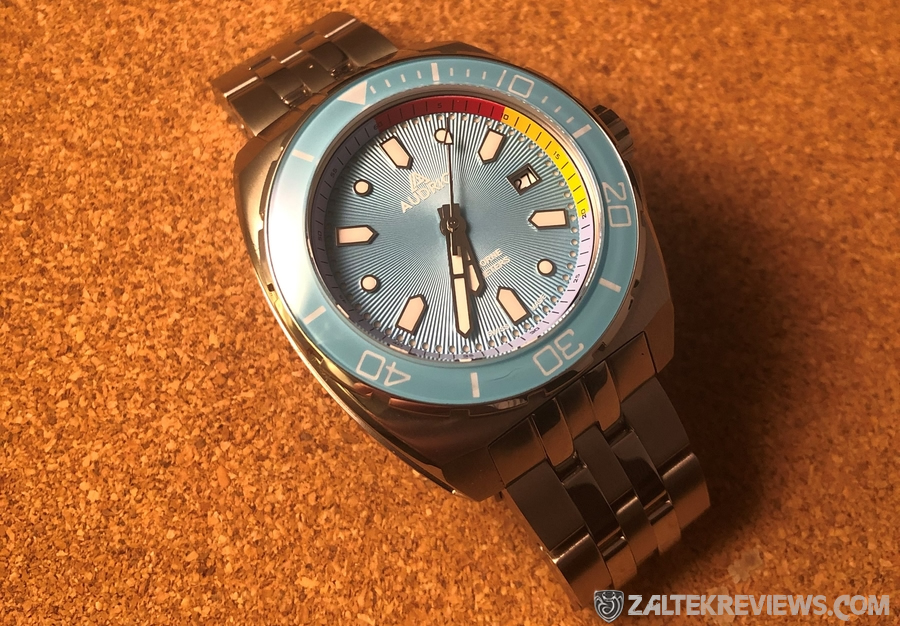 The dial itself has a nice stamped radial sunburst pattern and the logo, model name and WR rating are printed in white. There are hour markers at all points except for 3 o'clock where a date peeks out from a polished metal-edged cutout. The hour markers are all applied and I kind of like the layout. Rather than the traditional format of matching markers at all points except the cardinal markers, the Seaborne has what I like to call a 'snowflake' arrangement which suits the icy blue.
There is a minute track on the colour matched chapter ring (which also has different colours for the first 10 mins and the second 10 mins), but there's also a minute track on the dial itself too. Although not immediately obvious, there's tiny dot cutouts for each minute, which are then lumed via a sandwich construction. It's a nice effect and creates an extra layer of depth.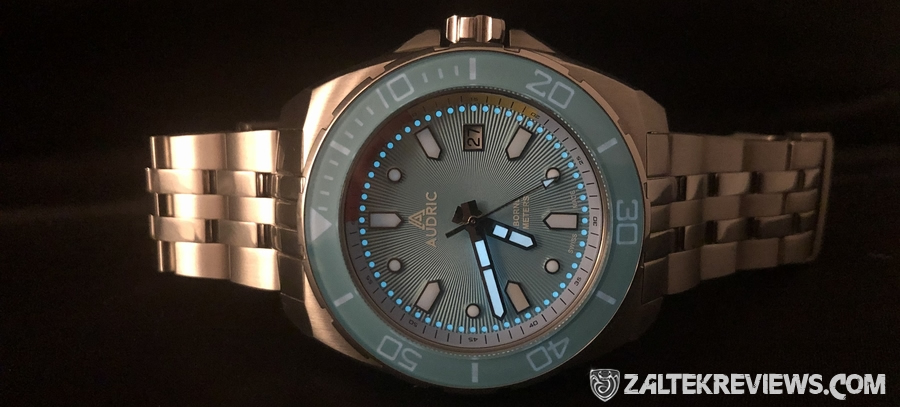 Individually, there's lot of nice touches and things to like on the Seaborne's dial, but all together they're a bit too much. There's a lot going on; sandwich dial, applied markers, text, bold dial texture/pattern and a date. I can't help but feel that it loses something by trying to do too much all at once. Sometimes less really is more. The bezel matches the dial colour nicely. It has a nice click – possibly a little too easy to turn. It was a little easy to get slightly knocked out of place accidentally but this is something that should be easy to fix at production.
As you can see in the images, the hour and minute hands are classic in their design. The seconds hand is great too, easily reaching right out to both minute tracks. According to Audric, all the hands are rhodium plated too, which would explain their shiny lustre. I think perhaps the hands would benefit from a slightly fatter design. These hands are quite svelte and this seems slightly off balance given the chunky nature of the rest of the watch. (Edit: After speaking to Akshay, he has said that the hands are indeed being made slightly fatter for the production version. I think this is a wise choice and will be a positive improvement!)
The lume on the Seaborne is a mixed bag – it's good but not quite perfect. It's all BGW9, but the level of application across the bezel, sandwich dial, hour markers and hands is inconsistent. The hands are nuclear and glow the brightest. The hour markers are a bit of a letdown in comparison and the dimmest after a quick blast from a UV torch. They are easily visible but the difference when compared to the hands is a bit disappointing. The sandwich portion of the dial performs admirably and is nearly up to the same level as the hands. The bezel is brighter than the hour markers, but not as bright as the hands. 

Lumed bezels can be notorious for being a little difficult to get them glowing super bright, but this one is rather good. The numerals are very bright, but the rest of the bezel seems to be lumed too, which is a nice touch. Even more so as the bezel colour in daylight matches the dial very well. Overall the lume is rather good, but I think the hour markers definitely need improving on the production versions. (Edit: The lume is another point that Akshay has said it being addressed in production: thicker application, and the numbers on the bezel will be slightly larger/fatter to allow more lume to shine through)
Overall the Seaborne is a great watch. I appreciate I might sound a little harsh at times in this review, but I think it's worth pointing out things as they are and stating my opinion, even if not everyone may agree! That said, the Seaborne is probably worth checking out. It's just a big chunk of watch – some people love that and others don't, it's very subjective. After speaking with Akshay he is very engaged with feedback and already has plans in place to fix those at production. 
Taking into account the specs and the fact it's 'Swiss Made', you are getting a lot of watch for the money. I would probably be more tempted by the green version (my favourite colour of the 4 options) and the black and grey ones also look rather sharp. If the points above are addressed at production then I'd happily revisit this review. 
A very valiant first watch from a new brand and it makes me excited to see what else is yet to come in the future from Audric Watches.
A massive thank you to Akshay for sending us the Seaborne out for review so quickly. Very much appreciated and it's great to get hands-on with this maiden offering from the brand.
To view the Audric website, or join their mailing list to be informed of their Kickstarter launch etc, visit
Audric Watches
.
Follow Zaltek Reviews on
Instagram
and
Facebook
and please feel free to join our Facebook group
WatchChat
, a busy community for watch enthusiasts and collectors, with tons of images and in-depth discussions.
At Zaltek Reviews, we encourage the companies whose watches we've reviewed to comment on our articles. We invite any company representatives to respond in the comments section below. Thanks very much.