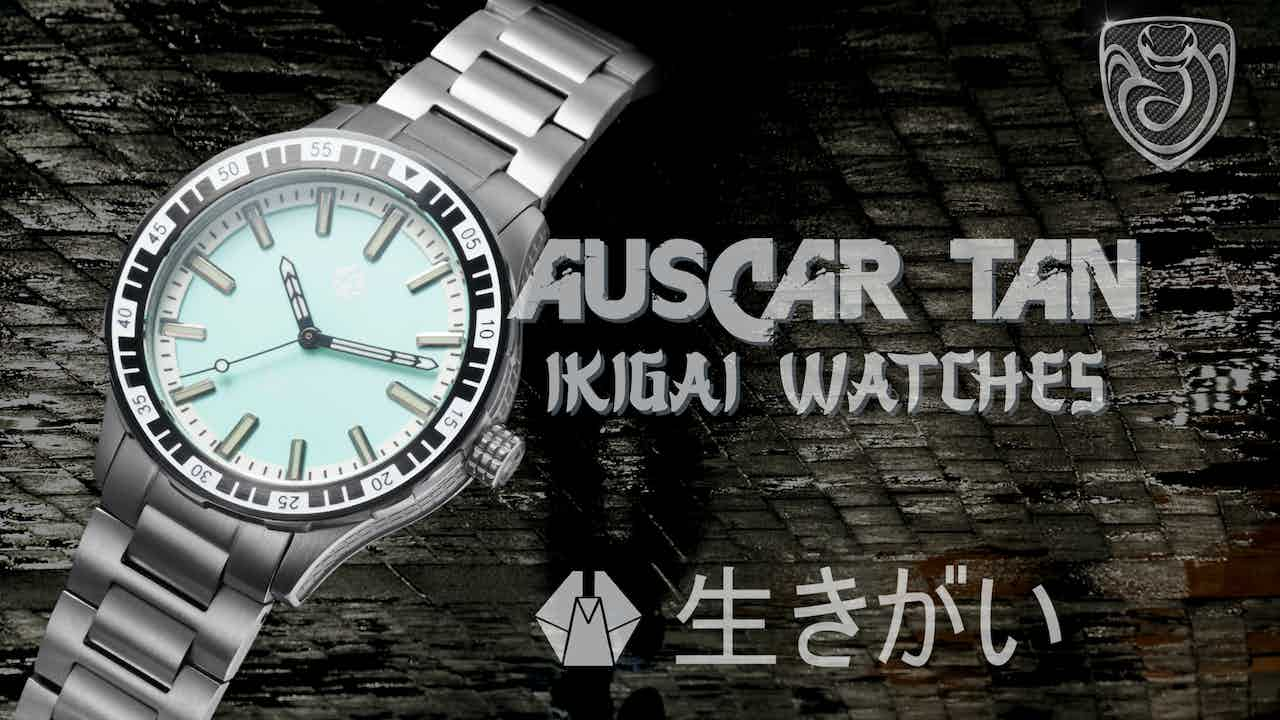 1. How did you first get into making watches?
The idea started around Mid of 2020 when I was basically under lockdown just like everyone else and it was a tough time for everyone. Personally, I had to work from home with a huge pay cut given the circumstances of what was going on in the world and what my job is. Everyday is basically the same where I would wake up, turn on my laptop and answer my emails, all done while I am wearing just the same boxers I woke up with haha. Time passed, I began to feel very unmotivated and did not like how my daily life was going. So, I started dressing up every morning with my work outfit… just full on formal wear, sitting in my room doing emails and cold calling. From time to time, I would just glimpse at the watch on my wrist and watch time go by. Then I just thought why can't a watch do more than just tell time? We take a look at our watch from time to time every day, maybe it could perhaps have a story to inspire/ motivate you. With my love for diving and watches, I thought maybe I could create a dive watch that has a meaning to it and also has design inspiration that is positive, hoping it could spread a little hope and joy every time it is glanced upon. I knew about Kickstarter as it was the place where I bought my first watch personally when I got my first pay check from my part time job in college. (PS. I did not have a good experience with the campaign/ watch XD) So, I just started researching more about it and started working on the designs.
2. Do you have a "normal job" or is this your full-time passion?
Yes, I still work as a salesperson in the logistics industry. This job means a lot to me as it helps fund this venture and also my collection.
3. What do you like best about being a successful micro brand?
We are far from being a successful Microbrand. But, what I like about being a microbrand is we get to personally have a connection with our supporters. We text and talk just like normal friends do. And, that is also why I love supporting other Microbrands as I am able to know who they are personally behind the brand and am very confident that they would help me if I run into any problems with their watches.
4. Which of your watches is your favorite? Are you also a watch enthusiast of other brands?
Currently what I wear the most will be my BR05. I also have a Signature by Radcliffe Watches, this is one of the watches that holds a lot of meaning to me. The founder Tayeb, took a lot of his time to guide me through basically A-Z on what I can do to improve my campaign when he was on holidays here in Malaysia, he gifted me the watch before he left so this one holds a lot of value to me.
There are plenty that I love, the new ones in the scene that have caught my attention recently are Shirahama by Namica Watches and Legato Diver by MW watches. I do not know the owners personally but I do love what they are doing. Haven't got a chance to add more to my collection after starting this venture but those are the latest ones I am eyeing to be in my collection one day.
5. What advice would you offer someone that was interested in creating their own brand of watches?
I would say, if you have the passion, just do it. Do not think about making profits when you start your own brand. At the end of the day, if you have the passion, what you get is joy in your venture and will be happy to deliver the best timepieces to the people who support you.
6. What do you think really sets your watches apart from others?
I think it is our bold design and how much we stick to our inspiration. Like for our first campaign, the Kazan, it is a volcano inspired compressor dive watch. From top to bottom, you can see where the inspiration is from. Same goes for the Maru. Unfortunately, the Kazan did not get funded as I believe the dial was too complicated. But, it was a lesson learned and it led us to the Maru which features a more balanced design while still being unique in its own way.
7. What are some things that you wish everyone knew about you and your work? Any interesting brand trivia? Any personal info you'd like to share?
I wish people would know the story behind our designs like what inspired this and that part. It is hard to convey the inspiration or message through videos or text mainly because I have not figured out how and I am like the worst at photo taking and video editing. I hope you guys can have a read through our Kickstarter page, the Kazan and the Maru. The campaign carefully shows where the design is from and what is the story behind it.
8. What has been your biggest surprise so far, as you have grown your Ikigai Watch brand?
I wouldn't call it a surprise but it has been a very pleasant journey. I have had people messaging me that they like our designs just from sketches and rendering, that always makes my day. Brand owners messaging and offering all the help they could possibly give to make sure our campaign is successful. Amazing experience working with all the reviewers and you Travis, thank you for reaching out and giving us this opportunity.
9. What future plans do you have for your brand?
To create more watches that people love. We have more in the sketch that we would like to showcase to the world.
10. What is the story behind your brand name/logo?
The word ikigai (ee-key-guy) is a Japanese concept that combines the terms iki, meaning 'alive' or 'life,' and gai, meaning 'benefit"' or 'worth.' In other words, ikigai means 'a reason for being.' Our logo is a paper crane, symbolizing hope and healing in challenging times.
11. Who is your ideal customer?
I would say someone who is open to try something new or different. I believe our design is not widely accepted in the watch community which I completely understand. Like who in their right mind would lume the side of the case which serves no purpose. So, I would say people who are crazy enough like me to accept such designs.
12. Where do you see the Microbrand industry headed? What are just trends, and what is here to stay?
In terms of designs, it is in a very good position. There are more microbrands that are experimenting with bold and unique designs. But, the reputation of Kickstarter is slowly deteriorating because of so many undelivered campaigns. So, it is hard for newcomers like us to enter into the market.
13. I noticed your brand was founded in 2020 with hopes to spread positivity to the world. Why is this important to you, and how is your quest going?
I think it has been going well. For our Maru campaign, there are backers messaging us that they like the story behind our brand and design. Many of which aren't watch lovers but they are willing to give us a chance because of it. So, it was really fun talking to them and introducing them to the hobby.
14. What can you tell me about your newest watch, the Maru? I believe it fully funded on Kickstarter in 5 minutes. Is that correct?
The Maru is a timepiece that balances both functionality and uniqueness. A lesson learned from our first campaign is you can be different, but never compromise the functionality of a watch. The Maru went through two design prototypes. I wore the first one (probably can find photos of it in FB groups) for a month and just basically listed out my experience with it and went back to the drawing board. The second prototype offers more comfortable dimensions with a new face which you see on our ongoing campaign. Many of you might not like it but yes, the case is lumed with C3 haha. I hope you guys can check out our campaign below and do let me know what you think.
https://www.kickstarter.com/…/ikigai-maru-one-of-a-kind…
It takes a fair amount of work (and time) to do these reviews, so if you feel like supporting Zaltek Reviews to help towards my running costs, or even if you feel like just buying me a coffee, then please donate using the PayPal button or QR code below. Unfortunately, 97% of my viewers/readers just scroll on by this section. If you feel like that I've given you maybe just a few quids worth of knowledge and/or entertainment, then please take just a couple of minutes of your time to kindly donate. Thanks very much, Will Duncan, Editor.