Manufacturer: Dan Henry Watches | Price: $290 USD (£220 GBP, €260 EUR approx)
This is my first experience of Dan Henry Watches and I have to admit, I am quite impressed. I did initially reach out to Dan Henry Watches last year to request a review sample of this very model, the 1970 Compressor Diver. However, even although Dan Henry did get back to me, they politely declined my request. I thought ah well, that'll be that then, and thought no more of it. Fast forward to January 2020, and one of our members (Phil Jackson) of our very own Facebook group, WatchChat, asked me if I would like to review his Dan Henry 1970 from his personal collection. As you can probably tell, I said yes, and two days later it arrived! Thanks very much Phil, I really appreciate you lending it to me.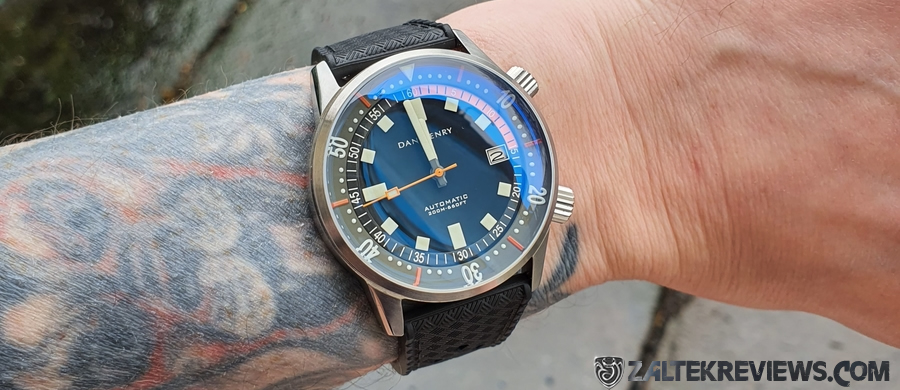 Specifications
Dimensions: Diameter – 39.7mm, Thickness – 13.9mm, Lug to Lug – 45.8mm, Lug Width – 22mm
Movement: Seiko NH35, Automatic, 21,600vph (3Hz), Hackable, Self Winding, 41hr Power Reserve
Case Material: Brushed 316L Stainless Steel with Polished Accents
Strap: Tropic Rubber, Signed Buckle
Crystal: Double Domed Mineral, Sapphire Coated, Anti-Reflective Coating
Bezel: 60 Minute Inner Rotating
Water Resistance: 200m / 20ATM / 660ft
Lume: Swiss Super Luminova®
Crown: Main(4) – Screw Down, CrossHatched | Upper(2) – CrossHatched
Caseback: Screw Down, Deep Stamped Scaphtopus Logo
Warranty: 1 Year     Where to Buy:

Dan Henry Watches



Options: Colour – Black, Blue, Orange, White
"My collection was built from the countless quests that took place in flea markets and local auctions. I was not only hunting for myself, I also had the joy of helping many watch lovers and friends. After 30 years of studying and acquiring more than 1,500 watches, I wanted to share it with the world. I first opened an Instagram account and then put my watches on a dedicated website, Timeline.Watch. Since, my watches received a lot of interest from fellow vintage enthusiasts. At first, it seemed that I could not share more than pictures, as each of these watches was so scarce, and in some cases their rarity had translated into a very high value. Eventually, I came up with a crazy project: make some beautiful watches such as the ones I was lucky to own, but accessible.

Dan Henry was born with the purpose of creating collectible vintage watches that tells the story of a time. The watches I chose to make were inspired by the most striking pieces of my collection. Those are not only beautiful, one way or another they also changed what a wristwatch can be. More often than not, they were daring for their time but left a mark in watchmaking, and remain admired today. The model name was inspired by the characteristic design of its time. I always look for the best deal out there. Sometimes I get more enjoyment out of buying a watch than the watch itself. I have a fondness for the pieces which I made a good deal. I create my watches to share with others collectors the thrill of making a great deal and wearing a historical piece."
The case of the 1970 has a diameter of 39.7mm. The lug to lug is 45.8mm and the overall thickness, including the double domed sapphire coated mineral crystal, I measured in at 13.9mm. The entire case, caseback, bezel and dual crowns are all 316L stainless steel. The finish of the watch is mostly brushed, but with a few rather nice polished accents that run along the bottom of the case, the lower portion of the bezel and down over the ends of the lugs. An excellent touch!

The Dan Henry 1970 has a water resistance rating of 200m, thanks to the screw down caseback & main crown. The upper crown's function in case you wondered, is simply only there to adjust the inner-rotating timing bezel. The proportions of the 1970, are pretty damn good for my 7″ wrist, due to the relatively short lug to lug distance. The Dan Henry 1970 wears very well on wrist too and doesn't appear top-heavy whatsoever. It is very comfortable, even on the supplied tropic strap.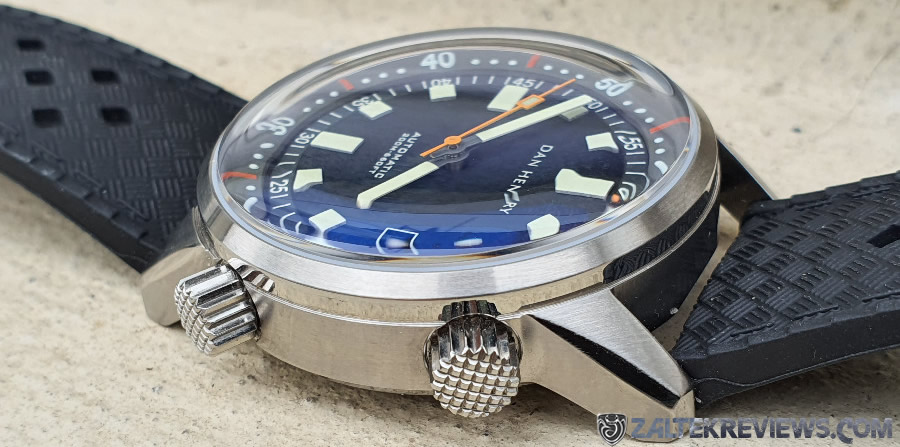 Both crowns are fantastic and do look great with their cross-hatched design, they're both easy to grip, however, only the main crown at the 4 o'clock position is screw down. As previously mentioned, the crown at the 2 o'clock position is only there for operating the inner-rotating bezel. I would though, ideally, liked to have seen this as screw down too, as to be honest, once you set the inner-rotating bezel using this crown it can move sometimes once set to the desired position.
There is absolutely zero wobble when the main crown is in use and you can actually feel a very nice pop as you unscrew it. The caseback has a deeply stamped Scaphtopus 3D medal on it, which does look fantastic. There is also the usual various specs engraved around the edge, as well as a unique serial number, XXXX/1970. Great attention to detail!
Straight out of the box, this Dan Henry comes as standard with just a black 22mm tropic rubber strap with a signed, very nice looking buckle. I suppose this keeps costs down, but I still would've liked to have seen a stainless steel bracelet, maybe a brushed/satin beads of rice bracelet would have looked fantastic on this compressor diver. Maybe a future option?? However, don't get me wrong, the supplied tropic rubber strap is a nice one, rather soft and well above, in terms of quality with what you would normally get with some other brands. Until Dan Henry make a bracelet for the 1970 I think I'd still prefer wearing it on a Nick Mankey Designs, Watch Steward or Erika's Original MN elastic strap.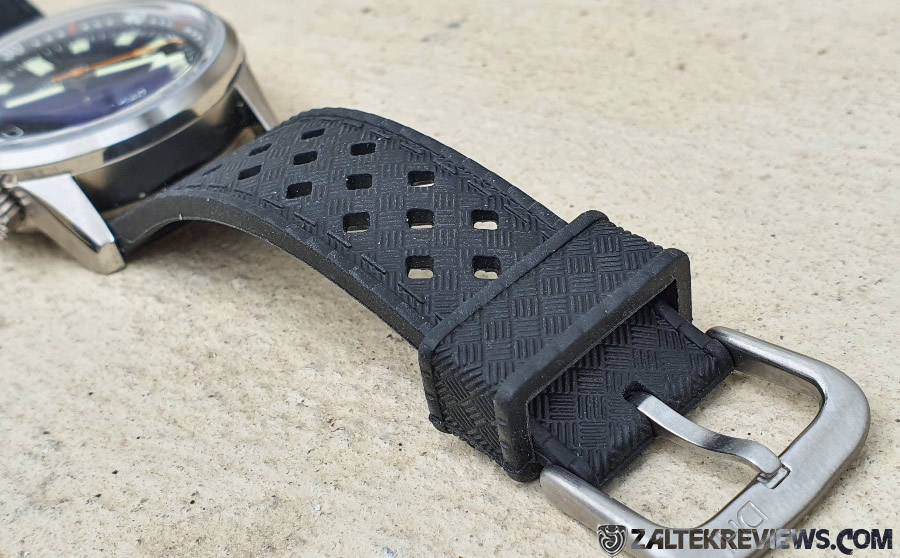 The movement selected for the Dan Henry 1970 is the microbrand go-to movement of choice, the super-reliable NH35 manufactured by Seiko. The Seiko NH35 is a fantastic workhorse with 21,600vph, 3Hz, 24 jewel automatic movement with a 41hr power reserve, self winding and ofcourse hacking. Checking the accuracy after running the Dan Henry 1970 for just over a week, mainly on my wrist and occasionally in my watch winder, I thought the accuracy was pretty bloody good, with it showing an average of just +5 seconds per day.
The Dan Henry 1970 has an inner rotating bezel, that is controlled by the crown at the 2 o'clock position. Unfortunately, this is where I have a slight issue with the DH 1970. It is just a little too easy for the bezel to move ever-so-slightly without it locking into position. In my opinion, I'd have much preferred to have seen dual screw down crowns on this one.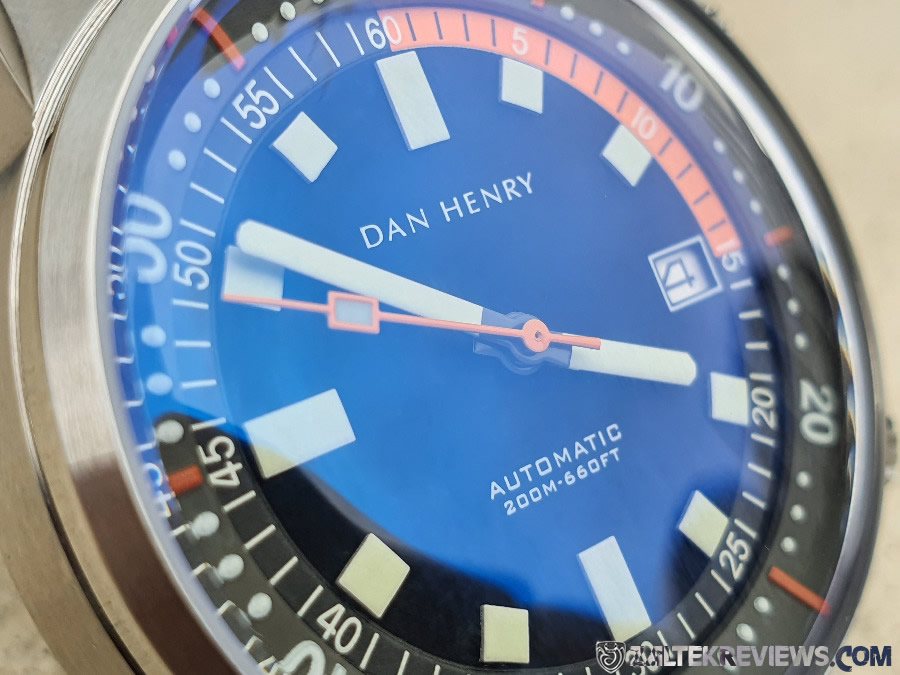 The text on the dial is clean & simple with just the brand name under the 12 o'clock position, and the word AUTOMATIC and the depth rating directly underneath. The main hour markers on the dial are all applied, which is very nice, and there are slightly larger markers at the 6, 9 & 12 positions. As you can see in the images, the hour and minute hands are great with their slightly chunky appearance, but they do suit the whole aesthetic of the watch perfectly. The seconds hand is great too, with it's lumed small rectangle section and overall finish in orange that matches both the chapter ring from the 0-15 minute timer position, as well as the orange periodical accents on the inner-rotating bezel.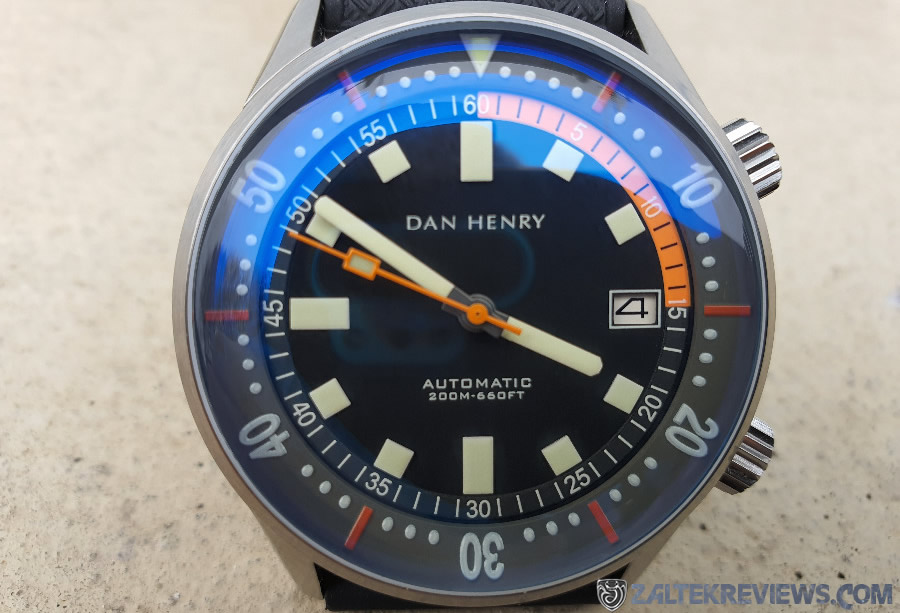 The lume on the Dan Henry 1970 is nicely executed, it's very bright and does have great staying power that lasts many hours in low light. The actual lume that's been used on the 1970 is listed on their website as Swiss Super Luminova®, which is great and looking at it, I'd say it is C3, with an extra helping of orange lume on the 0-15 part of the chapter ring.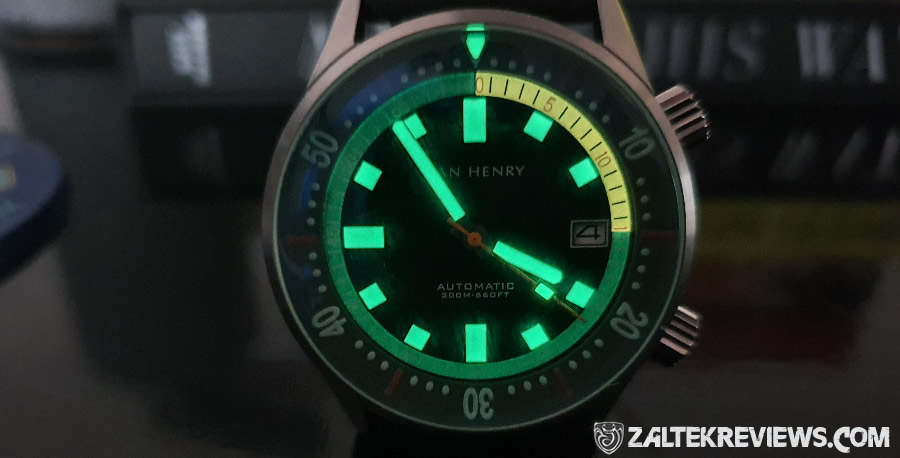 As I mentioned at the beginning of this review, this is my very first experience of Dan Henry Watches. Generally speaking, it is a very nice watch with no major flaws. My one & only negative point is though, I wish the crown at the 2 o'clock position that operates the inner-rotating bezel, was screw down. Not for a WR rating standpoint, as 200m is plenty, but just so the bezel would lock into position, and stay there after I've set it.
One more wee change or option that I'd love to see is, the Dan Henry 1970 on a bracelet. Perhaps one with a brushed or satin finish, beads of rice style. I think it would look amazing, even if it did bump the price up a bit. As I've stated above though, the Dan Henry 1970 is a fantastic watch and I do, without hesitation, highly recommend it.
Dan Henry Watches – Not perfect and could do with a wee tweak here & there. Exceptional value for money though!
9.1/10 - HIGHLY RECOMMENDED!
A massive thank you to Phil Jackson from our very own Facebook Group,
WatchChat
for sending me his Dan Henry 1970 Compressor Diver out for review so quickly. Very much appreciated, thanks mate.
To view the Dan Henry website, or join their mailing list to be informed of new models etc, visit
Dan Henry Watches
.
Follow Zaltek Reviews on
Instagram
and
Facebook
and please feel free to join our Facebook group
WatchChat
, a busy community for watch enthusiasts and collectors, with tons of images and in-depth discussions.
At Zaltek Reviews, we encourage the companies whose watches we've reviewed to comment on our articles. We invite any company representatives to respond in the comments section below. Thanks very much.