Manufacturer: LuffWatchStrap | Price: $24.99 USD (€22.65 EUR, £19.90 GBP approx)
Manufacturer: Nick Mankey Designs | Price: $29 USD (€26 EUR, £23 GBP approx)
Manufacturer: Erika's Originals | Price: €75 EUR ($83 USD, £65 GBP approx)
When it comes to watches, I usually prefer the bracelet option. What to do when there is no bracelet option on your beloved watch, what do you wear? The standard strap, a NATO, leather, canvas or something else? I've always been a huge fan of elastic straps. I've tried a LOT of these recently, including cheap ones from Amazon & Etsy, as well as others from CheapestNATOstraps.com and the like. However, the three I chose for this head to head are available sized for your wrist, a huge important fact to me, not only for comfort and wearability, but it also makes a difference aesthetically.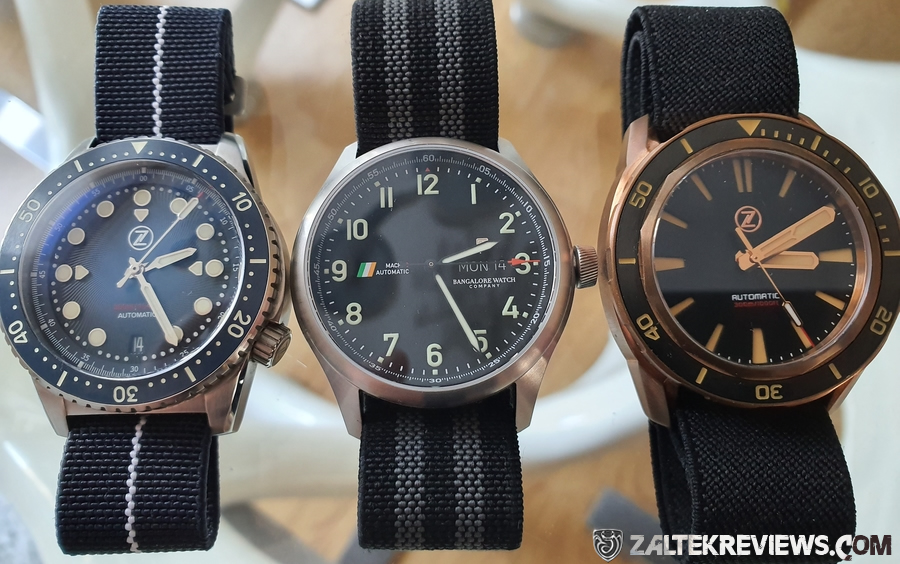 LuffWatchStraps G2 Elastico
I have a couple of these LuffWatchStraps, a 22mm Bond style one that you can see in the images above, as well as a 20mm grey one. Both are identical in design, the only difference being the colour & size. They are very comfortable but I have noticed, with both of them, that they can loosen slightly over time. Not exactly a huge problem but I do feel it's worth mentioning. The other thing I'm not keen on is how they fit to the watch as you have that extra stumpy part on the inside that you can see in the image above. I just feel it makes the strap slightly poorly designed as sometimes when you're wearing the watch that extra part can sometime flip over and rest under the watch. I know what you're all thinking, why don't you fit it so the spring bar goes through that material part. Well, that actually makes it worse as the hook part needs to be tightened and therefor brings the whole hook assembly closer to the watch head and ruins the whole aesthetic. I do like these straps though and I wear them regularly, I just feel the design could do with a few tweaks.
Nick Mankey Designs Hook Strap
The Nick Mankey Designs Hook Strap has a rather unique design as to the way it attaches to the watch. It does work very well though and it's extremely comfortable while on the wrist. It also has the stretchiest fabric out of all the three straps here today. I actually fitted this one, with it's all black fabric, stitching and steel hardware to my Zelos Bronze Swordfish (Black Sand Dial) and once fitted, the fabric is that stretchy, I don't have to undo the hook mechanism every time I put it on. It simply glides over my hand and onto my wrist without loosing any of its wearability or taughtness and yet still fits perfectly. Out of the three elastic straps here today, I'd recommend this Nick Mankey Designs one wholeheartedly. It's great value, a unique design (that works!), comes in a huge choice of colours & hardware, has fantastic build quality and is easily the most comfortable. Guaranteed, I'll be ordering more of these bad boys in the very near future!
Here we have probably the most well known elastic strap currently available on the market today, the Erika's Originals MN strap. These have always been a firm favourite of mine as well as for others in the entire watch community considering the amount of wrist shots you see on forums, Instagram & Facebook groups with an Erika's Original proudly strapped to their wrist. I've owned a couple of these in the past that were of the older design. We were recently treated to a re-release though from Erika, stating that every aspect of the straps were remastered and perfected. All I seen was a huge bloody price hike. €75 base price for an elastic strap? What the actual F**K! That's way too expensive! I thought the old price of €50 was kind of pushing it, but I could just about justify paying for one as there wasn't much else on the market that could compete, not that I knew of anyway (at the time). Don't get me wrong, these new Erika's Originals MN Straps are gorgeous, extremely well made and very comfortable. Are they worth three times as much as the LuffStrap though? HELL NO! If these were cheaper I'd definetly recommend you go and get one, but as it stands, nope, avoid them unless you have more money than sense.
There isn't much else I can say that I haven't mentioned already… apart from just buy the Nick Mankey Designs Hook Straps and don't bother wasting your money on the others. You'll thank me later, trust me.
Follow us on
Instagram
and join our Facebook group
WatchChat
, a busy community for watch enthusiasts and collectors with tons of images and in-depth discussions.
At Zaltek Reviews, we encourage the companies whose products we've reviewed to comment on our articles. We invite any company representatives to respond in the public comments section below. Thanks very much.