Manufacturer:

Feynman Timekeepers

| Price: $1,588 SGD (£880 GBP, $1,160 USD)
I remember when I first came across Feynman Timekeepers. They were just announcing their first model (Feynman One) and it caught my eye. It wasn't completely to my taste, but I really appreciated that they were doing things a little different and designing things their own way. There was no 'playing it safe' and no obvious blatent rip-off of another design. Their inaugural piece was even a dress watch, which definitely goes against the grain. They had my attention. I loosely followed their progress and then I saw their second model announced. The Cove, which I have before me today. This one is much more to my liking aesthetically, so it's great to be able to take a closer look and see what it's all about.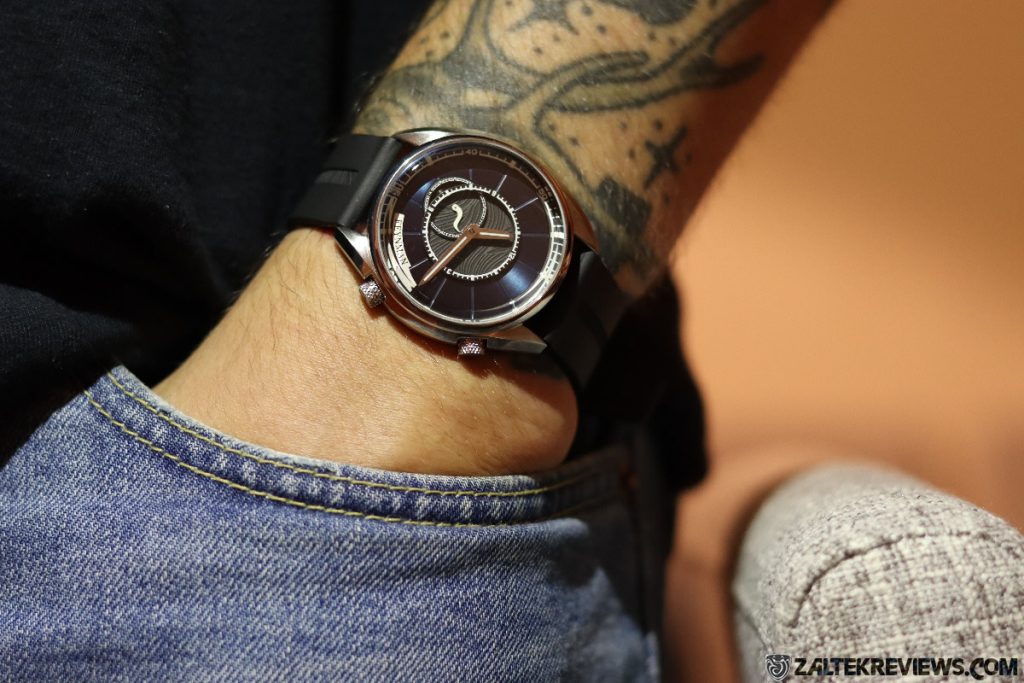 Specifications
Dimensions: Diameter – 41.4mm, Thickness – 12.7mm, Lug to Lug – 44.8mm, Lug Width – 20mm
Movement: ETA 2895, 28,800vph, Hackable, Self Winding, 50hr Power Reserve
Case Material: Brushed & Polished 316L Stainless Steel
Bracelet/Strap: Custom FKM Rubber, Signed Milled Buckle
Crystal: Boxed Sapphire, Underside Anti-Reflective Coatings
Bezel: Fixed, Polished          Weight: 95.5g
Water Resistance: 200m / 20ATM / 660ft
Lume: Swiss Super Luminova®
Crown: Screw Down, Signed
Caseback: Screw Down, Exhibition Display
Where to Buy:

Feynman Timekeepers



Dial Options: Black (Vintage), Blue (Eclipse), Green (Founders Edition)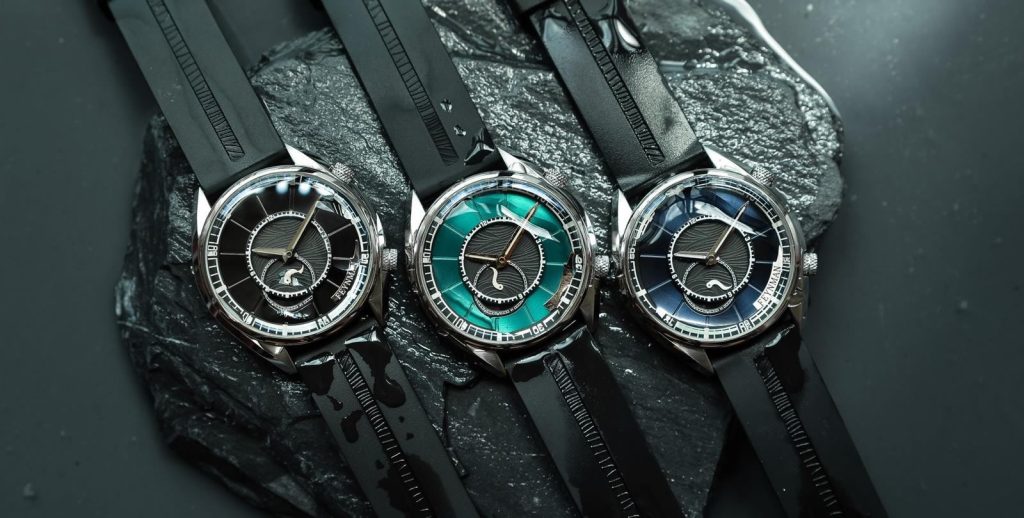 Feynman Timepieces - A Brief Introduction
"Primarily, we are watch lovers. Feynman is a collective of collectors and artisans, who share a common passion for watches. We believe in the art of mechanical timekeeping and work towards sharing our reverence with the world, starting with the communities closest to us. We are inspired by the prevalent beautify that is all around us, in both natural and urban environments, extracting aesthetic inspiration from all that is beautiful in our surroundings. We seek guidance from natural design principles, as well as architectural practices, creating silhouettes which are aesthetically pleasing, coupled with synergistic colour palettes, to create designs which will stand the test of time."
Off the top, this is a 41.4mm watch in a steel case. The dual crown design immediately hints that there is an internal rotating bezel. The dial is striking and really captures the same vibe as the brands first model. You can see that they have developed their own unique style and have stuck with it. That continuity is something I love to see and really helps a brand to cement its identity, which is actually quite difficult to do well.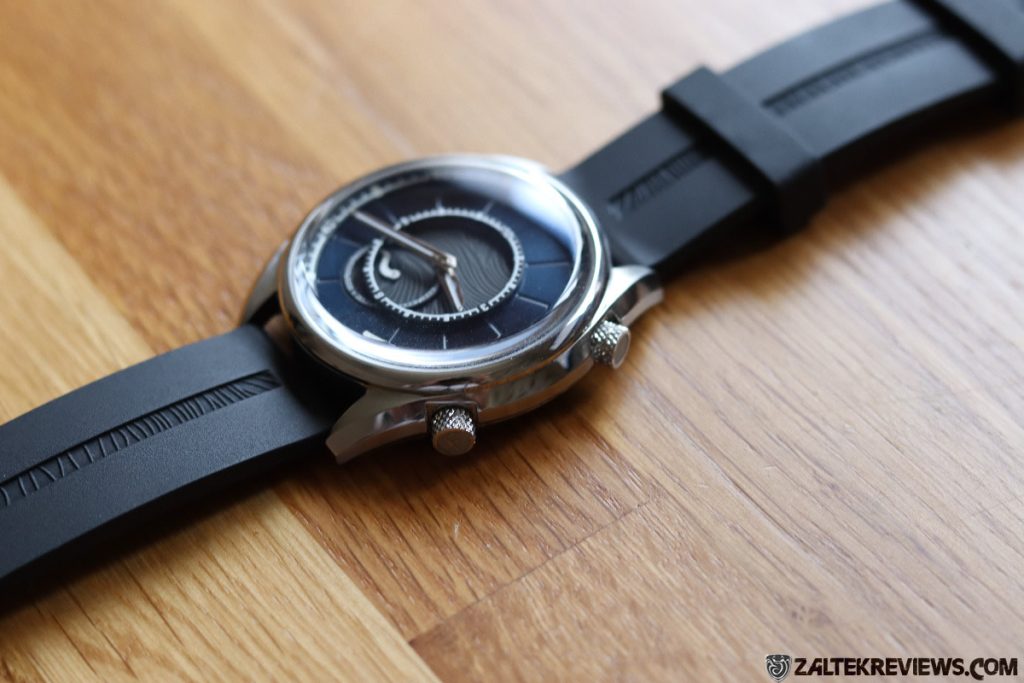 The case is really rather nice. It's slightly reminiscent of a Speedmaster, but with more simplistic lugs as they do not feature that signature 'twisting' of the Omega. The wide-set polished side chamfers give a very nice wear on the wrist and help it to visually appear a little smaller than the 41.4mm might suggest. The lugs have a gentle downwards curve which further enhances the wearability of this piece and help it sit close to the wrist.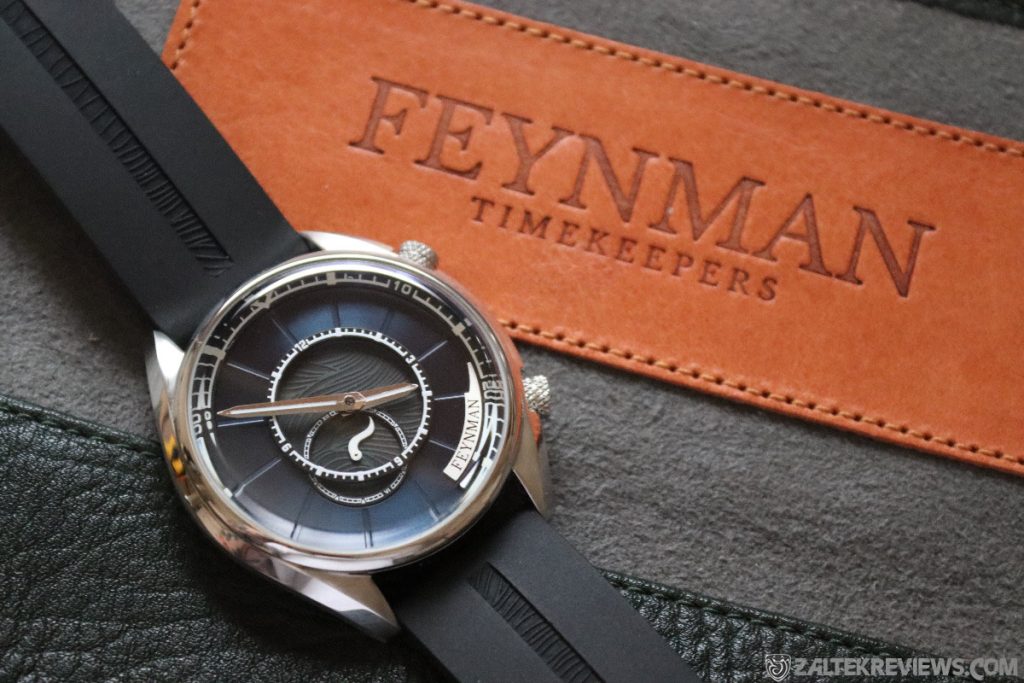 The variant I have here is the 'Eclipse'. The outer part of the dial is dark blue and really rich. It almost appears black, but in the right light, this lovely blue just pokes through. It's really nicely done and it is by far my favourite of the three colourways. It's rather hard to catch in film and even the brands own pictures on their website don't even do it any justice. This blue section of the dial is left rather simple, with simple engraved lines for each of the hour positions. Given the other amount of detail on the dial and the wonderful colour, this was a wise choice. The outer section is then completed with a small nameplate, with the brand name printed on it. A nice touch and one that is usually seen in much higher end watches. It's a detail which really adds to the watch's premium appearance.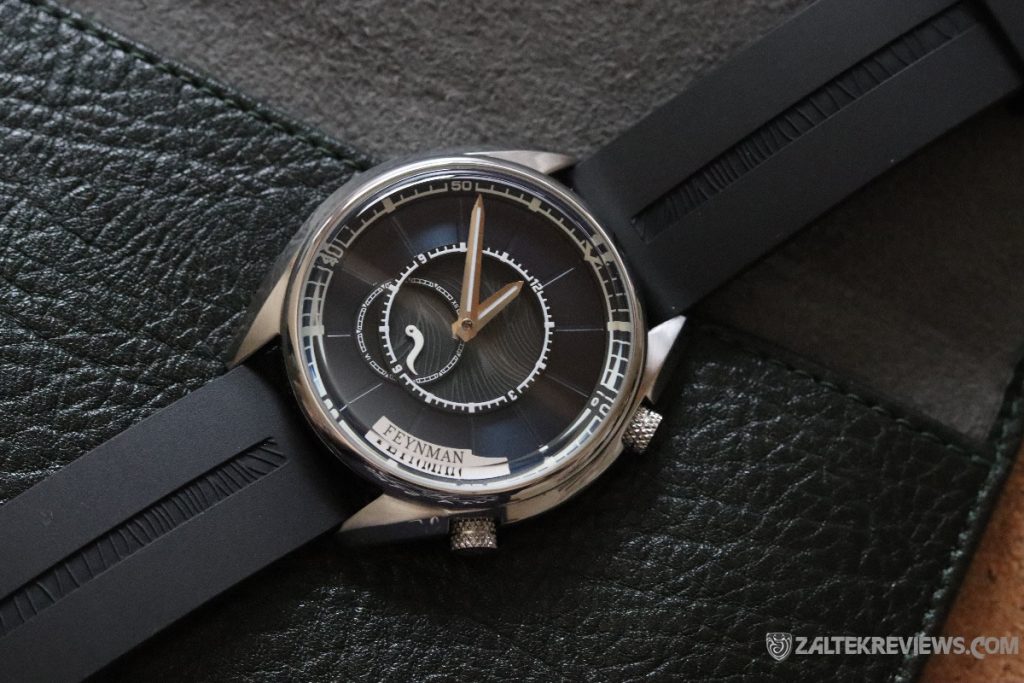 Separating the inner and outer sections of the dial is a raised circular section which sits above the blue outer dial. On this is a printed lumed minute track with the cardinal markers set as numbers. Moving to the inner portion of the dial, we have this wonderful striated pattern. This which then sits below the out portion of the dial, creating a third level of depth. This inner pattern is one of the aspects of the watch's design which has become a signature for Feynman, along with the  seconds sub dial at the 7 o'clock position. In the Cove's case, the pattern is a wonderful striating mixture of curved lines. It is quite subtle and not always immediately apparent when on the wrist, but the pattern is lumed, creating a unique and striking appearance in low light conditions. This is not going to be to everyones tastes, but I think it's great. As I previously mentioned, it's great to see a brand doing their own thing and giving us something totally unique.
Powering things on the inside is a movement I have not seen used all too often by microbrands. This fact alone may be the persuading factor to some enthusiasts looking to expand their collection of different movements. The Cove features a Swiss ETA 2895. That is, an automatic movement with a subsidiary seconds dial. Due to the time setting crown being at 4, this sub dial is located at 7. This movement does have a date feature and looking at the dial side of the watch, you will see that the date is not shown. Yup, the dreaded 'phantom date position'.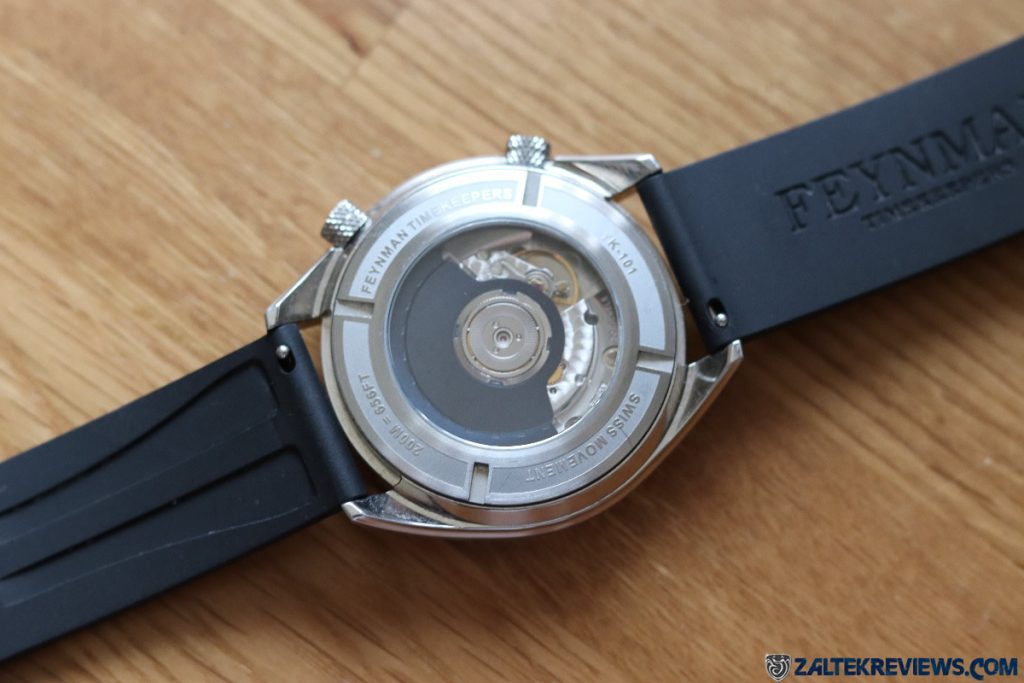 You can feel the date changing when operating the crown in the second position. I am not a fan of this, even though the movement choice sometimes limits the options for microbrands in terms of their designs. I do however feel that with a black date wheel, a date could have easily and neatly been incorporated at the 3 o'clock position perhaps. To further wet the appetite of anyone still sat on the fence, the movement in question is finished to top grade specification and you get some really nice decoration on the back side of the movement, with improved accuracy. Very nice!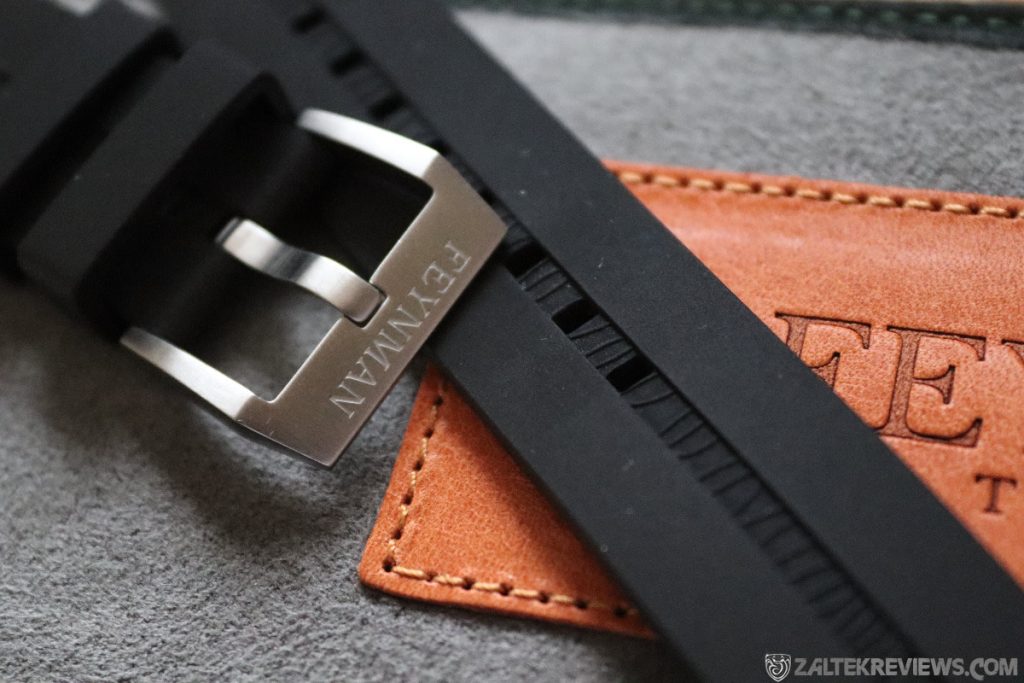 The strap supplied with the Feynman Cove is a really nice FKM rubber affair. I think this watch lends itself to the strap material very nicely and I do not think a bracelet would really suit this design. The rubber is nice, thick and supple. It's very comfortable and includes a very nicely made custom signed buckle. Perhaps my favourite thing about this strap is how it ties into the overall watch design. This cohesiveness is something that you don't see in this kind of way very often, from any brand, micro or macro. Along the centre of the strap is a narrow channel and if you look closely you can see that the central striating pattern form the dial is referenced here. It's a nice, subtle touch and shows some thought, not to mention that this is a custom rubber strap, rather than an off-the-shelf one. Top marks from me Feynman!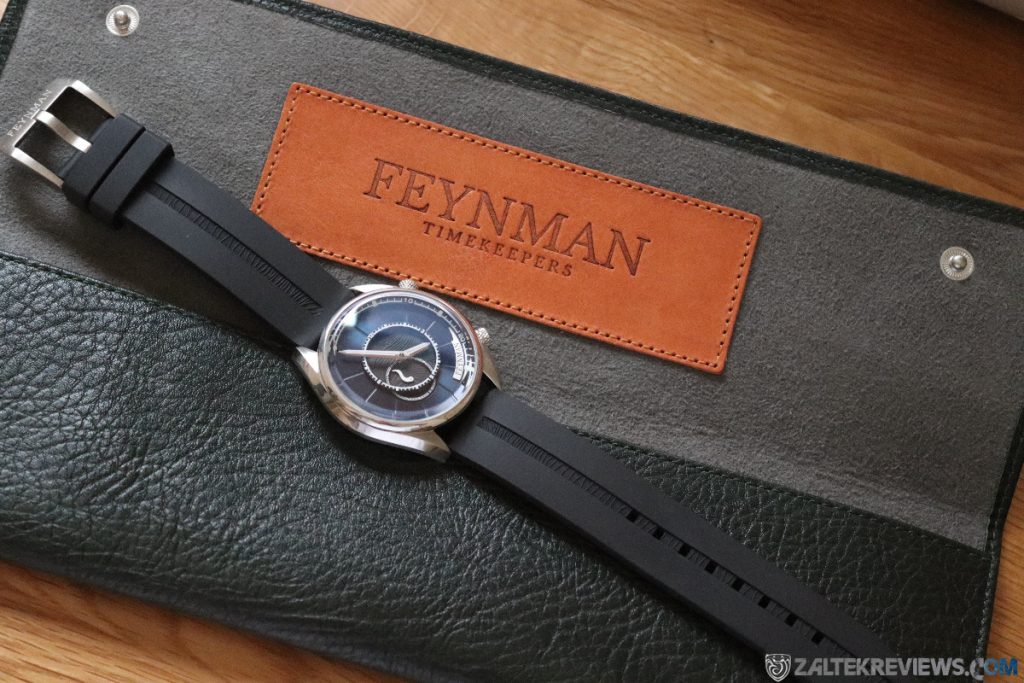 Finishing things off is a lovely leather case. It is lined with what feels like suede and has a lovely signed patch too. This is a far nicer case that I have seen from many brands and again, shows thought and care from Feynman. If I were to own one of these myself, I feel that this case would certainly get a lot of use after purchase. Some may prefer a larger watch roll or similar, but for a single watch, this is perfect.
Overall I am a fan. As mentioned, I've been following Feynman for quite a while now and was intrigued when the opportunity arose to see their latest creation up close. It is refreshing to see a brand unashamedly doing things their own way. This kind of creativity and uniqueness are two of the things that the microbrand sector of the industry thrives on and it's good to see Feynman flying the flag in that regard. 
Pros
Great movement – top grade finishing
Custom rubber strap
Unique and cohesive design
Cons
Crowns are a little small and can be fiddly to adjust
Phantom date position
Strong competition in this price bracket 
8/10 - WORTHY MENTION!
If the brand's unique styling is for you, then this one is well worth a closer look.
A massive thanks to Yong Keong Lim at Feynman Timepieces for sending the Cove out for review. Much appreciated.
To view the Feynman website, or to join their mailing list to be informed of new models etc, visit
Feynman Timepieces
.
It takes a fair amount of work to do these reviews. If you feel like supporting Zaltek Reviews to help towards our running costs, or even if you feel like just buying me a coffee, please use the PayPal button below.  Thanks very much.
[paypal-donation purpose="Donate to Zaltek Reviews" reference="Ref:Zaltek" button_url=""]