"Founded in 2017, ITHYUS is a new and emerging microbrand based in the USA. The owner of ITHYUS, and his identical twin brother were born and raised in Washington State. Both earned their Biomedical Engineering degrees from the University of Washington; and enjoy exploring the outdoors, cars, motorcycles and other recreational activities including hiking and scuba diving. Wrist watches and an appreciation for engineering in general have always been passions of theirs since early adulthood. ITHYUS designs are produced and implemented entirely in CAD from initial concept to finish, beginning with them personally digitally-drafting out the timepieces to scale for direct implementation. This ensures no details are lost in translation from the design to implementation (eg: from sketch to digital). Every fraction of a millimeter matters to ITHYUS".
The case of the Abyssi has a diameter of 41.1mm. The lug to lug is 46.8mm and the overall thickness, including the sapphire crystal, I measured in at a very nice 12.9mm, which is rather slim for a 300m dive watch. The entire case, caseback, bezel, crown and bracelet are all 316L stainless steel. The finish of the watch is mostly brushed with a rather gorgeous chamfered polished edge that runs along the side of the case, over the crown guards and down to the ends of the lugs. I have to say, I like this a lot, as it looks fantastic and gives the watch a very premium look & feel.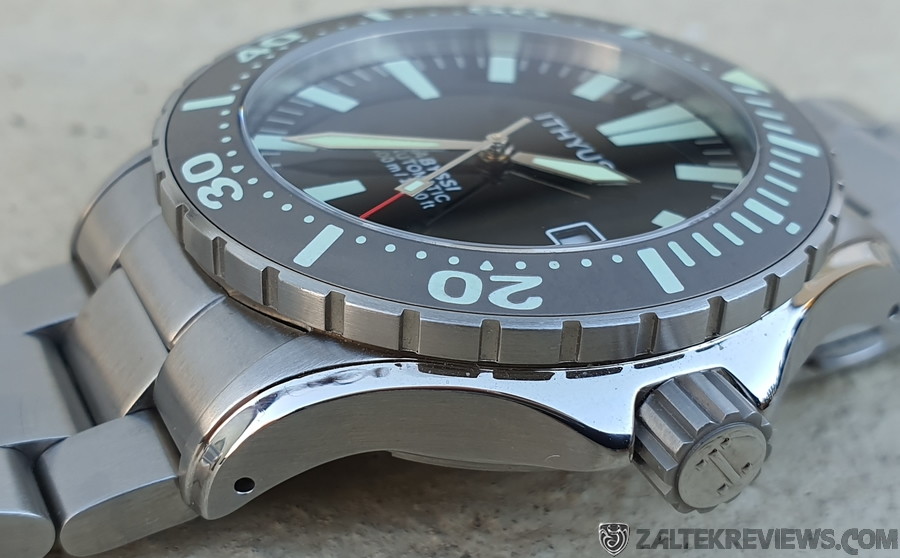 The Abyssi has a water resistance rating of 300m, thanks to the screw down caseback & crown. This rating isn't something that ITHYUS just slapped on the dial either, as each and every watch is pressure tested in-house. The proportions of the watch, in my opinion, are spot on for my 7″ wrist. The Abyssi wears extremely well on wrist and it's very comfortable, with it just melting onto the wrist. I've caught myself checking when wearing the Abyssi to see if I was still wearing a watch.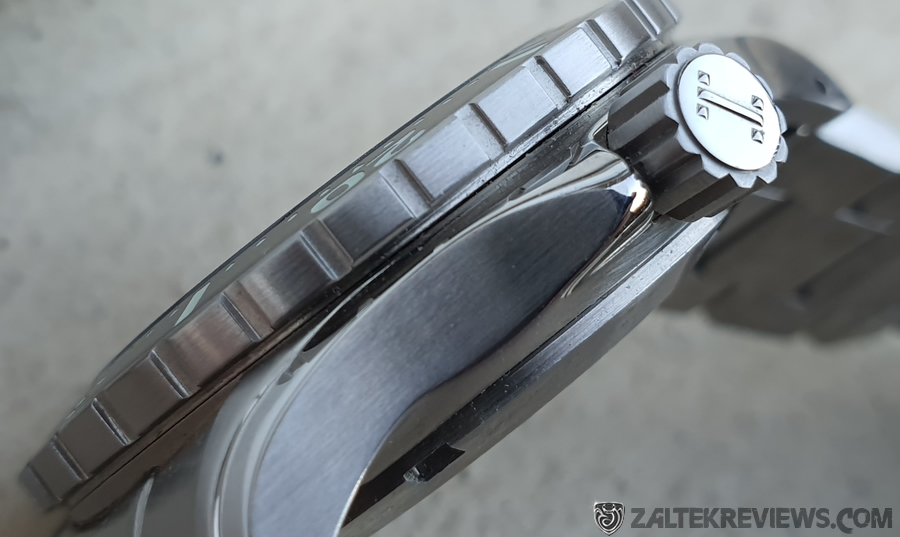 The signed crown is also fantastic, looks great with it's deep stamped logo, and there is absolutely zero wobble when the crown is pulled out to any position. You also feel a very nice pop as you unscrew the crown and you can see and feel the amount of work that has gone into the crown, making it feel very premium when in use. The caseback is quite a simple affair and nothing to write home about, but it does have their logo etched into it with various specs around the edge.
The bracelet that comes fitted to the Abyssi is nothing less than exceptional! It's fitted to the watch head perfectly and the tolerances are on point. I've only seen this kind of quality and fit & finish on just a very small handful of watches that cost double or more the price of this Abyssi. The bracelet itself is 22mm at the lugs, that tapers down to 20mm and back to 22mm at the clasp. There are solid links throughout and there's absolutely no rough or sharp edges to be found anywhere as the bracelet is as smooth as a baby's bum! Unfortunately, there are no screw pins used with this bracelet, as the Abyssi uses the much frowned upon pin and collar system to keep things secure. More on this below…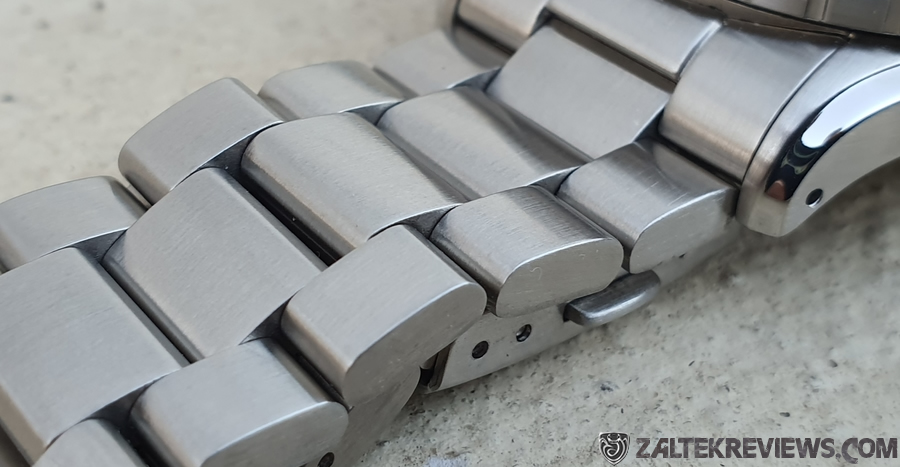 When I first learned that the Abyssi had the pin & collar system, I thought, oh bollocks, typical!! However, I needn't have worried, as the collars themselves are the full width of the mid-links. To be honest, it took me less than 5 minutes to size up the Abyssi for my 7″ wrist and there was none of the that usual shouting and swearing like I'd normally do with a pin & collar set-up. All-in-all, it's a superb bracelet. Some people might not like the clasp, but I do, it's very nice and comfortable whilst on wrist, although maybe one more micro-adjustment hole would have been nice. To be fair though, the two holes that are there do give you around a half link size of adjustment which was all I needed to get the perfect fit.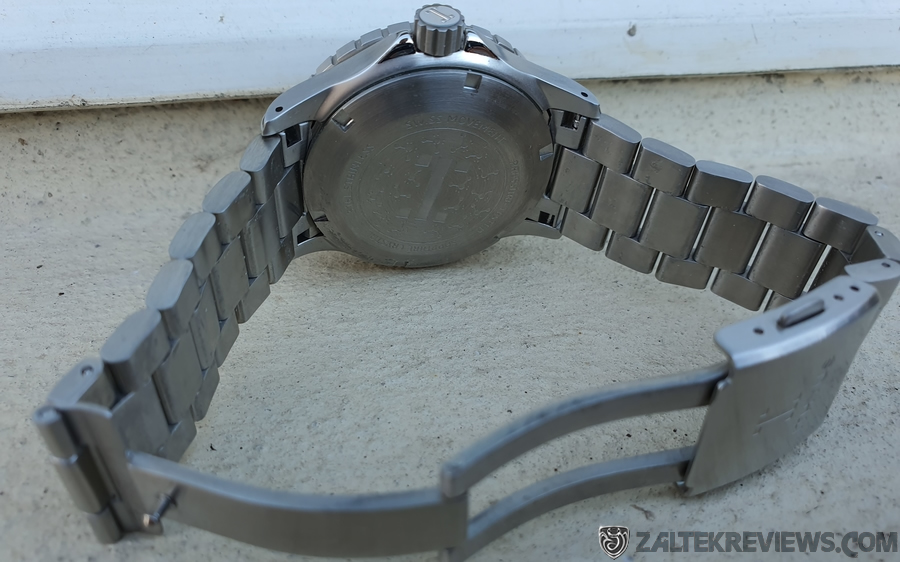 The chosen movement for the Abyssi is the Swiss made Sellita SW200-1. A fantastic calibre that is a 28,800vph, 4Hz, smooth sweep, 26 jewel movement with self winding and of course hacking. The movement is regulated in six positions, all performed in-house by ITHYUS. Checking the accuracy after running the Abyssi for just over a week, mainly on my wrist and occassionally in my watch winder, I was more than happy with the results, with the Abyssi showing an average of just +1.5 seconds per day! Perfect, great job ITHYUS!


The Abyssi has a 120 click unidirectional bezel with a fully lumed bead blasted titanium insert. It is of outstanding quality with everything lining up absolutely perfectly. The bezel action is top notch with zero backplay. The text on the dial is printed, showing the words ABYSSI & AUTOMATIC with the depth rating of 300m just underneath. The ITHYUS logo is also very neatly printed, done at just under the 12 o'clock position.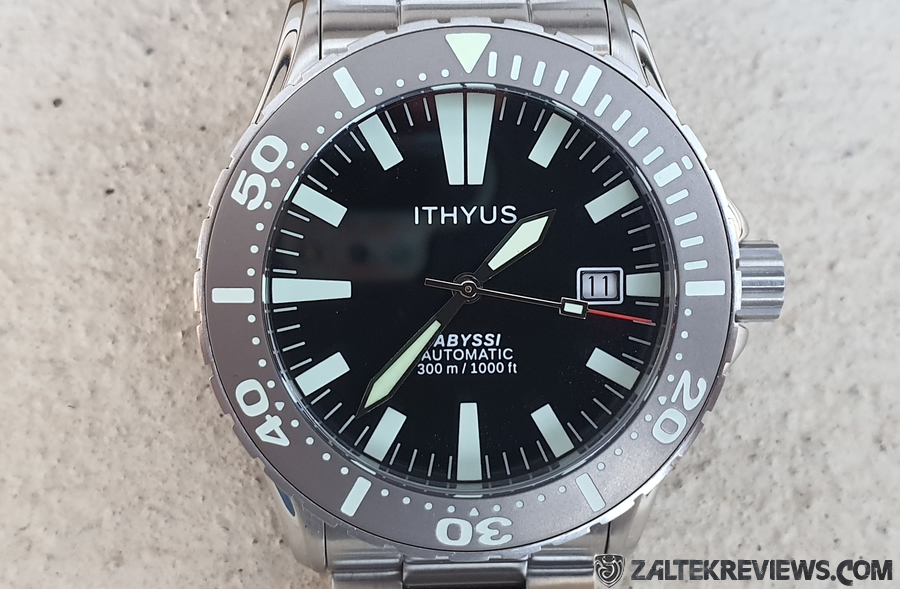 The black version that I have here, sports a very clean & simple looking dial without any sunburst or any other distracting effects applied to the dial. In my opinion, this gives the dial a much more premium look and feel. Additionally, the hour markers are quite tall (which is a good thing in my opinion) and are pumped full of lume. The hour and minute sword hands also have a sh*t ton of lume applied to them. More on that down below…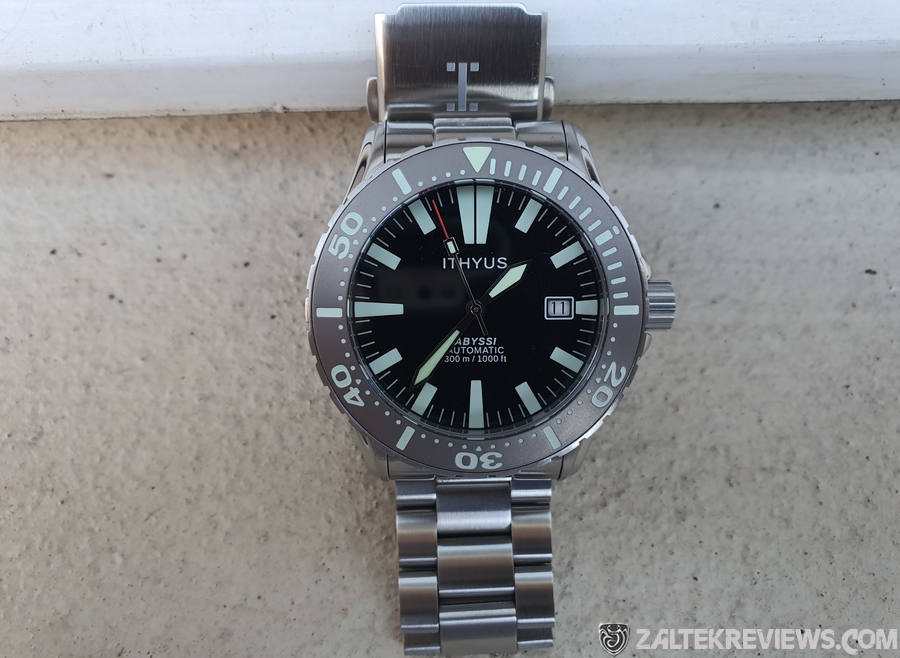 As you can see in the images, the hour and minute hands are very nicely done with their sword style appearance (my favourite style of hands), that usually have a load of real estate to apply a load of lume applications onto. The seconds hand is great too, with it's rectangle wee lumed section and red tip reaching well out to the minute track when sweeping around the dial. The only thing I would change on the dial is, yep, you guessed it, I'd move the date to the 6o'clock position, remove the border and I'd colour match it to the dial. I actually had a friend on our facebook group WatchChat to edit one of my pics to give you a visual interpretation of what I'm blabbing about.
The lume on the ITHYUS Abyssi is nothing short of f**kin' amazing! I've seen very few watches with lume as good as this. I'd even go as far to say, it's better than the lume on any of my Zelos watches, and trust me, that's saying something! The actual lume that has been applied to the Abyssi is Swiss Super Luminova® C3-X1, the most premium lume you can get! And it SHOWS! The image below was taken just after 10 minutes of being outside, it hasn't been given burts of light from a UV torch or anything, it quite simply doesn't need it to capture how bright this lume is. And although it fades slightly over time, it most definitely does last all night. I've got up at 4am for a slash and I can still clearly see what time it is.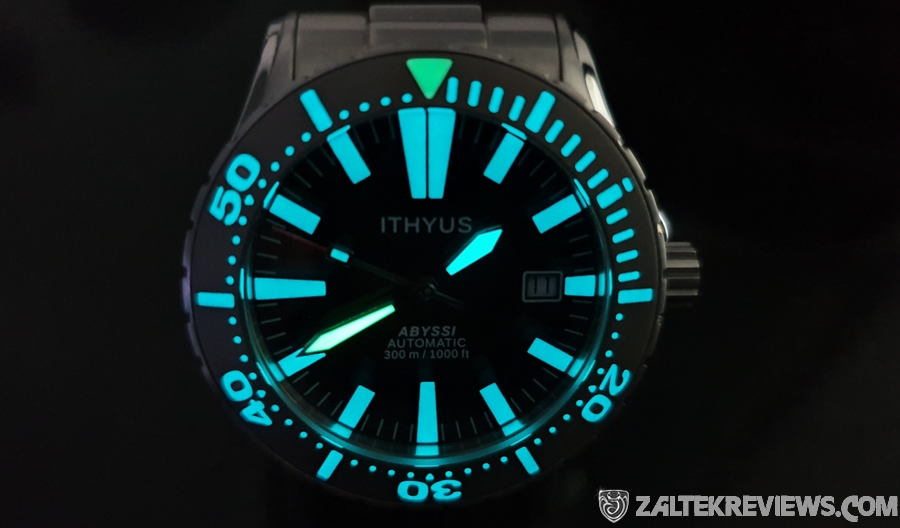 This being the very first watch from ITHYUS, I can honestly say that I am totally blown away with just how great the Abyssi actually is. As a reviewer of many watches from a vast range of companies, I'm still a firm believer that you can always tell when the watch company in question is owned by "proper watch enthusiasts". I can spot it a mile off! No watch is perfect as I've said many times in the past, however, the Abyssi from ITHYUS comes extremely close to perfection, with the ONLY thing I'd change is the position of the date complication. I can't mark them down for that though, as some people might actually prefer the date at the 3 o'clock position. (It'd still need colour matched though in my opinion! See, I can't help myself, I'm obsessed with date wheels). 🤣
I've had the Abyssi here for just over a week and to be honest it's had more wrist time than anything else. If I were to start a watch company, the Abyssi is pretty much what I've already dreamed up in my head time and time again. The same size, same dial design, less the date at 3 ofcourse (STFU Will you idiot – we get it!), same movement, the same brushed finishing with polished chamfered edges etc… I think you get my point, this watch is fantastic and I wholeheartedly 110% highly recommend that you look into getting one of these. OK, I'll stop now before I start gushing all over my keyboard.
ITHYUS Watches – Epic job! A truly outstanding dive watch. I can't wait to see what else you come up with in the future.
10/10 - HIGHLY RECOMMENDED!
A massive thank you to Philip at ITHYUS Watches for sending out the Abyssi for review so quickly.
A big shoutout to Scott Summers too from our Facebook group,
WatchChat
for the great photoshop skills. Cheers mate.
To view the ITHYUS website, or join their mailing list to be informed of new models etc, visit
ITHYUS Watches
.
Follow Zaltek Reviews on
Instagram
and
Facebook
and please feel free to join our Facebook group
WatchChat
, a busy community for watch enthusiasts and collectors, with tons of images and in-depth discussions.
At Zaltek Reviews, we encourage the companies whose watches we've reviewed to comment on our articles. We invite any company representatives to respond in the comments section below. Thanks very much.