Manufacturer: Laco | Price: €1,990 EUR (£1,800 GBP approx)
As most of my regular readers know, I generally review microbrands or watches that are atleast under £1,000. When Laco said they were going to send me a Hockenheim Automatic Chronograph to review I thought, "Yes! now let's see how the Hockenheim measures up against my favourite microbrands from the likes of Zelos, Newmark & NTH Watches.
Dimensions: Case Diameter – 42mm, Thickness – 14.9mm, Lug to Lug – 49.9mm, Lug Width – 21mm
Movement: Laco 50 Valjoux 7750 Automatic Chronograph, Day/Date in Black, Sec/Min/Hr Counters
Case Material: Brushed & Polished 316L Stainless Steel
Strap: Black Calf Leather, Stainless Steel Folding Clasp
Crystal: Flat Sapphire, Multiple Anti-Reflective Coatings
Bezel: Tachymeter    Extras: Black Presentation Box, Free Engraving 
Water Resistance: 10ATM / 100m / 330ft
Lume: Swiss Super Luminova® C3      Weight: 129g
Crown: Signed, Push/Pull, 2x Chronograph Pushers      Caseback: Screwdown, Sapphire Display
Warranty: 2 Years     Where to Buy:

Laco.de

Options: Movement Upgrade: ETA 7750 Topgrade (+€130)
From 1925 to Present Day - Timepieces with a Distinct Character
Authentic, passionate, precise – Laco stand for watches of the highest quality. Their claim to quality processed products with optimal functionality and timely design has always existed. This is shown by a look at their turbulent company history. They stick to their traditions although at the same time they look ahead with creating innovations that meet the current spirit of the age. With Laco there is no standstill, they stand for continuous development.
Laco can look back with pride on nearly 100 years of dynamic company history, they are still driven by the ambition that the founders of Lacher & Co. displayed many years ago; to produce watches that stand out for their quality and reliability. For this reason, Laco still rely on precise craftsmanship rather than on the industry for all the categories of their watches – from the originals to their sports and elegant classic models.
As a link between the technology hub of Karlsruhe and the metropolitan area of Stuttgart, Pforzheim plays an important role. Just like the whole region, the city stands for high-quality products. The success of these products relies on innovative strength. Laco also strive to be forward-thinking and combine history with innovative 'Made in Germany' technology in all of their watches.
The case of the Laco Hockenheim is bang on 42mm. The lug to lug is 49.9mm and the overall thickness, including the sapphire crystal I measured at a beefy 14.9mm. The entire case, crown and pushers are all 316L stainless steel. The finish of the case is entirely polished with the exception of the sides which are brushed, which I think is a wise decision as it's usually polished sides that are prone to scratches and would ruin the overall aesthetic of this beefy sports chronograph. Saying that, if I scratched this £1,800 watch I think I'd cry like a 12yr old girl.
The Hockenheim has a water resistance rating of 100m / 10 ATM. The transition between the brushed sides and the polishing are flawless as you'd expect for a watch in this price range. The proportions of the watch, in my opinion, are friggin' huge for my 7″ wrist, but I suppose that's to be expected with the Hockenheim's thickness and lug to lug length.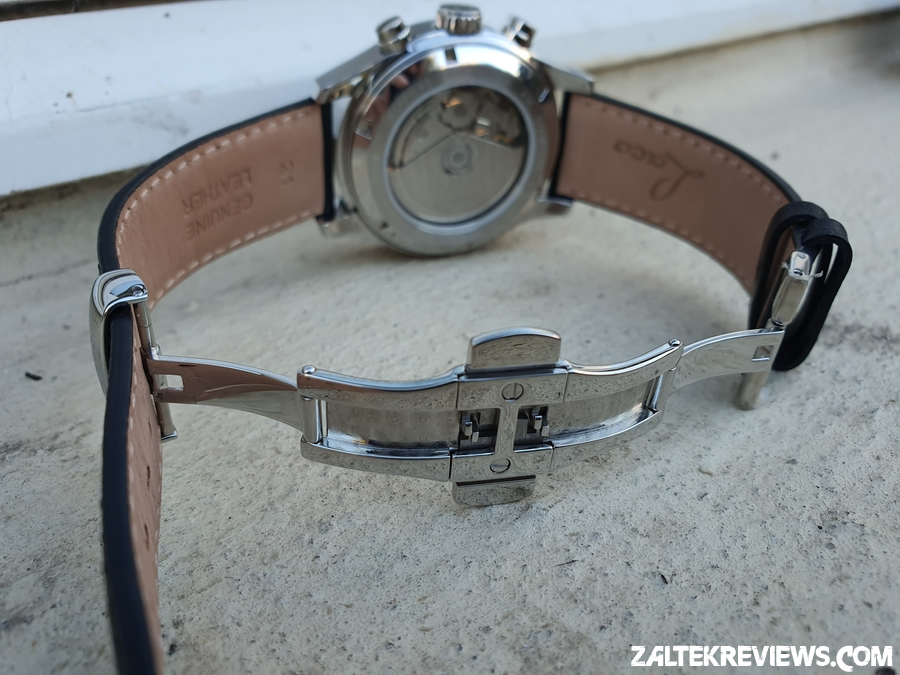 The weirdest part of the Hockenheim in my opinion is the 21mm lug width. Why Laco decided on such a weird size I have absolutely no idea. The much more popular 22mm width would have made much more sense for strap changes, but then again, the strap that is provided with the watch is a damn good one and I can't see many people swapping it out for something else. The strap itself is made from very good quality calf leather, soft and subtle and very comfortable. The folding clasp is very nice too, fully milled stainless steel with some nice luxury touches like perlage finishing on the inside.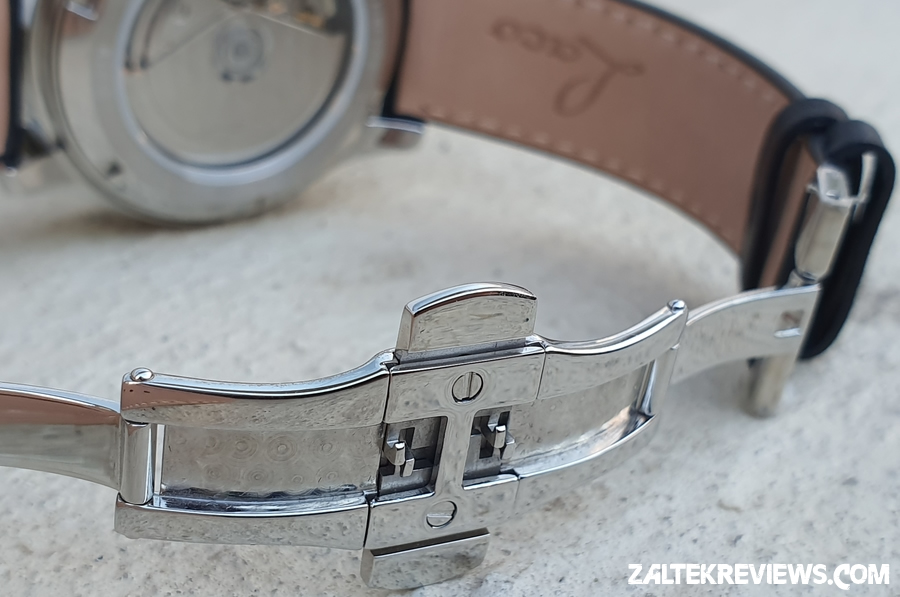 The chosen movement for the Hockenheim is the Laco 50, which basically equates to a Swiss ETA 7750 (Elaboré). Laco's watchmakers carefully regulate this movement to -5/+10 seconds per day and I can confirm that this one is running at a very respectable +3spd. Laco also offer an upgrade path for this movement to Topgrade for an extra €130. This however, extends the delivery time by around 5-7 days.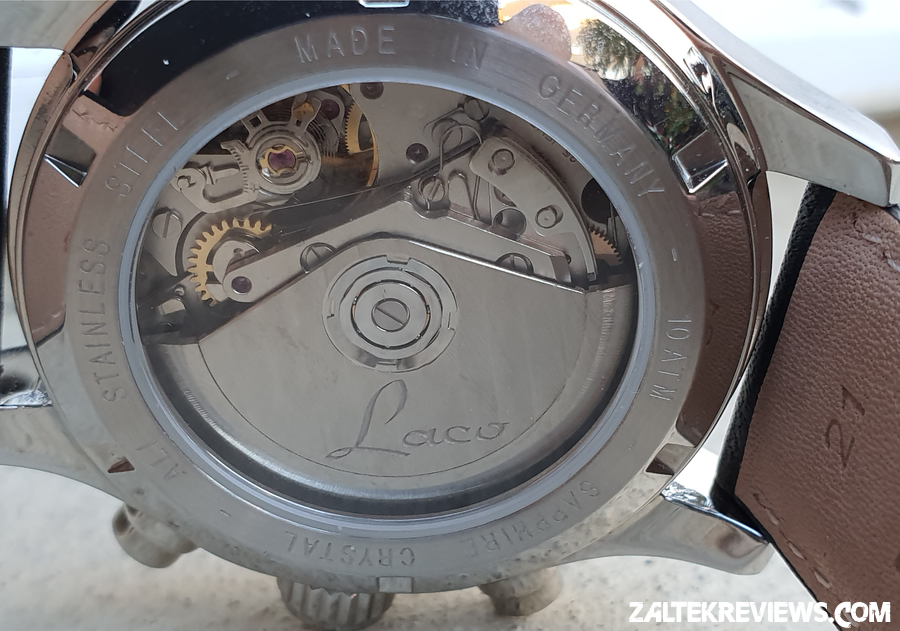 The Hockenheim has a Tachymeter bezel that is of excellent quality. The dial has very neatly printed arabics all round less the 6 due to the sub-dial and at the 12 position which has the flieger triangle and 2 dots which I'm sure Laco did as a nod to their own history. The logo and text on the dial are also nicely printed and are perfectly legible. The choice of font too is great with perfectly sized capital letters. You should take note that although the day/date is perfectly colour matched to the dial, the day is only in German and I don't think Laco offer it in English which might put some people off.
The hour and minute hands are perfectly in proportion to the dial and are very legible due to the Hockenheims monochrome aesthetic. The chronograph hand is very nice too with its red tip that reaches all the way out to the minute track. The overall motorsport look & feel you could relate to a chequered flag or an old-school Porsche 911 dashboard. The lume used on the Hockenheim is Super Luminova® C3 which is perfectly fine in my opinion, I wasn't expecting diver watch levels of lume from a chrono. It is legible at night with the hour and minute hand having the strongest application.
I found it a little difficult trying to write the conclusion for this review. On the one hand it is a gorgeous watch with a beautiful monochrome aesthetic that I fell in love with when I first seen pictures of it. On the other hand, it's BIG and it'd never be something I'd put into my own collection or rotation of watches mainly due to the price. Don't get me wrong, the price, for what it is, is very competitive and if you look at the competition it's actually almost what you'd call a bargain!
The Hockenheim isn't for me though, which I think is down to my Scottish genes. Every time I wore it, I'd always start thinking that this is nearly 2 grand sitting on my wrist, what could I get for the same price? A Zelos and a couple of NTH watches perhaps with enough left over for a day in the pub! Maybe that's just me, but £150 up to a grand is plenty.
Laco – Very nice job! A very exquisite watch that is built like a tank with fantastic fit & finish but it's not for me I'm afraid.
8/10 - RECOMMENDED IF YOU'RE IN THE MARKET FOR AN AUTOMATIC CHRONOGRAPH
A huge thank you to Sarah from Laco for sending out the Hockenheim for review so promptly. To view the Laco website, or to join their mailing list to be informed of updates or new models, visit
Laco
.
Follow us on
Instagram
and join our Facebook group
WatchChat
, a busy community for watch enthusiasts and collectors with tons of images and in-depth discussions.
At Zaltek Reviews, we encourage the companies whose watches we've reviewed to comment on our articles. We invite any company representatives to respond in the public comments section below. Thanks very much.