Manufacturer: 

Lorier Watches

| Price: $499 USD (£370 GBP, €410 EUR)
There are microbrands and then there's "my top 3 microbrands" and Lorier is, without question, one of them. I have purchased quite a few Lorier watches since the company burst onto the scene a few years ago. Recently, I bought their Falcon SII but I found it just a little too small for my liking at 36mm, so I flipped it. The 39mm size that Lorier generally lean towards, is perfect for my 6¾″ wrist. Even my father-in-law, who has a 7½" wrist, absolutely loves Lorier watches and the way that they wear. Trust me, I'm talking through experience here, as he "borrowed" my Neptune SIII and I've still not seen it since. He's always doing that with my watches, although to be fair, he has loaned me plenty of his watches.

In the summer of 2020, I purchased and reviewed the said Neptune Series III and I knew even then, that the Hydra SII was in the works. Over the next few months I heard various rumours on social media as to what the Hydra SII was going to be like and what differences there would be over the Series 1. The more I heard, the more I loved the way it was taking shape in my mind. Well, as we slowly ticked into early December, without any word of warning, or even a sniff of any tracking details, the much anticipated Lorier Hydra Series II landed on my desk. So has it been worth the wait? Let's find out…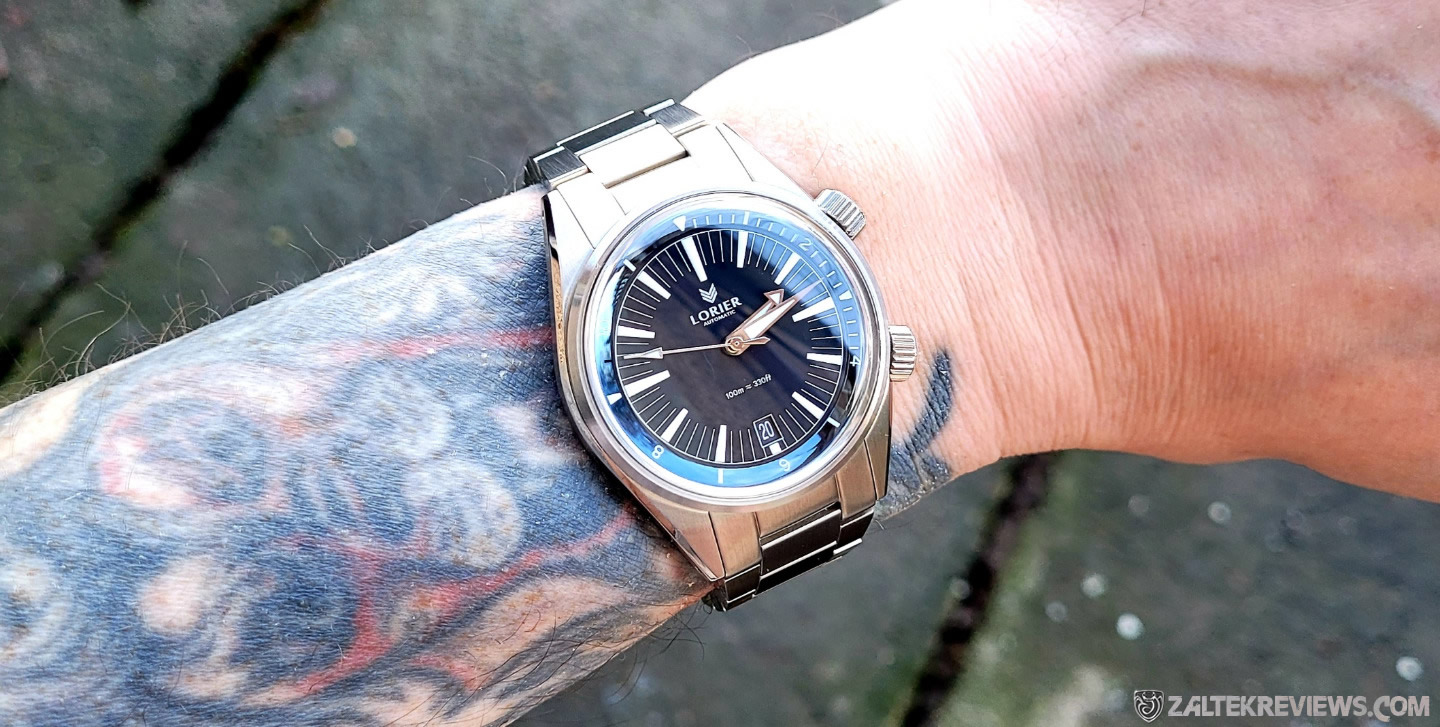 Specifications – Lorier Hydra SII
Dimensions: Diameter – 38.9mm, Thickness – 11.6mm, Lug to Lug – 47.1mm, Lug Width – 20mm
Movement: Miyota 9015, 28,800vph, 4Hz, Hackable, Self Winding, 42hr Power Reserve
Case Material: Brushed 316L Stainless Steel with Polished Accents
Dial & Hands: Printed Hour Markers, Arrow Hands, Date Complication @ 6 o'clock
Bracelet: 316L Stainless Steel, Female Solid End Links, Screw Pins, Milled Signed Clasp
Crystal: Domed Plexiglass, Underside Anti-Reflective Coating
Bezel: Rotating Bidirectional, Gliding, Internal, 12 Hour Dual Time    
Lume: Swiss Super Luminova® BGW9
Water Resistance: 100m / 10ATM / 330ft      

Caseback: Solid, Screw Down        
Crown (1): 6.5mm, Crown @ 2 o'clock, Controls Inner Bidirectional Bezel
Crown (2): 6.5mm, Crown @ 4 o'clock, Controls Time & Date, Screw Down

Weight: 124g (Sized for my 6¾″ wrist)
Where to Buy:

Lorier Watches

        Warranty: 1 Year International
Lorier Hydra Series II Colour Options
Lorier Watches - Introduction
"Lorier (pronounced lor-yé) are based in New York City, owned and operated by husband and wife team, Lorenzo & Lauren Ortega. Our aim is to democratize well-built, beautiful watches, reviving the classic designs and the intrepid spirit of vintage timepieces. Our watches are built and designed so that you can take them anywhere, for any occasion. We are romantics for a time when people just had one watch and it was their watch. We design each watch in our collection so that it may be the only watch a person needs. We choose materials and design each component to be durable. Our watches follow a classic aesthetic and are versatile enough to be worn with nearly any outfit. From hiking to fine dining, we build our watches to go with you.

Our watches never run on batteries. We make them the old-fashioned way--with hundreds of miniature components working together, all powered by the movements of your arm. Poetry in motion. We believe beautiful watches should be worn, not locked away in a jewelry box. We'll continue to produce all our models as long as we are in business, so that our watches are readily available, easy to repair, and easy to replace. All at a price point that won't hinder you from taking them on an adventure. We not only design each piece with care and precision, but with passion and soul. We truly hope you enjoy wearing our watches as much as we enjoy making them for you."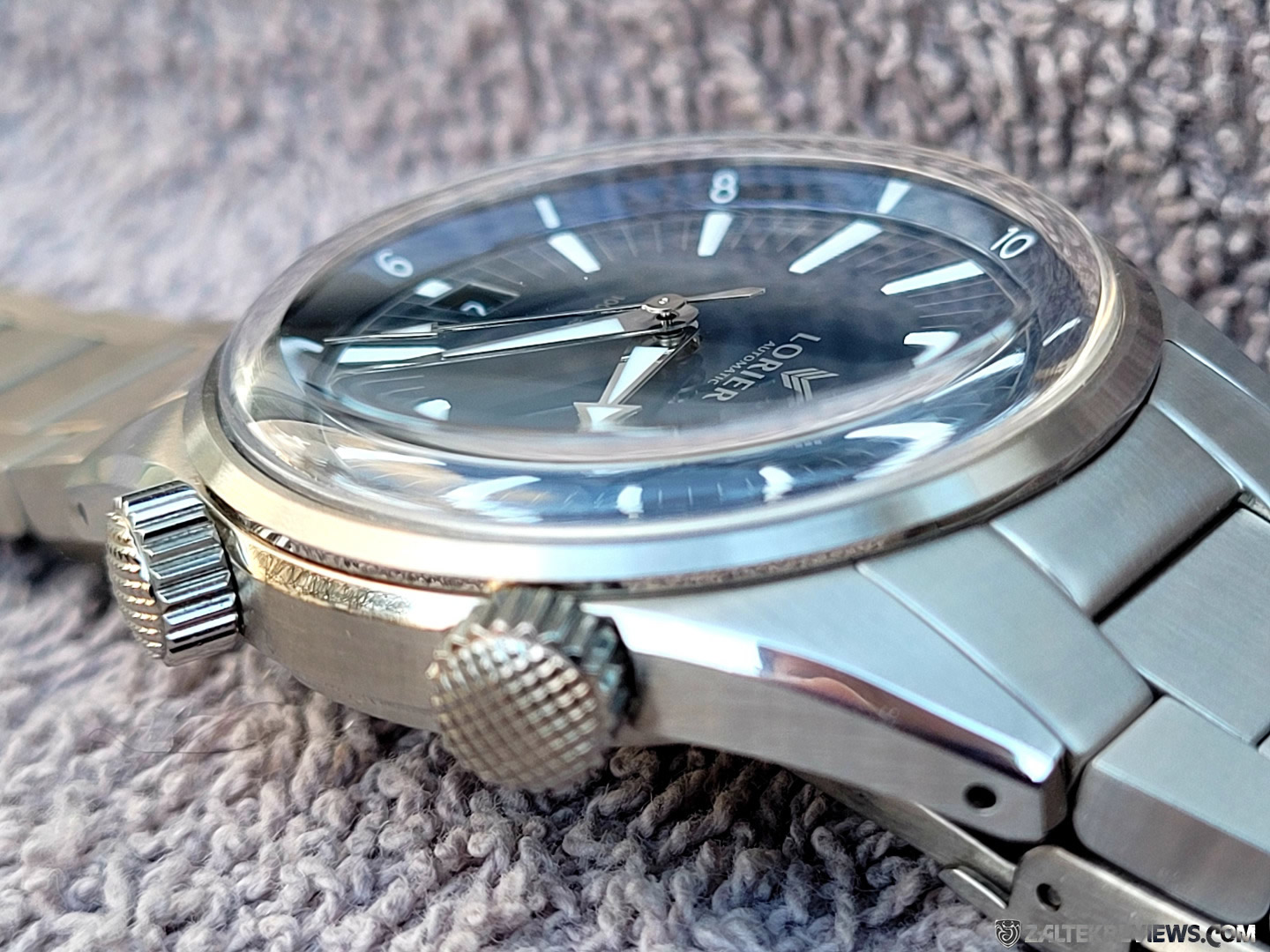 The case of the Lorier Hydra Series II has a total diameter of 38.9mm. The lug to lug is 47.1mm and the overall thickness, including the domed plexiglass, I measured in at a rather svelte 11.6mm. The entire case, caseback, fixed exterior bezel, dual crowns and bracelet are all 316L stainless steel. The finishing of the watch is mostly brushed, with the addition of a tastefull polished lower lip of the fixed bezel and chamfered edges that run along the entire length of the top of the case. The Hydra SII has a water resistance rating of just 100m, but I would consider that the standard for what is essentially a skin diver / sports watch. I'm not complaining either way, as it's a perfectly capable watch for the beach / swimming pool.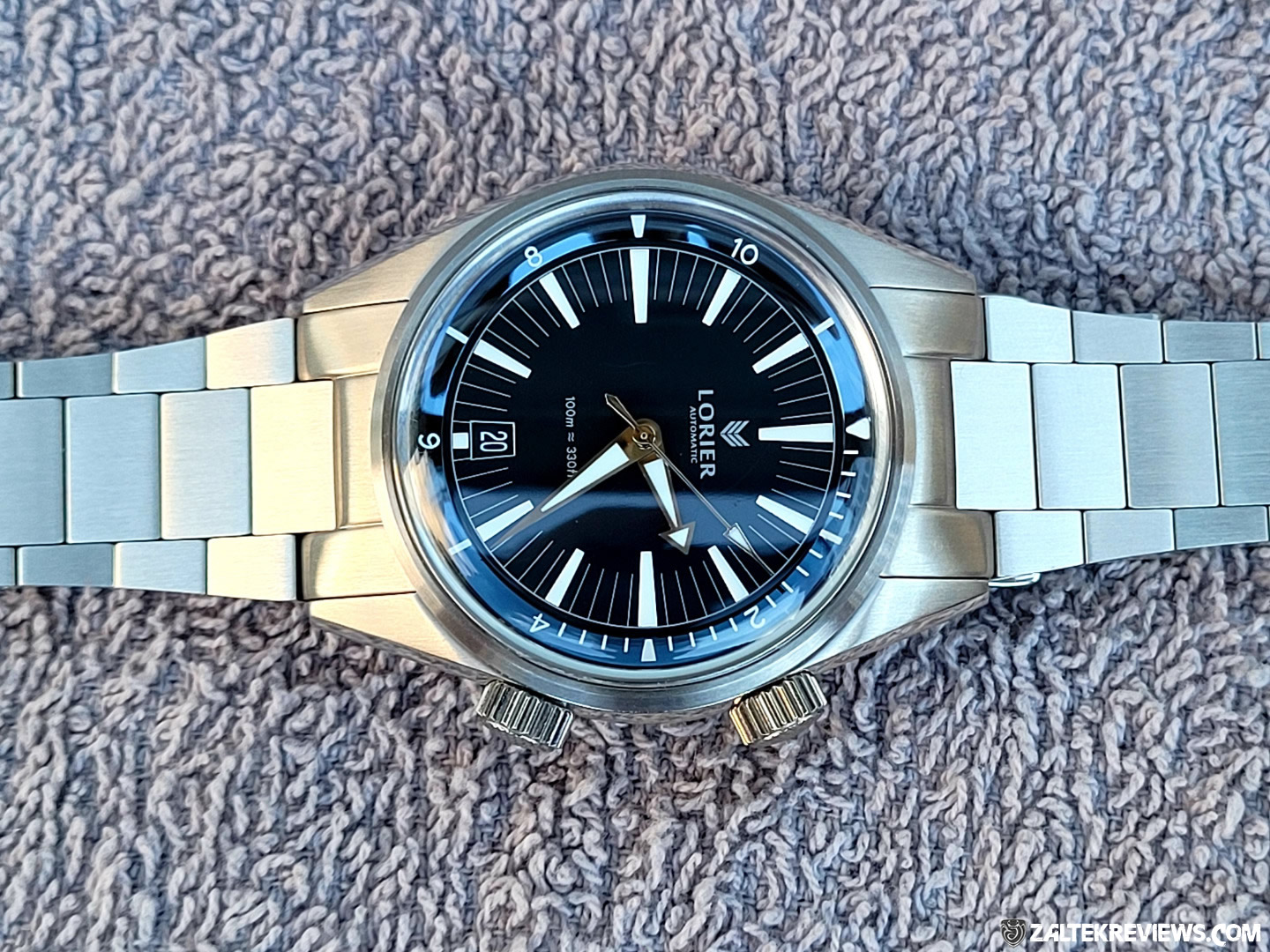 The proportions of the watch are just fabulous, with nothing at all that I would change. It fits and conforms to the wrist absolutely perfectly. The lug to lug length might come across to some, as maybe just a smidge too long, given the diameter of the 39mm case, however, I think it suits the overall aesthetic of the Hydra Series II very well indeed. The caseback is quite plain in appearance, as it's finished with just a series of small logos etched around the edge. Personally speaking though, I really like this approach, as it gives the Lorier Hydra SII a more premium, yet subtle overall aesthetic.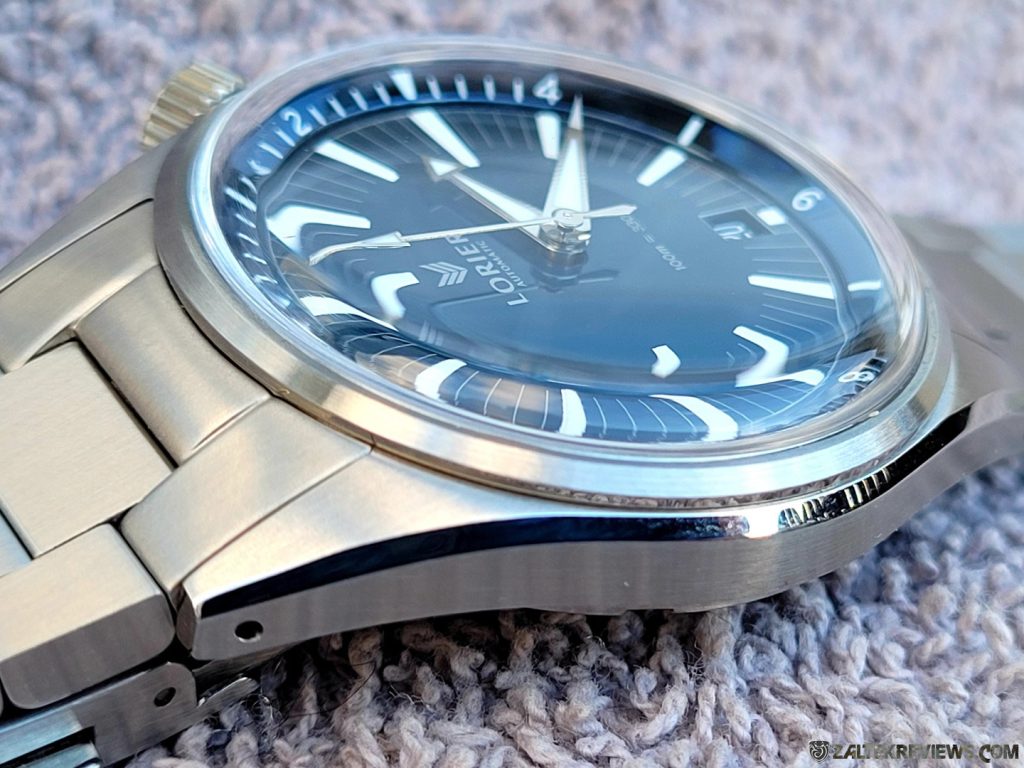 The crown at the 2 o'clock position operates the internal bidirectional bezel and being honest, I would normally prefer if it had been screwdown, but to be fair to Lorier, this is by far, the best dual crown watch with a non-screwdown crown at the 2 o'clock position as it's perfectly weighted, with just the correct amount of resistance. Not once, since I received the Hydra Series II has the inner bezel moved when wearing the watch, not even a fraction, and trust me when I say, I've worn the Hydra SII an absolute shit ton since it arrived! The crowns are identical in size and appearance, both measuring in at bang on 6.5mm and they also have a deeply embossed criss-cross pattern, rather than the usual logo signage. Lovely-jubbly!
Similarly to the Lorier Neptune SIII that I reviewed back in the summer, fitted as standard to the Hydra SII is one of the best stainless steel bracelets fitted to any microbrand watch. It has all the bells & whistles that we all crave, solid links throughout, female endlinks for proper articulation, screw pins for sizing, as well as a very nicely designed milled clasp.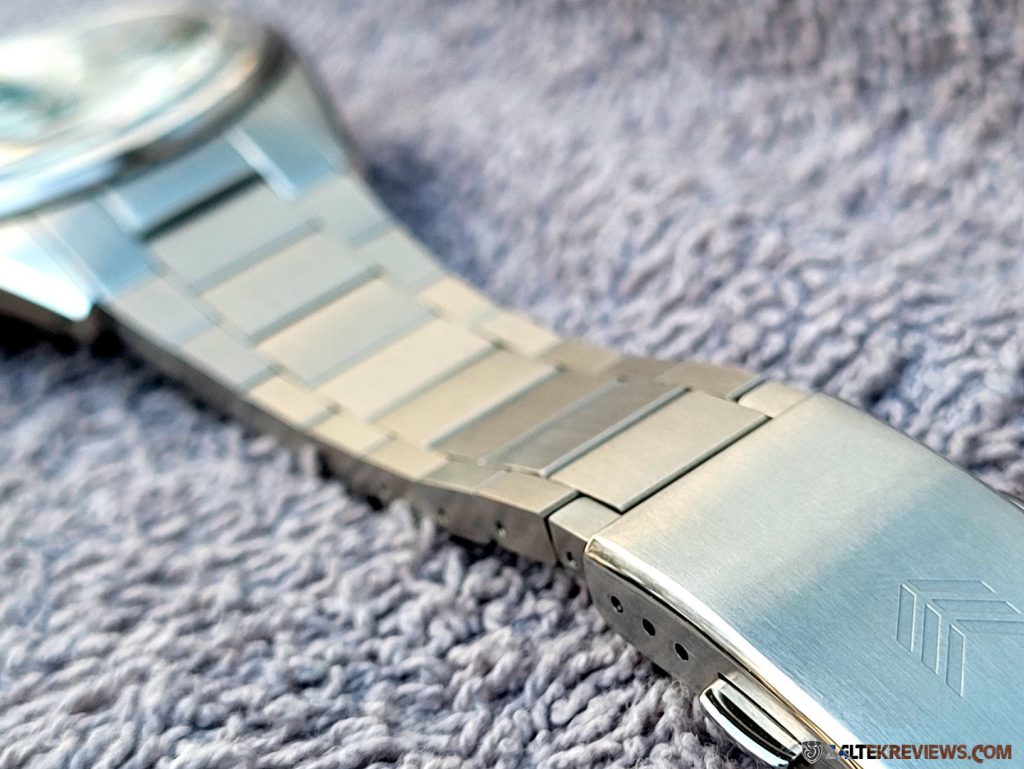 Lorier didn't just stop there though, as the very nice dual-button deployant clasp has the addition of polished chamfered edges with the Lorier triple chevron logo bang right in the middle of the clasp. The bracelet itself is 20mm at the lugs, tapering down to 16mm at the thinnest most part, then back up to approximately 17mm at the clasp. Talking of the clasp again, there's also a total of 3 micro-adjustment holes, ensuring you get that perfectly snug and very comfortable fit.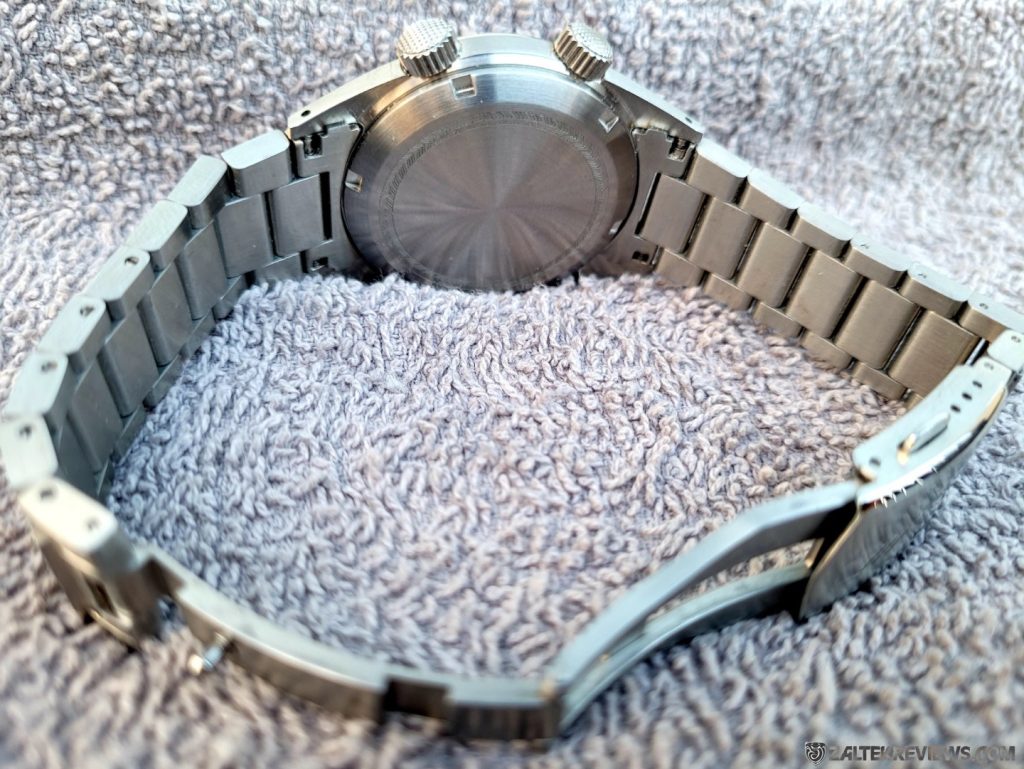 The chosen calibre for the Lorier Hydra SII is the smooth sweep, high beat Miyota 9015. The movement is self-winding, has 24 jewels and the oscillating weight spins up, providing up to, a very respectable 42hr power reserve. The balance runs at 28,800vph (4Hz) and the movement is hackable. Checking the accuracy after running the Hydra Series II for a good couple of weeks, both on wrist, as well as occassionally in my watch winder, I was very impressed with the results, with the Hydra SII showing an average of just +3.8 seconds per day. Overall, a fantastic result with zero complaints from me!
The Hydra SII has a bidirectional internal bezel that is operated by the crown at the 2 o'clock position. The printed text on the dial is the Lorier logo and it's placed at the usual spot of just under the 12 o'clock position. You'll also find the water resistance rating printed in white at just above the date complication at 6 o'clock. All of the hour markers are also printed with a heavy application of lume, along with the white contrasting minute track printed around the edge of the dial.
As you can see in the images, the arrow hour and minute hands are very nicely done with their lovely proportionate design. The matching seconds hand is beautifully executed too, with its arrow head reaching right out to the edge of the minute track. The internal bezel that is finished in a gorgeous dark blue, is slanted at an angle with minute markers up to 20 minutes or the 4 o'clock marker. There are also arabics printed at every 2 hours, allowing you to use the bezel to track another timezone should you feel the need. Last but not least, is the perfectly executed colour matched date wheel at the 6 o'clock position. Absolute perfection in my opinion! Take note* – this is how a date complication should be done!
The lume on the Hydra Series II is pretty damn good if I'm honest. It is initially quite bright and even although it does fade over time, it does last for many hours in dark and low light conditions. The actual lume formula that's been applied to the Hydra Series II, is Swiss Super Luminova® BGW9 and it's been executed and applied 100% perfectly. The lume of the Lorier Hydra SII is most definately right up there with the best of the best in its class. You will not be disappointed!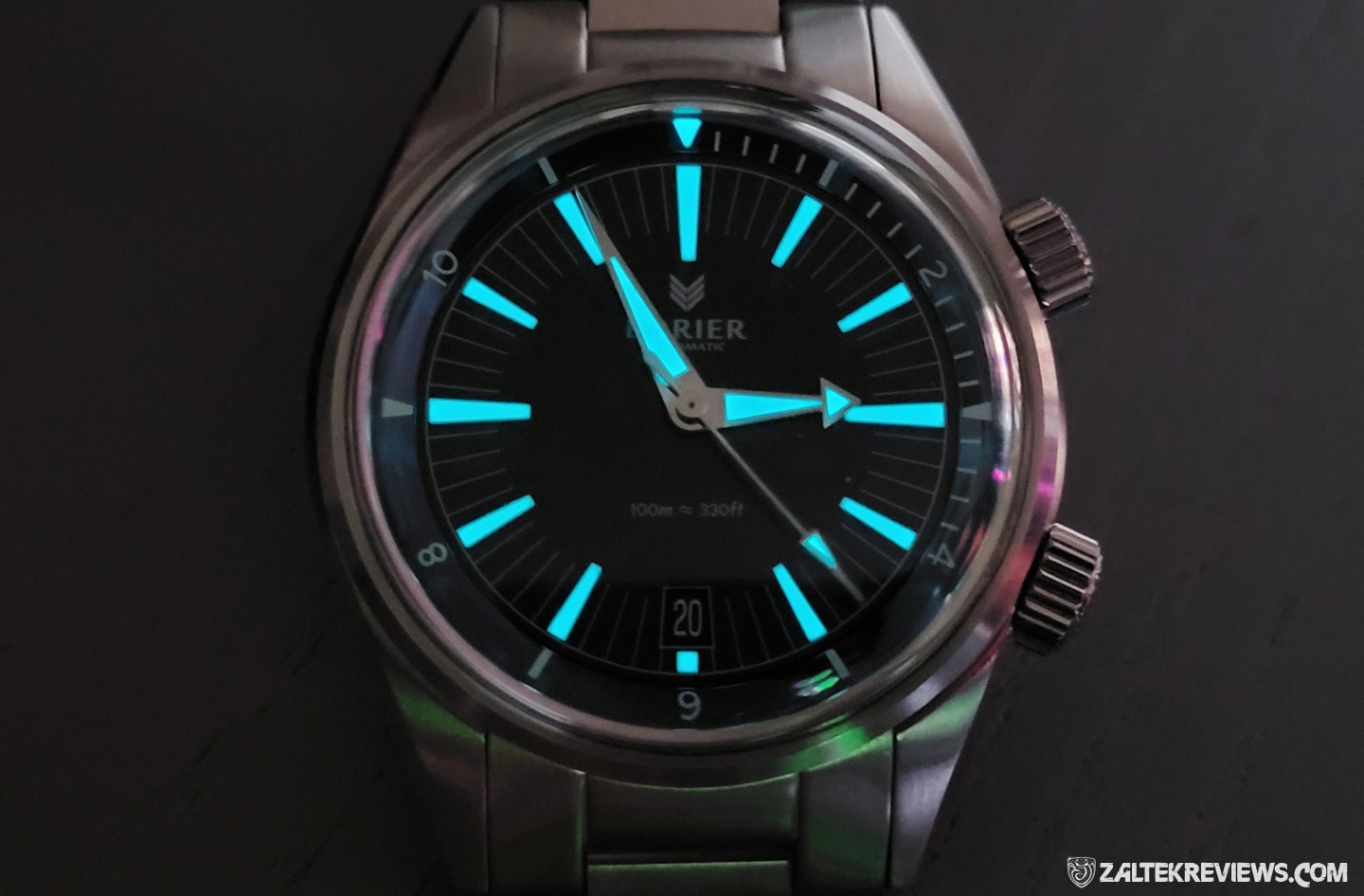 To try and put into words just how much I love this watch, I think it would always come across as a bit of an understatement. There aren't many watches out there, if any, where I wouldn't change a single aspect of the spec or design. Lorier state in their marketing material, they "design each watch in their collection so that it may be the only watch a person needs". I think Lorier have pretty much nailed it on the head with that statement. At the time of writing this review, the Lorier Hydra SII has been here now for well over three weeks and I think it would be fair to say, that I am past the "honeymoon period", yet I still admire and take in it's gorgeous design even more so than I did when it first arrived.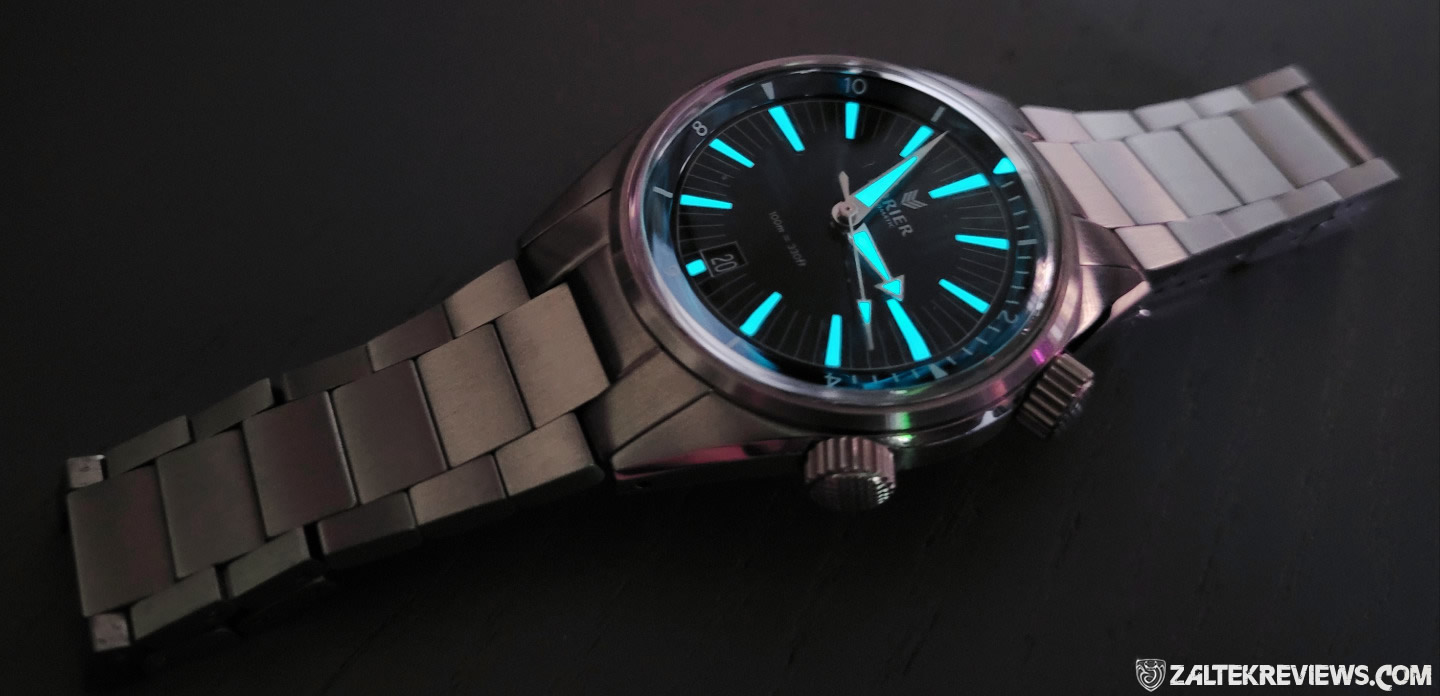 As previously mentioned at the start of my review, I have bought, owned and flipped quite a few of the Lorier model range since the company was founded by Lorenzo & Lauren a few years ago (even losing my Neptune SIII to my friggin' father-in-law). Anyway, I loved the design of the majority of them, although to be fair, I haven't seen the Hyperion GMT. I feel though, that the Hydra Series II is the true
of the entire Lorier line up. It's perfect, a truly fantastic job Lorier!
10/10 - VERY HIGHLY RECOMMENDED!
A massive thanks to Lauren at Lorier for sending out the Hydra Series II for review. Very much appreciated. To view the Lorier Watches website, or to join their mailing list, to be informed of new models etc, visit
lorierwatches.com
.
It takes me a fair amount of work (
and time
) to do these reviews. If you feel like supporting Zaltek Reviews to help towards my running costs, or even if you feel like just buying me a coffee, then please donate using the PayPal button below. Unfortunately, 97% of my readers just scroll by this section. If you feel like that I've given you a few quids worth of knowledge and/or entertainment, then please take just a couple of minutes of your time to donate. Thank you.
[paypal-donation purpose="Donate to Zaltek Reviews" reference="Ref:Zaltek" button_url=""]