Manufacturer:

Matterhorn Watch Co

. | Price: from £190 GBP ($260 USD, €225 EUR)
You might be thinking to yourself… Ah, here we go again, another fuckin' NH35 powered bloody dive watch. To be honest, I thought the exact same when the owner of Matterhorn Watch Co contacted me, enquiring if I would review their first model, the Divemaster. It wasn't until I started chatting to Taahir in great length, that I started to realise that he is, most definitely, a 100% certified watch enthusiast and that his watch might actually be worth having a look at. The more I spoke to him, the more he would go into the details of the Divemaster. Fast forward—> and a few days later, the watch landed on my desk and I am so glad I agreed to take a look at it, the build quality is just
, and this is just a prototype!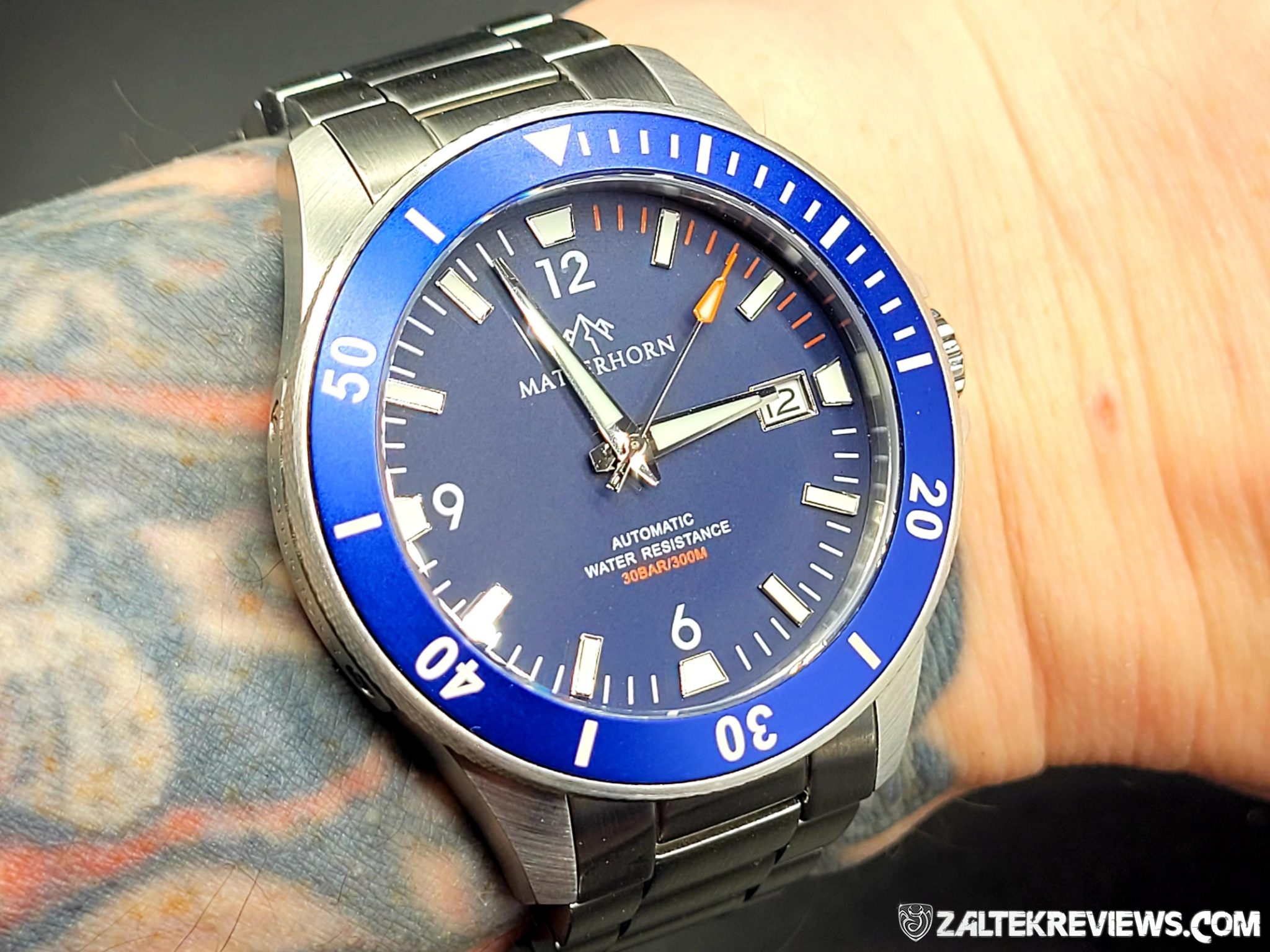 Specifications
Dimensions: Case – 40.7mm, Thickness – 13.8mm, Lug to Lug – 48.3mm, Lug Width – 20mm
Movement: Seiko SII NH35A, 21,600vph, 3Hz, Hackable, Self Winding, 41hr Power Reserve
Case Material: Brushed 316L Stainless Steel
Bezel: 120 Click Unidirectional, Aluminium Insert, Fully Lumed
Dial: Applied Indexes, Date at 3, Dauphine Hands, Arrow Seconds Hand
Bracelet: Brushed 316L Stainless Steel, Push Pins, Solid Links, Female End Links, Milled Clasp
Crystal: Flat Sapphire, Underside Anti-Reflective Coatings
Lume: Swiss Super Luminova® BGW9
Water Resistance: 300m / 30ATM / 990ft      

Caseback: Screw Down, Exhibition Display
Crown: 6mm, Screw Down, Signed  
Weight: 156g (Sized up for my 6¾″ wrist)
Where to Buy:

Matterhorn Watch Co

(Coming Soon to Kickstarter)

Warranty: 2 Years International
Matterhorn Divemaster Colour Options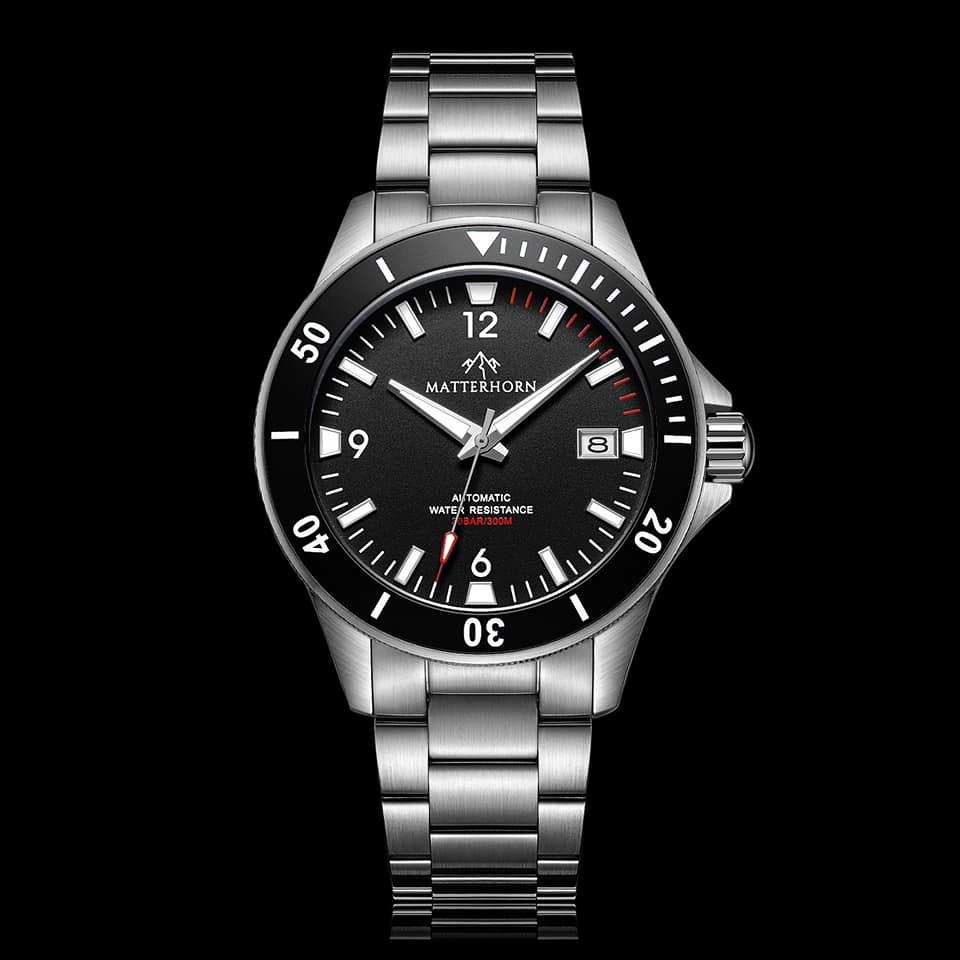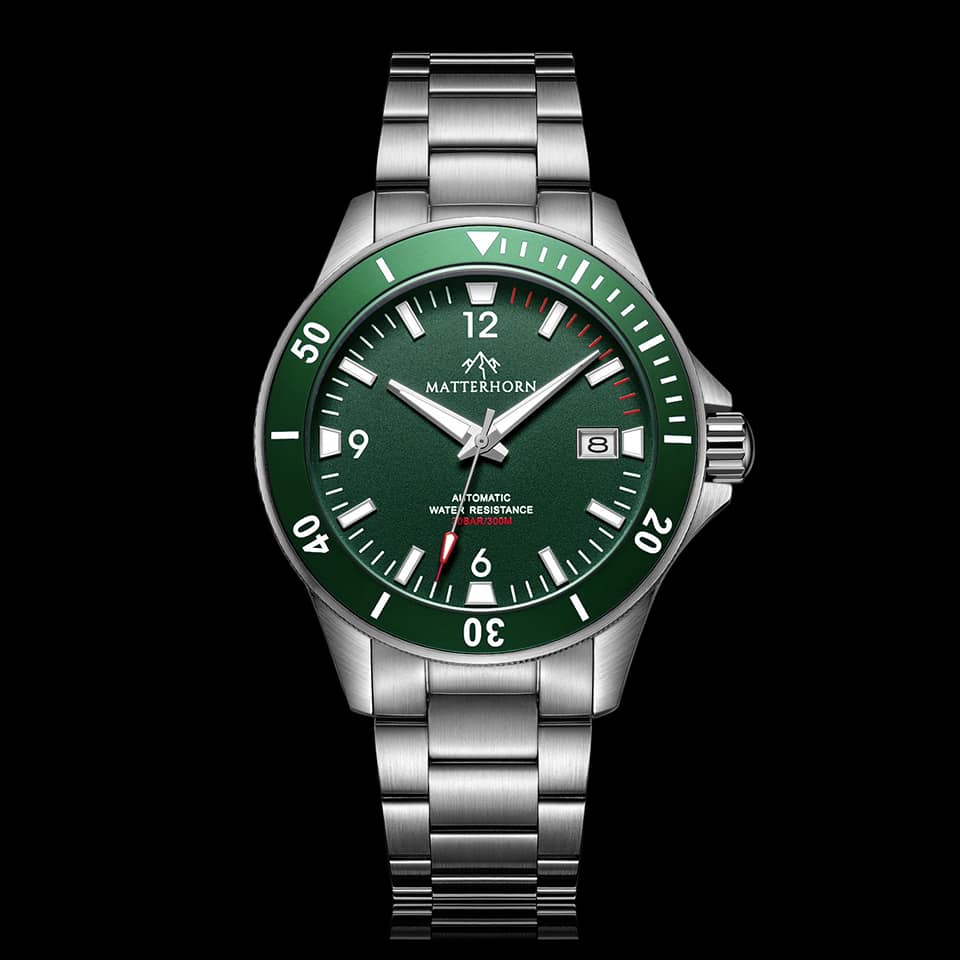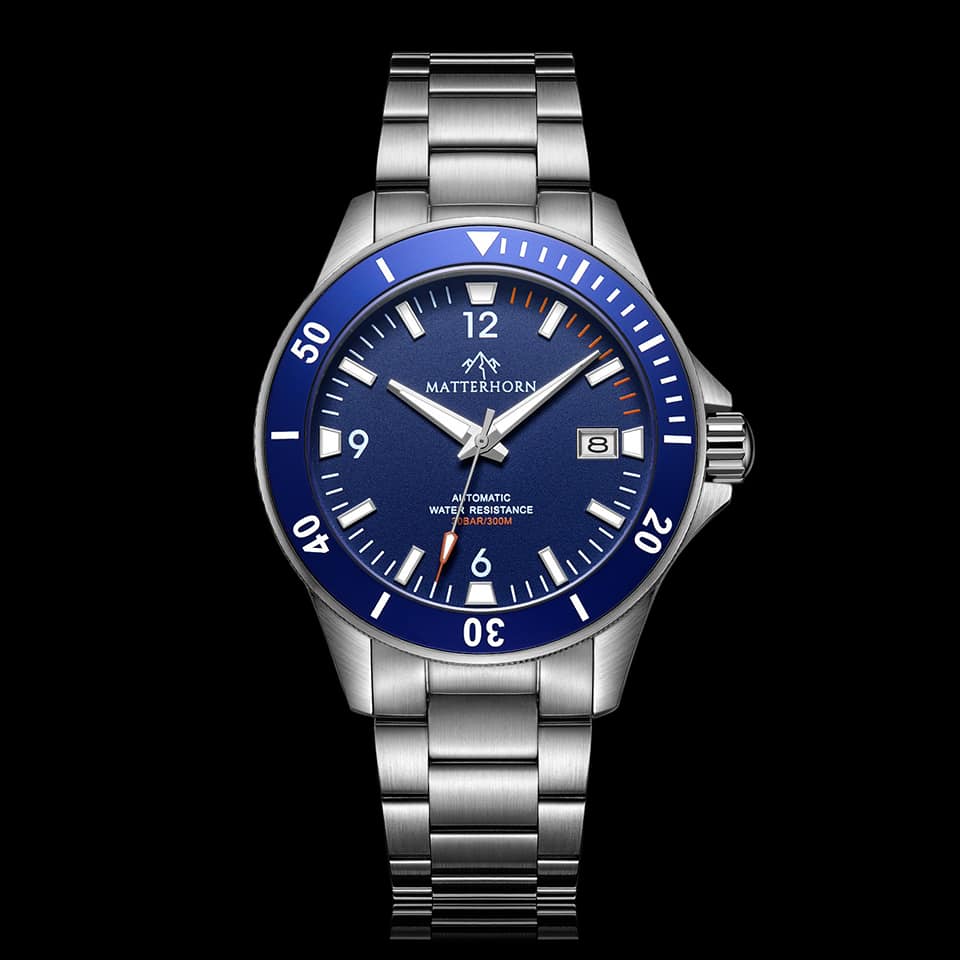 "Inspired by past adventures, particularly alpinism, I set out in November 2018 to create my own adventure. While being named after the beautiful Matterhorn mountain, my hopes were to produce tool watches that inspire adventures. Diving, climbing, trekking or even flying and designed with the same ethos of great explorers, to be built on the values of being strong & resilient. As a watch enthusiast, I decided to design & create high quality, well priced, London designed tool watches for the modern day inspired adventurer. Built from the highest quality components to ensure the watch is built to withstand all elements of life. Matterhorn Watch Co values will always lie on integrity, quality & persistence to improve."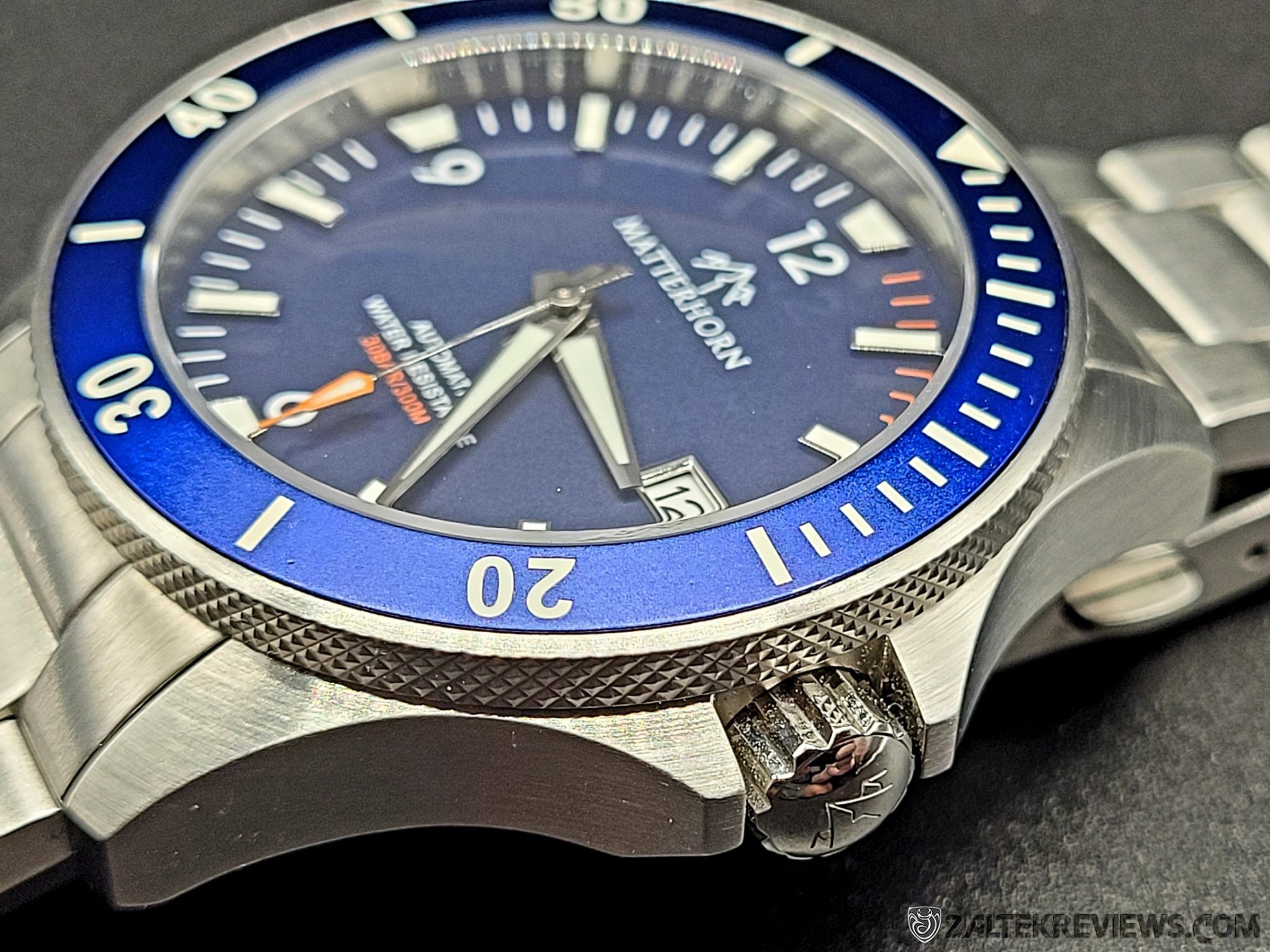 The case of the Matterhorn Divemaster has an overall diameter of 40.7mm. The lug to lug is 48.3mm and the overall thickness, including the sapphire crystal & exhibition display caseback, I measured in at a very reasonable 13.8mm. The entire case, caseback surround, bezel, crown and bracelet are all solid 316L stainless steel. The finish of the watch is entirely brushed, with a combination of both circular and horizontal brushing. The overall build quality is excellent, with no sharp edges to be found anywhere. The Divemaster has a water resistance rating of 300m, thanks to the screw down caseback & crown. The proportions of the watch are spot on, with the near 41mm case and lug to lug of just over 48mm.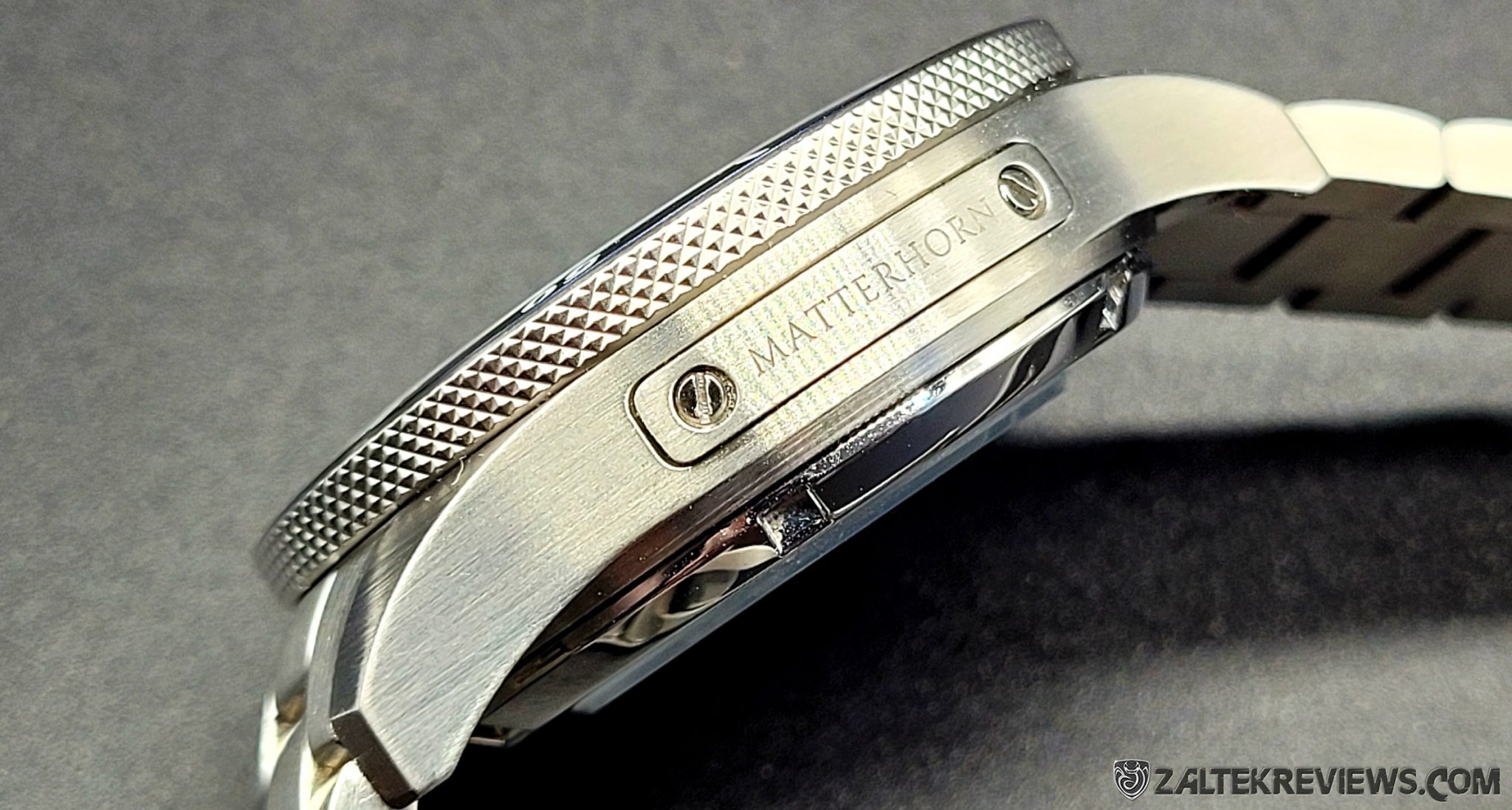 The Divemaster also wears very well and is really comfortable on wrist, with it's overall weight of just over 150g, you can sometimes forget that you're even wearing a watch. The signed crown is fantastic, looks great and is very easy to operate. There's absolutely zero wobble at all when the crown is in use and you can also feel a nice wee pop as you unscrew it as it nestles into its first position. There is also the addition of an exhibition display caseback, which is all very nice although Matterhorn Watch Co are considering replacing it with a solid caseback, as to reduce the overall thickness. A good idea if you ask me, as being honest, the SII NH35 movement is nothing really to look at in its bog-standard undecorated form.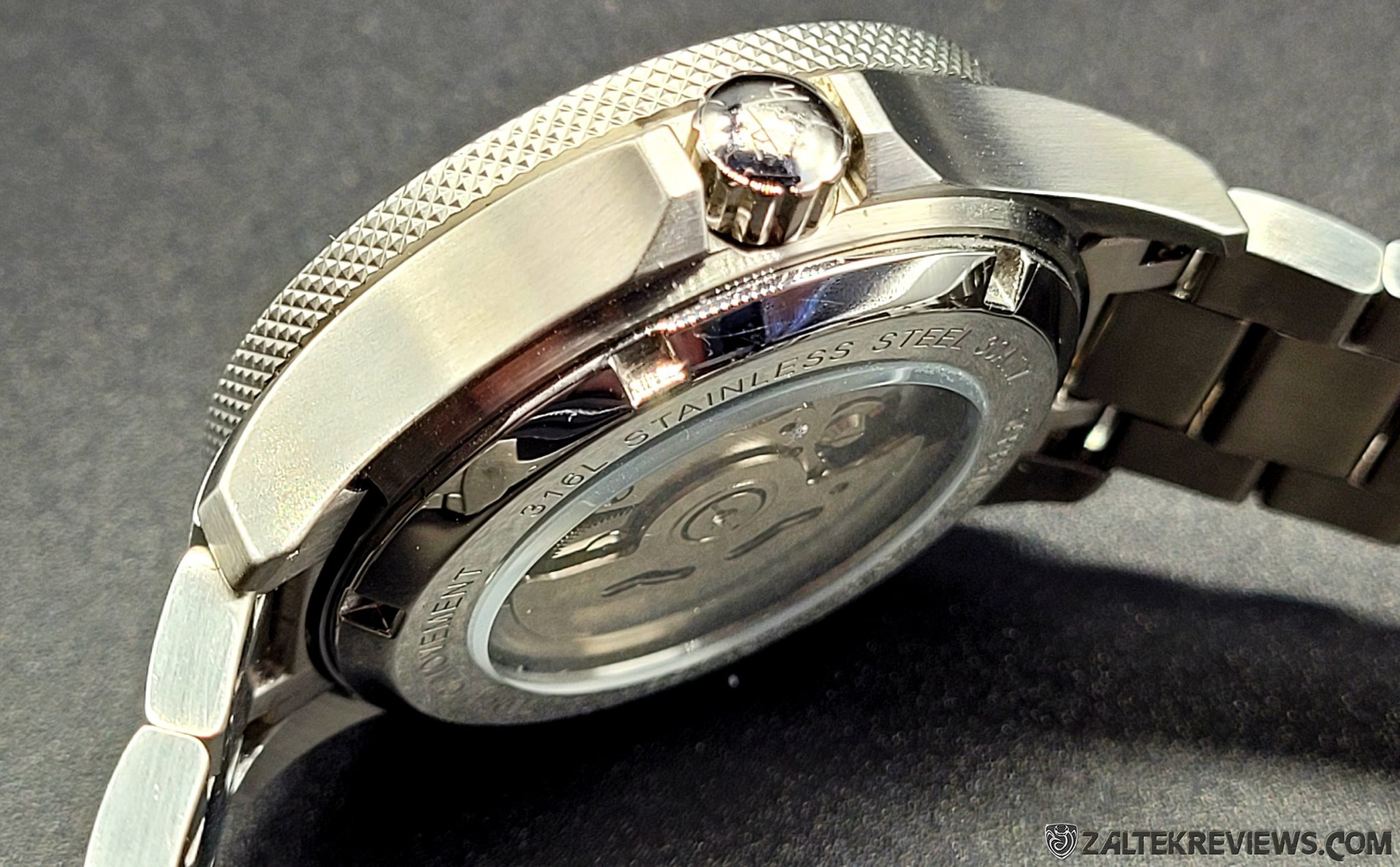 The bracelet that's fitted to the Divemaster is certainly very well made and there isn't that much, if anything, that I can fault it on. It has everything you'd want in a premium bracelet. First and foremost, it's very nicely manufactured, with no squeaks or rattles to be found anywhere. It has solid links throughout, push pins for adjusting and re-sizing and a signed, milled clasp. Although the actual housing itself, will be changed to a far more premium one for the production models.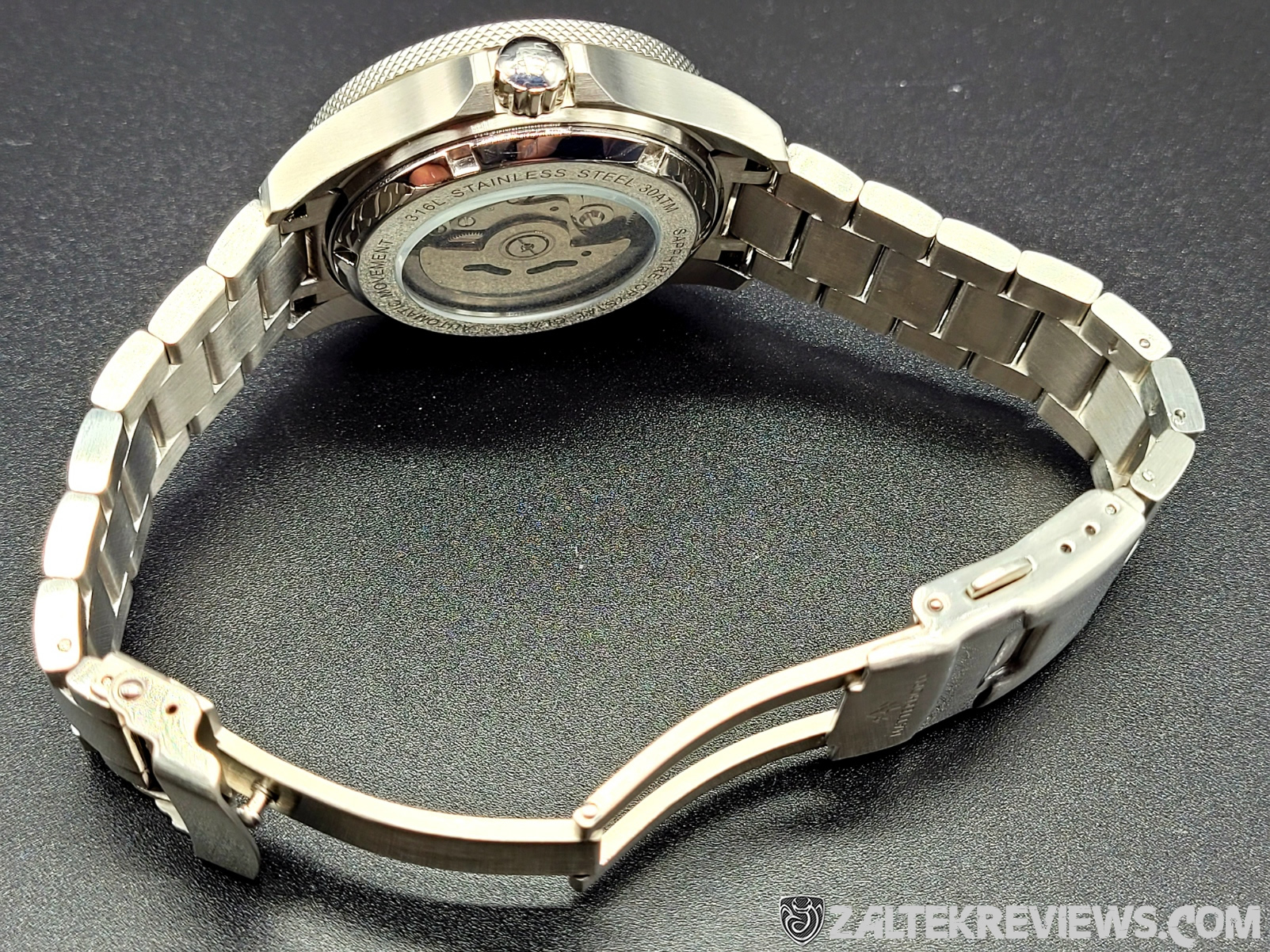 Kudos to Matterhorn Watch Co for also making the decision of going with solid female end links too, for that optimum articulation and overall comfort. Why brands go for male end links I have no idea, maybe it's a cost thing? Fuck knows. Either way, if it was my watch design, it would be female end links all day long. As I mentioned, nice one Matterhorn.
Measurement wise, the bracelet is 20mm at the lugs, tapering down to 18mm, then back up to 20mm at the clasp.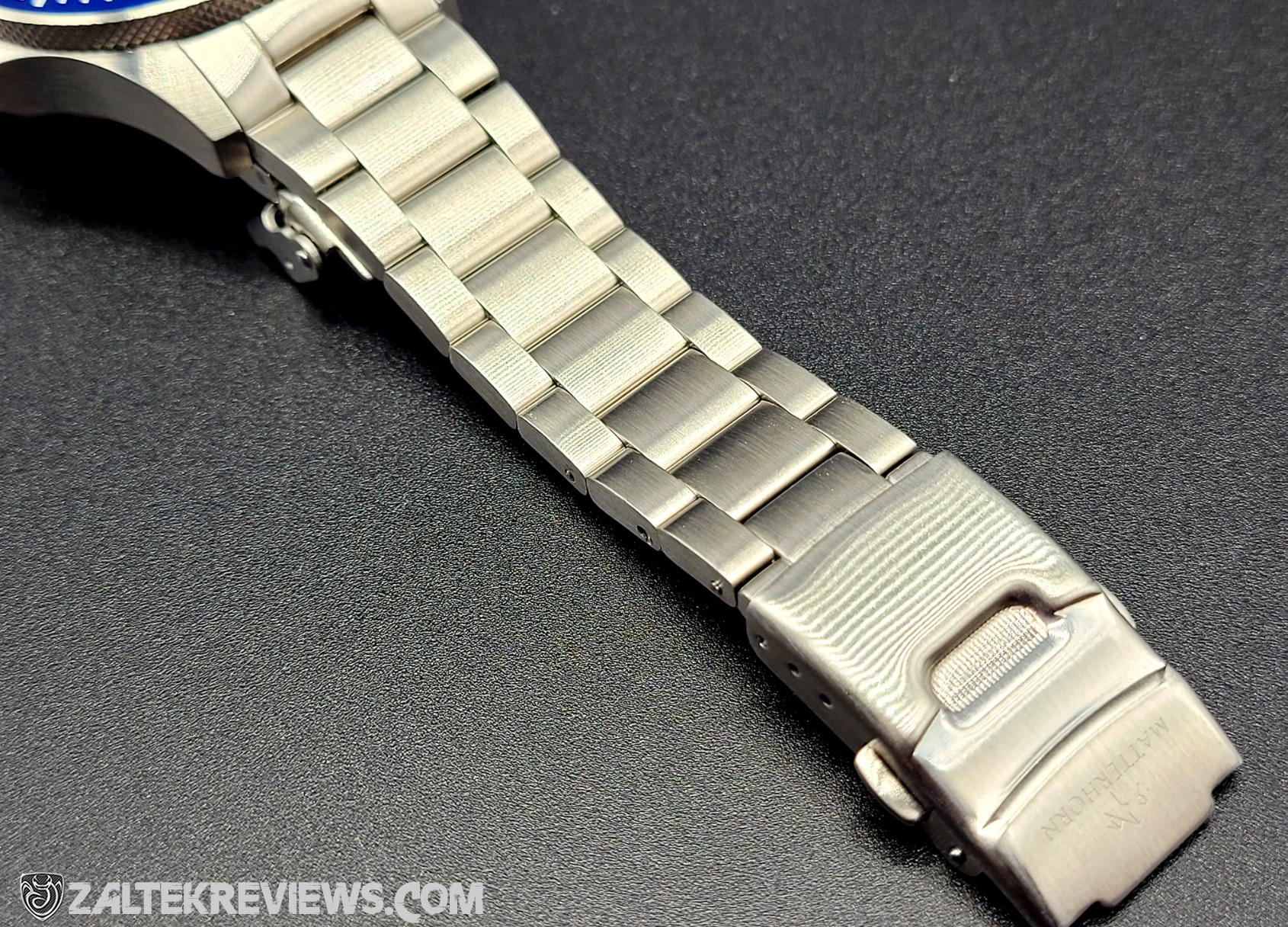 The movement selected for the Matterhorn Divemaster is the microbrand go-to movement of choice, the super reliable SII NH35 manufactured by Seiko. The SII NH35 is a fantastic workhorse with 21,600vph, 3Hz, 24 jewel automatic movement with a 41hr power reserve, self winding and of course hacking. Checking the accuracy after running the Divemaster for almost a fortnight, mainly on wrist and occasionally in my watch winder, I thought the accuracy was pretty bloody good, with it showing an average of just +6.2 seconds per day. That's excellent, considering that this is just a prototype!
*EDIT – 31st March. The movement that will go into the production models, will now be the Miyota 9015, increasing the early bird pricing to £190. Still a absolute bargain!*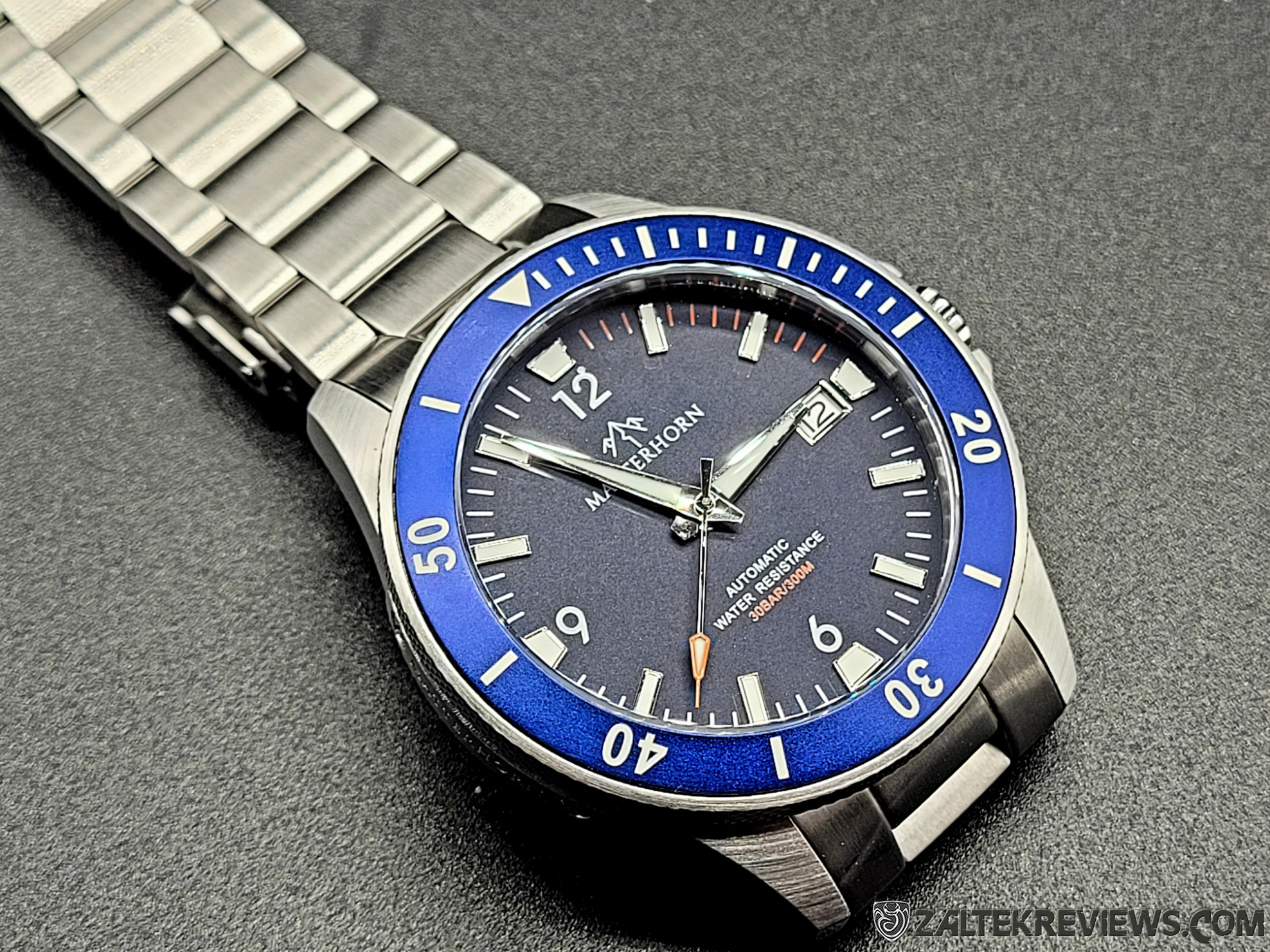 The Divemaster has a 120 click unidirectional bezel, with a fully lumed aluminium insert. It is of very good quality with everything lining up just as it should. The bezel action is also great, not too slack nor too tight with zero backplay or wobble. The text on the dial are the words AUTOMATIC and WATER RESISTANCE with the depth rating of 30BAR/300m just below, printed in orange, complimenting the other orange accents very well. The logo is printed and is placed at the usual position of just under the 12 o'clock. The arabics at the 6, 9 & 12 positions are also printed, however the hour markers themselves are all applied and filled appropriately with Swiss Super Luminova® BGW9.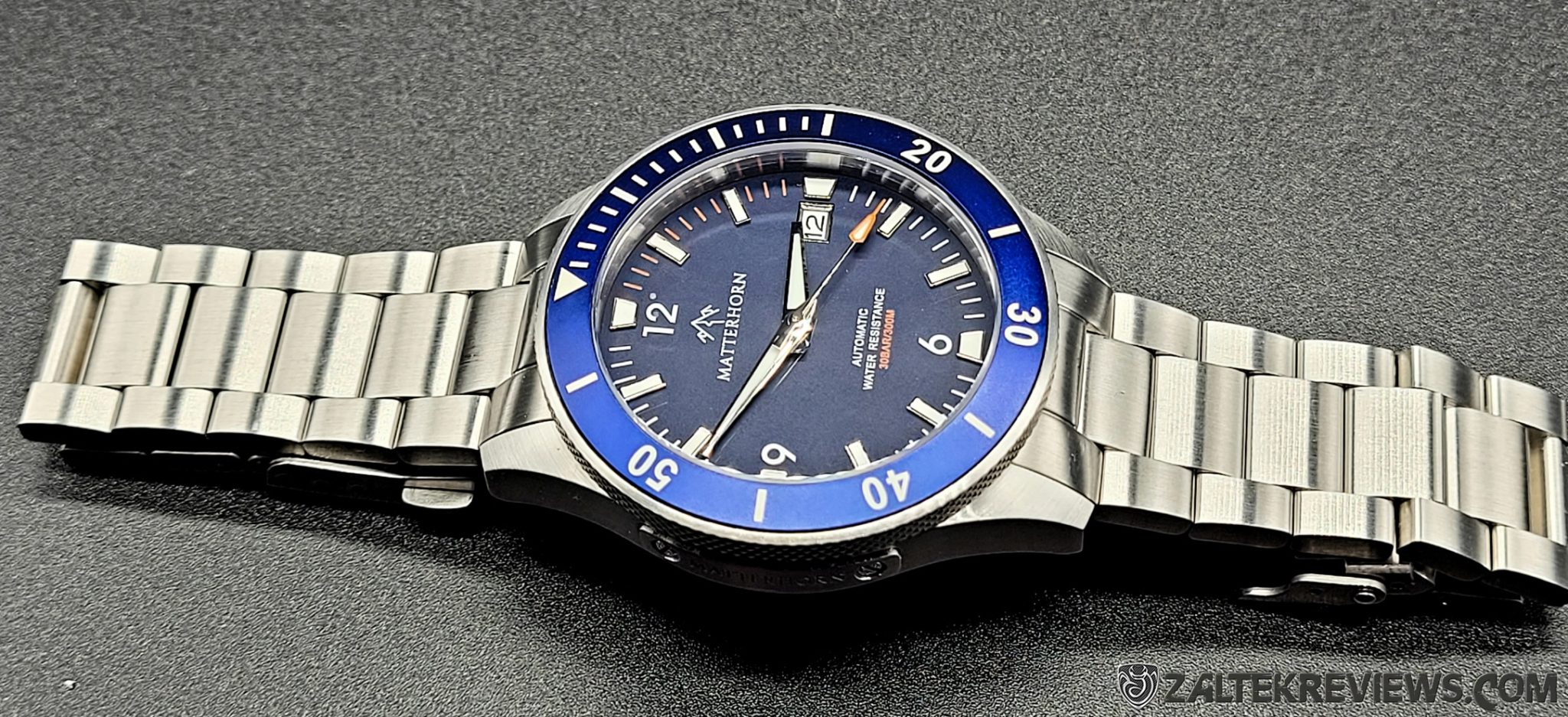 Something that I wasn't expecting… yup, there is a date complication at the 3 o'clock position, and even although it's white on this prototype, these will all be changed to a negative white on black on the actual production units. I think you know by now what I'm like with matching date wheels. Anyway, I'm very glad that Matterhorn are making this change, as it will make a big difference to the overall aesthetic and give the dial a much more premium look. As you can see in the images, the hour and minute hands are nicely done, with their dauphine style appearance. The seconds hand is lovely too, with it's wee orange arrow head and tip that reaches right out to the minute track. Oh yeah, in case you haven't noticed in the images, the minute markers from 0 to 15 are also printed in orange. A nice little touch and great attention to detail.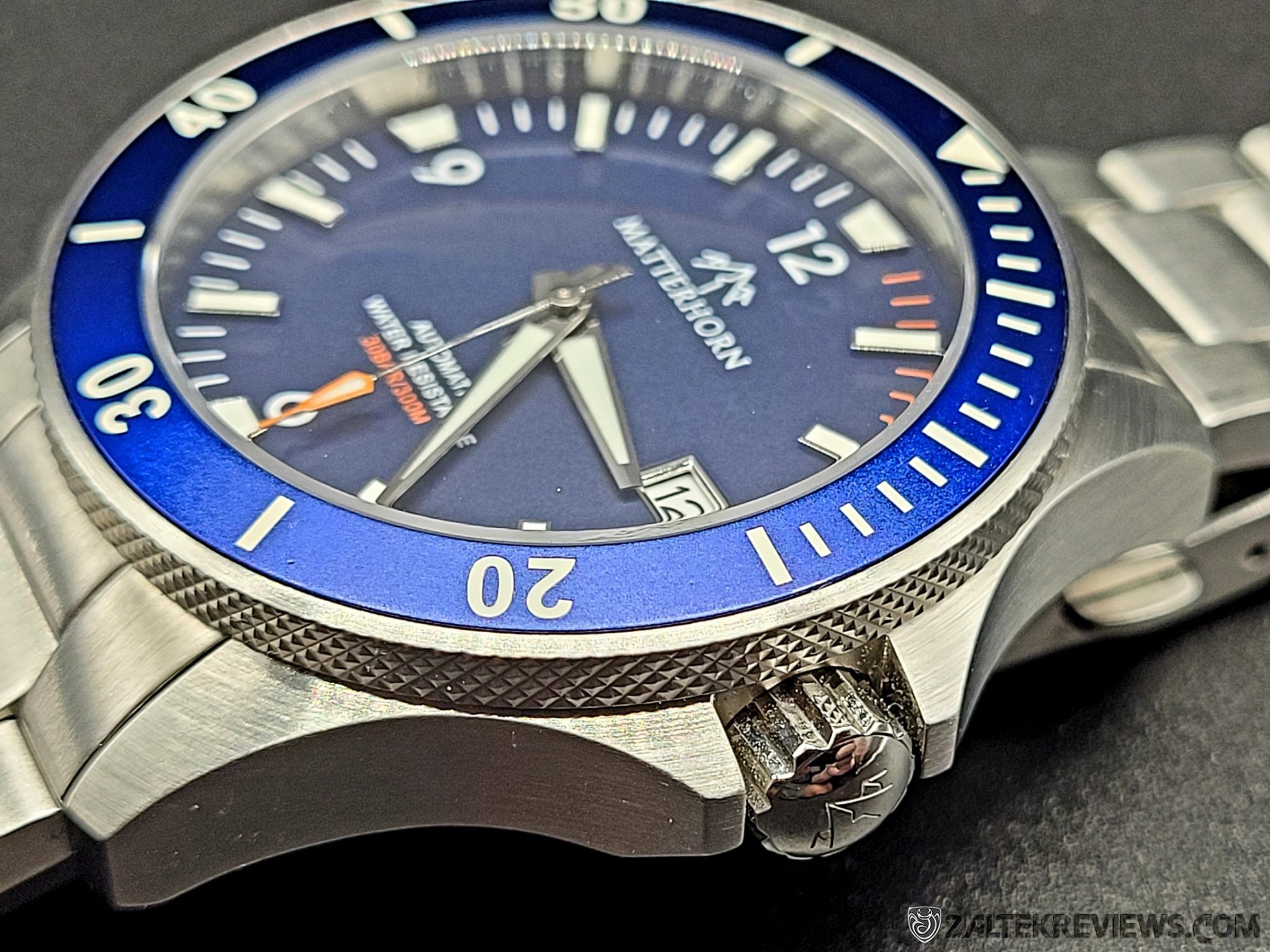 The lume on the Divemaster is very nice indeed, even on this preliminary prototype. Matterhorn have stated though, that the lume will be improved further on the actual production units. Zero complaints from me, more lume the better I say! At the time of writing, I can't get any official word on what the actual lume is, however looking at it, I'd stick a tenner on it that it's Swiss Super Luminova® BGW9. Either way, it's a great choice as it looks the absolute dogs bollocks in low light.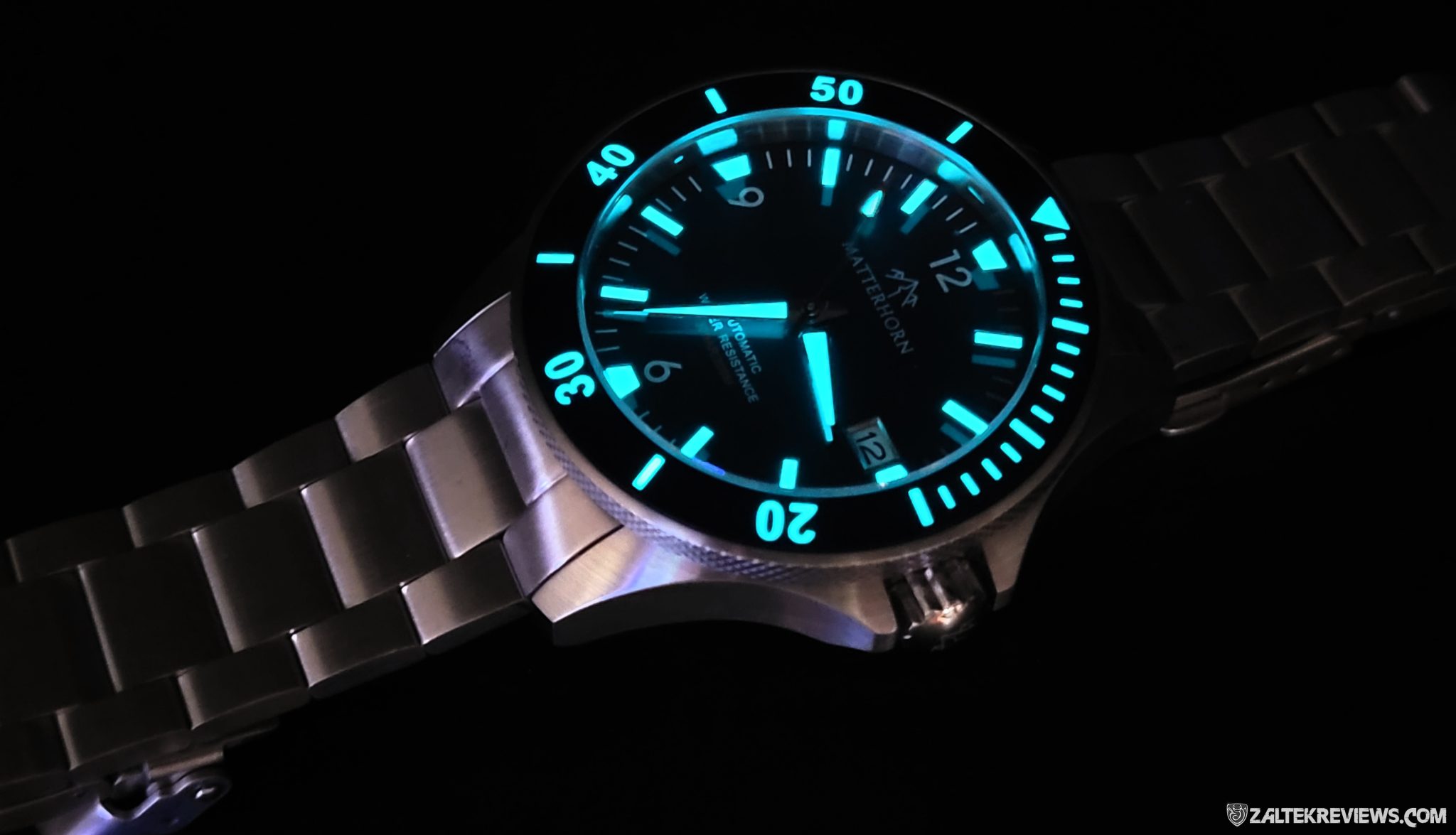 Overall, the Matterhorn Divemaster is an absolutely outstanding watch and I haven't even got to the good part yet, the price! Matterhorn Watch Co are planning to release this on Kickstarter as soon as early April, with an early bird price of just £160. That's absolutely phenomenal value people! If I were you, I'd be all over this like flies on shit and set a reminder to back this, as soon as the company announce the exact date that it'll go live on Kickstarter. There's absolutely no question that I'll be backing this one… all this for the mesely sum of just 160 quid, YES FUCKIN' PLEASE! In the meantime, why not give Matterhorn Watch Co a follow on Instagram, as I do believe there might even be a few surprises in store for potential buyers in the not to distant future. Which one will I be going for? Most definitely the black one.
*EDIT – 31st March. The movement that will go into the production models, will now be the Miyota 9015, increasing the early bird pricing to £190. Still a absolute bargain!*
A massive thanks to Taahir at Matterhorn for sending out the Divemaster for review. Very much appreciated. To view the Matterhorn website, or to join their mailing list, to be informed of new models etc, visit
matterhornwatchco.com
.
It takes me a fair amount of work (and time) to do these reviews. If you feel like supporting Zaltek Reviews to help towards my running costs, or even if you feel like just buying me a coffee, then please donate using the PayPal button below. Unfortunately, 97% of my readers just scroll by this section. If you feel like that I've given you maybe a few quids worth of knowledge and/or entertainment, then please take just a couple of minutes of your time to donate. Thank you. 
[paypal-donation purpose="Donate to Zaltek Reviews" reference="Ref:Zaltek" button_url=""]