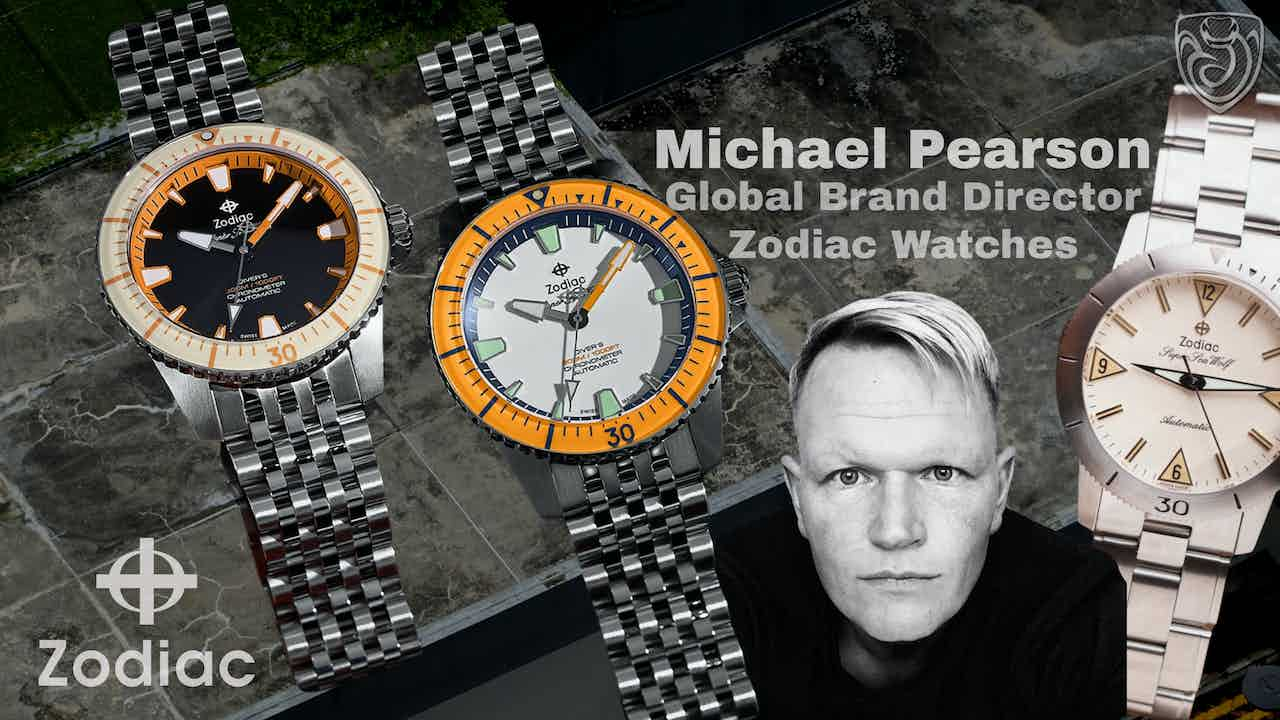 Brand: Zodiac Watches | Michael Pearson, Brand Director
Good Morning! Thanks so much for the questions. My name is Michael Pearson and I'm the Global Brand Director for
Zodiac Watches
. I'm an Englishman who has spent the majority of my adult life living in the US, whilst working within the luxury watch industry. I'm a proud Dad of two daughters, we also have two (slightly pathetic but very loved) Weiner Dogs and I'm a massive fan of football (soccer). The majority of my career was spent growing Bremont here in North America, but I have been involved with a few brands, from small to big and I truly love the watch community. Not all of our friends may understand why we love watches like we do. It's just the inclusivity and acceptance of the community who just enjoy this crazy hobby that makes it so special.
1. How did Zodiac first get into making watches?
Well Zodiac is a very old brand that was founded in 1882 when Ariste Calame set up a workshop in Switzerland. Being born the son of a watchmaker, he was obsessed with designing the most precise watch in the world and created his first pocket watch that same year and there have been some incredible watches along the way, but it's the Sea Wolf Skin Diver from 1953 that really gave Zodiac it's special place in the watch industry as the worlds first commercially available dive watch.
 2. Do you have a "normal job" or is this your full-time passion?
 Zodiac and watches in general are my passion and my career. I've been very lucky to have been a part of the industry since 2006 and it's safe to say that this type of job is anything but "normal".
3. What do you like best about owning your own brand?
I'm not the owner of Zodiac, the brand was bought by the Fossil group in 2001 and see themselves as custodians of this historical company. As the Brand Director I love being a small part of that history to hopefully take it to the level it deserves for the future.
4. Which of your watches and/or straps is your favorite? Are you also a watch enthusiast of other brands?
I've always loved leather straps within my career but with Zodiac watches, especially the current collection having a lot of sports luxury styles, I have really enjoyed wearing tropic straps. They're comfortable and they look great in any situation.
5. What advice would you offer someone that was interested in creating their own brand of watches?
This is a dream for all 'watch people', but I've always been that person who helps brands grow so I can only answer from the perspective of getting into watches. Obviously getting in at any level, be it within a store or a brand, will give you a platform to spring from but stay true to your values and listen to what advice you are given… it's given for a reason! If you love watches and have a voice then I believe it will be heard.
6. What do you think really sets your watches apart from others?
Zodiac has a history that is so storied within 'watches' and the Sea Wolf really is an icon (in my eyes), but I would say that Zodiac is different to other brands because of how we see and use colour. Watches are amazing machines that can last forever if looked after correctly, but they should also reflect the person who wears them and we do that so well with colour and bold design.
7. What are some things that you wish everyone knew about you and your work?
That's a great question. I truly care about the overall watch buying/watch owning experience and want Zodiac to offer that. I would love for us to learn and grow and make the brand better. I give everything I am to tell the brand story across the world. Its a lot of travel with late nights and early mornings, but I love it and hope it comes across that way.
8. Any interesting brand trivia? Any personal info you'd like to share?
A couple of things that surprise the community about us are…
1, Did you know that 70% of Zodiac watches are powered by our own movement? Zodiacs parent company owns STP (Swiss Technology Production) and the STP 1-11 is our workhorse movement that is absolutely fantastic.
2, Zodiac only made 6000 watches last year and are available in just 25 retail locations globally. It's truly a niche brand and we are growing appropriately, but every Zodiac made is made in small quantities but we are planning to grow in the next 18 months significantly. It's really exciting.
9. What future plans do you have for your brand?
As I mentioned in the last question, we hope to grow Zodiac in terms of units we make and retailers we are available in and we have some really unique models in the works in terms of materials and colours, but we have the capability to create some very exciting movements in the future too… We are also going to continue to look to our past back catalogue of watches to create modern interpretations for the future. Which models from Zodiacs history would you like to see?
10. As you have developed your watch brand, what has been the biggest surprise so far?
It's been surprising and humbling to see how many from the watch community want Zodiac to come back in a bigger way. It feels like the community are a sports fan base wanting their favourite team to get back to where they belong. It's wonderful to feel that energy and support. We will try to not let them down.
11. Zodiac is one of those classic brands with a fantastic history. What would you say are some of the highlights?
The Sea Wolf from 1953 is obviously the biggest part of our past, but I love that there is 70+ years of history BEFORE the Sea Wolf and they were producing their own calibers and movements for their coveted pocket watches from very early in the brands development. For example, in 1924, Zodiac launched their first pocket watch which housed the caliber 1617 movement.
12. What, if any, impact did the Zodiac killer have on your brand?
It's terrible that those horrific events are sometimes associated by something as harmless as a watch and we will always try to celebrate the history of the brand and the good in life with colour and innovation.
13. How many watches per year do you typically sell?
Currently 6000 but we are ready to grow.
14. What is the origin of your Zodiac name?
We believe the Calame family wanted a word that could be said in any language with any accent, but it could also come from the wonder and mystery of our horoscope signs … there's still so much to learn.
Bonus Question- What is a question I did not ask that you wish I would've asked, along with the answer?
What soccer team do you like Mike??
ASTON VILLA lol. They aren't brilliant, but they are my passion after my family. Seriously, I've really enjoyed these questions so I'd probably want to end by asking you a question. We don't have a ton of retail partners because of how many watches we make, but we will always want to be guided by the watch buying community with where they shop and who they trust so I'd love from your readers to let me know who we should talk to. Thanks so much!! I would also like to add that we have recently released our brand new Titanium Pro Diver, which you can check out here—>
zodiacwatches.com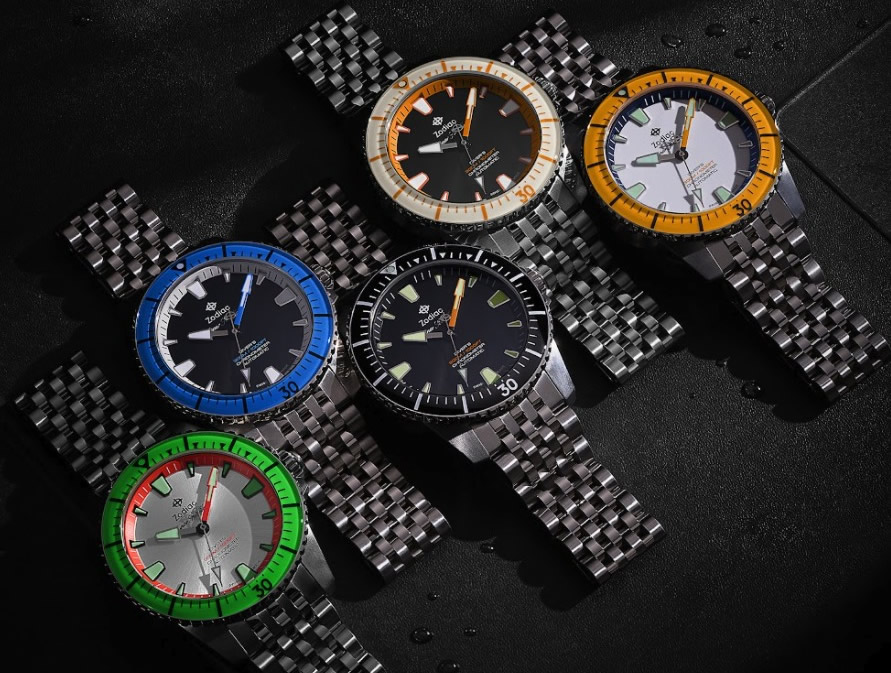 It takes a fair amount of work (and time) to do these reviews, so if you feel like supporting Zaltek Reviews to help towards my running costs, or even if you feel like just buying me a coffee, then please donate using the PayPal button or QR code below. Unfortunately, 97% of my viewers/readers just scroll on by this section. If you feel like that I've given you maybe just a few quids worth of knowledge and/or entertainment, then please take just a couple of minutes of your time to kindly donate. Thanks very much, Will Duncan – Zaltek Reviews.