Manufacturer:

MTK Watches

| Price: from $299 USD (£219 GBP, €239 EUR)
Checking back through all my emails, I've actually been chatting with Gregory at MTK Watches for just under a total of 12 months. Ever since I saw (I can't remember where) the initial drawings and mock ups of Gregory's New York inspired chronograph, I've been chatting with him on a regular basis. Whenever there were any updates, he would shoot off an email to me, with a ton of pictures and details of how the prototypes have changed since his last update.
That's what I love about reviewing microbrands (well, some of them at least), is when brand owners stay in touch, and let you see and follow their behind the scenes progress, from initial sketches to prototypes, right up to the finished retail product. A couple of days before Christmas, I received two prototypes from Gregory of this new chronograph. So… after almost a year of waiting, an absolute shit ton of emails to & from MTK Watches, has the long anticipated and hype been worth the while? Let's find out shall we… Cue the intro! ("What bloody intro? You're not on YouTube ya fuckin' knob)!"
Specifications
Dimensions: Case Diameter – 41.9mm, Thickness – 12.6mm, Lug to Lug – 48.7mm, Lug Width – 22mm
Movement: Seiko SII Hattori VK64 Mecaquartz, 3yr Battery, +/- 20 Seconds per Month
Case Material: Brushed 316L Stainless Steel
Bracelet: Brushed 316L Stainless Steel, Female Solid End-Links, Push Pins, Milled & Signed Clasp
Strap: Top Grain Leather, Black with Contrast Stitching, Signed Buckle
Crystal: Domed Sapphire, Underside Anti-Reflective Coatings
Bezel: Fixed, 316L Stainless Steel, Tachymetre
Lume: Swiss Super Luminova® C3
Water Resistance: 100m / 10ATM / 330ft      

Caseback: Solid, Screw Down
Crown: 7mm, Screw Down, Signed  
Weight: 76g (On Leather Strap), 157g (On Bracelet – Sized up for my 6¾″ wrist)
Where to Buy:

MTK Watches

(Pre-order from 19th January – Shipping in March)
Available Colourways: Black, Blue, Grey, White     
Warranty: 2 Years International, Free Worldwide Shipping (FedEx)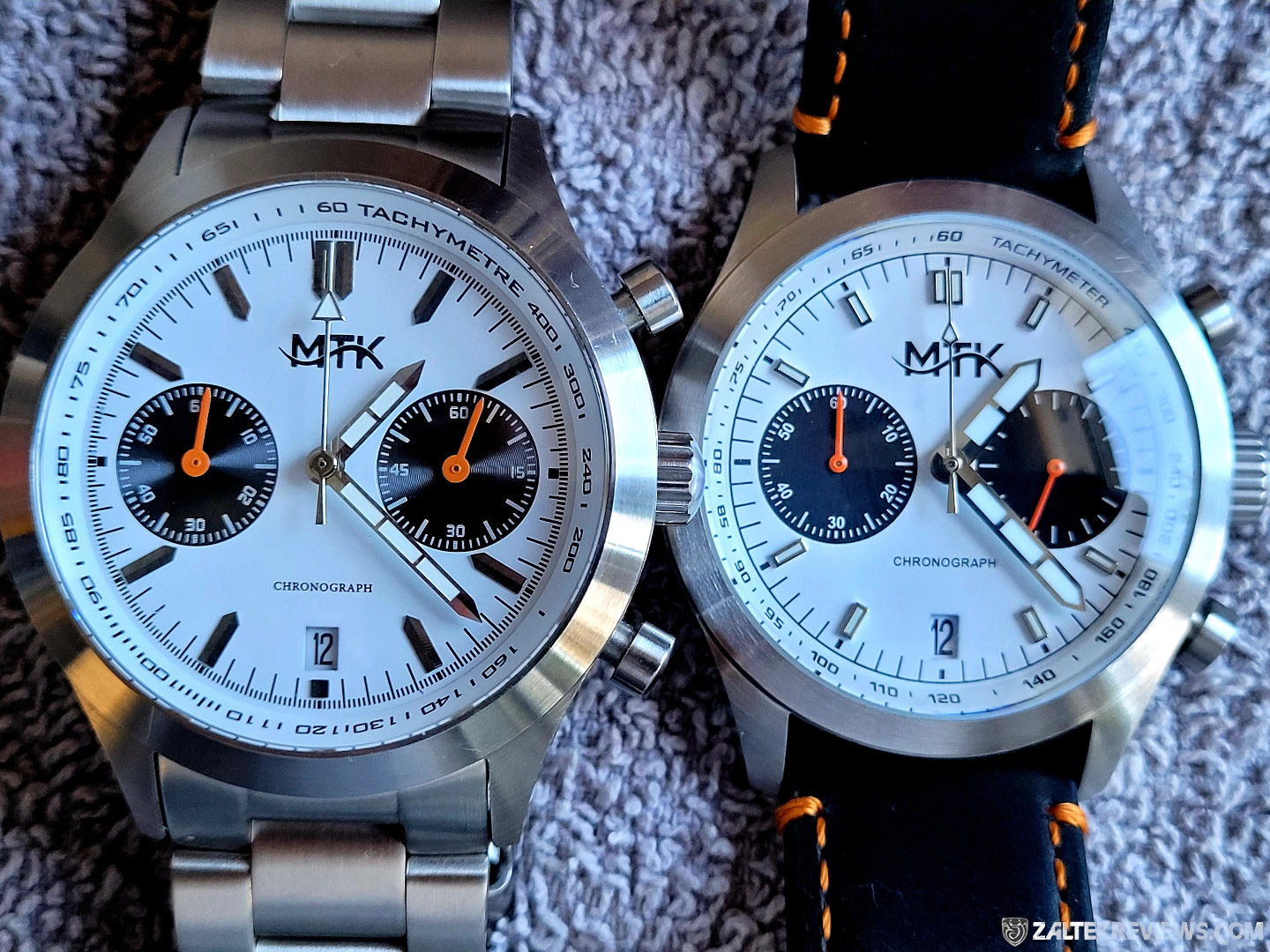 MTK Watches - A Brief History
"MTK watches got started like many other microbrands. I started as an enthusiast, I have always owned watches back to original plastic swatch watches, which were all the craze in 1984(ish). I would never say I was a collector, but I always had at least one watch, including an awful fake Rolex Datejust. I purchased it in Times Square NYC, in a shady as you could imagine in 1993 (I was 22). It was quartz, the bezel was plastic, it fell apart after a few weeks. I crazily glued it back together. Fast forward to being more of a sensible adult – I've owned Fossils, Invictas, G-Shocks etc, then eventually found microbrands. I loved the variety, from homages to unique designs. My day job is a brewery owner. I started a brewery in New York in 2008. Weirdly, there is a tremendous similarity to the craft beer industry and the microbrand watch industry.

Sadly in 2014, one of my three sons died by suicide. As you can imagine, it turned my whole world upside down. In 2017, I started thinking of developing a watch brand to primarily occupy my mind. I really dove into the industry, researching and started pursuing designs the following year. That process is what lead us to present day. MTK is an abbreviation for Montauk. Montauk is the eastern most town at the tip of Long Island in NY. Montauk is a unique town, an ocean beachside tourist attraction, surf spot, fishing village and the site of a former Cold War military installation called "Camp Hero", which has a very interesting conspiracy theory. It ranges from Blue collar residents, to celebrities, to some of the most wealthiest Americans alive today. "Vibe" is the best way to describe it. It's laid back, casual and a true party spot, all rolled into one."
Planned Alterations for Production
Stronger application of lume on hands and hour markers.
Tachymetre moved to fixed bezel, no longer on the dial.
Higher level of brushed finishing on the case and bracelet.
Sub-dials will be that of the #2 prototype (the one with the bracelet fitted to it).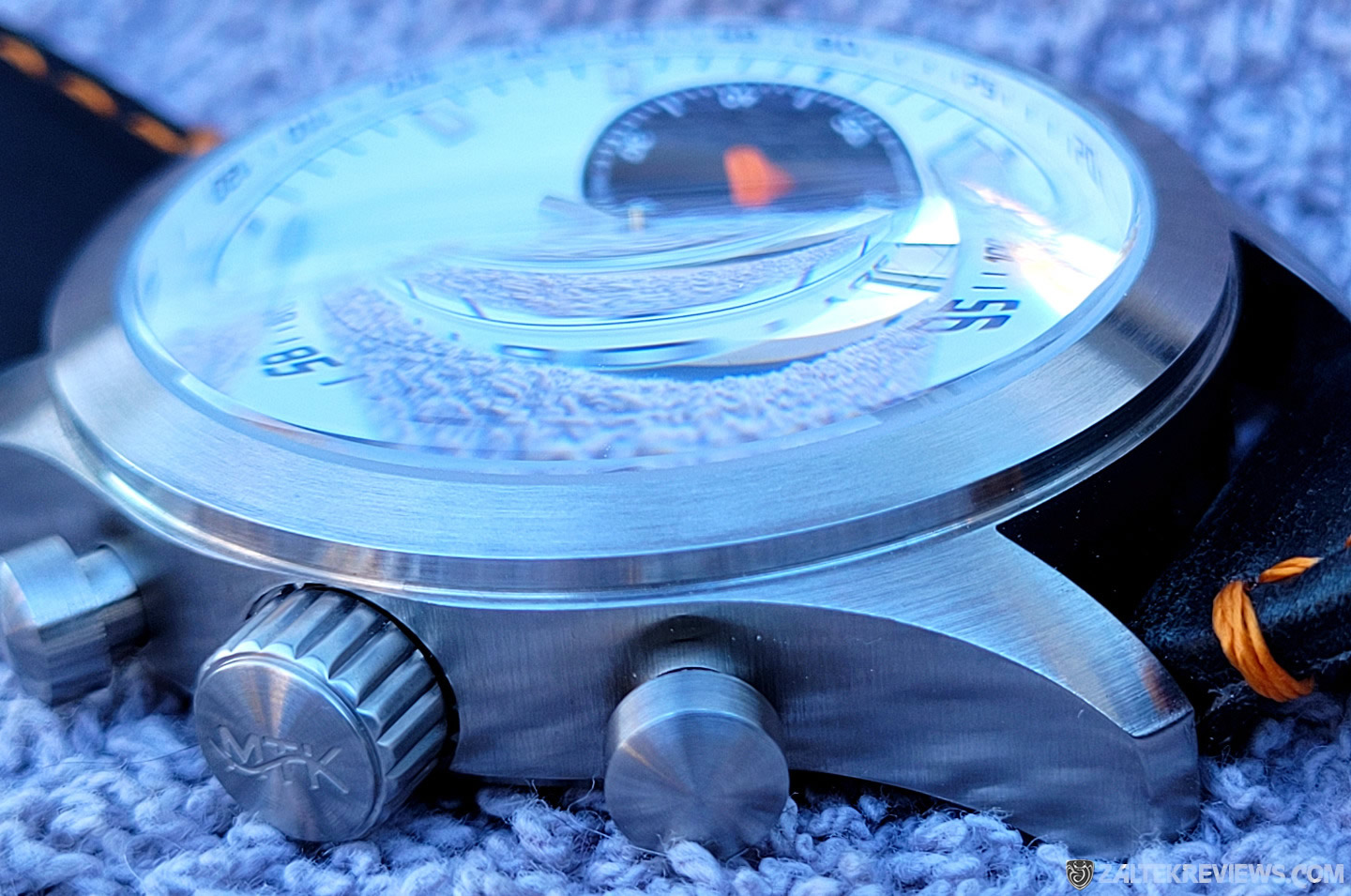 The case of the MTK New York Chronograph has a diameter of 41.9mm. The lug to lug is 48.7mm and the overall thickness, including the domed sapphire crystal, I measured in at 12.6mm. The entire case, caseback, bezel, pushers, crown and bracelet are all 316L stainless steel. The finishing of the watch is great, being entirely brushed, which is quite rare to see on a chronograph, you'd normally get in my experience, at least some form of polished detailing / accents.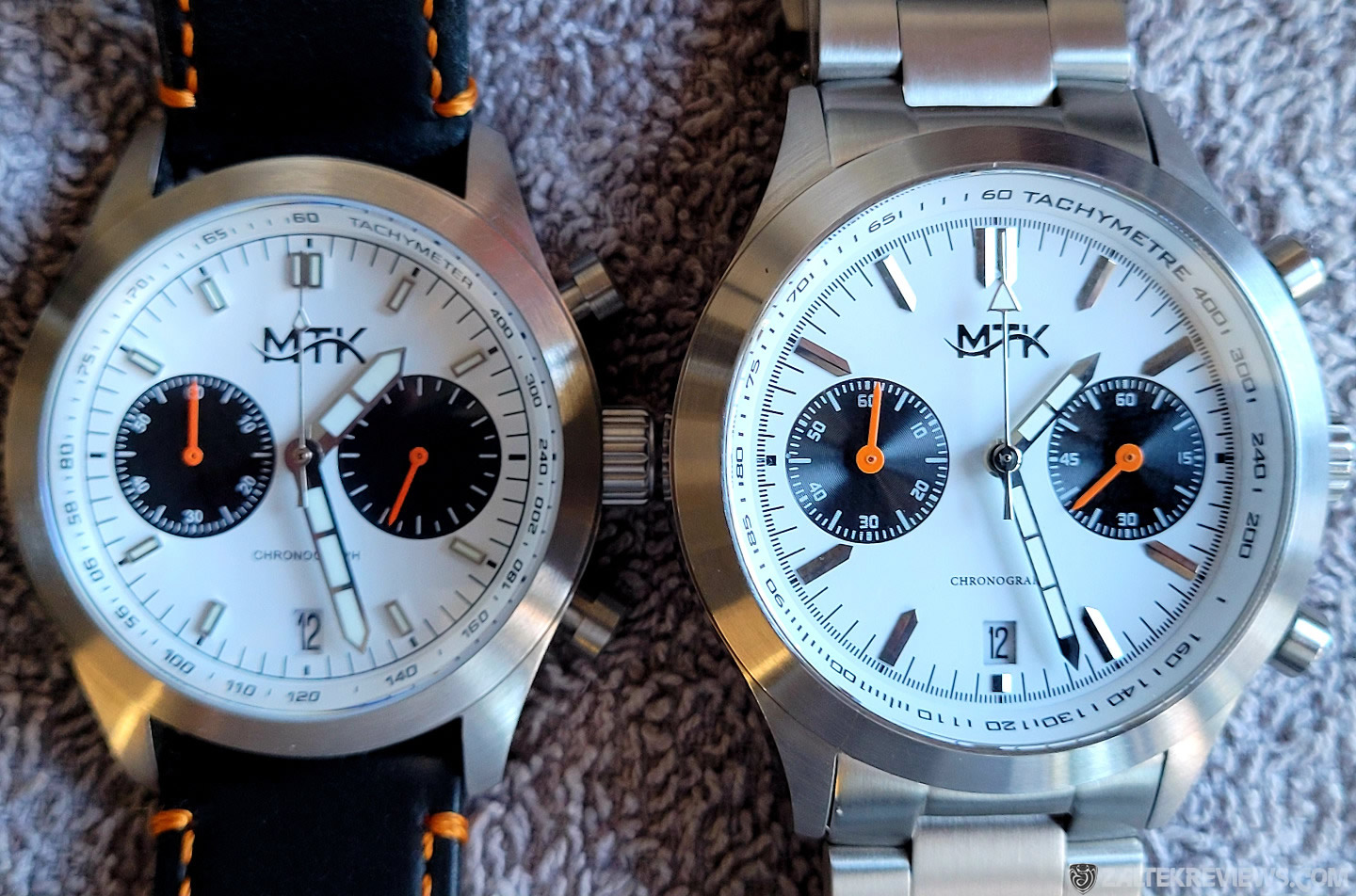 The MTK New York has a water resistance rating of 100m, which is more than adequate, especially for a chronograph. The proportions of the watch, in my opinion, are absolutely spot on. It also fits my 6¾″ wrist perfectly, even if on paper, it's a bit larger than I would normally go for. Comfort wise, the New York does actually wear brilliantly on wrist and it's not as heavy as you might expect, coming in at 157g on bracelet. The signed crown is lovely too, perfectly sized at 7mm with plenty of grip. There's absolutely no wobble whatsoever either when the crown is in use and you can also feel a very nice wee pop as you unscrew it. The caseback is a solid screwdown affair, with the usual basic specs etched around the edge.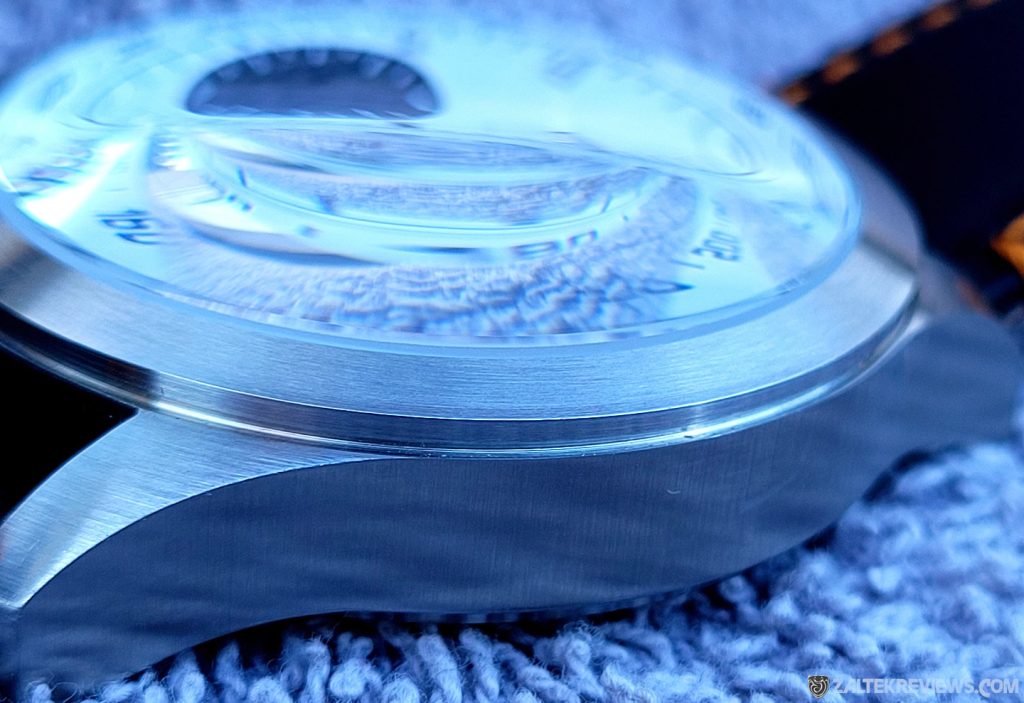 Fitted to the MTK New York is certainly one of the most comfortable stainless steel bracelets I've ever had the pleasure of wearing. It does utilise the majority of the usual bells & whistles that we all love, solid links thoughout, female end-links, fully milled clasp, but unfortunately for some reason, it only has push pins for sizing. I personally don't mind those as they're easy enough to size etc… Way better than those pain in the arse pin & collar set ups, that's for sure! I should actually mention the measurements while I'm here… It's 22mm at the lugs, tapers down to 19mm at the thinnest most part, then back up to around 21mm at the clasp. Talking of the clasp, there's a total of 3 micro-adjustment holes.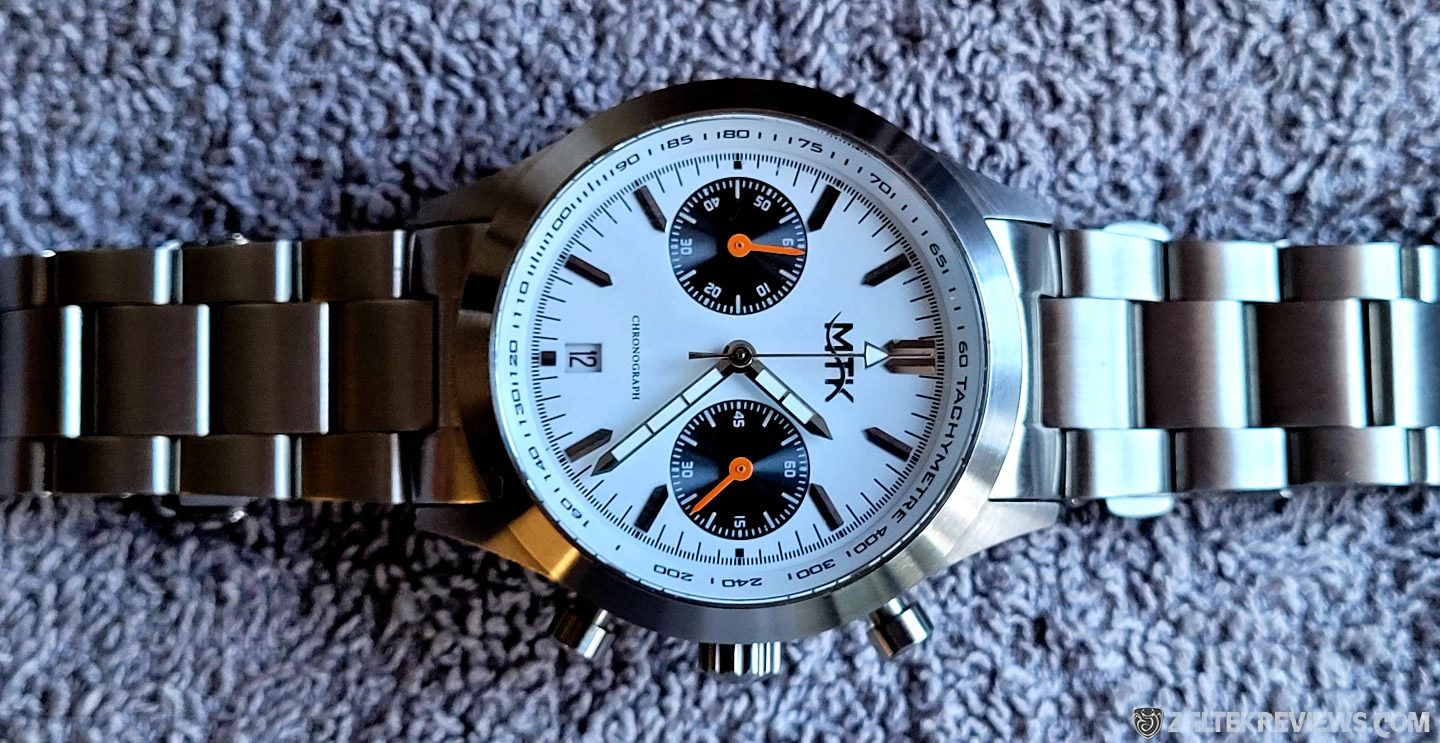 In the box is also a very comfortable 22mm top grain leather strap, with a matching signed buckle. As you can see in the image below, the contrast stitching matches the hands on the sub dials, no matter which colourway you go for. It's very nice attention to detail from MTK. Oh yeah, the leather strap itself doesn't taper whatsoever, it's a full-on 22mm strap.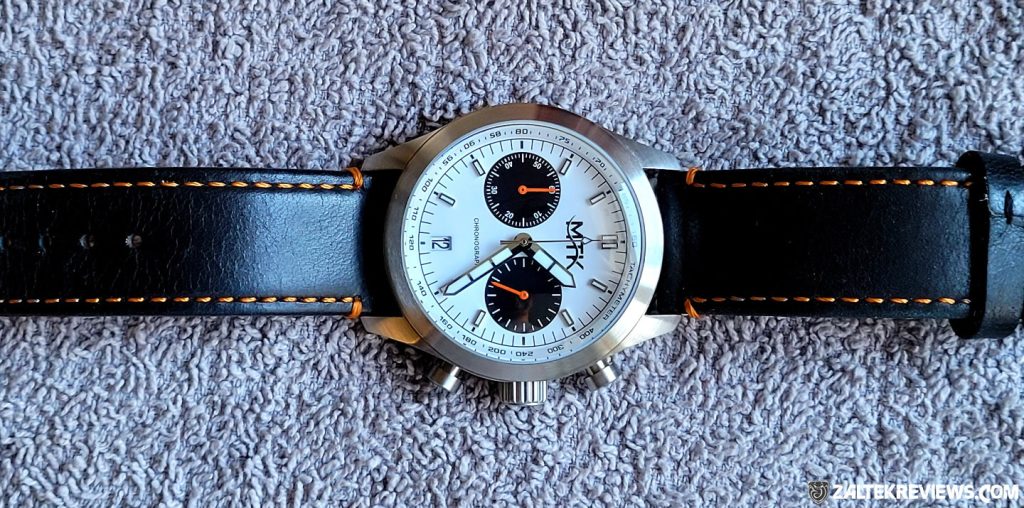 The Seiko SII Hattori VK64 is part of the hybrid mechanical quartz (mecaquartz) movement line. It is a chronograph movement that uses quartz technology for the main functions of the watch, with a mechanical module for operating the chronograph. Seiko/Time Module states that the expected accuracy of this movement is less than +/- 20 seconds per month. As a mecaquartz type of movement, the chronograph second hand on the VK64 has a rather smooth sweeping motion, unlike most quartz chronographs that impulse with a ticking motion. The Seiko labeled caliber number for the VK64 is 6T64 and you'll find this caliber VK64, listed as being produced by SII aka Hattori aka TMI. (calibercorner.com)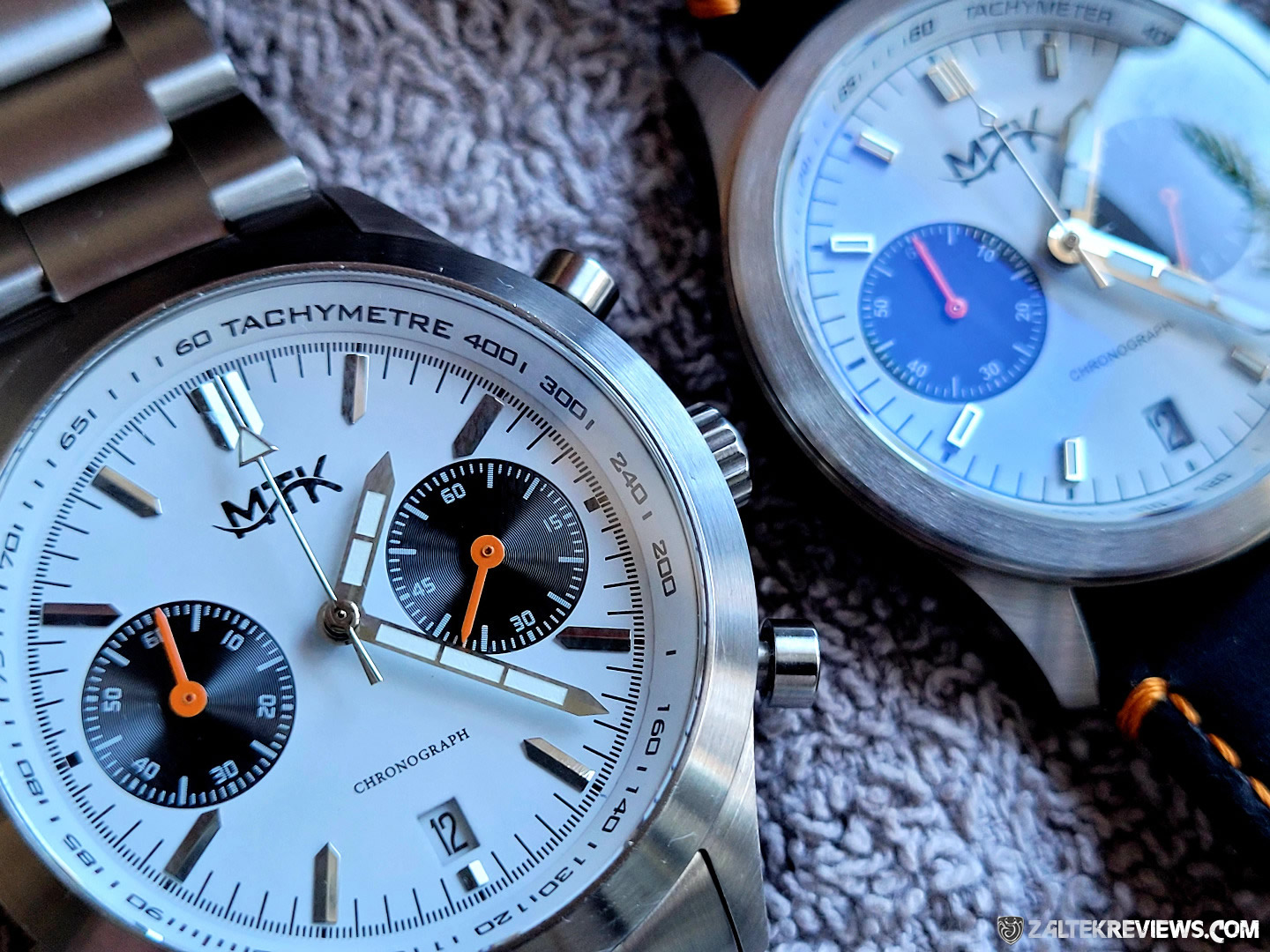 The text on the dial of the MTK, all of which is printed in a perfectly contrasting black, are just two items, the MTK logo and the word CHRONOGRAPH. Very clean & simple right? There is also a perfectly executed date cut out at the 6 o'clock position. Oh aye… it's colour matched! Yeah, I know, it's a white dial, it will obviously be colour matched, blah fuckin' blah… I don't care, I'm taking that one. (Shame really, that they're not colour matched on the other models, ah well…)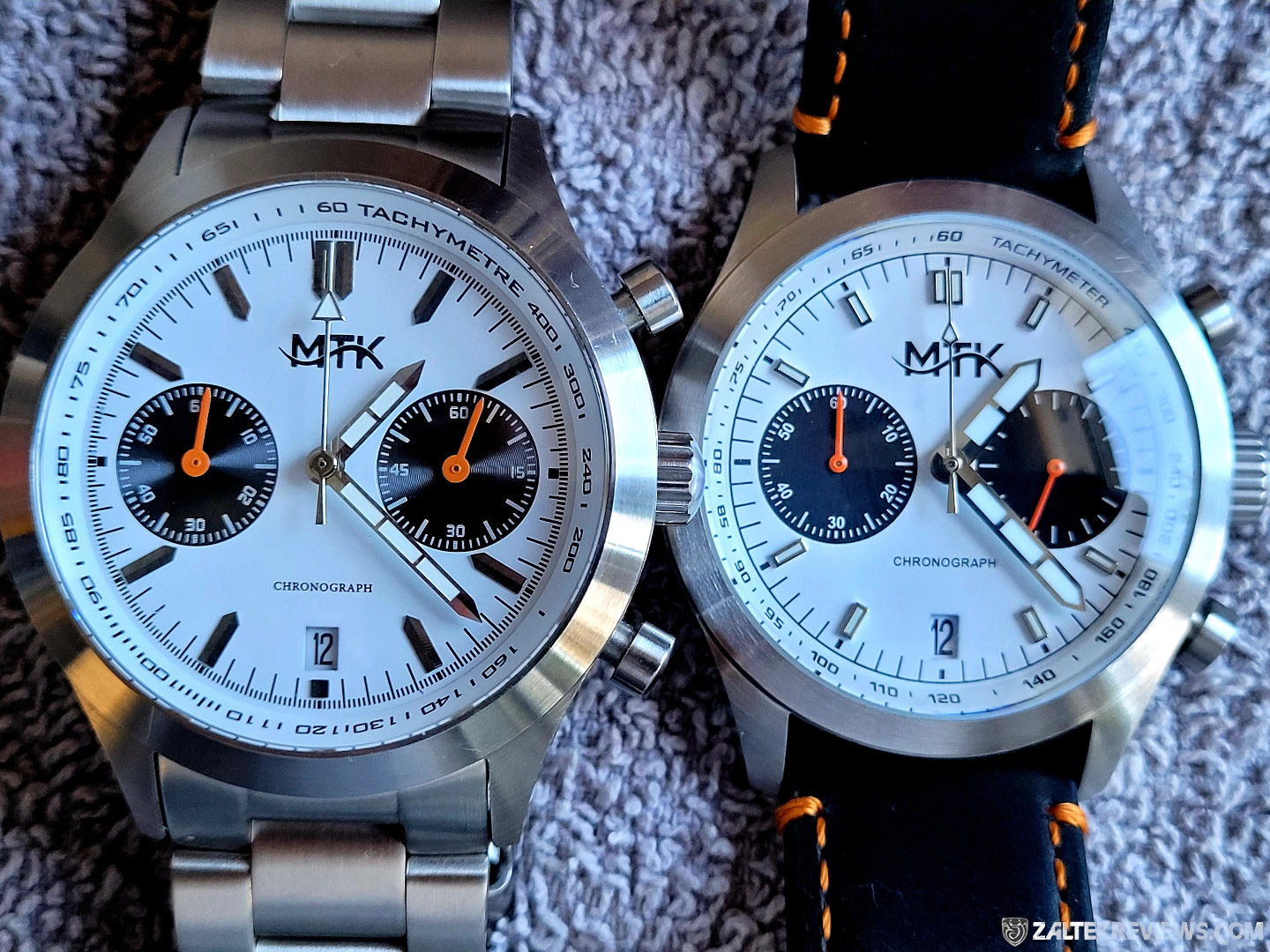 As you can see in the images, the hour and minute hands are very nicely done with their proportionate design. The nice looking silver chronograph hand is also nicely executed, with it's tip reaching right out to the very edge of the minute track. Talking of the minute track, it is all clearly printed in black, with lovely applied hour markers around the dial. The sub-dials are rather sweet looking too, finished in black with contrasting orange hands. You'll find a running seconds at the 3 o'clock position, with a 60min timer at the 9 o'clock. All said and done, it is one of the nicest
dials I've seen.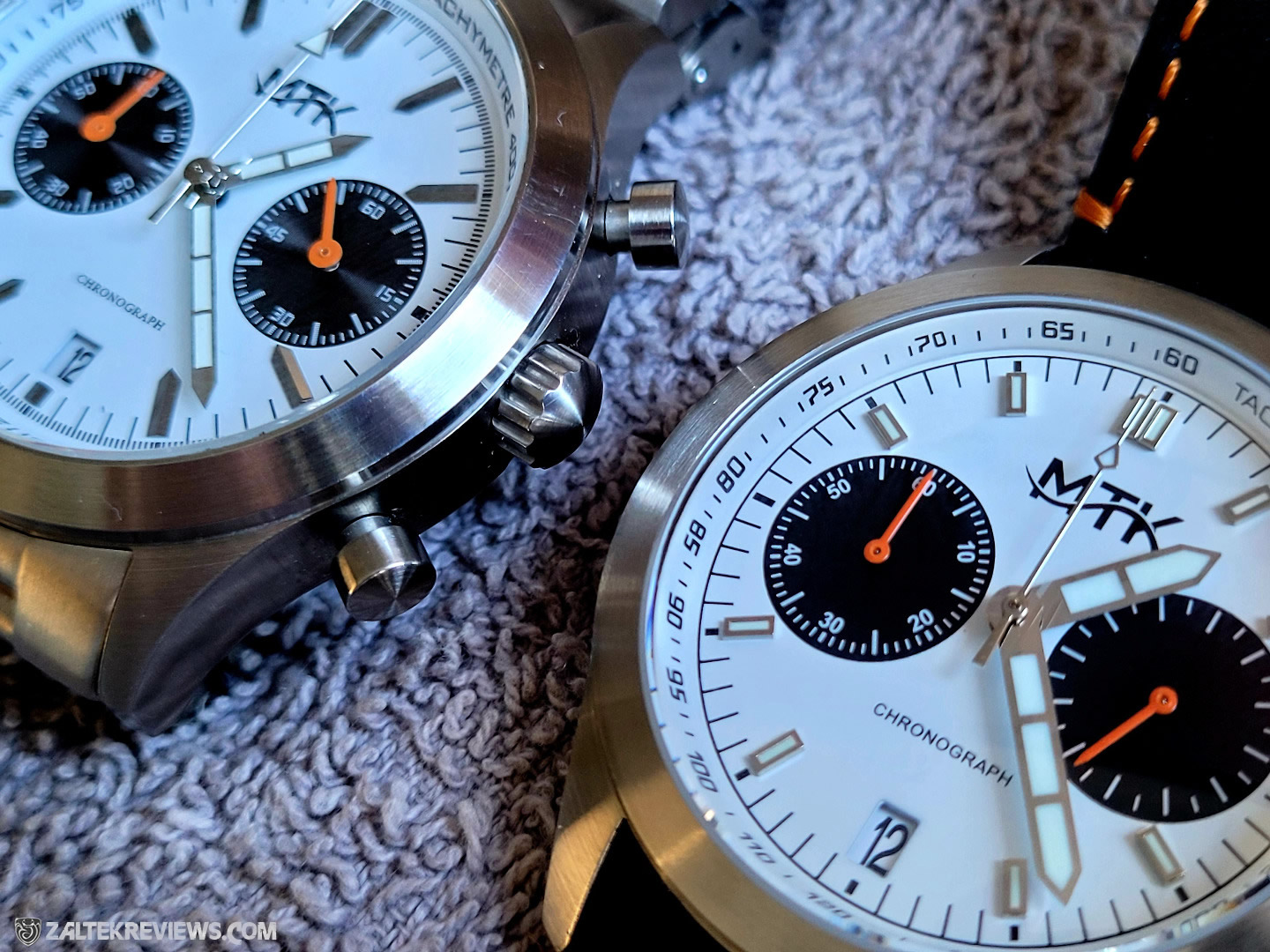 The lume on the MTK New York I can only describe as pretty bloody good (for a chronograph). It's definitely right up there with the best lume I've seen on any chronograph, from any brand! The actual formula of lume that has been applied on this MTK, is Swiss Super Luminova® C3, and I've also been reassured by the owner Gregory, that the lume will be even stronger on the actual production models, with an even thicker application, on both the hands and hour markers.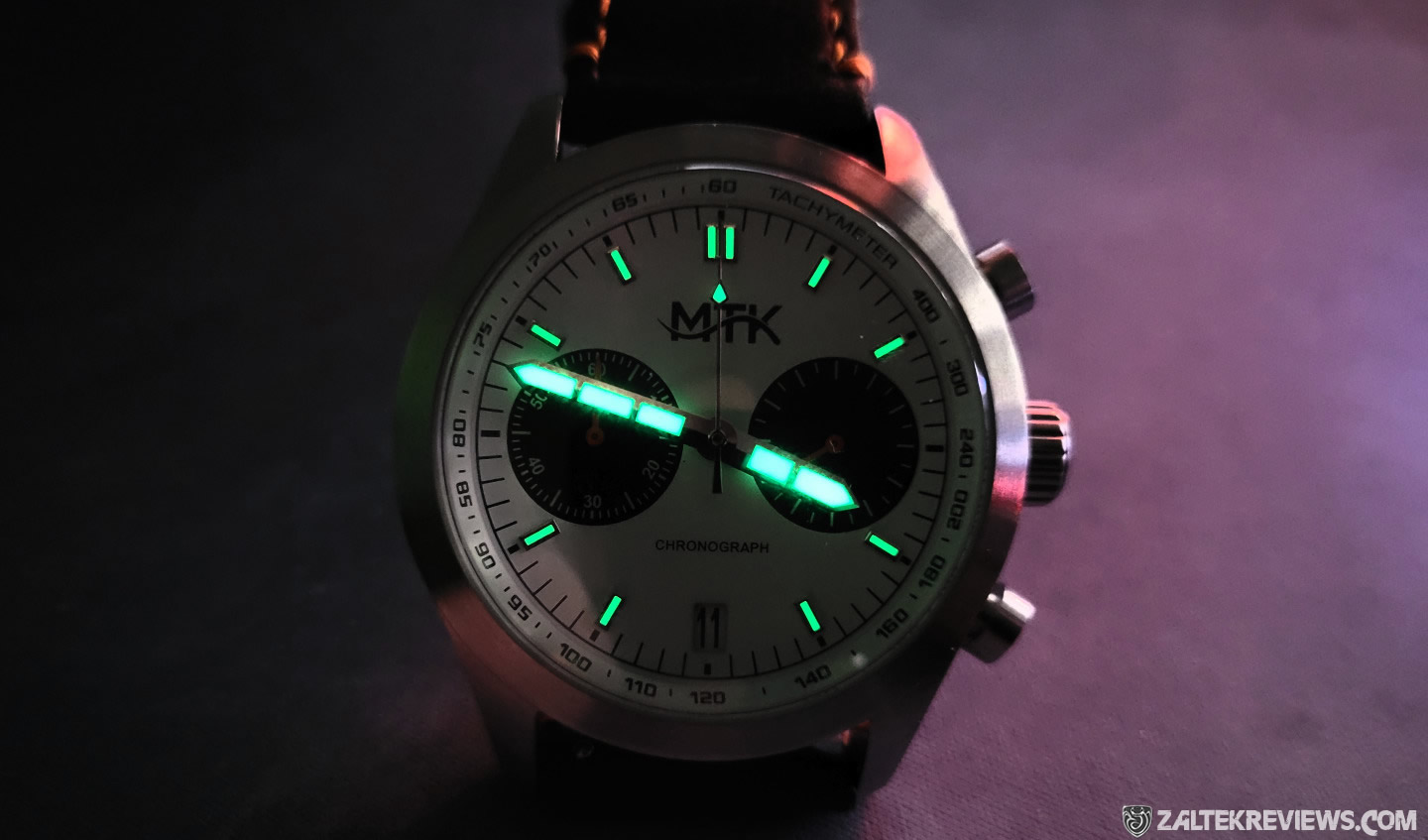 I'm not usually a fan of chronographs per se, I much prefer the all-round simpicity of a 3-hander (with date). I am a big fan of white dials however, so this MTK New York has cheekily found its way into my own personal watch box. This is mainly due to the fact I wear it so much, as part of my own rotation, even if it is just a prototype and not actually a finished production model. Trust me, that is rather high praise indeed, as the majory of review samples I get in, stay exactly where they should be, in the 'review samples watch box' that sits opposite my desk.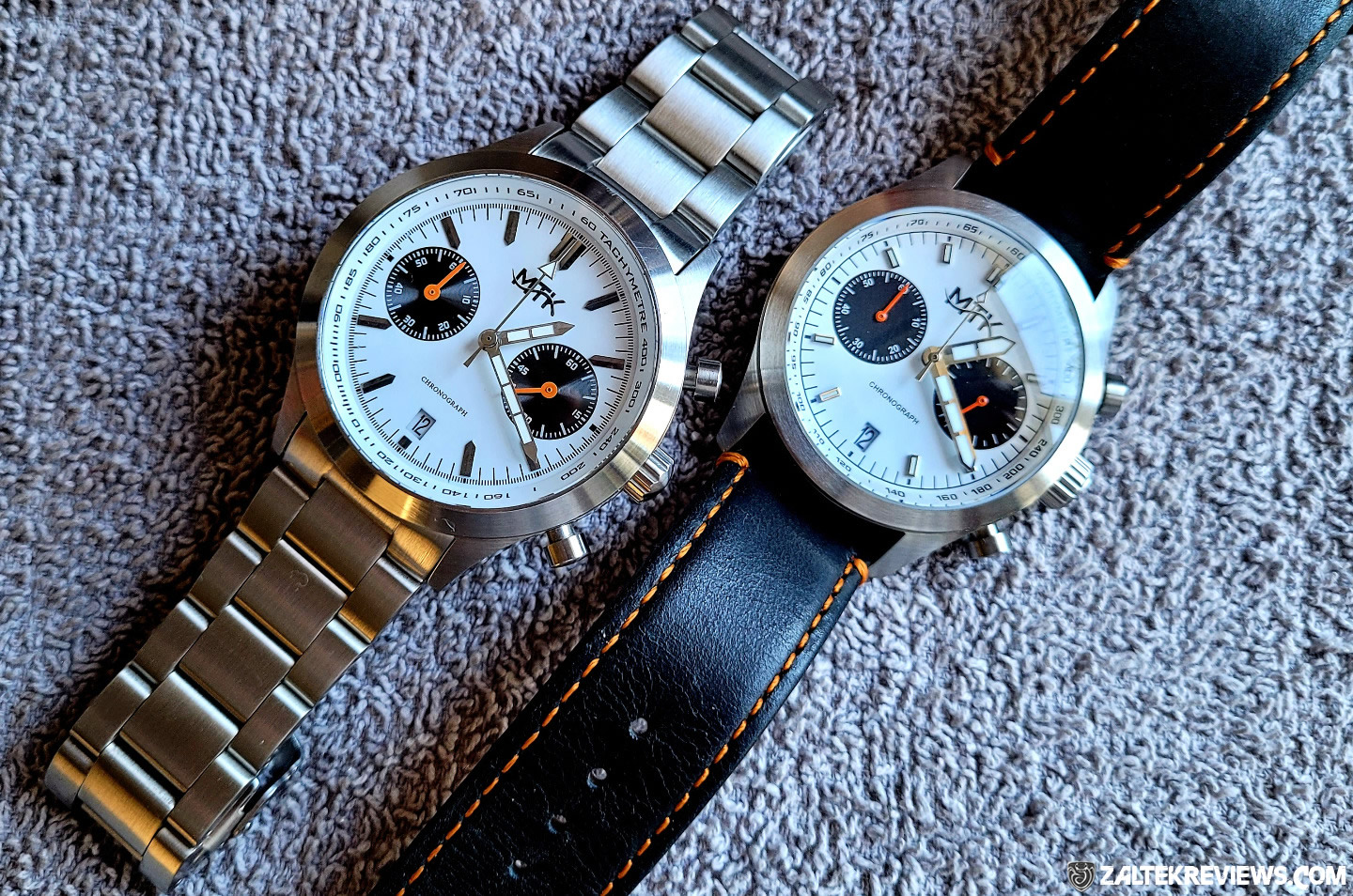 Is it just me, or do any of you guys n' girls, see a watch on social media or wherever, and think to yourself, "yeah, that's pretty good looking", but it's not until you see it in person and wear it on wrist, you're then totally gobsmacked by the thing? That's exactly what happened with me and this panda dial chrono from MTK Watches. Will I be buying one? Unfortunately not, I'd love to, but I just can't afford it. I already have quite a few watches currently on order and it's only the second week of January. I really need to stop spending so much friggin' money on watches. It's an illness I tell you!
9.5/10 - HIGHLY RECOMMENDED!
A massive thanks to Gregory at MTK for sending out their new New York Chrono for review. Very much appreciated.
To view the MTK website, or to join their mailing list, to be informed of new models etc, please visit
mtkwatches.com
.
It takes me a fair amount of work (
and time
) to do these reviews. If you feel like supporting Zaltek Reviews to help towards my running costs, or even if you feel like just buying me a coffee, then please donate using the PayPal button below. Unfortunately, 97% of my readers just scroll by this section. If you feel like that I've given you a few quids worth of knowledge and/or entertainment, then please take just a couple of minutes of your time to donate. Thank you.
[paypal-donation purpose="Donate to Zaltek Reviews" reference="Ref:Zaltek" button_url=""]