"Ever since we were kids, we've been driven by our passions. Whether it be music, cooking, beer, fitness, or something else, we always strive for excellence in pursuing the things we love, and decidedly, our passions have become an integral part of who we are. We believe that people should pursue their passions and do the things they love doing. It is what makes us unique - it is what makes us human. The name Nodus represents the multitude of roads that cross, tangle, and merge in life. The experiences you have, the passions you embrace - where those pathways intersect ultimately defines who you are. In 2017, we decided to turn our biggest passion, watches, into something even bigger. Watches play an important role in our lives, accompanying us through adversity, milestones, and above all, preparing us for future endeavors. Our function-first design ethos ensures that these utilitarian mementos can last decades, withstanding active lifestyles as well as passing trends. We aim to give watch collectors all over the world the same gratification, solace, and ambition that we found in creating our watches. We envision a world where people are unafraid to embrace who they are and chase whatever passion pulls at them. Nodus Watches are built for the important things in life, and we hope that wherever life takes you, you take Nodus."
The case of the Sector Dive has a diameter of 38.9mm. The lug to lug is 46.5mm and the overall thickness, including the double domed sapphire crystal, I measured in at a very nice 12.7mm, which is rather slim even for what is essentially, a skin diver. The entire case, caseback, bezel, crown and bracelet are all 316L stainless steel with the addition of a DLC coating on the bezel. The finish of the Sector Dive is mostly brushed with the addition of a rather nicely executed polished chamfered edge that runs along the top & bottom of the case, and over both edges of the lugs.
The Sector Dive has a water resistance rating of 150m, thanks to the screw down caseback & crown. A more than acceptable WR rating for a true skin diver. The proportions of the watch, in my opinion, are phenomenal for my 7″ wrist. The Sector Dive wears extremely well on wrist and it is very comfortable, with it just melting onto the wrist and it's light enough to make you wonder if you're still wearing a watch.
The signed 7.5mm crown is excellent, looks absolutely fantastic with the deeply etched logo and knurling all round for great grip. It is easy to use and operate, there is absolutely zero wobble when the crown is pulled out to any position. You also feel a very nice little pop as you unscrew the crown. I love the size of the crown too and I wish more companies made crowns like this instead of daft wee skinny things that you struggle to even unscrew, never mind try and operate.
The caseback is nothing fancy, being rather simply done with a lightly etched pattern with the usual spec sheet listed around the edge. I don't mind this approach at all, it's not as if I wear a watch upside down so I can stare at the caseback all day, now is it.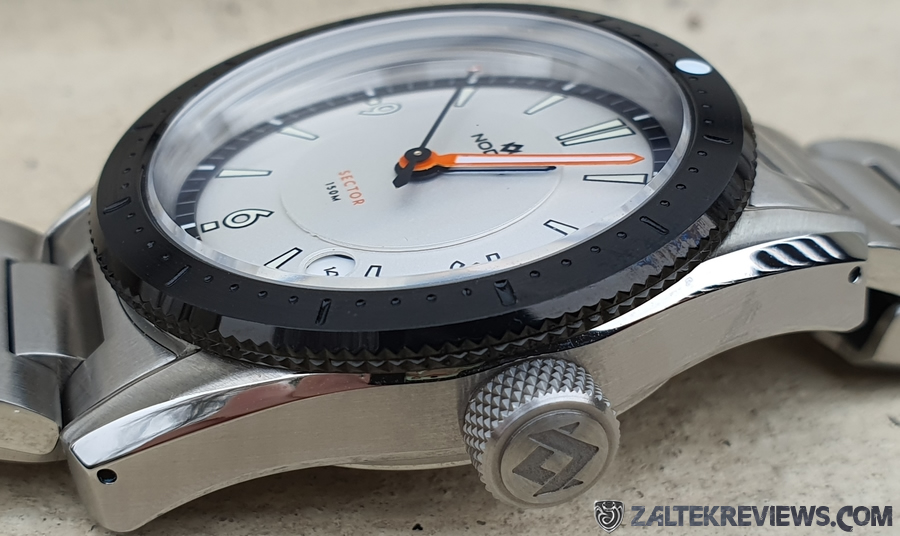 I actually read a comment on Facebook the other day, not regarding this watch, but another one that had a totally sterile caseback and someone actually commented along the lines of, "they haven't put any effort into the caseback at all, I'll pass". What a total and utter cockwomble! I think some people just look for any excuse NOT to buy a watch. Just buy the friggin' thing ya dick, You won't see the caseback anyway, unless your wrists are totally transparent! Some people… just need a slap! Anyway, apologies, rant over, let's continue with the review of the Nodus Sector Dive. 🙂
The bracelet that comes fitted to the Sector Dive is nothing short of brilliant! It's fitted to the watch head perfectly and the tolerances are fantastic. The bracelet itself is 20mm at the lugs, that tapers down to 18mm and back to 20mm at the milled clasp. There are solid links throughout and there's absolutely no rough or sharp edges to be found anywhere. Resizing the Sector Dive was more than easy enough with the screw pins holding things together securely.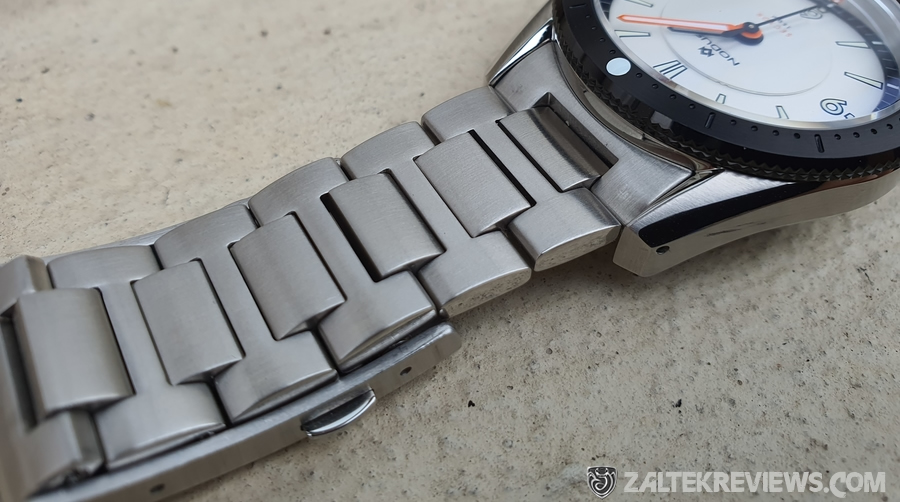 The H-link bracelet is brushed with polished sides and there is a lovely polished chamfered edge on each side of the dual button release clasp. Talking of the clasp, it is milled which is always preferred and the Nodus logo is etched beautifully. If I had to give some criticism about the bracelet, it'd be I'd like to have seen a hardening coating applied, so to save the bracelet from scratching. I've only had the watch here 1 week and you can already see desk diving marks on the clasp.
The movement selected for the Sector Dive is the microbrand go-to movement of choice, the super-reliable NH35 manufactured by Seiko. Nodus Watches regulate the Sector Dive in four positions to ensure a claimed +/- 10spd. The Seiko NH35 is a fantastic workhorse with 21,600vph, 3Hz, 24 jewel automatic movement with a 41hr power reserve, self winding and of course hacking. Checking the claimed accuracy after running the Sector Dive for just over a week, mainly on my wrist and occasionally in my watch winder, I thought the accuracy was fantastic with it showing an average of just +4.8 seconds per day.
The Sector Dive has a 120 click unidirectional DLC coated stainless steel bezel with the addition of a lumed pip on the insert. It is of outstanding quality with everything lining up absolutely perfectly, just as it should. The bezel action is great with no backplay either. The text on the dial is printed, showing the word SECTOR finished in orange with the depth rating of 150m just underneath. The NODUS logo is also very neatly printed, done at just under the 12 o'clock position.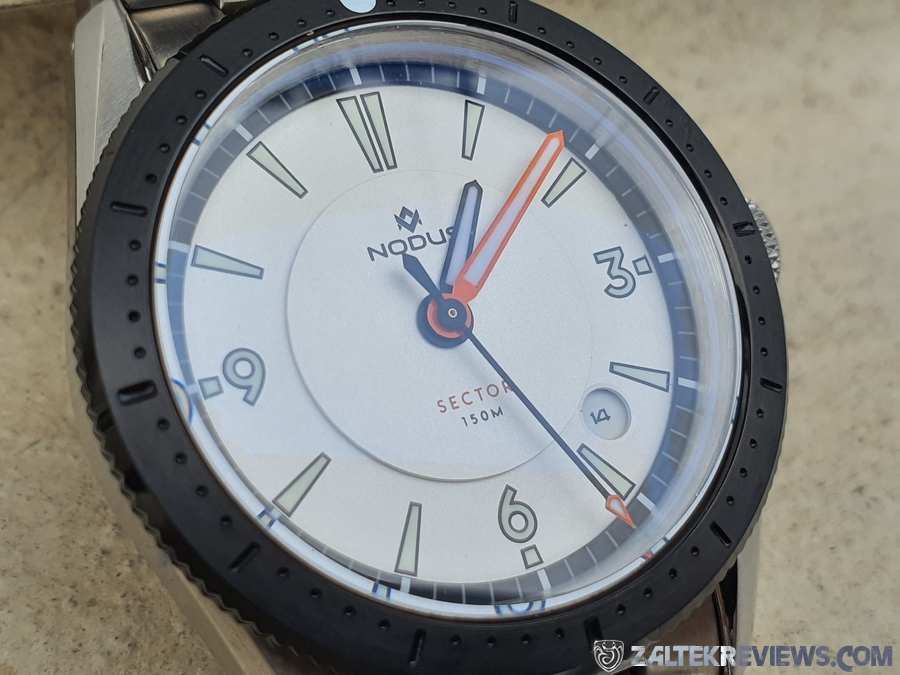 The pearl version that I have here, sports a very clean & simple looking dial without any sunburst or any other distracting effects applied to the dial. In my opinion, this gives the dial a much more sporty look and feel. Additionally, the hour batons are quite slim but they are pumped full of lume. The hour and minute hands are executed really well with the minute hand finished in orange. To be honest, I would have preferred to have seen it done in black to match the hour hand but I can see why they've done it, as orange is supposed to be the most legible in low light, but on a white dial, I think black would've still been a better choice.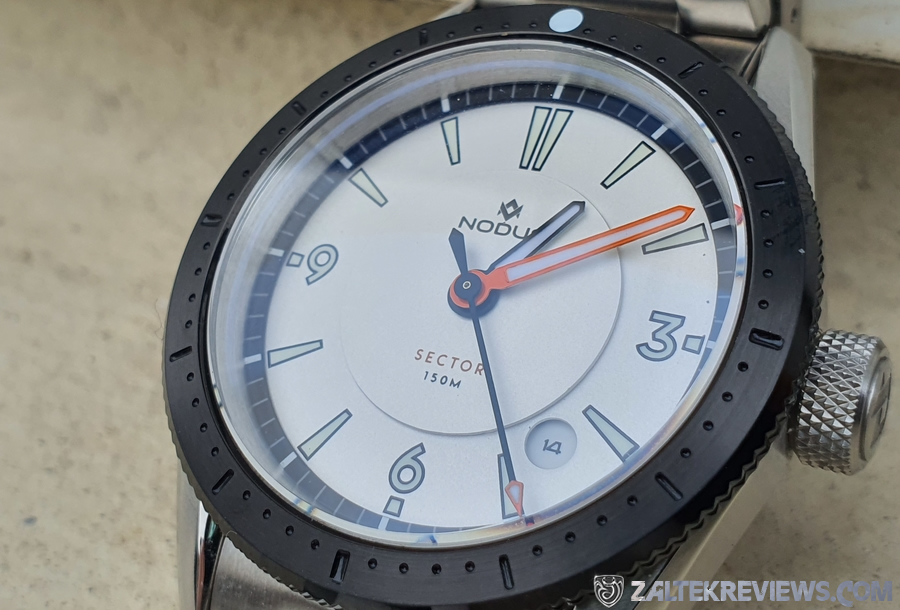 The seconds hand is great though, all done in black with just the orange arrowhead tip reaching right out to the minute track. The only thing I would change on the dial is, yep, you guessed it, I'd move the date to the 6 o'clock position or even just remove it all together. Atleast Nodus colour matched the date wheel, and they done it on all the colourways and not just on this white dial version. A wee bonus point there from me, nice one Nodus!
The lume on the Sector Dive is pretty damn good! Taking into consideration the real estate of the hour markers and the arabics, I wasn't really expecting anything out of this world, but the lume has been applied extremely well. It's rather bright as you can see in the image below and it does last longer than you might expect.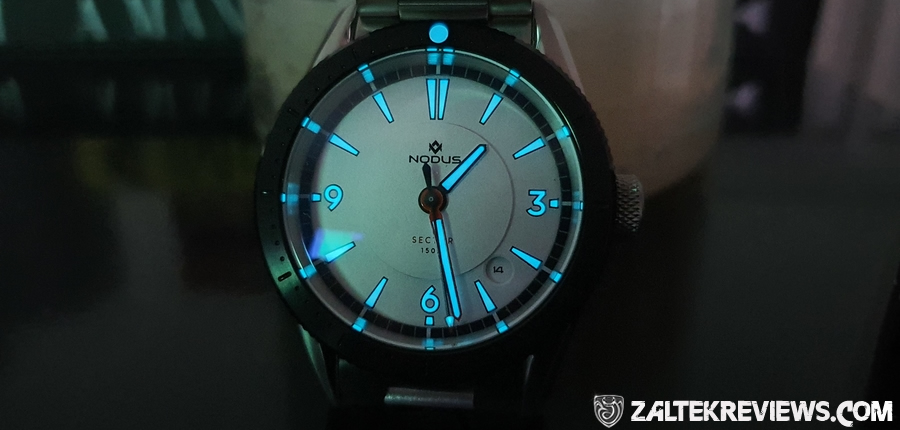 When I first seen images on Instagram of the new Sector series from Nodus, I actually thought, oh… I'm not very keen on that! I didn't really like this dive or the field series from Nodus. I then looked closer, and I saw the date complication at the 4 o'clock position on the dive series. I was like, ah for f*cks sake, WHY!?? A little time passed and I started to see more close up shots and taking the dimensions into consideration, I actually started to warm towards it. But, I suppose it's like any other watch, you can't really make your mind up fully until you actually see the watch in person and try it on to get a feel for it, see how it wears etc…
Well, obviously I've done that, and I actually really like it now that I've had it here for a week or two. The attention to detail and the small touches that you don't really see on Instagram etc, is what really makes this watch stand out from the rest of the competition. Overall, it really is a fantastic watch and if you've ordered one, I believe Nodus have started to ship them out to customers. Simply put, when it does arrive, I'm pretty sure you will be more than pleased with it.
Nodus Watches – Great build quality and the attention to detail is fantastic. Great job!
9/10 - HIGHLY RECOMMENDED!
A massive thank you to Wes at Nodus Watches for sending me the Sector Dive out for review so quickly.
To view the Nodus website, or join their mailing list to be informed of new models etc, visit 
Nodus Watches
.
Follow Zaltek Reviews on
Instagram
and
Facebook
and please feel free to join our Facebook group
WatchChat
, a busy community for watch enthusiasts and collectors, with tons of images and in-depth discussions.
At Zaltek Reviews, we encourage the companies whose watches we've reviewed to comment on our articles. We invite any company representatives to respond in the comments section below. Thanks very much.