Manufacturer:

Phantom Watch Co

| Price: from £159 GBP ($205 USD, €185 EUR approx)
I've had Hamtun Watches on my radar for an absolute age! I originally backed their campaign on Kickstarter back in March 2019 of their Kraken H2, right up to the very last minute, however I decided to pull out as I didn't fancy waiting months for a watch that I'd already paid for. Even although, I regret it, as I really wished I had the Kraken H2 now.
Anyway my point is, I have back many campaigns over the last year and I should have had just a little more patience at the time. When I found out that Hamtuns' owner Ross, was releasing another watch through his sister brand Phantom, I just had to find out more. Funnily enough though, I didn't have to, as Ross contacted me directly, and asked if I would like to review the Caleuche prototype. Ofcourse I said yes, in fact, I nearly bit his hand off! So… is it any good? Let's find out…
Specifications
Dimensions: Diameter – 40.1mm, Thickness – 13.2mm, Lug to Lug – 47.2mm, Lug Width – 20mm
Movement: Seiko NH35, Automatic, 21,600vph (3Hz), Hackable, Self Winding, 41hr Power Reserve
Case Material: Brushed 316L Stainless Steel with Polished Accents
Strap: Waxed Horween Leather, Signed Buckle
Optional Bracelet (+£50): 316L Stainless Steel, Solid Links & End-Links, Screw Pins, Milled Clasp
Crystal: Flat Sapphire, Underside Anti-Reflective Coating
Bezel: 120 Click Unidirectional, Stainless Steel Insert, PVD Coated, Fully Lumed
Water Resistance: 200m / 20ATM / 660ft
Lume: Swiss Super Luminova® BGW9
Crown: 7mm, Screw Down, Signed     Caseback: Screw Down
Warranty: 2 Years (Transferable)     Where to Buy: Kickstarter (Launch Date: 11th February 2020)

Options: Colour – Black, Blue, White | Stretch Goals (Black PVD Finish, Various Strap Options)
"Phantom Watch Co is a UK based company. While the Caleuche is our first model under this brand, our team own and run other successful watch businesses and have designed, made and shipped thousands of watches over the last 4 years. So why start Phantom if we have existing, successful brands? Good question! We are often contacted by people interested in independant watches, but are worried about dropping £600 on a watch from a company they haven't any experience of. That does makes sense, as it's a lot of money. So we've built Phantom to be an entry point, by hugely reducing the number of options that we offer, we can reduce the price while still making a fantastic watch. Our hope is that you buy the Phantom, love it, and in the future if you're after an additional watch you consider our other brands. However, if you're a one-watch type of person, that's fine too, look after your Phantom and it could last decades!"
The case of the Phantom Caleuche has an overall diameter of 40.1mm. The lug to lug is slightly compact at 47.2mm and the overall thickness, including the sapphire crystal, I measured in at a very acceptable 13.2mm. The entire case, caseback, coin-edge bezel, bezel insert, crown and the optional bracelet are all 316L stainless steel. The finish of the watch is mostly brushed, however there are some rather lovely chamfered polished accents that run along the side of the case and down over the edge of the lugs. I've got to say, I really like this and to be honest, I wasn't really expecting this on a watch of this price range. It does look absolutely fantastic and I can only describe the transitioning between the brushed and polished finishing as absolutely outstanding. Definitely a thumbs-up from me! So far, so good…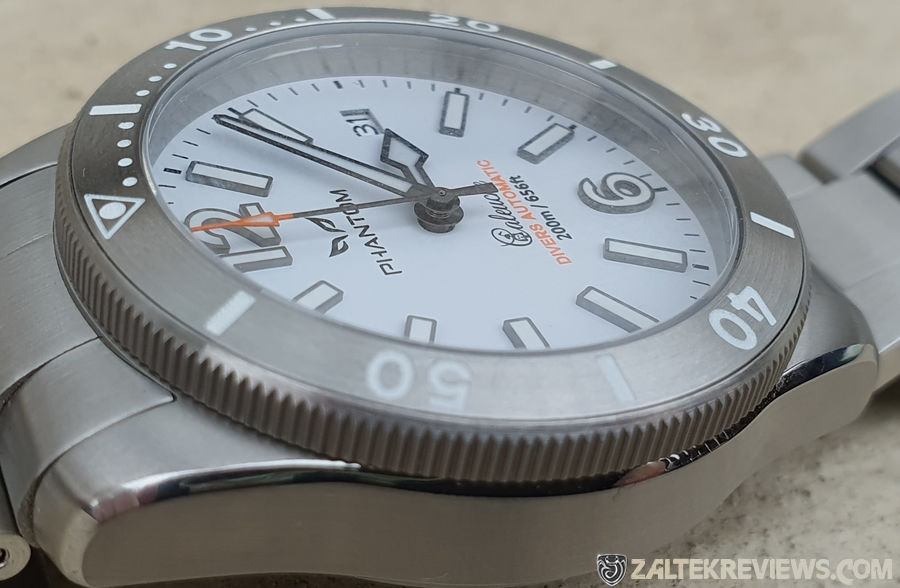 The Caleuche has a water resistance rating of 200m, thanks to the screw down caseback & crown. The proportions of the watch, in my opinion, are absolutely brilliant for my average 7″ wrist, due to the 40mm case diameter and the relatively short lug to lug distance of just 47mm. The Caleuche wears extremely well on wrist and it's really comfortable, with it just melting onto your wrist. I like the way it wears so much in fact, I have barely took it off my wrist since the day it arrived.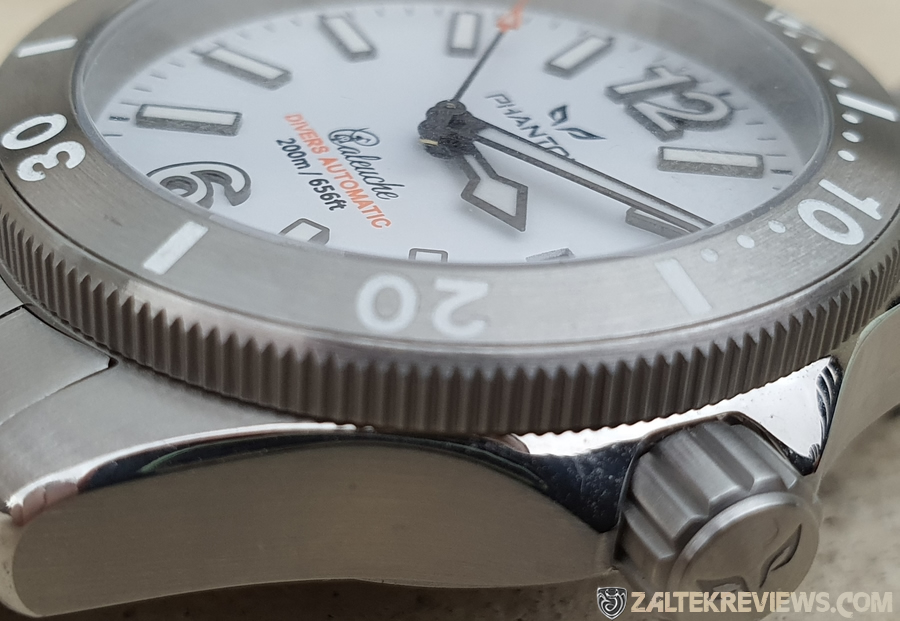 The signed crown is fantastic, looks great and is very easy to operate. There is absolutely no wobble at all when the crown is in use and you can also feel a very nice pop as you unscrew it as it settles into its first position. You can also see and feel the amount of work that has gone into the crown, making it feel buttery smooth and very easy to grip. The caseback is quite simple though, with its quite sterile appearance, with just the usual various specs etched around the edge.
Straight out of the box, the Caleuche comes fitted with a 20mm waxed horween leather strap with a milled, signed and very nice looking buckle & tang. These horween straps aren't cheap either, so it's a great standard strap that Phantom have included with the Caleuche. A lot of people will be more than happy with this and won't want to swap out the strap for something else they own or anything aftermarket. I personally though, can't be arsed with two piece straps, no matter who they are from, so I'm pretty thankful that Phantom included the optional stainless steel bracelet.
As you've probably guessed by now, I'm much more of a bracelet kind of guy and this optional bracelet comes in at just an additional £50. The oyster style bracelet itself is very nice indeed, and well worth the extra 50 quid. The bracelet tapers down from 20mm at the lugs to 16mm and then back up to 18mm at the milled clasp. When I first heard that the bracelet had a 4mm overall taper, I didn't think I'd like it. However, I needn't have worried, as it suits the watch perfectly and is super comfy! With the milled clasp itself, it's also very nicely done, with polished chamfered edges, a fold over security mechanism and has a very respectable six micro-adjustment holes. The bracelet also has half-links for that perfect fit!
The movement selected for the Phantom Caleuche is the microbrand go-to movement of choice, the super-reliable NH35 manufactured by Seiko. The Seiko NH35 is a fantastic workhorse with 21,600vph, 3Hz, 24 jewel automatic movement with a 41hr power reserve, self winding and ofcourse hacking. Checking the accuracy after running the Caleuche for almost 7 days, mainly on my wrist and occasionally in my watch winder, I thought the accuracy was spot on with it showing an average of only +5.3 seconds per day. That's excellent, considering this is a prototype!
The Phantom Caleuche has a 120 click unidirectional bezel with a fully lumed stainless steel insert that has also been PVD coated. It is of outstanding quality with everything lining up absolutely perfectly, just as it should. The bezel action is brilliant and there's no backplay whatsoever. The text on the dial is the model name Caleuche, done in a script style font with the words DIVERS AUTOMATIC printed in orange with the depth rating of 200m/656ft just below that. The Phantom logo (which I love) is printed too and is placed at the usual position of just under the 12 o'clock position.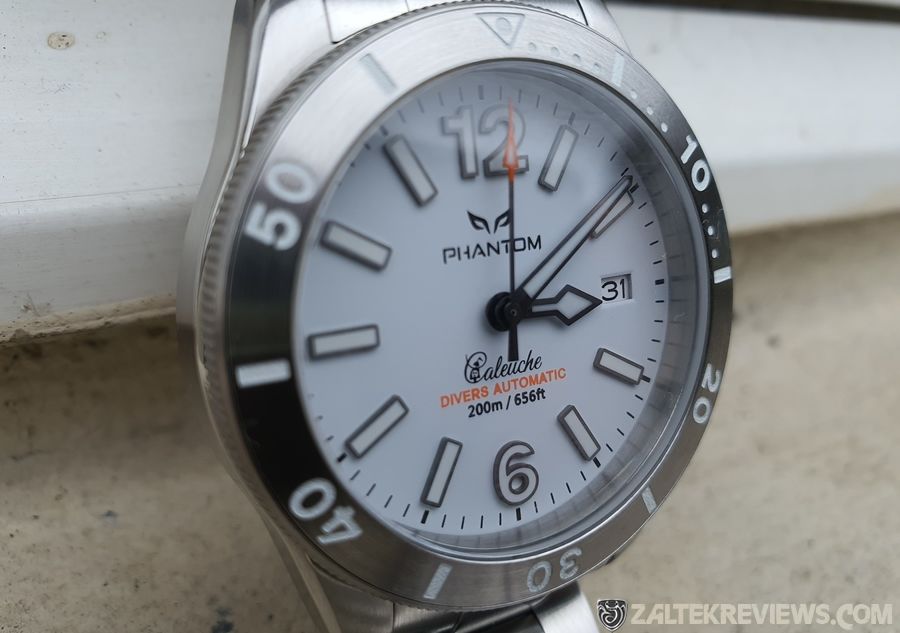 The hour markers and arabics at the 6 & 12 o'clock positions are all applied, with what looks like a matt silver brushed surround. Something else I didn't expect at the this point. There is a date complication at the 3 o'clock position and the one of the main reasons I requested this white dial is, the bloody date wheel matches! I think you know by now what I'm like with date wheels are matching colours. Anyway, as you've probably guessed, the other darker models don't have a colour matched date wheel. That's a shame really, but do I care? Nope… I have the white one baby! Oooohhhhh yeah…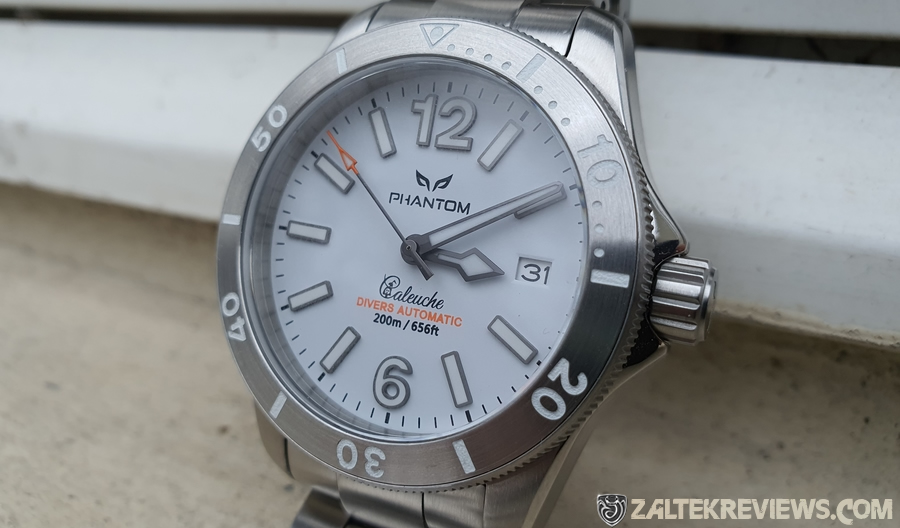 As you can see in the images, the hour and minute hands are superbly done with their very proportionate design. I have to admit, the hour and minute hands are one of my favourite aspects of the watch. The seconds hand is great too though, with it's wee orange arrow head and tip that reaches right out to the minute track when sweeping around the dial.
The lume on the Phantom Caleuche is very nice indeed, even on this prototype. Phantom Watch Co do however state, that it will be even more improved on the actual production models. No complaints from me, more lume the better I say! The actual lume that's been used on the Caleuche is only listed on their website as Swiss Super Luminova®, which is great and looking at it, I'd say it is BGW9. Either way, I like it, as it suits this white dial version perfectly.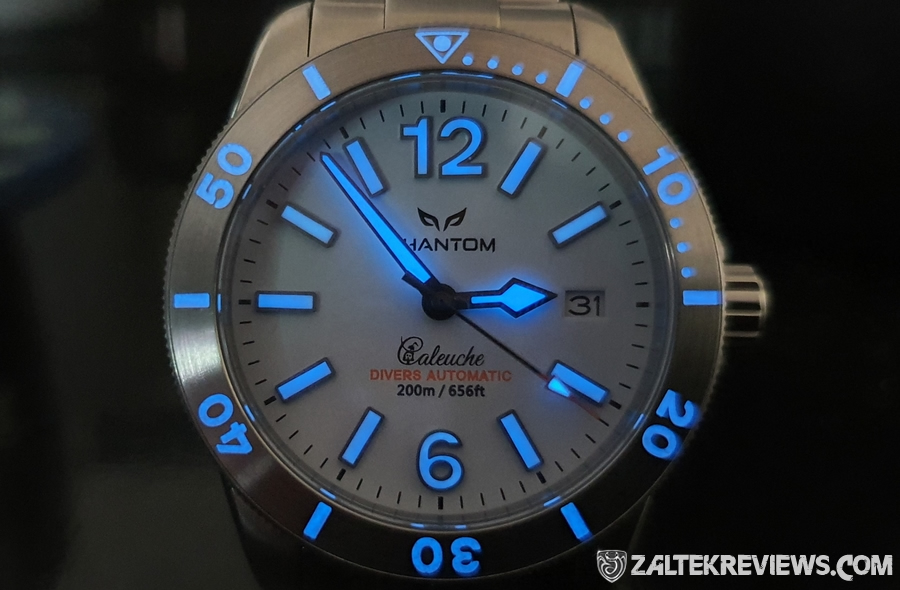 Just before the New Year, I made a promise to myself regarding Kickstarter watches… that I wouldn't back no where near as many as I did in 2019. Well here we are, and at the time of writing, we are still only in January. And what do you know, I will, beyond any doubt, be backing the Phantom Caleuche when it launches on Kickstarter in just over a week.
Sometimes I hate this job of a watch reviewer, as it does become rather expensive at times, as after I get some time with a particular prototype and some production models, I just have to buy it as I must have it in my collection. No free watches for me, unlike some other reviewers that demand them as part of their review. Not this f**kin' soldier! If I like it that much, I'll buy the friggin' thing! And if I do buy it, it just goes to show how much I love it and shows I'll put my money where my mouth is.
Coming in at just £159(+VAT) when it launches in just over a week on Kickstarter, I'll be there like a bat-shit crazy madman refreshing the page waiting for the campaign to go live! As you can probably guess, I like this watch a TON! It's very solidly built, has a great design and is the definition of value for money! Go and back this campaign guys when it goes live, just leave it for a minute so I have time to back it before anyone else. What version will I get? The white one on bracelet obviously!
Phantom Watch Co – Your first watch you say!? Kudos to you and very well done indeed… it's an absolute beauty!
10/10 HIGHLY RECOMMENDED!
A massive thanks to Ross, the owner of
Hamtun Watches
for sending me the Phantom Caleuche out for review so quickly.
To view the Phantom website, or join their mailing list to be informed of new models etc, visit
Phantom Watch Co
.
Follow Zaltek Reviews on
Instagram
and
Facebook
and please feel free to join our Facebook group
WatchChat
, a busy community for watch enthusiasts and collectors, with tons of images and in-depth discussions.
At Zaltek Reviews, we encourage the companies whose watches we've reviewed to comment on our articles. We invite any company representatives to respond in the comments section below. Thanks very much.