Manufacturer: Radcliffe Watches | Price: $349 USD (£255 GBP) 
I chat to Tayeb from Radcliffe Watches at the very minimum of around twice per week. We started chatting quite a while ago, before I reviewed their very first watch, a chronograph named the Haxel, which by the way, has been expanded upon recently, to include their latest Haxel Racing Series. I knew other styles of watches were coming from Radcliffe, but they always seemed at the early design stage… It wasn't until Tayeb messaged me a few weeks ago and stated that the Tsunami prototypes had arrived and shall I send you one for review? Fuckin' stupid question really… obviously I said yes! No less than 24 hours later, the bright yellow Tsunami was on my desk, begging to be reviewed. After getting a few things organised, I focused my concentration solely on this 'Bumblebee' Tsunami.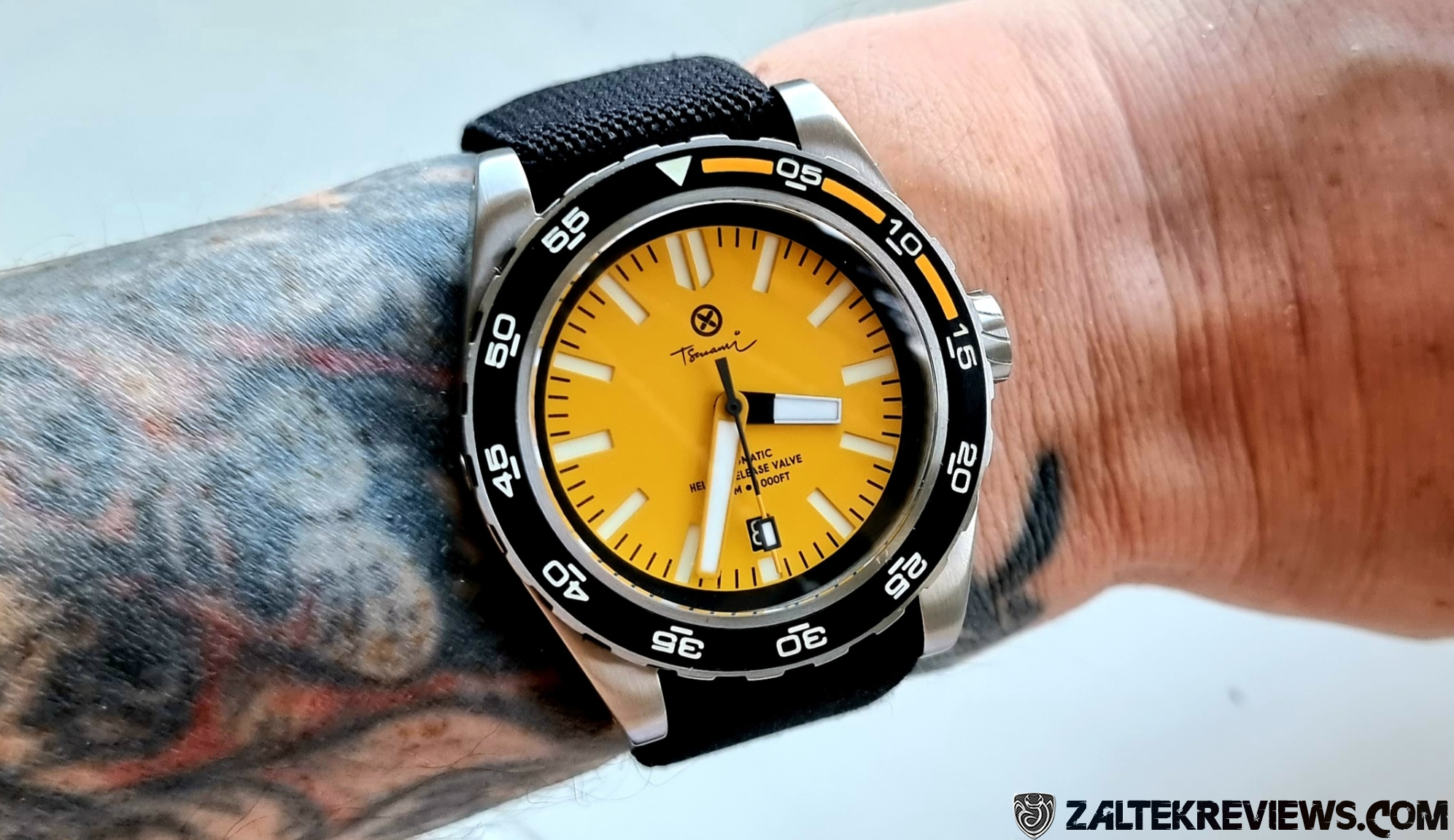 Full Specification
Dimensions: Case – 42.2mm, Thickness – 12.7mm, Lug to Lug – 48.7mm, Lug Width – 22mm
Movement: Miyota 9015, 28,800vph, 24 Jewels, Hackable, Self Winding, 42hr Power Reserve
Case: Fully Brushed 316L Stainless Steel, Drilled Lugs
Bezel: 120 Click Unidirectional, Lumed Ceramic Insert
Dial: Sandwich Construction, Custom Hands, Date at 6
Lume: Swiss Super-LumiNova® BGW9
Bracelet: Engineer Style, Fully Brushed 316L Stainless Steel, Solid Links, Screw Pins, Milled Clasp
Crystal: Slightly Domed Sapphire, 10x Layers of Anti-Reflective Coating
Water Resistance: 300m / 30ATM / 990ft

Caseback: Screw Down, Deeply Stamped Tsunami Artwork
Crown: 8mm, Screw Down, Signed, Lumed

Weight: 171g (sized up for my 6¾″ wrist)
Where to Buy: Radcliffe Watches (Coming soon to Kickstarter)

Warranty: 2 Years International
"We are Radcliffe Watch Co, a microbrand based in Oxford, England. From watch geeks to watch geeks... we aim to share our passion and knowledge with like-minded watch enthusiasts and offer original timepieces with unique designs. We love what we do, and we hope you love our watches too!""
Prototype to Production Changes
Male end links will be replaced with female end links for instant articulation and improved comfort.
Bracelet clasp will be more refined, with a small increase in size.
Clasp will also include a minimum of x4 micro-adjustment holes.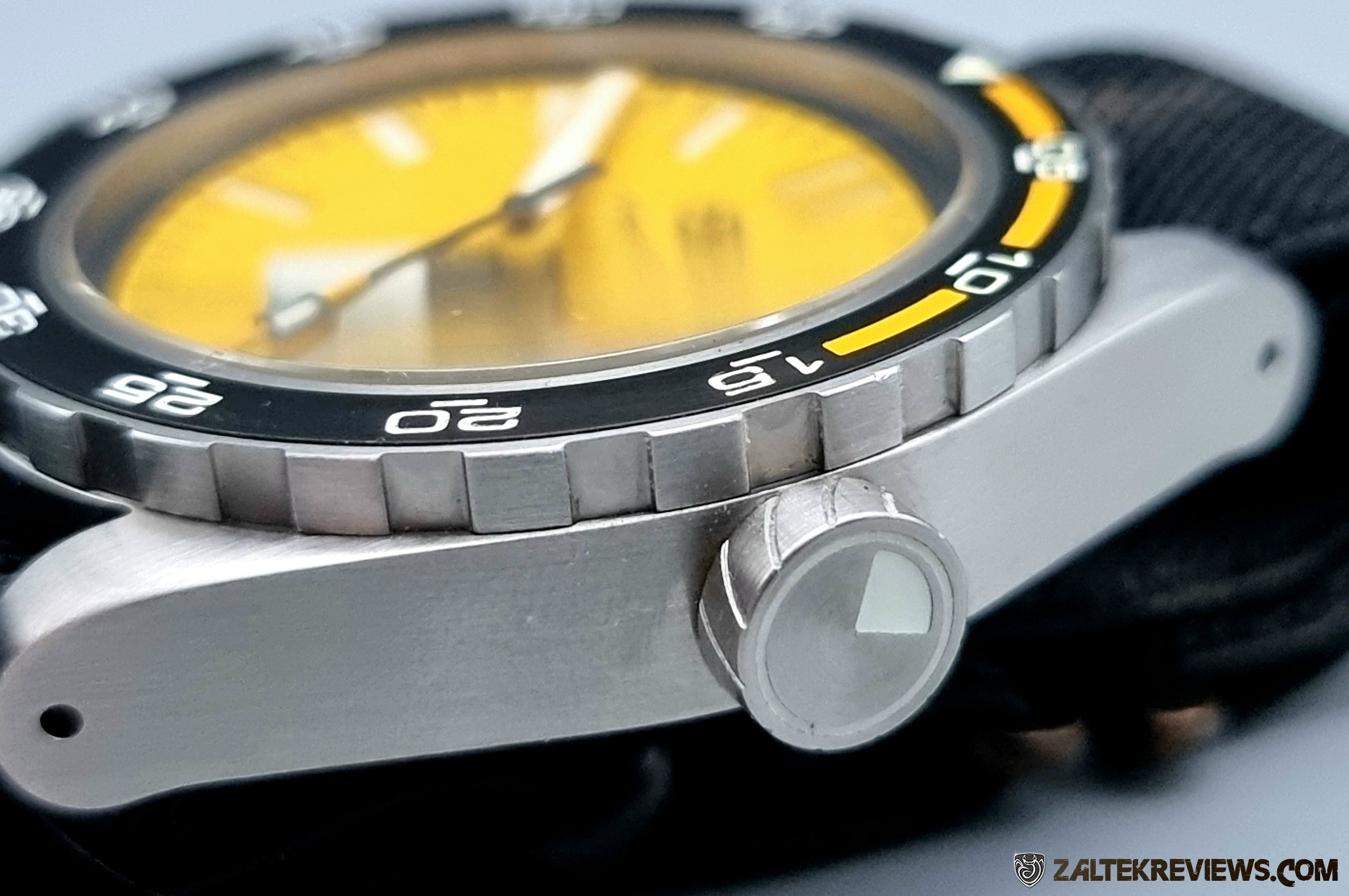 The case of the Radcliffe Tsunami does come across as rather "Tudor-esque" and slab sided, yet according to my calipers it has a diameter of 42.2mm. The lug to lug is 48.7mm and the overall thickness, including the slightly domed sapphire crystal, I measured in at a rather impressive 12.7mm. The mid-case, caseback, bezel, crown and bracelet are all 316L stainless steel. The finish of the case is entirely brushed, with not a hint of polishing to be found anywhere. Overall, the Radcliffe Tsunami looks great and certainly suits its tough, tool watch aesthetic, and even comes across as if it could take a beating from Mike Tyson himself.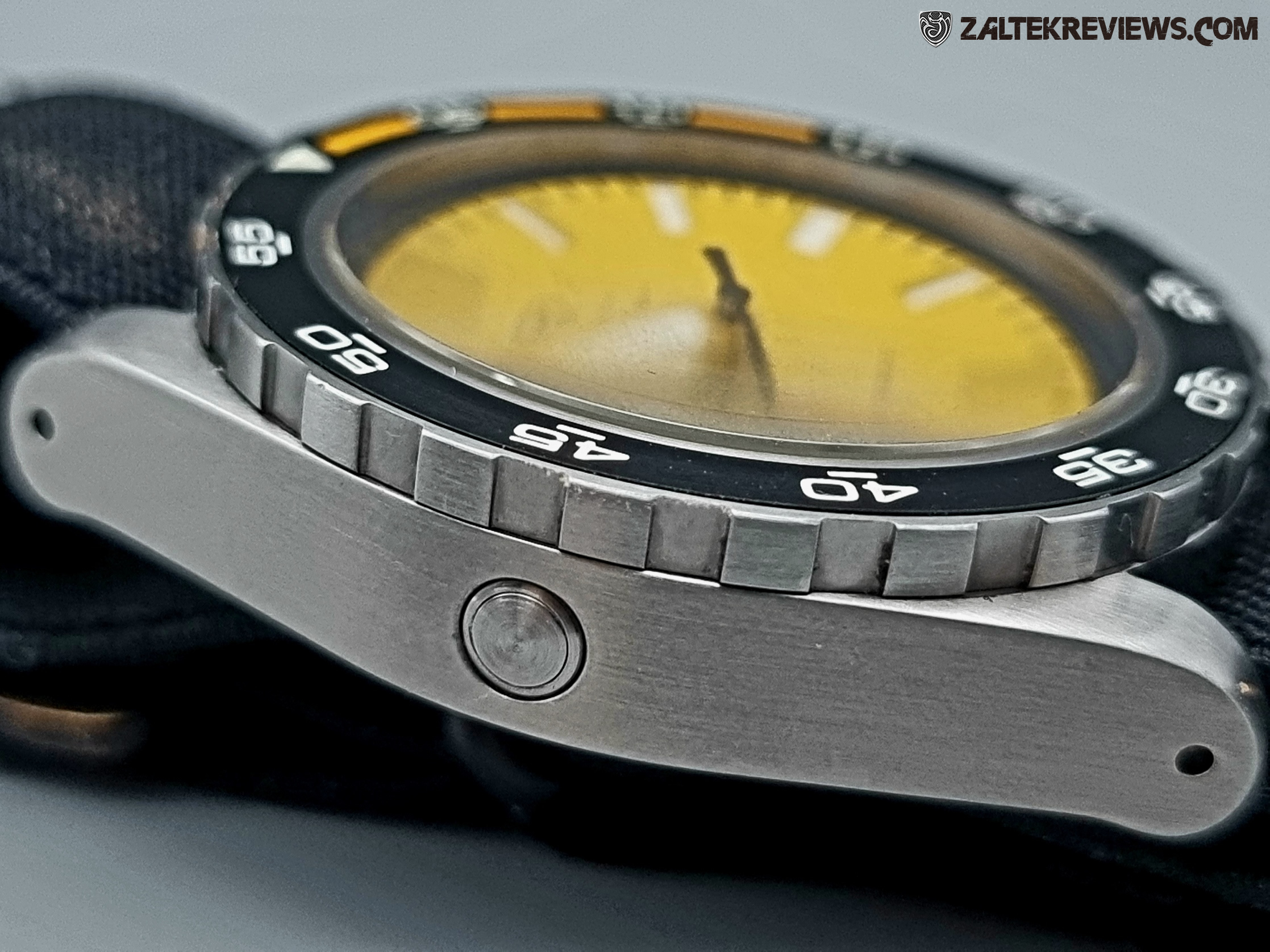 The Tsunami divers all have a water resistance rating of 300m, which is quite astonishing when you take into consideration that the watch is only 12.7mm in thickness. The proportions of the Tsunami are very well thought out, Basically a 42 x 49mm will suit a wide variety of wrist sizes. It does wear brilliantly on wrist and it is very comfortable indeed. The signed crown is nicely oversized at 8mm, looks fantastic with it's wee lumed logo and is a total piece of cake to operate, with an absolute bucket load of grip and there's no wobble either when the crown is in use. As you can see in the image below, we're also treated to one of the best casebacks I've ever seen. The level of detail is outstanding and it's also really smooth to the touch. If I done a caseback of the year award, this would easily win!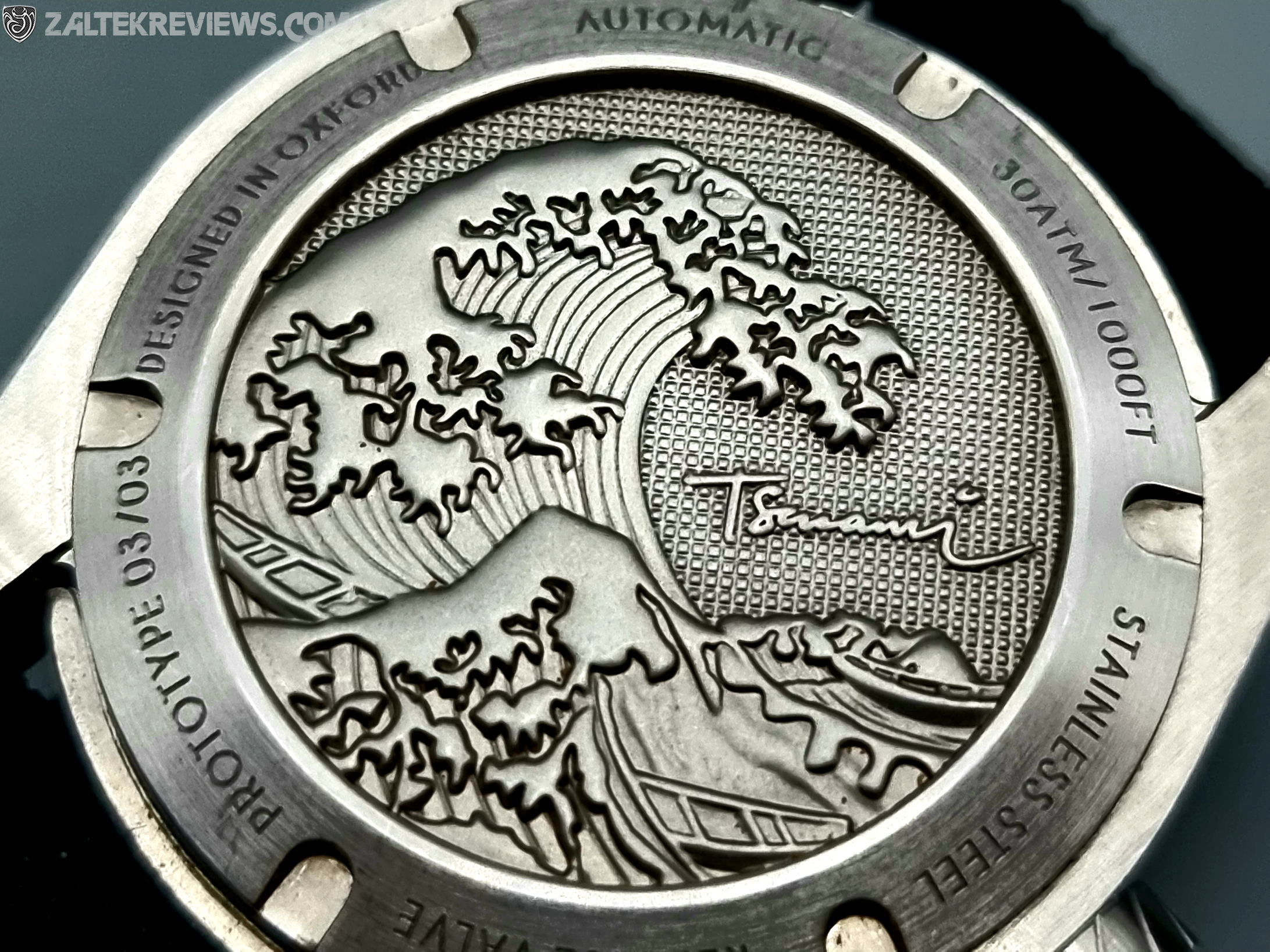 The Radcliffe Tsunami is available with a choice of silicone straps, alongside the addition of a 316L stainless steel, engineer style bracelet. Me being the complete arse that I am though, I forgot to take pics of the silicone straps to include them in this review, as I basically forgot they were even in the box. They are of very good quality though, with quite chunky signed hardware that are also extremely soft & supple. I knew Radcliffe were planning changes to the bracelet (that I'll cover later), so when the watch arrived, I quickly replaced the bracelet with one of my Nick Mankey Designs hook straps, that you can see in most of my pics.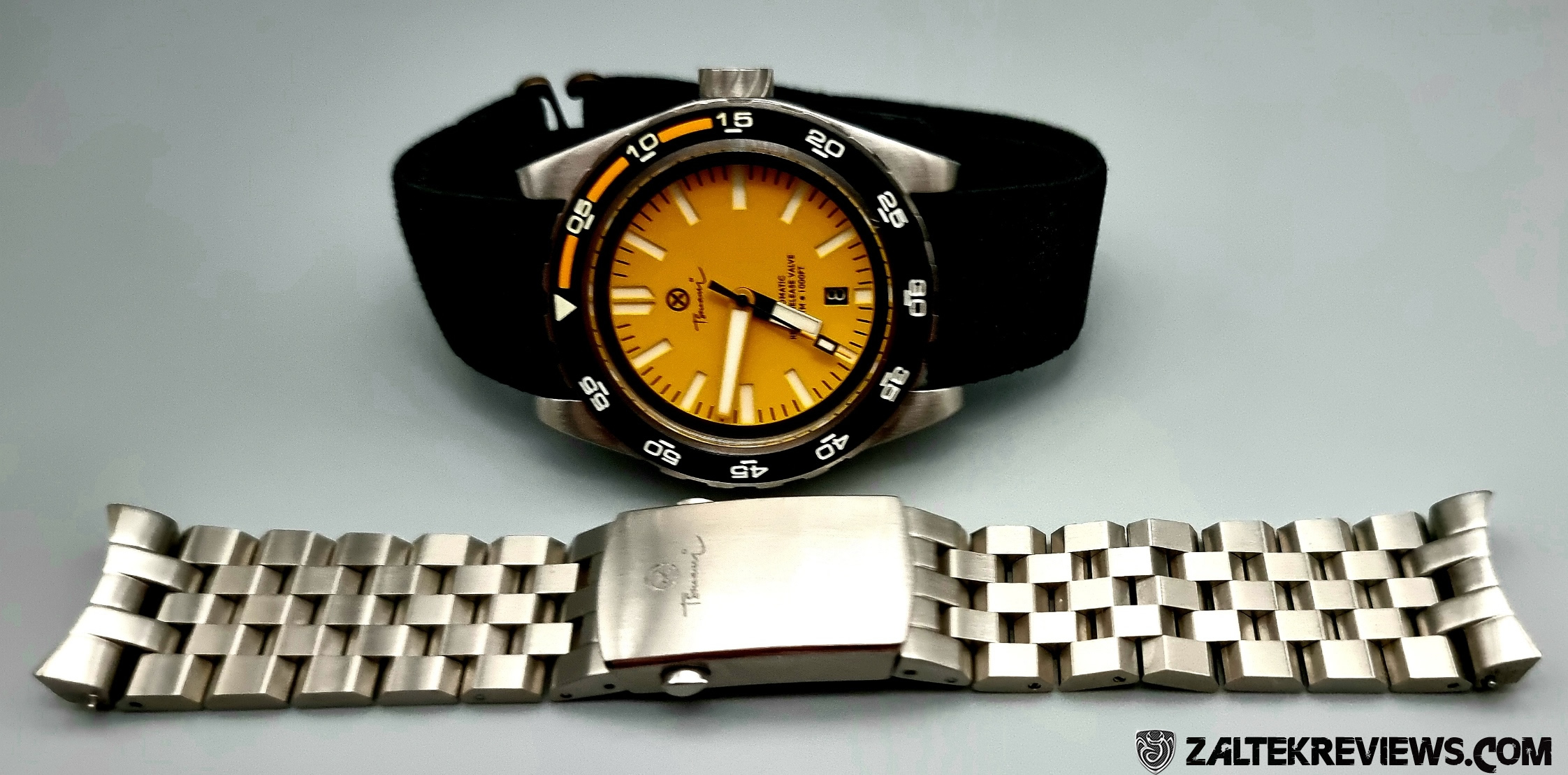 As previously mentioned, there are a few changes planned for the bracelet that comes with the Tsunami. First off, the end links will be changed to the female variety, which is most definitely needed in my opinion. I remember when the Tsunami first arrived and I pretty much immediately starting messaging Tayeb, to tell him what I thought of the bracelet. As you can probably guess, I wasn't going to hold back. I was wasting my time though, as while I was typing out my long winded message, Tayeb had already listed the planned changes to the bracelet, so there was no need to rip him a new arsehole. The other change will be to the clasp itself, with a slight increase in size, as well as a shit ton more micro-adjustment holes, which is fantastic news. It's all part of the plan I've been informed, so it's all good. The actual meat of the bracelet though is fantastic, the links & finishing etc, have all been manufactured to an extremely high level. Love it!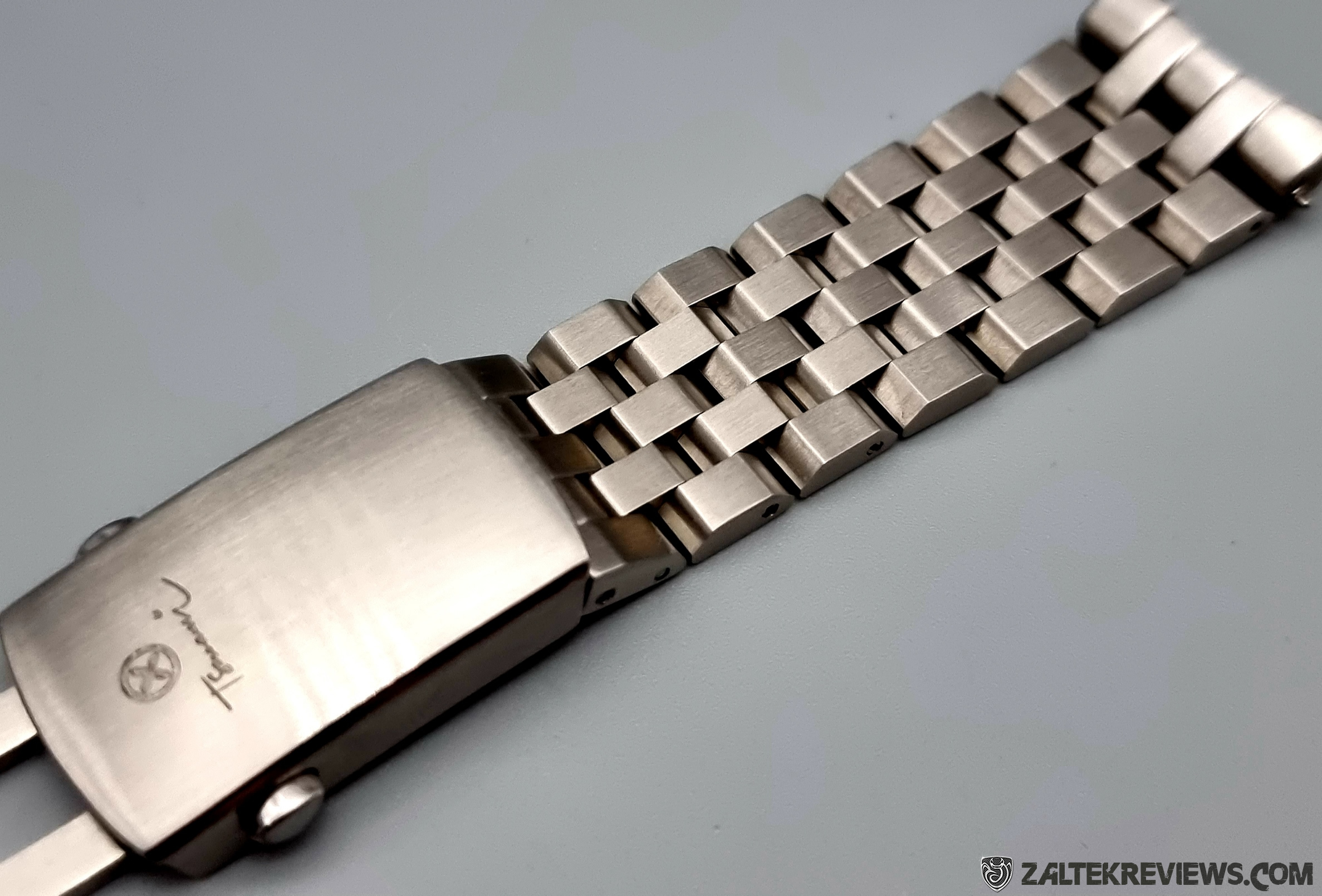 The chosen movement for the Radcliffe Tsunami is the high beat, smooth sweep Miyota 9015. This Japanese movement is self-winding, has 24 jewels and the oscillating weight spins up, giving you up to a very reasonable 42 hour power reserve. The balance runs at 28,800vph '4Hz' and the movement is also hackable. Checking the accuracy on my trusty timegrapher, after wearing the Tsunami for approximately 2 weeks, I was pleasantly surprised, with the Radcliffe Tsunami coming in at an average of just +5 second per day, with minimal beat error. That's a fantastic result, especially for a work in progress prototype like this one.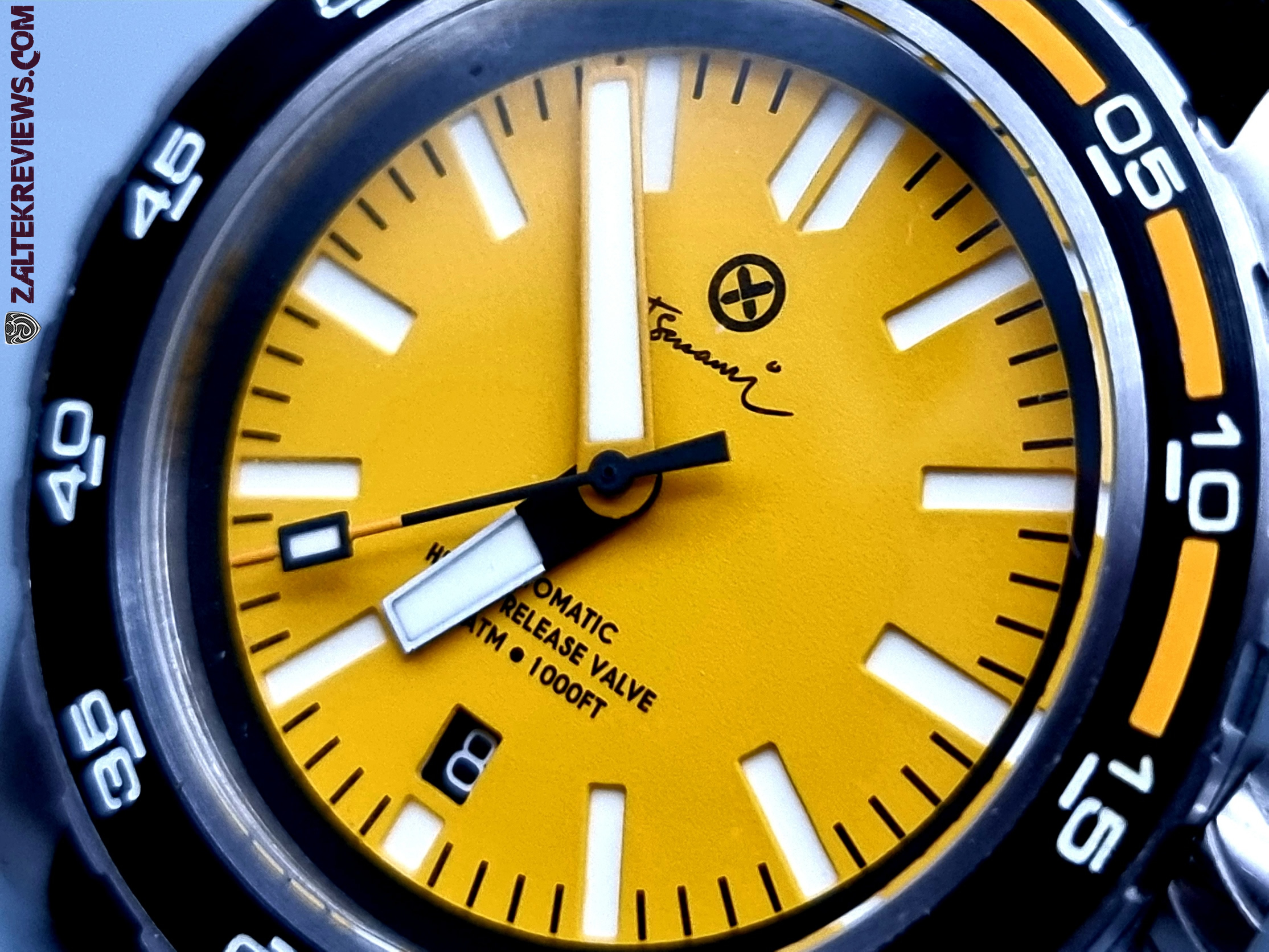 The Radcliffe Tsunami has a very nicely manufactured 120 click unidirectional bezel, that will have a lumed ceramic insert for production, in place of this current aluminium example that's been used for this prototype, The printed text on this very vibrant yellow dial are the words Automatic and Helium Release Valve, with the depth rating of 30ATM > 1000ft just below, all printed in black, The Radcliffe logo is at the usual spot of just under the double marker at 12 o'clock, with the model name Tsunami directly underneath. The logo will however be changed to a more aesthetically pleasing 'R' logo for production. As you can clearly see, the dial itself is of a sandwich construction, with the lumed disk underneath that leaves the necessary baton shaped cut-outs for the hour markers.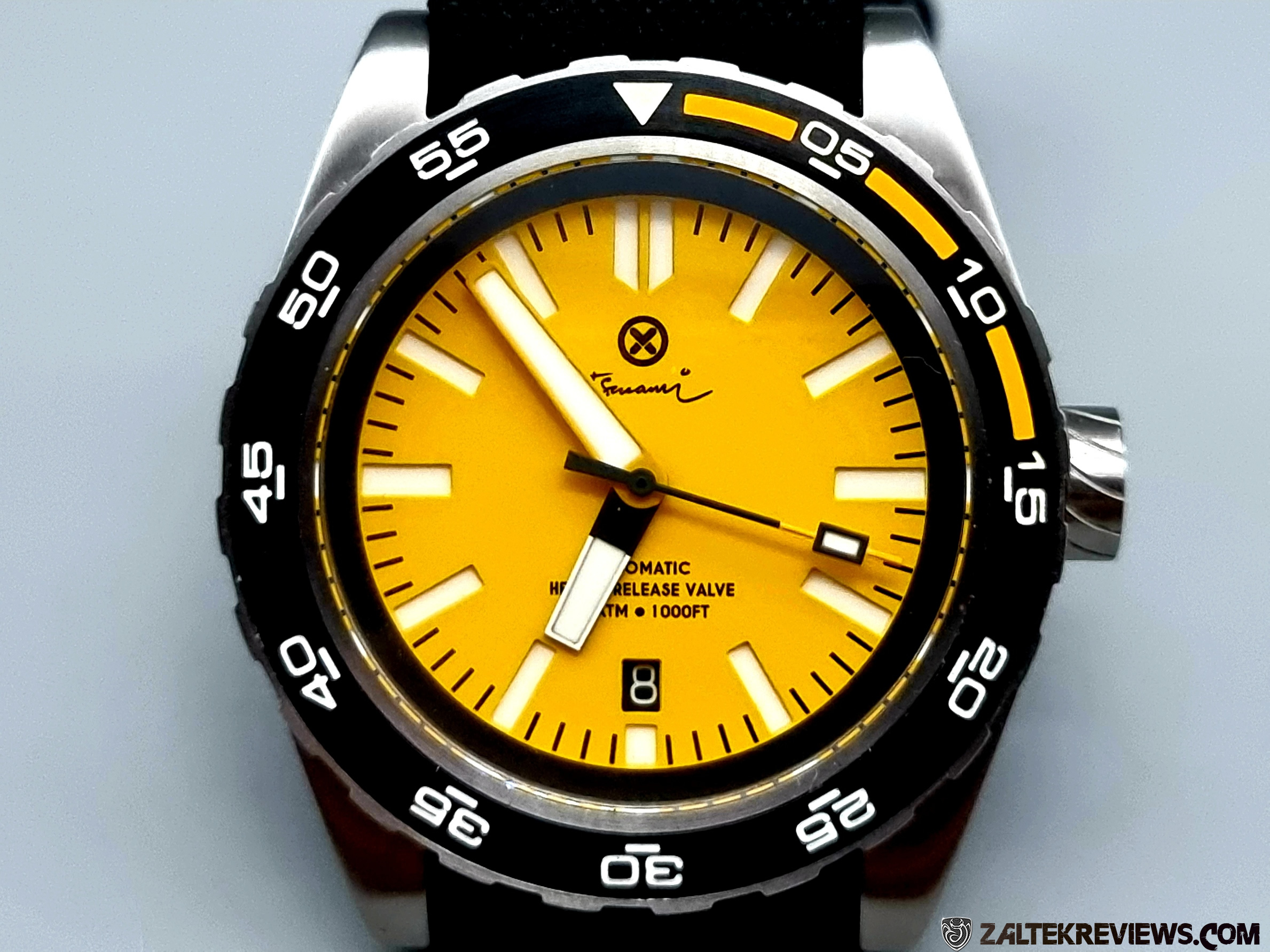 Taking everything into account, it all adds up to a striking, yet beautifully designed and extremely legible dial. Another huge tick from me, is the white on black date complication at the 6 o'clock position, as it certainly continues with the whole 'Bumblebee' theme. Next up are the hour and minute hands that are actually really nicely executed, with their proportionate and lovely white/black/yellow design. The lumed rectangular shaped section of the seconds hand is also rather nice too, with the actual tip of the hand reaching right out to the very edge of the printed black minute track. Absolutely zero complaints from me regarding the dial… Oh, hang on a minute, there is one. I wouldn't have bothered having Helium Escape Valve printed on the dial, it's rather pointless in my opinion.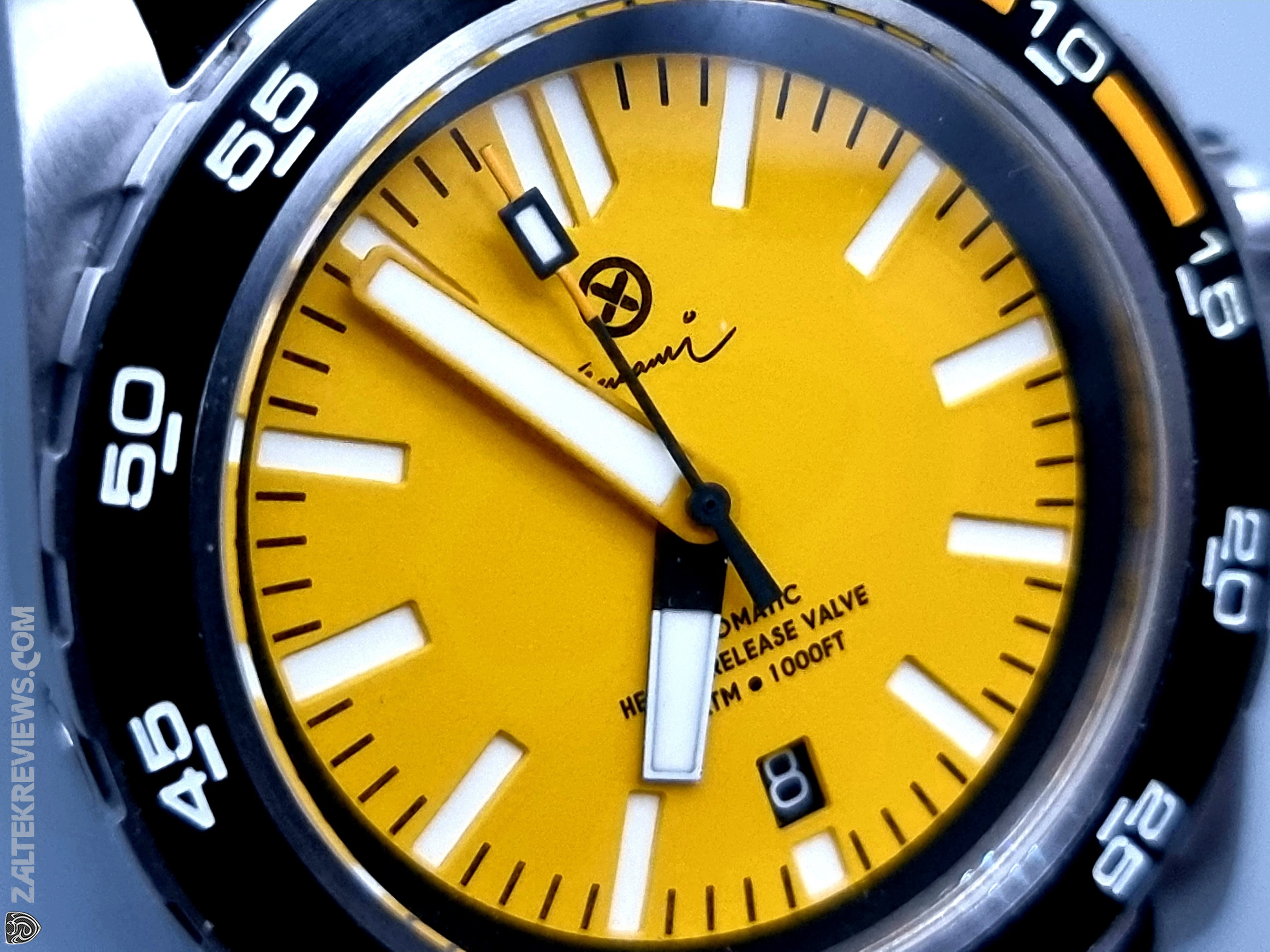 The lume on the Radcliffe Tsunami is fuckin' outstanding and probably my favourite aspect of the watch. The lume itself is applied to the hour & minute hands, the lume disk on the underside for the hour markers to shine through, the bezel insert, as well as the wee rectangular section of the seconds hand. The lume is extremely bright and even although it will obviously fade over time, it's still very legible during the wee small hours of the night. The actual formula that has been used is Swiss Super-LumiNova® BGW9. I don't know how many exactly, but I'm guessing there's an absolute shit ton of layers!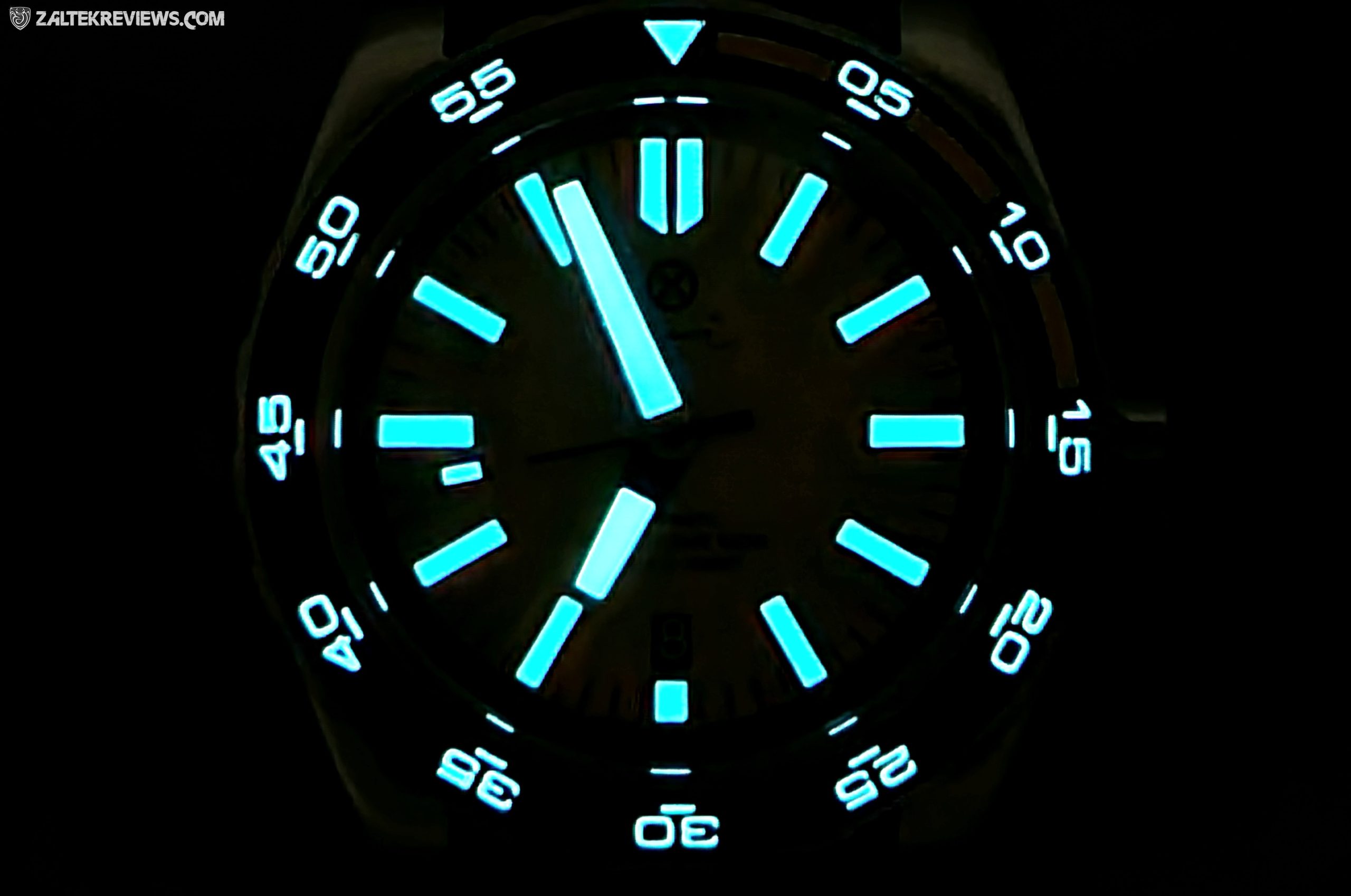 As I mentioned in my introduction to this review of the Tsunami diver, this is the second watch that I've reviewed from Radcliffe Watches and what a total fuckin' baller of a watch it is! It ticks the majority of boxes for me, even if it appears a little bit chunky, it really isn't, as my calipers prove. The lume is outstanding, right up there with the likes of Zelos & Helm. The build quality and attention to detail is phenomenal and I don't mean just for this current price point, I mean as a whole! Stick a high end ETA in the back of this and it could easily sell for double, maybe even triple its current price, once the wee niggles have been sorted out for production. Don't get me wrong, the Miyota 9015 that does power this, is a fantastic choice and is most definitely a step up from the normal Seiko NH35. My only critique would be that maybe the watch could have been made slimmer / smaller to make use of the ultra slim Japanese movement? 200m, 40mm, 46-47mm lug to lug might just attract more potential buyers? Who knows… I'm just thinking aloud. Still a fantastic watch though, that I wholeheartedly 100% recommend.
A massive thank you to Tayeb at Radcliffe Watches for arranging and sending over the Tsunami for me to review. Very much appreciated buddy! To view the Radcliffe website, or even to join their mailing list to be informed of new models etc, please visit
radcliffewatches.com
.
It takes me a fair amount of work (and time) to do these reviews, so if you feel like supporting Zaltek Reviews to help towards my running costs, or even if you feel like just buying me a coffee, then please donate using the PayPal button below. Unfortunately, 97% of my readers just scroll on by this section. If you feel like that I've given you maybe a few quids worth of knowledge and/or entertainment, then please take just a couple of minutes of your time to donate. Thanks.