Manufacturer: Rhodus Watches | Price: from $279 USD (£215 GBP, €235 EUR)
I've been chatting to David, the owner of Rhodus Watches for quite some time now. The main reason being, is that he is most certainly a very keen watch enthusiast. He is NOT one of those annoying brand owners that have just thrown a watch together on the cheap, for no other reason than just to make a few quid. I've said many times in past reviews, especially with these initial start-up brands, you can always tell on initial inspection, whether or not the owner of the brand is a proper watch geek/enthusiast, just by the way the watch has been designed and by the choices they've made.
Knowing that David is just enthusiastic about watches as I am, when he mentioned that he was releasing his very own brand and asked if I would like to review one, I obviously jumped at the chance. A few months later, after seeing various images of initial sketches and designs, the Skull Diver prototype arrived at my doorstep. So, is it any good, or am I just talking out of my arse… making the Skull Diver nothing more than an expensive paperweight? Let's see shall we.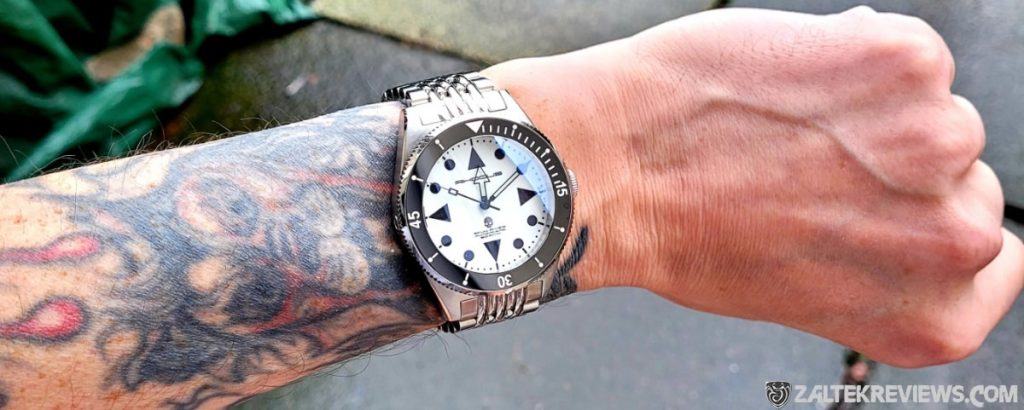 Specifications
Dimensions: Diameter – 40.6mm, Thickness – 13.7mm, Lug to Lug – 48.2mm, Lug Width – 20mm
Movement: Regulated SII NH35/NH38, 21,600vph (3Hz), Hackable, Self Winding, 41hr Power Reserve
Case Material: Brushed 316L Stainless Steel with Polished Accents
Bracelet: 316L SS Beads of Rice, Solid Links, Screw Pins, Milled Signed Clasp
Crystal: Double Domed Sapphire, Multiple Underside Anti-Reflective Coatings
Bezel: 120 Click Unidirectional, Ceramic Insert, Fully Lumed
Water Resistance: 300m / 30ATM / 990ft
Lume: Swiss Super Luminova® BGW9 & C3
Crown: 7mm, Signed, Screw Down
Caseback: Screw Down, Stamped Artwork
Warranty: 1 Year       Overall Weight: 173g (Sized for my 6¾″ wrist) 
Where to Buy:

Rhodus Watches

(Coming Soon to Kickstarter)

Options: Black, Blue, Brown, Teal, White | Date, No-Date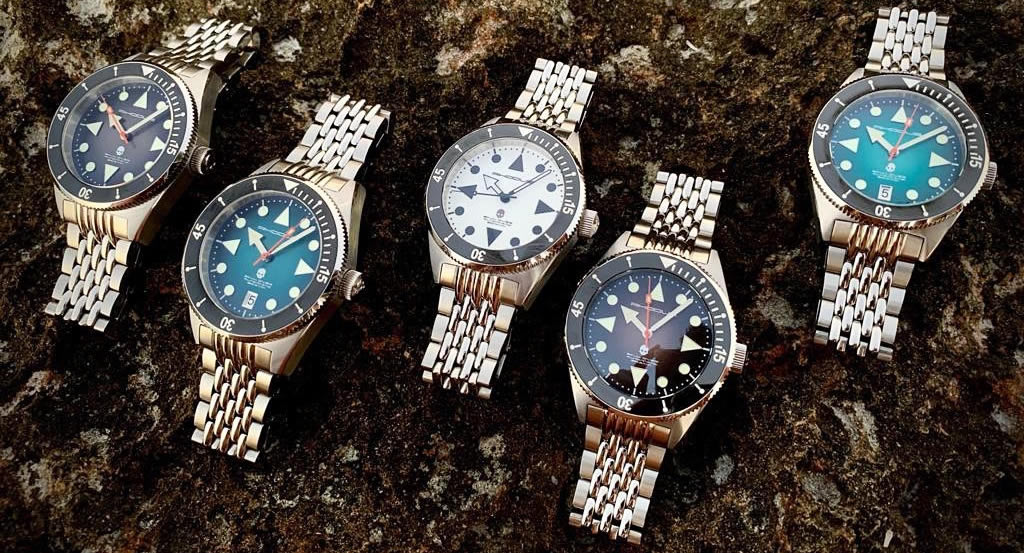 Rhodus Watches, A Brief Introduction
"Rhodus Watches offers stunning vintage diver watches that are updated to modern criteria. We manufacture watches, by stirring vintage style & modern design, which is loved by many individuals, those who are fascinated by the ancient spirits. All the valuable features are blend into a virtue package. You will get the best watches at a promising price. We acknowledge that without our great watches and passionate watch lovers, our company will not exist, that's why we always provide the best of us. Rhodus Watches originates from a place called home. A place to relax after a tricky day at the shores, where shipping supplies from sunny coasts to support the home running. Home was called "Groot Rhodus" for the founder of Rhodus Watches.

"Groot Rhodus" was established by the famous Dutch entrepreneur Hendrik ter Meulen during the 18th Century. He inaugurated a lead white factory on the property. In order to run the factory, he had to bring the white lead of Rhodus from the Greek island. And, for this purpose, he had to sail across the Aegean Sea from Athens to Rhodus having to face all the difficulties of travelling the vast seas of Mediterranean. Hendrik named his house after the island that brought him honest, hard earned success. Rhodus Watches resonates these values and beliefs. Our brand is motivated by those whisks. And, we term the spirit everlasting. It is founded on a profound faith throughout endless human imagination, constant development, and sustained success. As well as constantly expanding the limits and keeping the long-term view. Our watches are designed to serve. This is our commitment for centuries to arrive, just like the "Groot Rhodus" home. Godspeed!"
The case of the Rhodus Skull Diver has a diameter of 40.6mm. The lug to lug is 48.2mm and the overall thickness, including the double domed sapphire crystal, I measured in at 13.7mm. The entire case, caseback, coin-edge bezel, crown and bracelet are all 316L stainless steel. The finish of the Skull Diver is mostly brushed but with the addition of some rather sexy chamfered polished accents that run along the side of the case, over and twist down slightly over the ends of the lugs. I will say… I absolutely love this attention to detail on most watches however, it looks absolutely gorgeous on the Skull Diver as the transition between each finish is flawless. I'm certainly impressed! (so far, so good…)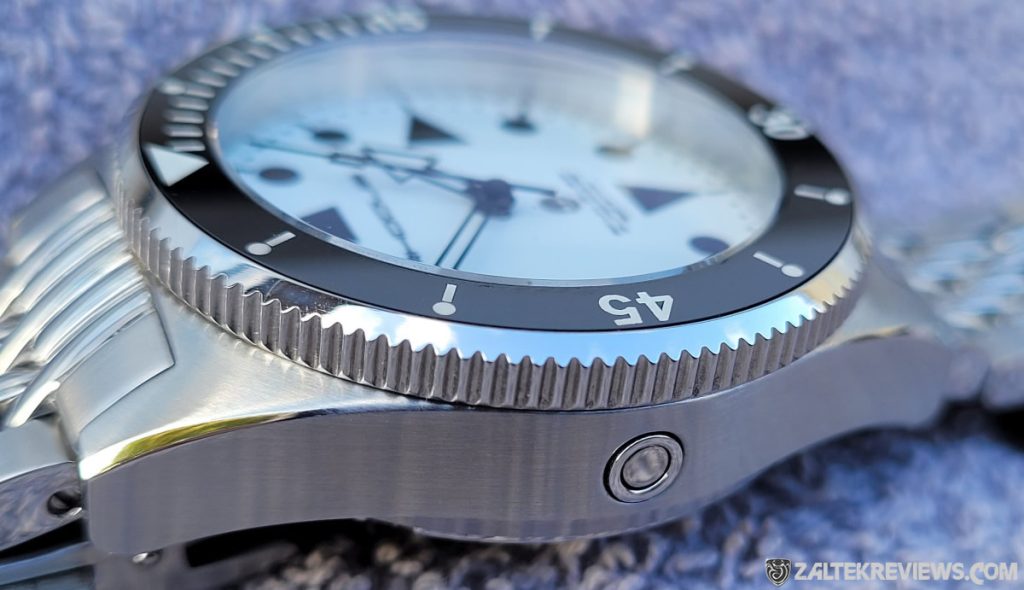 The Rhodus Skull Diver has a water resistance rating of 300m, a rather substantial rating for any diver, all thanks to the well manufactured screw down caseback & crown. The proportions of the watch, in my opinion, are fantastic and the Skull Diver wears great on wrist. It's also very comfortable due to the beads of rice bracelet. More on that later though… You'll also notice a helium escape valve on the side of the case, needed? Nah, not in my opinion.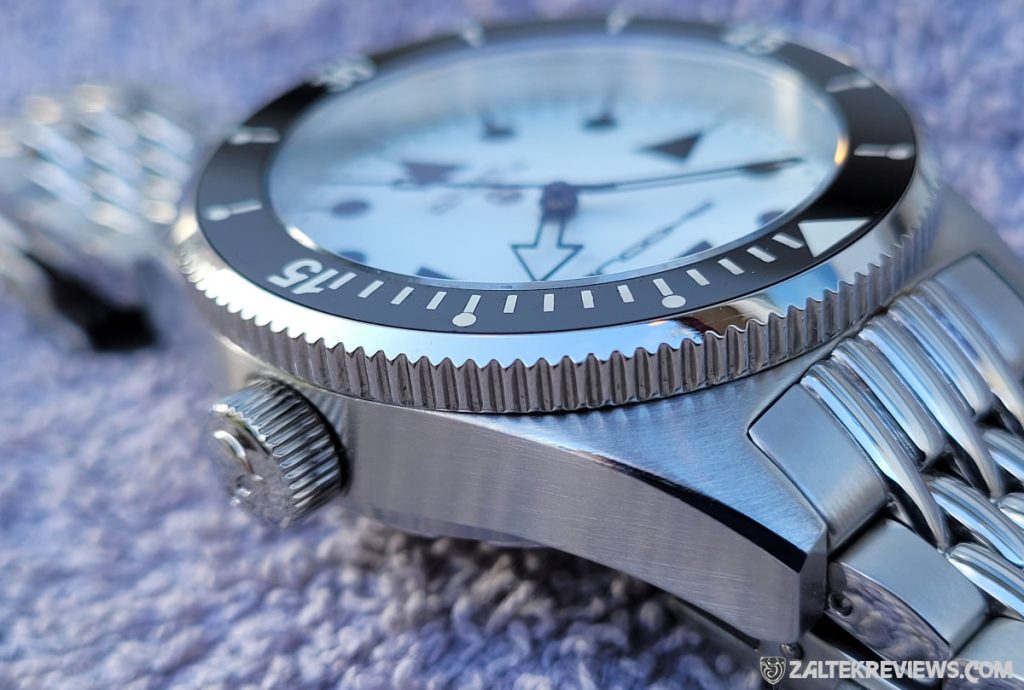 The signed crown is superb, just the perfect size at 7mm, with absolutely no wobble whatsoever either when the crown is in use. You can also feel a very nice little pop as you unscrew it. You'll also be able to see and feel the sheer amount of work that has gone into the crown, making it feel very premium. I'm not exactly sure what Rhodus did with the crown, but it's certainly a league above your usual NH-Series powered microbrand in terms of quality. The caseback is a solid screw down affair, with a stamped design and the usual basic spec sheet listed around the edge.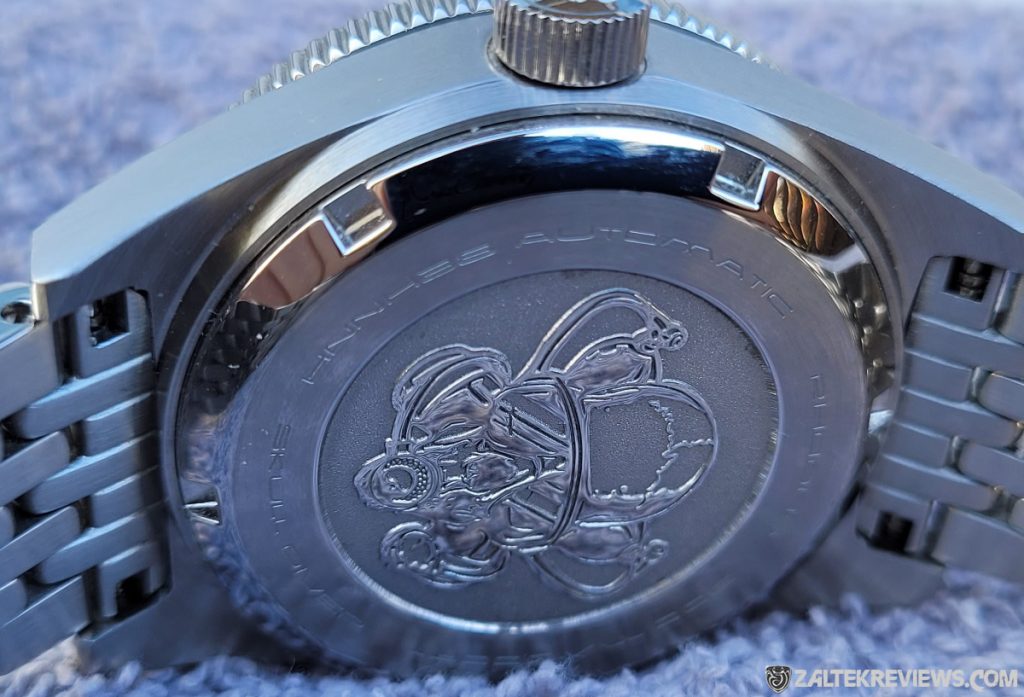 Fitted as standard to the Rhodus Skull Diver is yet another beads of rice bracelet. I have to admit, I'm getting to be rather a huge fan of these style bracelets, as they are extremely comfortable. To think, I used to avoid these style of bracelets just a few years ago, as I always thought they were a bit too fussy and a bit blingy. What a fuckin' idiot I was!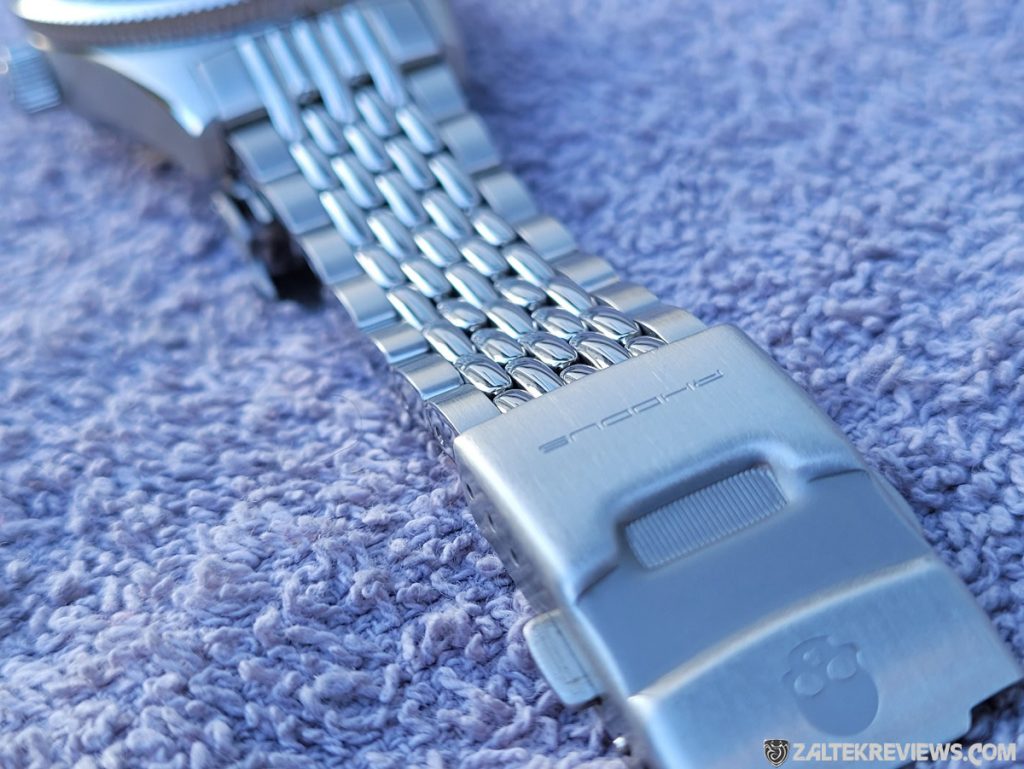 The bracelet itself is 20mm at the lugs, but tapers down to 17mm at the thinnest most part, then back up to a smidge over 19mm at the clasp. Talking of the clasp, there are only 3 micro-adjustment holes, which is a bit disappointing. Being honest, the clasp housing is actually the weakest part of this watch. I have spoken to David about this though and he is currently in talks with the factory to get this changed for something a bit more suitable for the Skull Diver. Good news!
The chosen movement for the Skull Diver is the microbrand go-to movement of choice, the super reliable SII NH35, manufactured by Seiko. A fantastic workhorse that is a 21,600vph, 3Hz, 24 jewel movement with self winding and of course hacking, not forgetting the very respectable 41 hour power reserve. Checking the accuracy after running the Skull Diver for just over a week, mainly on wrist and occasionally in my watch winder, I thought the accuracy was superb, with it showing an average of just +2.2 spd. Granted, Rhodus Watches do regulate each & every movement before shipping. Not that it's a bad thing in anyway shape or form, far from it! I just wish that all watch brands would do this.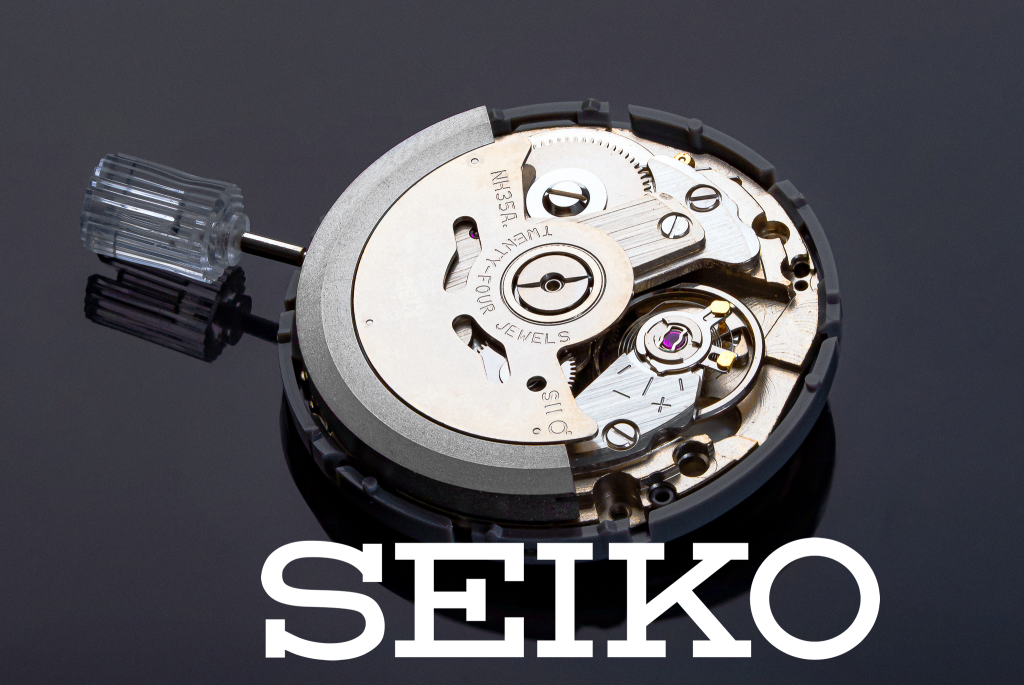 The Skull Diver has a 120 click unidirectional bezel with a ceramic insert that is also fully lumed. It is of outstanding quality and everything lines up 100% perfectly. The bezel action itself, I can only describe as quite notchy, but nice and reassuringly accurate when in use. The coin edge bezel is very easy to grip and it has absolutely zero backplay. The text on the dial is nicely printed and is especially legible on this white dial version. The Rhodus logo is also printed and looks great. Kudos to Rhodus Watches for also including a date option at the 6 o'clock position however, I think it would have looked so much better colour matched to all the dial variants and not framed either, but just with chamfered edges.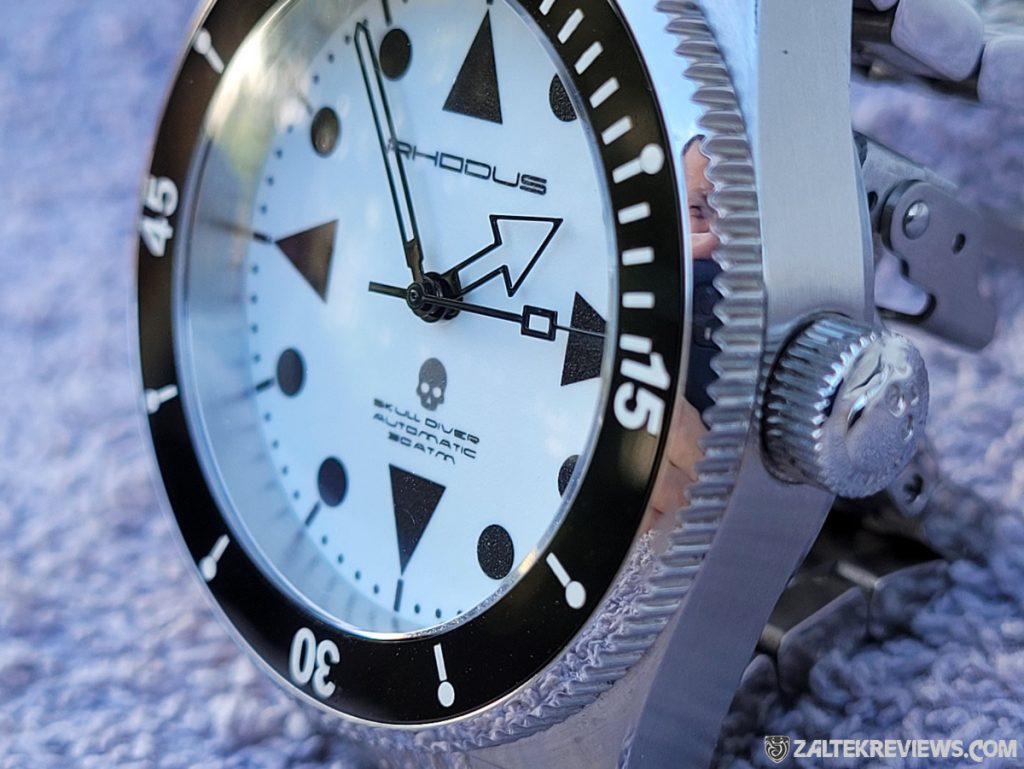 The white version that I have here sports a very clean monochrome aesthetic. As you can see there are rather prominent triangular markers at the 3, 6, 9 & 12 o'clock positions, which is, some might say, a rather bold look, although personally speaking, I actually like it. Elsewhere on the dial there are indicies as the other hour markers, as well as the black on white minute track. Oh aye, there's a fuckin' black skull on the dial too that's caused a bit of controversy in the comments on social media. Again though, I personally like it, although I'm not 100% sure why David positioned it where it is.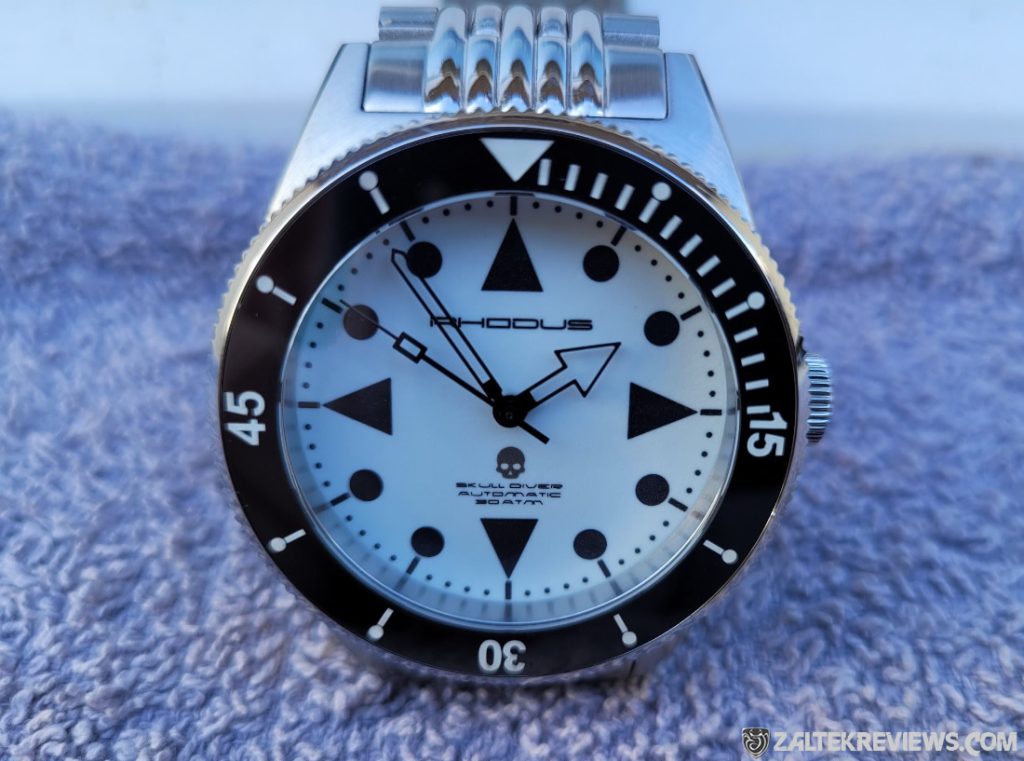 As you can see in the images, the hour and minute hands are very nicely done with their full skeletonised appearance. Rhodus obviously only done this for this fully lumed dial version. David, the owner, isn't entirely sure if these will stay for production, maybe opting for solid black hands instead. The seconds hand is lovely, with it's wee rectangular cut-out and black paint finish that reaches right out to the minute track when sweeping around the dial. The dial does have a fantastic overall design and maybe, with just a couple of minor tweeks, it would be perfect (in my opinion).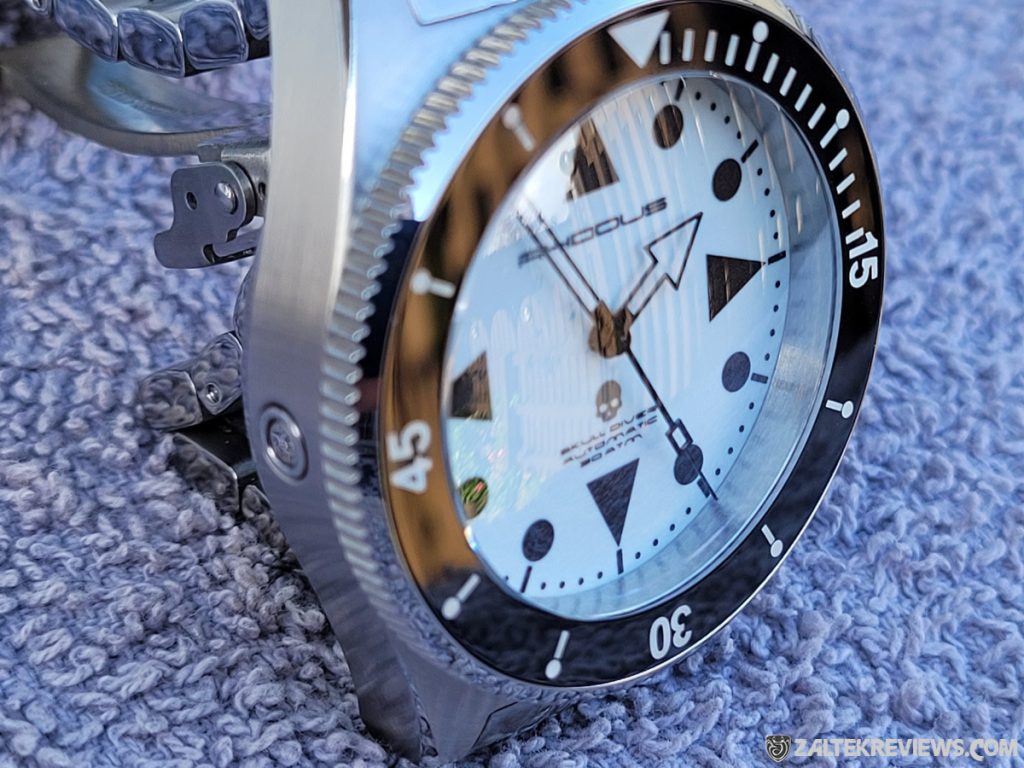 I always bang on about lume with almost every watch that I review, mainly due to me being a total lume junkie! Sometimes though, it can be an afterthought or even a cost cutting exercise by some brands. Well, Rhodus Watches haven't disappointed on the lume front either. It is very good, evenly and rather thickly applied. It's definitely well above average, especially for a fully lumed dial. Oh yeah, I almost forgot… the actual lume that Rhodus decided to use is none other than Swiss Super Luminova® BGW9 for the entire dial and C3 for the bezel. (I bet that wasn't exactly cheap!)
As a reviewer, I obviously get hands-on with loads of watches. In fact my entire life evolves around watches, watches and oh aye, more watches. If I'm not writing reviews, I'm researching… Have a break and watch TV they say, what's one of those? Even when I'm not looking for new watches to review, I'm contemplating what I could possibly add to my own personal collection. Someone actually said to me a few weeks ago, aye Tony Molyneux, I'm looking at you! Mr Microbrand himself said to me he wished he had my job, as I get to review all the cool shit. What was my reply I hear you ask…?
This job isn't as easy as you might think… I've actually seen myself editing just one image, as I wasn't happy with it. Before I know it, 2 hours have passed. All that for one fuckin' image! The same goes for written material, I can start writing and I'll end up hating it, #delete, then I'll end up re-writing the entire bloody thing! Next there's proof-reading until your eyes start bleeding, even then, I still make the odd mistake. I'm only human after all. Then there is the dreaded search engine optimization, don't even get me fuckin' started on that SEO pish!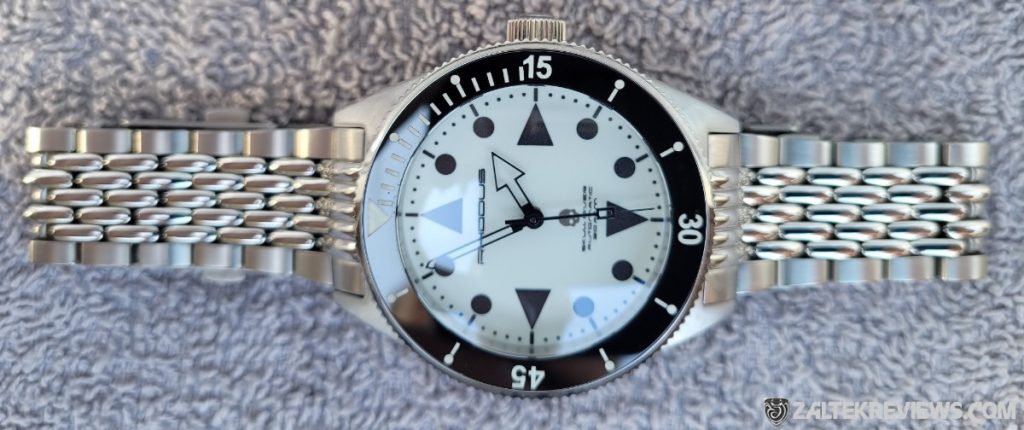 I can hear you all now thinking, what the fuck is this guy banging on about? Well, I'll tell you… I'm not complaining about my job, as watches like this Rhodus Skull Diver actually restore my faith in what watch brands can produce when they put their mind to it. This is why I DO love this job, as every so often a watch comes along for review and SKADOOSH!! I love it!
The Rhodus Skull Diver is one of those watches that's just totally taken me by surprise. Sure it's not perfect, but remember people, it's a prototype, a proof of concept if you get my meaning. To be honest, I'd buy this prototype I like it that much. One thing is for sure, I'll be following the progress of this one closely and no doubt pestering the owner David. Oh yeah, do I recommend the Skull Diver? FUCK YEAH! I'll be backing this one for sure, once the campaign launches on Kickstarter.
Rhodus Watches – A very nice, unique, well built dive watch that just screams value for money.
*The scores below are based on this prototype. Iron out the small niggles that I've mentioned for the production models, and it'll be a full fat 10/10.
9.5/10 - HIGHLY RECOMMENDED!
A massive thanks to David for sending out the Skull Diver for review. Very much appreciated buddy. To view the Rhodus website, or to join their mailing list to be informed of new models etc, visit
Rhodus Watches
.
It takes a fair amount of work to do these reviews. If you feel like supporting Zaltek Reviews to help towards running costs, or even if you feel like just buying me a coffee, please use the PayPal button below.  Thanks very much.
[paypal-donation purpose="Donate to Zaltek Reviews" reference="Ref:Zaltek" button_url=""]