Manufacturer:

Roebuck Watch Company

 | Price: from $400 USD (£289 GBP)
One of the best aspects of doing my job, is I really get to know brand owners. Most of them are great to work with, others are just complete cunts (I won't mention any names). Guy from Roebuck Watches is definitely one of the good guys! I've been chatting to him for a good couple of years now, even well before his first watch, the Roebuck Diviso was released sometime back in 2019 I think it was. Anyway, when Guy got in touch with me a couple of months ago and said he had protoypes of his new dive watch and would I like to review it? Fuckin' stupid question really, of course I would. SEND IT!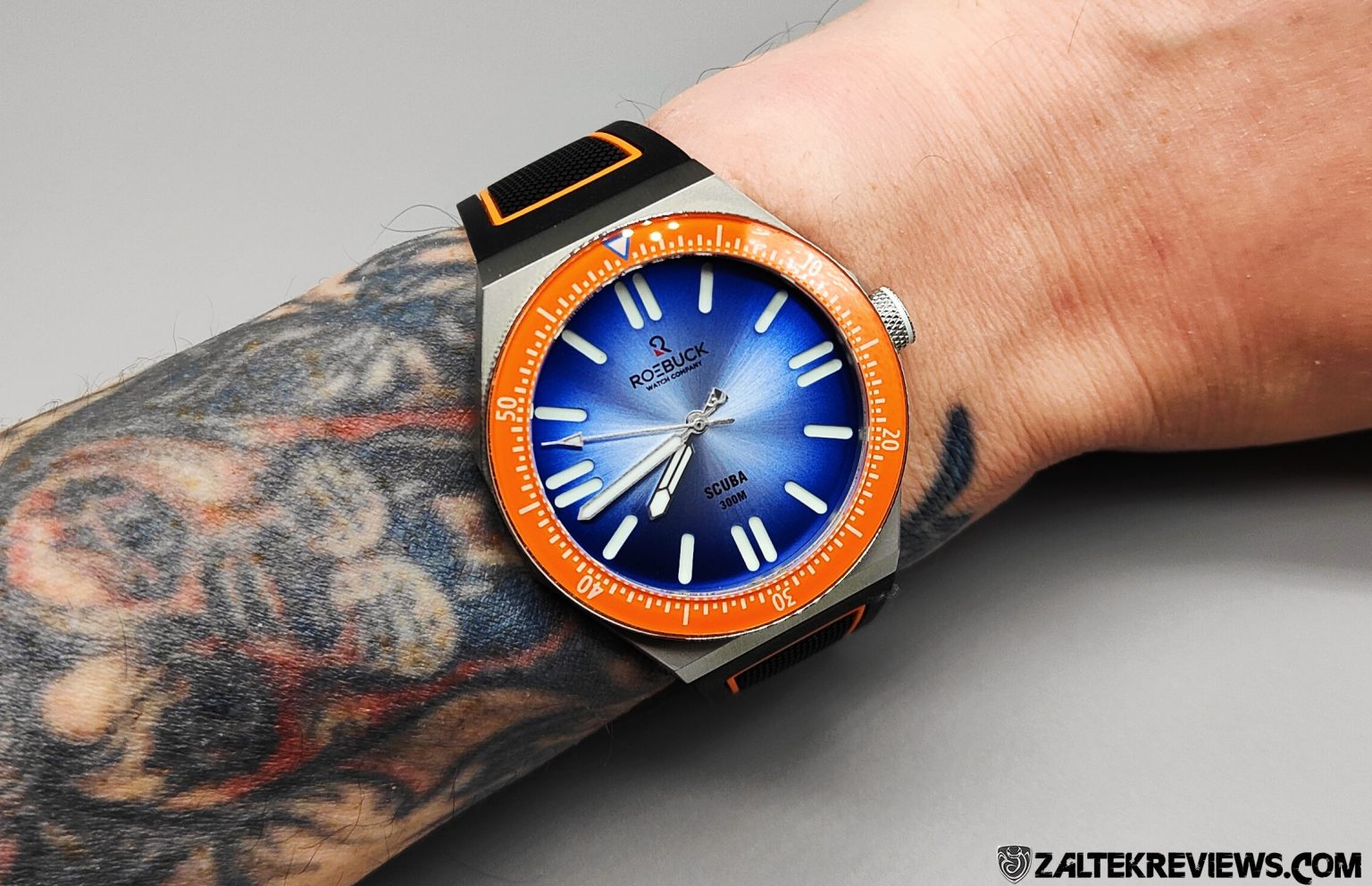 Specifications
Dimensions: Case – 42.8mm, Thickness – 11.4mm, Lug to Lug – 48.2mm, Lug Width – 20mm
Movement: Miyota 90S5/9015, 28,800vph, 4Hz, Hackable, Self Winding, 42hr Power Reserve
Case: Brushed 316L Stainless Steel
Bezel: 120 Click Unidirectional, Sapphire Insert, Lumed
Dial: 

Gradient, 

Sunburst, Sandwich Construction, Dauphine Handset
Lume: Swiss Super-LumiNova® BGW9
Strap: Integrated Two Tone Rubber, Double Push Button Milled Clasp
Crystal: Flat Sapphire, Anti-Reflective Coating
Water Resistance: 300m / 30 ATM / 990ft      

Caseback: 316L Stainless Steel, Screw Down, 3D Artwork
Crown: 7mm, Screw Down, Signed, Lumed

Weight: 121g (incl. Rubber Strap)
Warranty: 2 Years International

"With a case inspired by 1970's integrated band watches and a gradient sandwich dial, the Scuba makes a refreshing alternative to the diver homage and look-a-likes out there. The Scuba will be our second watch release, the first being the racing inspired Diviso, which is Italian for split, launched in January 2020. With being a new brand, the pandemic and the general slowdown of watch sales that started in 2019, sales of the Diviso were not enough to get the Scuba manufactured. As such we are looking to fund the Scuba with Kickstarter in July 2021."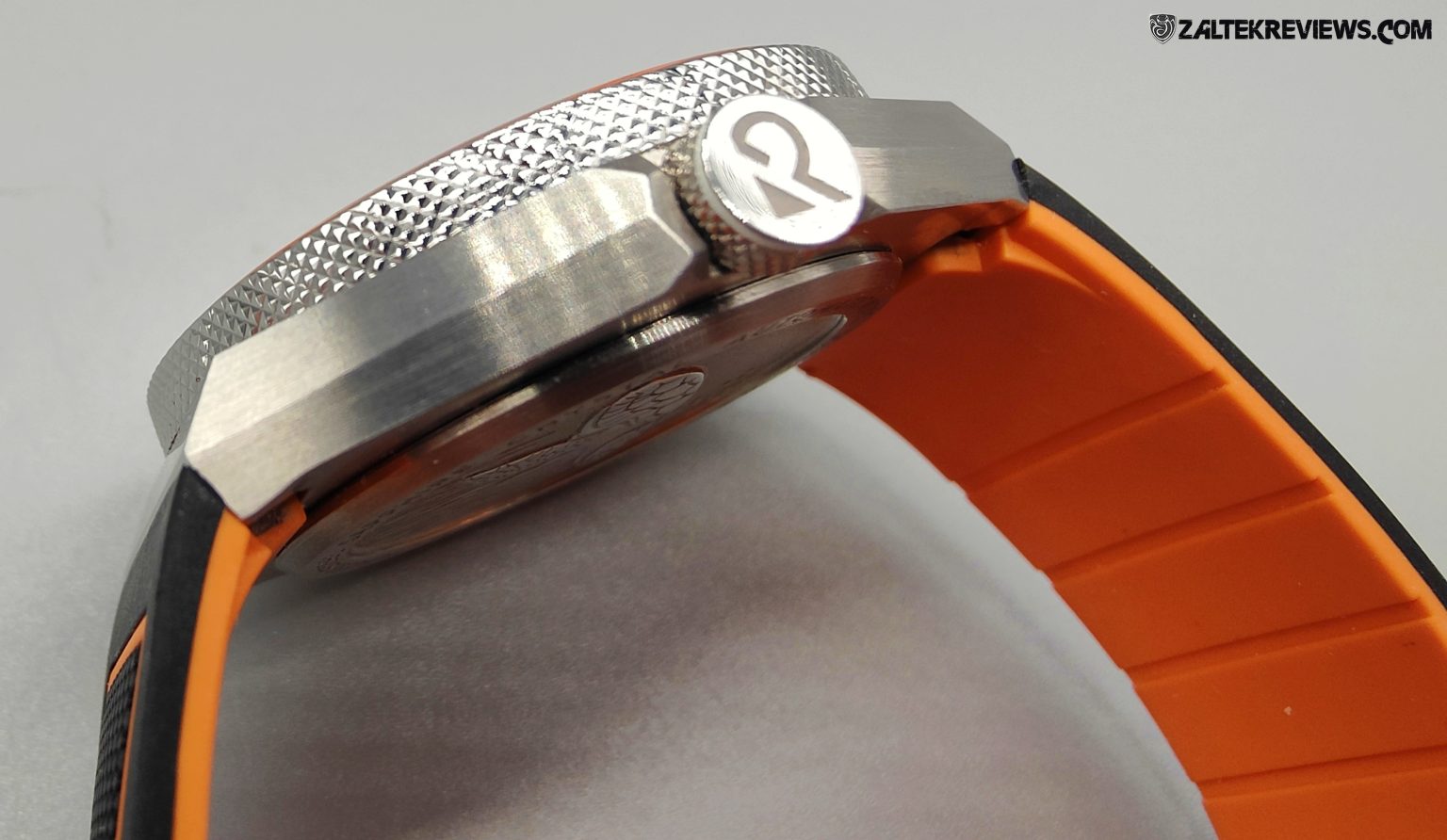 The case of the Roebuck Scuba has an overall diameter of 42.8mm. The lug to lug is 48.2mm and the overall thickness, I measured in at 11.4mm. The case, caseback, bezel and crown are all 316L stainless steel. The finishing of the watch is entirely brushed and it has been done to a very good standard and looking great overall, with its rather tool watch aesthetic. The Roebuck Scuba has a total water resistance rating of 300m, thanks to the addition of a screw down caseback & crown, which is all rather impressive, especially when you take into consideration just how slim the watch is.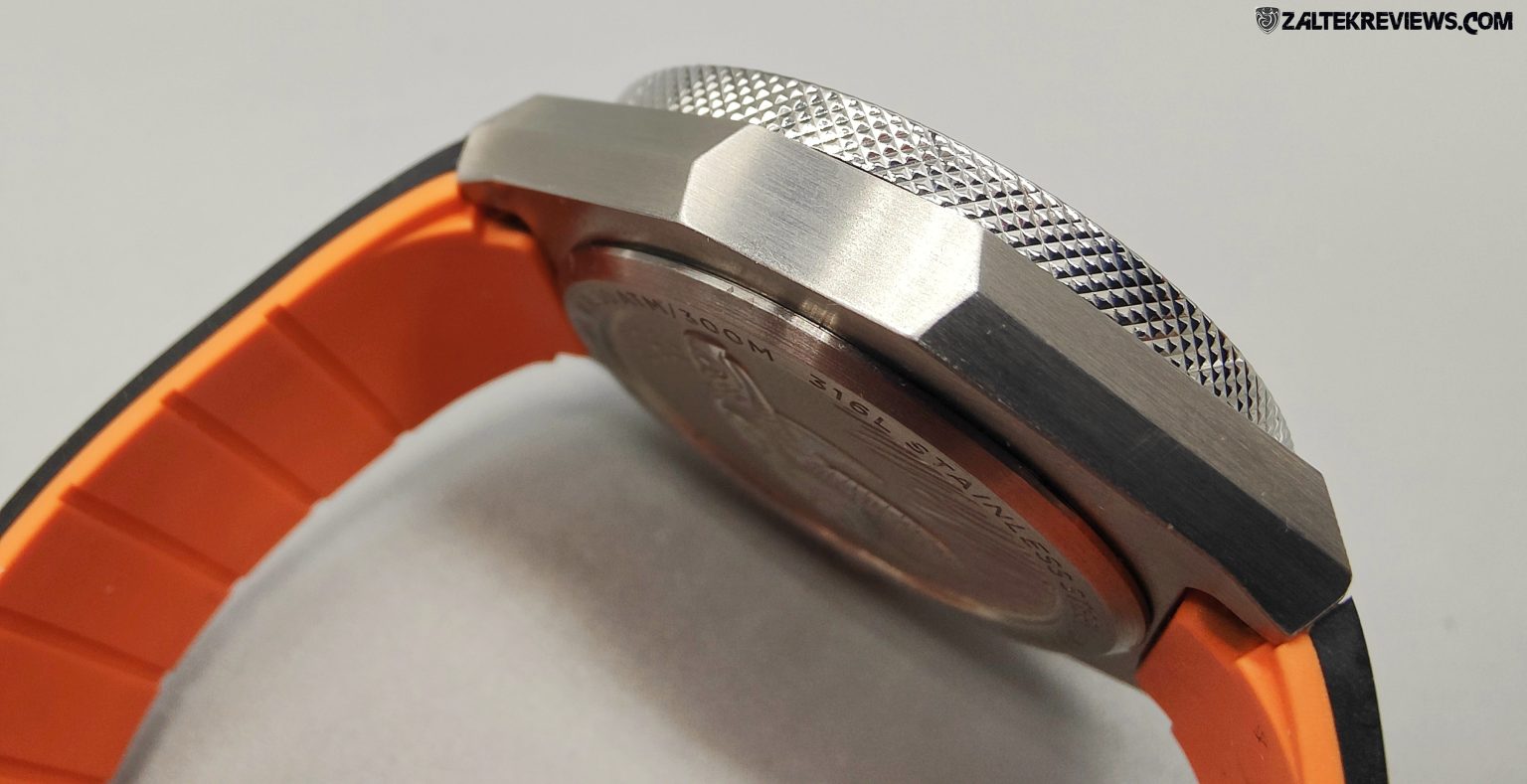 The proportions of the watch are good, with its near 43mm case diameter and of course the lug to lug distance of just over 48mm. The Scuba does wear very well on wrist and it is really comfortable, thanks to the high quality two-tone rubber strap (more on that later). The signed crown is lovely too, looks great and it is very easy to operate with a shed load of grip. There is absolutely no wobble at all when the crown is in use and you can also feel a very nice wee pop as you unscrew it. The caseback is also very well done, with its rather deeply stamped turtle design and the usual basic spec sheet etched around the edge. It's all machined to a very high standard too, with no sharp edges to be found anywhere.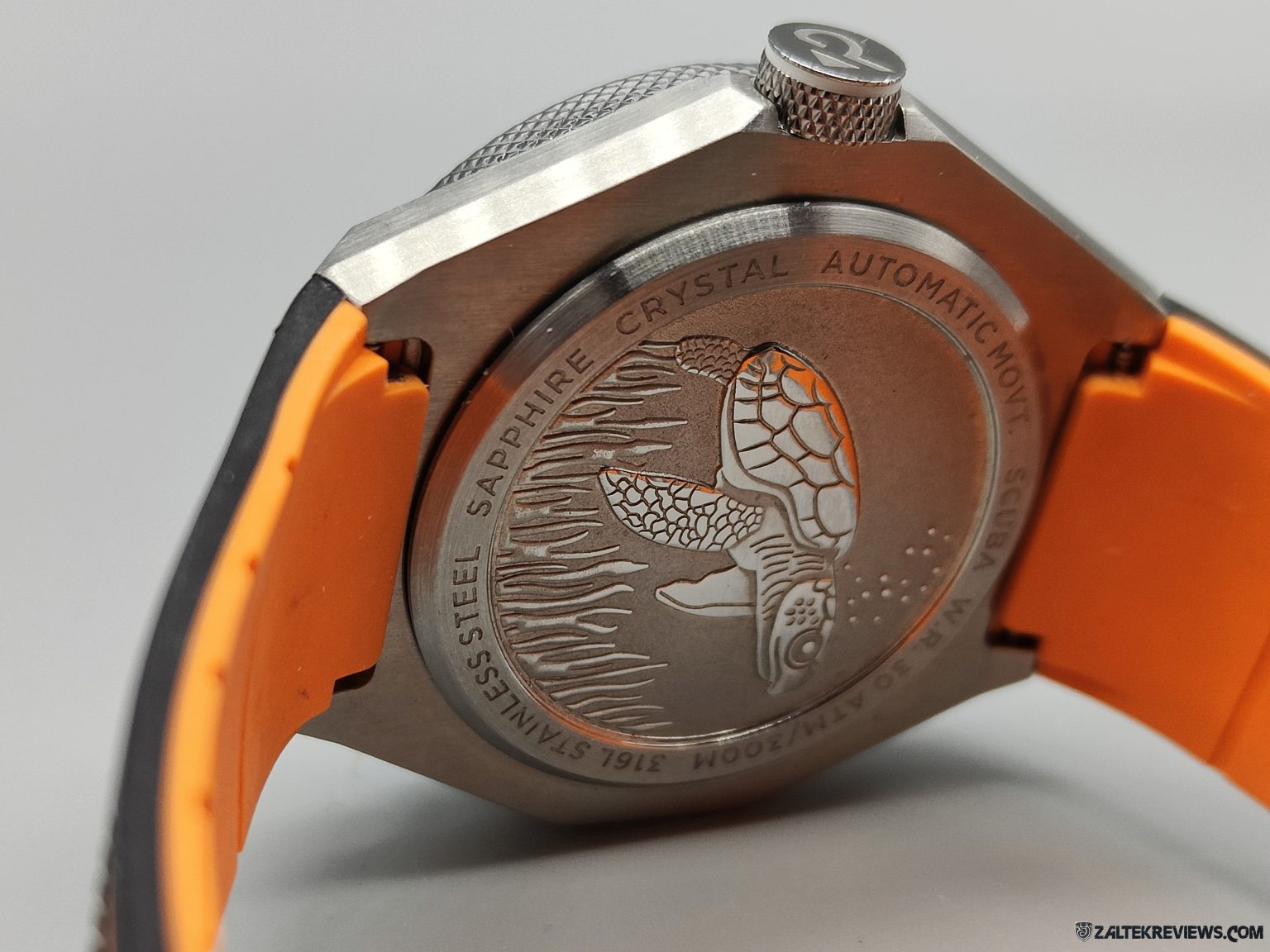 Fitted as standard to this Roebuck Scuba is one of the best integrated rubber straps that I've ever experienced. Not only is it fully custom designed to fit the case (which is fantastic), it's also one of the most comfortable two piece rubber straps that I've ever worn. There is a slight minor negative that I've found regarding this strap however… it can be a wee bit of a fluff magnet, but that's expected to be fair. As I mentioned, even although the strap is designed for the Scuba, if you don't like it, or even fancy a change, you can still fit standard 20mm straps. No idea why you'd want to do that though!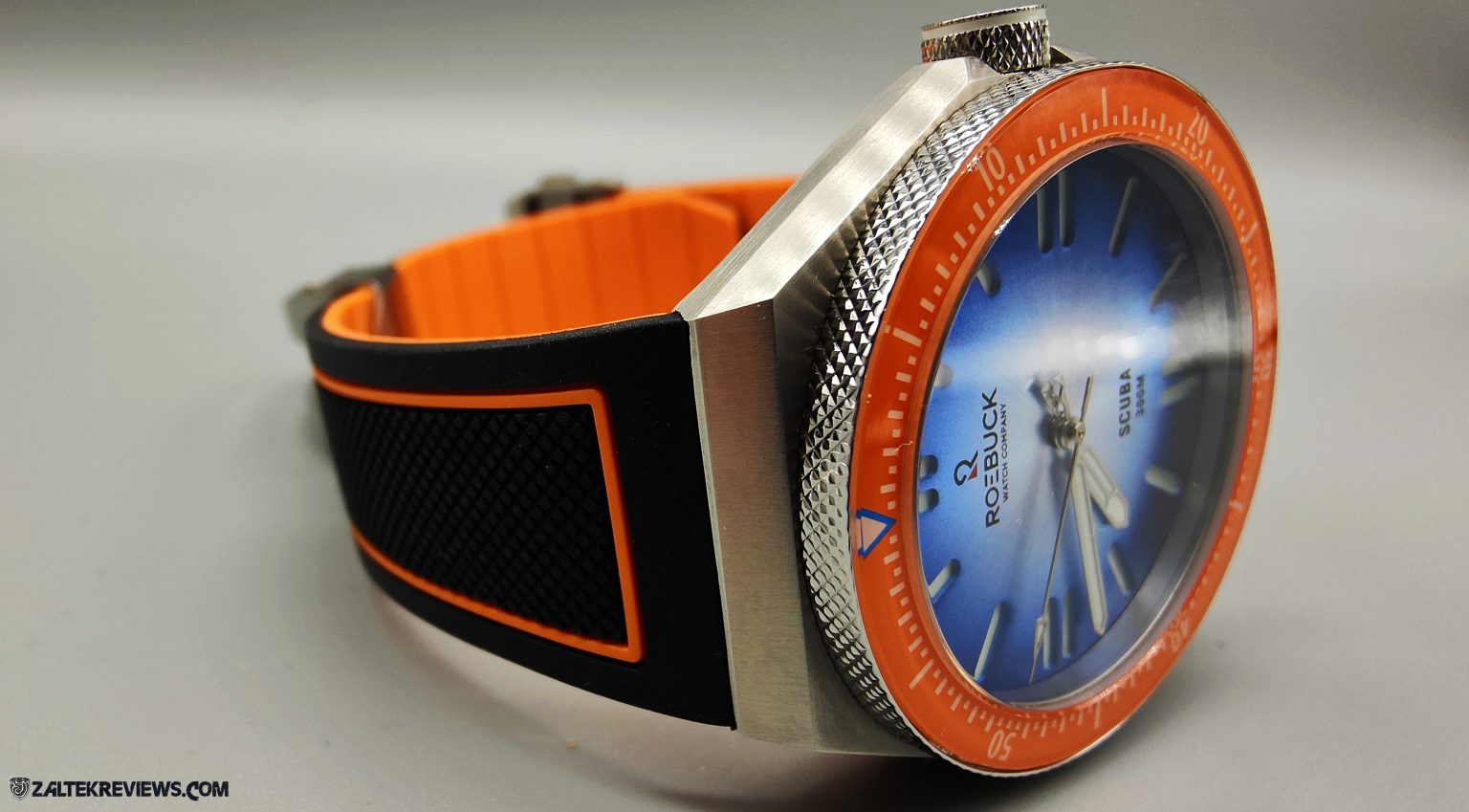 The rubber strap is also two-tone, with designs that compliment the dial & bezel colours, depending on which model you decide to go for. If I was given the choice, I'd probably go for the dark red/grey dial and bezel combo, with the black and grey rubber strap. Oh aye, before I forget, there's also a really nice milled clasp that's part of the strap. You don't get any sticky out, flappy shite of the strap jingling about, as any spare material tucks underneath, so that it's not seen when on your wrist. (I just proof read that part, I know what I meant… I'm sure you do too).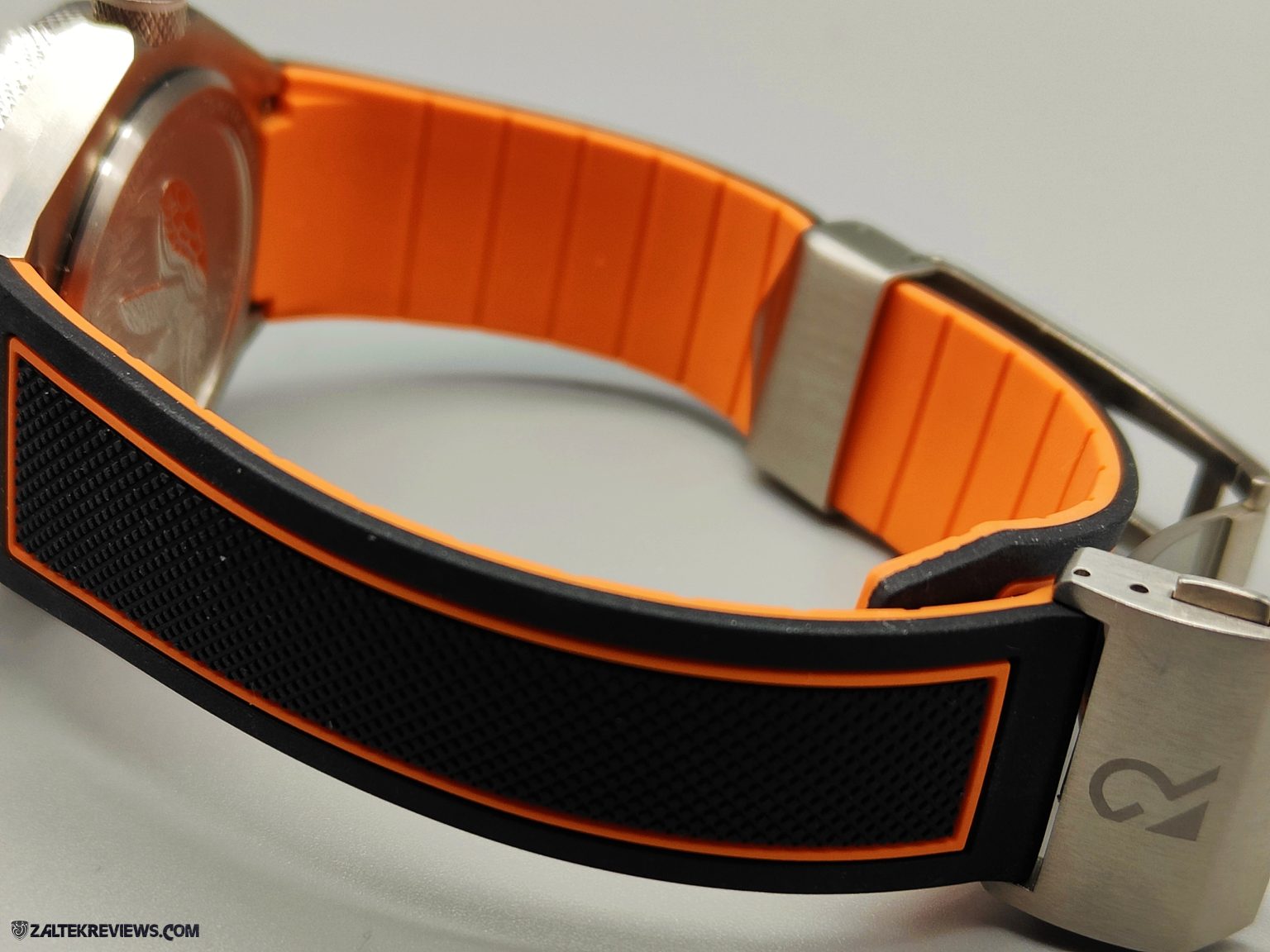 The chosen movement for this version of the Roebuck Scuba is the smooth sweep, high beat, Miyota 90S5 (9015 for the date version). The 90S5 is a very slim Japanese made 28,800vph, 24 jewel movement, often compared to that of the Swiss made ETA 2824. Power reserve is also very healthy at 42 hrs. Checking the accuracy after running the Scuba for just over a week, mainly on wrist and occasionally in my winder, I was happy with the results, with the Scuba coming in at +6spd.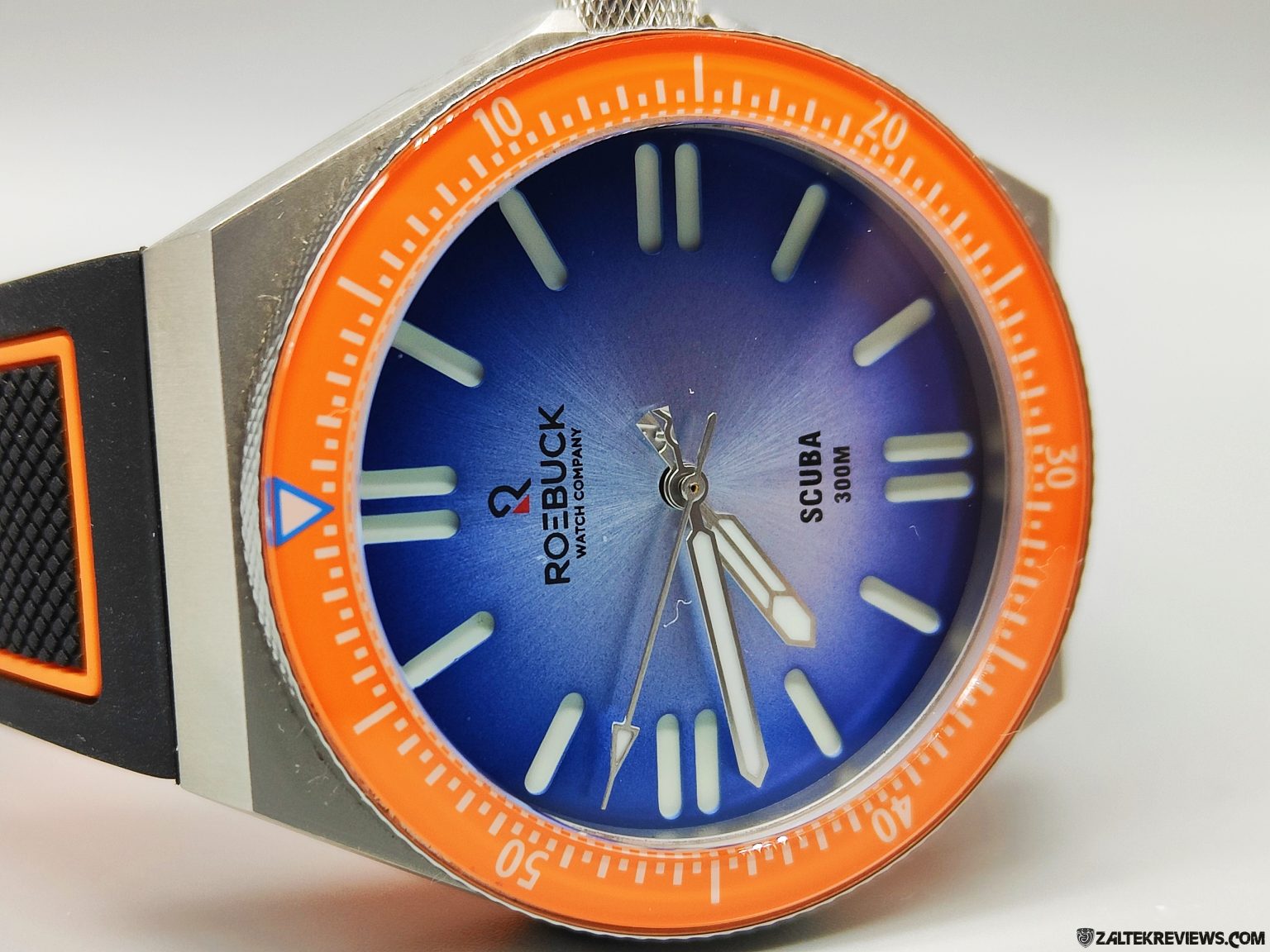 The Roebuck Scuba has a 120 click unidirectional bezel with a sapphire insert. It is of superb quality with everything lining up perfectly, just as it should. The text on this gorgeous fum
é
or gradient dial (
whatever you want to call it
), is just the word
SCUBA with 300m printed below. I think this text should be tweaked a bit, as the font looks like it's come straight out of Microsoft Word. The Roebuck Watch Company logo is nice though and placed at the usual spot of just under the 12 o'clock position. The dial itself is of a sandwich construction, with the hour markers cut into the dial with the lume disk underneath. There are also double baton style markers at the 3, 6, 9 & 12 o'clock positions. There is no minute track on the dial as such, but you can still set the watch accurately with the full 60 minute markers on the sapphire bezel.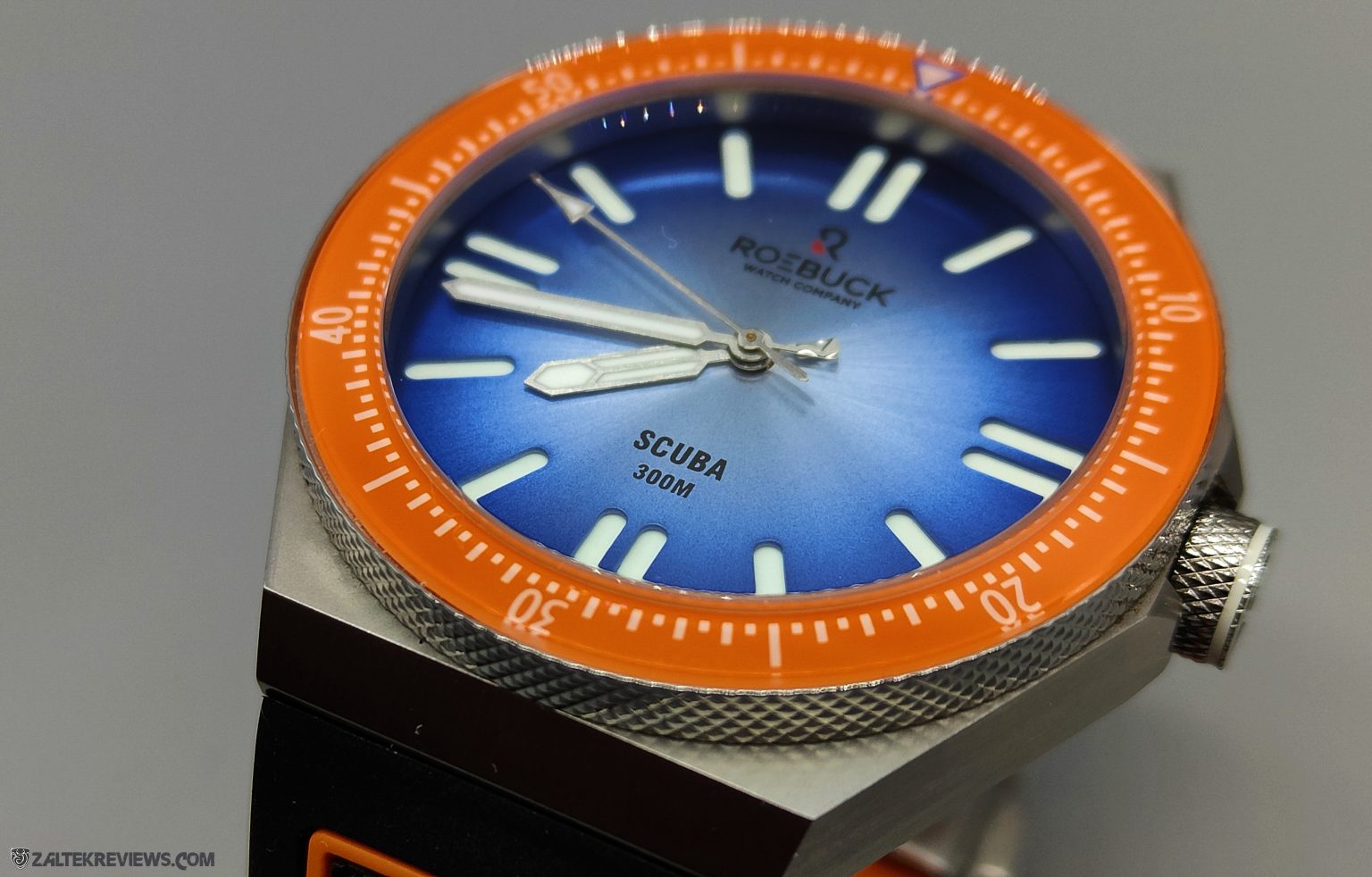 Roebuck Watch Company also offer a date complication for the Scuba, however they've went and placed it at the 4:30 position. Fuck, NO! Thankfully, Guy didn't didn't send me one of those, as I would've only ended up ripping it a new arsehole! Anyhoo, next up are the hour and minute hands… they're very nicely done, with their proportionate design. The seconds hand is lovely too, with it's wee arrow shaped lumed marker & tip, that reaches right out past the hour markers.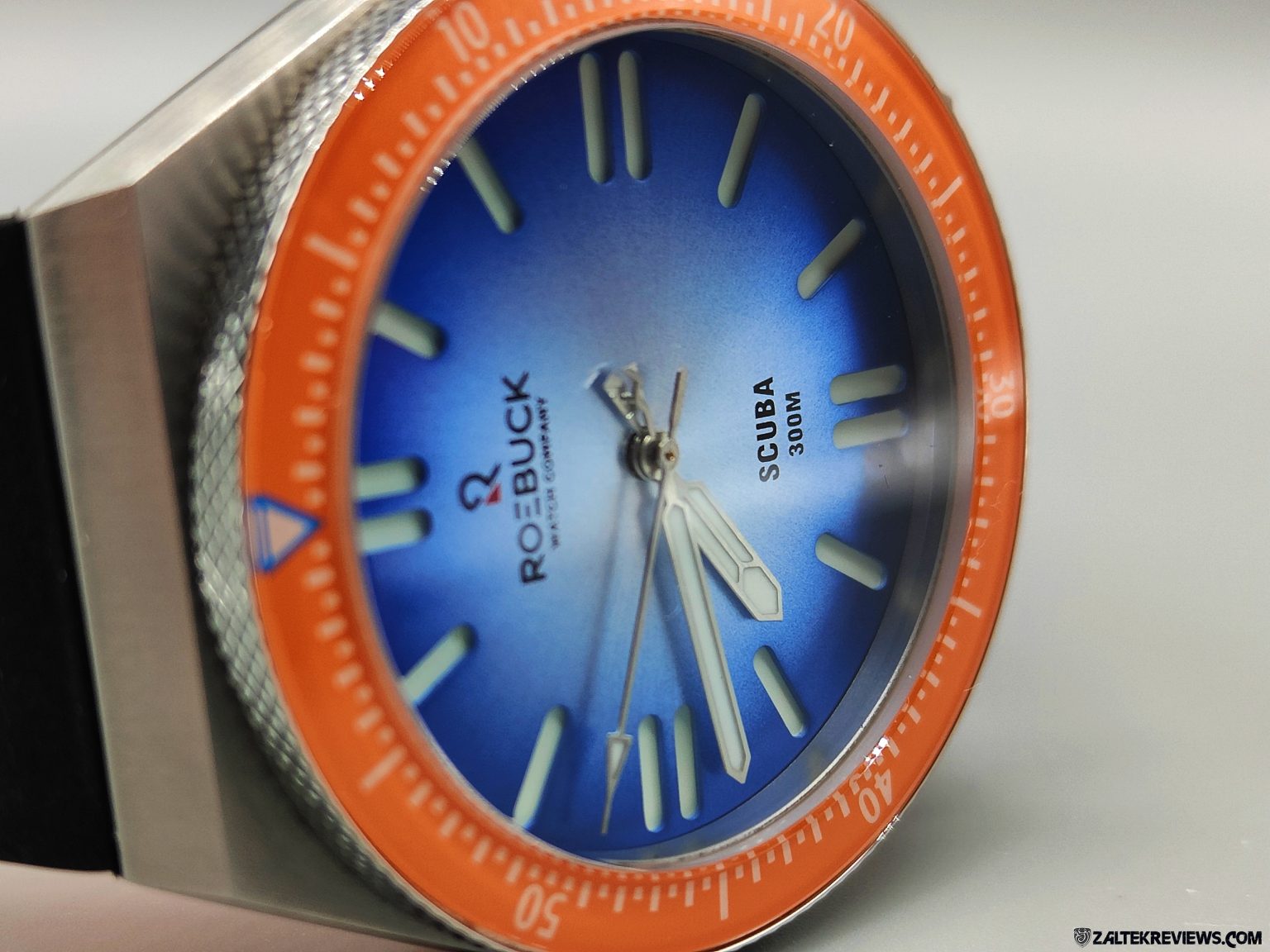 The lume on the Roebuck Scuba is phenomenal, even on this prototype. Guy has actually stated however, that this will be improved even further for the actual production units. No complaints from me then, more lume the better I always say! The actual formula that's been used on the Scuba is Swiss Super-LumiNova® BGW9. Oh aye, and there's a rather unique approach done to the crown, with the edge being lumed, rather than the logo. It all makes sense, if you think about it.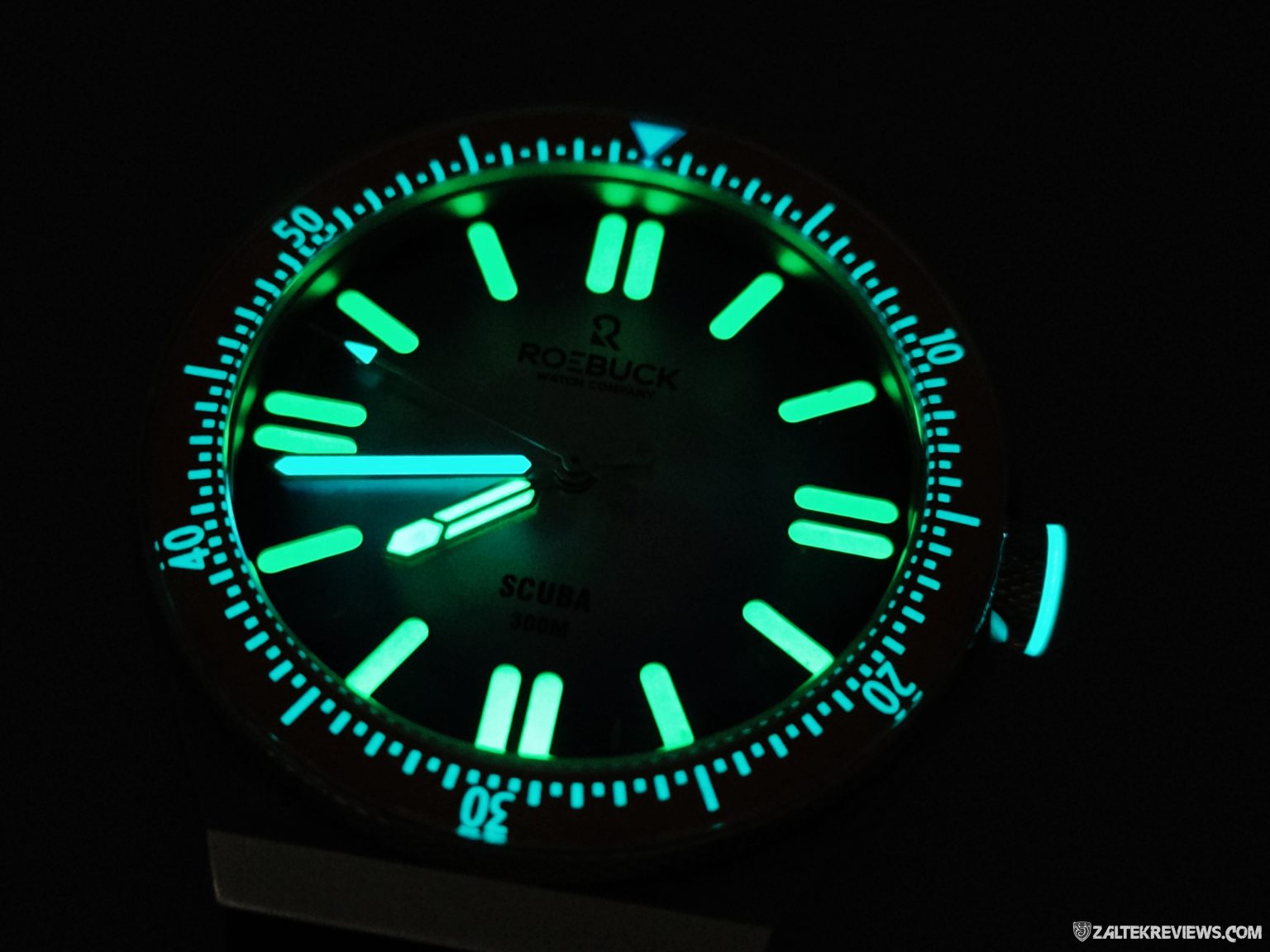 So to summarise the Roebuck Scuba then… I like it, I like it a LOT. The overall specifications, the choice of movement, the dial and not forgetting that very comfortable rubber strap with no flappy shit dangling in the wind. It certainly is an excellent timepiece and is obviously the perfect "summer" watch, with the Scuba's rather vibrant and in-yer-face colour options. Price wise at $400 USD, it is pretty much bang on the money, although if you want one, that's just the early bird price, so you'd better be quick in grabbing one when it launches on Kickstarter at some point in July 2021.
A massive thanks to Guy at Roebuck Watch Co., for sending out the Scuba for review. Very much appreciated buddy. To view the Roebuck website, or to join their mailing list, to be informed of new models etc, visit
roebuckwatchco.com
.
It takes me a fair amount of work (and time) to do these reviews. If you feel like supporting Zaltek Reviews to help towards my running costs, or even if you feel like just buying me a coffee, then please donate using the PayPal button below. Unfortunately, 97% of my readers just scroll by this section. If you feel like that I've given you maybe a few quids worth of knowledge and/or entertainment, then please take just a couple of minutes of your time to donate. Thanks. 
[paypal-donation purpose="Donate to Zaltek Reviews" reference="Ref:Zaltek" button_url=""]