Manufacturer: Second Hour | Launch Price: $385 USD (£295 GBP, €345 EUR approx)
Well, here we are with the first review of 2020. Happy New Year to everyone by the way and thank you very much for your all your continued support throughout the last 12 months. Today, we're going to be taking a look at a prototype of the Gin Clear Diver from Peter Sargison, the owner and founder of Second Hour.
I have been chatting to Peter from the very beginning when the Gin Clear Diver was at the very early stages of design and well before prototypes were even thought about. Fast forward a good few months, the pastel blue prototype arrived on my doorstep. So… is it any good?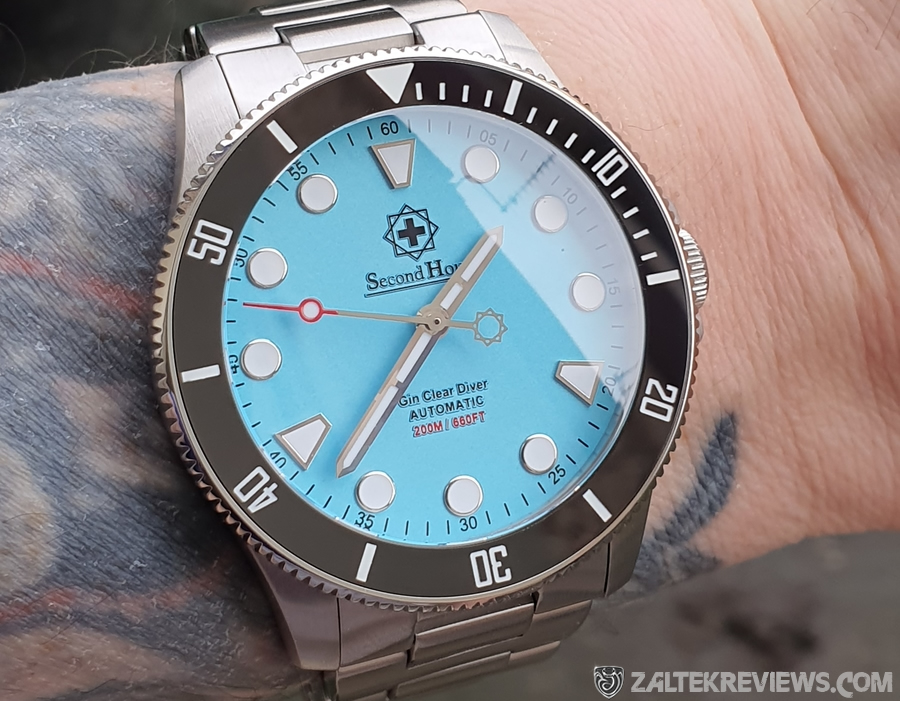 Specifications
Dimensions: Case Diameter – 41.9mm, Thickness – 12.9mm, Lug to Lug – 48.6mm, Lug Width – 22mm
Movement: Sellita SW200-1, Automatic, 28,800vph (4Hz), Hackable, Self Winding, 38hr Power Reserve
Case Material: Brushed 316L Stainless Steel, Polished Chamfered Edges, Drilled Lugs
Bracelet: 316L Stainless Steel, Solid End Links, Screw Pins, Milled Clasp, 6x Micro-Adjustment 
Crystal: Flat Sapphire, Multiple Underside AR Coatings
Bezel: 120 Click Unidirectional, Brushed Ceramic Insert, Fully Lumed
Water Resistance: 200m / 20ATM / 660ft
Lume: Swiss Super Luminova® BGW9
Crown: Screw Down, Signed     Caseback: Screw Down, Stamped Logo
Warranty: 2 Years     Where to Buy: Kickstarter – March/April 2020
Options: Date, No Date | Dial Colour – Arctic White, Black Sand, Cream Sand, Pastel Blue (More Coming Soon…)
"The Gin Clear Diver is the culmination of a life long dream of founder Peter Sargison to create something unique, beautiful and long-lasting. A watch obsessive of many years, I am finally making a break away from corporate life to establish a company that will not only allow me to work closer to home and family, but to direct my creative energies into something that I can share with the world; something that is truly my own. After a year of playing around with designs, building and experimenting with watches, and endless supplier negotiations, the Gin Clear Diver prototypes are finally here.

The Gin Clear Diver will launch between mid March and early April 2020 via Kickstarter. I understand the reservations many have with Kickstarter products, but I can assure everyone that we are applying our extensive experience running and operating multi-million dollar projects in the corporate world to the management of the Gin Clear Diver production. To this effect we have identified and developed strategies for mitigation of all key risks in manufacture and delivery.

We are an Australian based watch company, working out of Melbourne. I have been working in the corporate world for much of my natural life and I'm a passionate watch enthusiast with a definite watch purchasing issue. We love quality, but don't enjoy over-priced watches, so we'll bring our beautiful, well built watches direct to you, saving you hundreds of dollars. Our small team's experience in planning, scoping and delivering large scale projects is being put to good use in ramping up to our first release, the Gin Clear Diver."
The case of the Gin Clear has a diameter of 41.9mm. The lug to lug is 48.6mm and the overall thickness, including the domed sapphire crystal, I measured in at a very nice 12.9mm. The entire case, caseback, coin edge bezel, crown and bracelet are all 316L stainless steel. Note* The crystal is being changed to a flat sapphire for the production models.
The finish of the watch is brushed, however plans for the production model will see a slight alteration giving the watch a rather gorgeous chamfered polished edge that runs along the side of the case and down over the end of the lugs. I have seen images of this and it does look fantastic and gives the watch a much more  premium look & feel. Another change that is planned is the caseback will be polished rather than entirely brushed.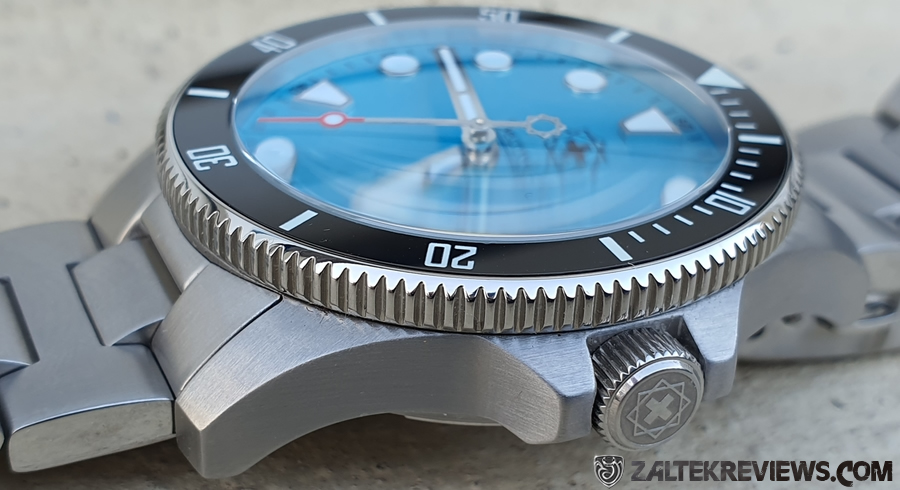 The Gin Clear has a water resistance rating of 200m, thanks to the screw down caseback & crown. I personally feel that 200m water resistance is plenty for any dive watch. If you need more than that, then I'm pretty sure you wouldn't be relying on a watch for the timing of your dives and would be using a dive computer. The proportions of the watch are great for my 7″ wrist, this prototype wears extremely well on wrist and is very comfortable.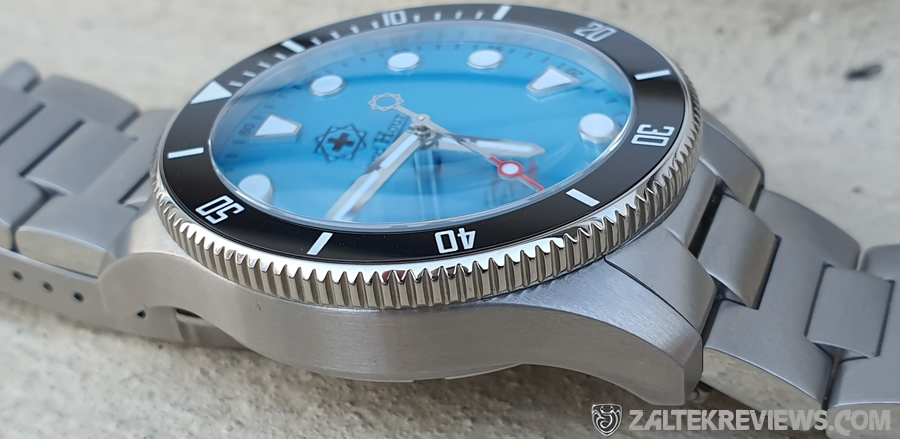 The signed crown is also fantastic, looks great with it's etched logo and there is zero wobble when the crown is pulled out to any position. You can also feel a very nice pop as you unscrew the crown and you can see and feel the amount of work that has gone into the crown, making it feel rather premium when in use. The caseback is very nicely done, a design that Peter designed himself, that's deeply stamped and has the usual various spec list etched around the edge.
The bracelet that comes fitted to the Gin Clear is very nicely done indeed. It's fitted to the watch head perfectly and the tolerances are great, even although Peter has informed me that these will be even better on the production model. The bracelet itself is 22mm at the lugs, that tapers down to 20mm and back to 22mm at the clasp. There are solid links throughout and there's absolutely no rough or sharp edges to be found anywhere.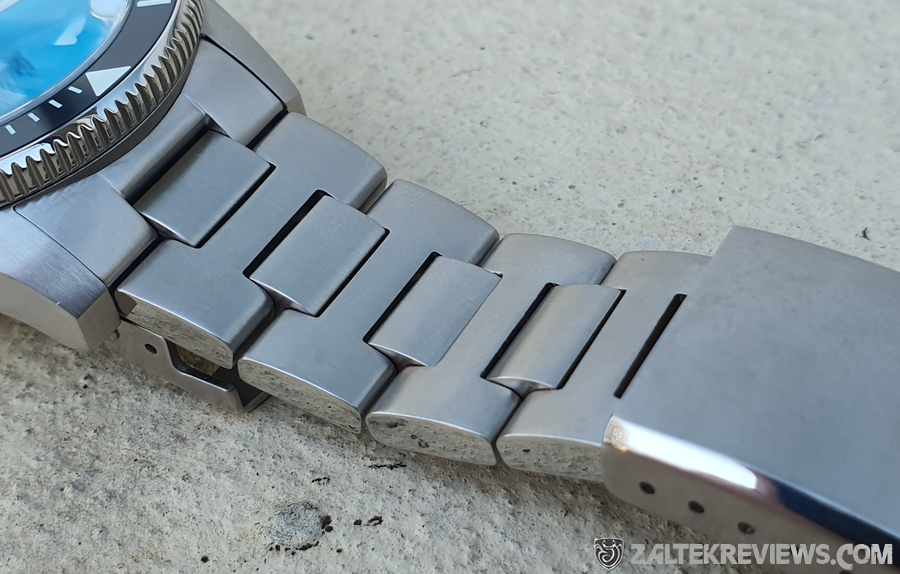 Second Hour also made the decision to include screw pins for resizing, the best choice in my opinion. The clasp that has been selected is also a great choice, and it's not some nasty clasp that has just been pulled off a shelf from some Chinese warehouse either, it has nicely done polished chamfered edges too. There are also 6 micro-adjustment holes so you can guarantee a perfect snug fit.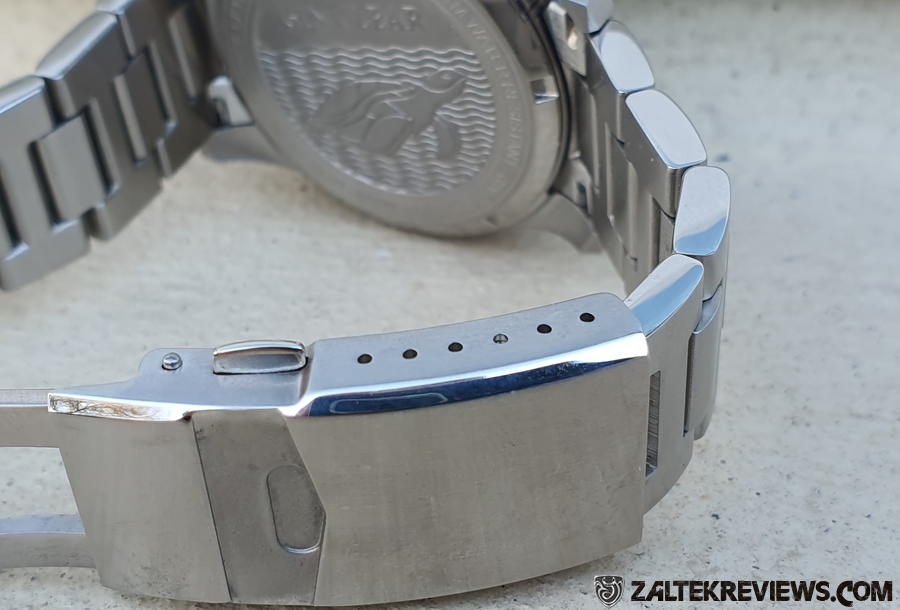 The chosen movement for the Gin Clear is the Swiss made Sellita SW200. A fantastic calibre that is a 28,800vph, 4Hz, smooth sweep, 26 jewel movement with self winding and of course hacking.
Checking the accuracy after running the Gin Clear for just over a fortnight, mainly on my wrist and occassionally in my watch winder, I was more than happy with the results, with the Gin Clear showing an average of just +6.2 seconds per day. Great result.


The Gin Clear has a 120 click unidirectional bezel with a fully lumed ceramic insert. It is of good quality with everything lining up perfectly, just as it should, a rare occurrence, especially for a prototype. The bezel action is good too with minimal backplay. Peter has informed me that this will be rectified for the production model. He also mentioned that the bezel insert will be a little toned down to a brushed finish to reduce glare and reflections.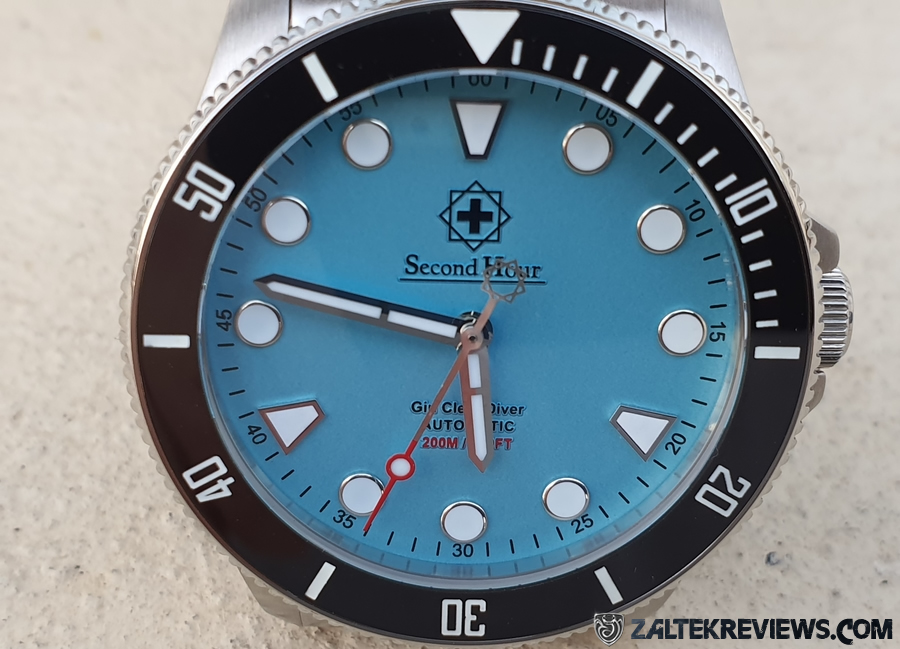 The text on the dial is printed, however it appears slightly embossed with the words Gin Clear Diver & AUTOMATIC with the depth rating of 200m underneath. The Second Hour logo is also neatly printed, done at just under the 12 o'clock position. If I had to criticise anything about the dial, I personally would remove the words 'Gin Clear Diver' from the dial, as just having it on the caseback is enough in my opinion. I also feel it would give the dial a more clean look.
I could take this further if it was my own design, and remove the words 'Second Hour' as I'm not keen on it being underlined, especially on the dial, but that is part of the company logo I suppose. I personally would just have the main logo under the 12 o'clock position. Anyway, it's Peter's baby, so kudos to him for sticking to an original design.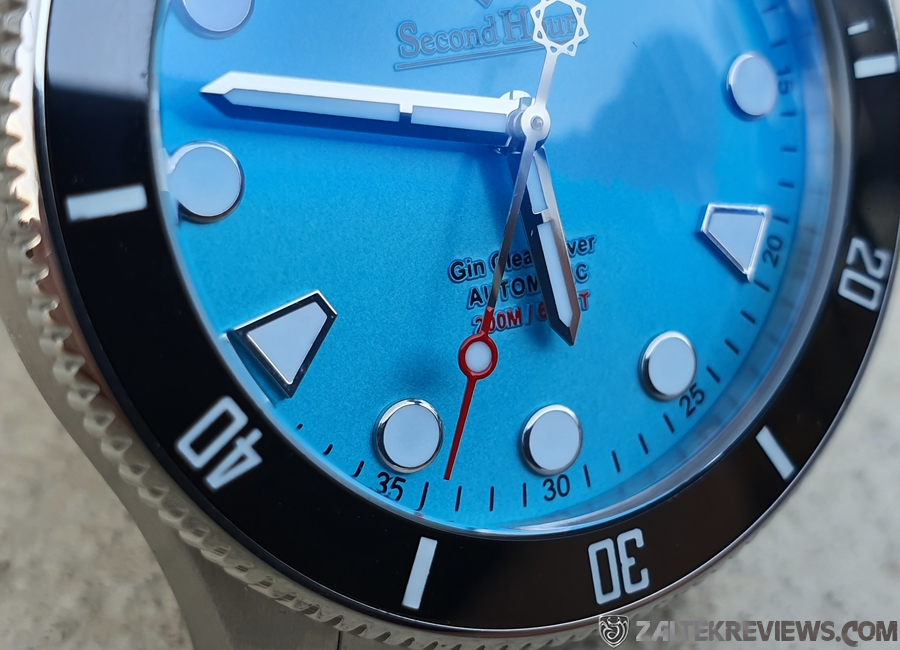 As you can see in the images, the hour and minute hands are very nicely done with their fence post style appearance. The seconds hand is great too, with it's wee lumed lollipop section and red tip reaching out to the minute track when sweeping around the dial. The custom counter-balance that Peter designed is also a very nice touch too. I like that a lot.
Whilst writing this review I got an email back from Peter and he's shared the other dial options that will be available, although these might be a stretch goal, I'm not 100% sure. I'll share the renders here so you'll be able to see the polished chamfered edges that I was talking about earlier. Peter also confirmed there will be drilled lugs on the production model.
The lume on the Gin Clear is nothing short of excellent! And this is on the bloody prototype! The actual lume that has been applied to the Gin Clear is Swiss Super Luminova® BGW9, and it's been applied very evenly too. Like the aforementioned upgrades and alterations that I spoke about earlier in the review, Peter also plans to give the watch even more lume for the production units.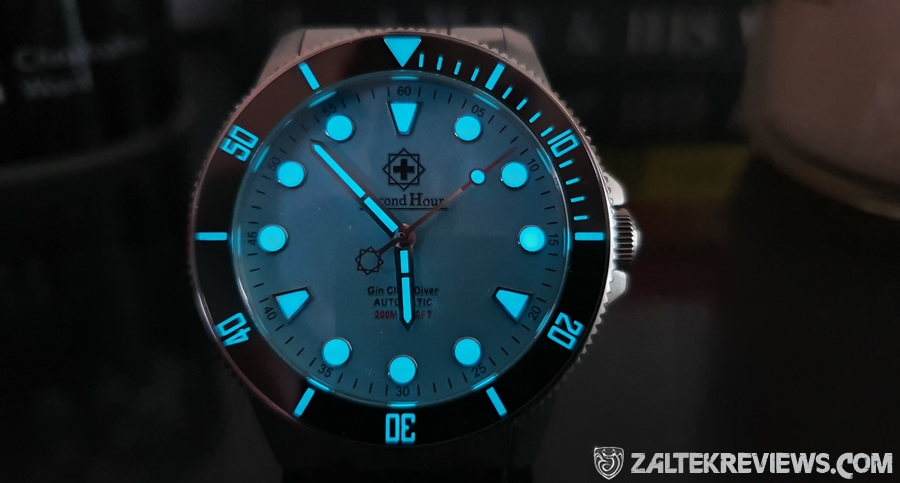 This being the very first watch from Second Hour, and only at the prototype stage, I can honestly say that I am totally gobsmacked at just how good the Gin Clear Diver actually is. I've had many a prototype turn up in the past from various companies and to be honest, they were totally crap and only deserved to be thrown in the bin. (I don't throw any watch in the bin by the way). As a proof of concept, this Gin Clear prototype is actually a lot better than some production models I've had in for review.
Once Peter has completed his planned little tweaks and upgrades, he truly will have an absolute belter of a watch on his hands. If you're one of the lucky ones that manages to grab one of these at the price of $385 USD when it launches on Kickstarter in March/April, then trust me, you've grabbed yourself a total bargain! For me personally… if the additional colour options are a stretch goal, I really hope they are met, as the blue or red one would be my choice.
Peter / Second Hour – A truly excellent dive watch. You should, 100% be proud of your creation! It's a beauty. (If all your planned upgrades are done and go to plan then I would, without doubt, give the Gin Clear a full 10/10).
9.3/10 - HIGHLY RECOMMENDED!
A massive thank you to Peter at Second Hour for sending me the Gin Clear Diver out for review so quickly.
To view the Second Hour website, or join their mailing list to be informed of new models etc, visit
Second Hour
.
Follow Zaltek Reviews on
Instagram
and
Facebook
and please feel free to join our Facebook group
WatchChat
, a busy community for watch enthusiasts and collectors, with tons of images and in-depth discussions.
At Zaltek Reviews, we encourage the companies whose watches we've reviewed to comment on our articles. We invite any company representatives to respond in the comments section below. Thanks very much.