Manufacturer:

SYE Watches

| Price: £560 GBP ($795 USD)
If I'm honest, I've never really been much of a fan of chronographs, no matter what movement is used, or whatever complications are shown, as they've always been something that I'd never ever actually use in general day to day life. So when I was going through my usual research of Facebook & Instagram, scrolling through multiple watch companies and models, I actually surprised myself when I slammed the brakes on when the SYE MOT1ON Chronograph grabbed my attention. The clean layout of the dial and the unique way the strap was fitted to the watch, I just had to do a bit more investigating. Long story short, after contacting SYE Watches and a few days later, the MOT1ON Chronograph arrived.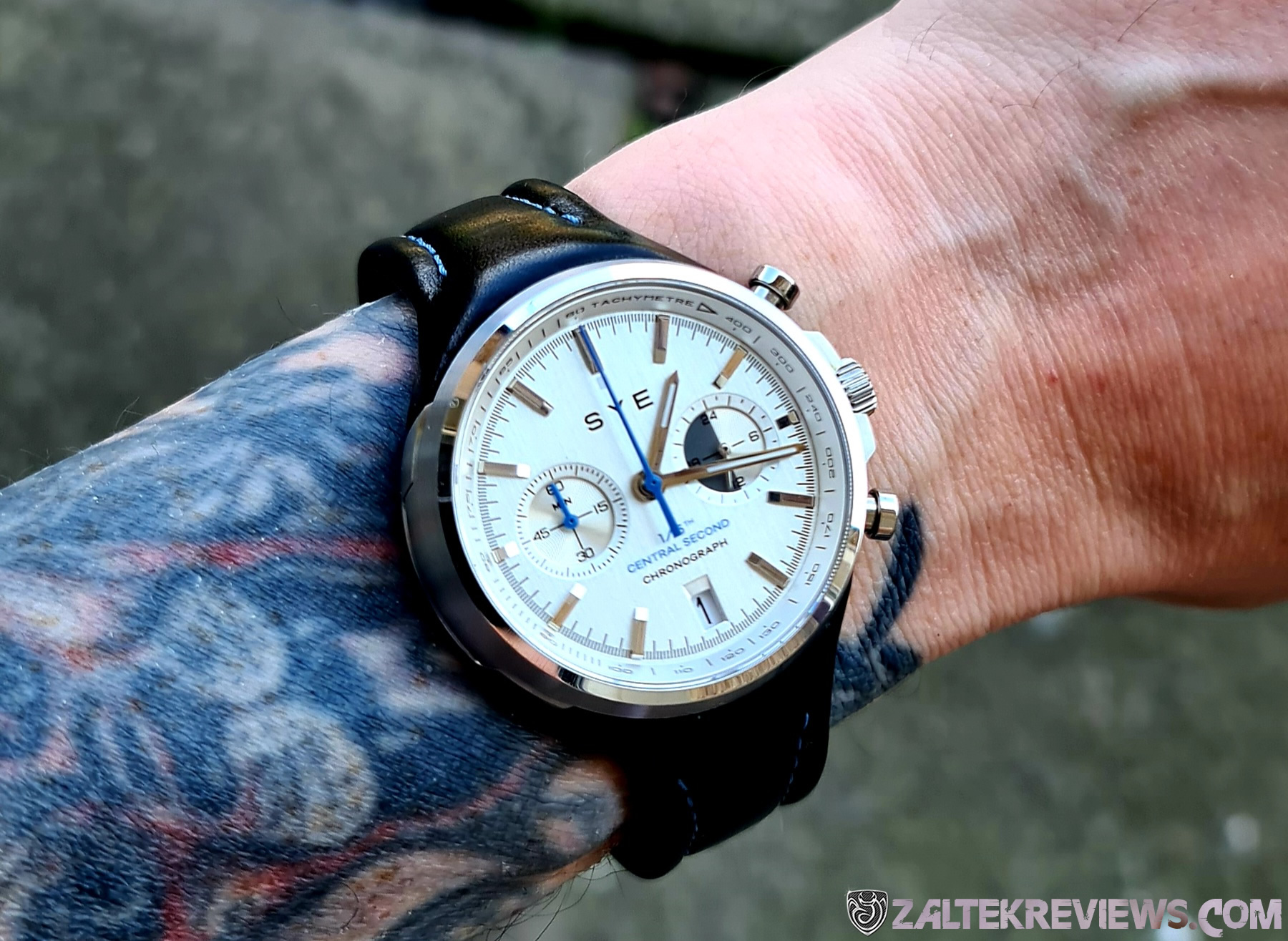 Full Specification
Dimensions: Case – 40.3mm, Thickness – 12.9mm, Lug to Lug – N/A, Lug Width – Fully Integrated
Movement: Seiko TMI VK64 MechaQuartz, 3 Year Battery
Case Material: 5-Piece Construction, Brushed & Polished 316L Stainless Steel
Dial: Silver or Smoked Grey, Date at 6, Applied Indicies, 60 Min & 24Hr Sub Dials
Lume: Swiss Super-LumiNova® BGW9 (Hour & Minute Hands)
Strap: Fastback™ Premium Full Grain Italian Calf Leather, 120/80mm
Crystal: Flat Sapphire, Inner Anti-Reflective Coatings
Water Resistance: 50m / 5 ATM / 165ft      

Caseback: Fastback™ System, 316L Stainless Steel
Crown: 5.5mm, Push/Pull, Signed, 2x Chronograph Pushers

Weight: 94g (Including Fastback™ Leather Strap)
Where to Buy: SYE Watches

Warranty: 2 Years International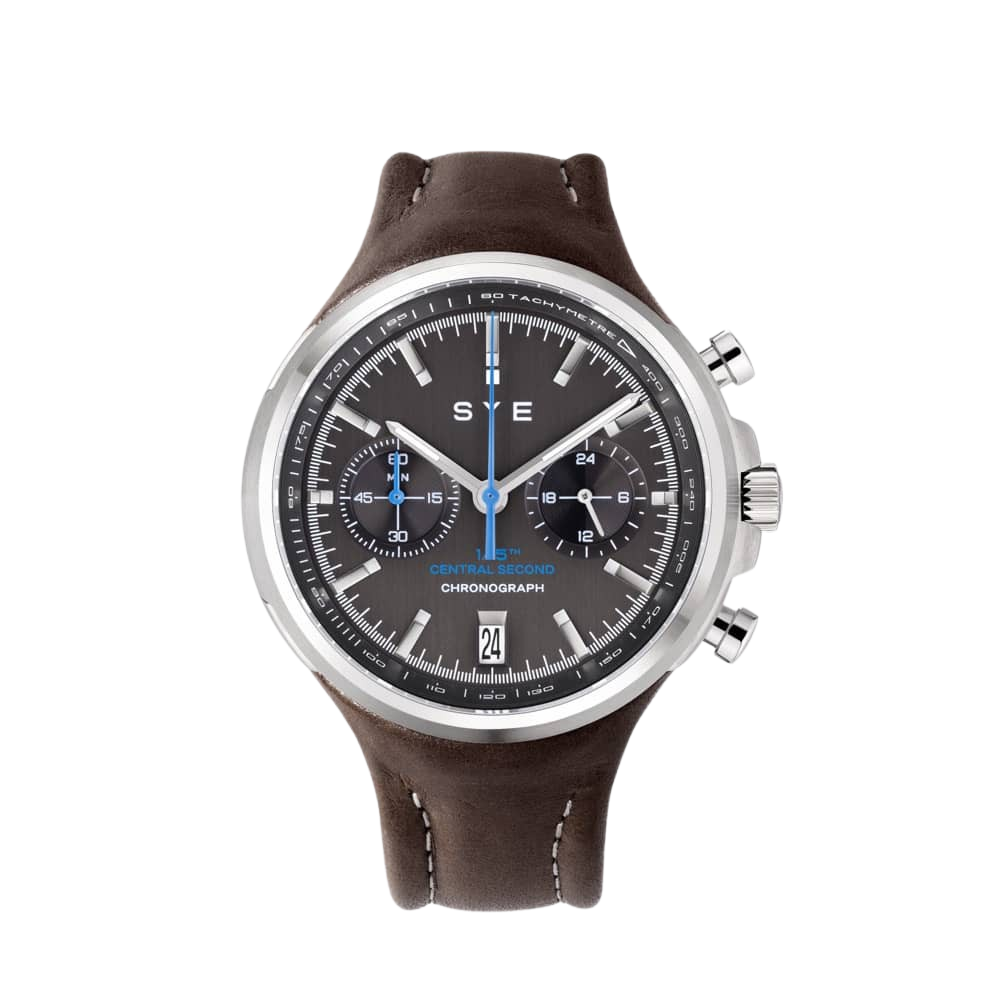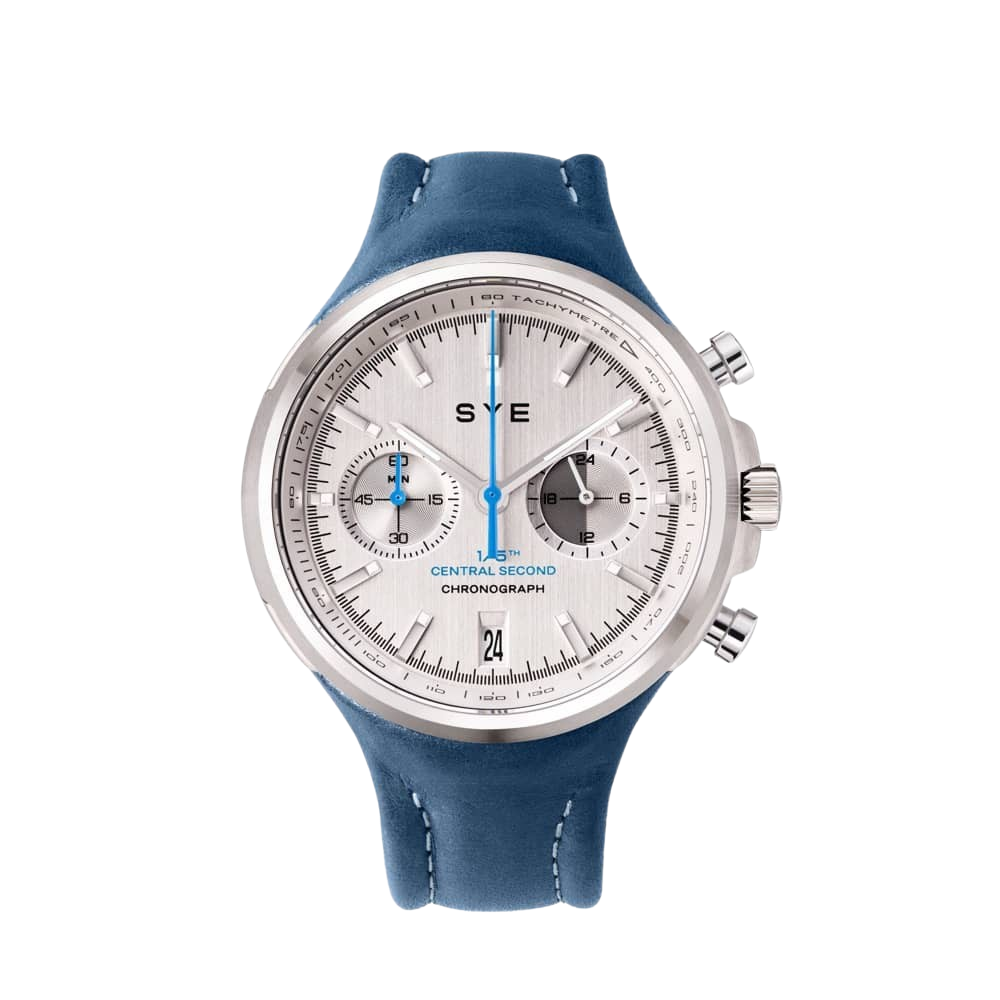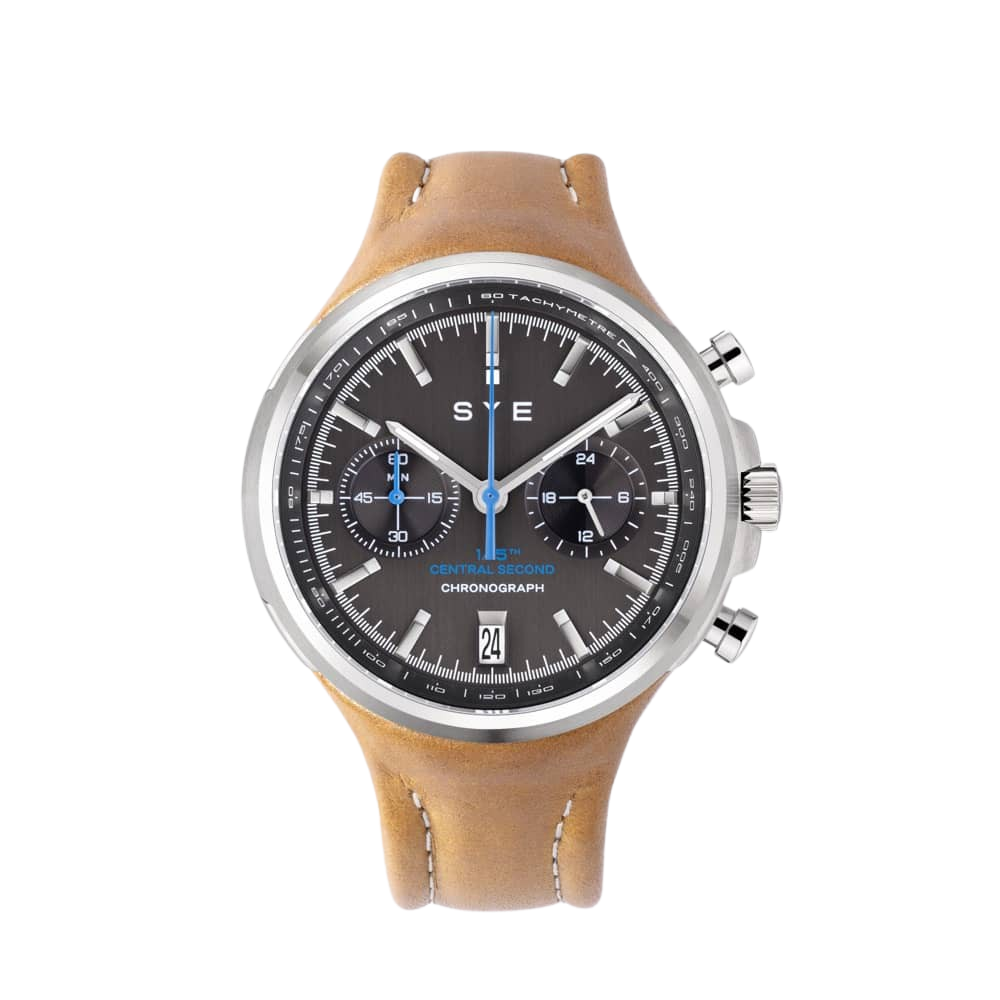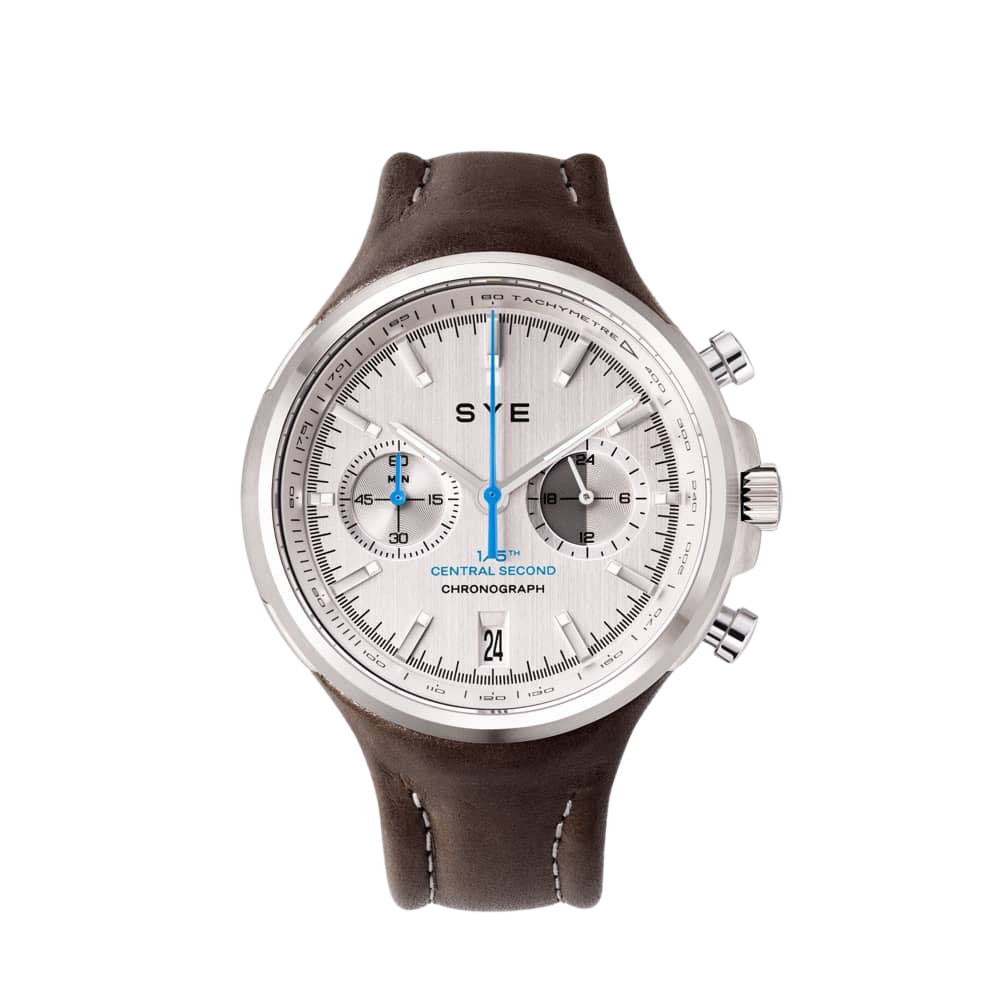 "How did you feel the first time you saw the smooth curves of a classy car, heard the musical growl of a twin engine, glimpsed a flash of gleaming chrome or felt the sensual touch of an aged leather seat? These are the feelings that drive us and that led to the creation of SYE! In our quest for a perfect moment, they inspired us look at materials, savoir-faire and 20th century design principles from a new angle in an unashamedly modern watch. SYE [Start Your Engine] is a French premium watch brand bringing the concept of Sport Tailoring to your wrist. With its fine leather, impeccable finish, exclusive style and sharp design, you have so many reasons to get excited and give in to temptation."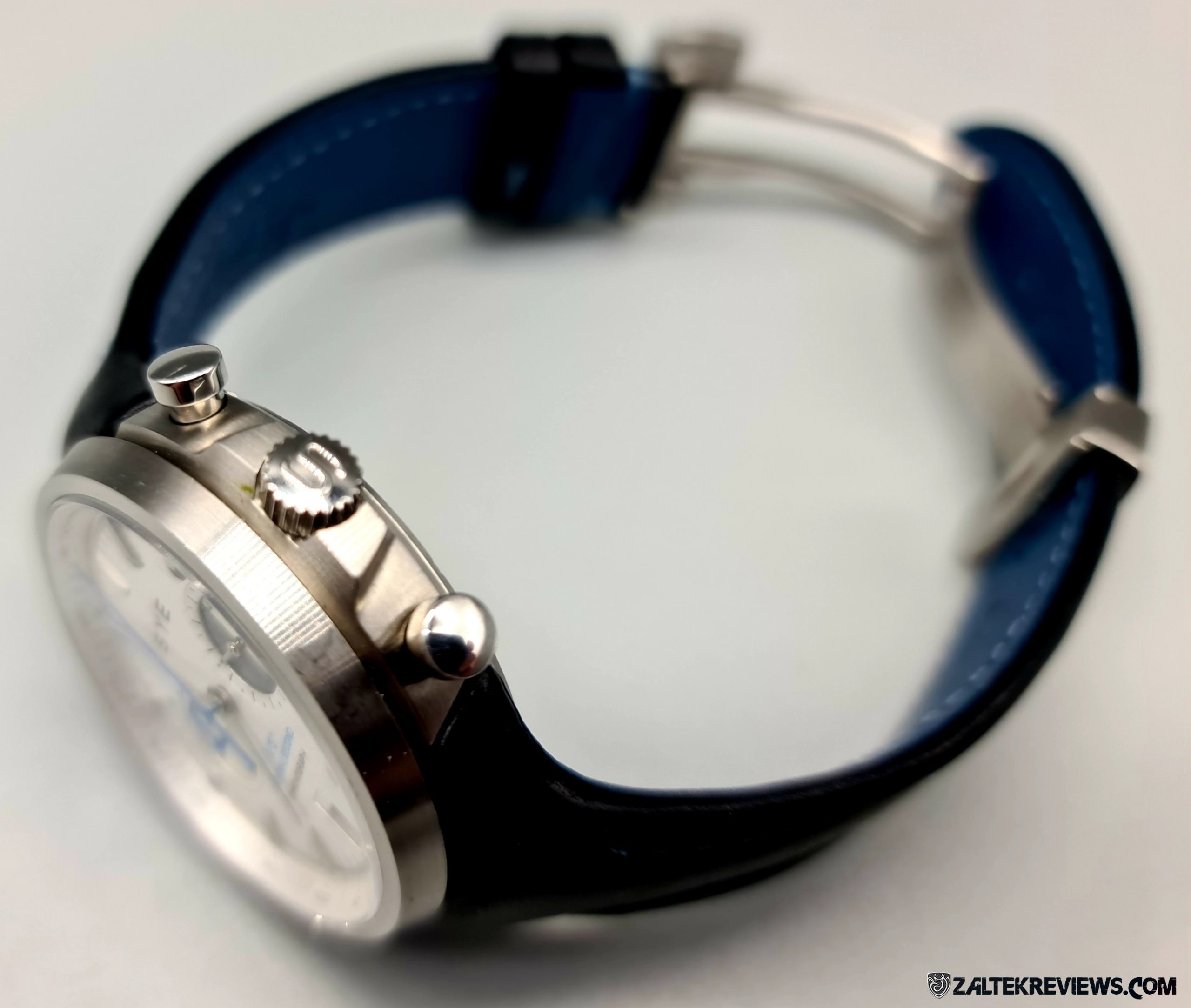 The case of the SYE MOT1ON has an overall diameter of just 40.3mm. The lug to lug distance is non-existant, as there are no lugs to speak of and the overall thickness, including the sapphire crystal, I measured in at 12.9mm. The entire case, caseback, locking plate, crown and pushers are all 316L stainless steel. The case itself is of a 5-piece construction, which will become more apparent later on in the review. The overall finish is great and the transition between the two finishes is  excellent. Great attention to detail from SYE or Start Your Engine, in case you were wondering what SYE stood for.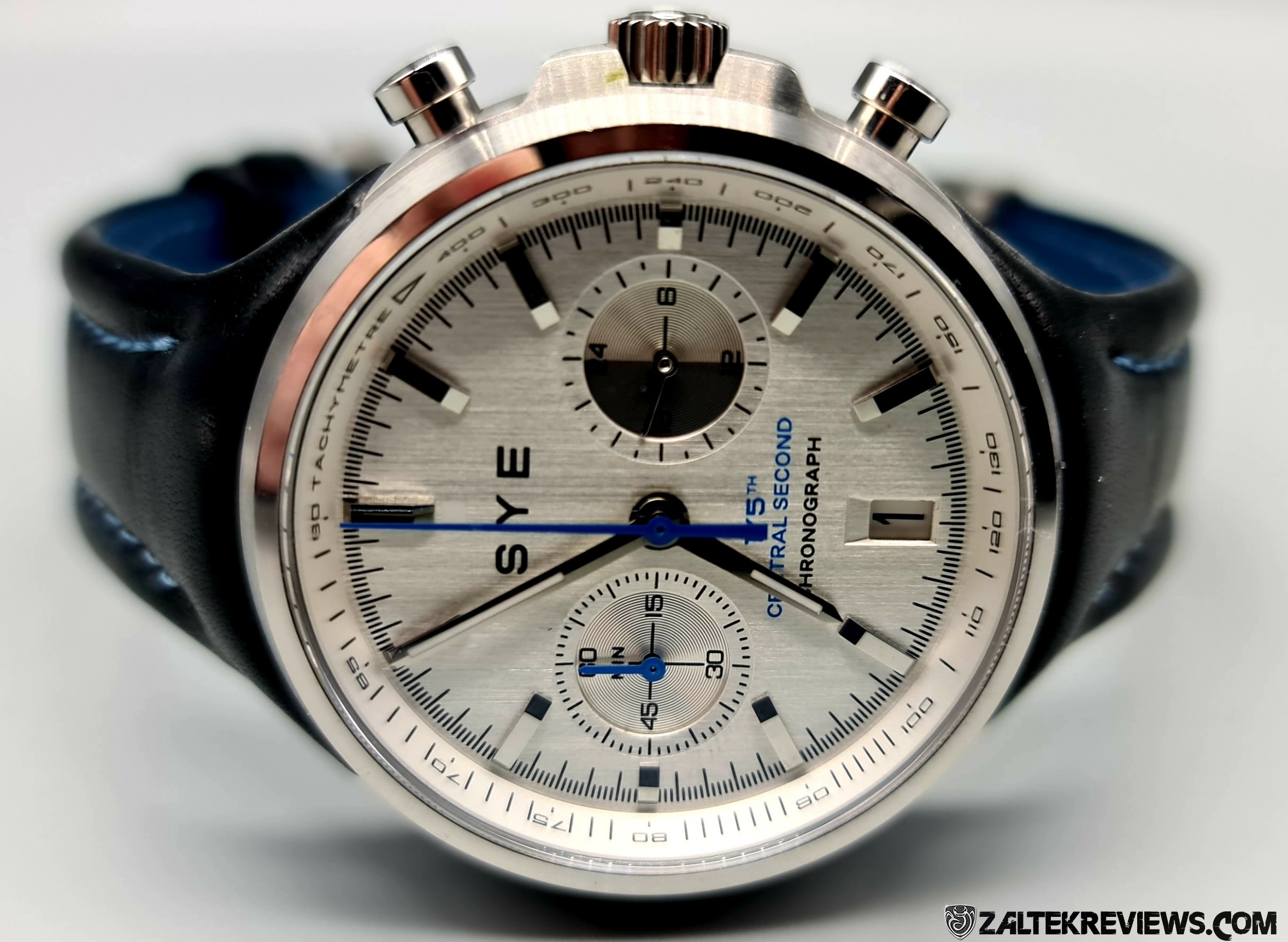 The MOT1ON has a WR rating of  just 50m, which is pretty much as expected from a watch like this. The proportions of the watch though, in my opinion are bang on, as the watch wears extremely well on wrist, thanks to the exclusion of traditional lugs and the very unique way the strap is fitted to the watch. The crown is of the push/pull variety and even although it's a little small at 5.5mm, it's easy to get hold of and grip when it comes down to adjusting the time and date.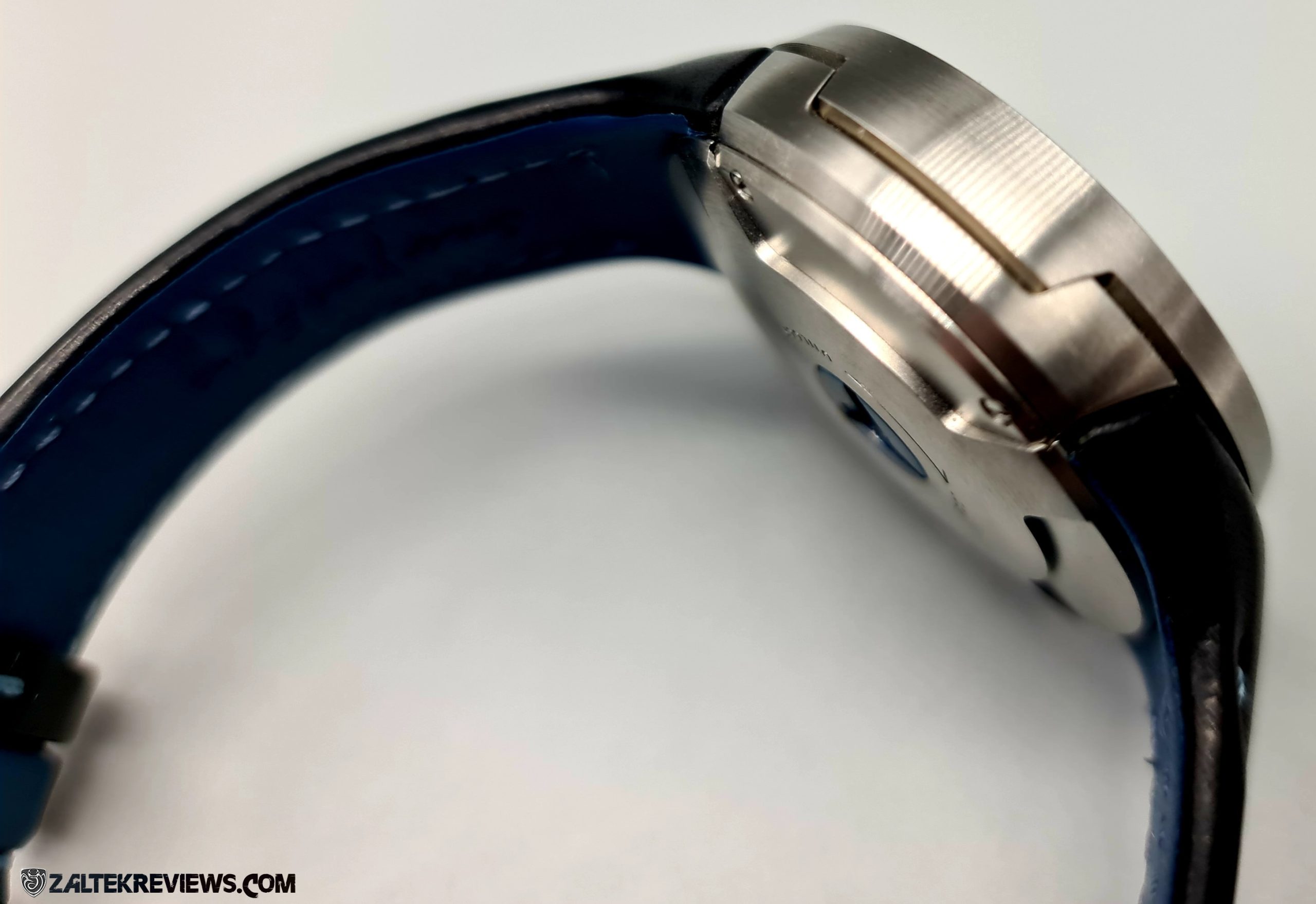 The SYE MOT1ON Chronograph is available with a multitude of strap colour options with loads of different contrast stitching. There isn't any sign of a bracelet option though, which is a bit unfortunate. As straps go though, these full grain Italian calf leather straps from SYE Watches are absolutely phenomenal. Even when they're brand spanking new and just taken out of their packaging, they are very soft and don't need much, if any at all, "breaking in time". The signed clasp too, is of premium quality and is also fully milled, which if you know me at all, it's very much appreciated. So, how the fuck does the strap attach to the watch I hear you ask? Google it ya bunch of lazy bastards! Ok, keep your knickers on, ya bunch of Jessie's, I'm only kiddin'! Oh aye, and by the way, it is way more simple than you're probably expecting!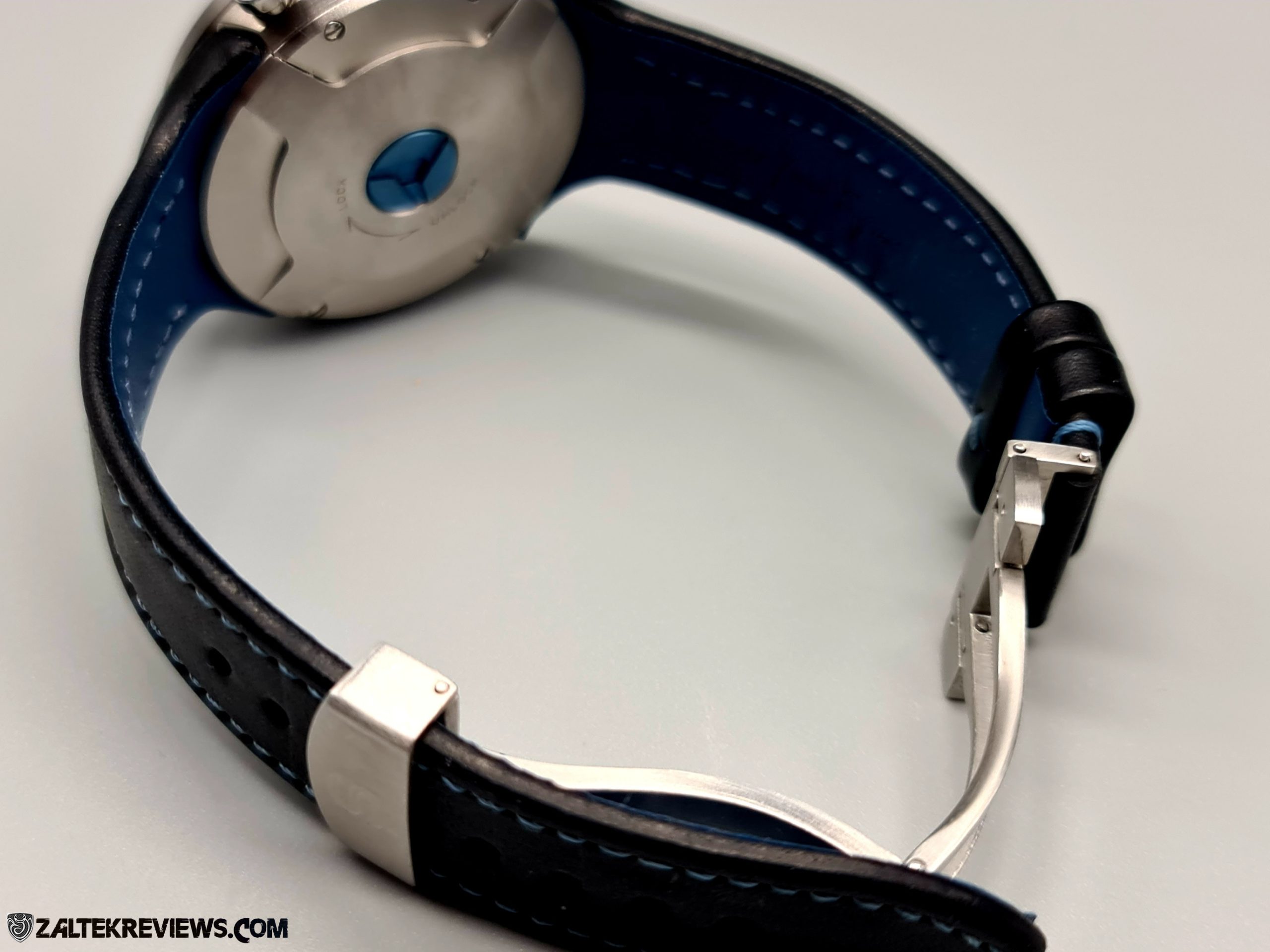 When I first did a little research on this SYE Fastback™ System, I thought it might be a bit gimmicky and something that could possibly fall apart over a relatively short period of time. I was WRONG! This system is manufactured to an extremely high standard indeed, with fantastic tolerances throughout. Me being me though and the complete and utter dumbass that I am, I forgot to take pictures of the actual strap ends that fit onto the watch before you add the securing lock plate and locking nut/screw that you can see below. (Edit* Image added). It's very easy to put together when you first get the watch, with just a simple tool that's thankfully provided by SYE. Take a quick look at the video above from SYE to see just how simple it all works. Why aren't there other brands out there that utilise this strap fitment design? I've certainly not seen anyone else take this approach. Please do correct me if I'm wrong though, I'd very much appreciate it.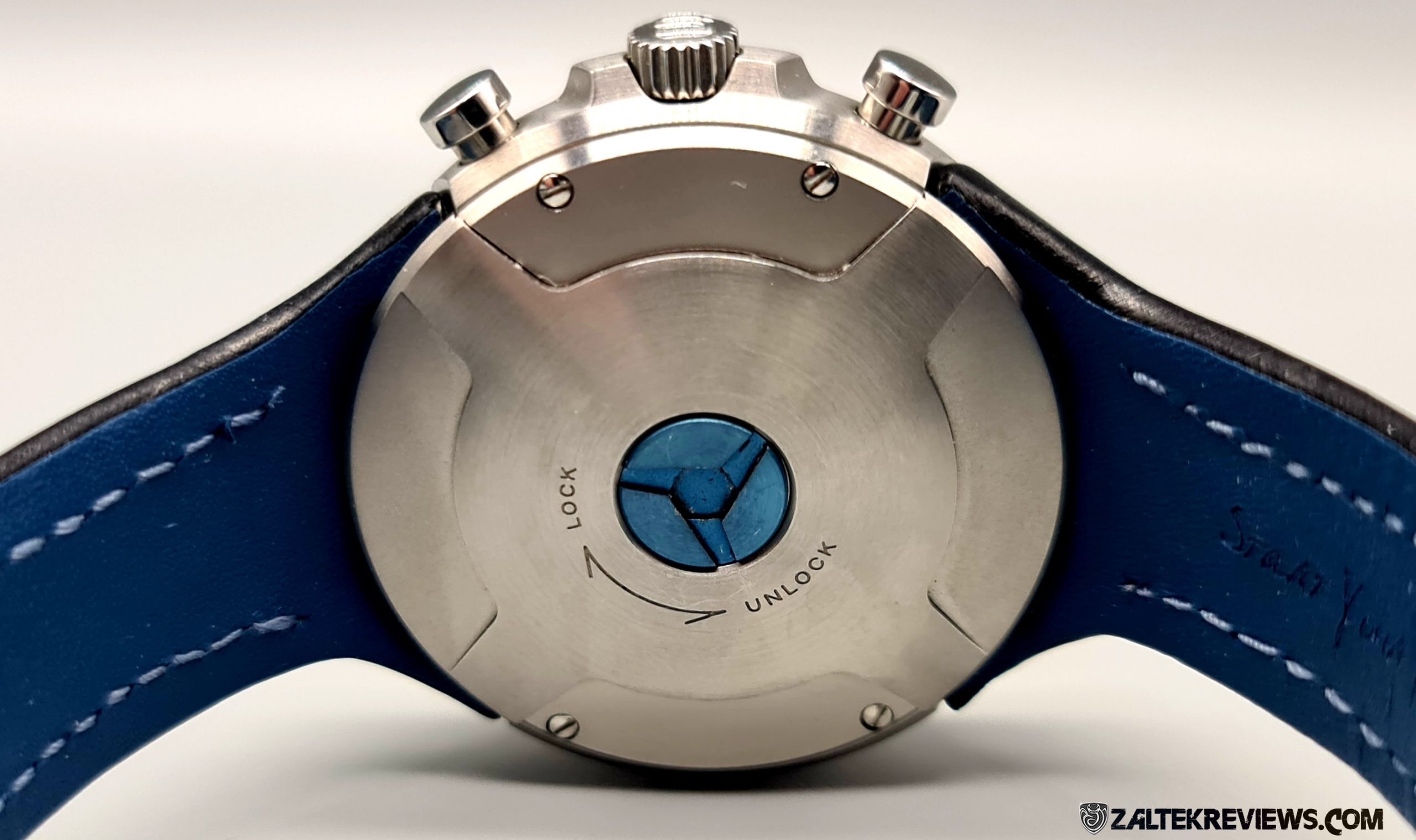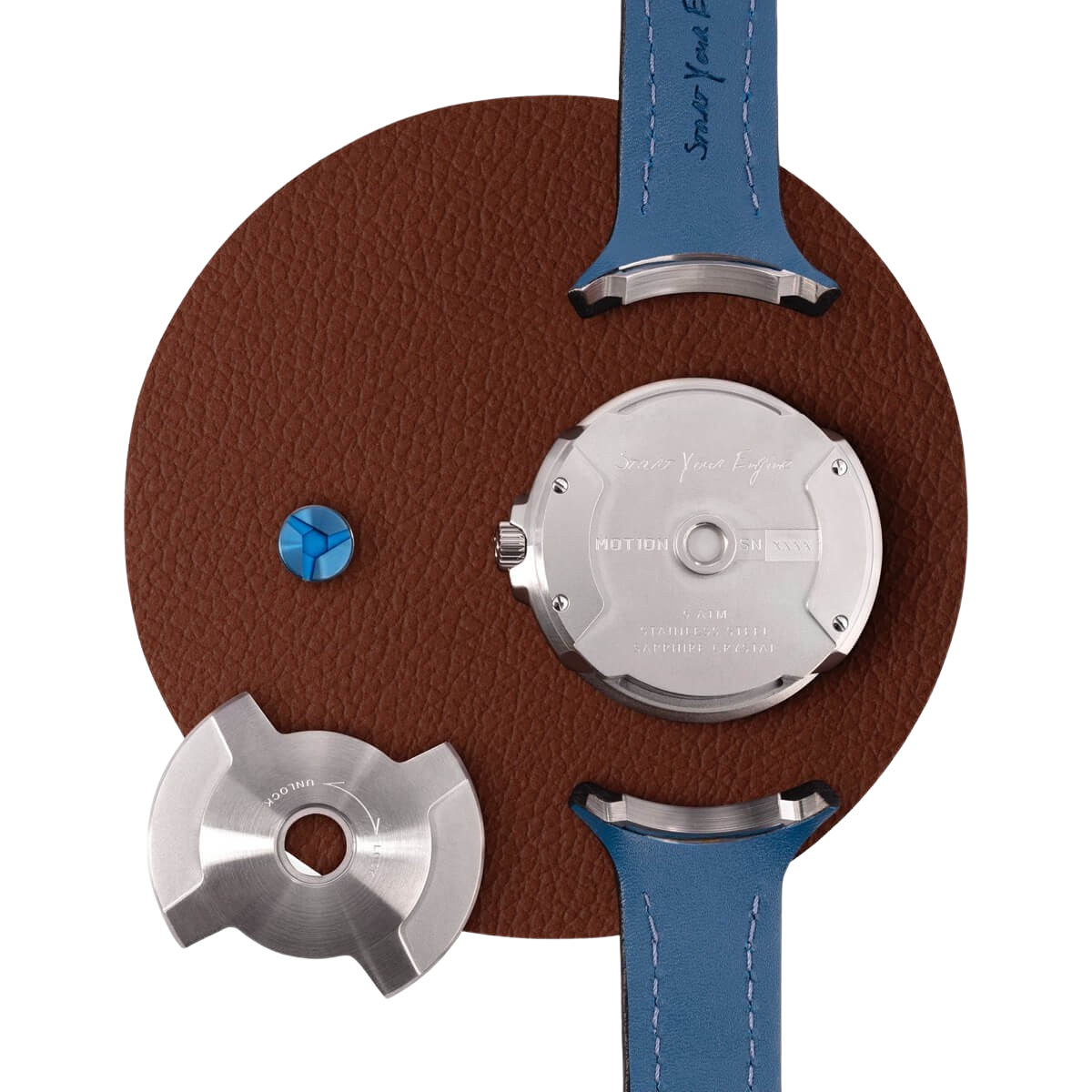 The Seiko SII VK64 that's used in this SYE MOT1ON Chronograph, is part of the hybrid mechanical quartz (MecaQuartz) movement line. It's a chronograph movement that uses quartz technology for the main timekeeping functions of the watch, and a mechanical module for operating the chronograph. Seiko also state that the expected accuracy of this movement is less than +/- 20 secs per month and the battery life is around 3 years with normal / average usage.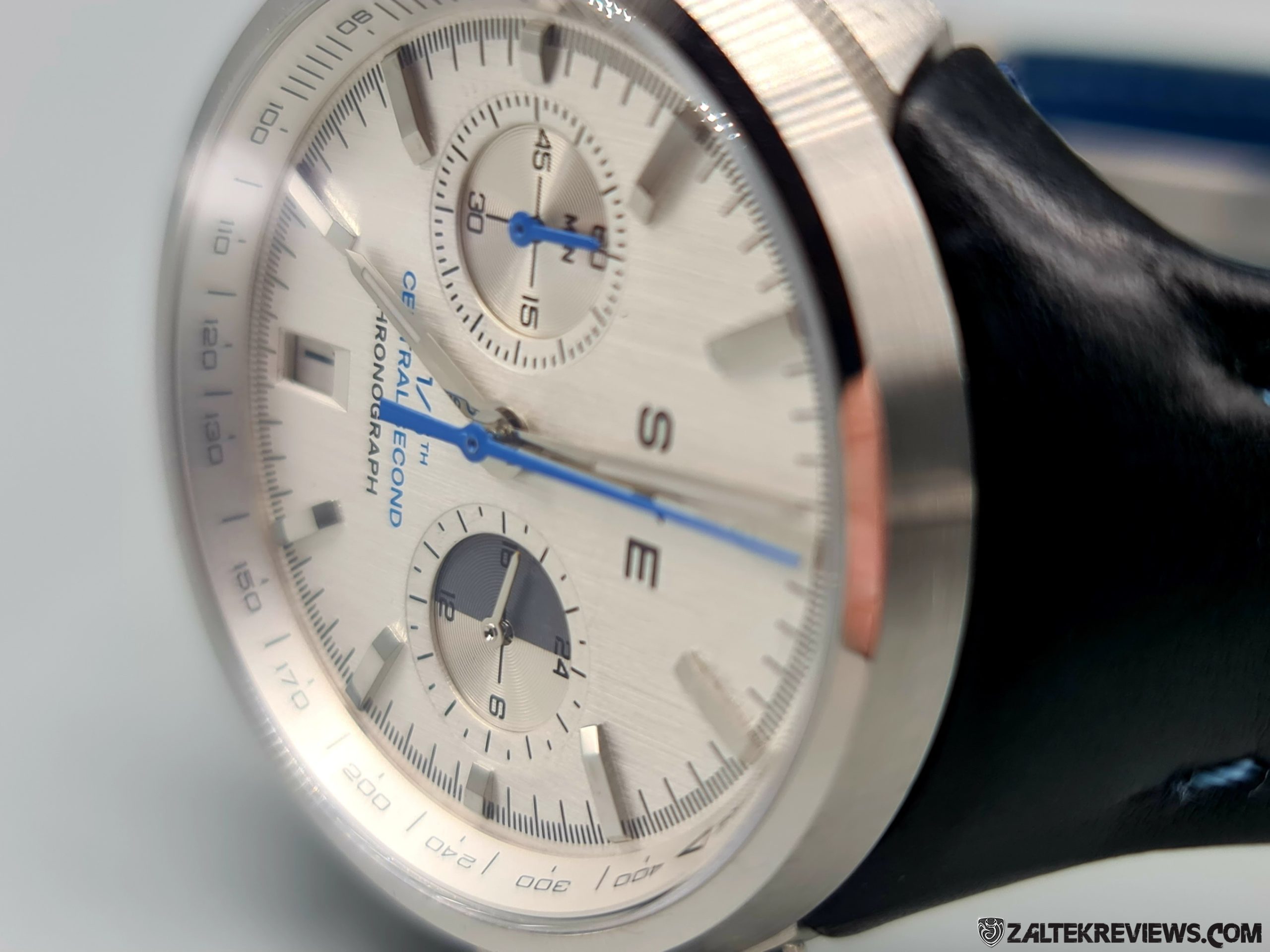 The SYE MOT1ON Chronograph obviously has a totally fixed bezel or top section/part of the case, as it's all one-piece. It's finished to a very high standard overall, with very fine circular brushing that has a lovely mirror polished finish on the top edge. Internally, printed in black on the rehaut is a very legible tachymetre. The printed text on this beautiful dial are just the words, 1/5th Central Second finished in blue, with Chronograph just below that, finished in black. The bold, yet simple SYE logo is situated at the traditional spot of just under the 12 o'clock position. The hour markers are all applied, with smaller batons at the 3 & 9 o'clock positions. This silver edition does appear to have what in most light conditions, is a darkened or maybe slightly tinted chrome on every hour marker, where as the black edition has the more traditional silver.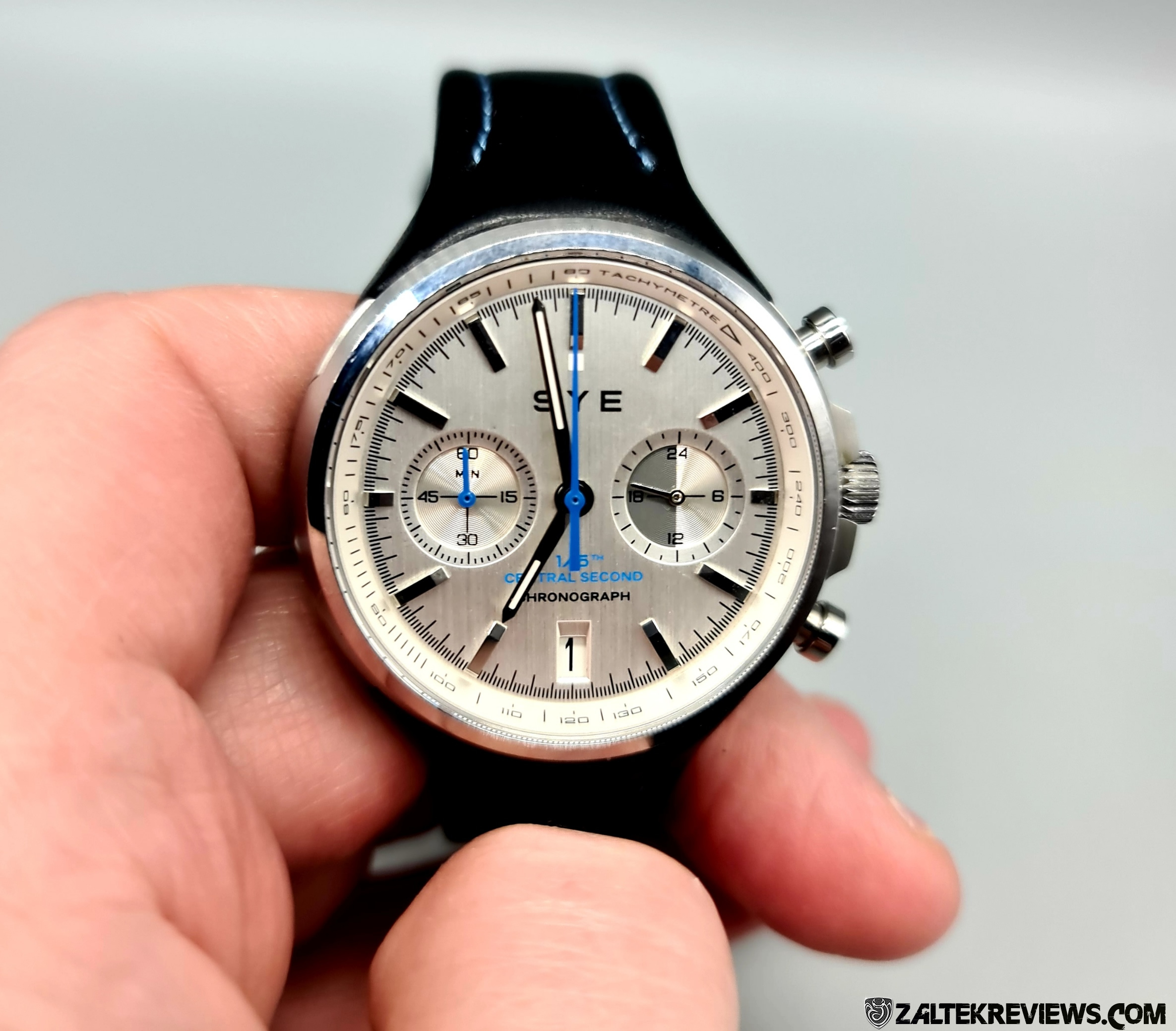 Thankfully, SYE Watches also opted for a date complication at my 100% favourite location of 6 o'clock, with no cheesy chromed frame surround either. (Thank fuck for that! I hate those bloody things, as it just cheapens the overall aesthetic and does nothing but cast a shadow over the actual date wheel). Anyway, next up are the hour and minute hands… they are very nicely finished, with what appears to be the same style of finish as the hour markers. In my opinion, they look great, if maybe just a wee bit on the thin side. The chronograph hand is also pretty damn nice, with it's contrasting finishing of blue, that matches the 1/5th Central Second text on the dial perfectly. As for the sub dials, you get a 60Min timer at the 9 o'clock and a 24Hr indicator at the 3 o'clock position. Both are beautifully done with the 60Min having a circular finish (much like a record), whilst the 24Hr sub dial is split into two, with both a dark and light silver finish.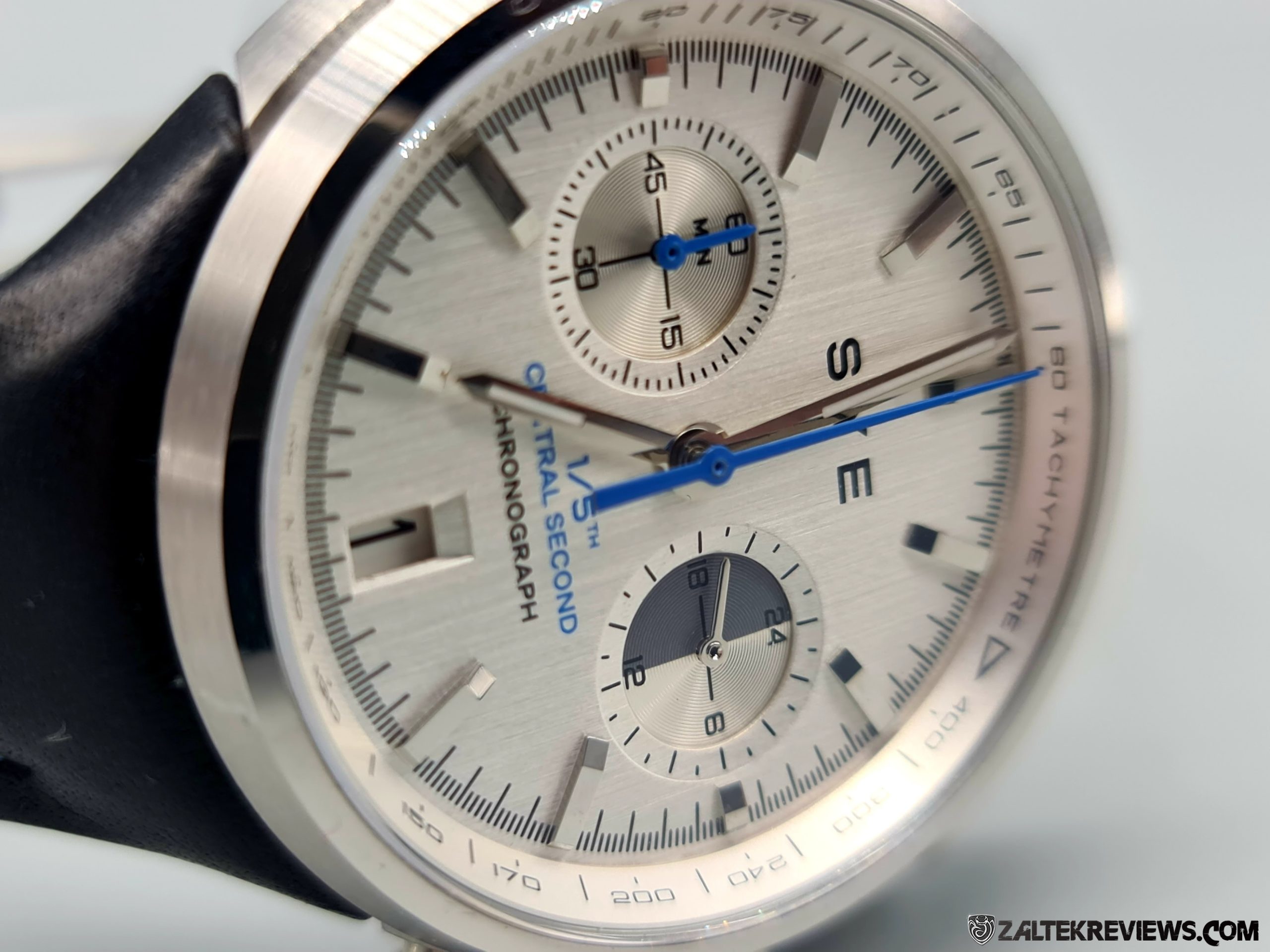 The lume on the SYE MOT1ON is nothing to write home about, however as this is a chronograph, lume really isn't up there on the list of priorities. Just the hour & minute hands have had any form of lume applied to them and to be honest, it's relatively weak. The actual formula that's been used on the SYE MOT1ON Chronograph is Swiss Super-LumiNova® BGW9.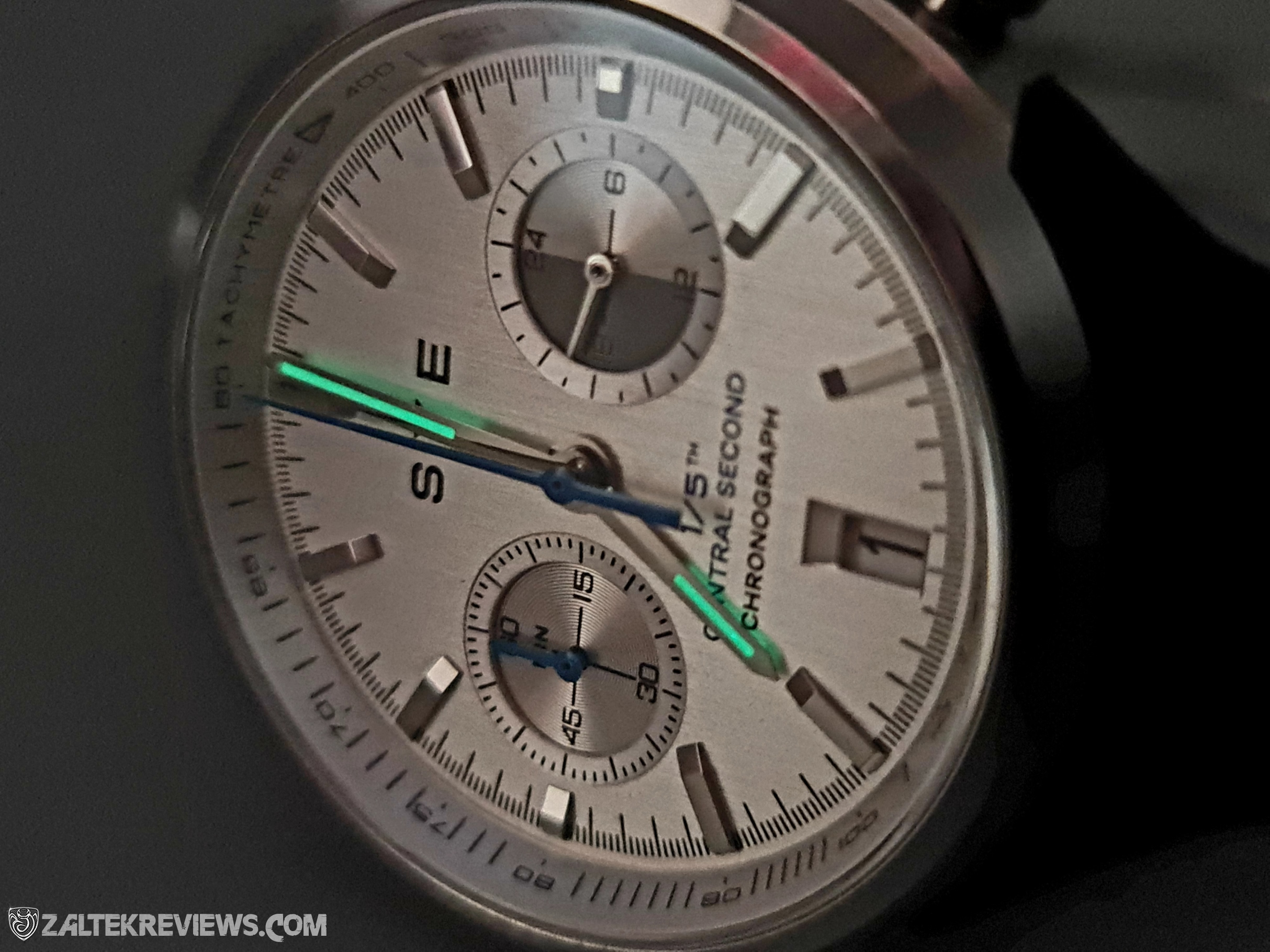 I've seen a lot of chronographs in my time that have used the Seiko VK64 MecaQuartz movement and not one of them has ever been as expensive as this MOT1ON Chrono from SYE Watches. Just after reading that sentence, you're probably thinking to yourself, ah well, here we go again with another tight-arsed Jock comment from Will the Scotsman. NOPE, you're wrong, not this time! Yes, the MOT1ON Chronograph might look way too expensive if you're just reading the spec sheet, but trust me guys n' girls, this watch has NOT been manufartured on the cheap that's for 100% certain!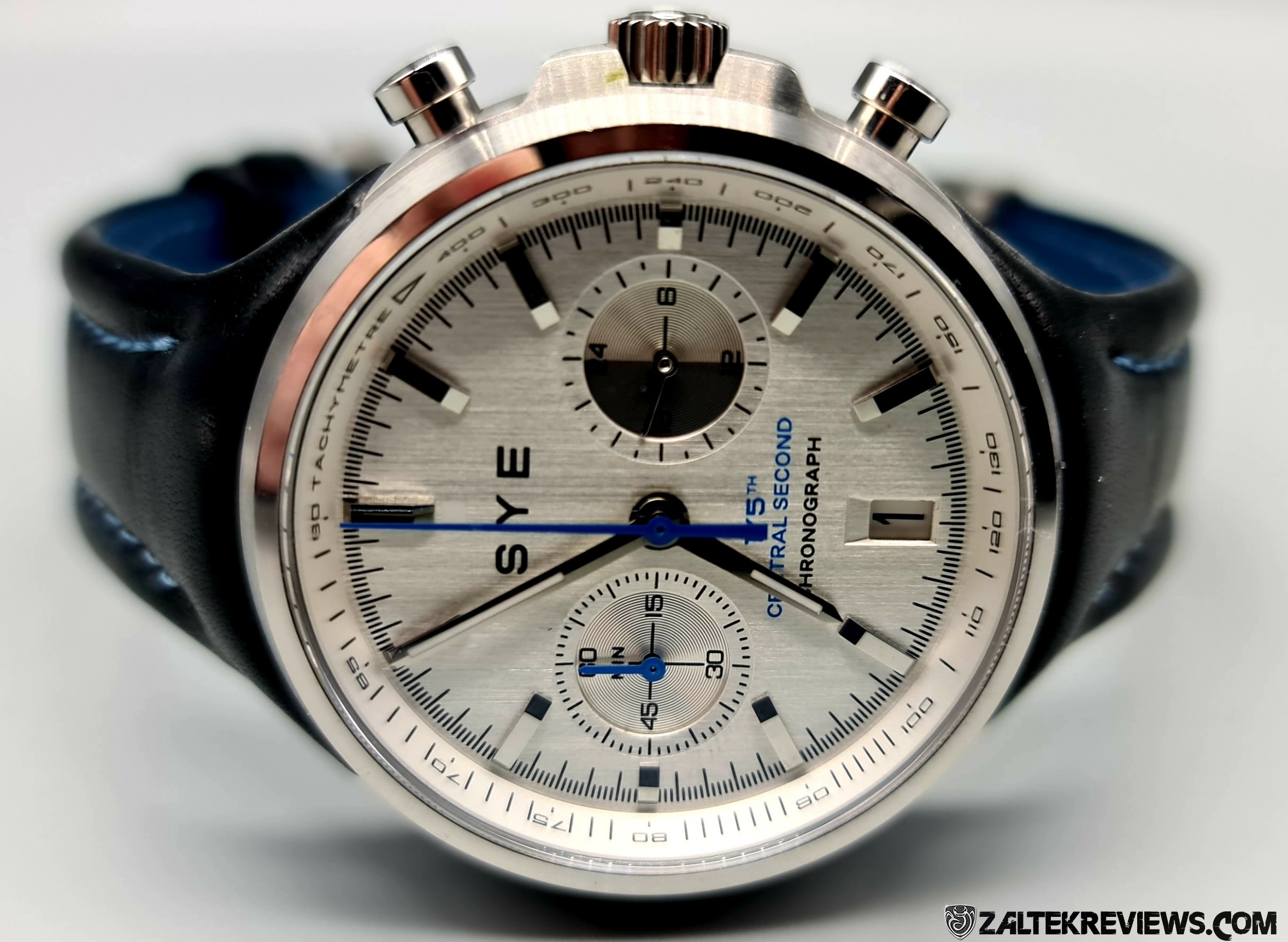 Oh by the way… a totally off-topic statement… those snowflake cockwombles that were apparently "offended" by my comments / swearing in my most recent Christopher Ward review… Go run back to Mummy and suck on her titty. Stop wasting my time (and yours), it's just my twisted sense of humour and if you are offended by that, in this day and age, then you really need to go dry your eyes and grow a pair! Apologies, but I just had to get that off my chest. I digress… Back to the review of this SYE MOT1ON Chrono. Do I recommend it? Very much so! It is certainly up there with the best I've seen over the years. I just wish I wasn't so bloody skint or I'd be begging Arnaud at SYE if I could buy this very watch. Oh aye, before I forget, I had to go and make a new award just for this watch. The INNOVATION Award. Congrats @SYE!!
A massive thank you to Arnaud at SYE Watches for sending out the MOT1ON Chronograph for review. Much appreciated buddy! To view the SYE website, or to join their mailing list to be informed of new models etc, visit
syewatches.com
It takes me a fair amount of work (and time) to do these reviews. If you feel like supporting Zaltek Reviews to help towards my running costs, or even if you feel like just buying me a coffee, then please donate using the PayPal button below. Unfortunately, 97% of my readers just scroll by this section. If you feel like that I've given you maybe a few quids worth of knowledge and/or entertainment, then please take just a couple of minutes of your time to donate. Thanks.