Manufacturer:

Volta Winders

| Price: $199 USD (€180 EUR, £160 GBP approx)
I've had quite a few watch boxes of different sizes and price points over the years, from cheap crap (but done the job) offerings from Amazon to high end WOLF boxes and pretty much everything else in between. I stumbled upon Volta just a few weeks ago when I was searching the interweb for an additional watch box to seperately store all the watches that come in for review. After searching through the Volta website I decided to reach out to them. After speaking to them for a wee while they agreed to send me this matte charcoal 10 slot version for me to check out. So… is it any good? Let's see.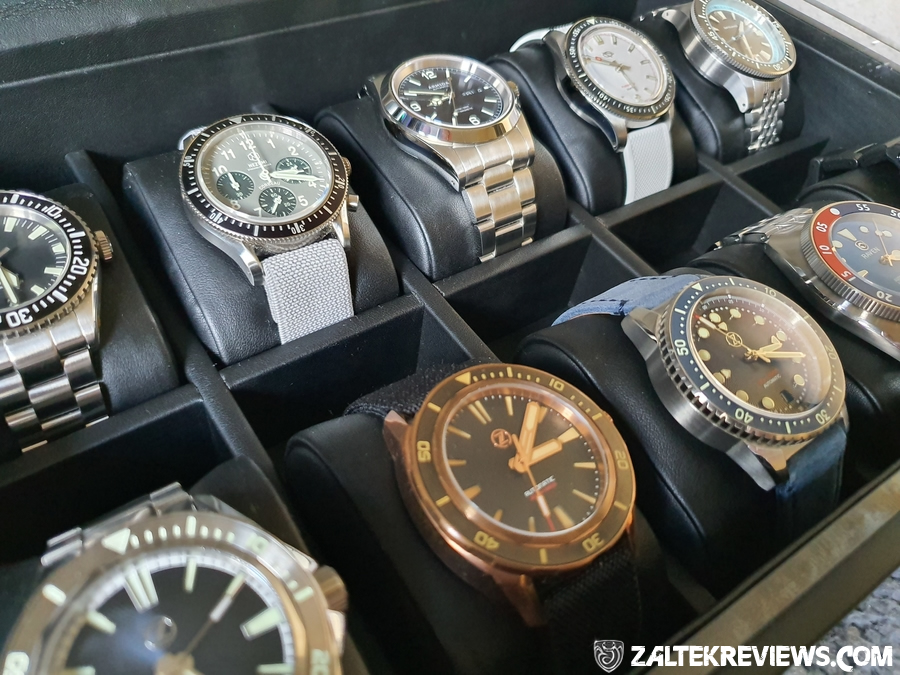 Specifications
Dimensions: Height – 10cm, Depth – 23cm, Width – 32.5cm
Watch Slots: 10
Exterior Material: Matte Charcoal Pattern Grain Wood
Interior Material: Black Genuine Leather
Cover Material: Matte Charcoal Pattern Grain Wood, Stainless Steel Accents with Volta Logo, Glass Display
Warranty: 1 Year     Where to Buy:

VoltaWinders.com
Volta Winders - The Company
Volta is derived from the Italian word "volta" which means time. Their products are designed with exactly that in mind. They strive to provide a product that ensures that your automatic watches will keep an exact accurate time, even if it isn't being worn. Volta Winders has been in the watch and jewelry business for more than 35 years. Since 1981, they have been providing their customers with the finest products by utilizing the highest quality materials available. By using only the finest materials, they are able to ensure longevity in their products, which is unmatched in the industry. Their highly qualified engineers have spent countless hours designing each product to ensure functionality as well as an artistic aesthetic that their customers are sure to enjoy. All of their products are built by hand and rigorously QC tested before leaving their premises in order to withstand the test of time.
After first getting this watch box in to take a look at, the very first thing I noticed was the weight of the thing. It's bloody heavy, (for a watch box). This thing is solid, which I like! You can tell immediately that this thing is built to last, as the overall build quality is absolutely phenomenal! I've always swore by WOLF watch boxes in the past as I've had quite a few of them. However, the Volta is far better in every way possible, it just oozes quality. The WOLF boxes feel cheap in comparison. You can see in the image below, the stainless steel accents on top, with the front one sporting the Volta logo.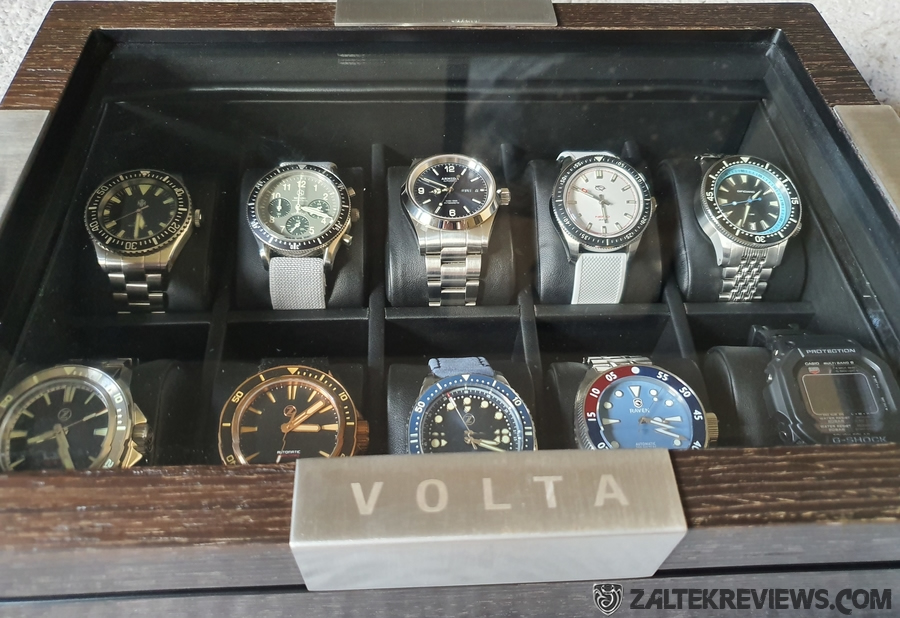 The Volta watch box has space for 10 watches in total. You could easily fit larger watches in the box as the space between each compartment is more than plentiful. As you can see in the image below the watches that I have in there are anything from 40mm diameter up to 43mm and there is still oodles of room. The quality of the cushions are fantastic too, covered in leather enhancing the quality feel even further. The overall circumference of the cushions are just under 8 inches but all my watches fit without adjusting any of the bracelets or straps. Just for your reference, my wrist size is 7 inches.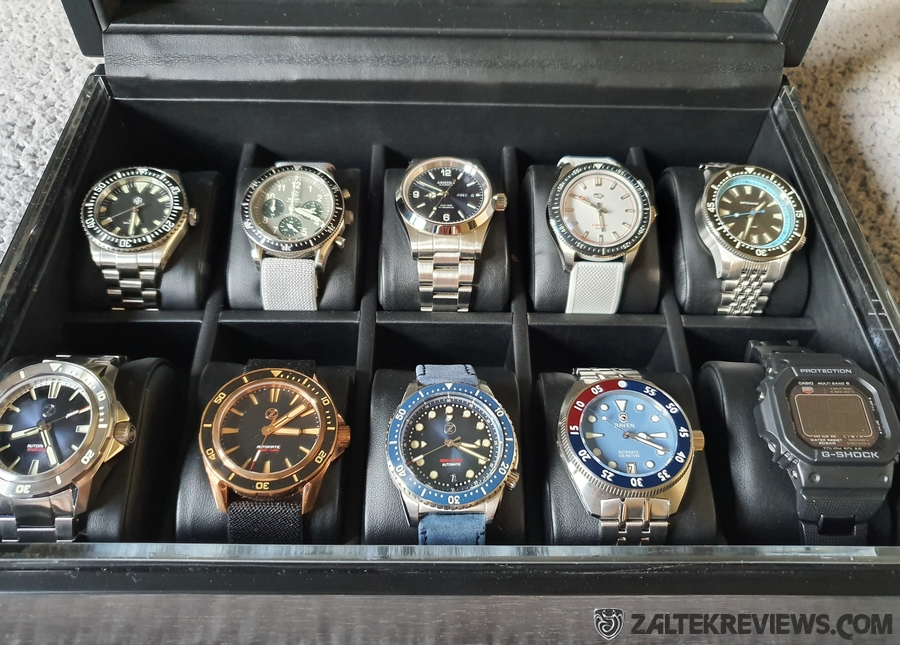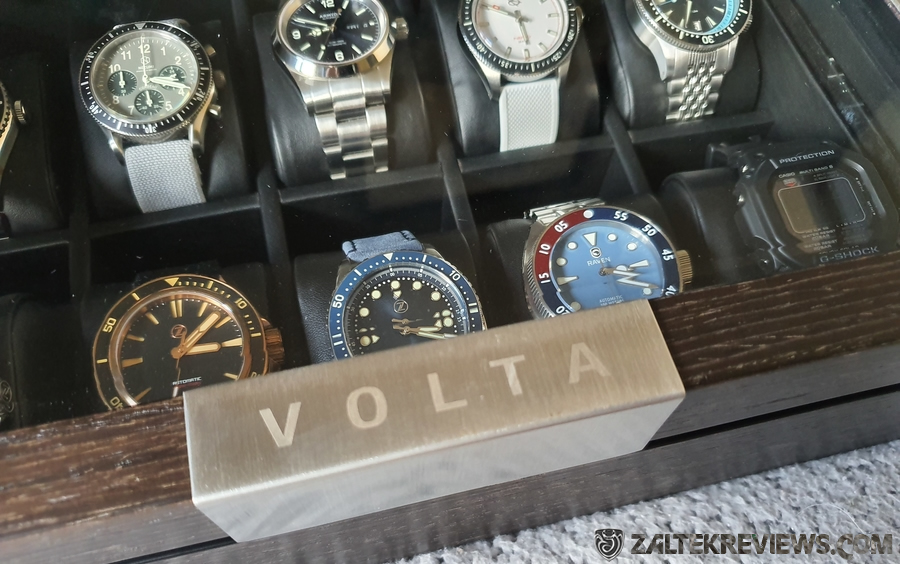 There is no need for me to waffle on and on in this conclusion. All I need to say is, this is the best watch box on the market today. In my opinion, it is affordable considering the value of the contents.
Yes, it's a luxury item and it's something you don't "need" per-say, but then again my wife keeps banging on, saying, "What do you need all those watches for, you can only wear one at a time?" My standard reply is usually "Choice". Although, the last time she said it, I said, "What do you need all those shoes & knickers for? You can only wear one pair at a time!" Needless to say, she leaves me and my watches alone now.
Sorry, I got a little side-tracked there… To summarise, If you're in the market for a great quality 10 slot watch box, just buy this one. You won't regret it! I'll be buying another, that's for sure. Maybe I'll opt for their carbon fiber version next time. 😉
Danny @ Volta – There's nothing else I can say apart from "OUTSTANDING!".
10/10 - HIGHLY RECOMMENDED
A huge thanks to Danny at Volta Winders for sending out this watch box so quickly. Excellent customer service by the way!
To view the Volta website, or join their mailing list to be informed of new products etc, visit
Volta Winders
.
Follow us on
Instagram
and join our Facebook group
WatchChat
, a busy community for watch enthusiasts and collectors with tons of images and in-depth discussions.
At Zaltek Reviews, we encourage the companies whose watches we've reviewed to comment on our articles. We invite any company representatives to respond in the public comments section below. Thanks very much.