Manufacturer:

WISE Timepiece

| Price: $325 USD (£235 GBP)
I've never actually heard of WISE Timepiece before now, as it wasn't until I was doing a bit of research and only by sheer luck I watched a review on YouTube by Peter Kotsa. He gave the WISE Hitman a very good review indeed, so I thought to myself, I'm going to have to reach out to WISE and see if I can get one in for review. Speaking to Patty from WISE Timepiece and after a few emails and some very speedy shipping, the WISE Hitman arrived on my desk. Trying to request one that was just a wee bit different, I opted for the HIT09-B5, with a red tip seconds hand, as well as the black date wheel option, so that it's colour matched to the dial. So now that it's here, is it as good as Peter Kotsa said it was…
Full Specifications
Dimensions: Case – 40.8mm, Thickness – 11.8mm, Lug to Lug – 48.3mm, Lug Width – 20mm
Movement: Seiko SII NH35A, 21,600vph, Hackable, Self Winding, 41hr Power Reserve
Case Material: Brushed & Polished 316L Stainless Steel
Bezel: 120 Click Unidirectional, Zirconia Ceramic Insert, Lumed
Dial: Matte Black, Applied Indicies, Date at 3, Polished Bevelled Hands
Lume: Swiss Super-LumiNova® BGW9
Bracelet: Brushed 316L Stainless Steel, Solid Links, Screw Pins, Milled Clasp
Crystal: Flat Sapphire, Inner Anti-Reflective Coatings
Water Resistance: 200m / 20 ATM / 660ft      

Caseback: Screw Down, Hitman Logo, Unique Serial Number
Crown: 6.5mm, Screw Down, Signed

Weight: 138g (Sized up for my 6¾″ wrist)
Where to Buy: WISE Timepiece
Options: 13 Models, Date Wheel (Black or White), Seconds Hand Tip Colours
Warranty: 1 Year International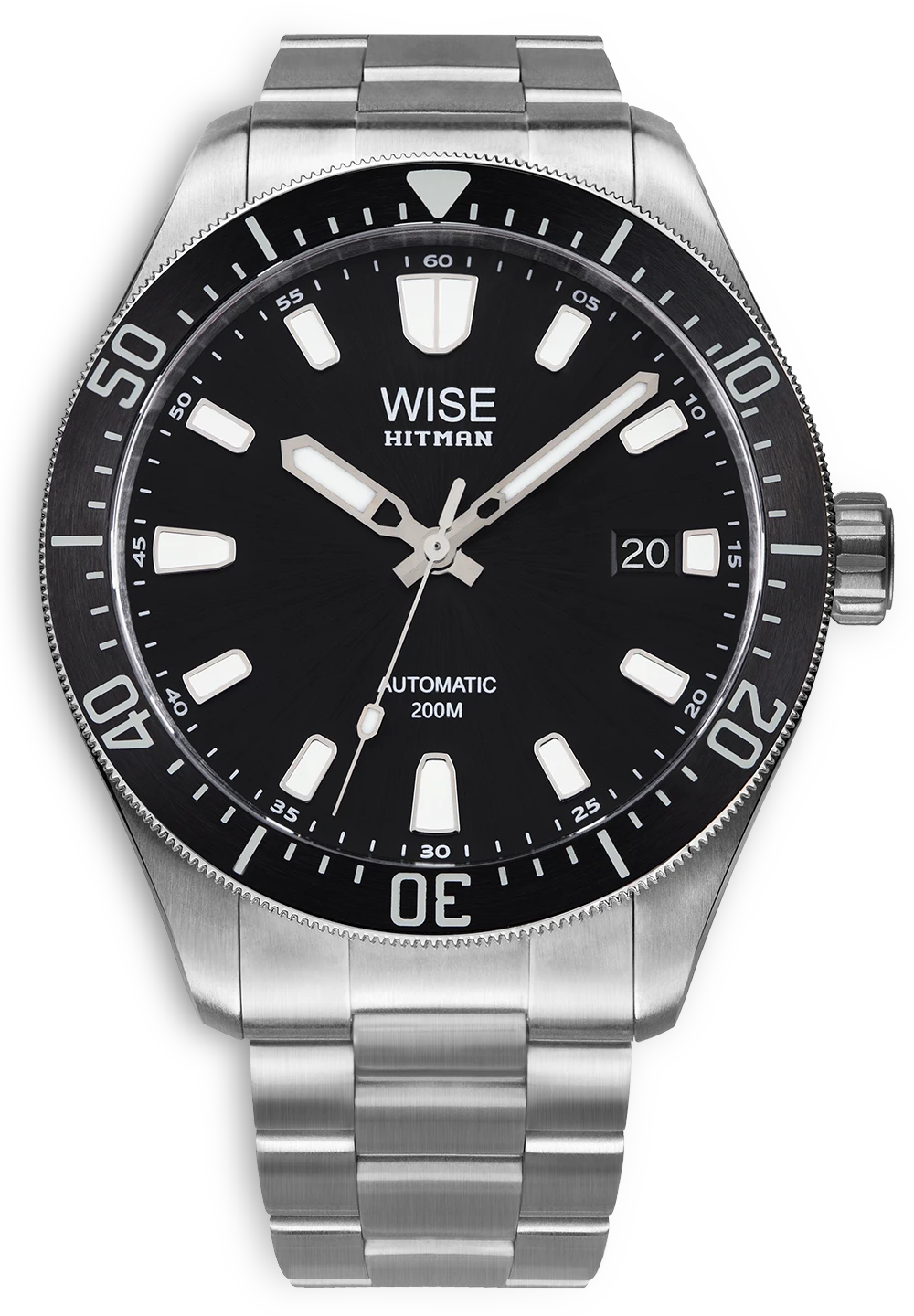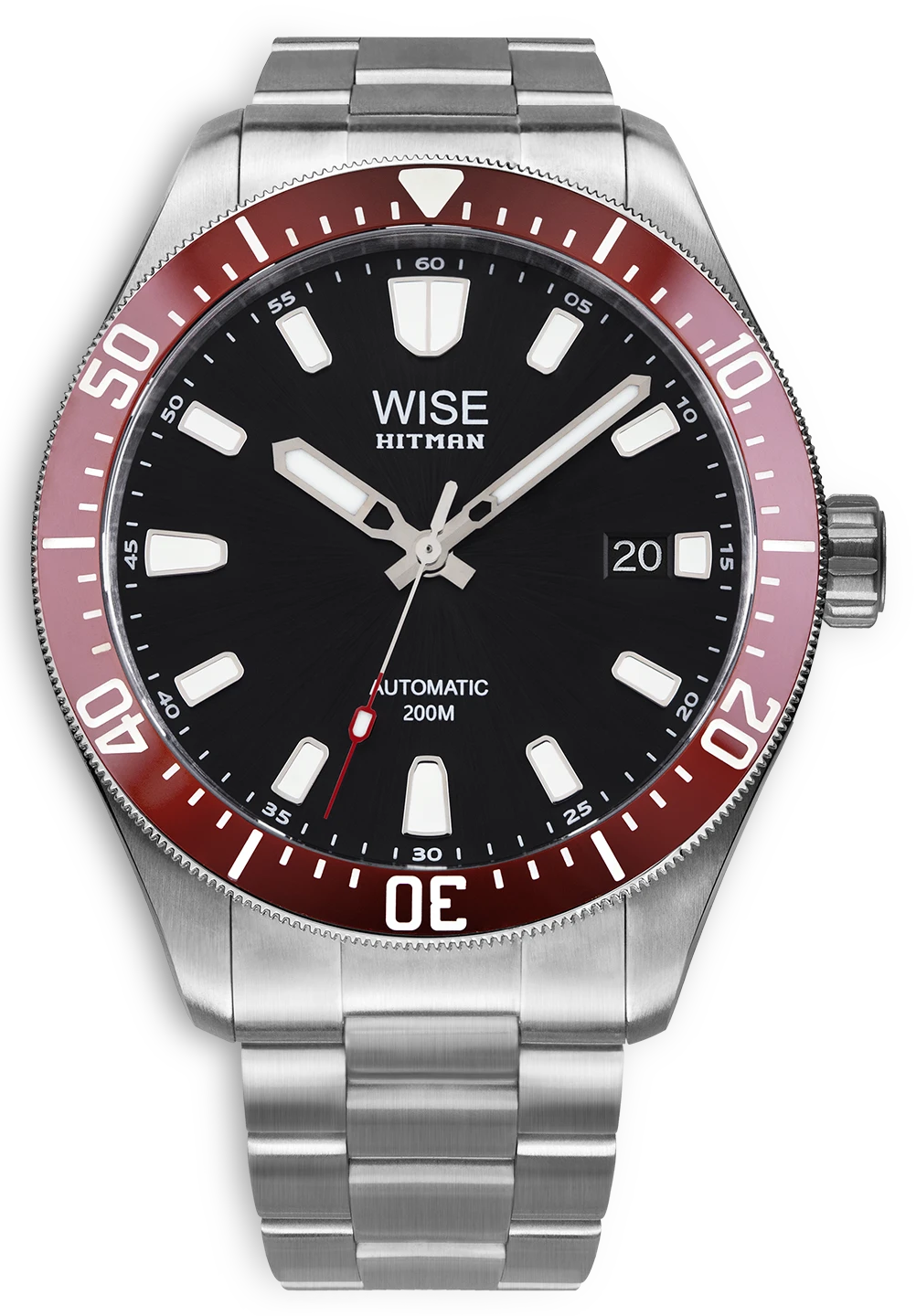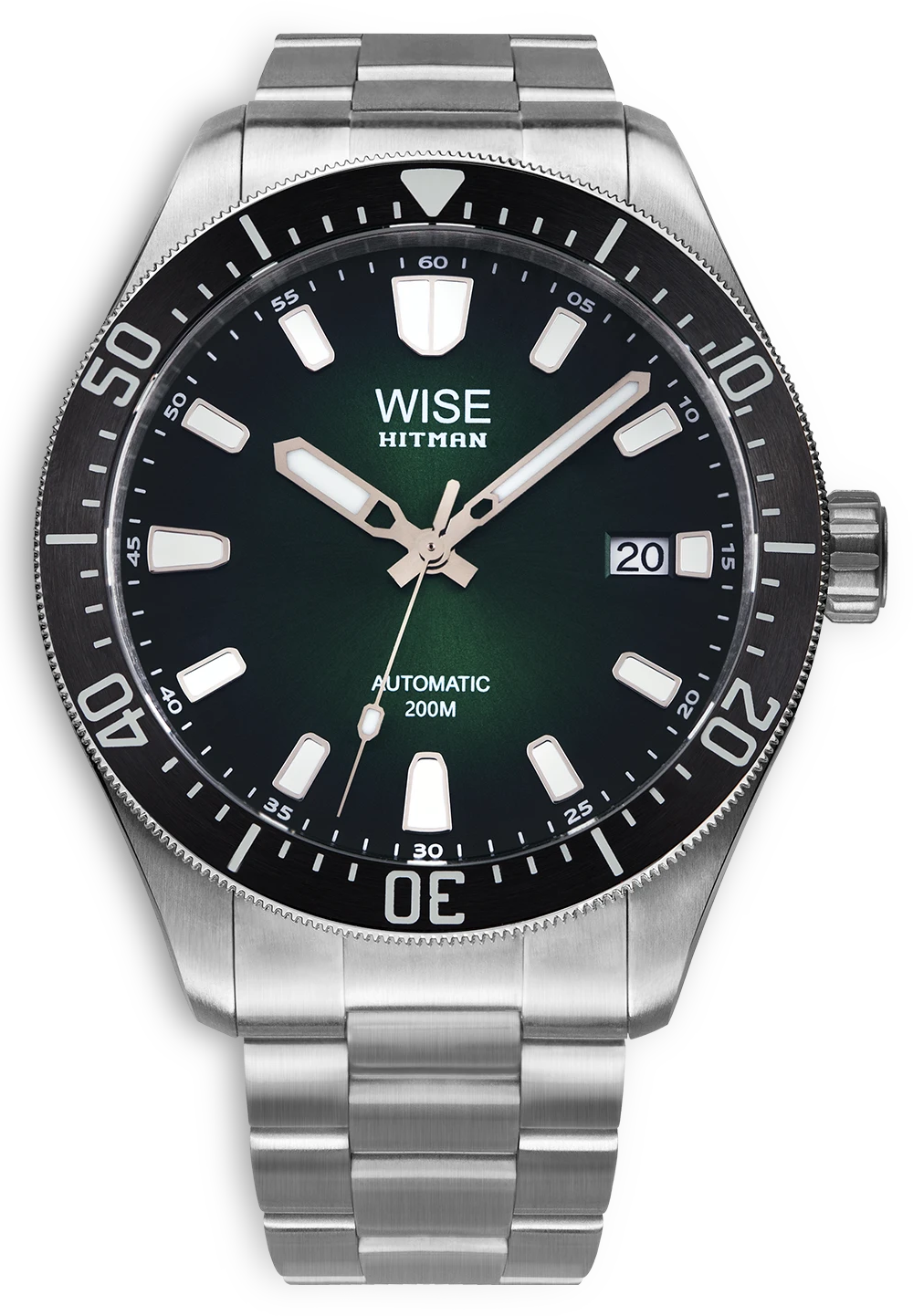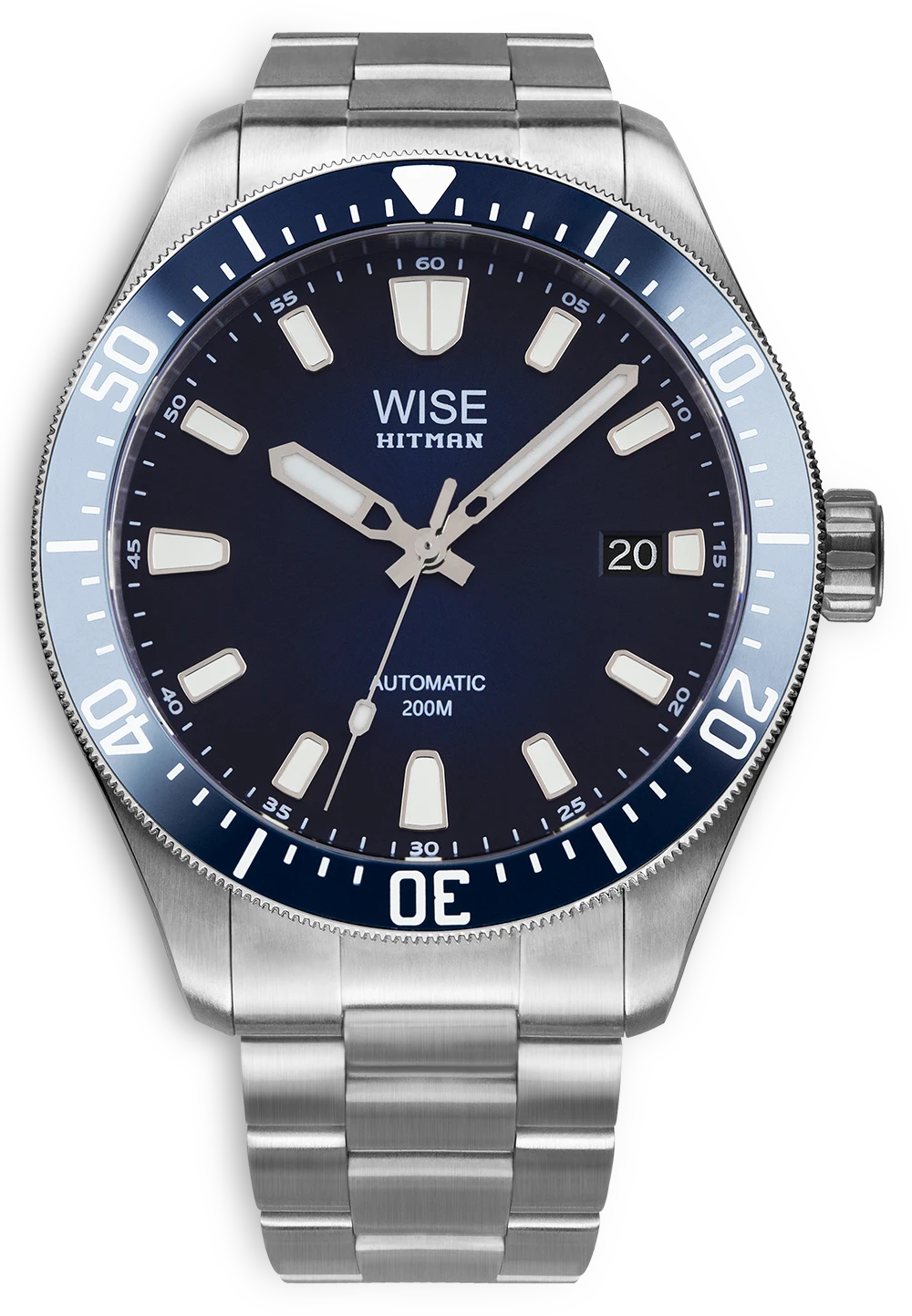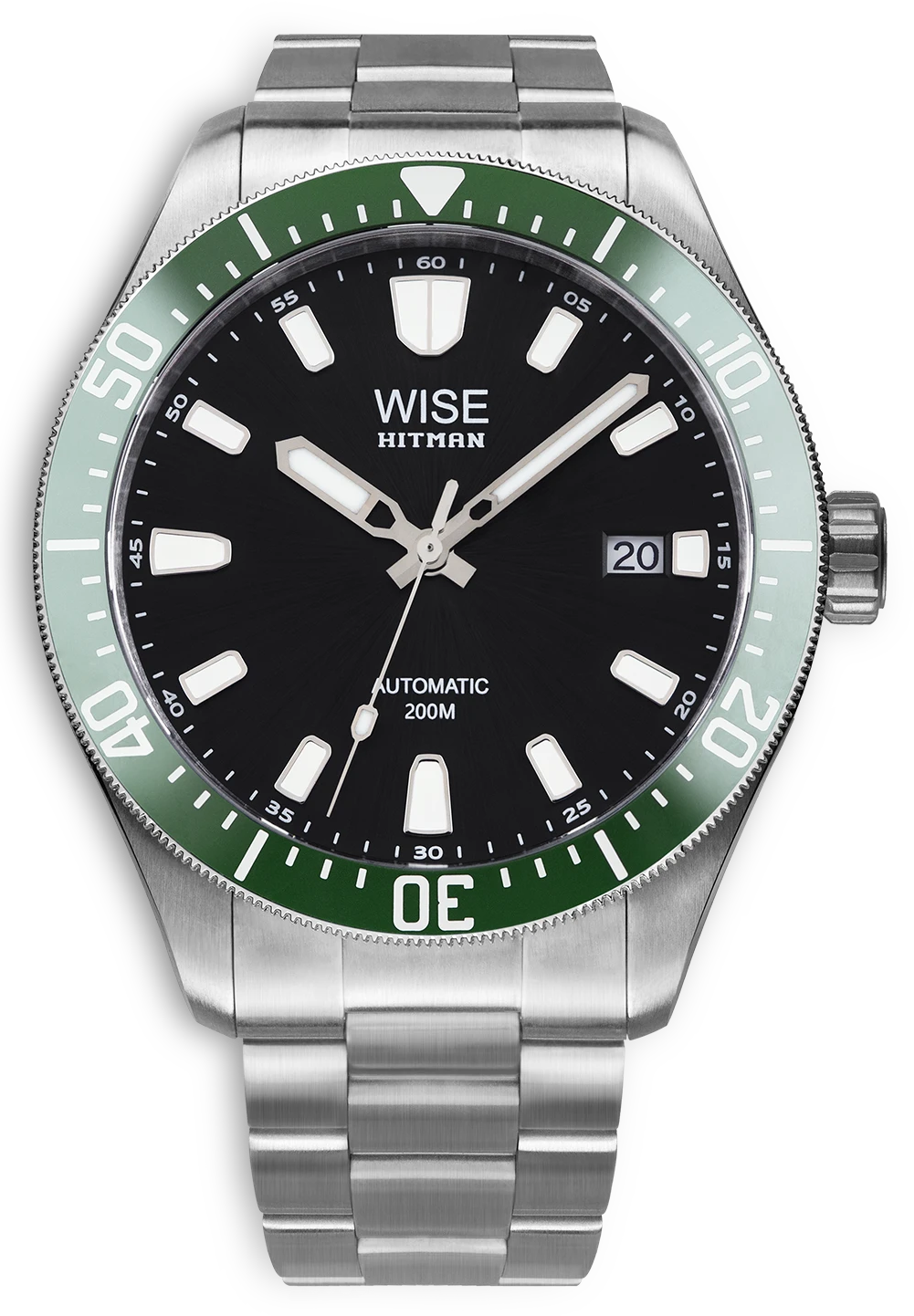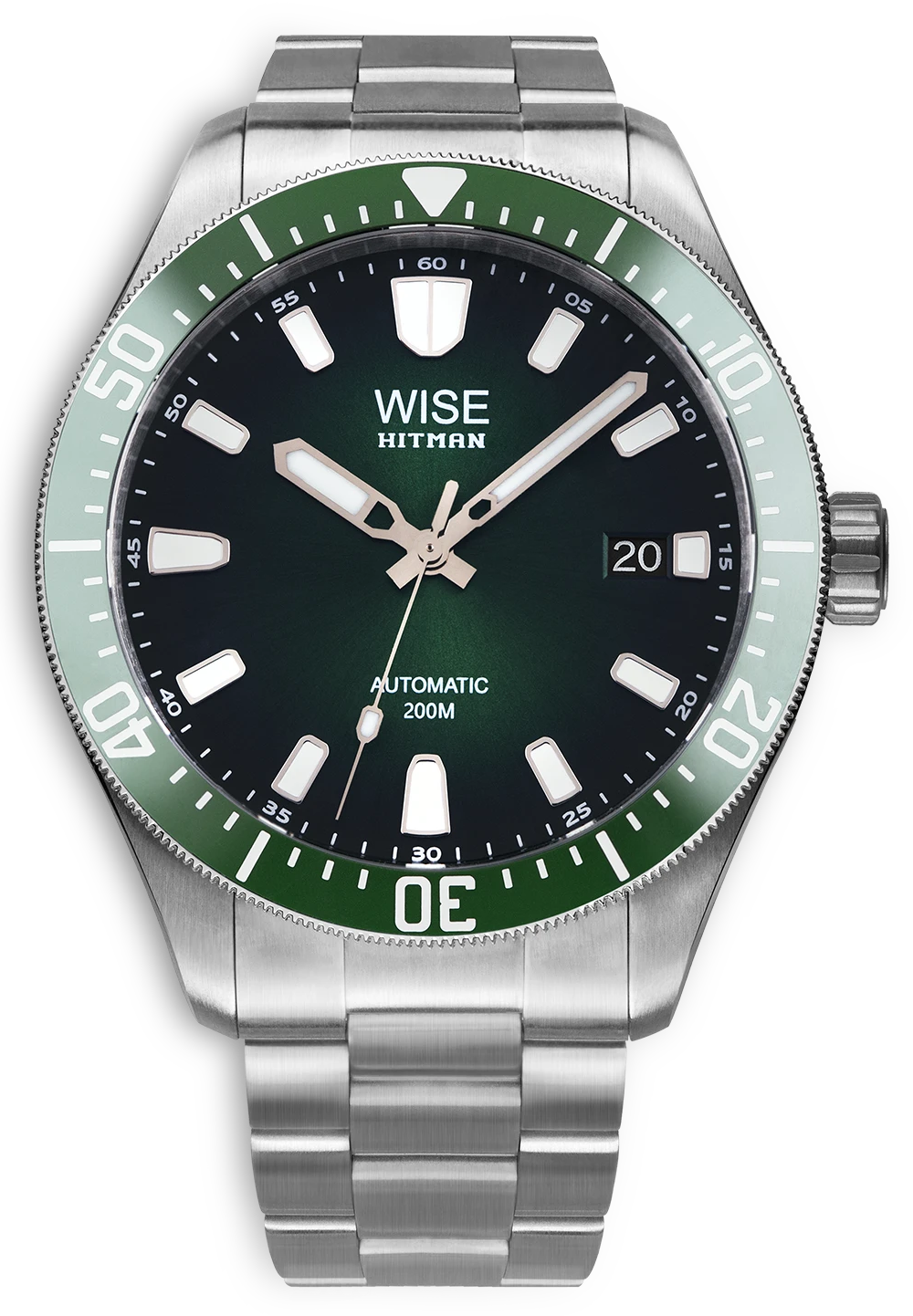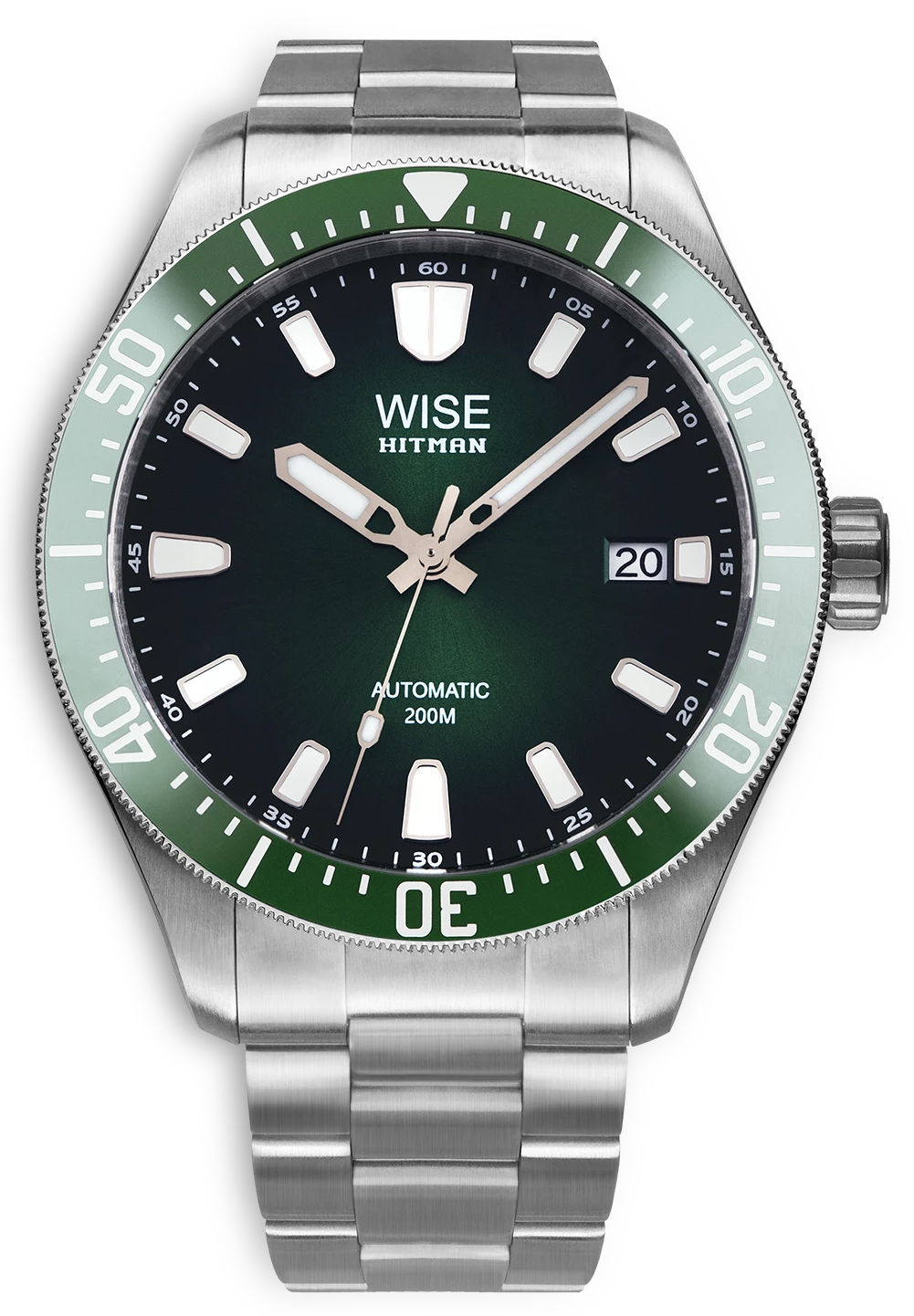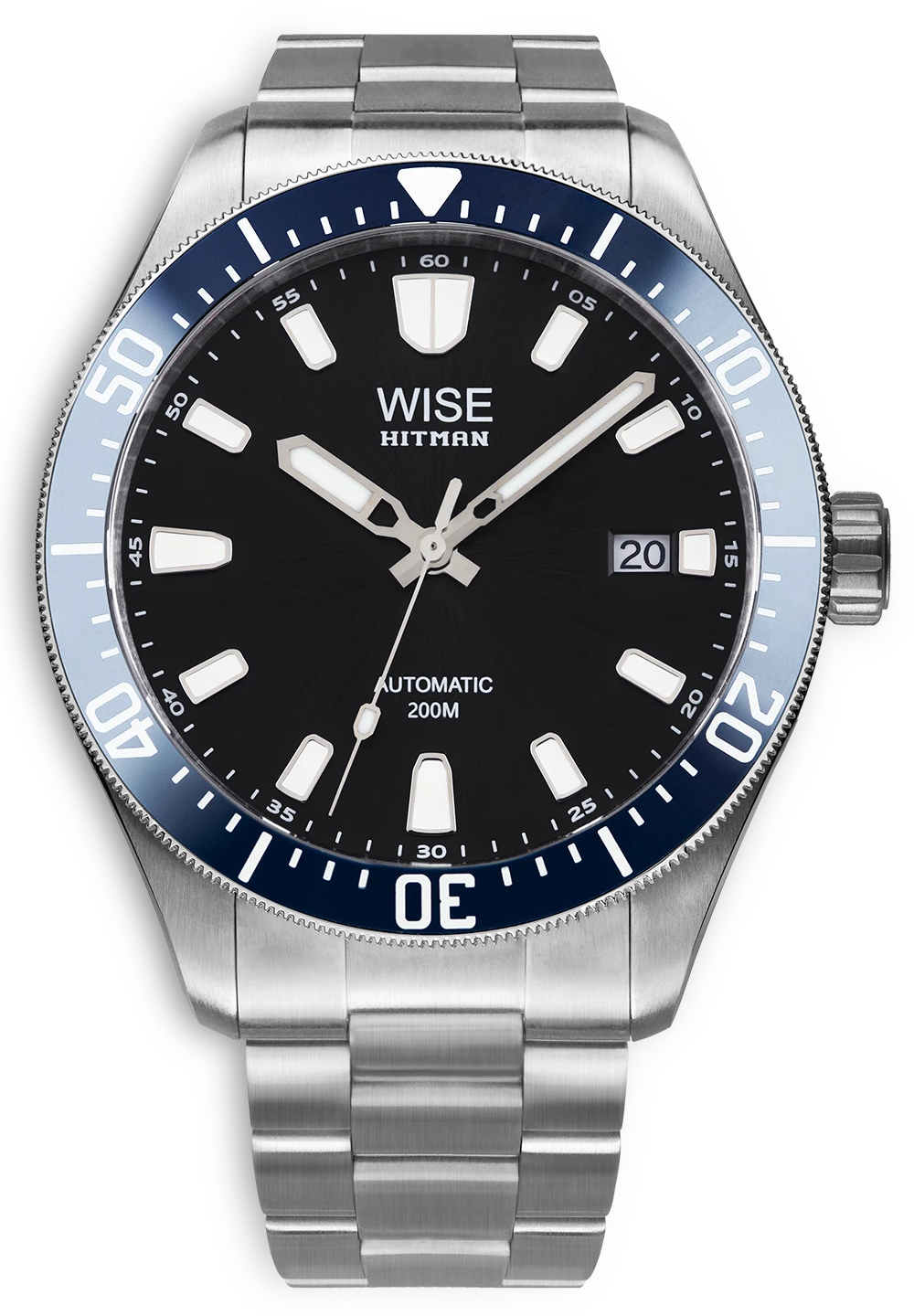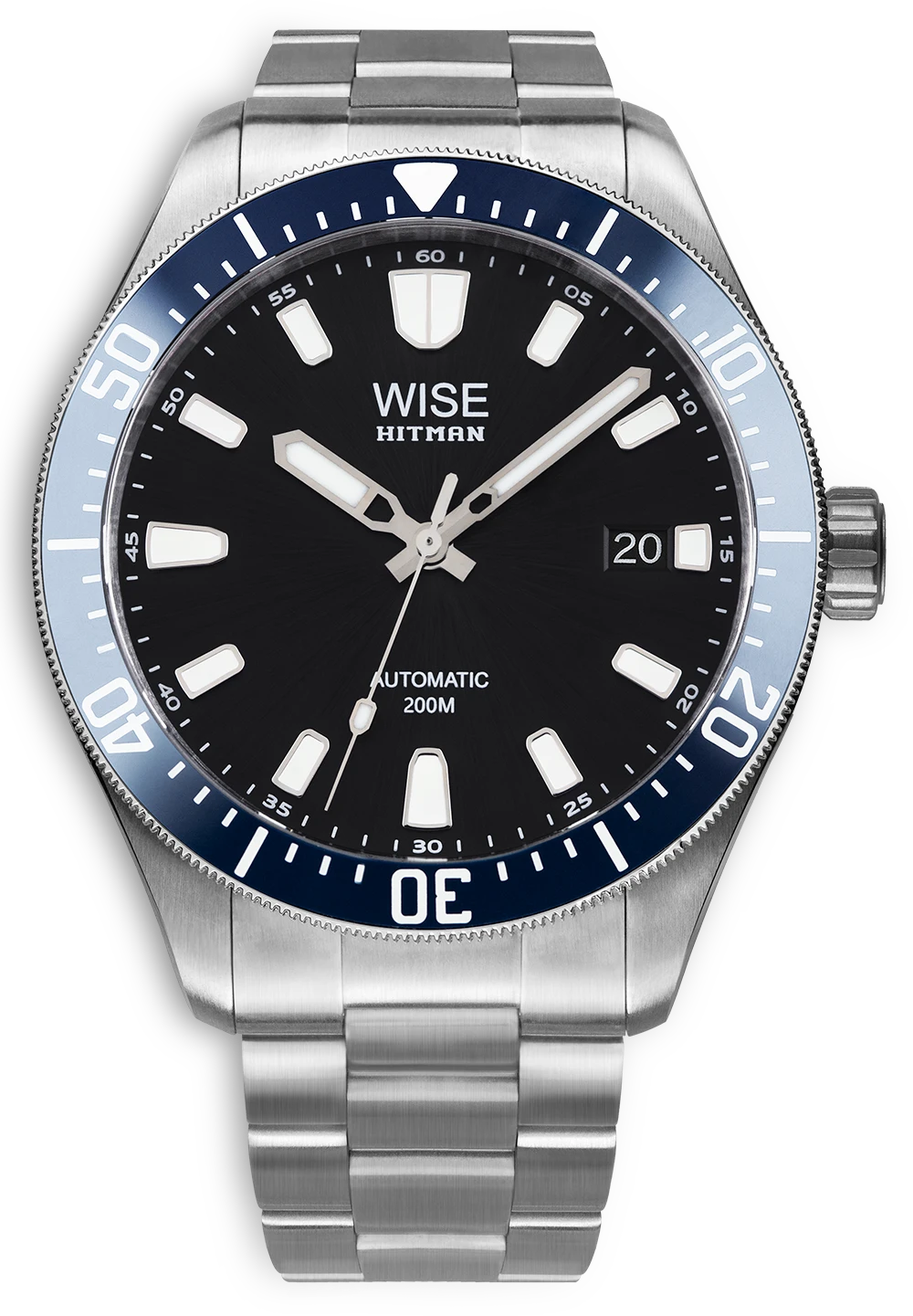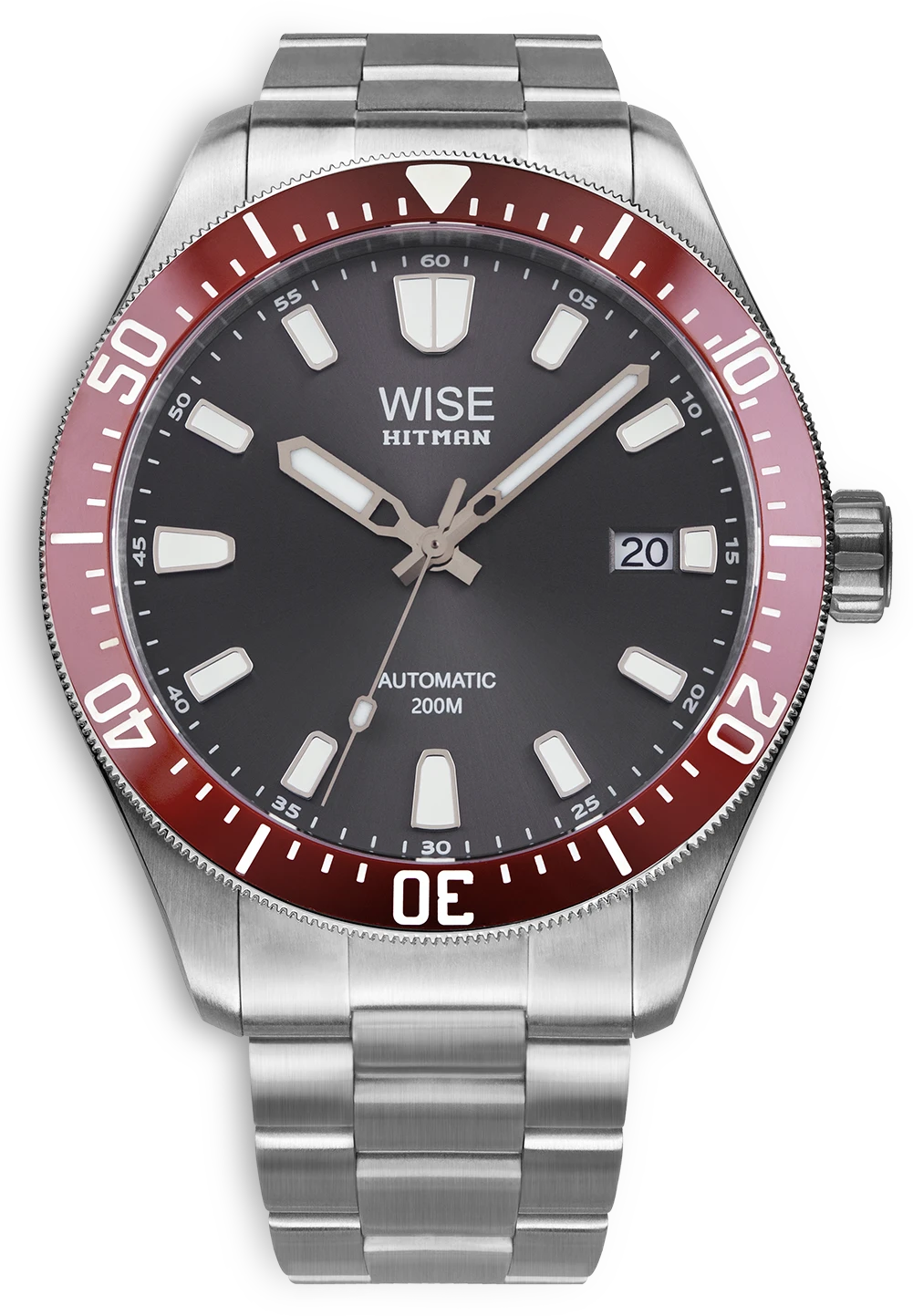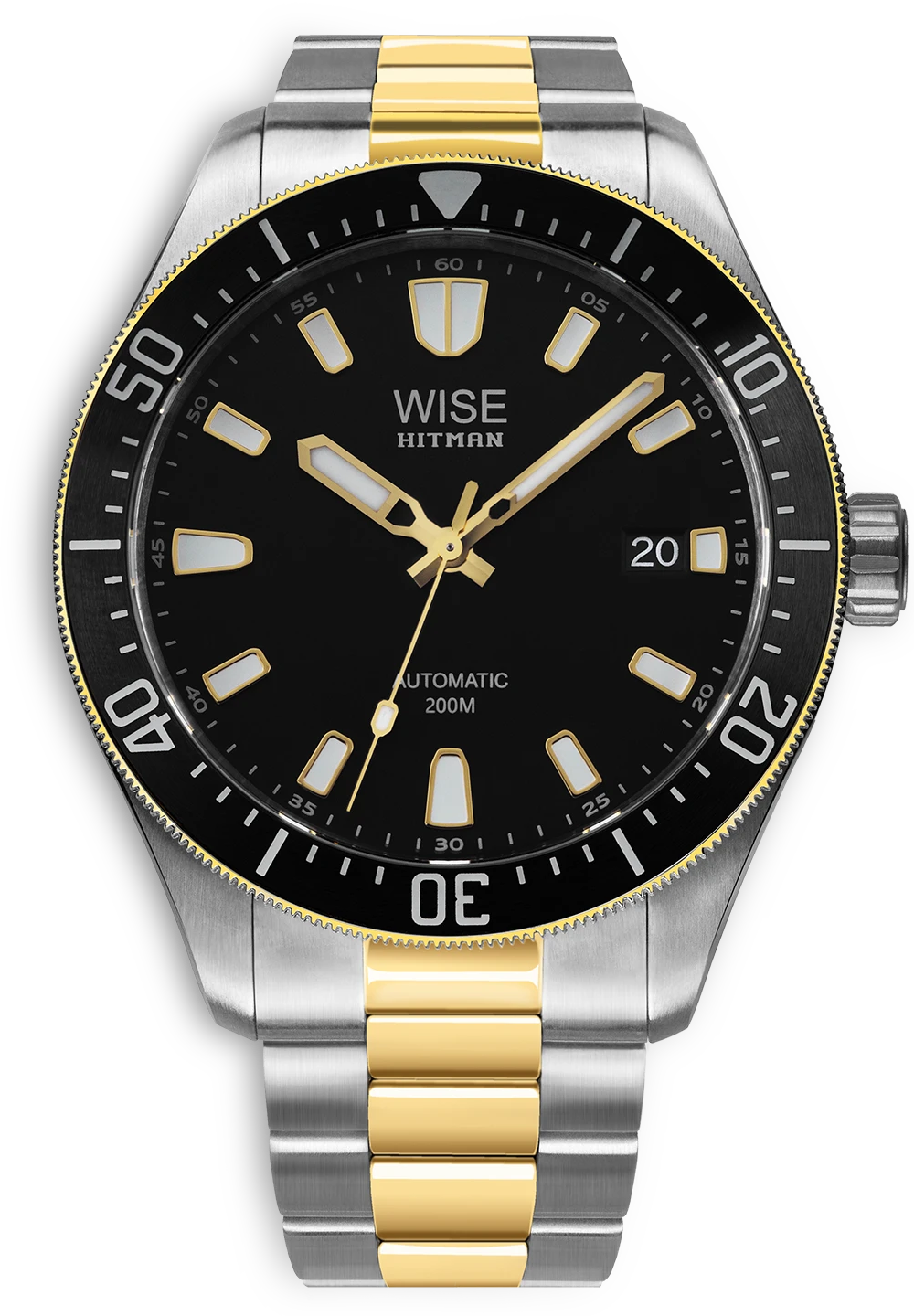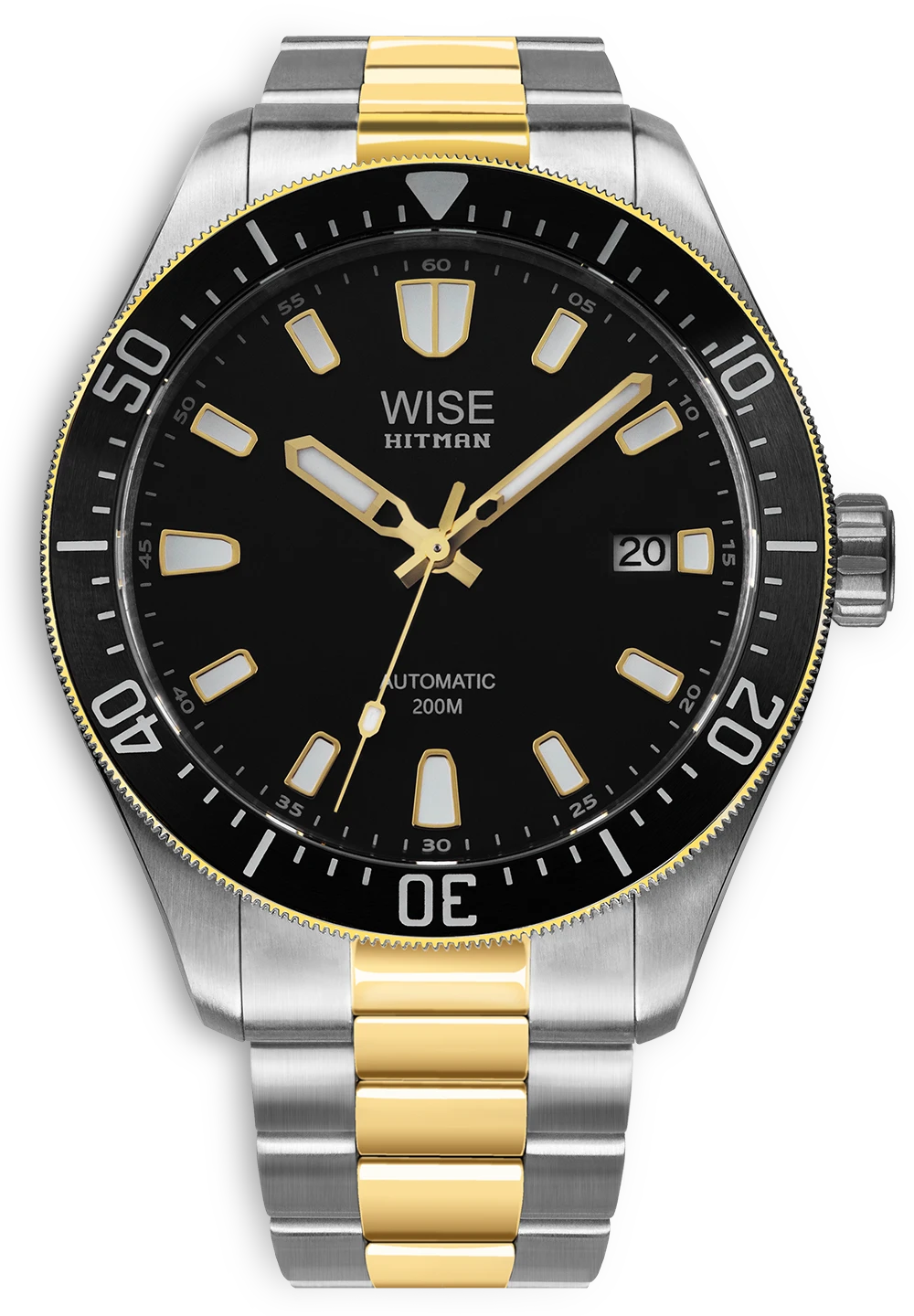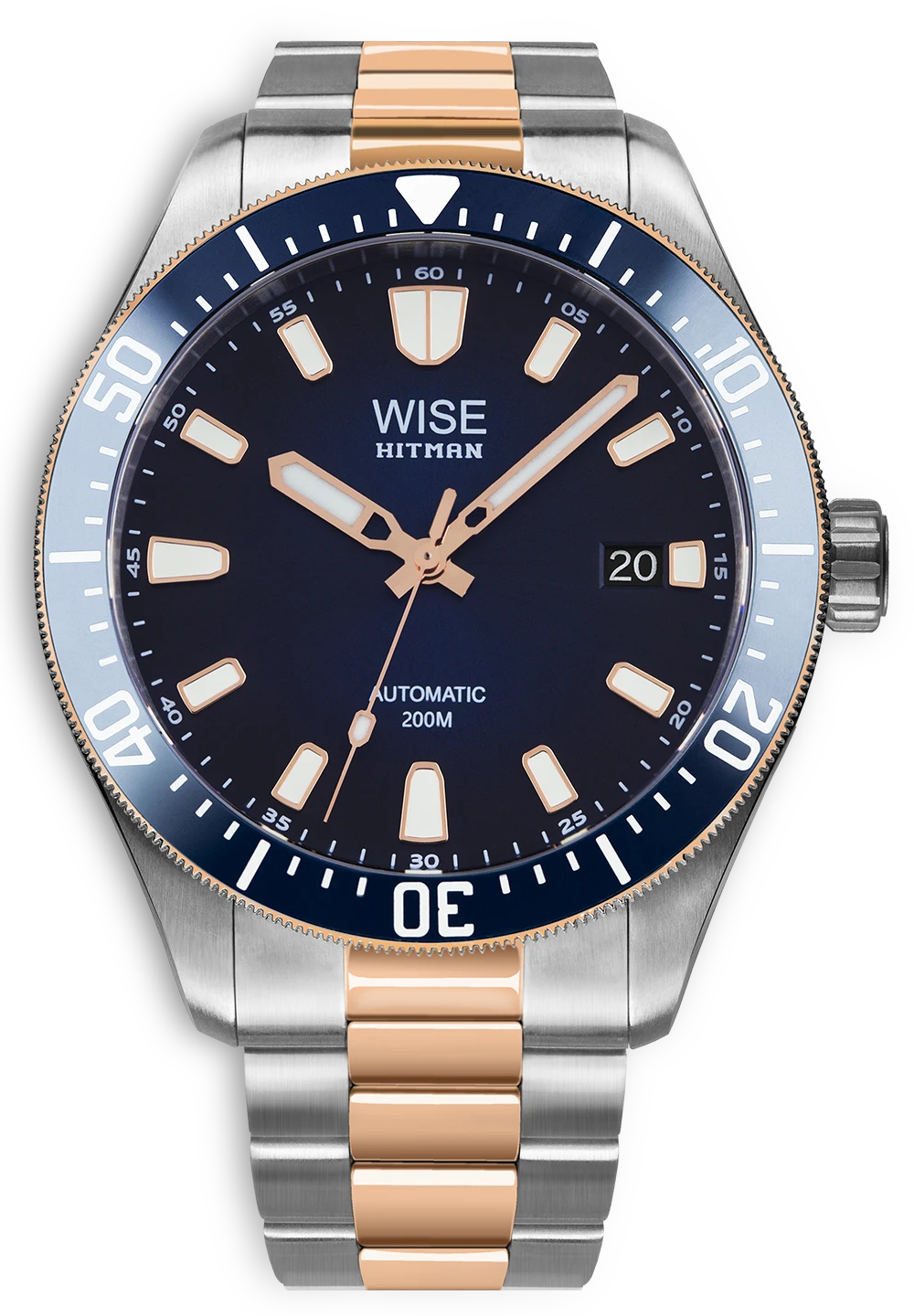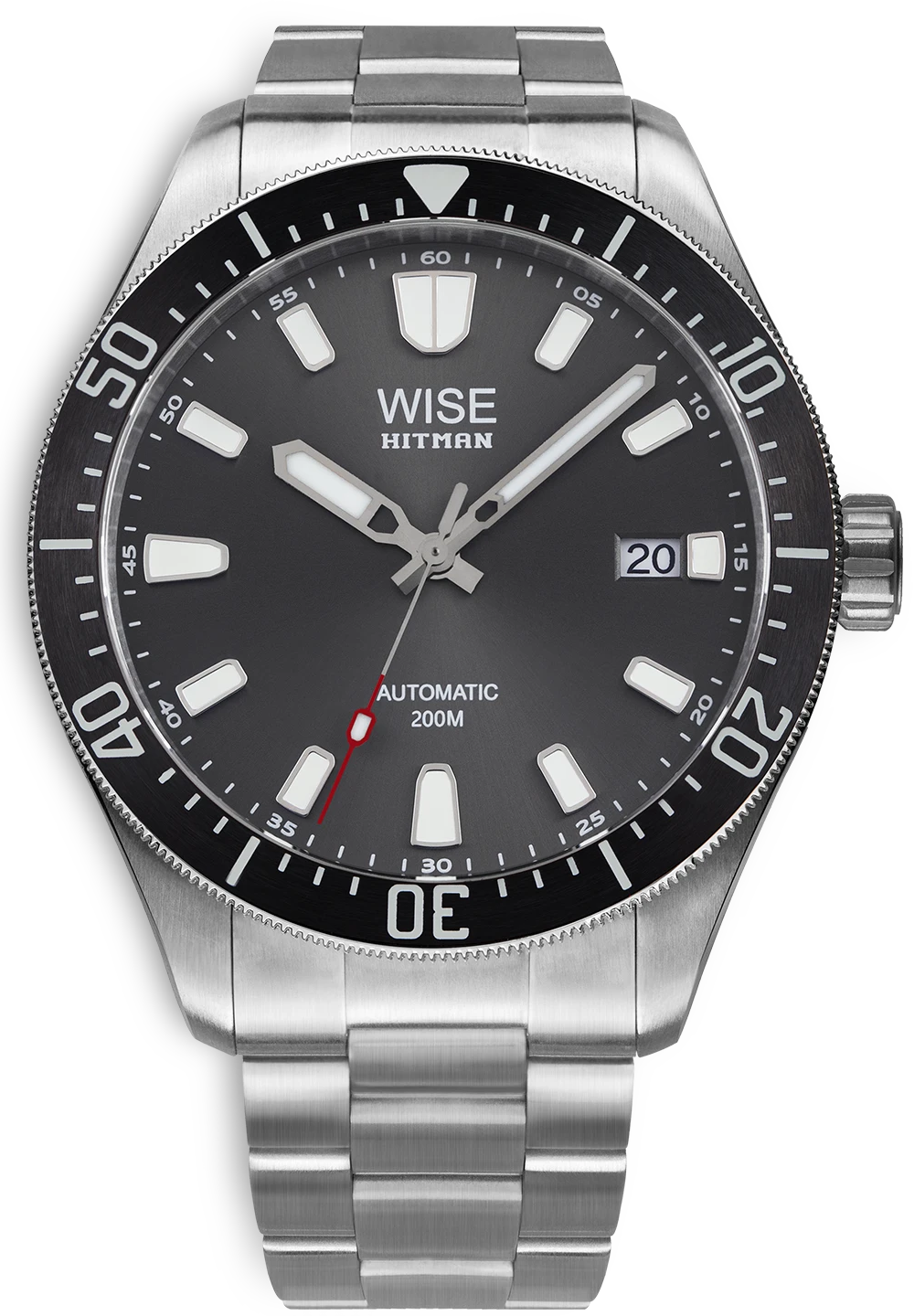 Straight out of the box, you can either have a fantastic bracelet or a fabulous bracelet. Obviously, not a bad thing, as this bracelet is gorgeous, way better than your usual offerings from microbrands. There are female end-links, which always get a thumbs up from me, screw pins that are of excellent quality, and each and every link fully articulates, giving optimum comfort when on wrist. Finishing wise, it's just gorgeous and matches the case perfectly. The tolerances are excellent too, the fitment of the bracelet between the lugs is outstanding, with not even a hint of wiggle or jiggle. 😉
Advertisement

As I've said, this is one of the nicest and most comfortable bracelets I've experienced in such a long time. The only small negative I should point out though is the milled clasp. I don't really have any issues with it per se, but it could do with being manufactured just a smidge longer to allow room for a minimum of four micro-adjustment holes, rather than just three. Before I forget… the measurements are 20mm, tapering down to 16mm and back up to 17.5mm at the clasp.
The movement selected for the WISE Hitman is yep, you guessed it… none other than the SII NH35, manufactured by Seiko. The SII NH35 is a fantastic workhorse with 21,600vph, 3Hz, 24 jewel automatic movement with a 41hr power reserve, self winding and of course hacking. Checking the accuracy after running the WISE Hitman for around 2 weeks, mainly on wrist and occasionally in my watch winder, I thought the accuracy was exceptional, with it showing an average of just +2 seconds per day. An truly excellent result from WISE, that most definitely gets a huge thumbs up from me.

The WISE Hitman has a 120 click unidirectional bezel with a zirconia (ZrO2) ceramic insert. It is of outstanding quality and everything lines up beautifully. The bezel action is lush, nice & smooth, with just a miniscule amount of backplay that always settles 100% into the correct position. The printed text on the dial are the words WISE HITMAN situated under the double batons at the 12 o'clock position. The word AUTOMATIC and WR rating of 200m is also printed at just above the 6 o'clock position. As you can see in the images, the hour and minute hands are superbly done and look fantastic with their  fence post style aesthetic. The size of the hands too, are pretty much bang on in relation to the size of the dial.
The seconds hand is a stunner too, with it's wee lumed section and matching red tip that reaches right out to the edge of the minute track, which is also printed around the edge of the dial with small arabics behind every hour marker. There's the addition of a perfectly executed date cut-out at the 3 o'clock position that's colour matched. WooHoo! Ok, I know you're given the choice between a black or white date wheel, but there aren't many microbrands that offer that, although I wish they ALL did! Talking of options, when you're ordering the Hitman there are a truck load of different models to choose from, and not only can you select a white or black date wheel, you also have a choice of 5 different colours for the tip of the seconds hand. As you can obviously see in the images, I opted for red, so to match the red bezel. SKU; HIT09-B5.
The lume on the WISE Hitman is actually superbly done! It's initially very potent and of course it will fade over time, but it does have brilliant longevity as it lasts for many, many hours. What really got me though, is just how well the lume has been applied. Even under macro, the execution is right up there with the best I've seen. The actual formula that's been used on the Hitman is Swiss Super-LumiNova® BGW9. Great job WISE Timepiece, you totally nailed it on the lume.
To be perfectly honest and before I got to see and review this WISE Hitman, I was really starting to get totally bored out of my tits, as I was getting sick and tired of reviewing yet another NH35 microbrand. Sure, they're all different in one way or another, but from a reviewers perspective, there's not a lot to tell them apart. Not with this WISE Hitman though, as it's really opened my eyes to what a watch brand can really do, without fucking over your bank account, doggy style.
I am so impressed with this watch, it really has took me by surprise. The build quality, the finishing, the tolerances, the lume, the attention to detail, everything… OUTSTANDING!! If someone handed me this watch without knowing what its specification or price was, I'd swear to you it was retailing around $1k bracket. So, would I recommend you buy one? Of course I bloody do! What kind of stupid-arsed question is that!? It's getting 3 awards for fucks sake, it's that bloody good! Buy 3, buy 5, buy 10, buy them all! At the very least, you should definitely buy one! You most certainly will NOT regret it.
A massive thank you to Patty at WISE Timepiece for sending out the Hitman for review. Very much appreciated. To view the WISE website, or to join their mailing list to be informed of new models etc, visit
wisetimepiece.com
.
It takes me a fair amount of work (and time) to do these reviews. If you feel like supporting Zaltek Reviews to help towards my running costs, or even if you feel like just buying me a coffee, then please donate using the PayPal button below. Unfortunately, 97% of my readers just scroll by this section. If you feel like that I've given you maybe a few quids worth of knowledge and/or entertainment, then please take just a couple of minutes of your time to donate. Thanks. 
[paypal-donation purpose="Donate to Zaltek Reviews" reference="Ref:Zaltek" button_url=""]