Manufacturer:

Borealis

| Price: $290 USD (£215 GBP, €239 EUR)
There are a few brands these days that offer absolutely fantastic value for money when it comes to their entry level, automatic dive watches. The Zelos Swordfish 40 is one of them, although they can be hard to source, considering they're totally sold out (although there is a new batch coming from Zelos in the second half of January). The watch that I do recommend a LOT however, is the Islander from Long Island Watch, especially as there's always a huge choice and they're usually in stock! Today, I'm looking at the Borealis Neptuno, which falls into the same "affordable" category as the aforementioned. This is the first time I've looked at any Borealis, so I am rather excited to see what they're offering…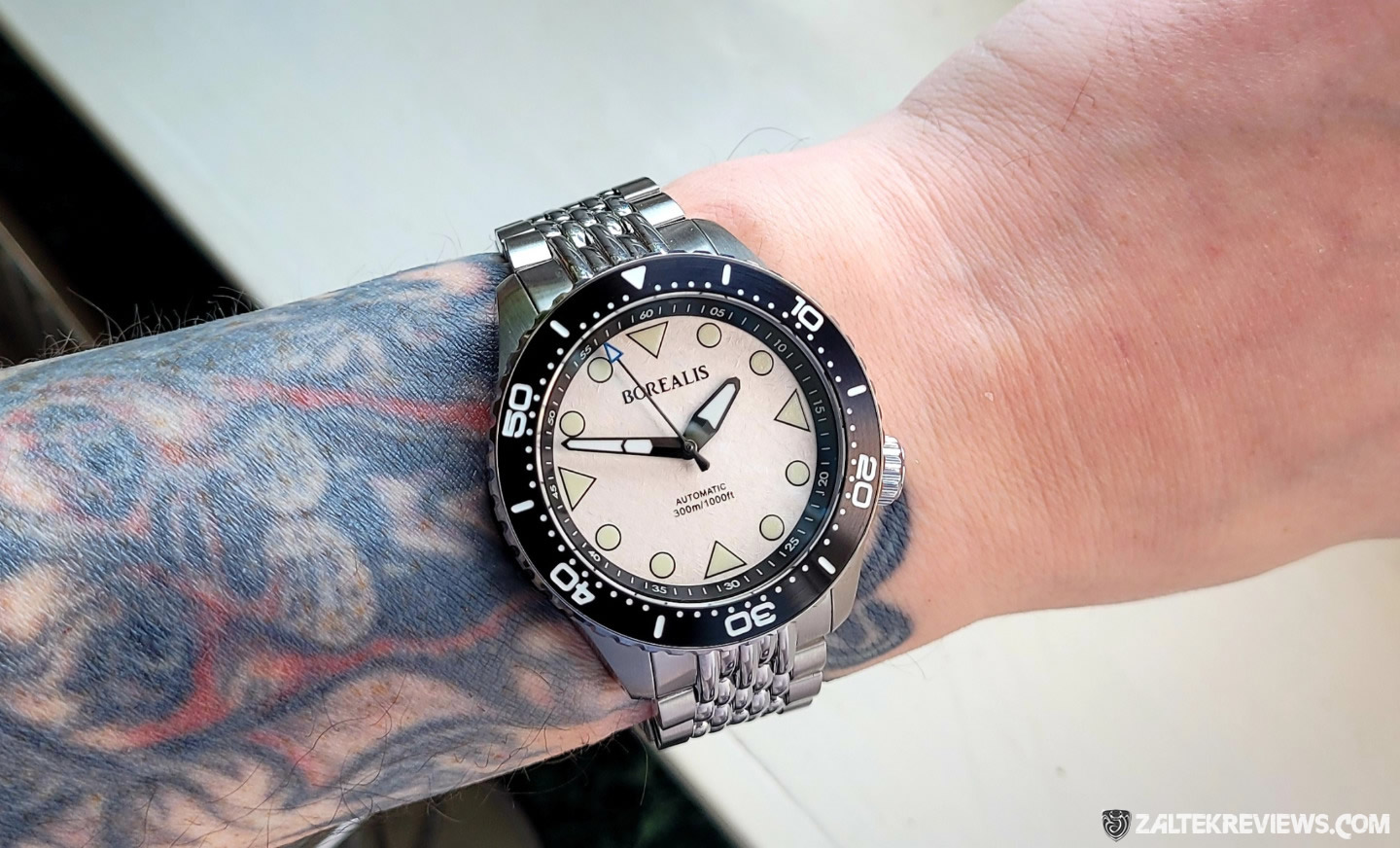 Specifications
Dimensions: Case Diameter – 39.8mm, Thickness – 13.6mm, Lug to Lug – 46.8mm, Lug Width – 20mm
Movement: Seiko SII NH35/NH38, 21,600vph, 3Hz, Hackable, Self Winding, 41hr Power Reserve
Case Material: Brushed 316L Stainless Steel
Bezel: 120 Click Unidirectional, PVD Hardened Steel Insert, Fully Lumed
Bracelet: Brushed & Polished 316L Stainless Steel, Beads of Rice, Screw Pins, Milled Clasp
Dial: Textured/Sandwich, Date/No Date, Printed Indexes, Black Chapter Ring
Crystal: Flat Sapphire, Underside Anti-Reflective Coatings
Lume: Swiss Super Luminova® BGW9   
Water Resistance: 300m / 30ATM / 990ft      

Caseback: Screw Down, Mermaid Engraving
Crown: 7mm, Screw Down, Signed  
Weight: 171g (Sized up for my 6¾″ wrist)
Where to Buy:

Borealis

(50% Deposit Pre-order)
Warranty: 1 Year Limited
Borealis Neptuno Dial Options
"Here at Borealis Watch Company we are dedicated to the production of professional, reliable, affordable watches. To achieve this goal, we only use the best components available from manufacturers in Asia and Switzerland, using only high grade products during the manufacture process. All of our watches come with a 1 year limited warranty. Our watch cases are made from either 316L surgical grade stainless steel, titanium, CuSn8 bronze or aluminum bronze.

As part of our philosophy, watches manufactured by us are made with reliable mechanical movements, clean and easy to read dials and made with the highest grade quality materials. Our watches are fairly priced and affordable to the majority of watch collectors. We achieve this not by cutting in quality, but by sourcing only from manufacturers able to provide the best quality for the price. Our watches are powered by reliable mechanical movements from Swiss manufacturers, namely Swiss STP or Asian manufacturers, namely Miyota, Seiko Time Module, Seagull, Shanghai and Hangzhou. Before any watch is shipped, we test it thoroughly for 48 hours, to ensure that it is up to our high standards."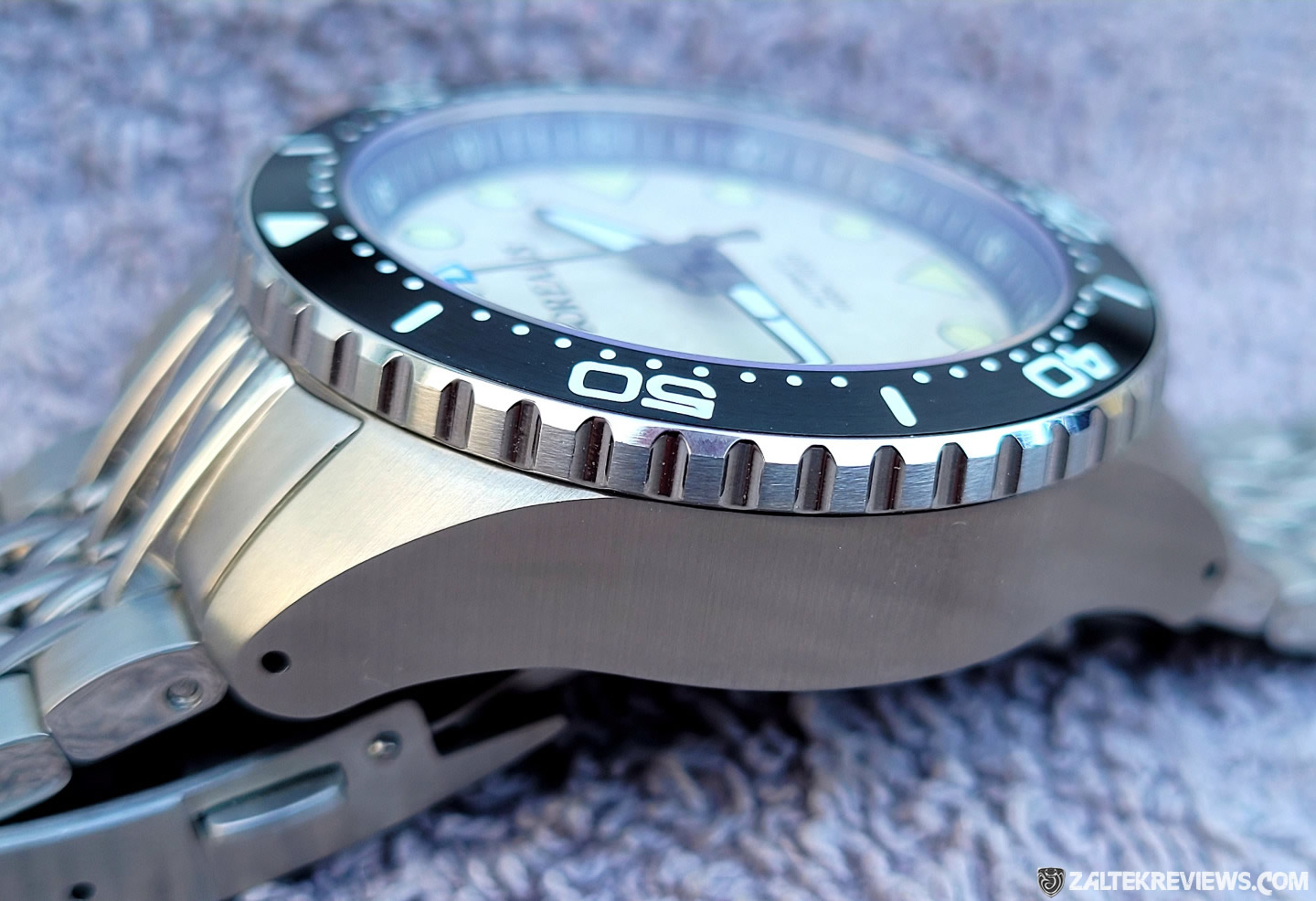 The case of this new Borealis Neptuno has a total diameter of 39.8mm. The lug to lug is 46.8mm and the overall thickness, including the sapphire crystal, albeit flat, I measured in at 13.6mm. The entire case, caseback, bracelet, bezel and crown are all 316L stainless steel. The finishing of the Neptuno is mostly brushed, with no polished finishing or accents to be found anywhere, other than just the crown itself, as well as on the beads of rice bracelet of course. The Borealis Neptuno also has a rather substantial water resistance rating of 300m, which probably explains the "chunkiness".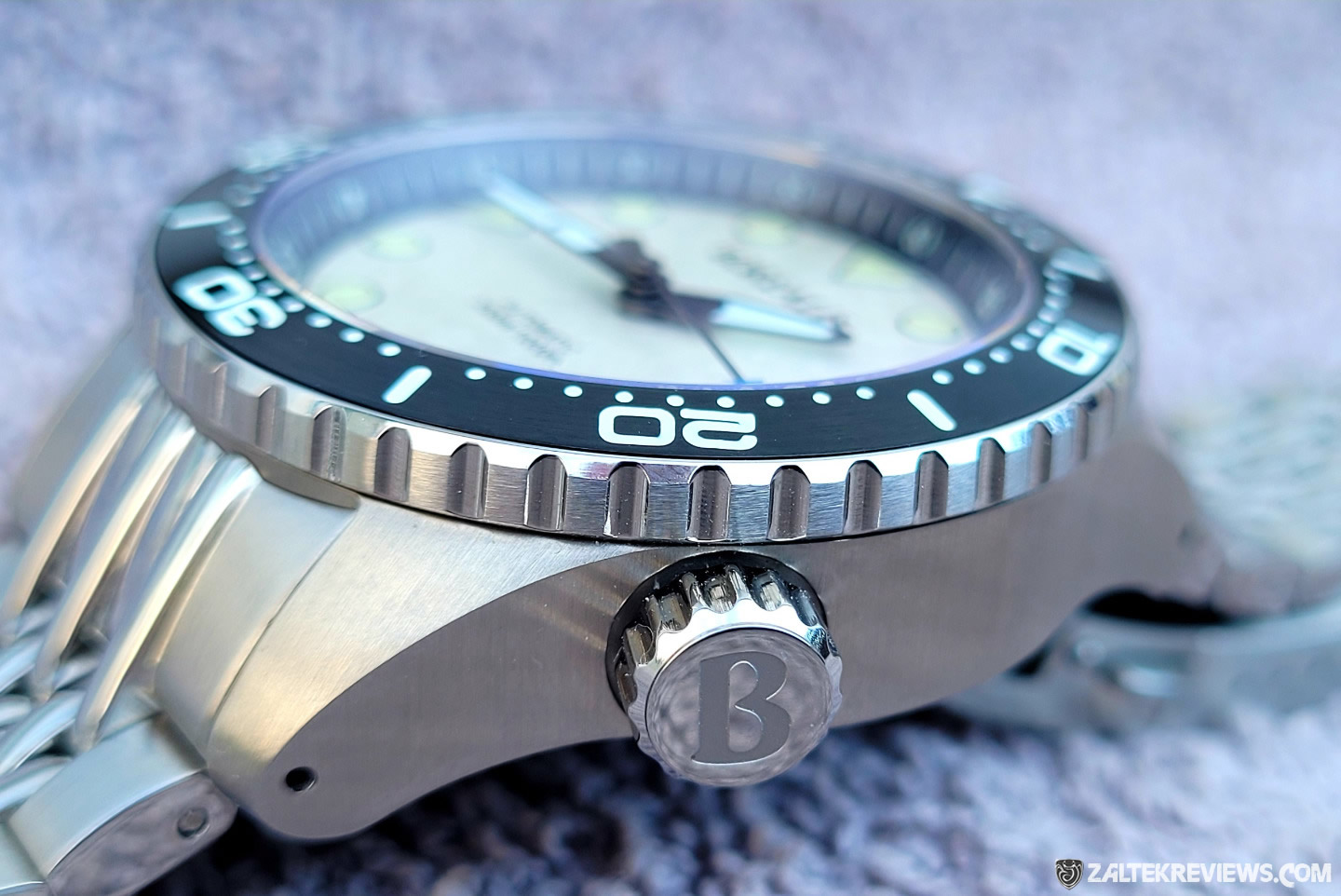 The signed crown is of very good quality and perfectly sized at 7mm. It has a nice wee pop when you unscrew it and there's zero wobble either when the crown is in use. The etched 'B' logo is also nicely executed as you can see in the image above. The overall proportions of the watch are superb, wearing much like a slightly smaller Seiko SKX that's had a rampant love affair with a HELM Komodo. The caseback of the Neptuno is simple in design, although it does have the "infamous mermaid" in the middle, along with the obligatory basic spec sheet etched around the edge.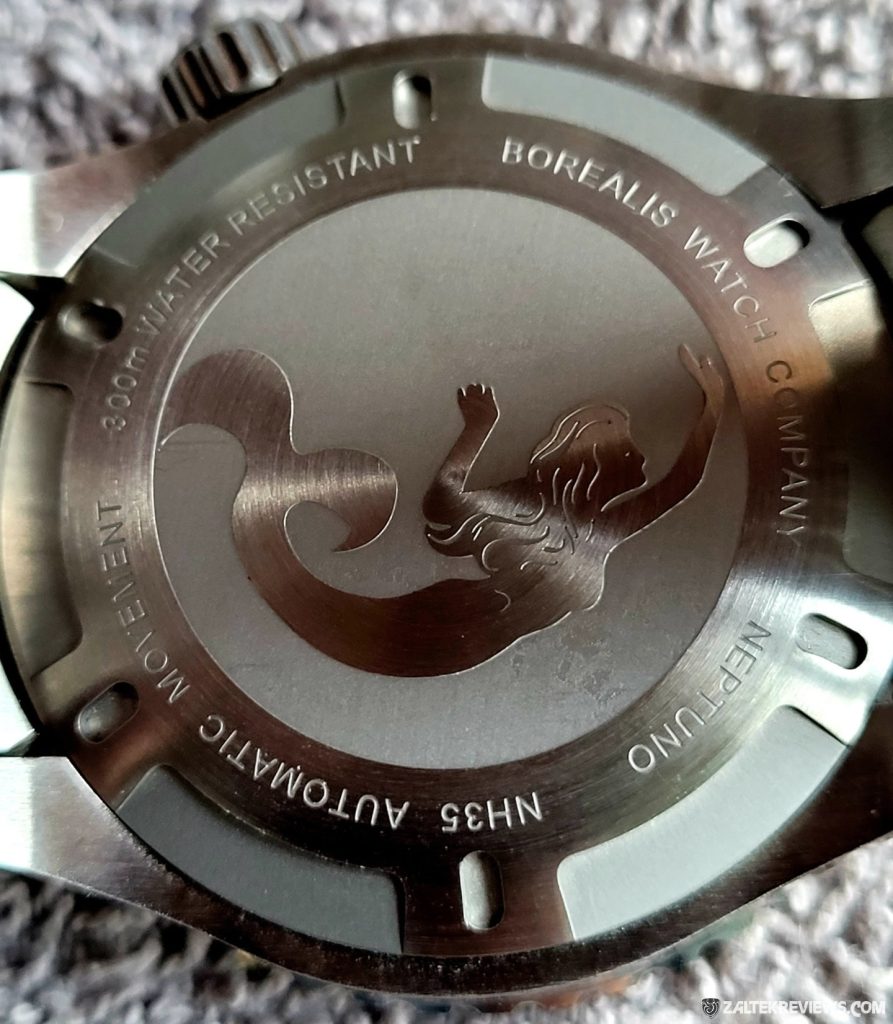 The Neptuno comes fitted as standard with a 316L stainless steel beads of rice bracelet. The outer links are brushed with the centre links and sides polished. The milled clasp has a twin push-button release on the sides, as well as a fold over clasp. There are also six micro-adjustment holes to ensure you get that perfectly snug fit. Overall, it's everything you would want in a bracelet, very well made, with an excellent overall fit & finish, that's also extremely comfortable.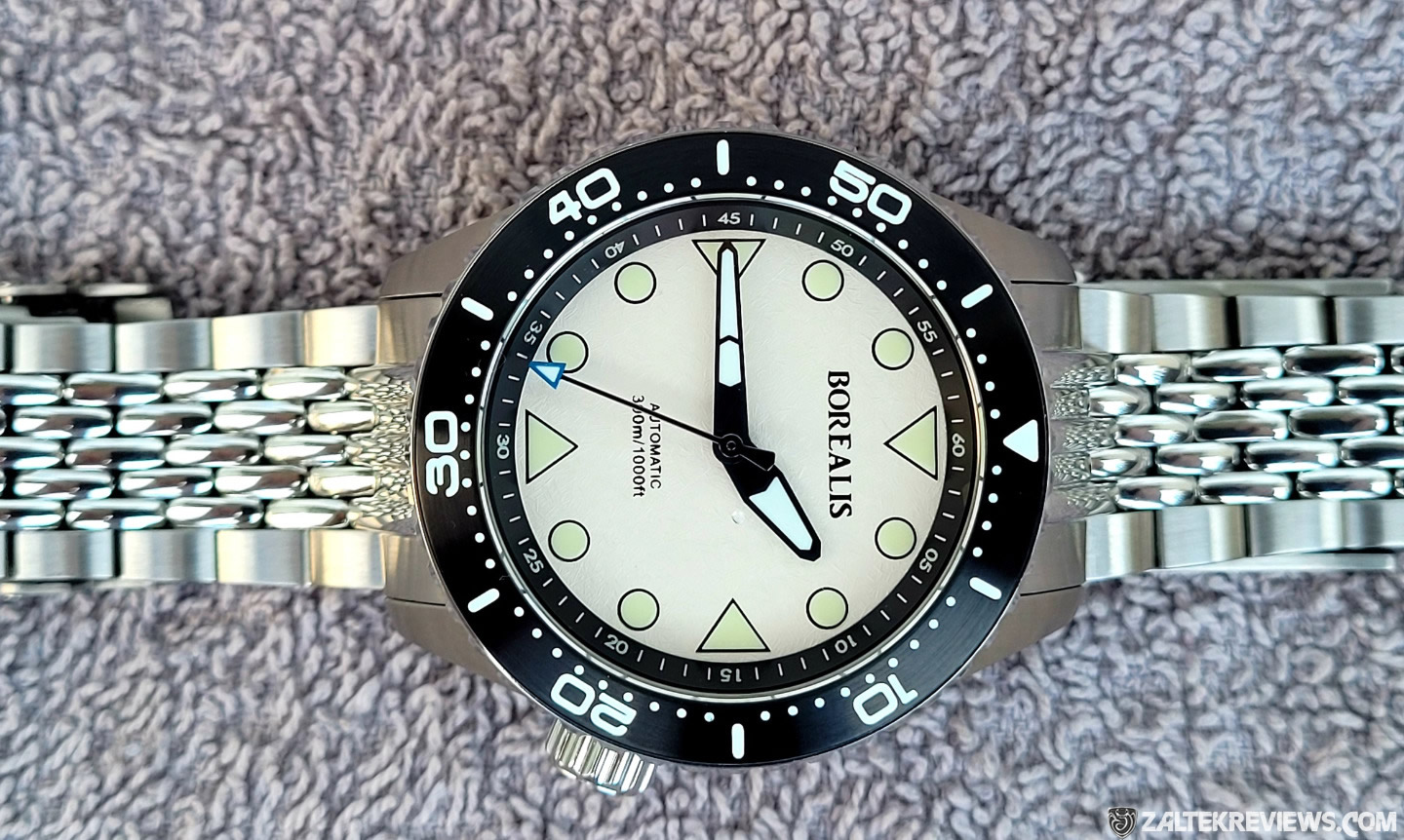 The beads of rice bracelet tapers from 20mm at the lugs, down to around 17.5mm and back up to 20mm at the milled clasp. Sized up for my wrist, I had to remove three links, which was simple enough to do with screw pins for adjusting & re-sizing. Solid links throughout, a milled clasp that is also signed with the Borealis logo, are all present on this very nice bracelet. Additionally, the clasp has very nice chamfered edges on each side, which is a nice wee premium touch.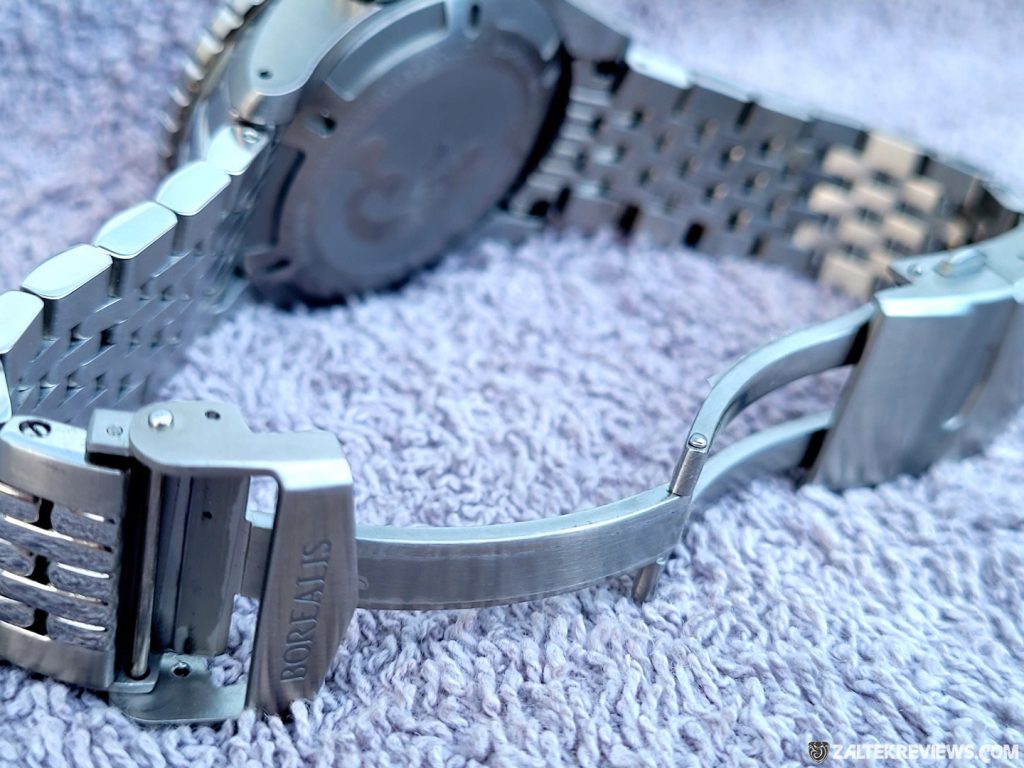 The chosen movement for the Borealis Neptuno is the microbrand go-to movement of choice, the super-reliable SII NH35, or the NH38 for the no-date models, both manufactured by Seiko. It's a fantastic workhorse that is a 21,600vph, 3Hz, 24 jewel movement, with self winding and of course hacking, as well as the added bonus of a very respectable 41 hour power reserve. Checking the accuracy after running the Neptuno for just under a week, mainly on wrist and occasionally in my watch winder, I thought the accuracy was great, with it showing an average of just +6.8 seconds per day.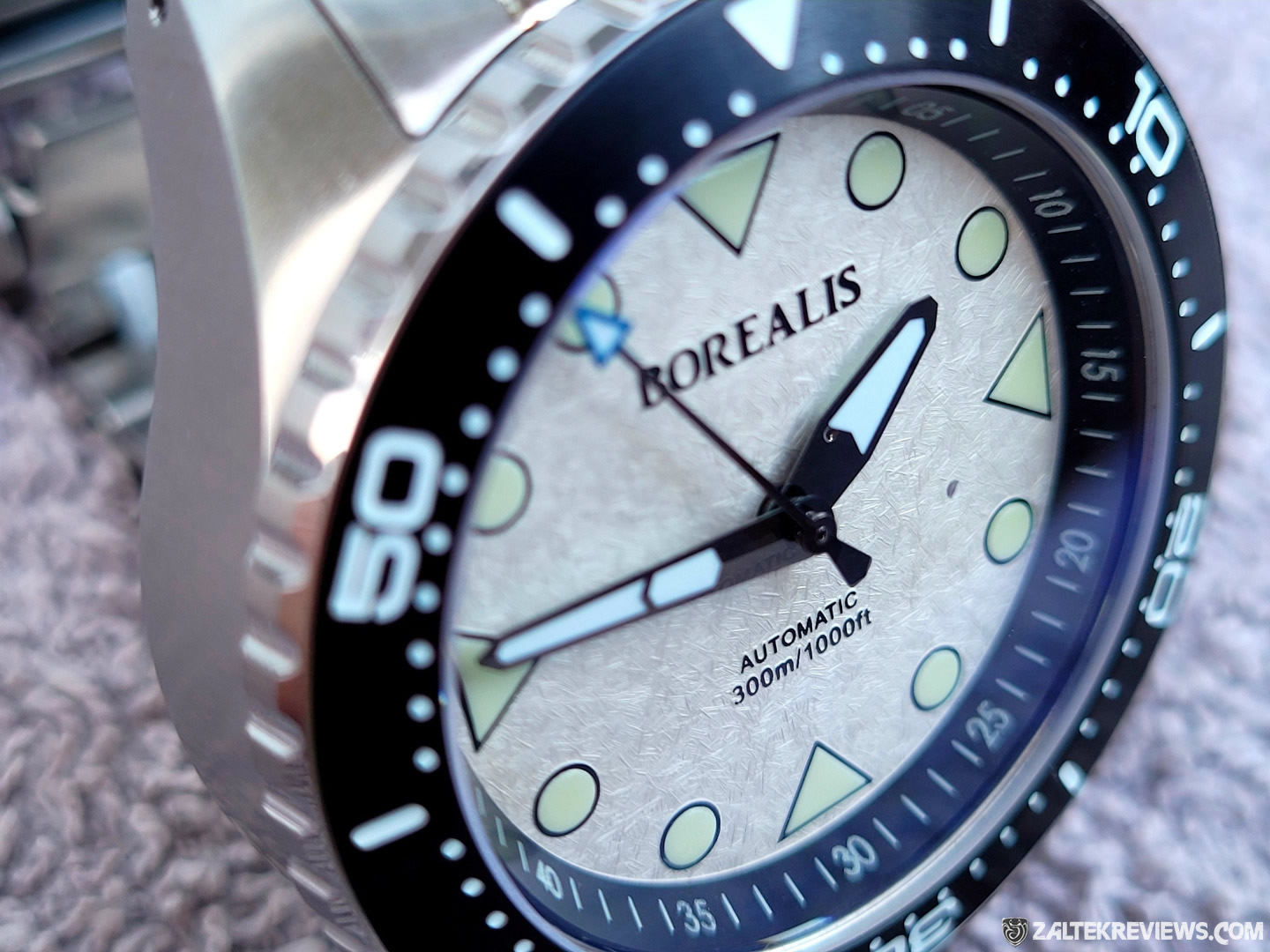 The Neptuno has a 120 click unidirectional bezel with a fully lumed, PVD hardened steel insert. It is of fantastic quality with everything lining up just as it should. The bezel action is top notch too, with absolutely zero backplay on this prototype. I received a totally different watch recently, that is three the price of this Borealis and the bezel action on it was absolutely shit in comparison. Anyway, the text on the dial from what I can tell with my old peepers, is printed, showing just the BOREALIS logo below the marker at 12, with the words AUTOMATIC and the WR 300m/1000ft just above the marker at 6. All said and done, it's a very clean and uncluttered approach. Definitely a thumbs up from me.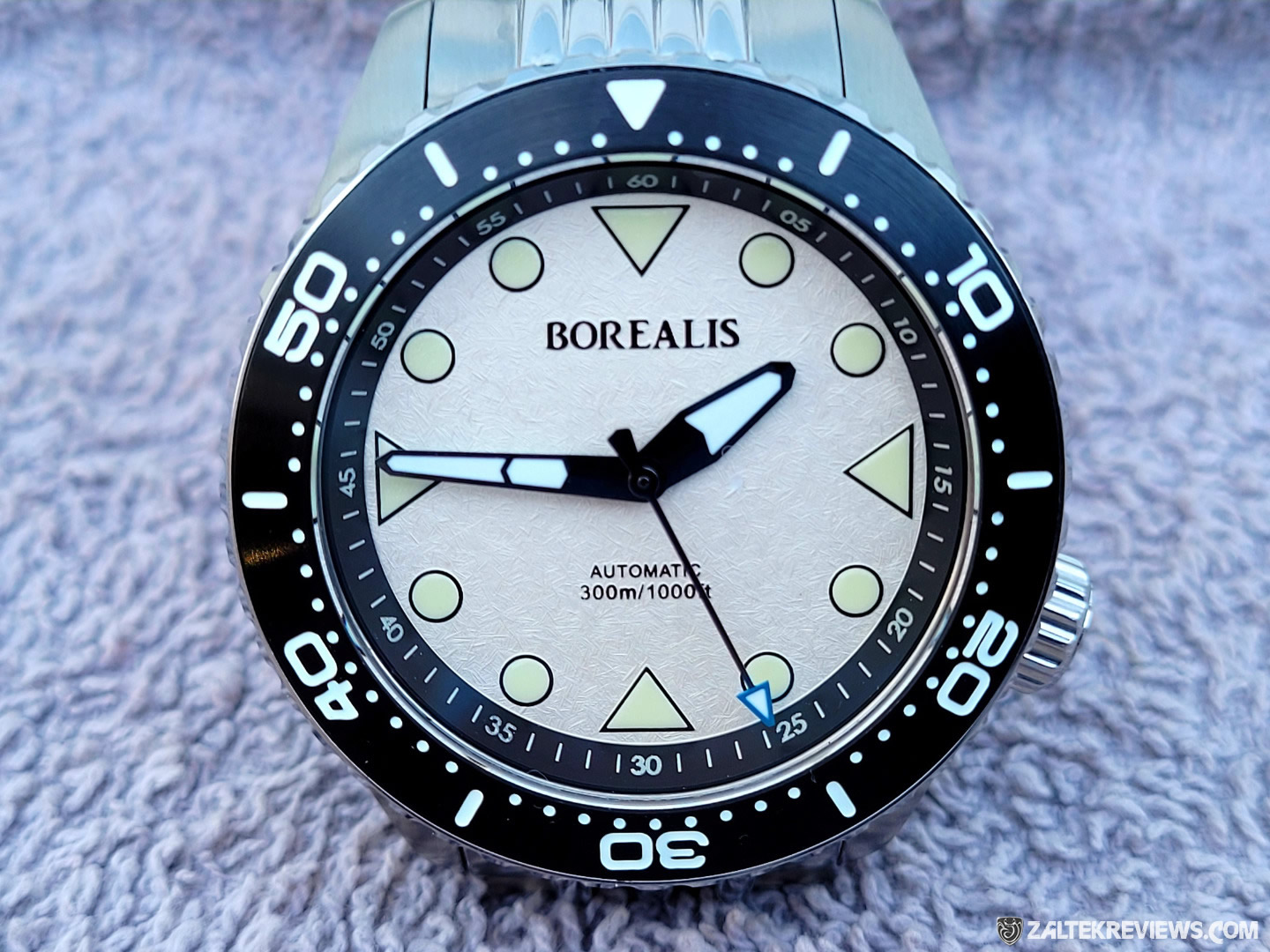 The hour markers are all printed with black surrounds and they're all pumped full of lume. The markers at the 3, 6, 9 & 12 on this model are triangular, with the remainder being circular. The hour and minute hands also have a shit ton of lume applied to them, as does the 5 minute markers on the chapter ring. More info on that down below… The seconds hand is great too, with it's wee lumed arrow section done in blue, while the rest of the hand is finished in black.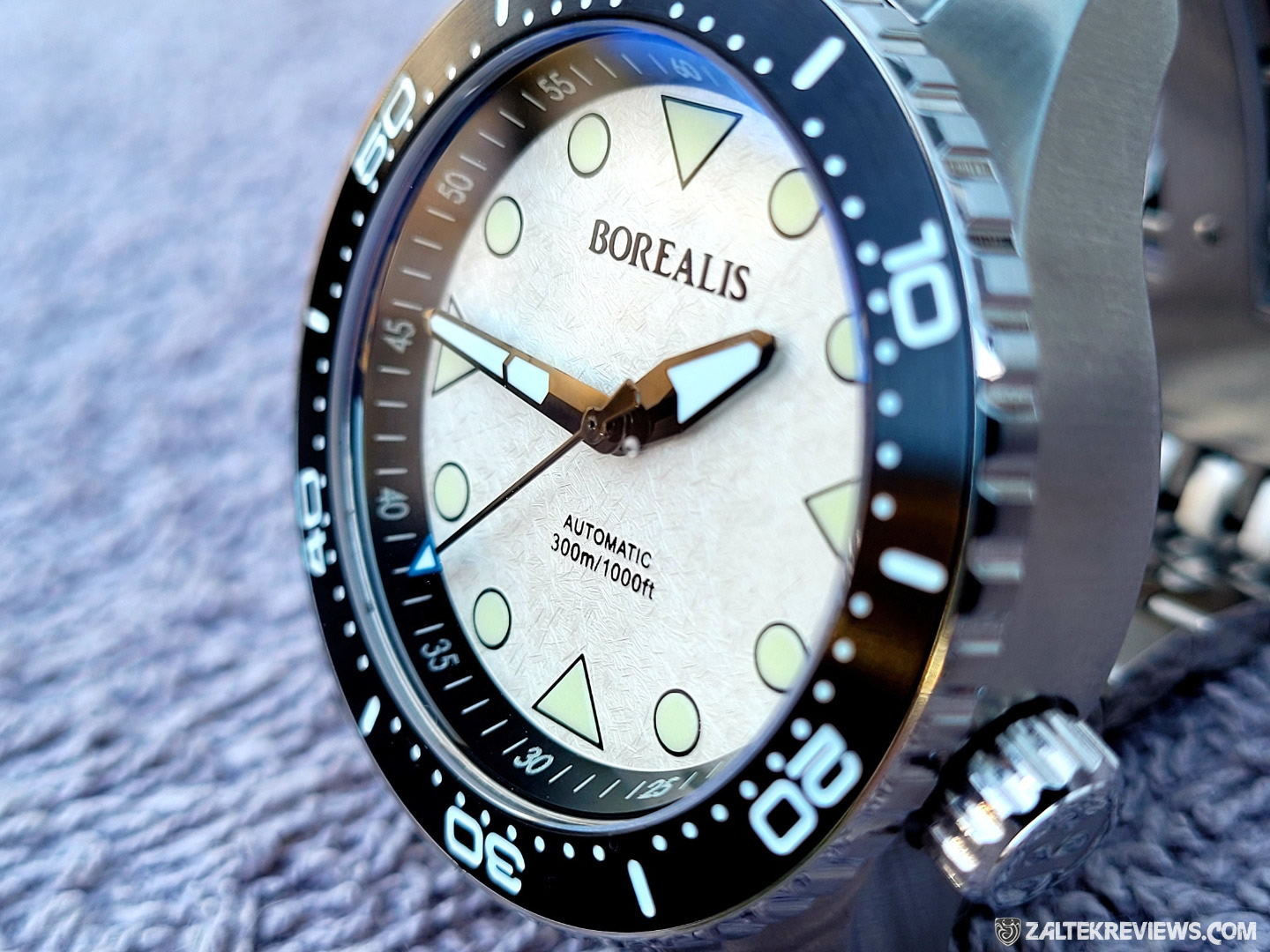 The lume on the Borealis Neptuno is nothing short of awesome! I've seen very few watches with lume that's as good as this bad boy. I'd even go as far to say, it's right up there with the best I've seen on any diver, it's certainly in my top 10 that's for sure. The actual lume that has been applied to the Neptuno is Swiss Super Luminova® BGW9. Giving you an idea of how good it actually is, not just with it's initial burst, but I've got up at 5am and I can still clearly see what time it is. Something I've not seen in a long time is Borealis have also decided to lume the 5 minute arabics on the chapter ring. It's also been executed to the same level as the rest of the lume. Great lume, great watch… job done! Well done Borealis.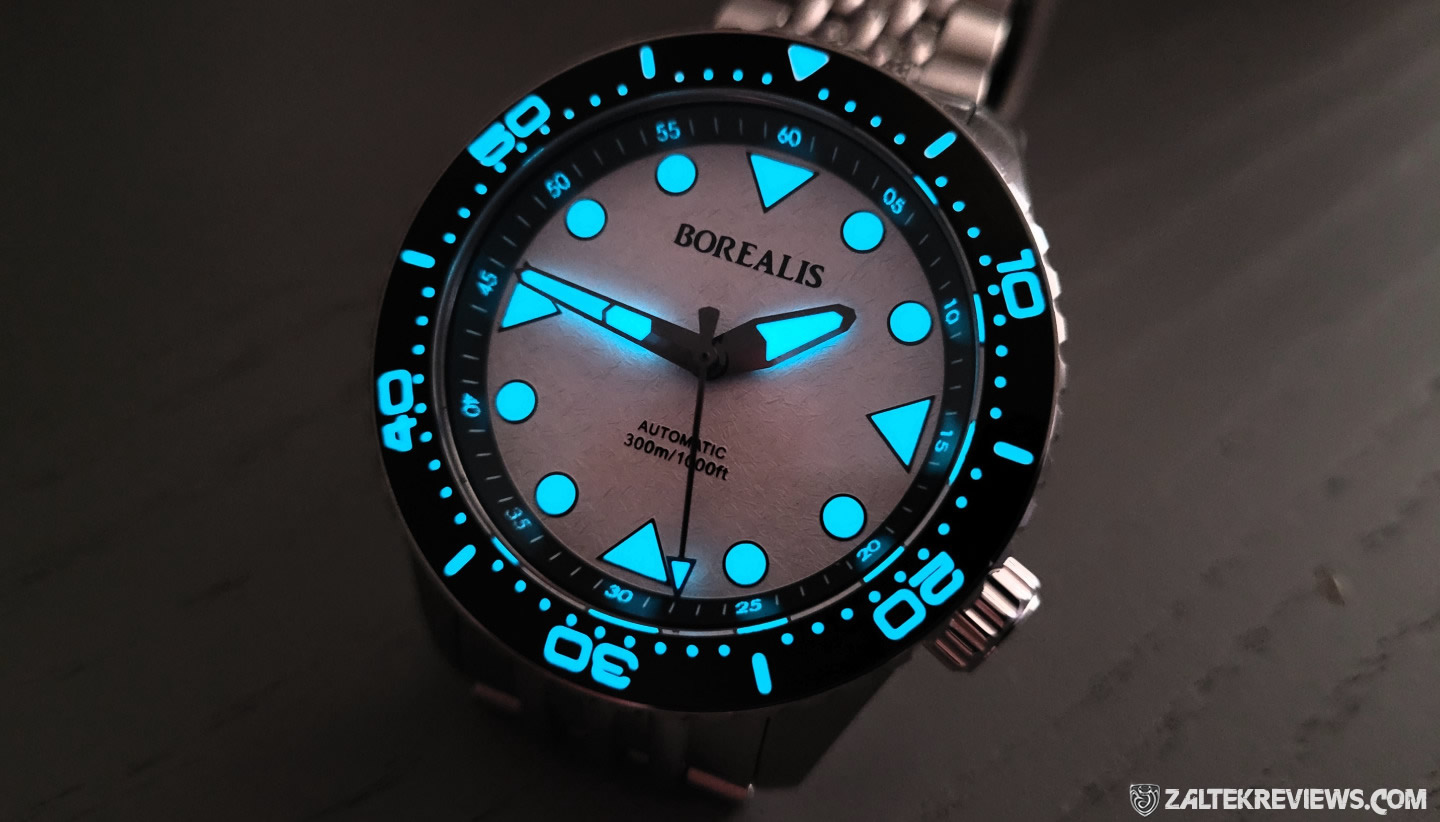 As I stated in my initial introduction to this review, this is my very first experience of any watch from Borealis and I really hope that it won't be my last. I've always been a fan of Borealis from afar, and I especially loved the white Adraga and I even tried to source one for myself through eBay, but the price always shot up way too high, even way past the initial launch price, so I just gave up looking or even bothering to try. Carlos, if you have a white Adraga tucked away in storage somewhere, gimme a shout and first refusal please. I'd definitely snap that one up! Sorry, I've went and gone a bit off-topic again, focusing on a totally different watch rather than the one I'm supposed to be reviewing. I digress…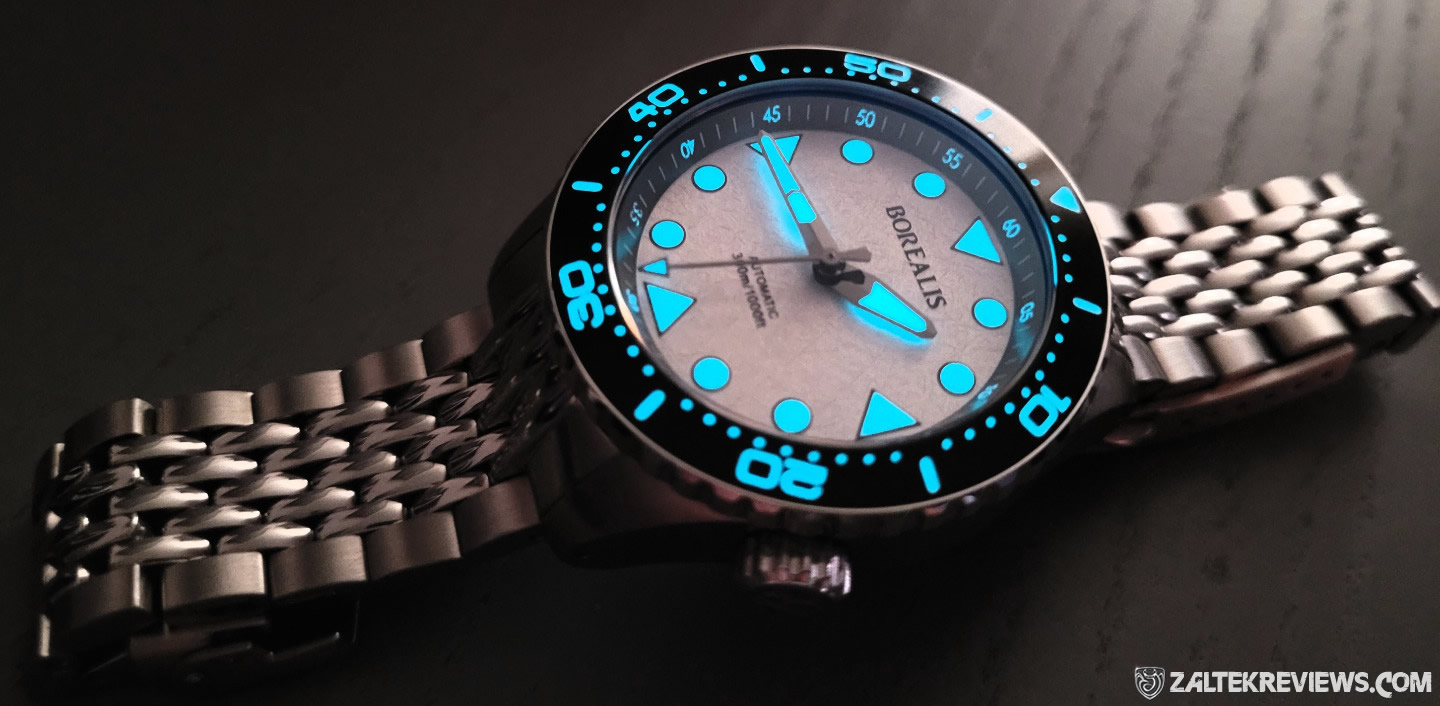 If I was forced to try and find negatives with the Borealis Neptuno, then to be totally honest, I would actually struggle, big time. Put a friggin' gun to my head though, I'd probably say that I'd like to see it just a bit slimmer, with a 9-series Miyota movement inside. But then, that would just put the price up, which would kind of defeat the whole point of this fantastic value diver from Borealis. Given the choice, I would probably go for the full lume, white dial version with date.
9.5/10 - HIGHLY RECOMMENDED!
A massive thanks to Carlos at
Borealis
for sending out the Neptuno for review. Very much appreciated. To view the Borealis website, or to join their mailing list, to be informed of new models etc, visit
borealiswatch.com
.
It takes me a fair amount of work (and time) to do these reviews. If you feel like supporting Zaltek Reviews to help towards my running costs, or even if you feel like just buying me a coffee, then please donate using the PayPal button below. Unfortunately, 97% of my readers just scroll by this section. If you feel like that I've given you maybe a few quids worth of knowledge and/or entertainment, then please take just a couple of minutes of your time to donate. Thank you. 
[paypal-donation purpose="Donate to Zaltek Reviews" reference="Ref:Zaltek" button_url=""]