Manufacturer: Long Island Watch | Price: $299 USD (£240 GBP, €270 EUR (approx))
I've been a subscriber of Marc from Long Island Watch on YouTube for a good couple of years now. Not only that, I have ordered quite a few watches from them, and I have to say, each and every single time, the service provided was flawless! I therefore thought it was about time that I contacted Marc, to see if I could review one of their new in-house brand watches, aptly named "Islander Watches". Their first style was to offer a design based upon the now discontinued Seiko SKX. A very wise and smart decision by Marc, as to be honest, the actual replacement from Seiko, the "Seiko 5KX", I just won't entertain in any way, shape or form. I think they're just fashion watches now. Seiko should've done what Marc DID!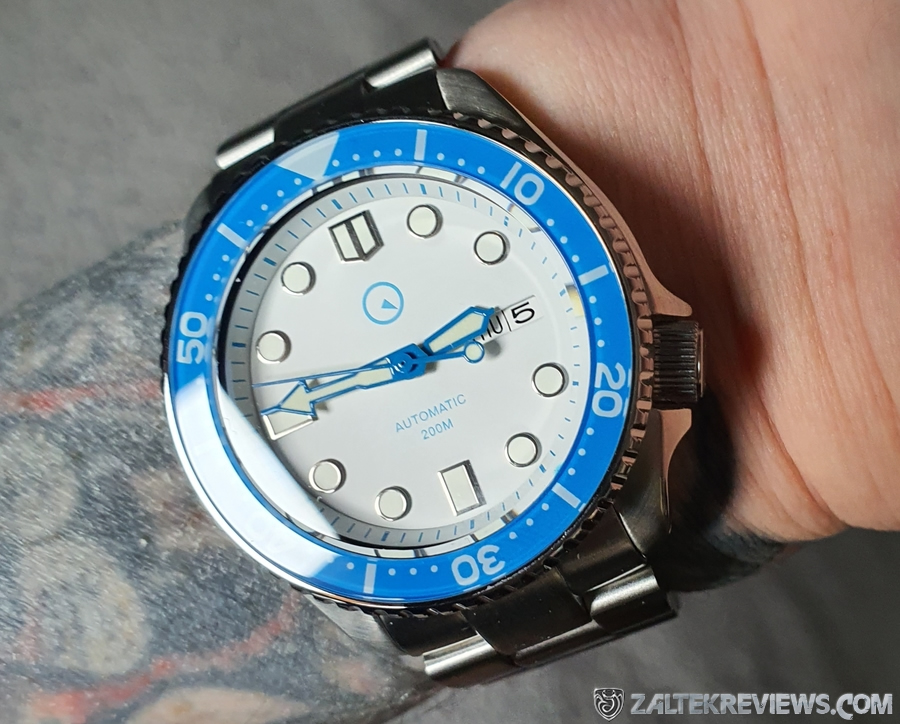 Specifications
Dimensions: Diameter – 42.4mm, Thickness – 13.7mm, Lug to Lug – 45.8mm, Lug Width – 22mm
Movement: Seiko NH36, Automatic, 21,600vph (3Hz), Hackable, Self Winding, 41hr Power Reserve
Case Material: Brushed 316L Stainless Steel with Polished Sides
Bracelet: 316L Stainless Steel with Polished Sides, Solid Links & End Links, Screw Pins, Milled Clasp
Crystal: Flat Sapphire, Underside Anti-Reflective Coating
Bezel: 120 Click Unidirectional, Sapphire/Ceramic Insert, Fully Lumed
Water Resistance: 200m / 20ATM / 660ft
Lume: Swiss Super Luminova® BGW9
Crown: Screw Down, Signed
Caseback: Screw Down, Engraved Long Island Design/Logo
Warranty: 1 Year Weight: 162g (Sized) Where to Buy: Long Island Watch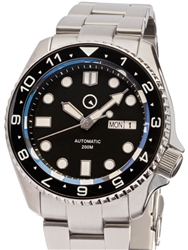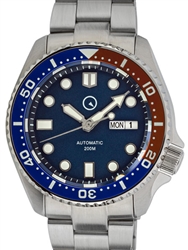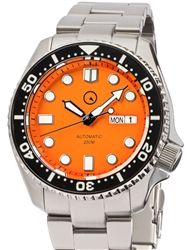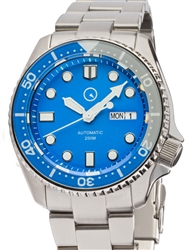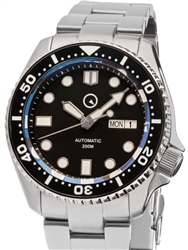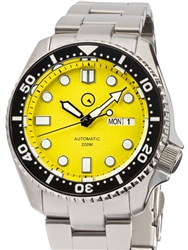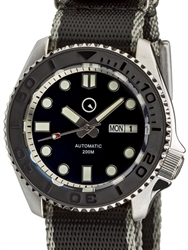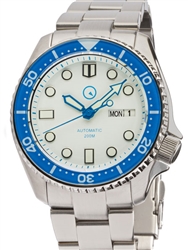 Long Island Watch - The Company
"Island Watch is a small company that is proud to be family owned and operated. Island Watch provides 100% authentic novel and interesting watches - the styles of which you will not find in your local jewelry store. Our watches come in many styles from Germany, Switzerland, Italy, the Islands, Far East and even sourced right here in the United States. Take a look around our company store, you are sure to find what you are looking for. After the sale, you are always our customer. Our customer service is second to none. We strive to make sure you are satisfied with your purchase. We know how hard it is to purchase a watch over the internet, that is why we're proud to have a liberal, no questions asked return policy.

Islander watches are developed by Island Watch to offer you a greater value than many of the comparative options available in the marketplace. The first line of watches in the series is the Islander dive watch. It has a familiar diver look and form, but it has a number of upgrades that increase its value and performance. The Islander dive watches come with an SII NH36 automatic movement with day-date (hand winds, hacks). The Islander watches all have luminous hours and hands, a ceramic bezel insert (or a sapphire bezel) with SuperLuminova markings, an anti-reflective sapphire crystal, a strap or a solid link-solid end link bracelet (depending on the model), and various case finishes depending on the model.
The case of the Islander has an overall diameter of 42.4mm. The lug to lug is 45.8mm and the overall thickness, including the sapphire crystal, I measured in at 13.7mm. The entire case, caseback, bezel, crown and bracelet are all 316L stainless steel. The case itself is obviously based on the brilliantly proportioned and extremely popular Seiko SKX.
The finishing of the case is mostly brushed with polished sides and very nicely it's been executed too. Taking it a step above the standard SKX, the Islander has the addition of drilled lugs for simple strap changes, which is a bonus. The overall weight of the Islander on the supplied bracelet, once sized for my 7″ wrist, came in at a very nice 162g.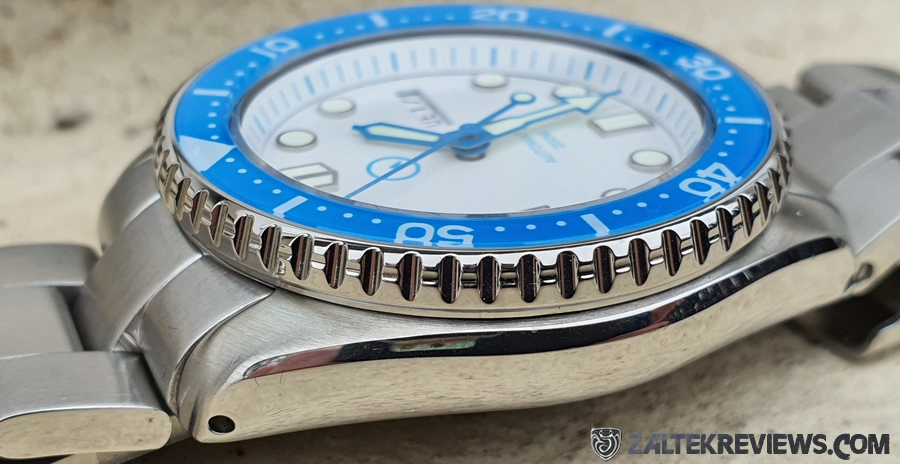 The Islander has a water resistance rating of 200m, thanks to the screw down caseback and obviously the screw down crown also aids with the 200m WR rating. The proportions of the watch, in my opinion, I can't put into any other words than, BANG ON! Even those with smaller wrists than mine will find this watch an absolute pleasure to wear. Don't be put off by the 42mm diameter of the Islander, as the lug to lug distance makes the watch wear more like a standard 40mm.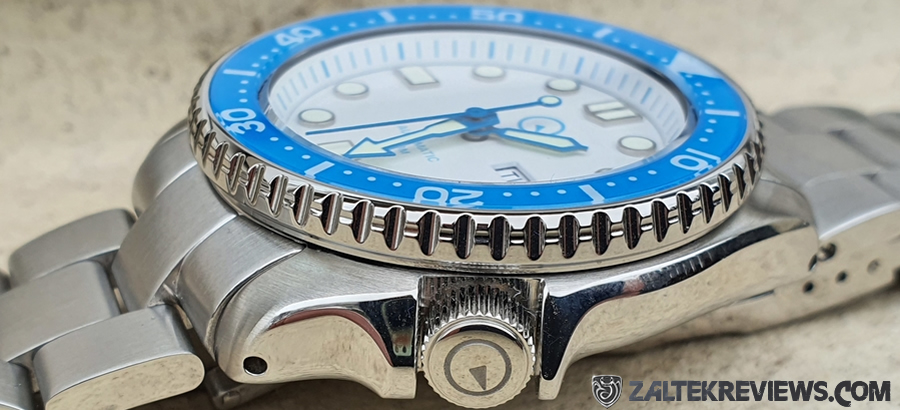 The signed crown is fantastic and looks great with it's logo and coin edge style nurling for easy grip. There is absolutely no wobble either when the crown is being used and you can also feel a nice little pop as you unscrew it. The caseback has a Long Island etching on it, along with the company logo. There is also the usual basic specs etched around the edge.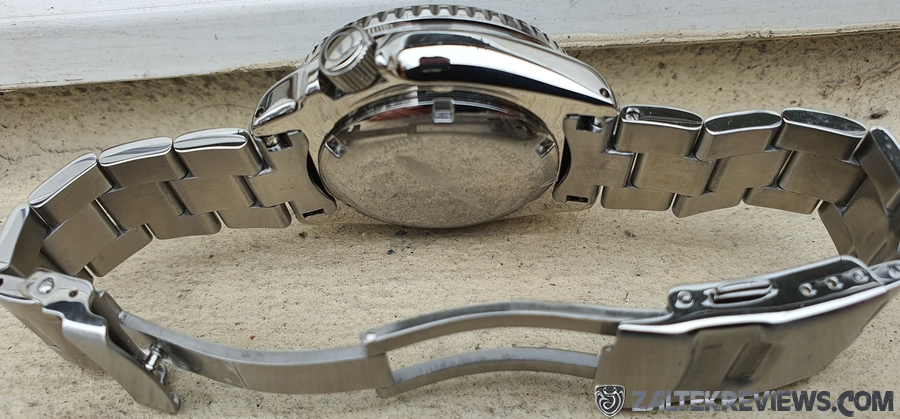 The Islander SKX style watch range from Long Island Watch comes fitted as standard with a 22mm stainless steel bracelet that tapers down to 18mm and back to 20mm at the clasp. Everything about the bracelet is spot on, solid links & end links, screw pins for resizing and a very nice milled, dual push button, flip-lock deployant clasp.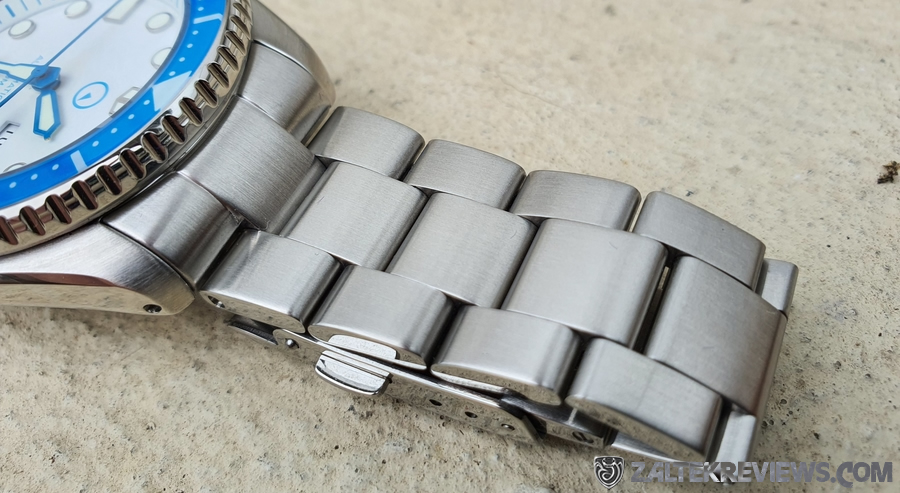 The only slight negative I can find with the bracelet, is the clasp is not signed. However, if you have an SKX and decide to modify it, you'll pretty much end up getting a Strapcode code bracelet, however those aren't signed either. So, it's no real biggy that the Islander clasp isn't signed, I just thought I'd point it out. Oh, I have forgot to mention, the bracelet finishing is brushed with polished sides and there also 3 micro-adjustment holes available.

The movement selected for the Islander ISL-10 is the microbrand go-to movement of choice, the super-reliable NH36 manufactured by Seiko. The SII NH36 is a fantastic workhorse with 21,600vph, 3Hz, 24 jewel automatic movement with a day/date complication, 41hr power reserve, self winding and of course hacking. Checking the accuracy after running the ISL-10 for just over 2 weeks, mainly in my watch winder and occasionally on my wrist, I thought the accuracy was fantastic, with it showing an average of just +2.4 seconds per day.
The Islander has a 120 click unidirectional bezel with a fully lumed sapphire insert (or ceramic, depending on the model). It is of very good quality, with everything lining up just as it should (unlike some Seiko's that I've owned). The bezel action is lovely, very smooth, yet precise with no backplay. The text on the dial is printed with just the word AUTOMATIC and the depth rating of 200m just below, all of which is finished in the matching blue which compliments all the other blue tones of the ISL-10. The Islander logo is also printed and is situated at just under the 12 o'clock position. The logo itself is actually lumed on some other Islander models. Everything is super clean, even when looking very closely with a loupe.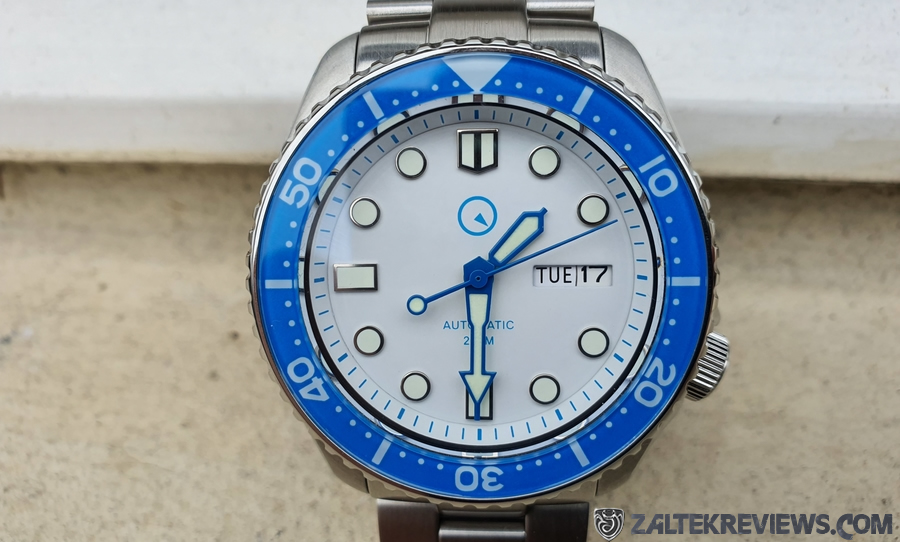 As you can see in the images, the hour and minute hands are very nicely done and are pumped full of lume. The matching seconds hand is great too, with it's wee lumed section and tip reaching out to the chapter ring when sweeping around the dial. There is a borderless day/date window at the 3 o'clock position too, which looks great… and what's this…? It's colour-matched! BONUS! Ok, it's only colour-matched on this white dial version, but still, it looks superb!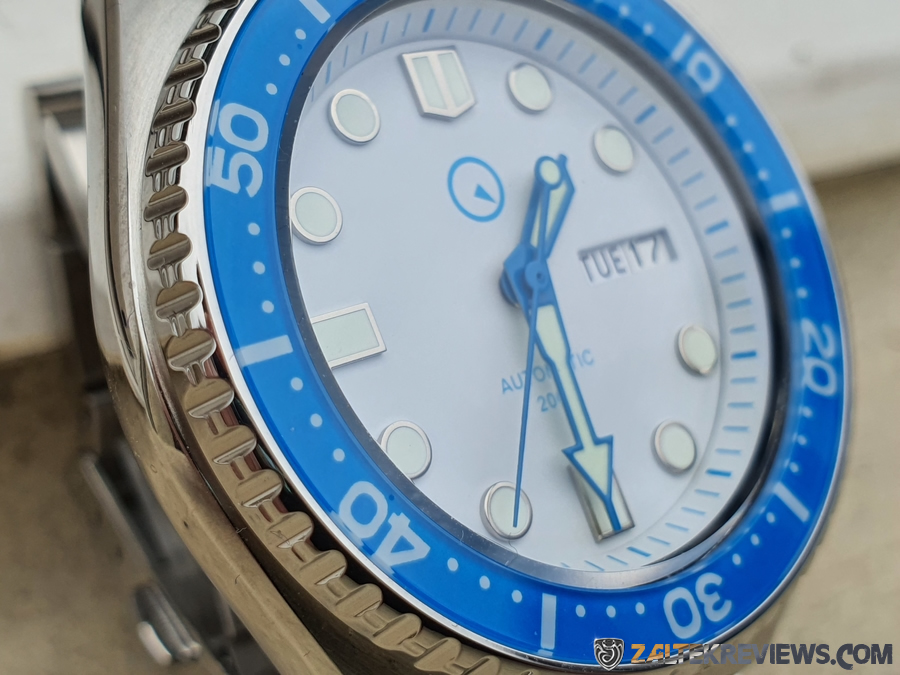 The lume on the Islander ISL-10 is very nice indeed and I can honestly say, it's right up there with the best I've seen on any dive watch, even those costing much more. The actual lume that's been applied, I'm guessing is Swiss Super Luminova® BGW9. The only small negative point that I'd make though is, due to the sapphire insert being used on this version, the lume does kind of bleed through the insert as you can see in the image below. Some might actually prefer this, but I would have preferred a ceramic insert so there wouldn't be any of the aforementioned bleed effect. Before you all start shouting at me, yes, I'm fully aware that sapphire was used on this model to enable the specific blue colour paint would match the blue on the rest of the watch, something that wasn't possible with ceramic.
So… the Islander then. You're obviously reading this review because you've always liked the Seiko SKX since it's release in 1996. I know I have, as I've owned quite a few over the years. My latest one, and last one I should add, has been modded to within an inch of its life! It certainly is gorgeous and I'm really happy with it, but it has cost me an absolute fortune getting it to its current spec and overall aesthetic.
What I'm trying to say is, there is no need to modify an SKX now, thanks to the Islander, as it has everything you could possibly want in terms of spec… everything has been upgraded over the original SKX, and all for just $299 USD. That's phenomenal value, as I've splashed out more than double that on my SKX. Who's the idiot here, me? Probably! Are you really going to spend all that extra cash on a modified SKX when the only difference is that it says Seiko on the dial.
Over the years, I've regularly been asked, "what's the best affordable, entry level automatic dive watch that you'd recommend?" I've said over and over, either the Seiko SKX or the Orient Mako. Well, that's out of the bloody window now, as I'd wholeheartedly recommend the Islander range and point them in the direction of the Long Island Watch website.
*Edit* I forgot to mention that the Islander is fully compatiable with all aftermarket parts that are available for the SKX007/009, such as crystals, bezels, dials, hands, bezel inserts, bracelets… So if the only thing that flicks your switch is taking things apart and are a pure 100% modding junkie, then Long Island Watch has you covered!
Long Island Watch – Outstanding work on bringing the Islander to market, perfectly timed too I might add!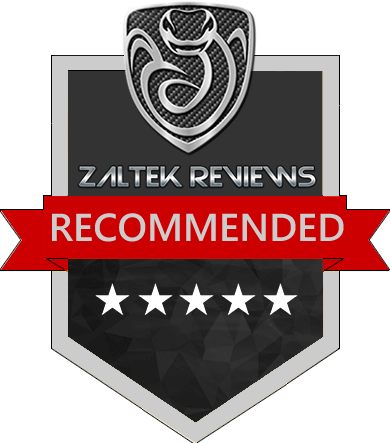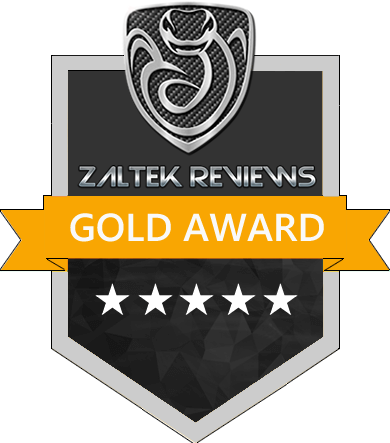 10/10 - THE BEST DIVE WATCH ON THE MARKET UNDER $300.
HIGHLY RECOMMENDED!
A massive thank you to Marc for sending me the Islander ISL-10 out for review so quickly. Very much appreciated!
To view their current stock, or join their mailing list to be informed of new Islander models etc, visit
Long Island Watch
.
Please follow Zaltek Reviews on
Instagram
and
Facebook
and feel free to join our Facebook group
WatchChat
, a busy community for watch enthusiasts and collectors, with tons of images and in-depth discussions.
At Zaltek Reviews, we encourage the companies whose watches we've reviewed to comment on our articles. We invite any company representatives to respond in the comments section below. Thanks very much.