Source: WatchShop | Price: £258 GBP $325 USD, €290 EUR approx))
Introducing the Swiss Made Continental gentlemans watch. A fairly attractive dress watch made from stainless steel featuring an accurate Swiss made quartz movement, date function, 50m of water resistance and sapphire glass.
Specifications
Dimensions: Case Diameter – 40mm, Thickness – 8.5mm, Lug to Lug – 46.5mm, Lug Width – 20mm
Movement: Swiss Made Quartz, Date Complication, Hackable
Case Material: Polished Stainless Steel 
Strap: Black Genuine Leather
Crystal: Sapphire
Bezel: Fixed
Water Resistance: 5ATM / 50m / 165ft
Lume: Unknown Brand, Applied to Hour & Minute Hands
Crown: Signed
Caseback: Stainless Steel
Warranty: 2 Years     Where to Buy: WatchShop.com
The case of this Continental is 40mm, the lug to lug is 46.5mm and the overall thickness, including the sapphire crystal I measured at 8.5mm. The entire case, bezel, caseback and crown are all stainless steel. The Continental also has a water resistance rating of 50m. The finish of the case is highly polished. The proportions are, in my opinion, very good and would fit the majority of wrist sizes.
The strap of the Continental feels cheap although it does say genuine leather on the back. It is also signed, but is feels kind of "plasticy". This might be because it's brand new and would probably need some time to break in a bit.  The supplied buckle is also fully polished and signed. A nice touch that I didn't expect. The strap also has 2 keepers, one fixed and the other floating for easy adjustment.
The chosen movement for the Continental is a Swiss made quartz. I have no idea what the exact model is, as it isn't listed anywhere. I have also checked the listing page but there is nothing about the movement other than it's Swiss made. I would take a guess that it's a Ronda movement of some kind.
*Edit* – I found out today, the exact movement is a Ronda AGCH-4415.
This version of the Continental has a highly polished fixed bezel. It is of good quality and everything looks rather good.
The dial has very neat roman numerals all around with the Continental logo and text printed under the 12 marker. There is also a date complication at the 3 o'clock position, with an applied silver border around the cut out. The hour and minute hands are in proportion to the dial and actually suit the watch extremely well. The small second hand has its own separate dial ticking away like a quartz should.
Again, I have absolutely no clue what lume is being used on the hour and minute hands. I've checked, and yet again, nothing listed anywhere. Not that it matters, as to put it politely, it's crap. But to be fair, there aren't many dress watches that need to be pumped full of lume. You aren't going diving with this.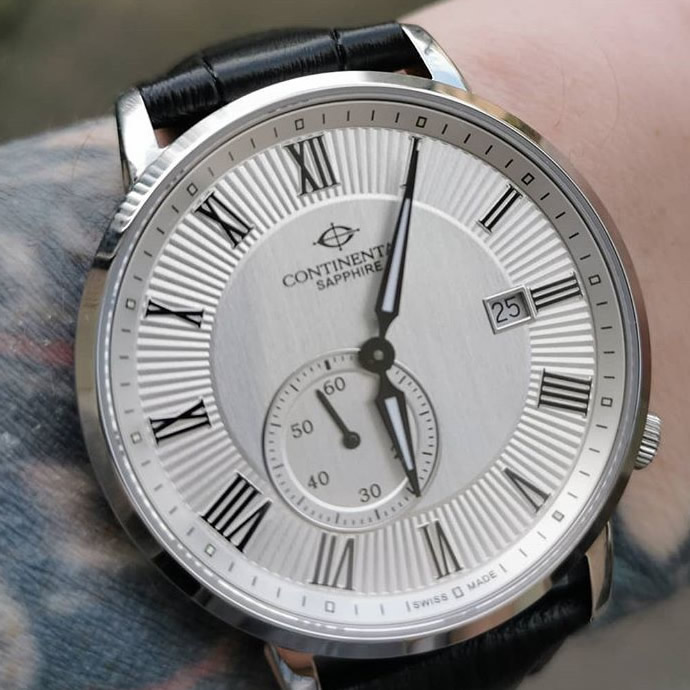 On the surface of things and on first impressions, this Continental seems to have a fairly decent spec for the price. On further investigation though, when you can't find out exactly what's in this thing, I start to doubt the quality. What are they hiding? Probably nothing, but this watch isn't exactly aimed at watch enthusiasts like myself and people that read my reviews.
I think it's aimed at people much more like your Dad or Grandad looking for a watch for that wedding that they're being dragged to in a couple of months. All they want is for it to look smart under their shirt cuff and to tell the time at a quick glance whilst drinking as much alcohol as they can get away with.
If you're of the latter camp, then this watch is for you. If you're a watch enthusiast like myself then I wouldn't bother. You have plenty choice of automatic watches with far better spec at this price point. I never wear a dress watch as such, so maybe I'm the wrong person to review this. If I need to wear a shirt and tie (I'd rather stick a hot poker in my eye) then I'd wear a dressier sports watch from my collection.
6/10
– Apologies, but I just can't recommend this one.
Thanks to Ken Hooper from
CherishPR.com
for sending out this sample so promptly for me to review.