Manufacturer:

Dailos Watches

| Price: from $299 USD (£230 GBP, €255 EUR)
The Dailos Waveform only came to my attention just a few weeks ago when I was browsing through my usual array of Facebook groups. As soon as I saw it, I slammed the brakes on my scrolling to investigate further. I thought to myself, there has to be something I don't like, a gigantic 46mm dinner plate dial, a shit movement perhaps? The more I researched it, the more I liked what I was seeing. I immediately contacted the owner of Dailos and asked if I could possibly review one. Luckily, as it turns out, the owner is actually an avid reader of Zaltek Reviews and said it would be an honour if I would review the Waveform. Perfect I thought, and just a week or so later it showed up on my doorstep… Sweet!
Specifications
Dimensions: Diameter – 39.9mm, Thickness – 13.1mm, Lug to Lug – 46.8mm, Lug Width – 20mm
Movement: Seiko SII NH35A, 21,600vph, 3Hz, Hackable, Self Winding, 41hr Power Reserve
Case Material: Reinforced Titanium Grade 2 with Polished Accents
Bracelet: Reinforced Titanium Grade 2, Solid Links, Screw Pins, Milled Signed Clasp
Crystal: Double Domed Sapphire, 5 Layers of Inner Anti-Reflective Coating
Bezel: Titanium, 60 Click Unidirectional, Ceramic Insert
Lume: Swiss Super Luminova® BGW9
Crown: Titanium, 6mm, Screw Down, Signed      
Water Resistance: 300m / 30ATM / 990ft
Caseback: Titanium, Screw Down, Engraved Wave & Anchor Design
Warranty: 1 Year        Weight: 106g (Sized for my 6¾″ wrist)  
Where to Buy:

Dailos Kickstarter Campaign

(Launch Date – 1st November '20)
Dial Options: Jet Black, Ghost (DLC), Aurora Teal, Midnight Blue
Dailos Watches - A Brief Introduction
"Dailos Watches is a Singapore based microbrand founded by Denzel Lim. At Dailos, we aim to create very high quality watches with eye-catching aesthetics, while bringing excellent value for money to everyone. Being a microbrand, we strive to connect with our customers and to exceed everyone's expectations."
Prototype to Production Alterations
The 90-click bezel will be changed to a 60-click bezel with a tighter bezel action.
The colour tone of the ceramic bezel insert will be slightly lighter to match the colour of the case and bracelet.
The double-screw link system will be changed to regular one-sided screw links for the production model.
There will be an added polished edge to the clasp so to match the chamfered edges of the case.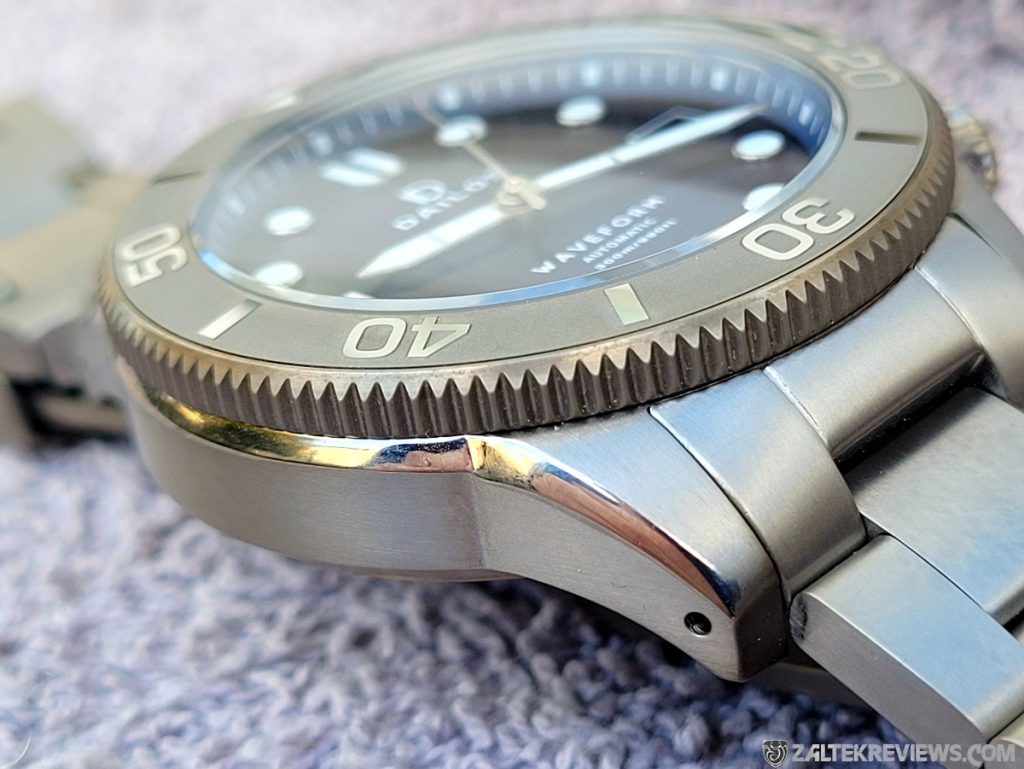 The case of the Dailos Waveform has a diameter of 39.9mm. The lug to lug is 46.8mm and the overall thickness, including the double domed sapphire crystal, I measured in at a very nice 13.1mm. The entire case, caseback, bezel, crown and bracelet are all Titanium Grade 2. The finish of the Waveform is mainly satinized, but with the addition of tastefully done polished chamfered edges that run along the top edge of the case and over the top edge of the crown guards. Dailos also use their very own scratch resistant coating for the entire case, bracelet and milled clasp increasing hardness to 1200HV.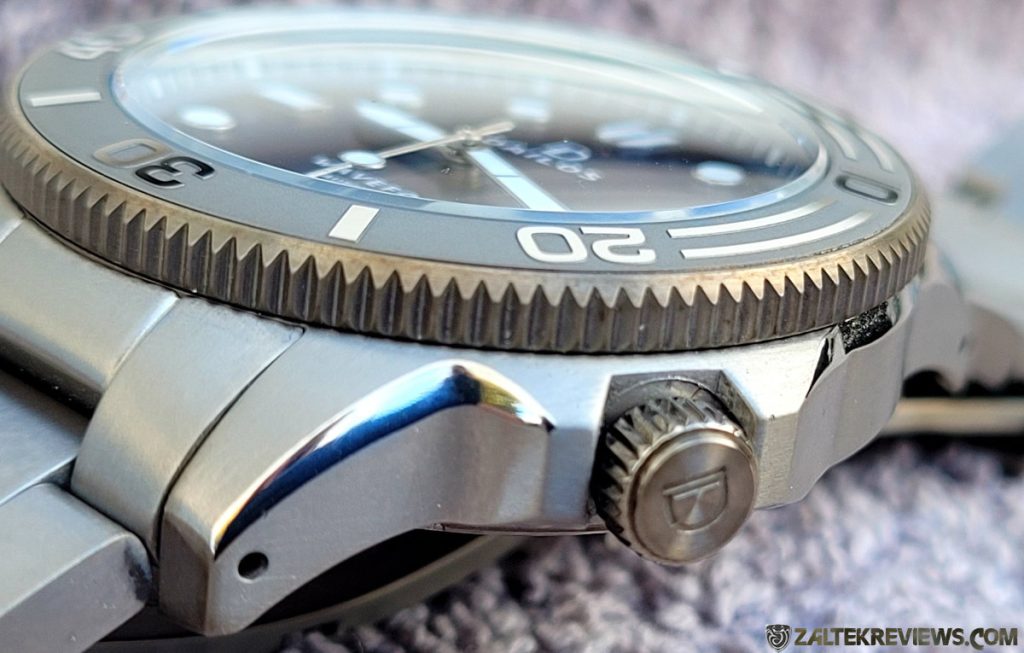 The Waveform has a water resistance rating of 300m, thanks to the inclusion of a screw down caseback & crown. The proportions of the watch, in my opinion, are absolute perfection! Putting things into relative perspective, think of a well-sorted, fully modded Seiko SKX but in a slightly smaller size and made out of titanium. The Waveform fits my 6¾″ wrist perfectly, all thanks to that relatively small lug to lug of just under 47mm. The signed crown is also nicely executed, plenty of grip, nice little pop as you unscrew it, zero wobble when in use and a niceley executed embossed Dailos logo.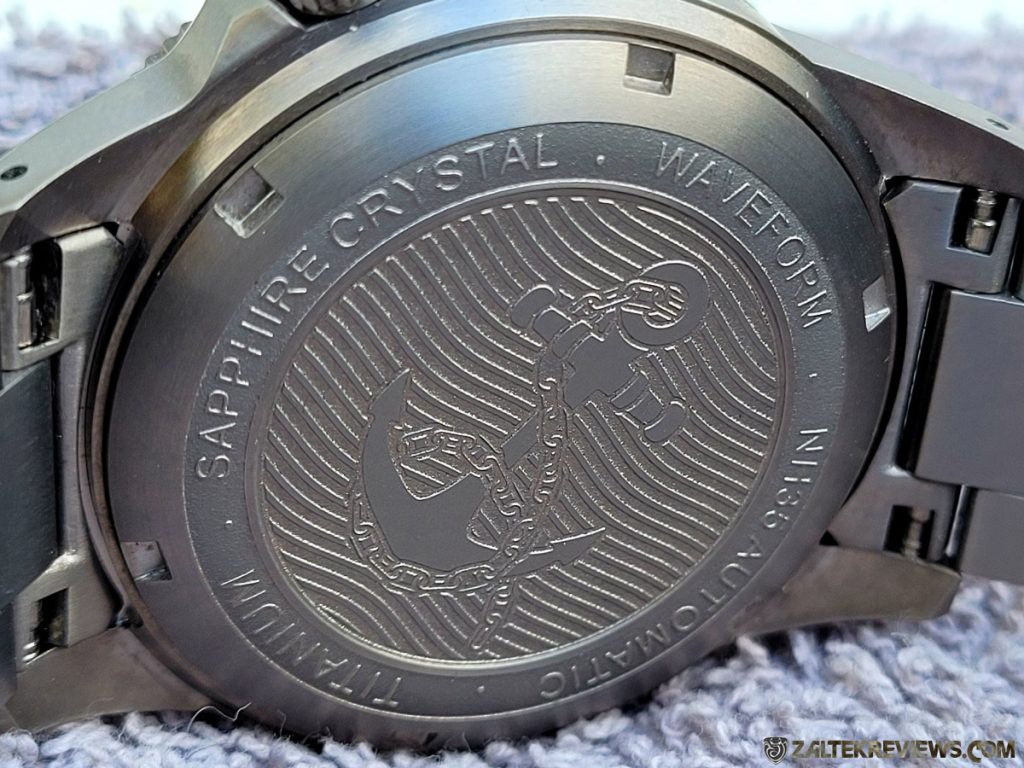 Titanium Grades Explained (well, kind of...)
Here is the dumbed down version of me trying to explain Titanium and its relative grading… Grades 1, 2, 3 & 4 are commercially pure (99% minimum titanium). These grades have slight variations in chemical composition, that can both affect mechanical properties and design capability. Titanium, as most of us are aware, is lightweight compared to stainless steel and has exceptional corrosion resistance, often exceeding that of stainless steel in most environments.

Of the four commercially pure titanium grades that I've mentioned, Grade 2 is definitely the titanium of choice for most manufacturers in the watch industry, giving both good ductility, as well as corrosion resistance. Titanium Grade 5 is an alloyed titanium (an alpha-beta alloy) and is subsequently considered the best of the best. However, it is also around twice the price of Grade 2, depending on which part of the world it's sourced and/or bought from. Any wiser? Nah, me either! All I'll say is, it's the perfect material for larger/heavier watches that require "tamed down" from stainless steel.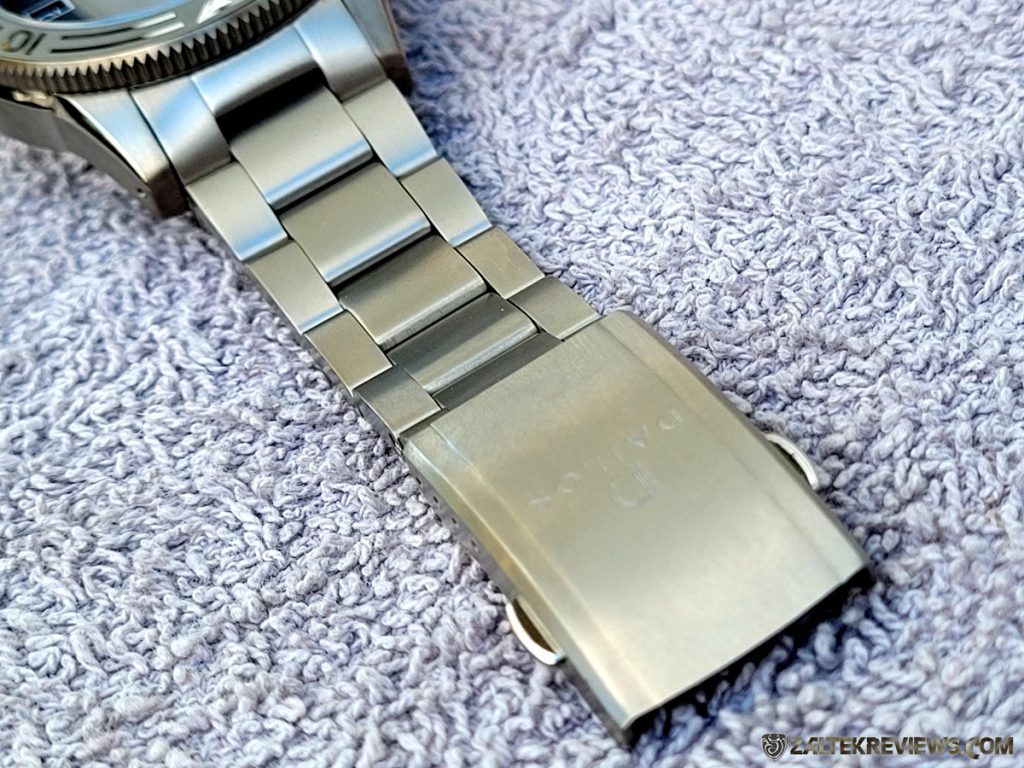 The Waveform comes fitted as standard with a 20mm reinforced titanium bracelet that is very nice indeed. It does have all the bells & whistles that you might hope for, solid links throughout and screw pins for sizing and adjusting. The clasp itself is also very nicely designed and manufactured, even if it is of a rather simple design, it is still way better than some other microbrands clasps that I've seen. The clasp is also fully milled, signed, with 4 micro-adjustment holes. More importantly, it is actually titanium, with the same hardening treatment implimented like the rest of the watch & bracelet.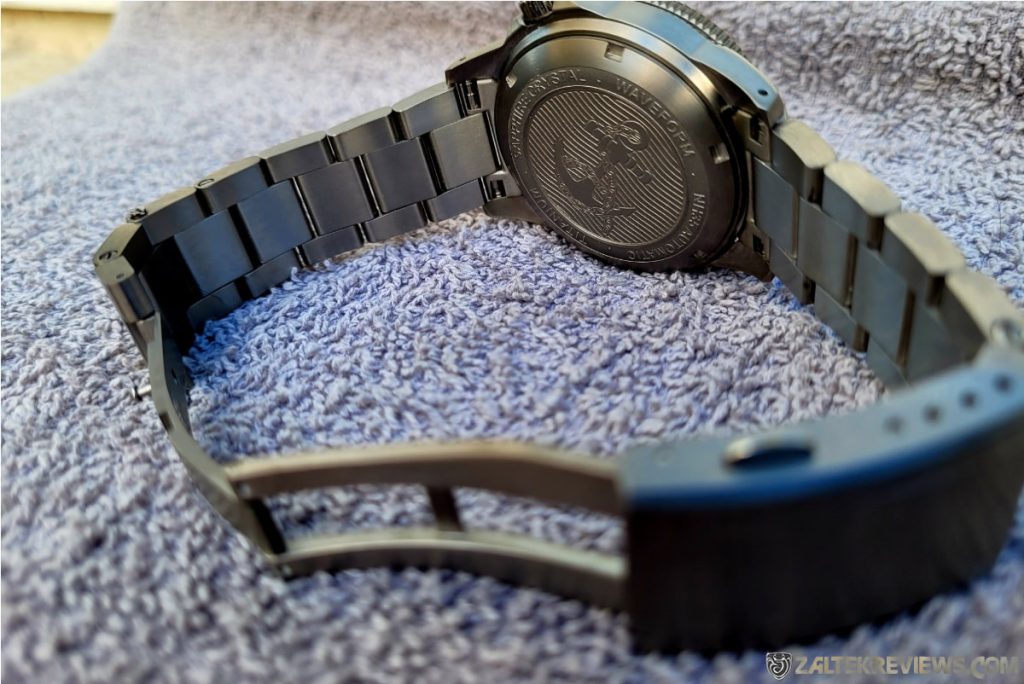 If you look at the bracelet, you will also notice female end links, the best choice in my opinion, as it enables the bracelet to fully articulate for optimum comfort and zero (effective) extended lug to lug. Measurements of the bracelet are what I'd call spot on for this type of watch and overall size & design. Starting at 20mm at the lugs, tapering down to 18mm at the thinnest most point and back up to 20mm at the clasp. Perfect!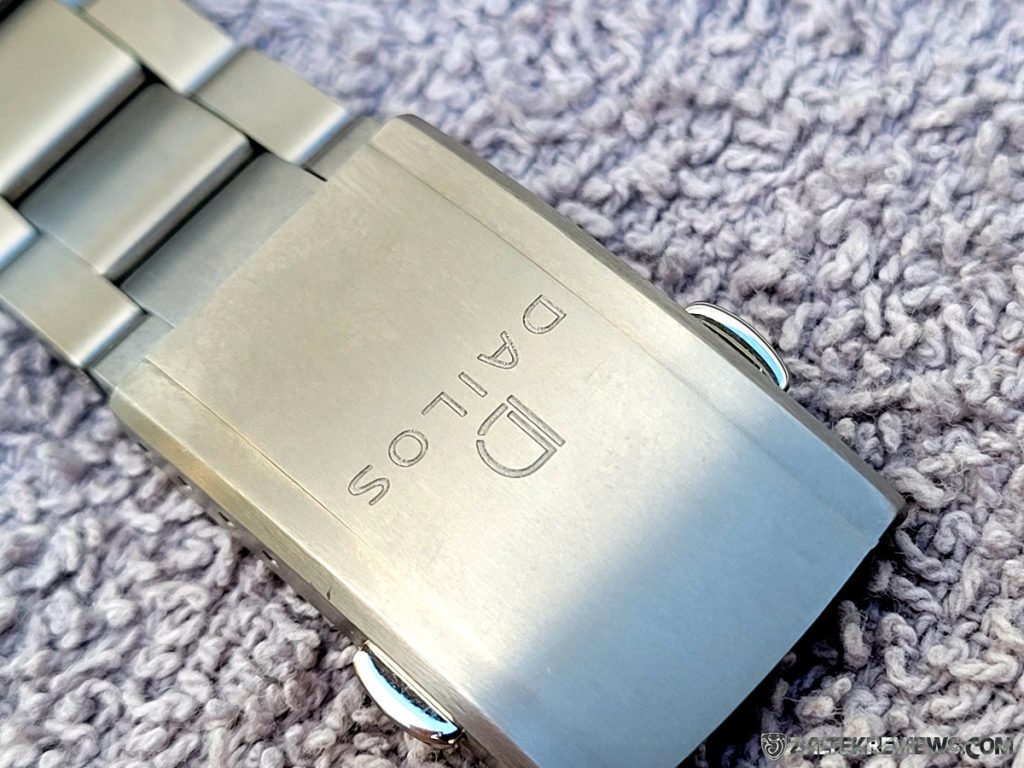 The chosen movement for the Dailos Waveform is the microbrand go-to movement of choice, the super-reliable SII NH35, manufactured by Seiko. A fantastic workhorse that is a 21,600vph, 3Hz, 24 jewel movement with self winding and of course hacking, with the inclusion of a very respectable 41 hour power reserve. Checking the accuracy after running the Waveform for just over a couple of weeks, mainly on wrist and occasionally in my watch winder, I thought the accuracy was exceptional, with it showing an average of just +1.9 spd. Very impressive and remember, this is a bloody prototype!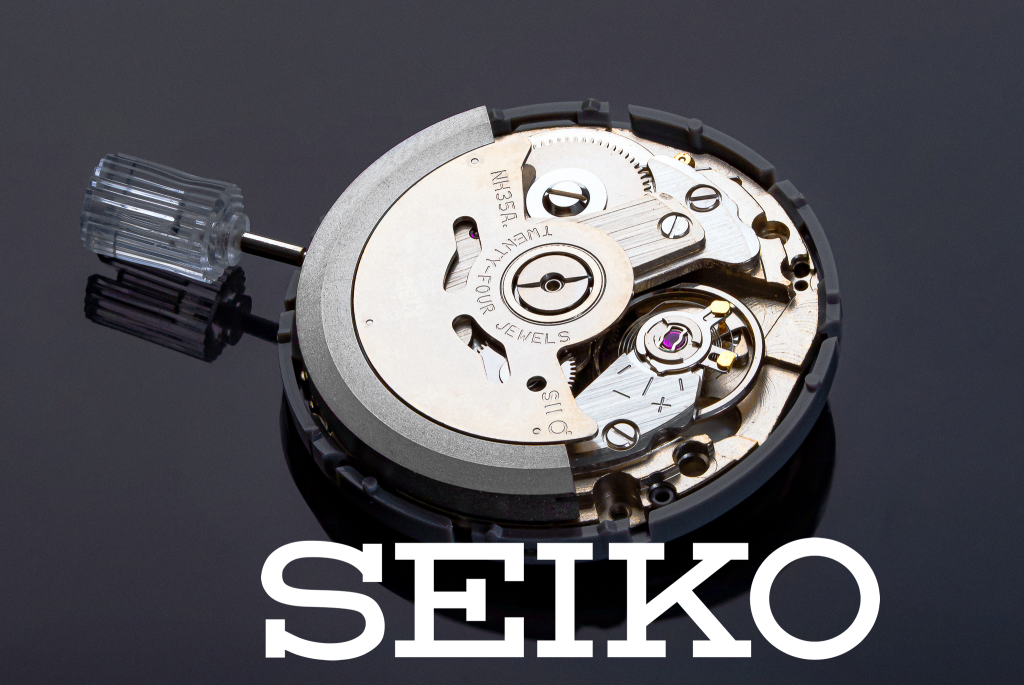 The Dailos Waveform production model will come with a 60 click unidirectional bezel with a ceramic insert. The insert on all versions are lumed only at the triangular marker. The actual bezel itself is titanium and of very good quality on this prototype, with a nice tactile action and everything does line up just as it should. The printed text on the dial are the words WAVEFORM and AUTOMATIC, with the depth rating of 300m/990ft just below, which looks great, giving it a good contrast against the deep sunburst blue effect on the dial. The Dailos logo is printed too and proportionately, it's bang on.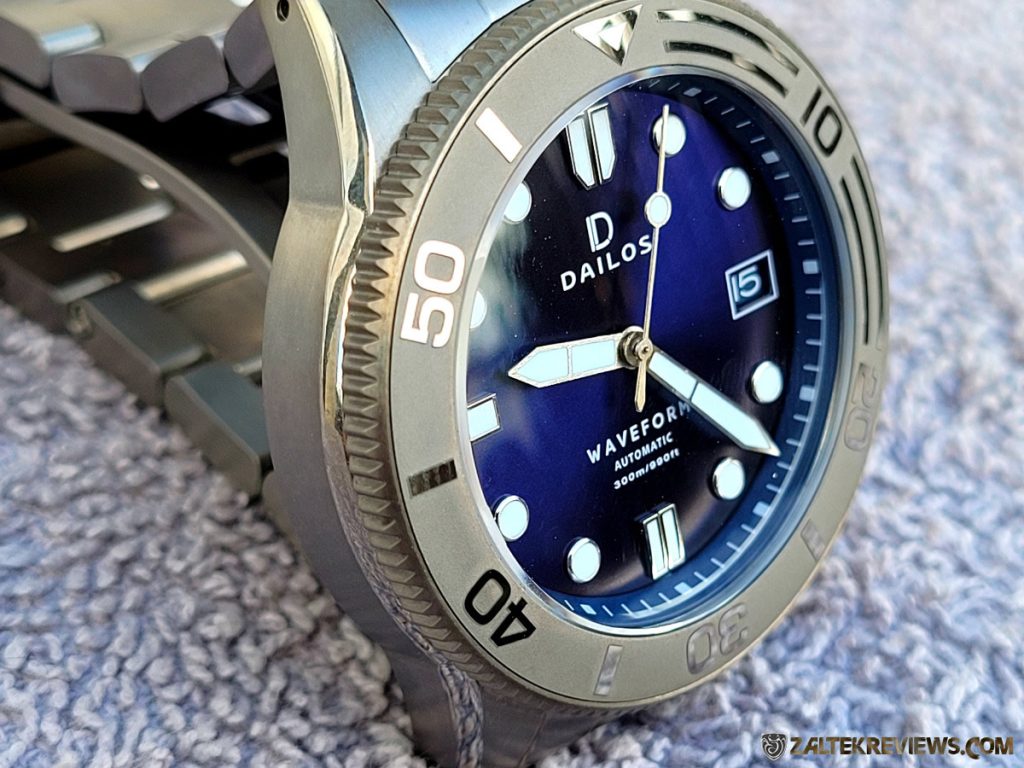 The dial of the Waveform is undoubtadley one of the best features of the watch. It is rather "Seiko-esque" in appearance, but that's not really a bad thing as Seiko don't usually fuck up their dials. The sunburst effect on this Midnight Blue version is simply gorgeous. There are indicies around the dial, with larger markers at the 6 & 9, with a slightly different style double marker at the 12 o'clock position, to enable correct orientation of the watch when in low light conditions. The chapter ring is both clean and simple, being printed in a very legible contrasting white on a dark blue background.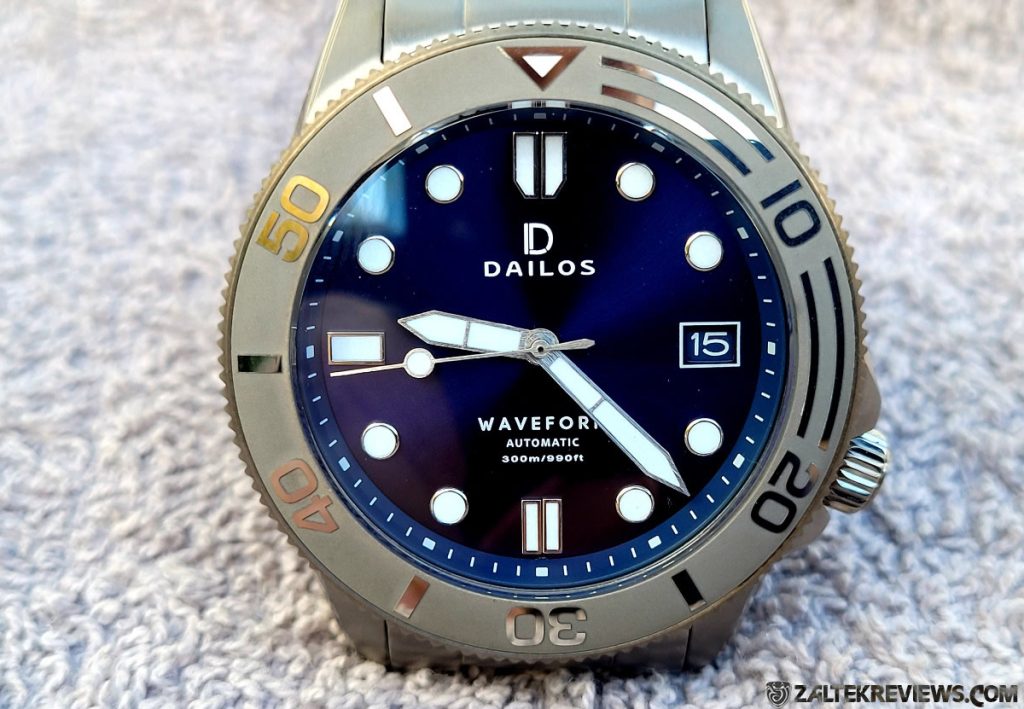 As you can see in the images, the hour and minute hands are nicely done with their very proportionate design. The seconds hand is great too, with it's wee lumed lollipop section. There's also a colour-matched date window at the 3 o'clock position, which looks superb. This watch just gets better and better, doesn't it…?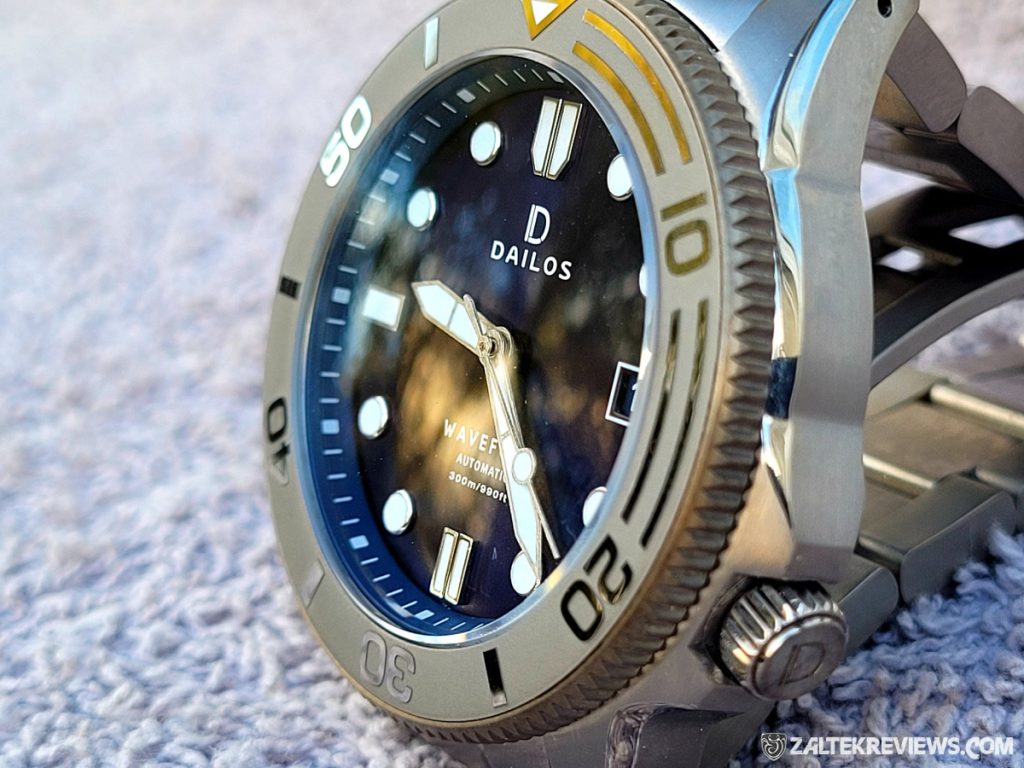 The lume on the Dailos Waveform is phenomenal! The actual formula that's been applied to the Waveform, is Swiss Super Luminova® BGW9. It has not only been applied very thickly and executed 100% perfectly, it's initially rather potent and even if it does fade a little over time, it is still very legible hours later during dark and low light conditions.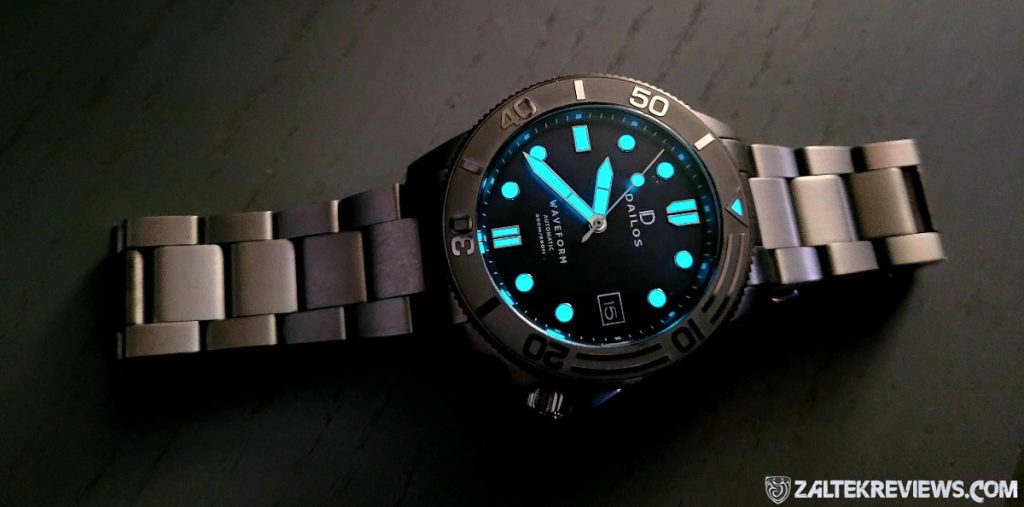 Well I've pretty much done nothing less than praise this watch very highly throughout this entire review, and quite rightly so. I've had quite a few titanium watches in for review this year and I can honestly say, that the Dailos Waveform is the cream of the crop and my favourite out of all of them. That's quite a huge statement from me, considering what the competition has been… The Zelos Swordfish Ti, the BOLDR Venture and not forgetting the Kickstarter destroyer, the Hamtun Kraken H2 just to name a few that initially spring to mind. I've also mentioned in this review that the Dailos Waveform reminds me a lot of the watch enthusiasts favourite, the classic (but extremely outdated) Seiko SKX007/009.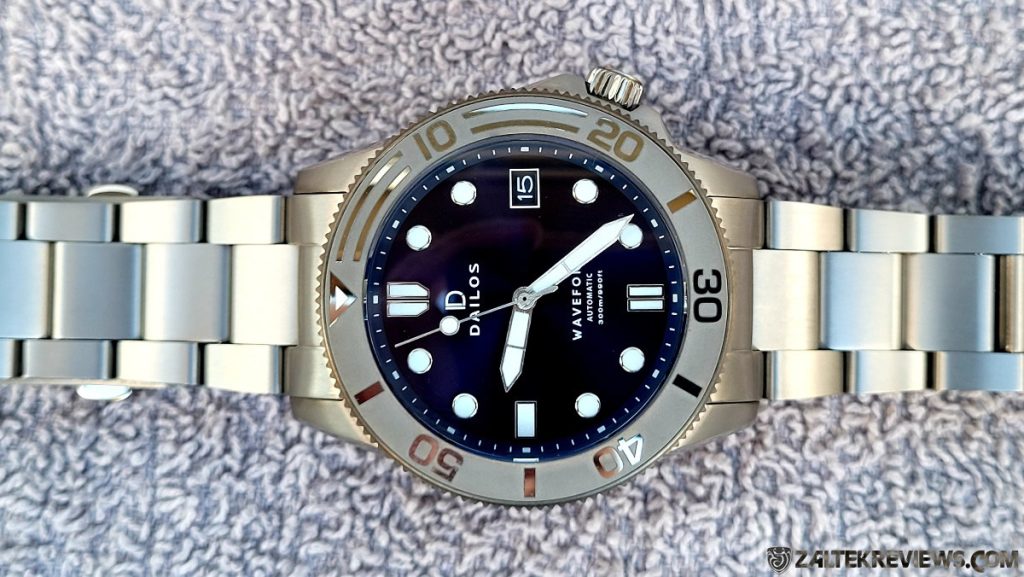 Well, as it happens, I've had a shit ton of SKX's over the years and to be honest, unless it's fully modded and built to the exact spec that I've wanted (which costs a bloody fortune by the way), the stock SKX is, in comparison, utter shite! A crap movement, shoddy build quality, a cheap jangly bracelet, pressed clasp, misaligned chapter rings/bezels, need I go on?
Well, my fellow watch geeks… fast forward and welcome to 2020, and may I present to you the best Seiko SKX style watch that's currently available. It's bang on the sweet spot of 40mm, it's made entirely from titanium, including the bracelet and clasp and it has none of the shitty QC issues you get from Seiko. The Waveform launches on Kickstarter on the 1st of November and to put my money where my mouth is, YES, I will be buying one. The teal version probably.
Dailos Watches – The Dailos Waveform – fantastic materials, build quality and phenomenal value for money. If I had any more awards, the Dailos Waveform would be getting them. 110% RECOMMENDED!
10/10 - WITHOUT A DOUBT, THE BEST VALUE TITANIUM WATCH THAT I'VE EVER REVIEWED, RECEIVING ZALTEK REVIEWS' VERY RARE PLATINUM AWARD!
A massive thanks to Denzel at Dailos Watches for sending out the Waveform for review. Very much appreciated.
To view the Dailos website, or to join their mailing list to be informed of new models etc, visit
Dailos Watches
.
It takes a fair amount of work to do these reviews. If you feel like supporting Zaltek Reviews to help towards running costs, or even if you feel like just buying me a coffee, please use the PayPal button below.  Thanks very much.
[paypal-donation purpose="Donate to Zaltek Reviews" reference="Ref:Zaltek" button_url=""]