Manufacturer:

Zelos Watches

| Price: from $369 USD (£279 GBP, €310 EUR)
If you look through my back catalogue, you might have noticed that I've reviewed more Zelos watches than pretty much any other brand. This is for good reason too, they're friggin' awesome! FYI, I have zero intention of stopping anytime soon. In fact, as I write this review on the Swordfish Ti, there are even more, soon to be released Zelos models, being shipped out to me as early as next week. It was only a couple of weeks ago that I reviewed the tremendously fantastic value for money, Zelos Swordfish 40. Elshan at Zelos seems to be releasing new models, and/or tweeking and refining his current range faster than Sticky Vicky can fire ping pong balls out of her fanny! Trust me, that's saying something! Have you ever seen that show in Benidorm? Anyway, I digress… how's this new Zelos Swordfish Titanium then… is it any good?
Specifications
Dimensions: Diameter – 41.7mm, Thickness – 13.4mm, Lug to Lug – 47.4mm, Lug Width – 22mm
Movement: Seiko SII NH35A, 21,600vph, 3Hz, Hackable, Self Winding, 41hr Power Reserve
Case Material: Titanium Grade 2 with Polished Highlights
Bracelet: Titanium Grade 2, Chamfered Solid Links, Screw Pins, Milled Signed SS Clasp
Crystal: Flat Sapphire, Multiple Underside Anti-Reflective Coatings
Bezel: 120 Click Unidirectional, Lumed SS, Ceramic, Meteorite or Forged Carbon Insert
Lume: Swiss Super Luminova® BGW9 & C3 X1
Crown: 7mm, Screw Down, Signed      
Water Resistance: 300m / 30ATM / 990ft
Caseback: Screw Down, Deep Stamped Swordfish Logo, Unique Serial Number
Warranty: 1 Year    Weight: 135g (Sized, (6¾″ Wrist))   
Where to Buy: 

Zelos Watches

| Serious Watches

Dial Options: Meteorite, Forged Carbon, Black Sand, Frost White, Whirlpool Blue, Calypso Orange, Teal
Zelos - A Brief Introduction
"Zelos was founded to offer timepieces with cutting-edge design crafted from materials such as stainless steel, bronze, meteorite as well as forged carbon. Zelos design and produce watches from the ground up, ensuring that you get a watch that can be found nowhere else. Since the start of Zelos in 2014, they have launched three models initially on Kickstarter with increasing success. Zelos' first model, the Helmsman gathered 273% of the target funding. The Chroma followed, with 350% and finally the Abyss with a whopping 650% of funding!

Zelos no longer utilise Kickstarter when releasing new models, opting to take pre-orders on their own website, with an average of just 3 – 4 weeks wait time before you get that infamous email stating that your watch has been despatched via FedEx. Zelos is based in Singapore and was founded by Elshan Tang, who having been fascinated by mechanical timepieces for many years, building them was the only logical next step. Elshan believes that great timepiece design should not be confined to just expensive brands. Shown below are just a small example of some previously released Zelos', with plenty more to come..."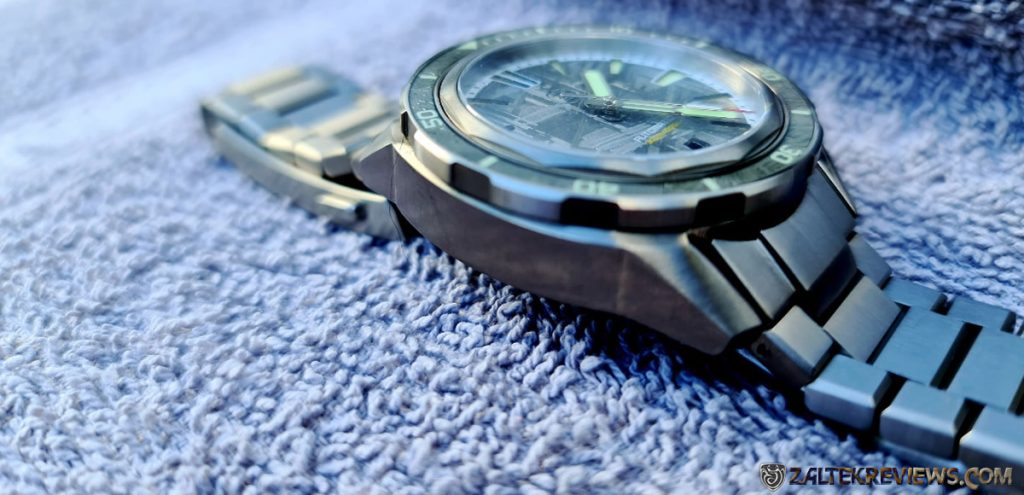 The case of the Zelos Swordfish Ti has a diameter of 41.7mm. The lug to lug is 47.4mm and the overall thickness, including the sapphire crystal, albeit flat, I measured in at 13.4mm. The entire case, caseback, bezel, crown and bracelet (less the clasp) are all Titanium Grade 2. The finish of the Swordfish Ti is mostly, what I would call, a satin kind of appearance, with the addition of polished highlights on the inner lugs, as well as on the top edge of the crown guards.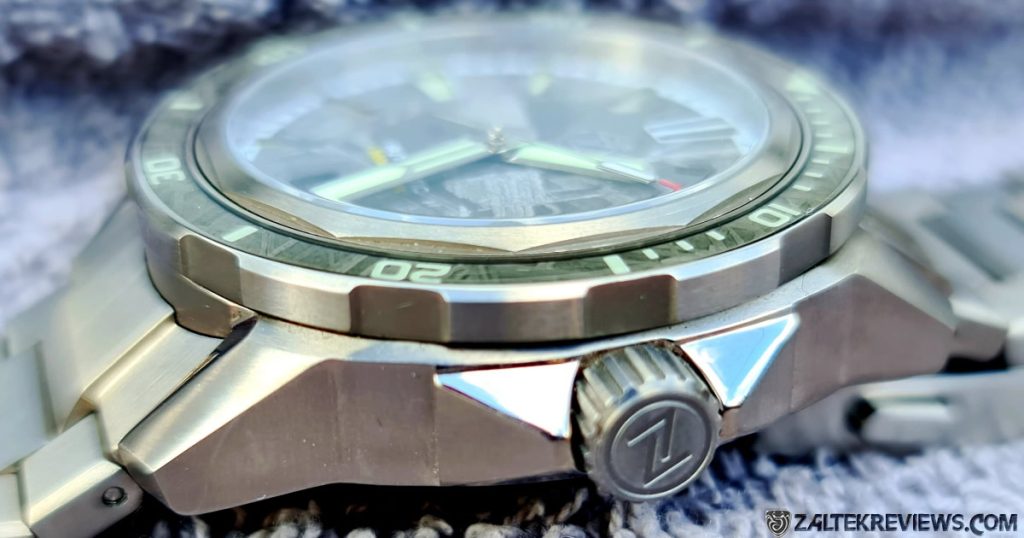 The Swordfish Ti has a water resistance rating of 300m, thanks to the inclusion of a screw down caseback & crown. The proportions of the watch, in my opinion, are absolutely spot on! Even if it is a tiny bit larger than normal (for me), the Swordfish Ti still fits my 6¾″ wrist perfectly, all thanks to that relatively short lug to lug of just a baw-hair over 47mm. The signed crown is very nicely executed too, plenty of grip, zero wobble when in use and the embossed Zelos logo is
.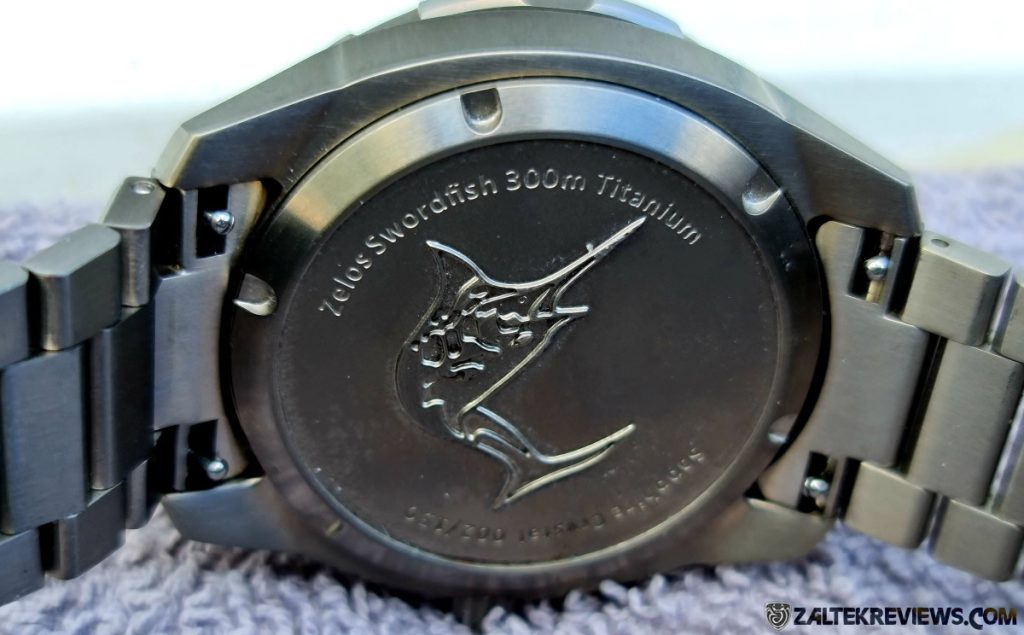 Titanium Explained (kind of)...
Here is the dumbed down version of me trying to explain Titanium and its relative grading… Grades 1, 2, 3 & 4 are commercially pure (99% minimum titanium). These grades have slight variations in chemical composition, that can both affect mechanical properties and design capability. Titanium, as most of us are aware, is lightweight compared to stainless steel and has exceptional corrosion resistance often exceeding that of stainless steel, in most environments.

Of the four commercially pure titanium grades that I've mentioned, Grade 2 is definitely the titanium of choice for most manufacturers in the watch industry, giving both good ductility, as well as corrosion resistance. Titanium Grade 5 is an alloyed titanium (an alpha-beta alloy) and is subsequently considered the best of the best. However, it is also around twice the price of Grade 2, depending on which part of the world it's sourced and/or bought from. Are you any wiser? Nah, me either! All I'll say is, it's the perfect material for slightly larger watches that need "tamed down" from stainless steel.

The chosen movement for the Swordfish Ti is the microbrand go-to movement of choice, the super-reliable SII NH35, manufactured by Seiko. A fantastic workhorse that is a 21,600vph, 3Hz, 24 jewel movement with self winding and of course hacking, with a very respectable 41 hour power reserve. Checking the accuracy after running the Swordfish Ti for over a couple of weeks, mainly on wrist and occasionally in my watch winder, I thought the accuracy was exceptional, with it showing an average of just +1.5 spd. Very impressive!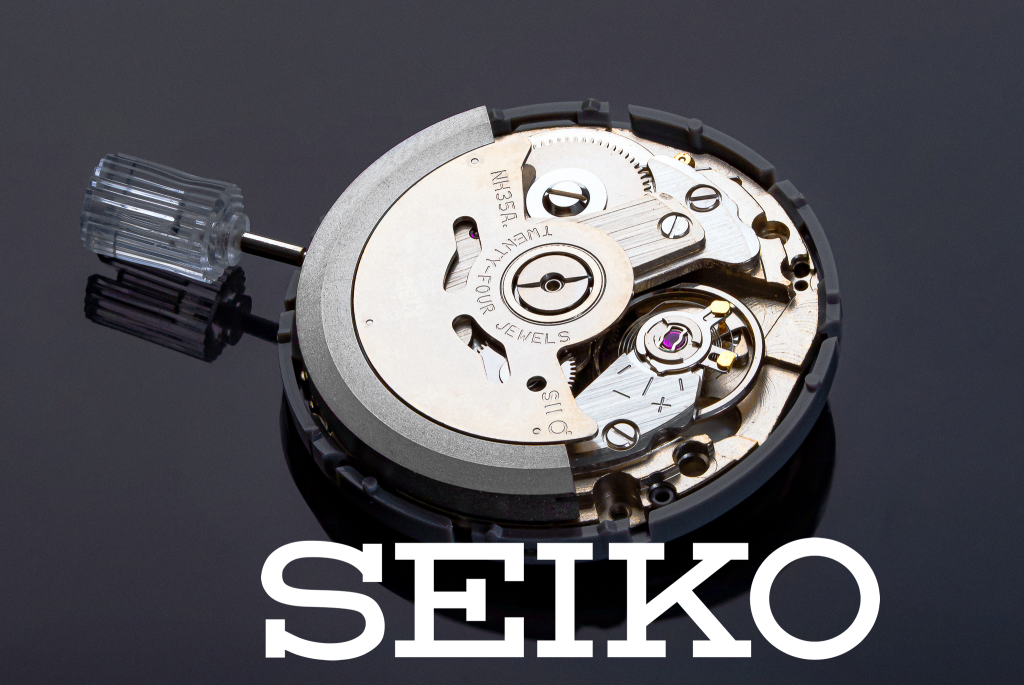 The Zelos Swordfish Ti has a 120 click unidirectional bezel with a lumed insert. The insert on all versions are fully lumed, although the insert is different depending of which colour/finish you end up going for. The titanium bezel itself is of phenomenal quality with a very nice tactile action and everything lines up absolutely perfectly. The only printed text on the dial is the word AUTOMATIC, with the depth rating of 300m/990ft just below, finished in yellow on this version, which does work very well, giving it a good contrast against the natural meteorite finish of the dial. The Zelos logo is applied as always, which I always appreciate and it's placed at the usual position of just under the 12 o'clock position.
The sandwich dial used on the Swordfish Ti has neatly done cut-outs for the hour markers, with larger markers at the 3 & 9, with double markers at the 12 o'clock position to enable correct orientation of the watch when in low light conditions. The inner minute track is both clean and simple, being printed in a very legible contrasting black on a white background.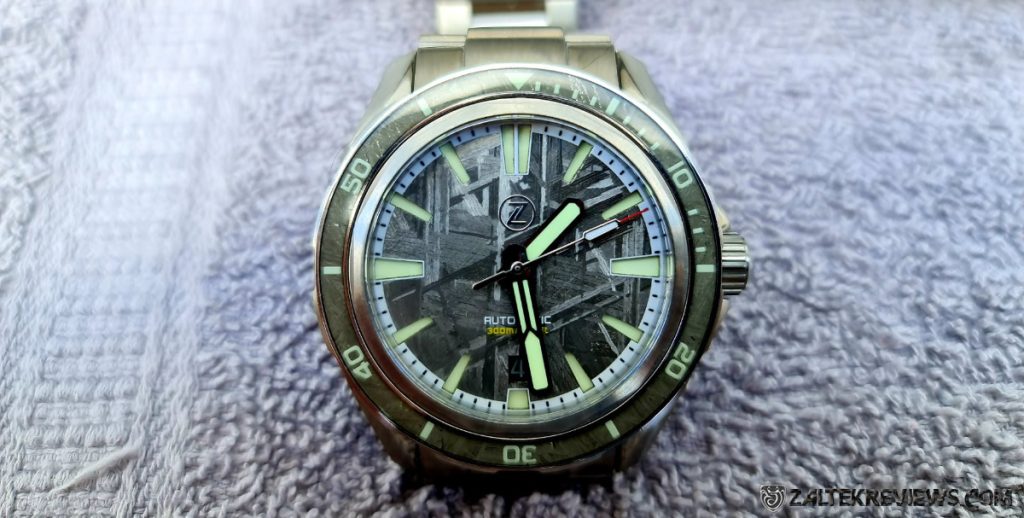 As you can see in the images, the hour and minute hands are very nicely done with their very proportionate and usual chunky Swordfish design. The seconds hand is great too, with it's wee lumed section and red tip that reaches right out to the minute track when sweeping around the dial. As I mentioned earlier, the production model of the meteorite version will have a yellow seconds hand. There's a borderless date window at the 6 o'clock position, which looks superb… and it's colour-matched! Oh yeah, all the other versions of the Swordfish Ti also have a colour-matched date wheel. Perfect!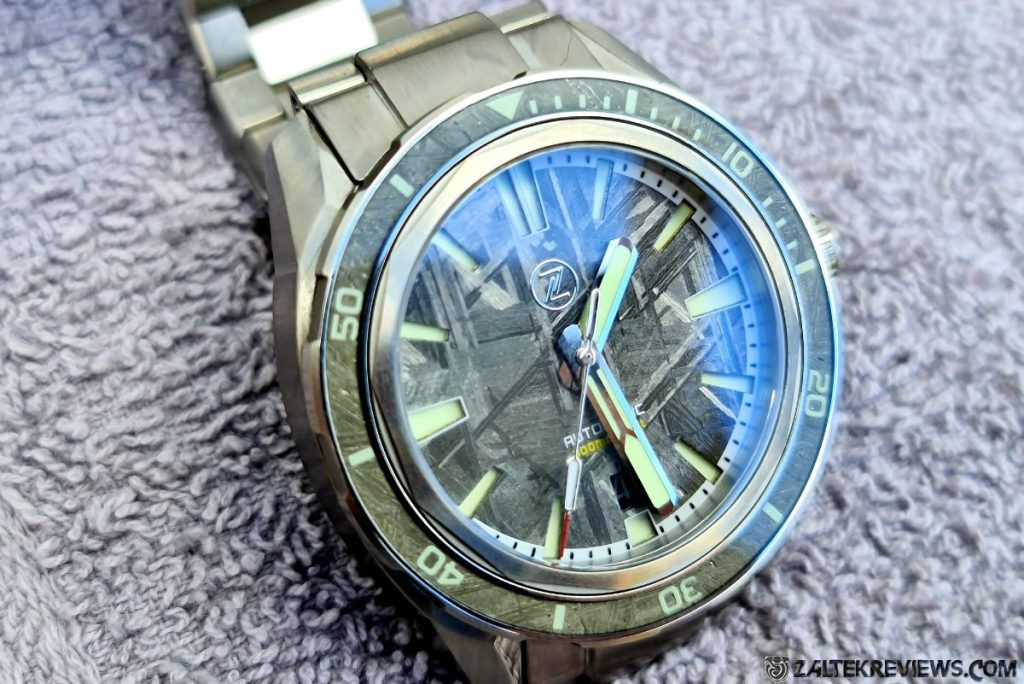 The lume on the Swordfish Ti is what we all expect these days from Zelos, bloody phenomenal! Zelos have always been the king of lume in my opinion, and not just in the microbrand world either, Zelos are probably the best I've seen. Even destroying the big brands along the lines of Rolex, Grand Seiko, Tudor, Omega etc, etc… (you get my point). The actual formula that's been applied to the Swordfish Ti, is a combination of both Swiss Super Luminova® BGW9 & C3 X1. It has not only been applied very thickly and 100% perfectly, it's as bright as the friggin' moon on an exceptionally clear night.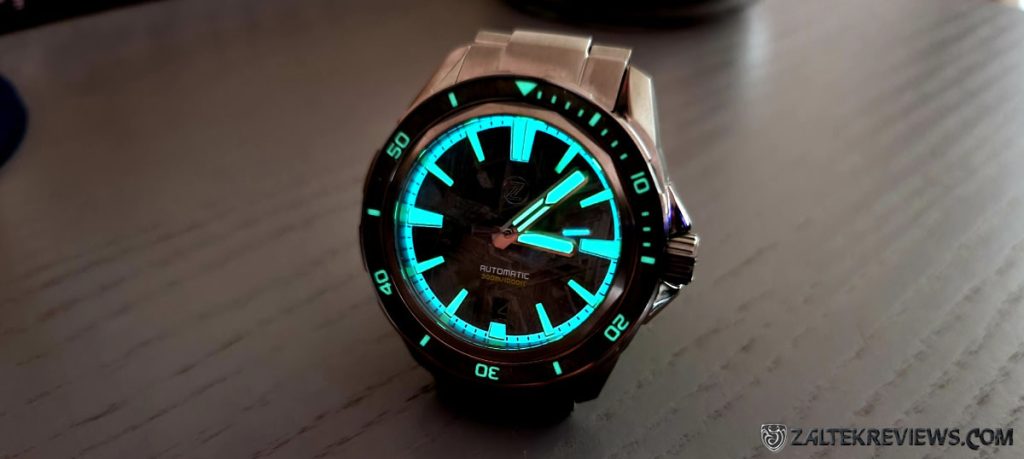 I don't know about other reviewers, but this doesn't happen very often. Sometimes I'll get a new watch in for review and it will actually stay on my wrist for days. This is what has happened with the Swordfish Titanium. Even although I usually change my watch on a minimum of once per day, even if it's just to take my usual daily pic for Zaltek Reviews Instagram feed. Yeah, I might have still been taking pics for Instagram, but as soon as that's done I'll come back into my office and replace the watch with this Swordfish Titanium. As I said, it doesn't happen very often, but I did think it was worth mentioning as I think it does speak volumes for just how good I think the Zelos Swordfish Titanium actually is!
Yep, fine fair enough, I have the most expensive Swordfish Ti available here and some people might think that this review is only full of praise because of that. Well, nope you're totally wrong! I've had hands on experience with both the white frost version as well as the forged carbon one and both were equally as outstanding as this $549 USD meteorite version. Talking of prices, the one just below this meteorite version is the forged carbon, which is priced at $449 USD. All of the other "standard" colourways are priced at just $369 USD. Trust me, for what you are getting for your money, that's utterly phenomenal value! Sadly though, they are all SOLD OUT, although SeriousWatches should be getting some in soon.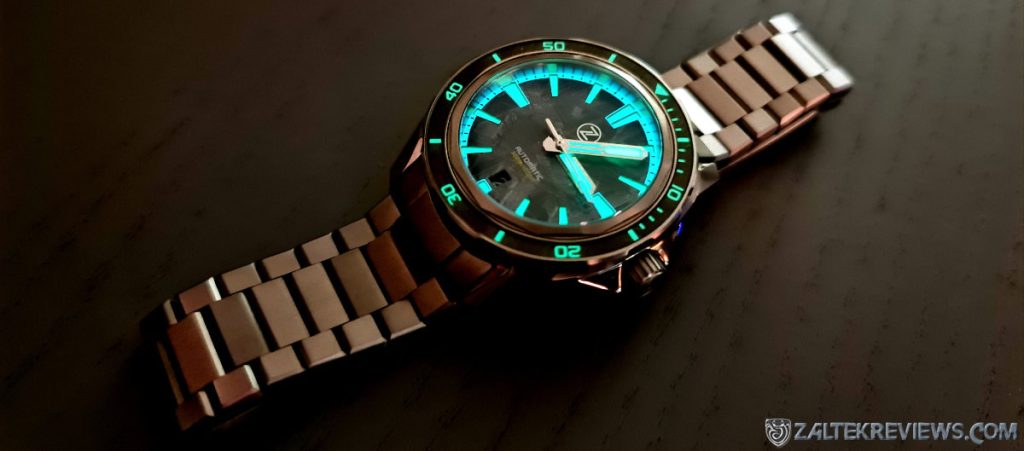 Zelos Watches – The Swordfish Titanium – fantastic build quality and truly phenomenal value for money. Great job!
10/10 - VERY HIGHLY RECOMMENDED!
A massive thanks to Elshan at Zelos for sending out the Swordfish Titanium for review. Very much appreciated.
To view the Zelos website, or to join their mailing list to be informed of new models etc, visit 
Zelos Watches
.
It takes a fair amount of work to do these reviews. If you feel like supporting Zaltek Reviews to help towards running costs, or even if you feel like just buying me a coffee, please use the PayPal button below.  Thanks very much.
[paypal-donation purpose="Donate to Zaltek Reviews" reference="Ref:Zaltek" button_url=""]