Manufacturer:

Dekla Watches

| Price: from €554 ($675 USD)
Before I get into this review, I'd like to offer my sincere apologies to Dekla Watches. I've had the Turbulenz v.2 here for quite some time and due to a back up and corrupt SD card malfunction, I had pretty much forgotten all about this review. So yeah, sorry guys… Anyway, moving on. As I mentioned, I've had this Dekla Turbulenz v.2 here for a good couple of months now, so there's nothing else for it, other than to get my finger out and review it rather pronto. Dekla Watches class this Turbulenz range as a Tactical watch, rather than what I'd class as a Pilot's watch. Either way, I'll just categorize them as both. Right, so… as this is just the introduction, let me stop wafflin' shite and get into the proper meat and two veg of the review.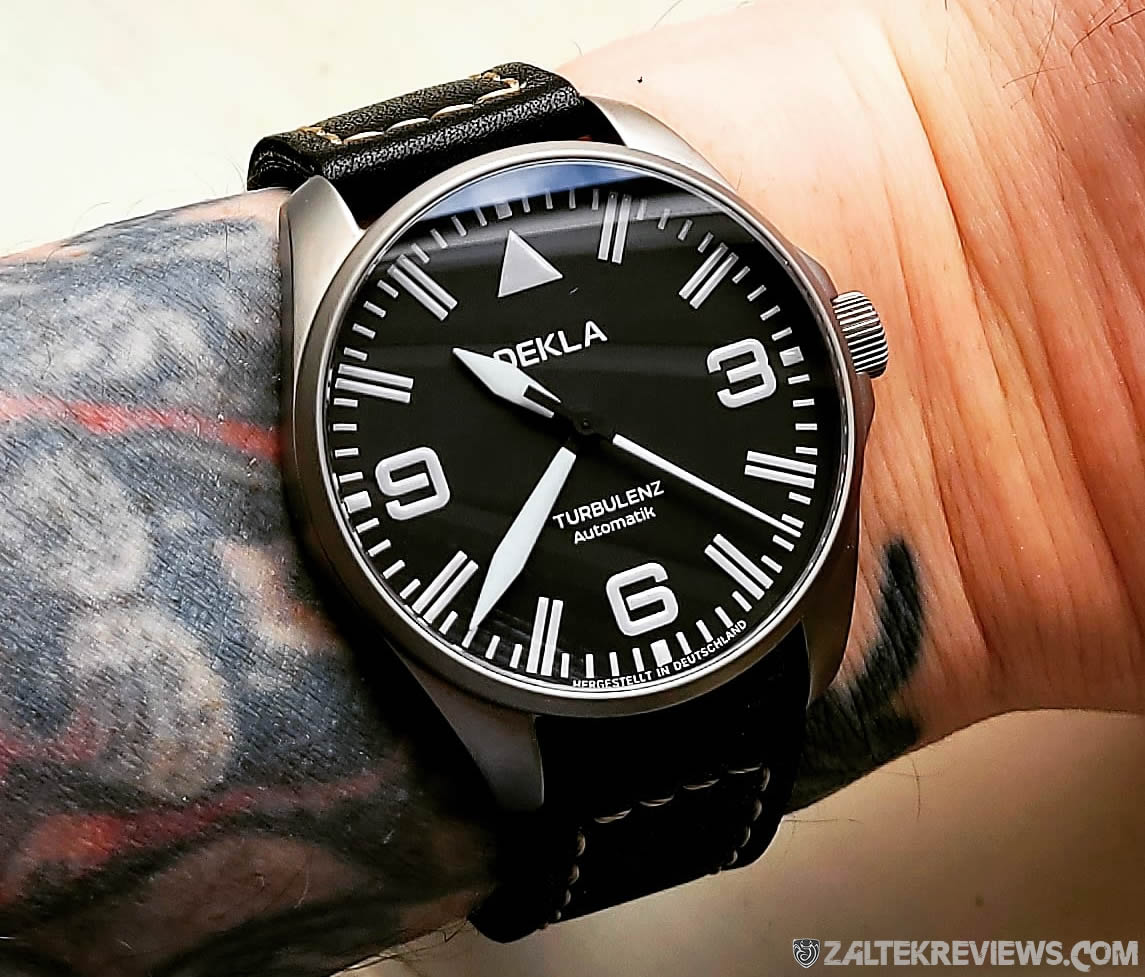 Full Specification
Dimensions: Case – 39.9mm, Thickness – 11.6mm, Lug to Lug – 47.6mm, Lug Width – 20mm
Movement: ETA 2824, 2892-A2 or Sellita SW200/SW300-1, Regulated In-House to +/- 7spd
Case Material: Bead-Blasted 316L Stainless Steel, 6Steel Technology
Bezel: Fixed, Bead-Blasted 316L Stainless Steel, 6Steel Technology
Dial: Printed Hour Markers/Arabics, Sword Hands
Dial Options: Lacquered Black, Sunray Blue, Gradient Black/Blue/Cognac or Green
Lume: 10 Layers Tritec Swiss Super-LumiNova® BGW9
Strap: Black Leather, Contrast Stitching, 6Steel Signed Buckle & Tang
Crystal: Domed Sapphire, Inner Anti-Reflective Coatings
Water Resistance: 200m / 20 ATM / 660ft      

Caseback: Screw Down, Bead-Blasted 316L Stainless Steel, 6Steel Technology
Crown: Screw Down, Signed

Where to Buy/Configure: Dekla Watches

Warranty: 2 Years International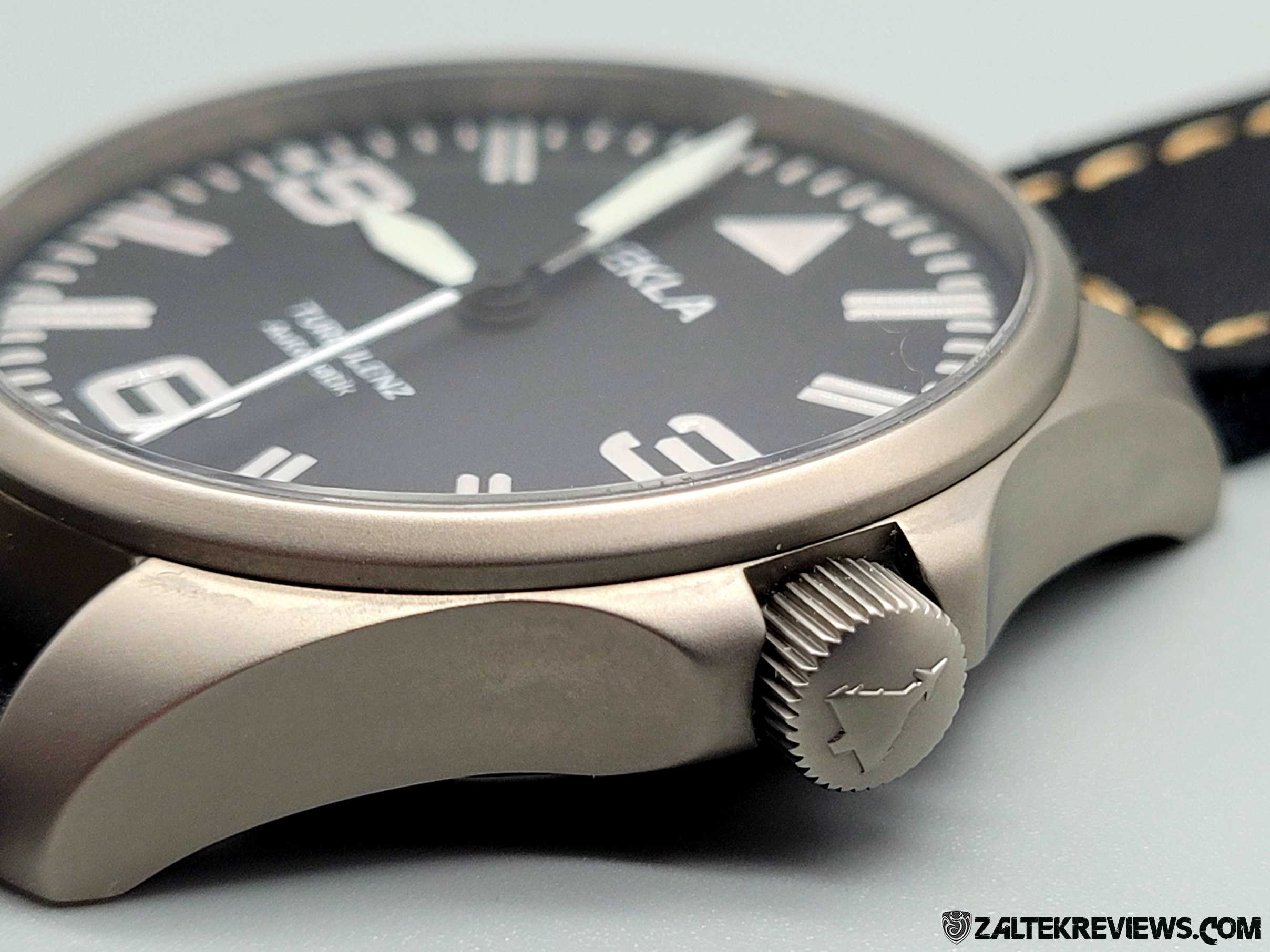 The case of the Dekla Turbulenz v.2 has a diameter of 39.9mm. The lug to lug is 47.6mm and the overall thickness I measured in at a rather svelte 11.6mm. The case, caseback, bezel and crown are all 316L stainless steel. The finish of the watch is bead-blasted as standard, however this one has the optional 6Steel hardening treatment, so there's not a shittin' hells chance of marking this thing, unless, you take a 4lb lead mallet to it. Overall, the Turbulenz has a tough tool-like aesthetic. In fact, that's a bit of an understatement… this is built like a fuckin' tank!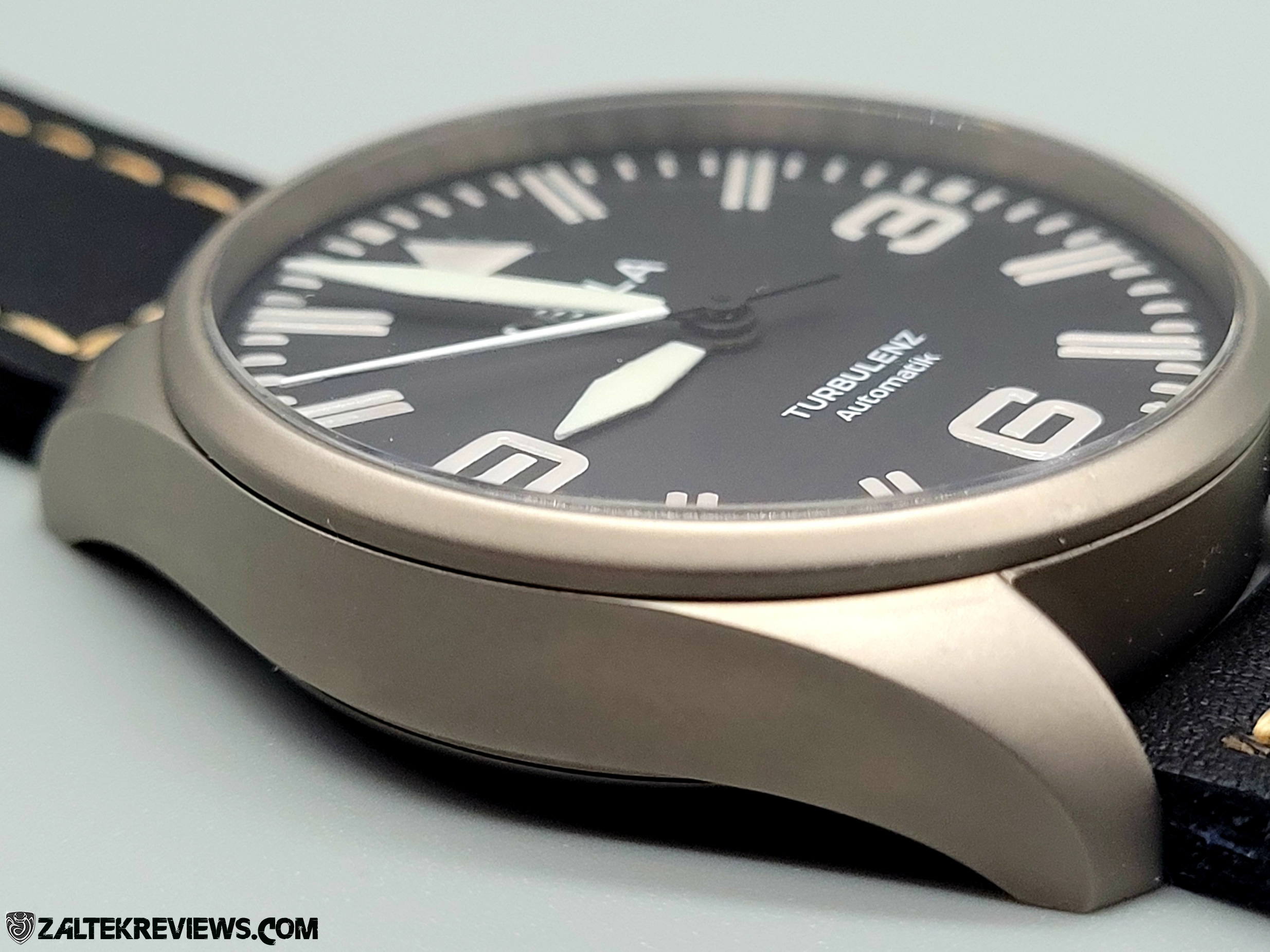 The Dekla Turbulenz v.2 has a total water resistance rating of 200m, thanks to the addition of a screw down caseback & crown. 200m is also pretty impressive for this tactical pilot's watch, as this WR rating is what you'd find on many dive watches. The overall proportions of the Turbulenz are pretty much bang on. The signed crown looks fantastic and is buttery smooth in operation. There's zero wobble either when the crown is in use and you can also feel a nice wee firm pop as you unscrew it. The caseback is also nice, as you can clearly see below.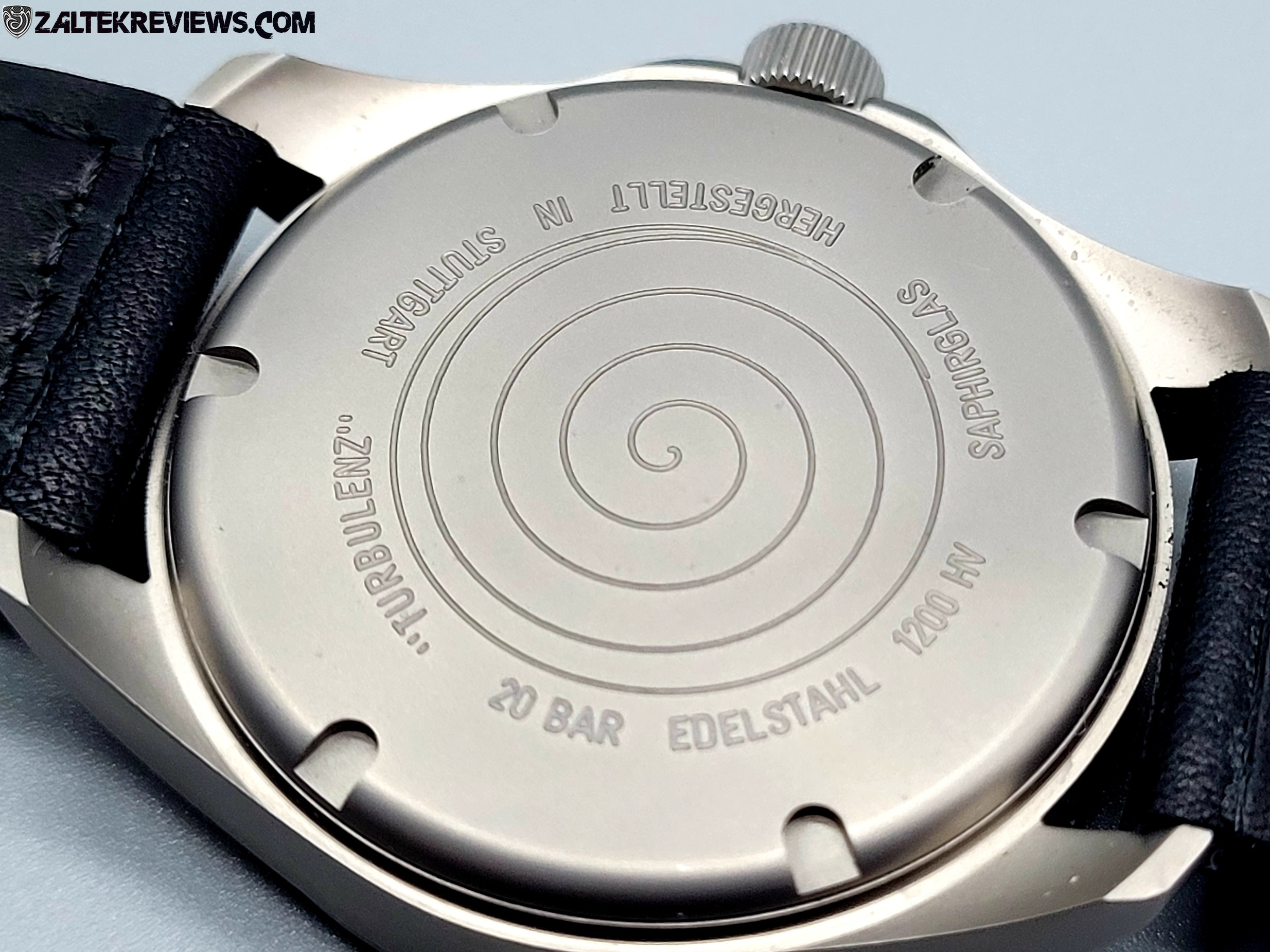 Unfortunately the strap on the Dekla Turbulenz just isn't for me. As there's no bracelet option either and 99% of the time, I've never been a fan of any two-piece strap and even although this one is of superb quality, as soon as it arrived I remember taking it off immediately and replacing it with my all black MN™ strap from Erika's Originals, just for optimum comfort. What a shite review I hear you cry, I should review what comes with the watch. Bollocks! If there's no bracelet, or it's fitted with a two-piece, it's coming off, just like I'd do with my own watches.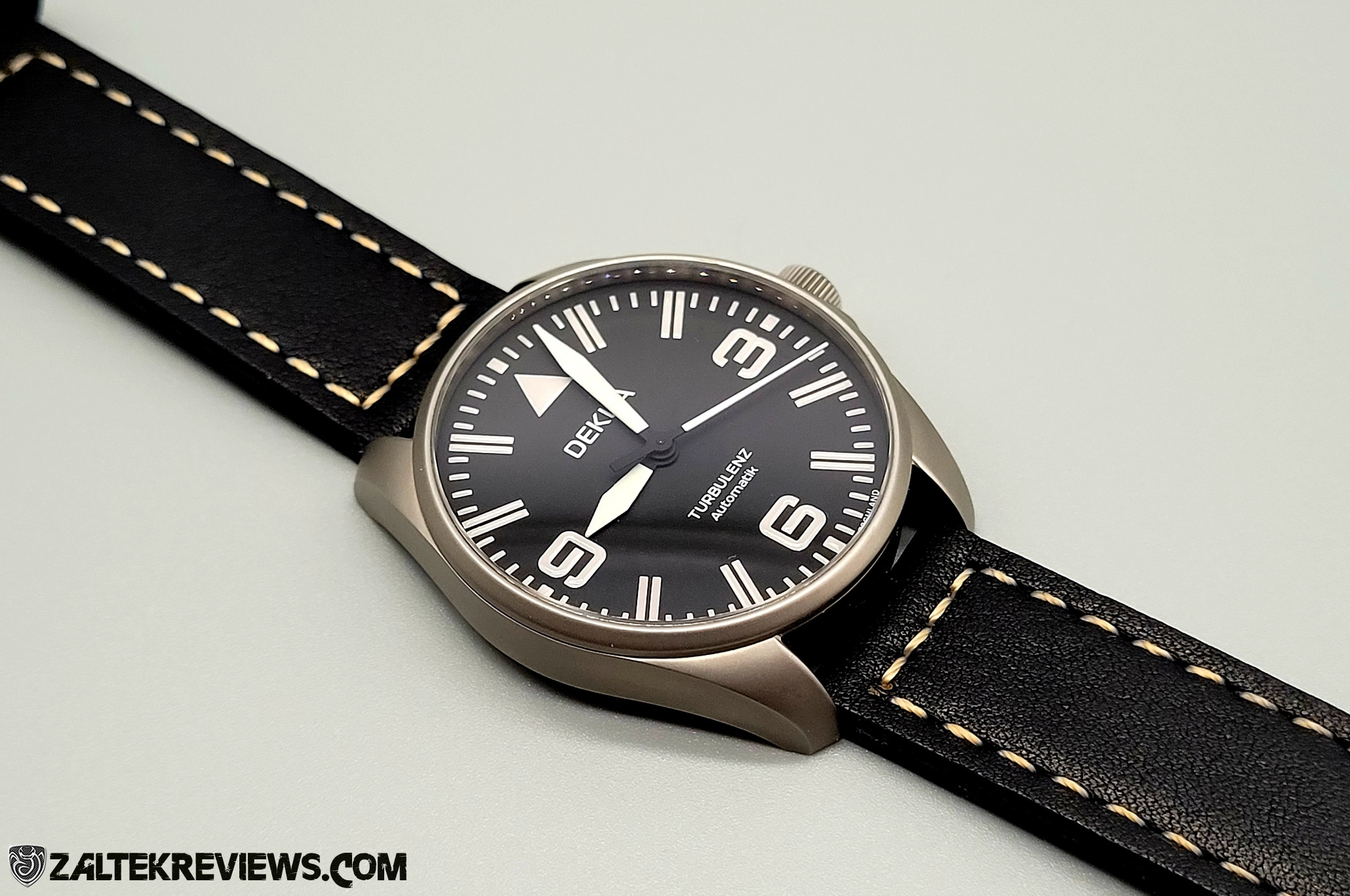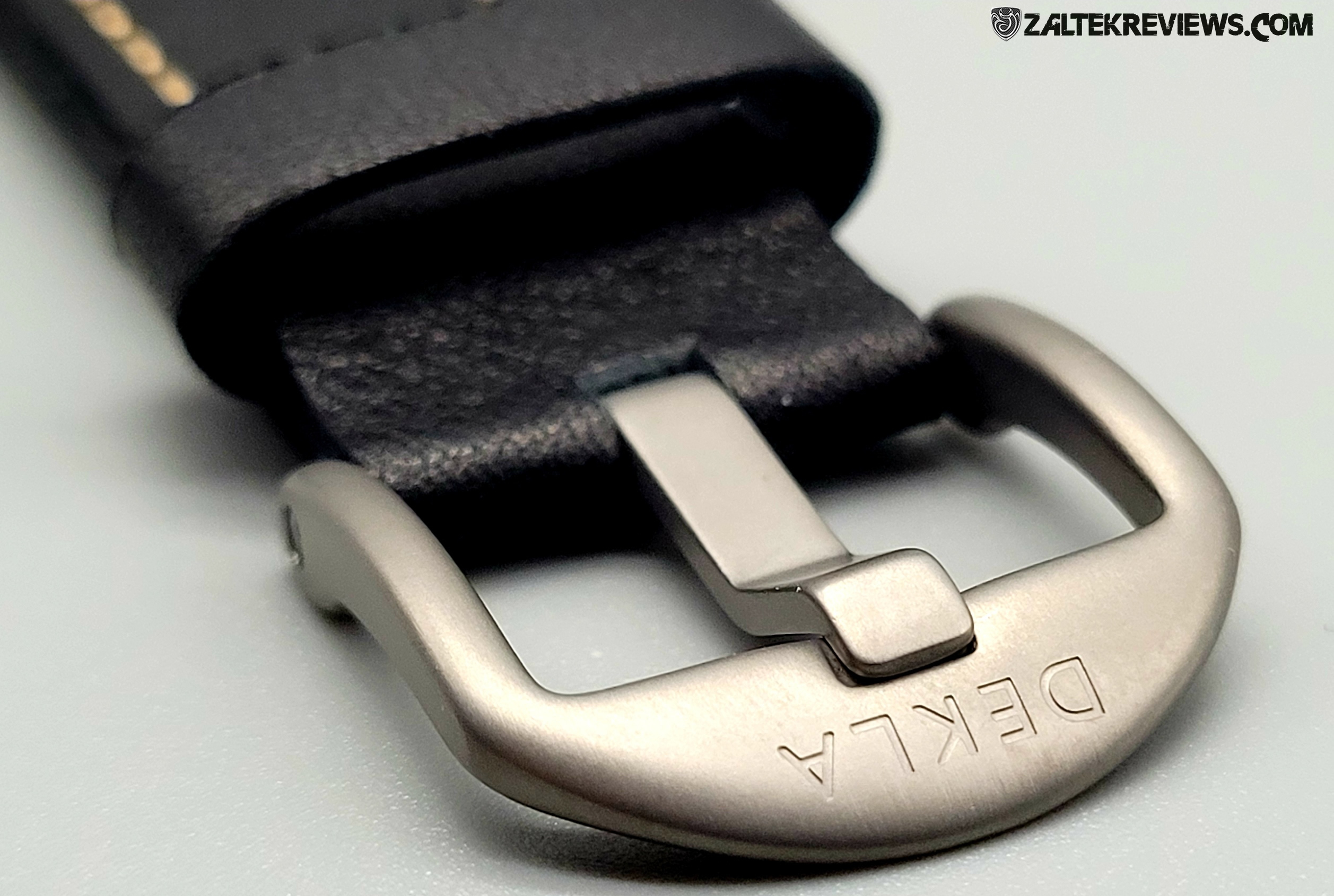 Movement wise, there is a varied range to choose from for the Dekla Turbulenz. From the ETA 2824, the Sellita SW200, all the way up to either the ETA 2892A-2 or the Sellita SW300-1. All of these options are obviously high beat 4Hz movements, no matter which one you choose. Checking the accuracy on my timegrapher after running this version of the Turbulenz for around a month, I was extremely impressed with the final result, with the Dekla Turbulenz coming in at an average of bang on +/-0 seconds per day, with zero beat error!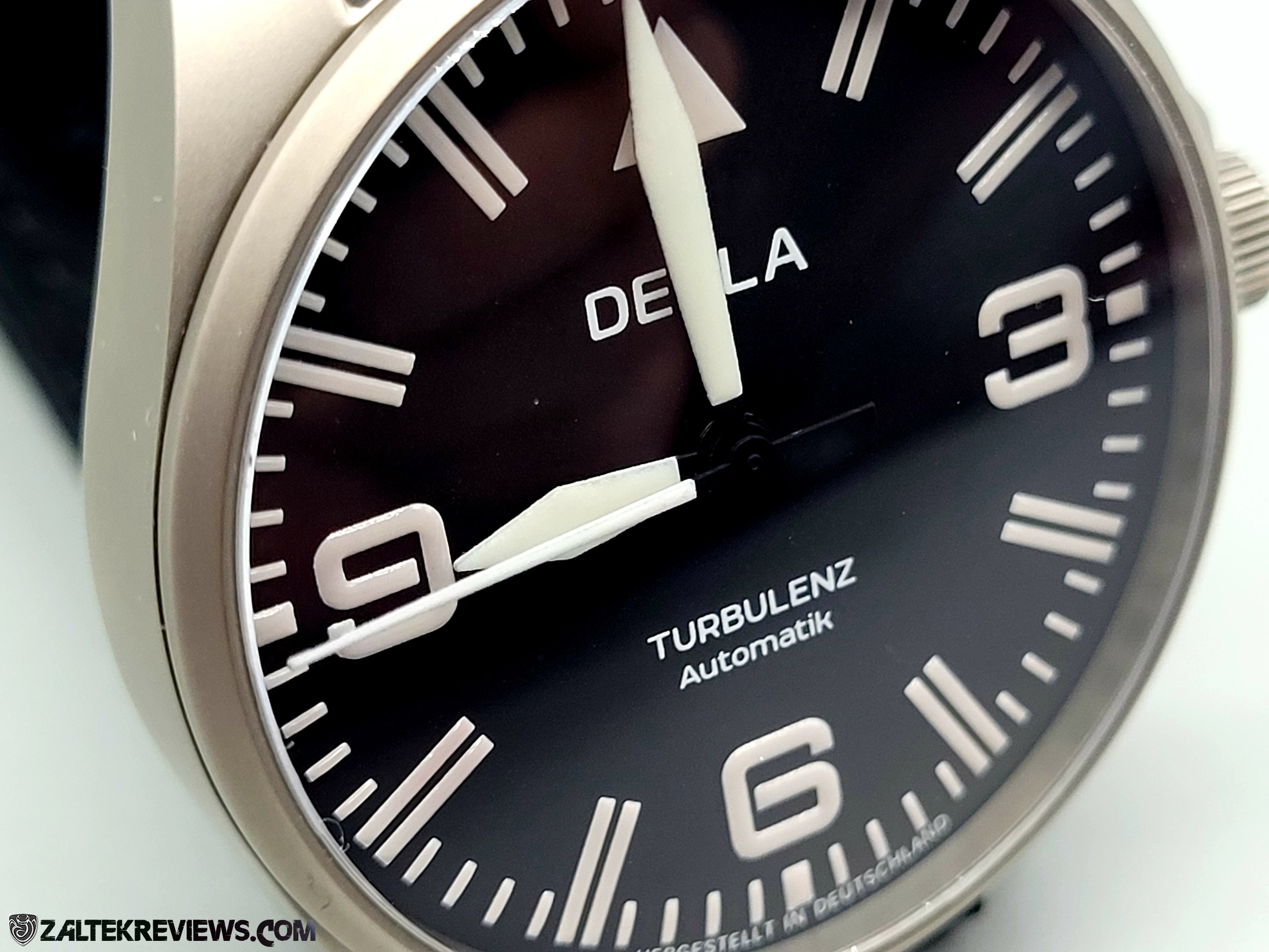 The Dekla Turbulenz v.2 obviously has a completely fixed bezel and it is of outstanding quality, with it's sand-blasted finish with 6Steel technology (hardening treatment), that certainly matches the quality and aesthetics of the case. The printed text on this very legible and simplistic dial is just the word TURBULENZ, with Automatik just below, all finished in a nicely contrasting white. The DEKLA logo, also printed in white, is at the usual spot of just under the marker at 12.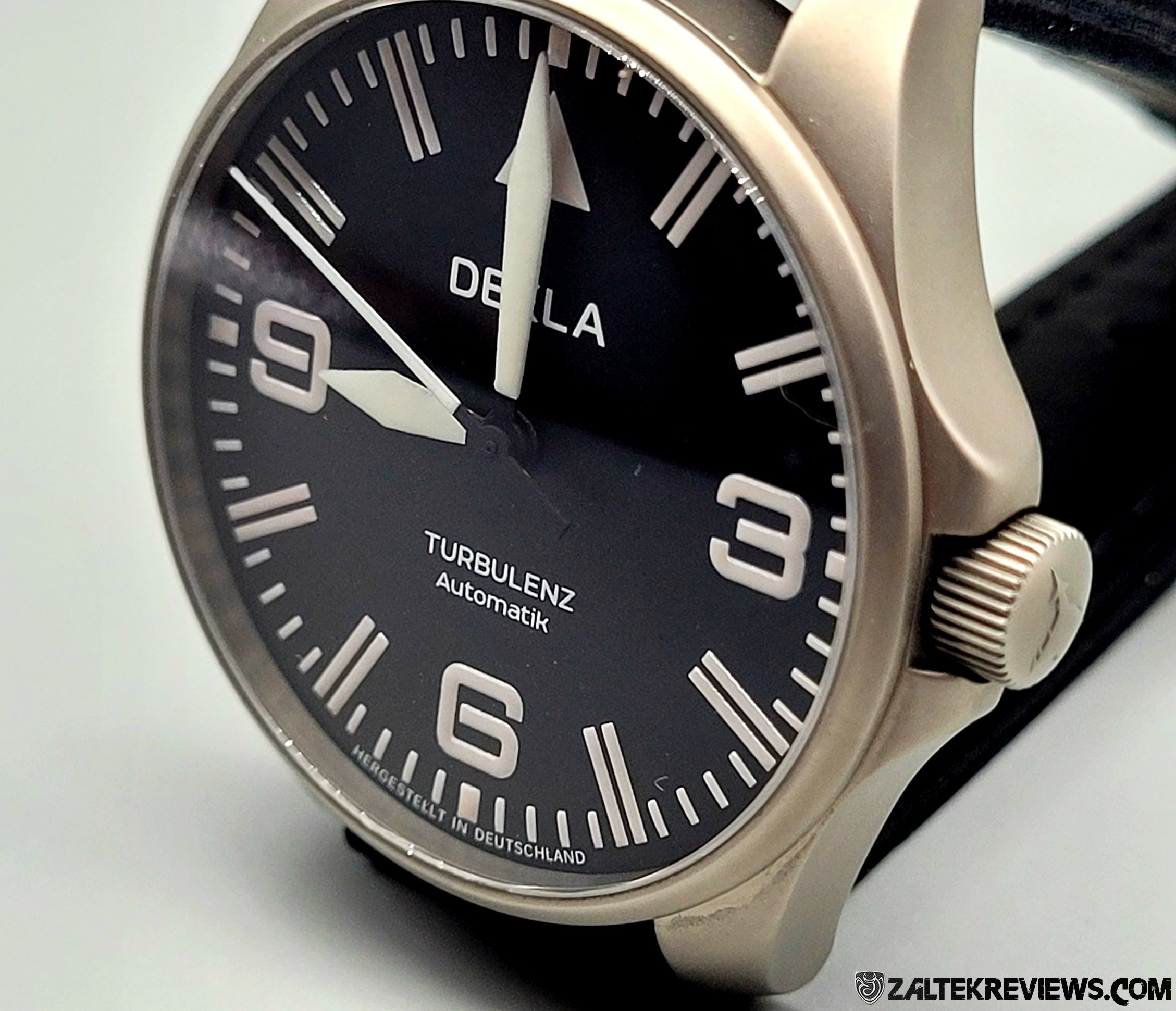 The hour markers are also all printed, with double batons at every hour, with the exception of the large arabics at 3, 6 & 9, as well as that large triangle at 12. Next up, the hour and minute hands… they are superbly finished and are black in the centre near the pinion, giving that illusion that the hands are floating. The hour & minute hands are of my favourite sword style, while the seconds hand is simplistic in design, with its tip that reaches right out to the outer edge of the minute track. At the bottom edge of the dial, under the arabic at 6, you'll see the text Hergestelly in Deutschland, which basically translates to Made in Germany.
The lume on the Dekla Turbulenz v.2 is absolutely fuckin' phenomenal!. The actual formula that's been used on the Turbulenz is Tritec Swiss Super-LumiNova® BGW9. A lot of reviewers usually give the statement, "oooh, it's like a torch!" I won't use that analogy, I'm more leaning towards, "it's bright as FUCK, and lasts for hours!" The best lume I've seen recently has been from the SWC Bunker, as well as the Pearl Diver from Wicked Watch Co. The lume on this Dekla is easily right up there with those two. Fantastic job Dekla, I'm very impressed.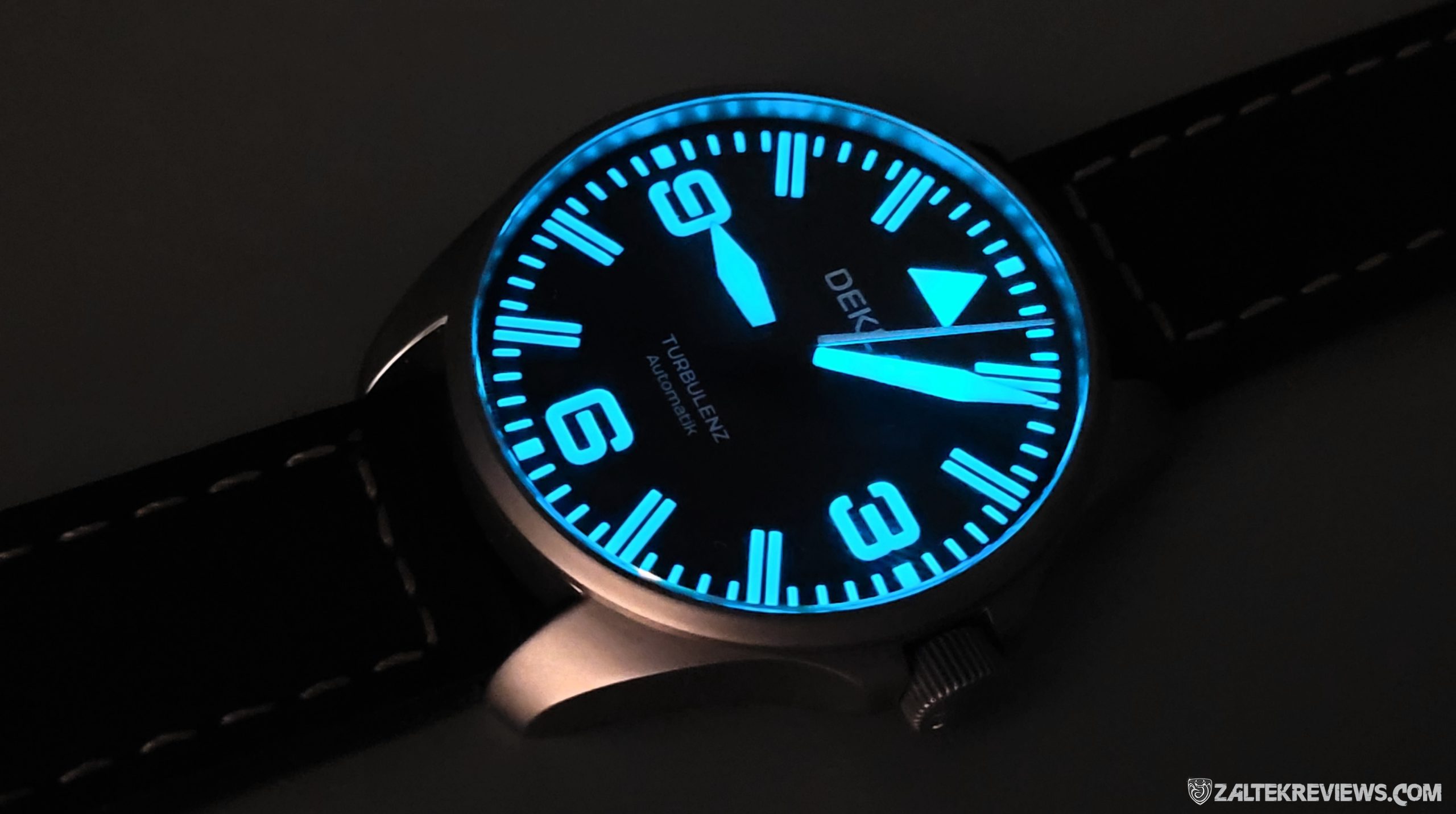 The Turbulenz v.2 from Dekla Watches is most definitely a fantastic pilot's (tactical) watch, that just screams both an excellent and very legible design, with the added bonus of German build quality thrown in. I've experienced quite a few German watches over the years, from the likes of Sinn, Marc & Sons, Damasko etc… and I can 100% confirm that my first experience of Dekla has been an absolute delight. You might have to wait for a wee while after placing your order for your watch to arrive, but trust me, it's definitely worth it. Remember that everything you get here (less the movement itself) is all made in-house by Dekla themselves. Oh yeah, the Turbulenz range is rather extensive, with two different case sizes, a shit ton of different dial and seconds hand options. For example, if you don't want one of these in steel, or with the 6Steel treatment, well get it in CuSn8 bronze, or in full DLC black! The choices are pretty bloody amazing.
A massive thank you to Boris at Dekla for arranging and sending out the Dekla Turbulenz v.2 for review. Very much appreciated! To view the Dekla website, or even to join their mailing list to be informed of new models etc, visit
deklawatches.com
. Please follow Zaltek Reviews on
Instagram
,
Twitter
and
Facebook
and feel free to join our Facebook group
WatchChat
, a very busy community for watch enthusiasts and collectors alike, with tons of images and in-depth discussions.
It takes me a fair amount of work (and time) to do these reviews. If you feel like supporting Zaltek Reviews to help towards my running costs, or even if you feel like just buying me a coffee, then please donate using the PayPal button below. Unfortunately, 97% of my readers just scroll on by this section. If you feel like that I've maybe given you a few quids worth of knowledge and/or entertainment, then please take just a couple of minutes of your time to donate. Thanks.