Manufacturer:

Wicked Watch Co

. | Price: from 199 CHF (£155 GBP, $210 USD)
I always do a fair amount of research before agreeing, or even reaching out to a brand, prior to getting any watch in for review. When I first heard of this Pearl Diver by Wicked Watch Co., I thought, fuck my life… here we go again, yet another copy & paste NH35 job from a new start up microbrand. However, after speaking to the owner (Pascal), I quickly realised that I was chatting to a proper enthusiast and not just another cockwomble looking to make a few quid and subsequently never hearing of again. When I also read recently that Pascal's true focus wasn't all about money, but more of bringing his dreams and designs to life, and once this bronze Wicked Pearl Diver finally arrived, I knew I was in for a treat…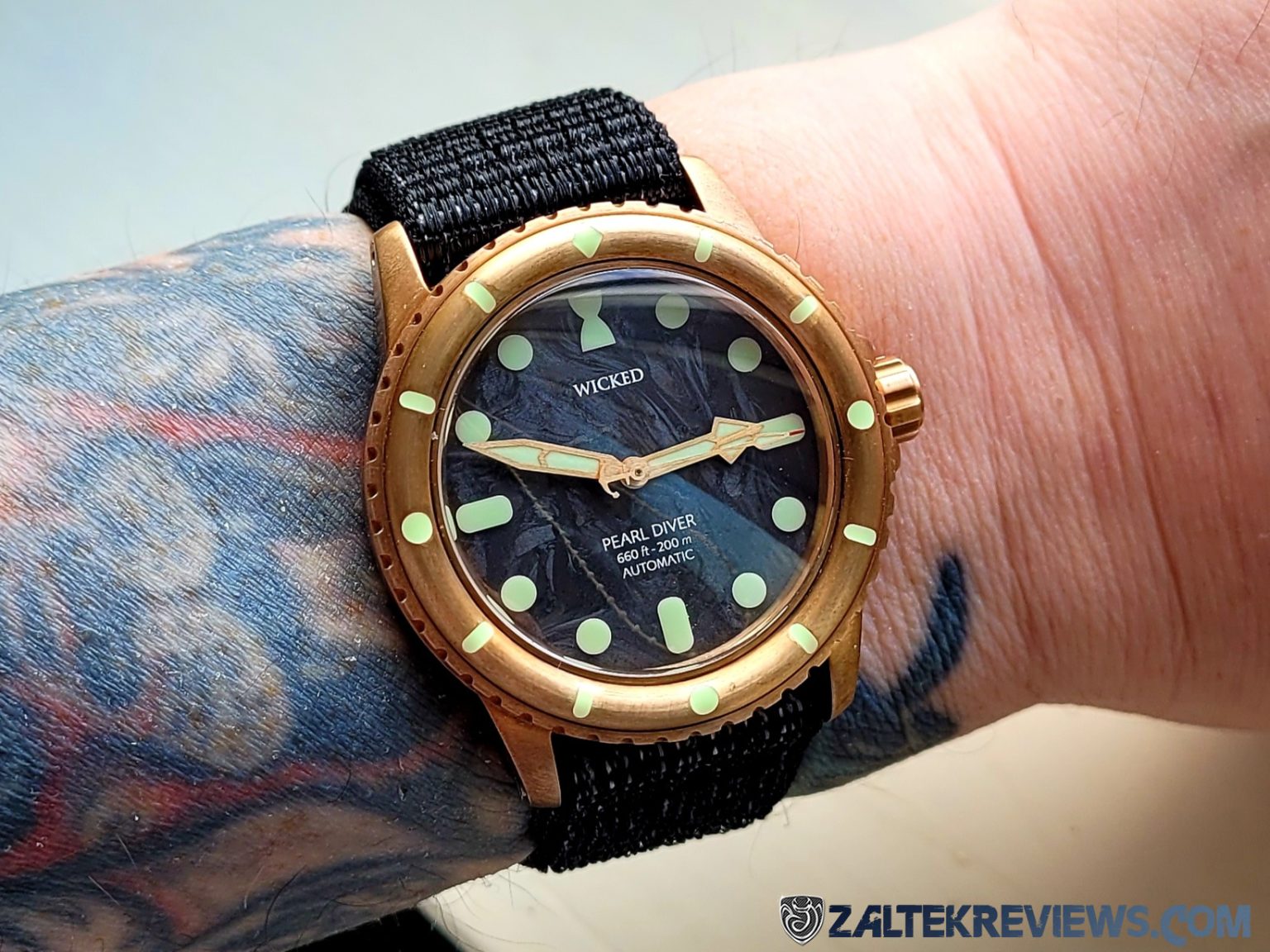 Specifications
Dimensions: Case – 39.8mm, Thickness – 12.9mm, Lug to Lug – 45.2mm, Lug Width – 22mm
Movement: Swiss STP1-11, 28,800vph, 4Hz, Hackable, Self Winding, 44hr Power Reserve (NH35 Option)
Case Material: CuSn8 Marine Grade Bronze, Drilled Lugs
Dial: Lumicast®, Date at 3, Fumé / Carbon / MoP, (Possible Meteorite Stretch Goal), N5 Rose Gold Handset
Lume: Swiss Super-LumiNova® C3 Superior Grade X1 GL ef
Strap: Italian Leather, Vintage Crazy Horse / Rubber & NATO, CuSn8 Bronze Hardware
Crystal: Swiss Double Domed Sapphire, ARunic® Anti-Reflective Coatings
Water Resistance: 200m / 20 ATM / 660ft      

Caseback: 316L Stainless Steel, Screw Down, Basilisk Dragon Artwork
Crown: 7mm, Screw Down, Signed, Lumed

Weight: 98g (On Leather Strap)
Where to Buy: Kickstarter Campaign
Warranty: 3 Years International
Options: Date / No Date, Seiko NH35 / Swiss STP1-11, Bronze / Carbon Insert, Lume Configurations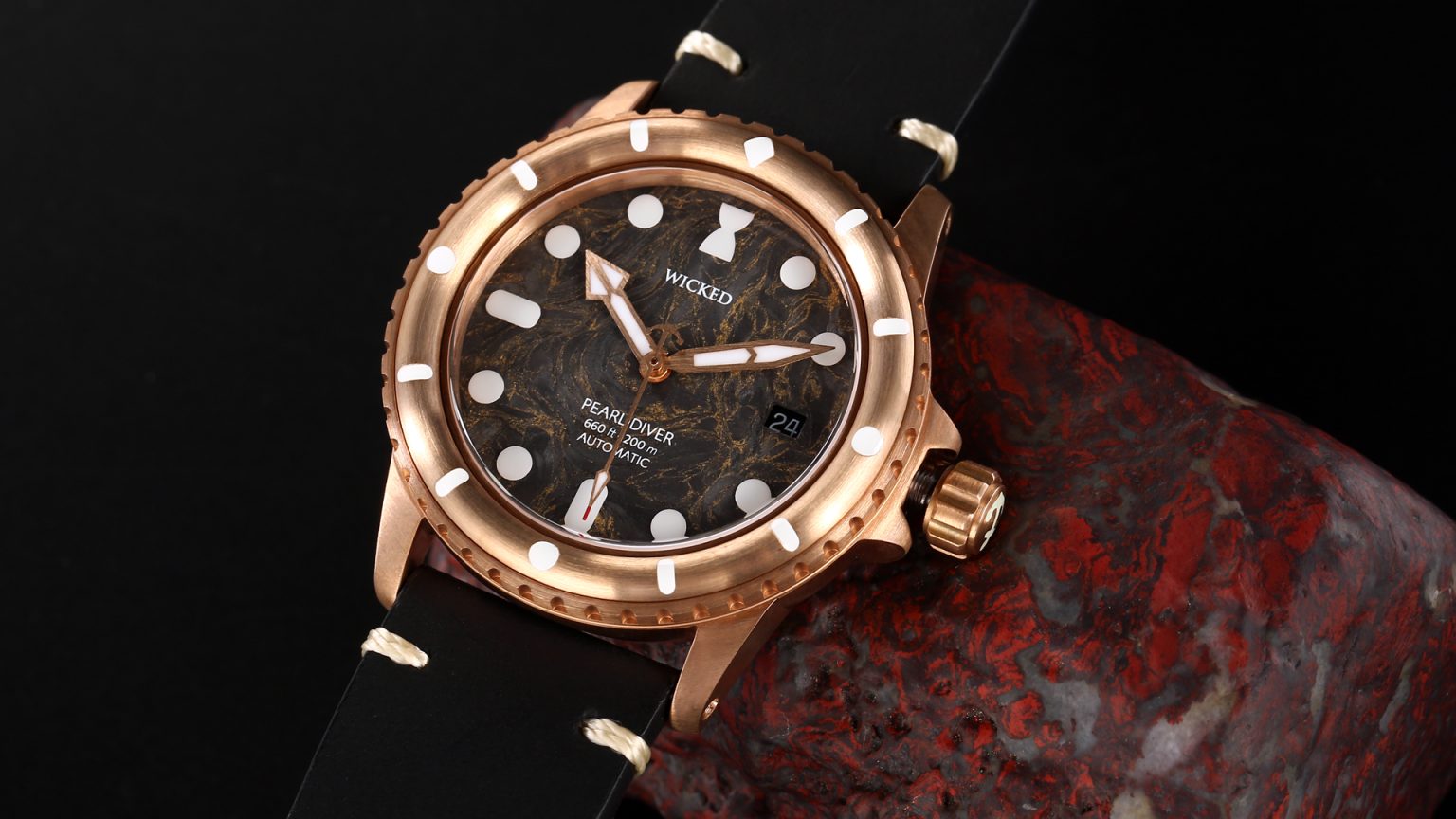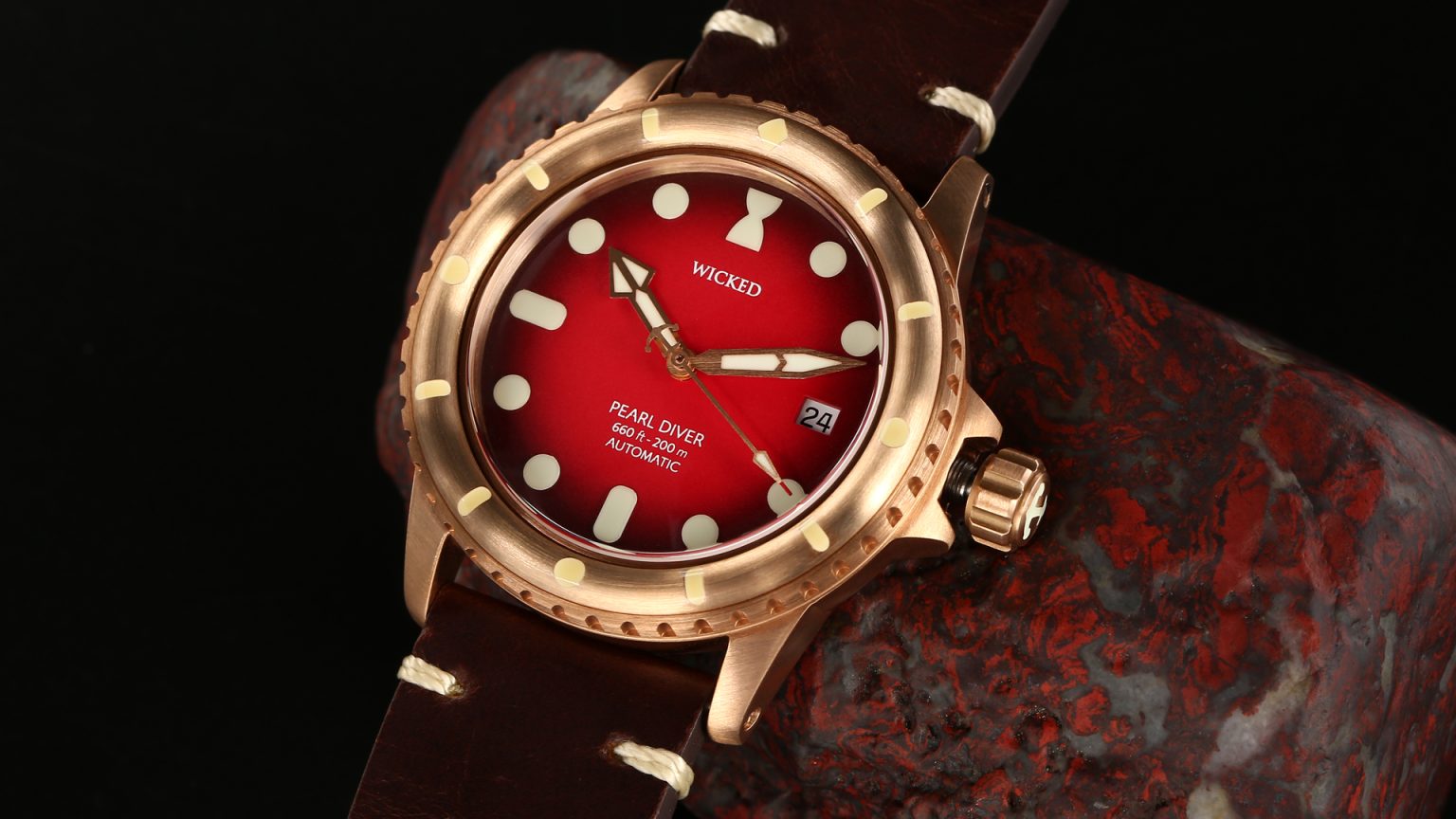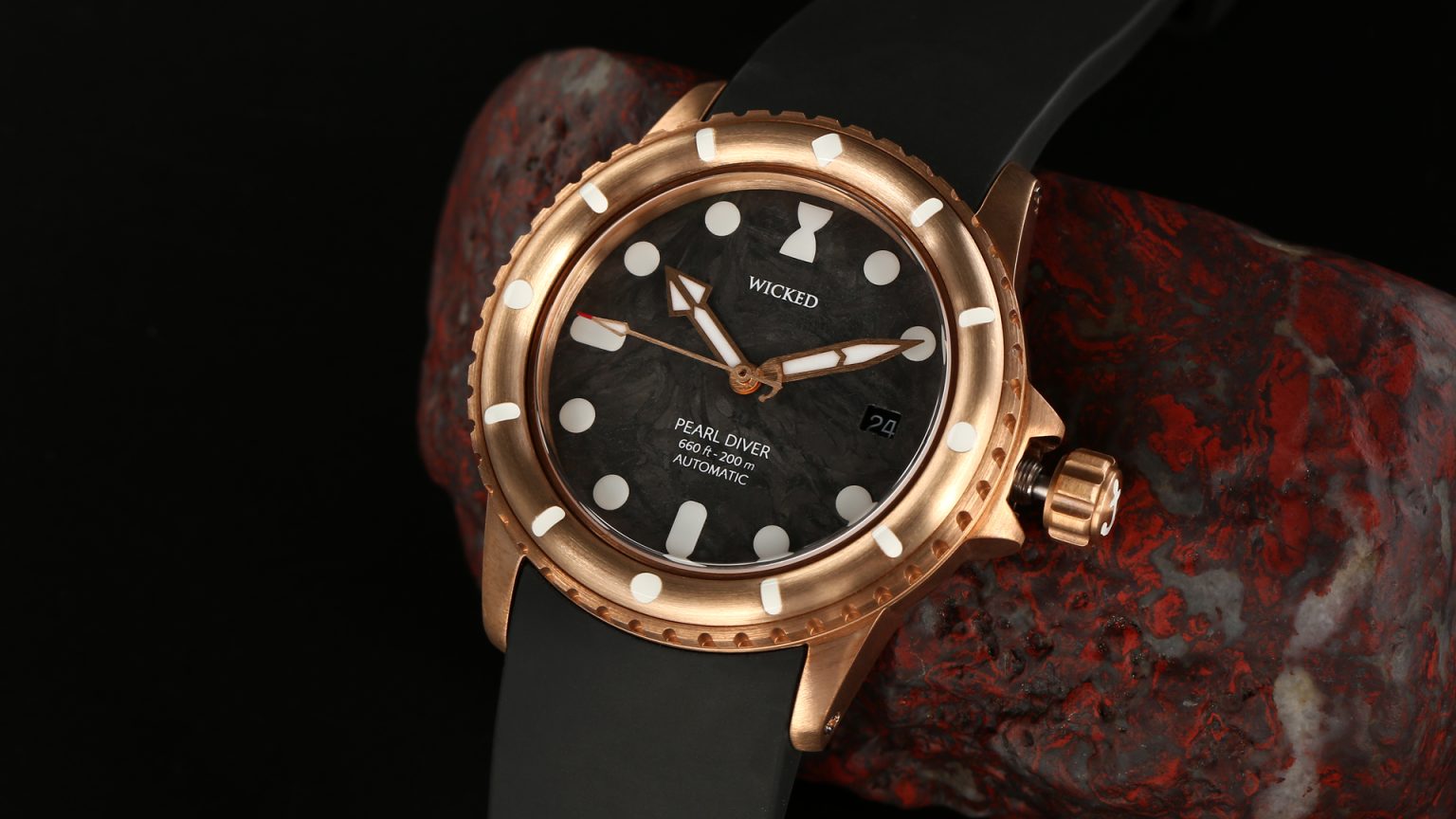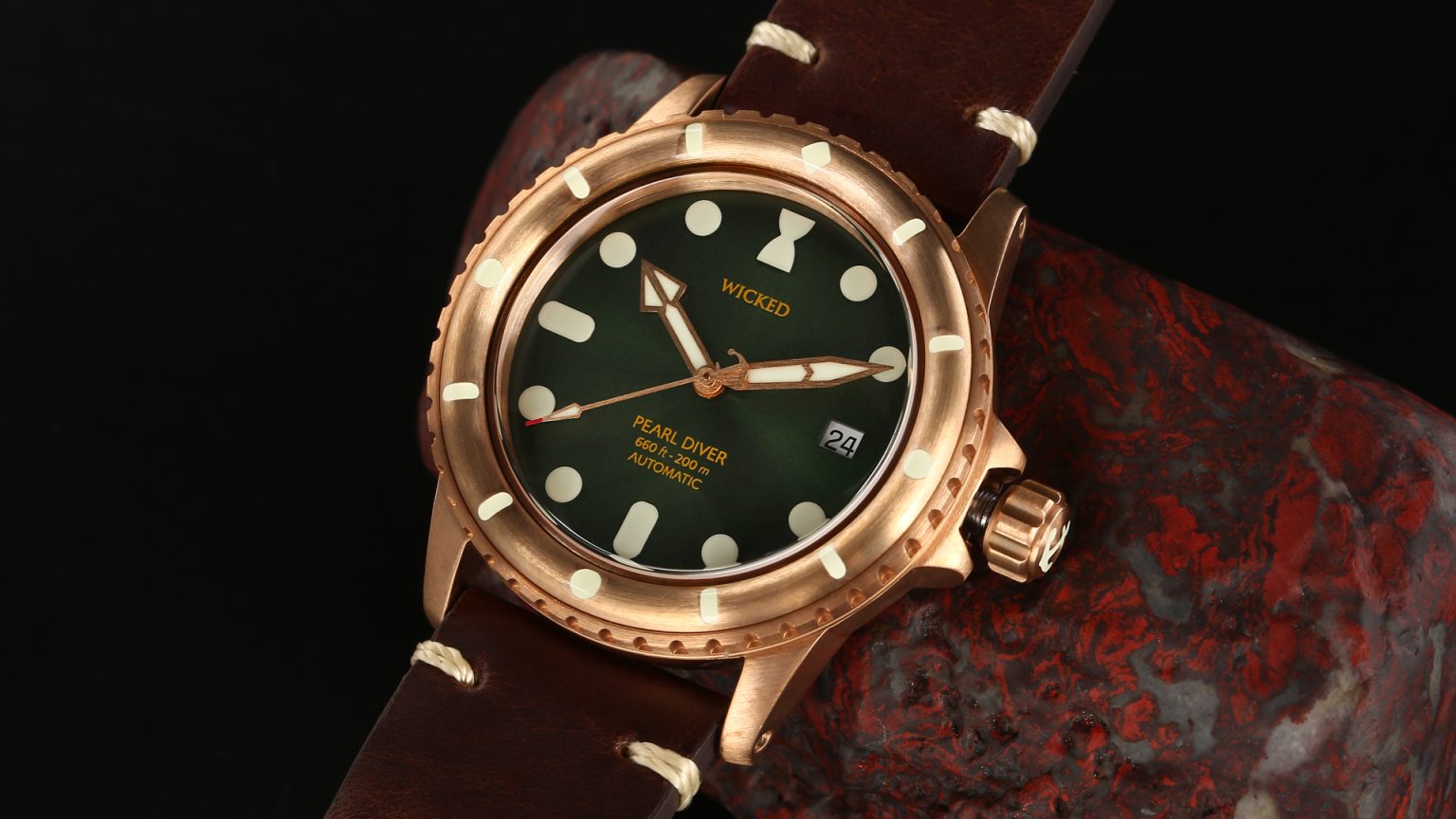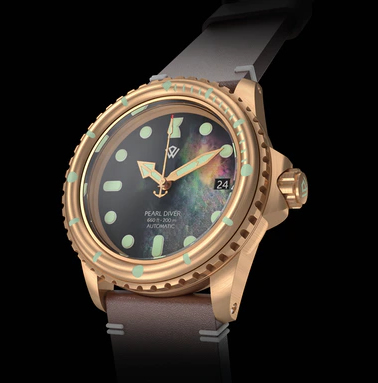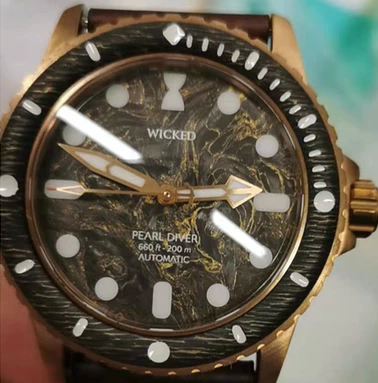 "I am Pascal, the CEO of Wicked Watch Co. A little bit about me; I am 29 years old, born in Basel, Switzerland and studied finance and banking. I am a foody and love eating all kinds of different things from any country in this world! Besides eating, I am a hobby chef and like to cook all sorts of things for my family and friends. I enjoy playing and watching tennis and I cannot deny my biggest idol, Roger Federer! And of course, I was always into watches. With Basel World right in front of my house door, I could discover the new designs every year. Together with my team, we were able to sell thousands of watches for other brands. Now it's the time to launch our very own brand! Our promise to every customer; whenever we have the choice between "better quality, but more expensive" or "cheaper price, for less quality", we would always go for the better quality of course!"
Changes for Production Models
New Black MoP Raven Dial Option added
Shorter hour hand, a bit longer seconds hand
Spring bars instead of screw bars for easier strap changes
15 min lumed track on the bezel insert
NH35A sapphire will have a blue shimmer AR-Coating
STP1-11 dials will have SWISS MADE printed at 6 o'clock
Anchor logos on buckle and crown changed to updated 'W' logo
WICKED on the dial disappears and the updated 'W' logo with Lumicast® will replace it
Possible Meteorite dial option – to be confirmed before end of Kickstarter Campaign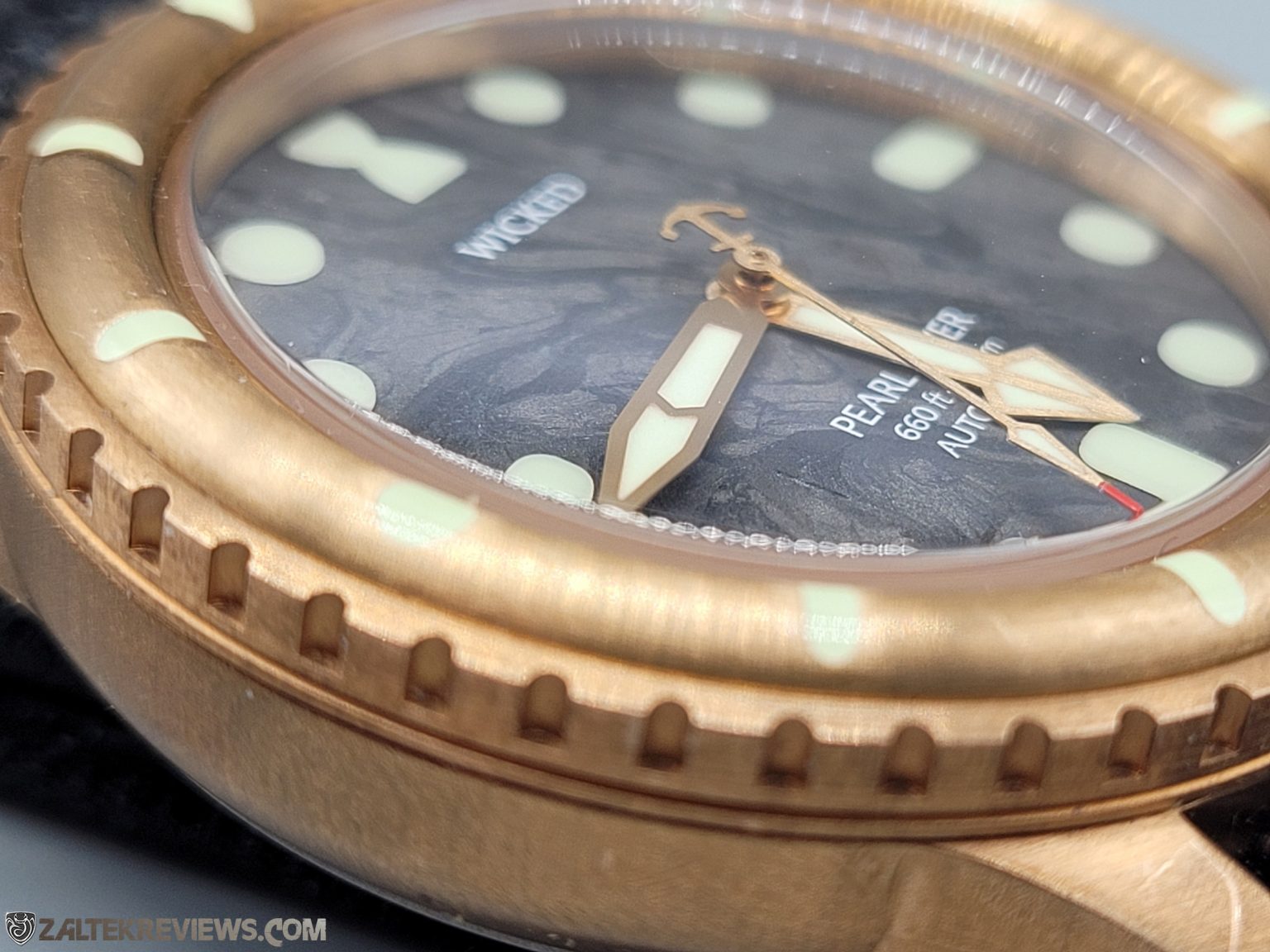 The case of the Wicked Pearl Diver has an overall diameter of 39.8mm. The lug to lug is rather compact at 45.2mm and the overall thickness, including the double domed sapphire crystal, I measured in at a rather nice 12.9mm. The case, bezel and crown are all marine grade CuSn8 bronze and the finishing of the watch is entirely brushed. The Pearl Diver has a total water resistance rating of 200m, thanks to the addition of a screw down caseback & crown. The proportions of the watch really hit that sweet spot, with the (just under) 40mm case diameter and the relatively short lug to lug length. If you're not keen on the full bronze bezel, then you can opt for a forged carbon insert at absolutely no additional cost.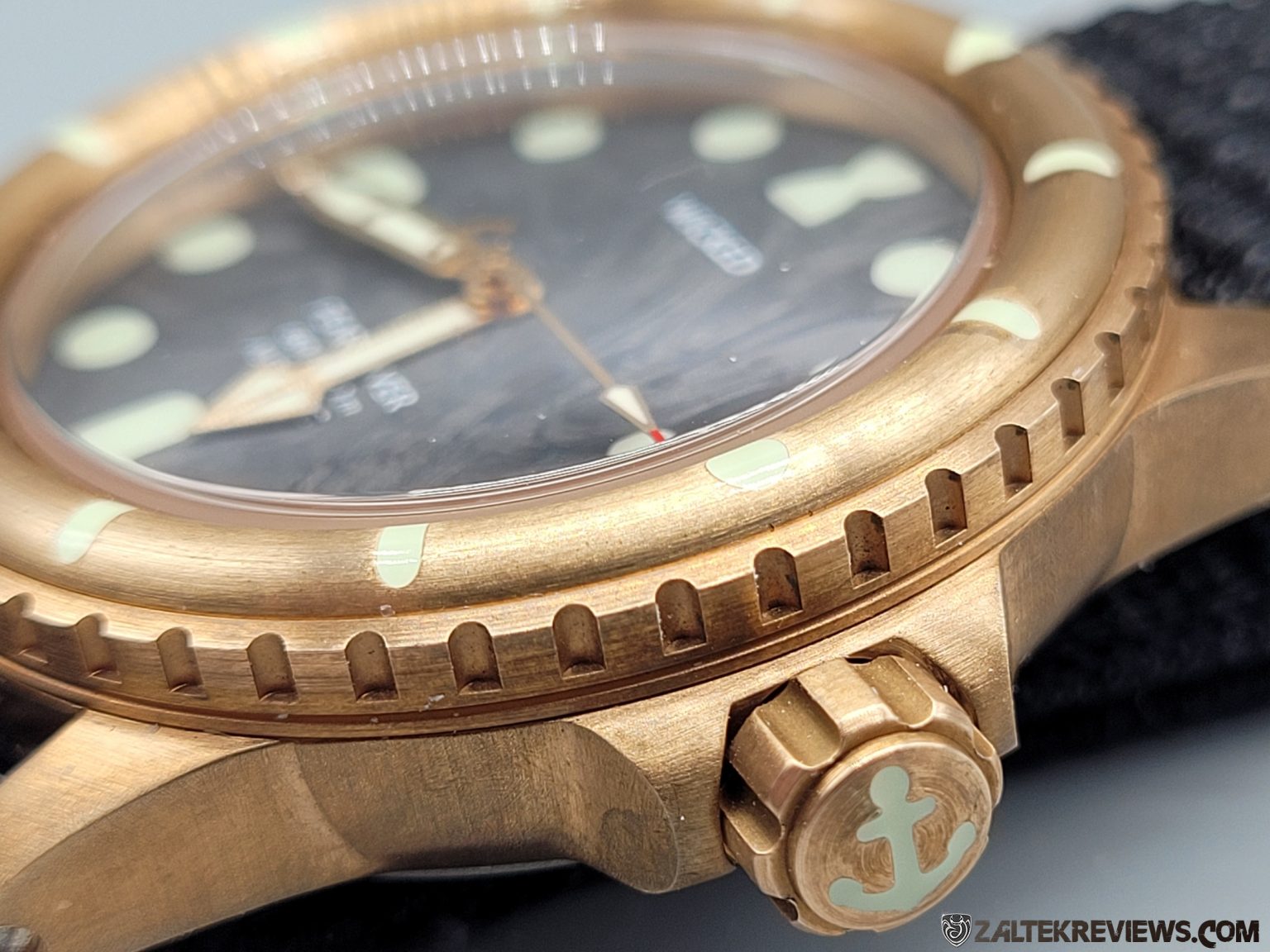 The Pearl Diver wears extremely well on wrist and is really comfortable on any of the included strap options. I like the way it wears so much in fact, it's had a LOT of wrist time since the day it arrived. The signed, lumed 7mm crown is fantastic, looks great and is very simple to operate with tons of grip. There is absolutely zero wobble at all when the crown is in use and you can also feel a very nice pop as you unscrew it as it settles into its first position. The caseback is solid and made of 316L stainless steel, a sensible option for any bronze watch, as you won't get any green residue left on your wrist from the bronze material. Wicked Watch Co also added a Basilisk Dragon with the usual specs around the edge.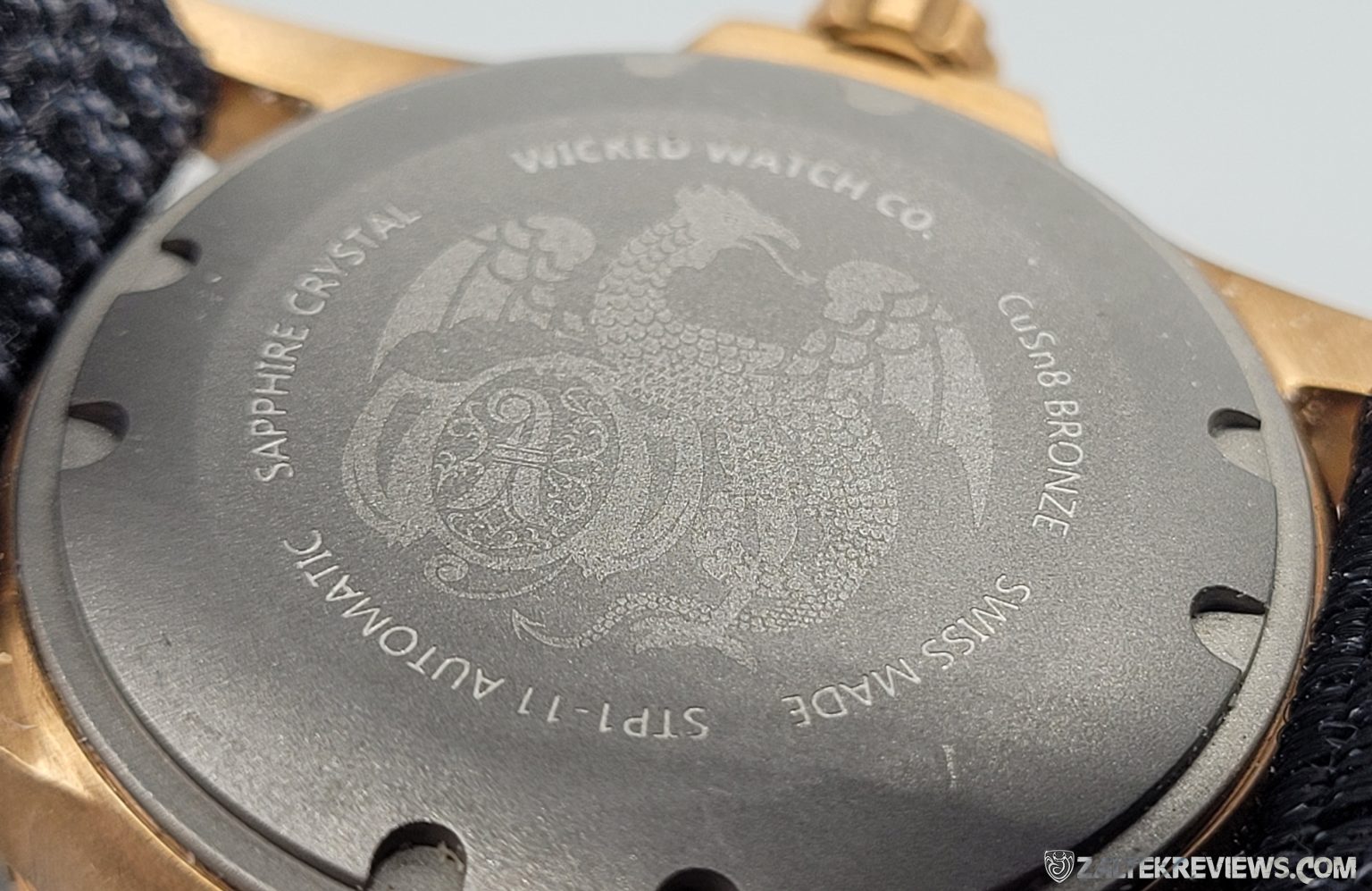 Straight out of the box, the Wicked Pearl Diver comes fitted as standard with a 22mm Italian 'crazy horse' leather strap with matching, signed bronze hardware. Also in the box, you'll find a rubber strap with fitted ends, as well as a very well made NATO strap. All the straps come with their own signed bronze hardware, which is a rare, but very much appreciated touch. The quality of all three straps are very good indeed, but as you can probably tell from the images, as soon as the watch arrived, I fitted one of my very own SWC nylon velcro straps, just because I can and think it would look cool.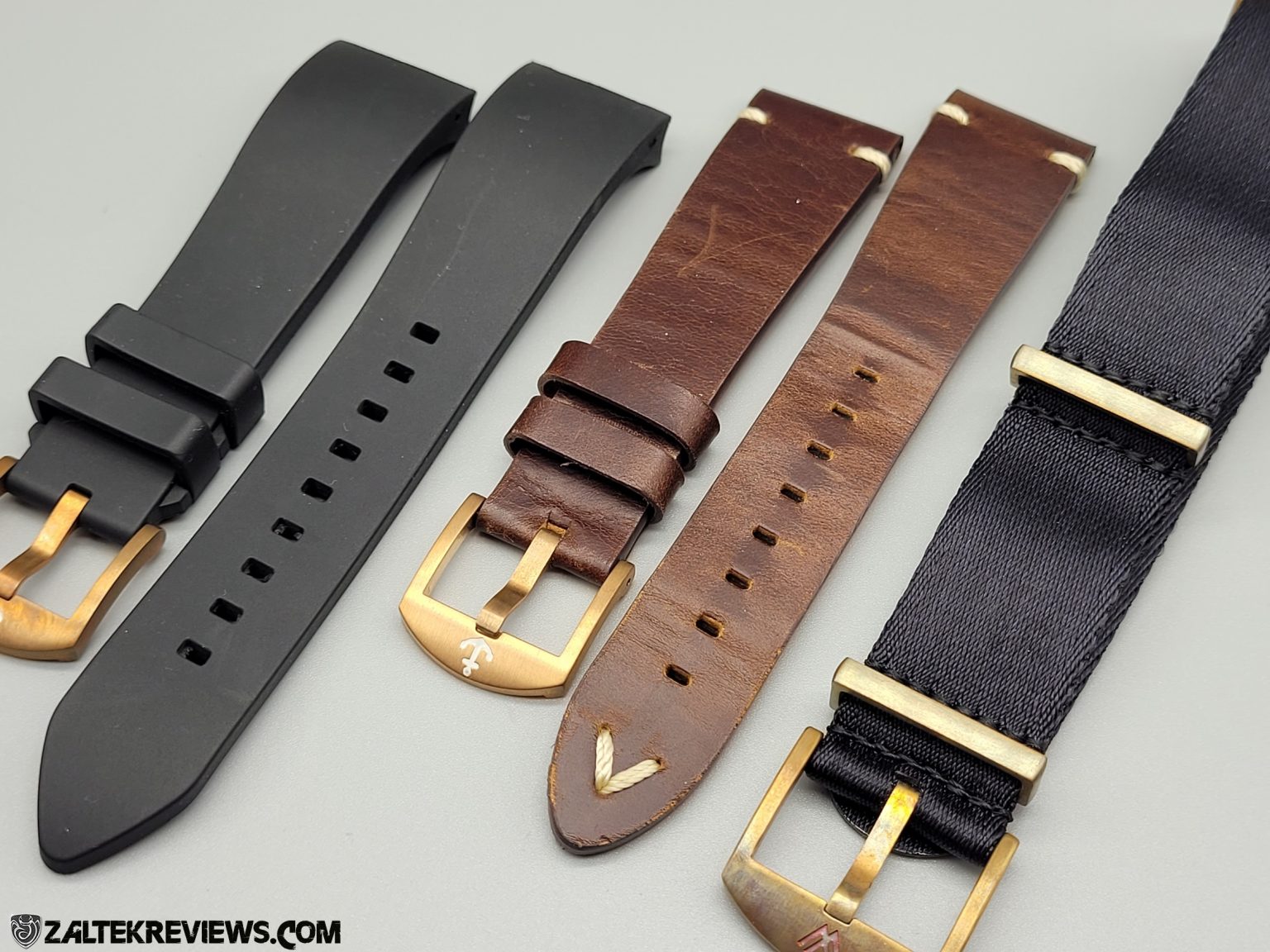 The Wicked Pearl Diver actually comes with a choice of two movements, the obligatory SII NH35 from Seiko or the Swiss STP1-11 with an Incabloc protection system. The Swiss made STP1-11 movement is self-winding, has 26 jewels and the oscillating weight spins up giving up to a very respectable 44 hour power reserve. The balance runs at 28,800vph and the movement is also hackable. After running the Pearl Diver for approximately 2 weeks, both on wrist and occassionally in my watch winder, it was time to put it on the timegrapher. I was very happy with the results, with this Wicked Pearl Diver prototype showing an average of just +3 seconds per day, with minimal beat error. A very good accuracy result!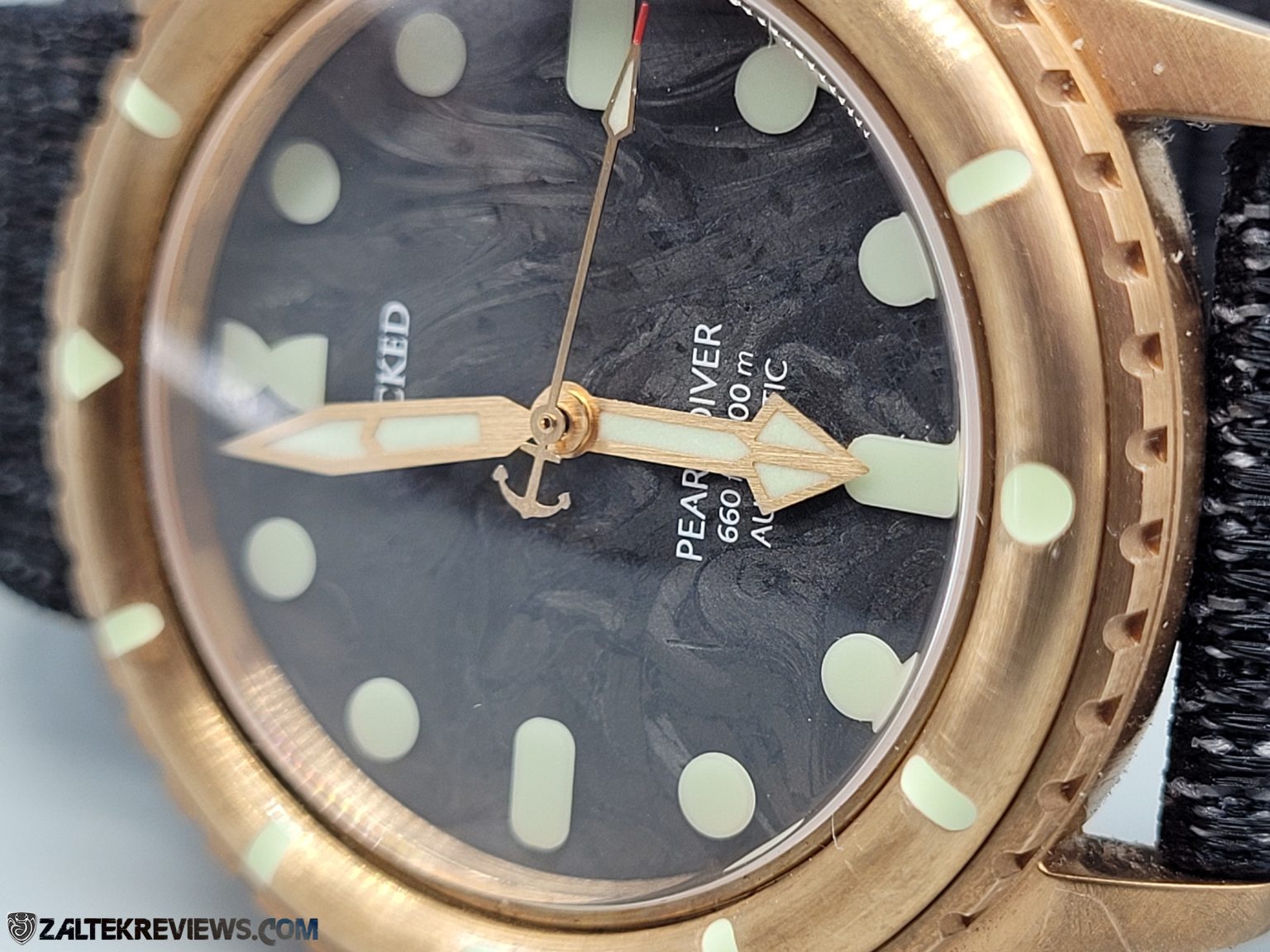 The Wicked Pearl Diver has a 120 click unidirectional bezel, with a very nice domed bronze insert, which I was rather surprised by, as it is of a much higher quality that certainly looks way better in real life that I had initially expected. The production models will also have a lumed minute track from 0-15. There's also the option of a forged carbon insert if you've chosen either of the carbon dial versions and it's a no-cost option which is always nice. The printing on the dial starts with the Wicked Watch Co logo, which has been updated to their much nicer 'W' logo and is placed at the usual spot of just under the 12 o'clock position. The model name PEARL DIVER is finished in white matching everything else and is situated just above the 6 o'clock position, with the depth rating of 200m and the word AUTOMATIC printed just below. Swiss Made will also be printed on the final versions that have Swiss STP1-11 movement.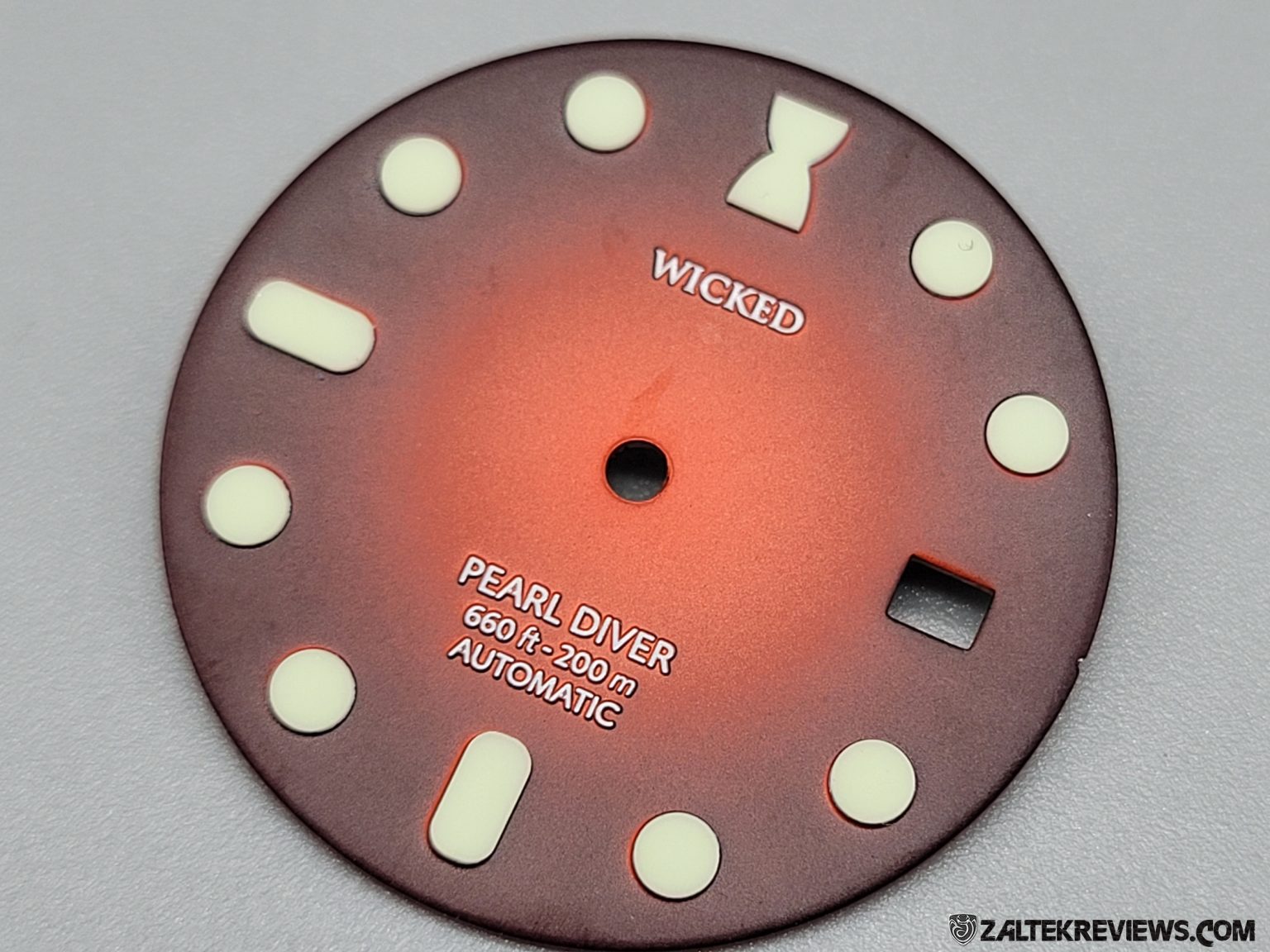 As you can see in the images, the arrow style hour and minute hands are very nicely executed, although they are being slightly adjusted for production, with the hour hand being slightly shortened and the seconds hand will be made just a smidge longer. All of the hour markers are Lumicast®, as is the new updated 'W' logo. There is also the choice of either a date or no-date version for the Pearl Diver. The date version also utilises a negative date wheel, which I really appreciate!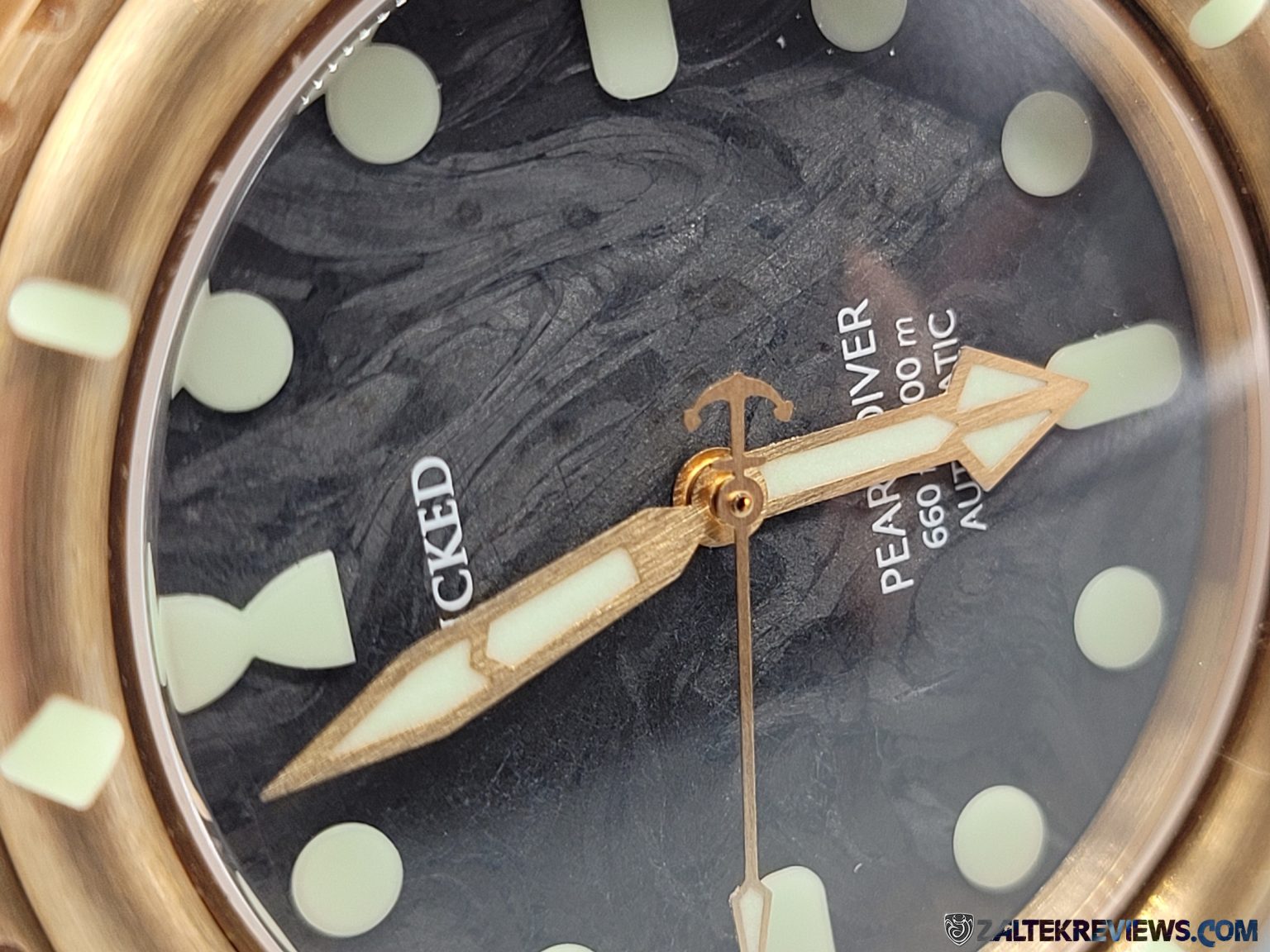 The lume on the Pearl Diver is fuckin' crazy good, even on this early prototype. In fact, I could probably write an entire separate article just on this lume alone! How is it so bloody awesome, I hear you ask? Well people, much like everything else in life, it all boils down to the actual preparation, way before there's even a hint of lume applied. If you read my reviews regularly, you'll know that I'm a 100% bonified lume junkie and although I'm no expert on various applications and formulas etc, I do know truly fantastic lume when I see it. It isn't just all about the initial brightness or potency either, longevitity also plays a very important part in what could be an exceptional application of lume on any watch.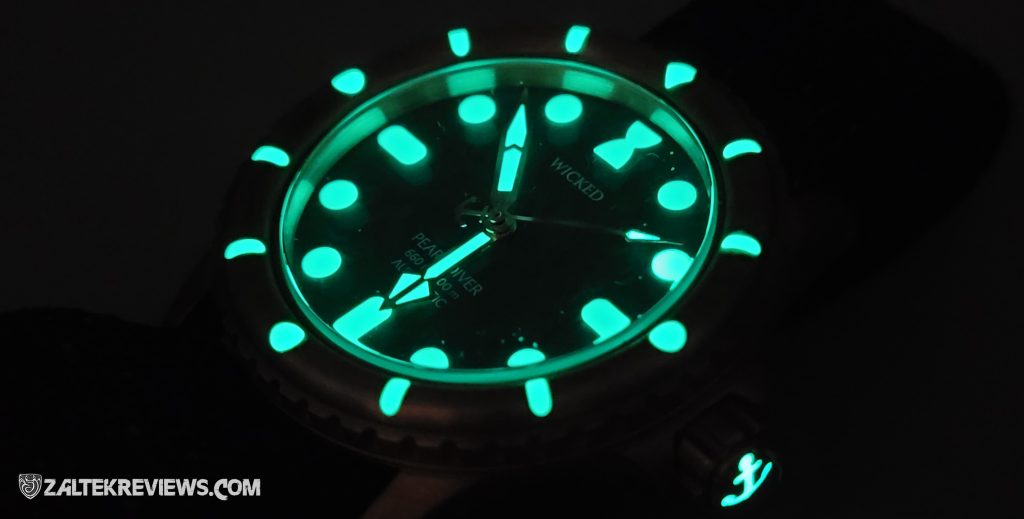 Before I start rattling on and writing way too much on the Wicked Pearl Divers lume, here is the relatively short version… Lumicast®, that improves the quality of lume pigments is one possibility of raising the afterglow performance. Another one is  optimising the method of application of Swiss Super-LumiNova®. Usually, lume has always been applied either by manual application or pad/transfer printing etc. This new, far better performing method is to use Lumicast® pieces, which are highly precise luminous 3D-castings. The high concentration of Swiss Super-LumiNova® in these ceramic parts, result in a much higher brightness than you'll see in common lume applications, giving a very long lasting performance of up to 24 hours. Combine Lumicast® with Super-LumiNova® C3 Superior Grade X1 GL ef results in the best lume I've every seen!
This conclusion is a rather simple one to write. I am backing this one on Kickstarter, as I believe this is a truly exceptional watch designed by a 100% certified watch enthusiast. As I mentioned in my introduction, I think Pascal and his small team at Wicked Watch Co., really are a brand that you should definitely keep an eye on. It takes a lot for me to back anything on Kickstarter these days, as I've backed quite a few over the years and by the time the watch is shipped, my tastes have usually shifted some what.
To put that into perspective, I have only backed two watches since 2019, this one and the excellent Mandala from Second Hour Watches. So, incase you're wondering, I'll be going for the Pearl Diver in forged carbon, with the carbon bezel insert, the date version of course, with the Swiss STP1-11 movement. So as you can probably imagine, I really do like this watch and not only am I backing it on Kickstarter, I'm also backing Pascal and his brand, as I truly believe they have something special, hence why I am gladly adding the Wicked Pearl Diver to Zaltek Reviews Elite List. Congratulations Pascal.
A huge thanks to Pascal at Wicked Watch Co., for sending out the Pearl Diver for review. Very much appreciated. To view the Wicked Watch Co. website, or to join their mailing list, to be informed of new models etc, visit
wickedwatch.ch
.
It takes me a fair amount of work (and time) to do these reviews. If you feel like supporting Zaltek Reviews to help towards my running costs, or even if you feel like just buying me a coffee, then please donate using the PayPal button below. Unfortunately, 97% of my readers just scroll by this section. If you feel like that I've given you maybe a few quids worth of knowledge and/or entertainment, then please take just a couple of minutes of your time to donate. Thank you. 
[paypal-donation purpose="Donate to Zaltek Reviews" reference="Ref:Zaltek" button_url=""]