Manufacturer:

Draken Watches

| Price: $410 USD (£295 GBP, €340 EUR)
I reviewed the Draken Tugela 2.0 back in October 2019. It was the blue LE model and I really thought it was a fantastic offering from Draken Watches. Its tool watch aesthetic with outstanding build quality, is very reminiscent of the quality found on the Zelos Swordfish, as well as the HELM Vanuatu. If you're a bit of a microbrand addict like myself, then you'll know that's very high praise indeed! Fast forward to the present day, Draken have released their Tugela 3.0, although when I heard they were releasing a WatchGauge exclusive model in white, I couldn't send out an email quick enough to John Keil over at WatchGauge, to try and get one in for review before they're all sold out, as this Shaka Edition that I have here today has a very limited run of just 50. At the time of writing this review, I believe there are less than 10 left!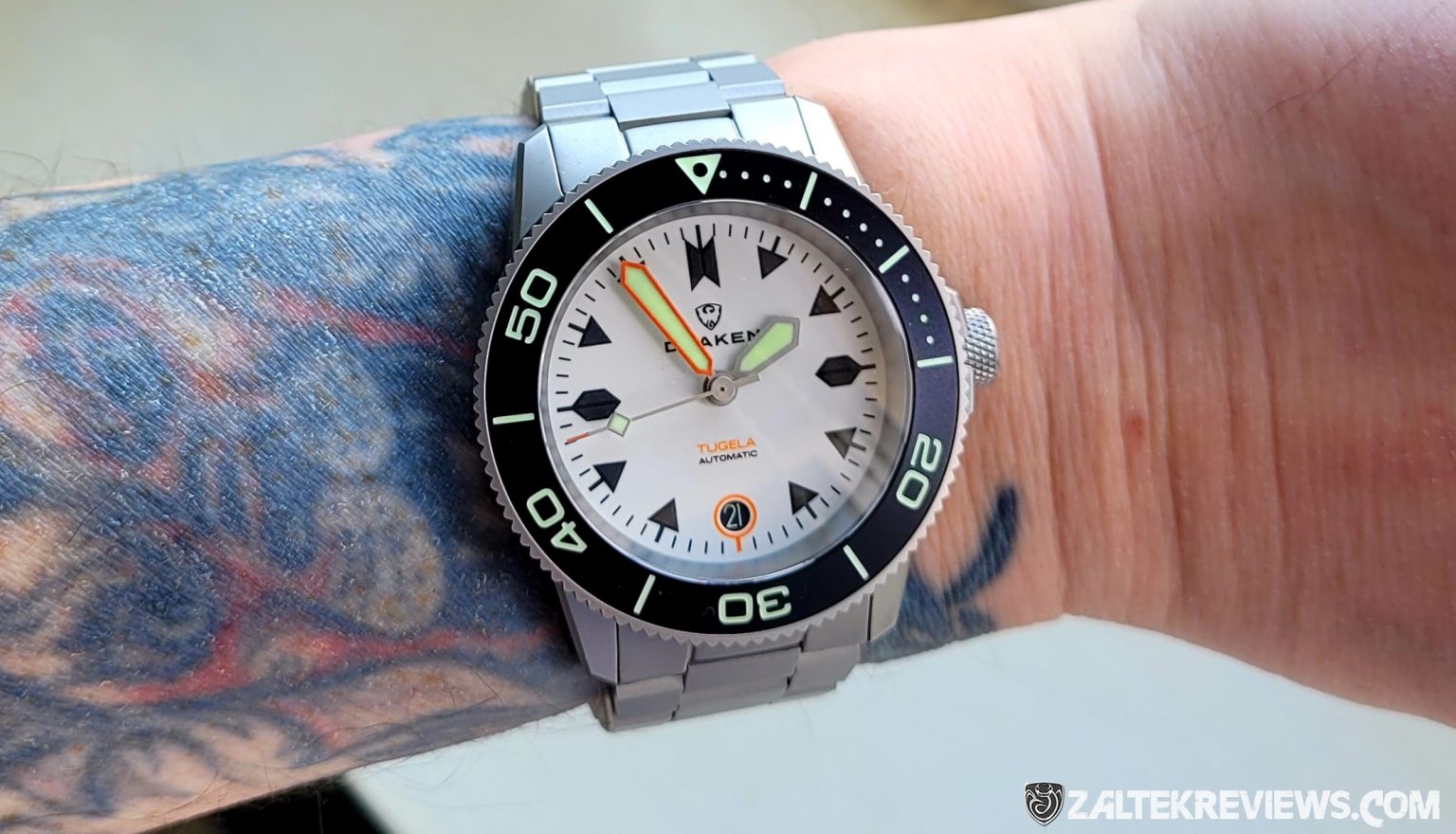 Specifications
Dimensions: Case – 41.8mm, Thickness – 13.5mm, Lug to Lug – 47.8mm, Lug Width – 22mm
Movement: Seiko SII NH35A, 21,600vph, 3Hz, Hackable, Self Winding, 41hr Power Reserve
Case Material: Bead-Blasted 316L Stainless Steel
Bezel: 120 Click Unidirectional, Aluminium Insert, Fully Lumed
Dial: Zulu Beadwork Style Indices, Lumed Date at 6, Fully Lumed Dial, Sword Hands
Bracelet: Bead-Blasted 316L Stainless Steel, Push Pins, Female End Links, Milled Clasp
Crystal: Domed Sapphire, Underside Anti-Reflective Coatings
Lume: Swiss Super-LumiNova® BGW9 & X1-C3
Water Resistance: 300m / 30ATM / 990ft      

Caseback: Screw Down, Punch Engraved Draken Artwork
Crown: 7mm, Screw Down, Signed, Lumed Logo

Weight: 191g (Sized up for my 6¾″ wrist)
Where to Buy:

WatchGauge



Warranty: 2 Years International
Draken Tugela 3.0 Colourways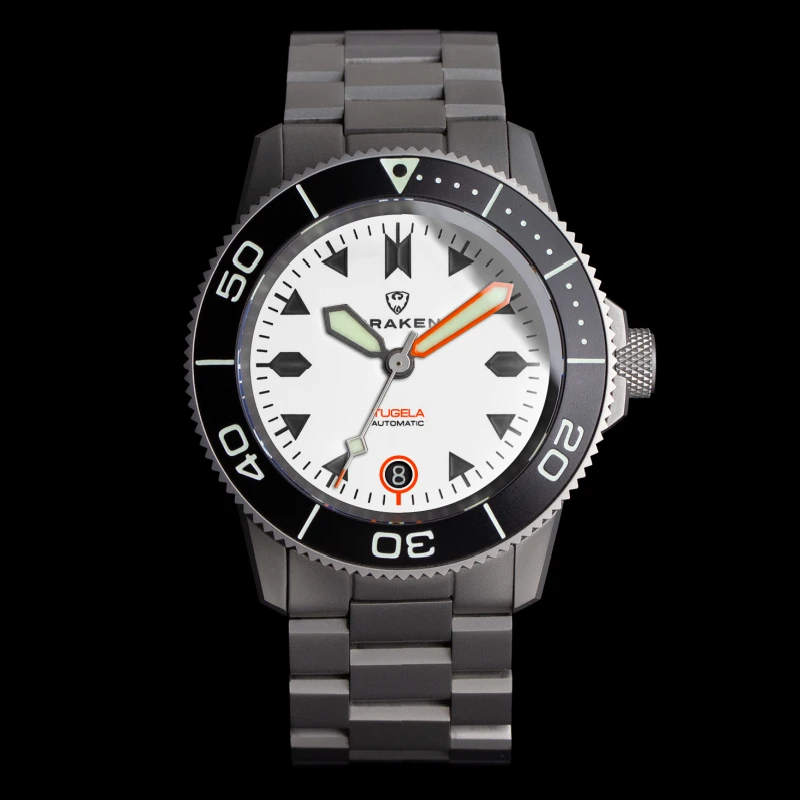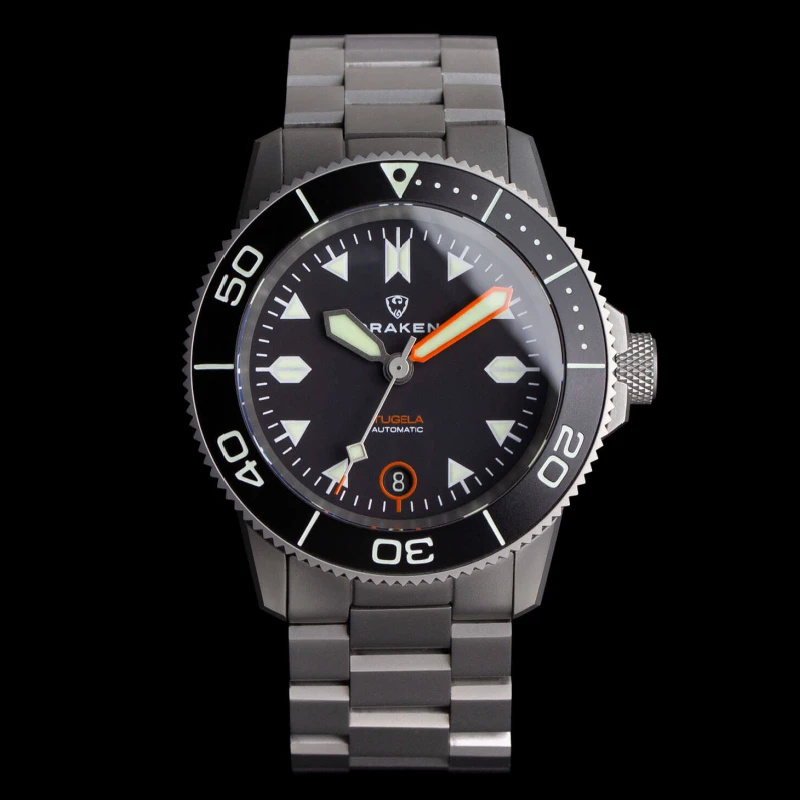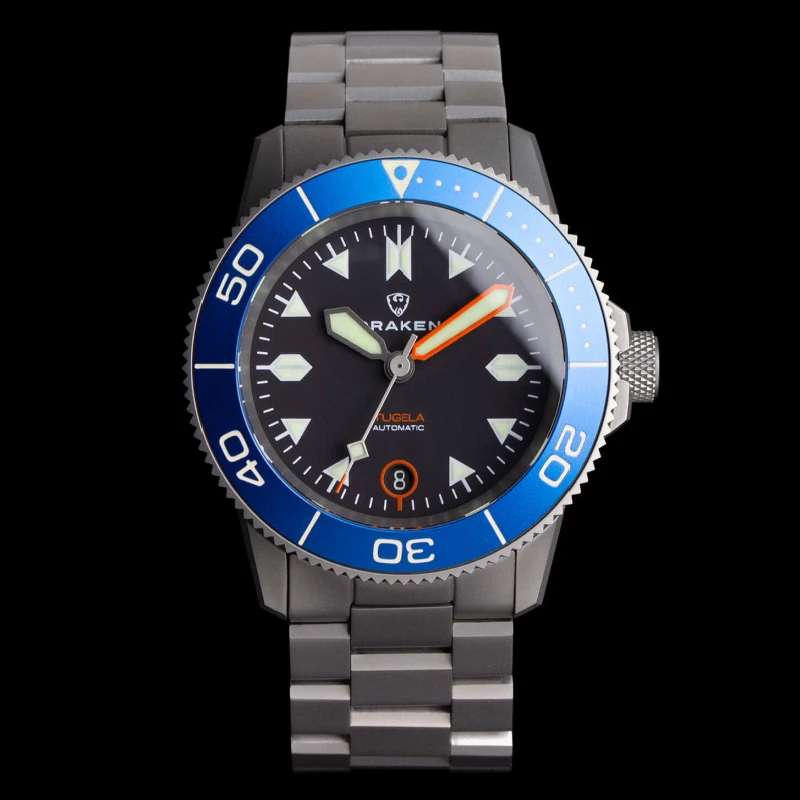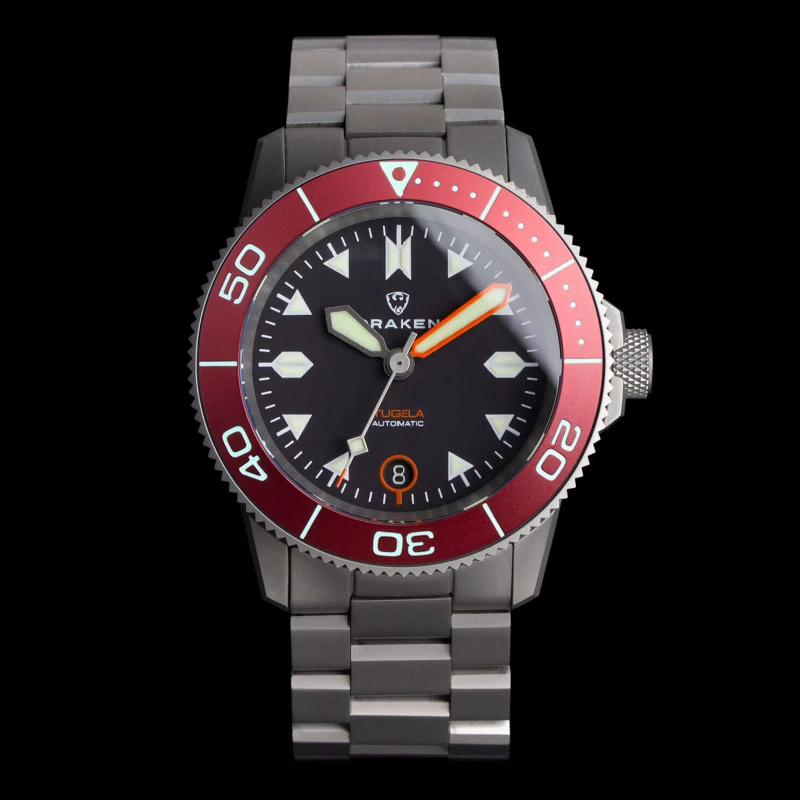 WatchGauge - Introduction
"In 1999 I entered the watch industry, which turned out to be one of the best decisions I've ever made. I was a brand director for a few years, then went on to run a very high-end store here on Long Island, selling watches from $2,000 to $500,000. I was instantly obsessed with watches! In 2015, I took note of a new segment in the industry; microbrands. As a watch consumer and collector myself, I purchased a few microbrand watches that appealed to me. Some of them were amazing and tremendous value for money! Unfortunately, some were not. It bothered me that if with my many years of knowledge and experience, that it was so difficult to tell when buying online, if a watch was going to be fantastic or a total dud… So the idea of WatchGauge was born! The result? I curate amazing collections of microbrands.

Each and every watch that you'll find on WatchGauge is one that I myself, would be thrilled to own personally! Let me take the guess work out of whether or not the watch you are buying is worth the money you're paying for it! If it is on WatchGauge, it is! Add to all of this, it is my mission to offer you the best customer service possible! When you are buying a watch, in many cases, sight unseen, it can be a nerve-racking process. No matter what, I will stand behind you and your purchase. Not just for the purchasing process, but for as long as you need me to be. I take very seriously that you are spending your hard-earned money on a luxury item. Let's face it, in this day in age, nobody needs a mechanical timepiece. I will always do whatever I have to though, to make sure that when you are buying a watch from WatchGauge that it's a very pleasurable experience."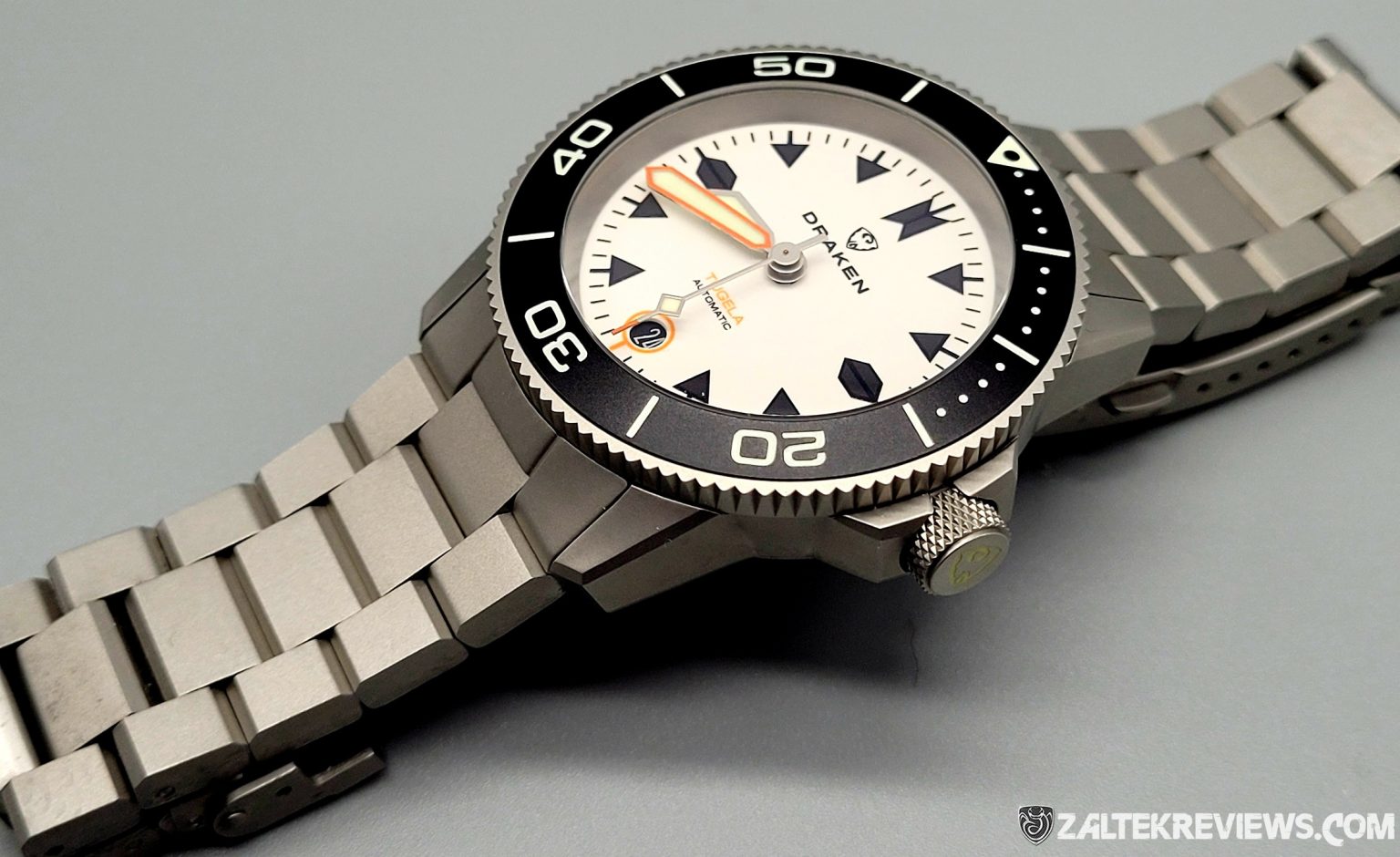 The case of the Draken Tugela 3.0 has an overall diameter of 41.8mm. The lug to lug is slightly compact at 47.8mm and the overall thickness, including the domed sapphire crystal, I measured in at a very reasonable 13.5mm. The entire case, caseback, bezel, crown and bracelet are all bead-blasted 316L stainless steel, with not a hint of polishing to be found anywhere. I'll also add to that, I really like this approach, as it gives the entire watch a really rugged, fuck you kind of appearance. There might not be different types of finishing however, there are chamfered edges everywhere, from the lugs to the crown guards and on each and every link of the excellent bracelet and clasp, more on that later though.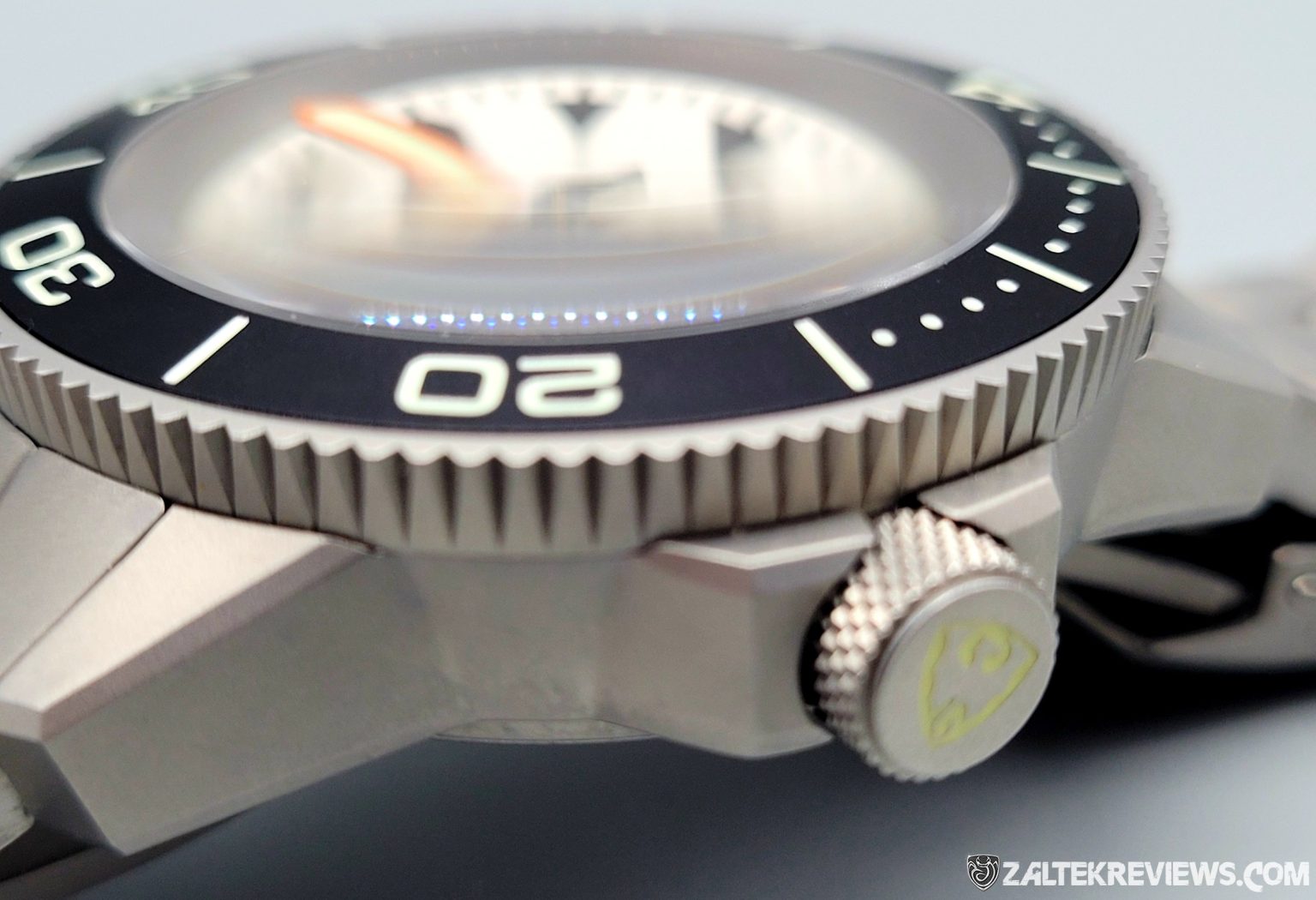 The Tugela has an impressive water resistance rating of 300m, thanks to the outstanding build quality as well as the inclusion of a screw down caseback & crown. The proportions of the watch, in my opinion, are absolutely bang on, with nothing at all that I can see that I'd want to change. The Tugela wears extremely well on wrist and it's also surprisingly comfortable, with it following the contours of your wrist perfectly. In fact, I love the way it looks and wears so much, I've barely took the thing off my wrist since the day it arrived! The signed crown is superb, it looks great and is simple to operate, with its effortless amount of grip that's available.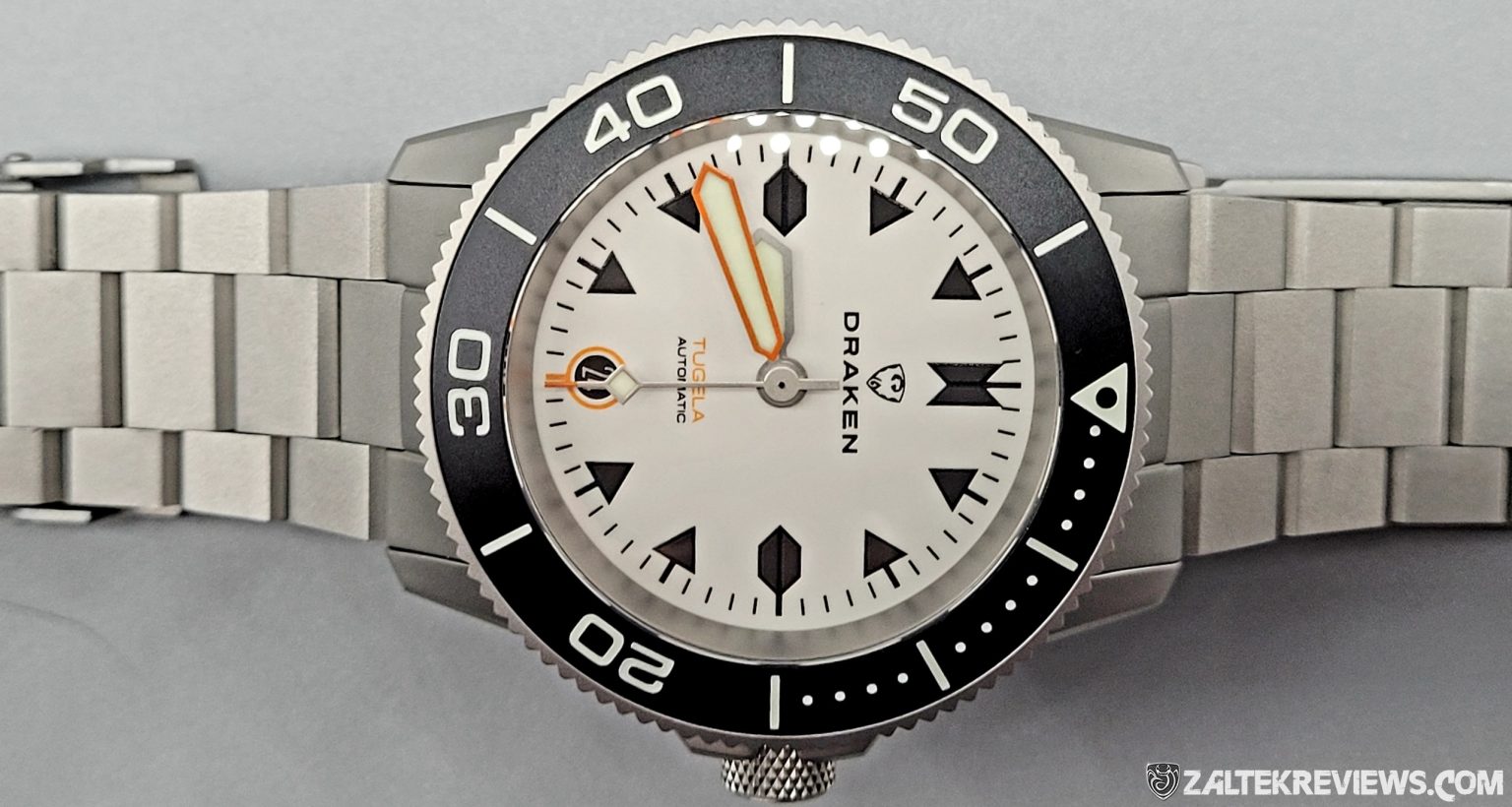 There's absolutely no wobble either when in use and there's the added bonus of the slightly unnecessary, but rather desireable lumed logo. The caseback sports Draken artwork that's been punched into the caseback and it looks very well executed! Oh… that reminds me, I've forgotten to take a picture of the caseback, but fuck it… you can kind of see it further on in the review. #LazyBastard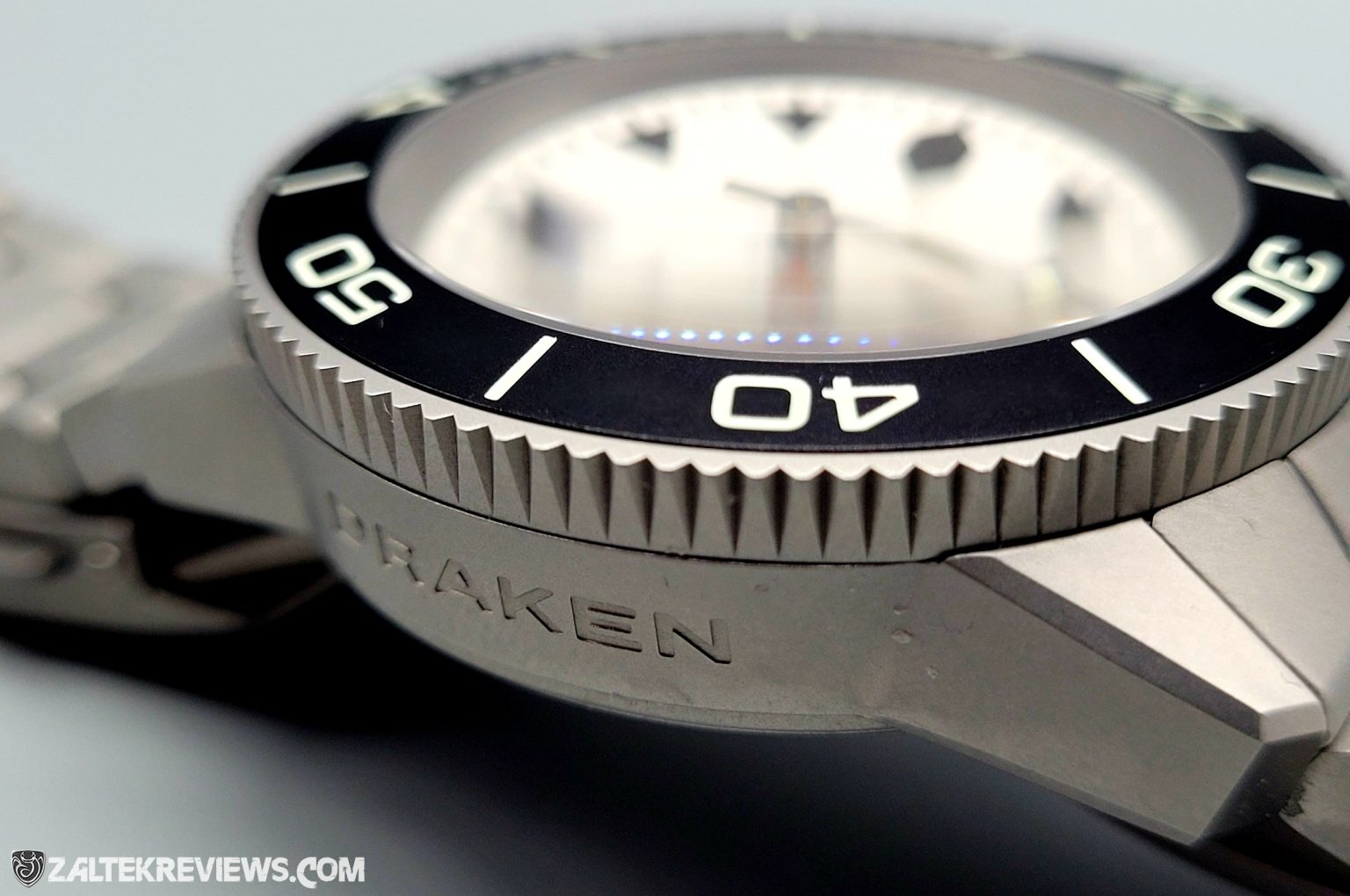 The bracelet that comes with the Draken Tugela 3.0 certainly is very well made, it's also bead-blasted to perfectly match the watch itself. In fact I'd even go as far as to say, it's one of the best bracelets I've seen on any microbrand. It won't suit everyone though, as it could be slightly overwhelming for some people, as it all adds up to quite a fair amount of extra weight to the watch. Sized up for my 6¾″ wrist, the Tugela still weighs in at a rather hefty 191g.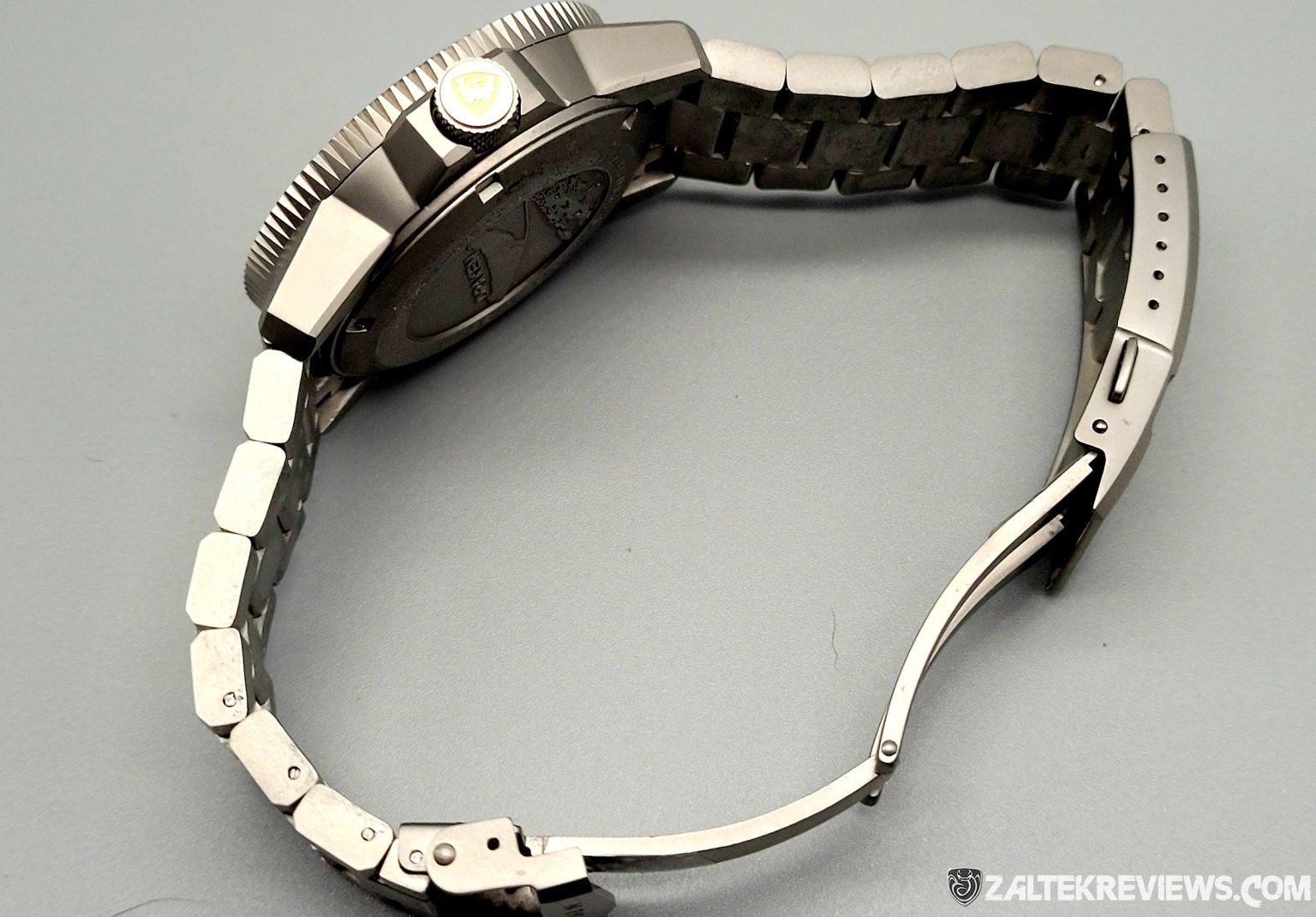 The bracelet this time though, does taper from 22mm at the lugs, down to 19.5mm at the thinnest most part and back up to 22.5mm at the clasp. An excellent improvement over the Tugela 2.0 that didn't taper whatsoever. Talking of the clasp, it is fully milled, with nice wee chamfered edges that compliment the bracelet links perfectly and has a fold over clasp with the Draken logo etched into it. There's also six micro-adjustment holes to ensure that perfect fit. If the bracelet isn't for you, but still want to enjoy the Tugela, Draken also provide a nylon strap. I've never really been a fan of NATO straps, however I can confirm that these ones are very nicely made, with excellent materials used, great stitching and hardware.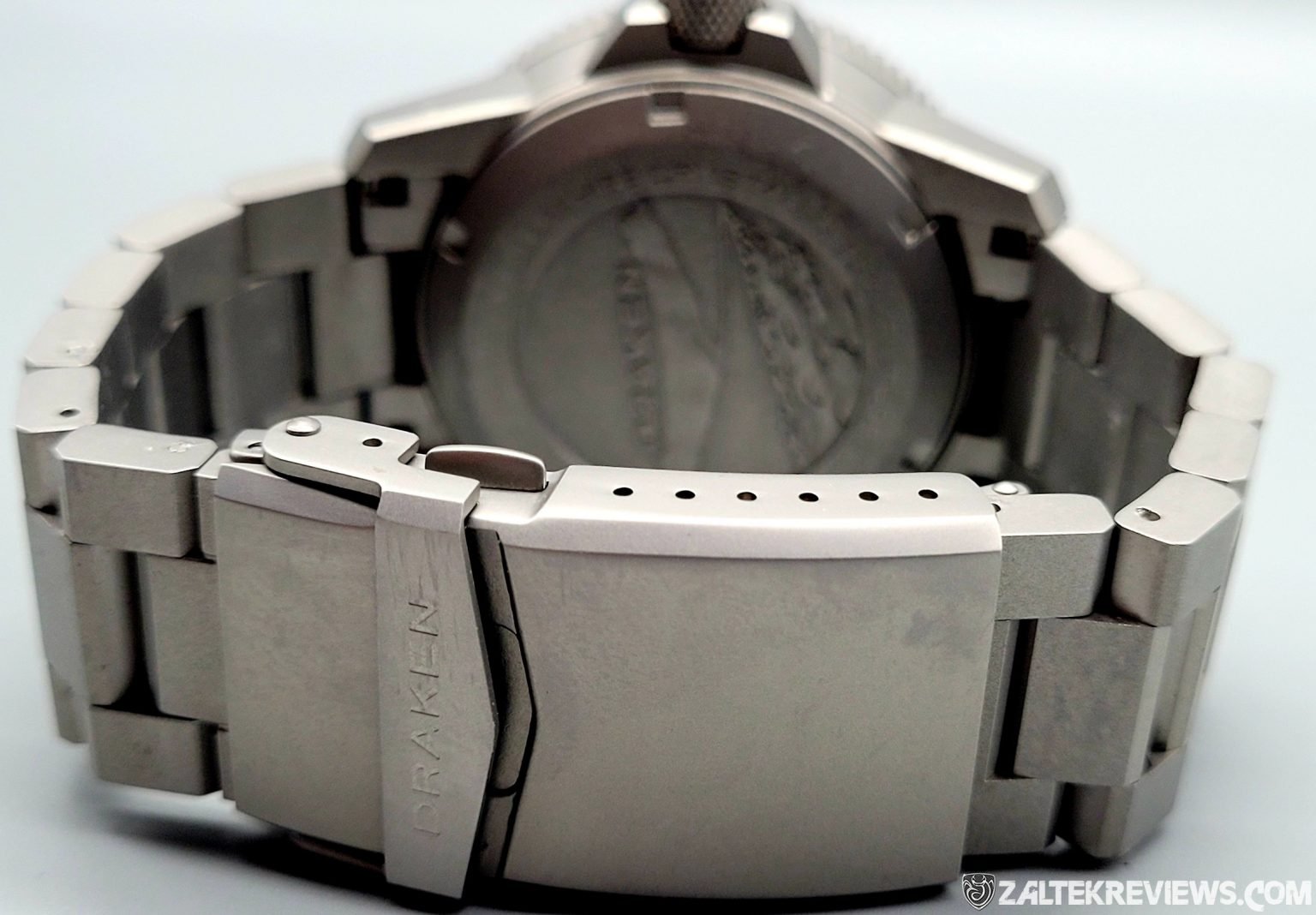 The movement selected for the Draken Tugela 3.0 is the microbrand movement of choice, the super reliable SII NH35 manufactured by Seiko. The SII NH35 is a fantastic workhorse with 21,600vph, 3Hz, 24 jewel automatic movement, with a 41hr power reserve, self winding and of course hacking. Checking the accuracy after running this Tugela 3.0 Shaka Edition for just over a fortnight, mainly on wrist and occasionally in my watch winder, I thought the accuracy was superb, with it showing an average of just +3.8 seconds per day. You just don't need full blown COSC certification with accuracy like that! Another full-blown middle finger from the Japanese, thrust into the face of the Swiss.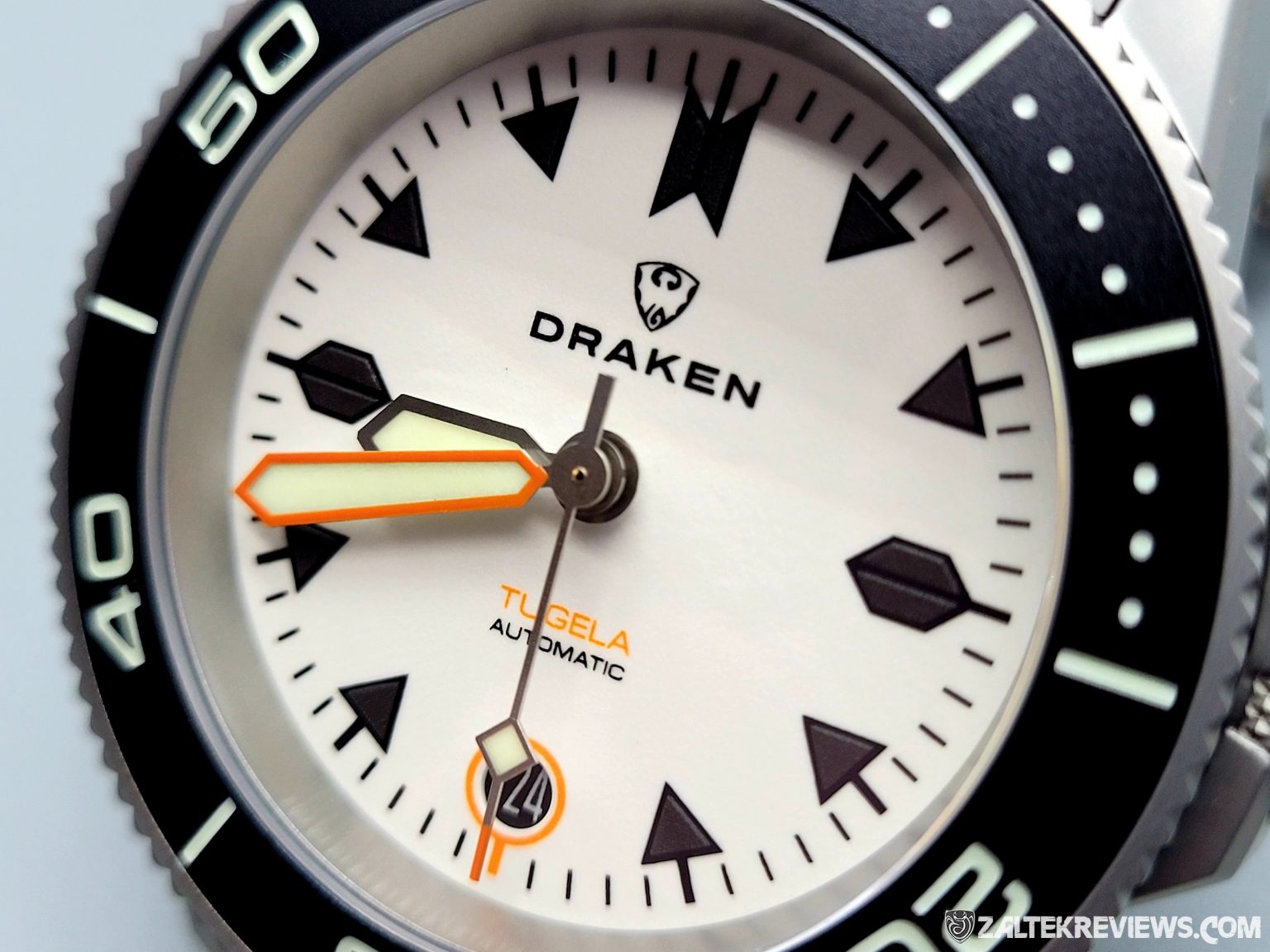 The Draken Tugela 3.0 has a 120 click unidirectional bezel with a fully lumed aluminium insert. It is of outstanding quality with everything lining up absolutely bang on! The bezel action is fantastic, sturdy but not overly stiff and there's zero backplay whatsoever either. The text on the dial is just the model name TUGELA printed in orange, with the word AUTOMATIC printed in black just below that. The Draken logo (which I love) is also printed and is placed at the usual position of just under the 12 o'clock. The Zulu inspired hour markers are all printed in black on this lumed Shaka Edition.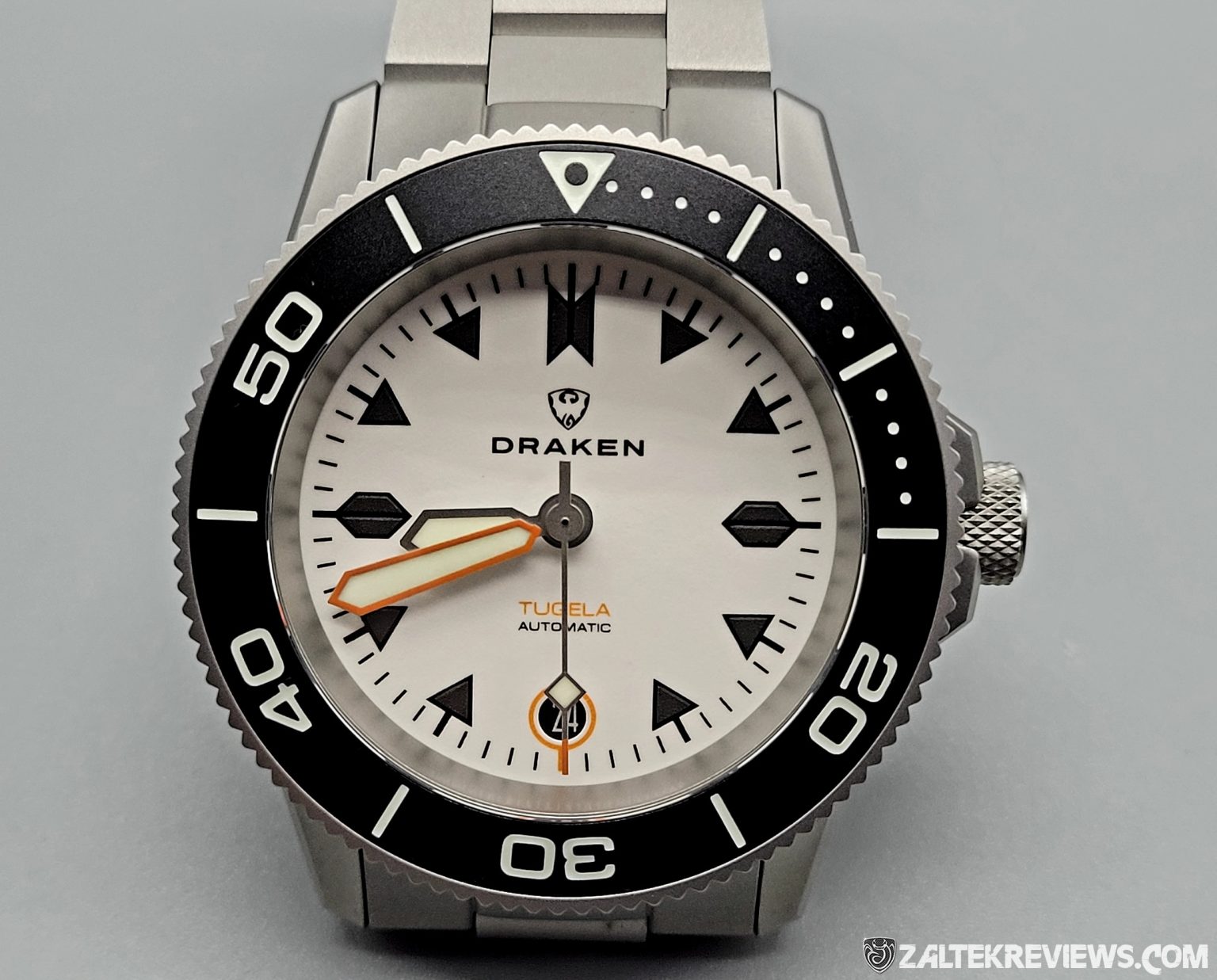 There is a date complication at the 6 o'clock position and not only is it done with negative white on a black date wheel, the date itself is also lumed! As you can see in the images, the hour and minute hands are superbly done with their sword style design. Even although I always love sword style hands, there is one problem with them, that's only an issue on this white Shaka model. The hour hand surround is done in silver, where it should've been finished in black. I'm not just talking out of my arse either, because of aesthetics. In certain light, especially when outside, you can barely make out the hour hand when trying to see what time it is. The seconds hand is fine though in silver, as it's not really integral to see the time at a quick glance. The wee orange tip on it is nice too and does compliment the other orange accents perfectly.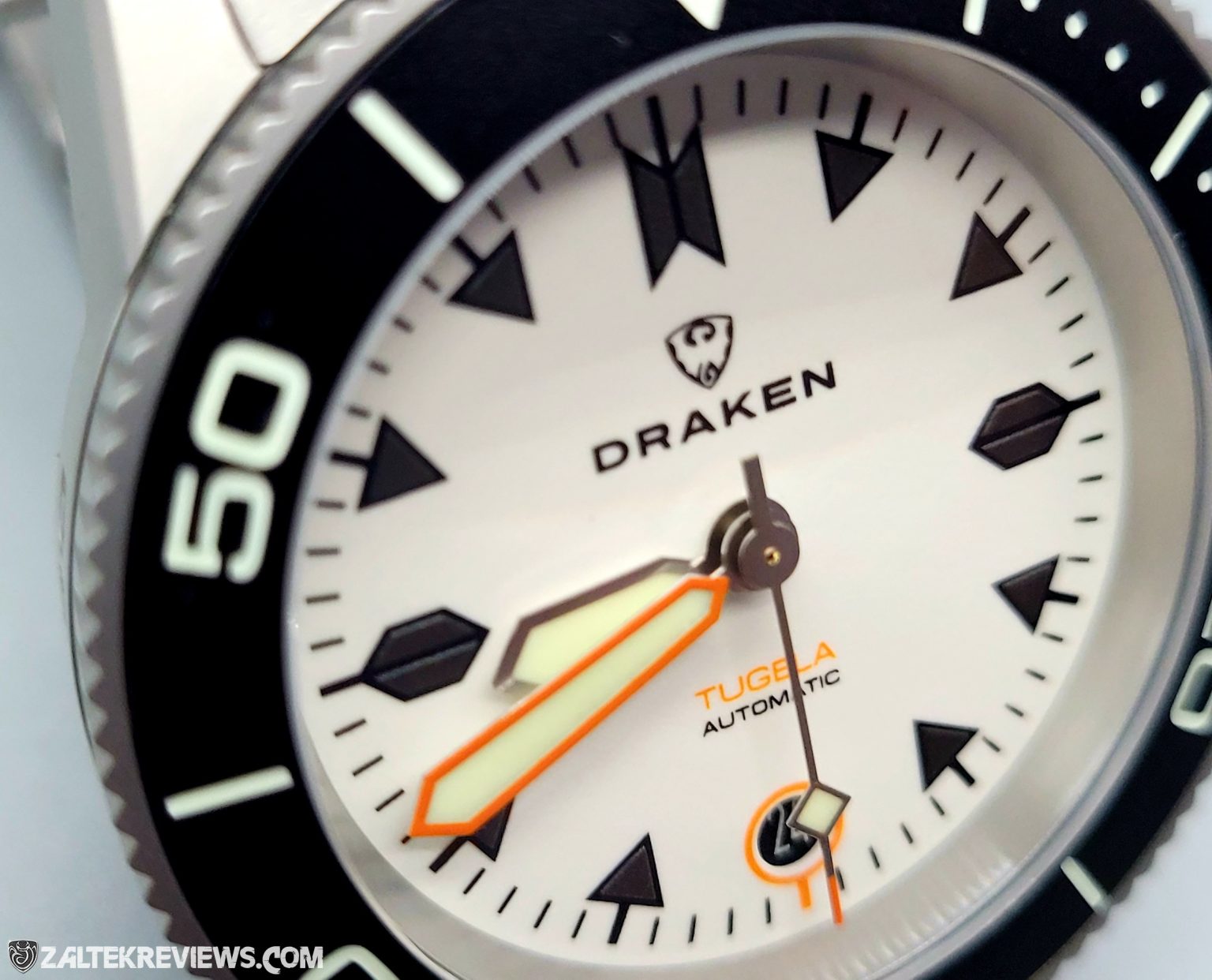 The lume on this Tugela Shaka is nothing less than absolutely phenomenal! Draken have always known what they're doing when it comes down to lume application. The actual formula that's been applied to this Tugela 3.0 Shaka is a combination of both Swiss Super-LumiNova® BGW9 & X1 Grade C3. It's not only been applied very thickly and 100% perfectly, it's as bright as the fuckin' moon! Not only is the lume on the dial fantastic, Draken took it a step further by adding lume to the crown and even the date! An absolute sterling job from Draken Watches.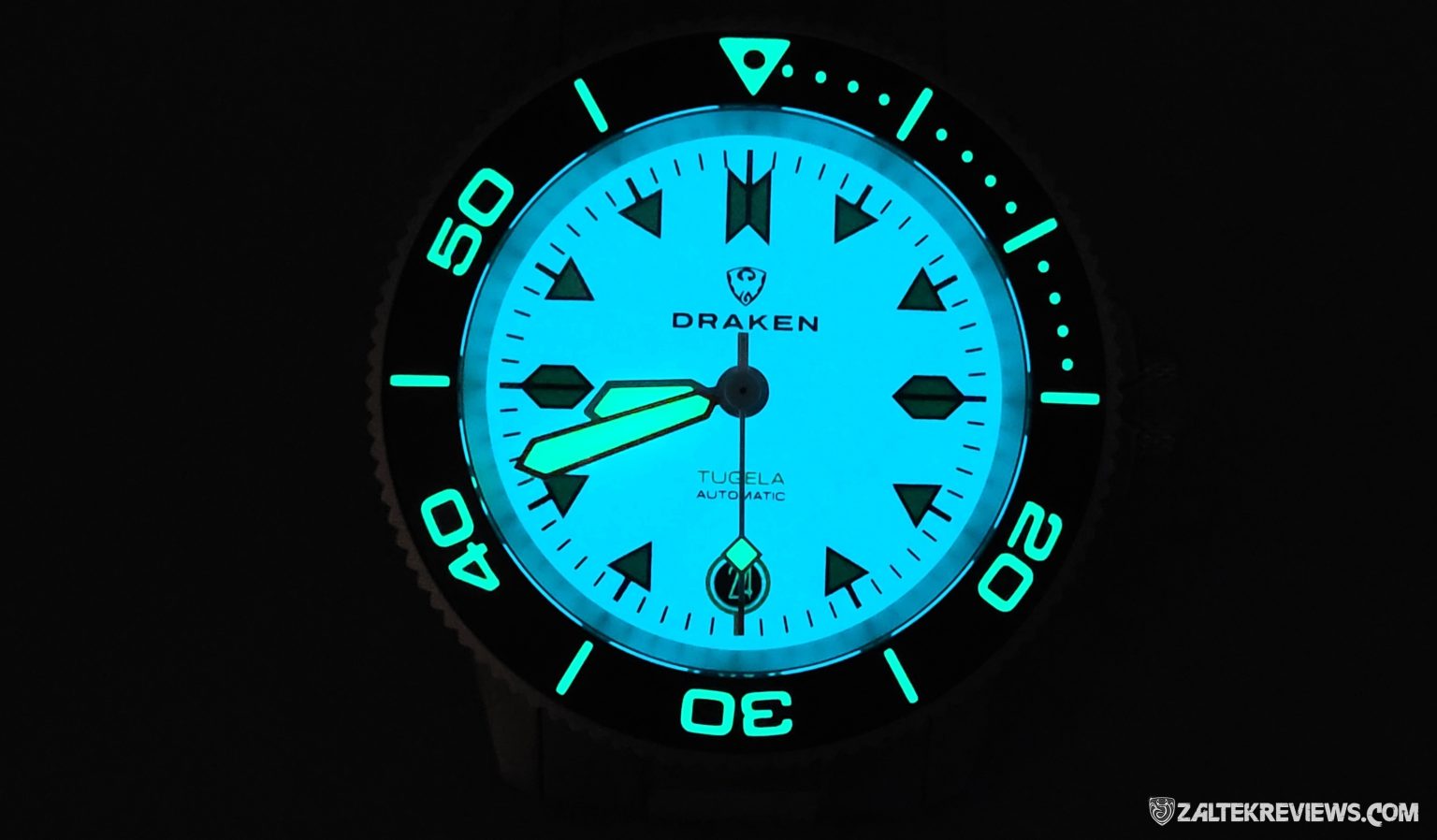 Just take a look at the images of this new Draken Tugela and if you go ahead and actually buy one, no matter which colourway you opt for, you will instantly realise that it is an absolute beast of a watch! I don't mean in size, but rather the sheer level that Draken have taken the build quality. It really is outstanding and right up there, if not better, than the competition. I was really close to awarding this one my top tier Platinum Award, as on paper, it just ticks all the boxes.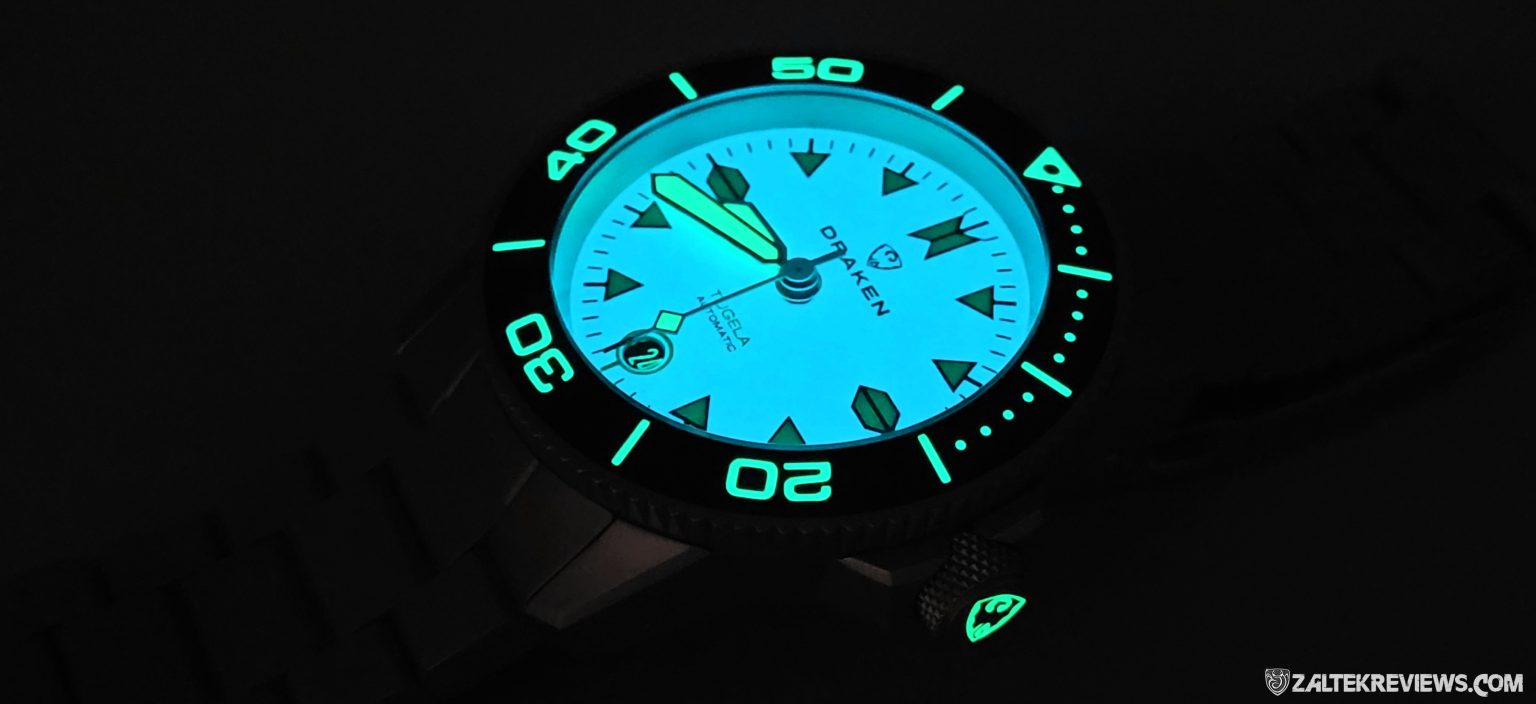 My biggest problem with the Tugela 3.0 though, and I'm not talking about the hour hand on this white model, is down to  the sheer existence of the superb HELM Vanuatu. Don't get me wrong, this Tugela 3.0 should definitely be your first choice if the HELM Vanuatu is just that wee bit too big for you, with its' quite substantial lug to lug of 50mm. This Tugela 3.0 from Draken will fit smaller wrists much better, without making any compromise on build quality. Do I recommend this new 3.0 version of the Tugela? Too bloody right I do! It's just a shame about that bloody hour hand on this white Shaka edition. Gutted! I really thought I had finally found my perfect white dial dive watch. Ah well, the search continues…
A massive thanks to my buddy, John at WatchGauge, for agreeing to send out the Tugela 3.0 Shaka Edition for review. Very much appreciated. To view the range of microbrand watches available at WatchGauge, visit
watchgauge.com
.
It takes me a fair amount of work (and time) to do these reviews. If you feel like supporting Zaltek Reviews to help towards my running costs, or even if you feel like just buying me a coffee, then please donate using the PayPal button below. Unfortunately, 97% of my readers just scroll by this section. If you feel like that I've given you maybe a few quids worth of knowledge and/or entertainment, then please take just a couple of minutes of your time to donate. Thank you. 
[paypal-donation purpose="Donate to Zaltek Reviews" reference="Ref:Zaltek" button_url=""]