Manufacturer:

HELM Watches

| Price: $275 USD (€250 EUR, £215 GBP approx)
There aren't many watches on the planet that are that hard to obtain unless it's a Rolex. Even then, the only Rolex I would like in my collection is a Rolex Explorer and I'm pretty sure if I had the cash available, I could get one tomorrow, one way or another. The HELM Vanuatu on the other hand is a friggin' nightmare to try and buy unless you find a used one on fleabay. Even then you'll probably pay way over the retail price. I've spent months emailing Matt from HELM Watches trying to get one in for review, only to find there are NONE available, not even a beat up press sample.
I wanted to review the Vanuatu so bad, I thought f*ck it, I'm buying one after hearing that they will be available at the end of September. I had the tab open on my phone refreshing the page for weeks, waiting to see if there was any update from HELM. I obviously signed up to their newsletter too, but nothing. I even went to the extent of setting up a notification on my phone if HELM posted anything on Instagram. Nothing! Zip! HEEHAW! Only through a total fluke did I manage to buy one directly from HELM and it arrived a few days before they notified the general public that orders were live on their website. I believe they totally sold out in less than 45 minutes! Anyway enough waffling, let's get on with the review…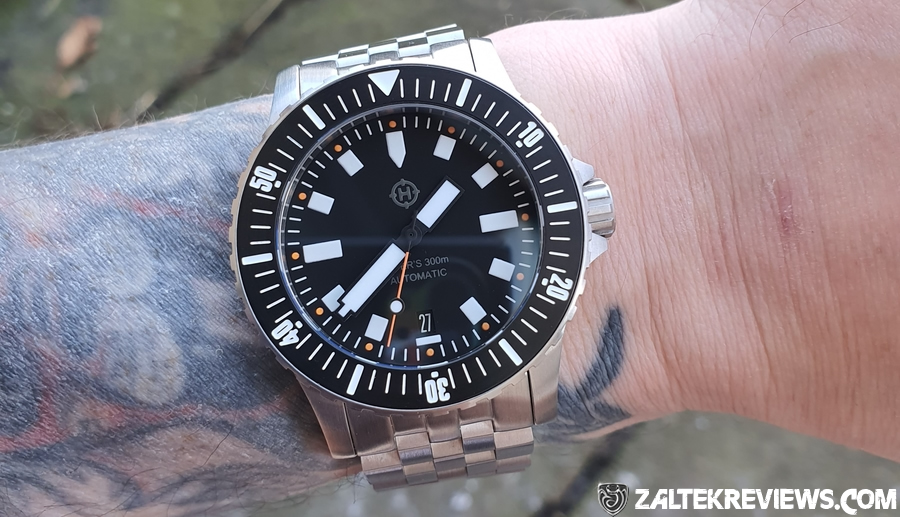 Specifications
Dimensions: Case Diameter – 41.6mm, Thickness – 13.2mm, Lug to Lug – 49.4mm, Lug Width – 22mm
Movement: Seiko NH35 Automatic, 21,600vph (3Hz), Hackable, Self Winding, 41hr Power Reserve
Case Material: Brushed 316L Stainless Steel
Bracelet: Brushed 316L Stainless Steel, Solid End Links, Screw Pins, Fully Milled Signed Clasp
Crystal: Flat Sapphire, Multiple Anti-Reflective Coatings (Inner)
Bezel: 120 Click Unidirectional, Stainless Steel Insert with Black PVD Coating, Fully Lumed
Water Resistance: 30ATM / 300m / 990ft         Certification: ISO 6425:2018
Lume: Swiss Super Luminova® BGW9 & Dark Orange Hour Markings
Crown: Signed, Screw Down   Caseback: Solid, Screw Down, Deep Stamped HELM Logo
Warranty: 1 Year    Where to Buy:

HELM Watches

Options: Black Date, White Date    Extras: HELM Nylon Strap (Optional Canvas, Leather & Rubber Straps)
HELM Watches - The Company
HELM Watches are American owned and operated, with roots in North Carolina. HELM was founded in September of 2014 and their first watch, the Vanuatu was introduced in October 2015. HELM Watches' mission is simple; to produce durable, affordable, dependable timepieces that are inspired by adventure and exploration, and designed for a lifetime of both.
The same spirit of adventure and exploration that inspires their brand and their watches (the kind of spirit, incidentally, that sometimes gets the better of common sense) is what inspired them to move half way around the world to launch a company and a new brand among a sea of other brands. Undoubtedly, it will be one of their greatest adventures in this life. HELM Watches would be honored if their watches can become one of yours.
To ensure every watch is up to the task, they committed to quality from day one. That's a commitment that involves more than just words and good intentions. Regardless of the product in question, or the country of origin, if multiple parts and multiple suppliers are involved, consistent quality is tough to maintain – especially from the other side of an ocean. So they packed up and switched sides, relocating to Hong Kong and southern China to be close to their suppliers and to monitor every step of the production process.
This same commitment to quality was behind their decision to test their dive watches in accordance with the ISO 6425 standard, which requires submerging every complete watch in water for 2 hours at a pressure equal to 125% of the watches water resistance rating. It is a time consuming process that most brands don't bother with. But HELM's feeling is, if a dive watch doesn't keep water out, it's of no use to anyone, and they think they should be the ones to discover that – not the customer. It's certainly not the easiest way. But then, most things done well usually aren't done the easy way.
The case of the HELM Vanuatu has a diameter of 41.6mm. The lug to lug is 49.4mm and the overall thickness, including the sapphire crystal, I measured in at 13.2mm. The entire case, caseback, bezel, bezel insert*, bracelet and crown are all 316L stainless steel. The finish of the entire watch is brushed, and you won't find a single polished surface or accent anywhere which really
accentuates
that tool watch vibe. (*
Stainless steel insert with black PVD coating and white markers
).
The Vanuatu has a water resistance rating of 300m / 30 ATM, thanks to the screw-down caseback & crown. The Vanuatu is also a fully certified and ISO 6425 compliant. The proportions of the watch, in my opinion, are great for my 7″ wrist. The Vanuatu wears really well on wrist and is very comfortable even if on paper, it looks rather beefy, but with a lug to lug of just a bawhair over 49mm, it wouldn't look out of place on a wrist as small as 6¾ inches. The crown is also superb and looks fantastic with its heavy duty stamped logo, there is also absolutely zero wobble when the crown is pulled out at any position. The caseback is also another thing of gorgeousness (is that a word?) as you can see in the image above.
The bracelet that comes with the Vanuatu certainly is chunky AF! This thing is extremely well made, in fact I'd go as far as to say, it's one of the best bracelets I've ever had the pleasure of wearing. It won't suit everyone though, as it could be a little overwhelming for some, as it adds quite a fair bit of weight to the watch. Sized up for my 7″ wrist the Vanuatu still weighs in at just over 200g with 4 links removed. The bracelet itself tapers from 22mm at the lugs down to 20mm at the clasp. Talking of the clasp, it is fully milled with nice chamfered edges, has a fold over clasp with the HELM logo deeply etched into it. There are six micro-adjustment holes to ensure a perfect fit as well as screw-pins for adjusting/resizing.
If the bracelet isn't for you, then HELM also provide a nylon strap with the Vanuatu. I'm not a fan of NATO straps however, I can confirm that these ones are very nicely made with excellent materials used, great stitching, brushed stainless steel hardware that matches the watch perfectly and the buckle is also signed. HELM offer a choice of 6 colours for this strap.
The movement selected for the HELM Vanuatu is the microbrand go-to movement of choice, the super-reliable NH35 manufactured by Seiko. A fantastic workhorse that is a 21,600vph, 3Hz, 24 jewel automatic movement with a 41hr power reserve, self winding and of course hacking. Checking the accuracy after running the Vanuatu for well over a week, mainly on my wrist and occasionally in my Barrington Watch Winder, I thought the accuracy was outstanding with it showing an average of just +0.8 spd. Excellent!!
The HELM Vanuatu has a 120 click unidirectional bezel with a stainless steel insert that is black PVD coated with fully lumed markings. It is of outstanding quality and everything lines up 100% perfectly just as it should. The bezel action I can only describe as perfection, it's very easy to grip and turn and it has absolutely zero backplay. The text on the dial is nicely printed in a kind of stealthy grey colour and there is nothing there that shouldn't be, just the words DIVER'S 300m with AUTOMATIC underneath. The HELM logo is applied and matches the watch perfectly, with what looks like another stealthy approach however it does become more visible when the light hits it at certain angles. Also, well done to HELM for giving us a date complication at 6 o'clock with the option of having it either in white or black to match the dial.
As you can see in the images, the hour and minute hands are of a chunky style with the minute hand having a syringe like tip to it, ensuring accuracy when setting the time. The hour markers on the dial are printed but they can actually look applied at some angles, this is due to the design giving much more real estate so they can be PUMPED full of lume. You'll also notice orange dots behind every hour marker, these are lumed too giving it a brilliant contrast to the rest of the dial. The seconds hand is great too, done in orange with it's lumed lollipop section two thirds of the way down the hand. The lume used on the Vanuatu is Super Luminova® BGW9. As you'll see in the lume shot below, this thing is BRIGHT!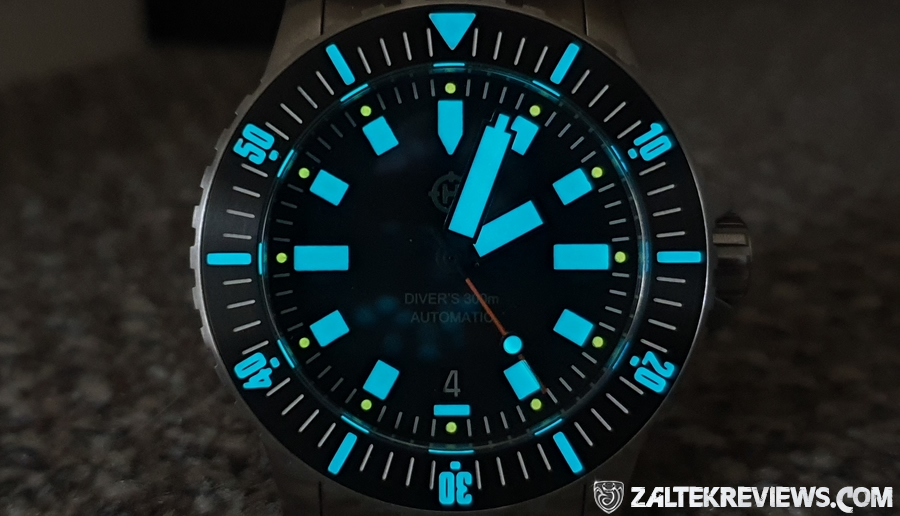 As most of you know I am a huge Zelos fan and have owned quite a few over the years, and I've always thought that their new Swordfish v2 was just perfection. Once I find the time, I'm going to write up a head to head style article between this HELM Vanuatu and the Zelos Swordfish v2. Just thinking about it now, I just can't see if there would be a clear winner.
The HELM Vanuatu truly is an outstanding watch for the money! Saying that, I reckon HELM could sell the Vanuatu for at least $200 more and it would still be a total bargain! The build quality, the fit & finish, the tolerancies of the Vanuatu is what all other microbrands should use as a benchmark, it IS the Porsche 911 of microbrands. A truly phenomenal watch and one you should definitely try and get at the earliest opportunity.
HELM Watches – My first experience of HELM and it certainly won't be my last. Just try and make a few MORE please!
10/10 - HIGHLY RECOMMENDED!! (If you can find one😜)
A huge thanks to Matt at HELM Watches for putting another dent in my wallet and of course for making such a superb watch at a totally ridiculously low price. This is, without doubt, the best tool watch available for under $300!
To view the HELM website, or join their mailing list to be informed of new models etc, visit
HELM Watches
.
Follow us on
Instagram
and join our Facebook group
WatchChat
, a busy community for watch enthusiasts and collectors with tons of images and in-depth discussions.
At Zaltek Reviews, we encourage the companies whose watches we've reviewed to comment on our articles. We invite any company representatives to respond in the public comments section below. Thanks very much.