Manufacturer: Formex Watches | Price: from £975 GBP ($1,280 USD)
There have been quite a few watches this year that I have been super keen to get my hands on to review. However, the one watch that I've just grew super-impatient with, is the Formex Essence ThirtyNine. Ever since I reviewed the original 43mm Formex Essence, I've always thought, 'I wish they would make it a bit smaller'. Upon the announcement that Formex were releasing a 39mm version, I've been pestering Markus at Formex every few weeks. When Formex sent out yet another press release, stating they were releasing a white version of the ThirtyNine, I nearly fuckin' wet myself in excitement! After constant badgering at an almost stalker level, and even although Markus did say he was sending me one to review, once they were available, my patience had just dried up. This white version of the Essence ThirtyNine wasn't in stock anywhere, not at Formex, not at any of their authorised dealers. It wasn't until I spotted SeriousWatches had a white one on bracelet in stock, and ready to ship. I went ahead and bought it, even although I couldn't really afford it. I thought fuck it, I want it, I NEED it!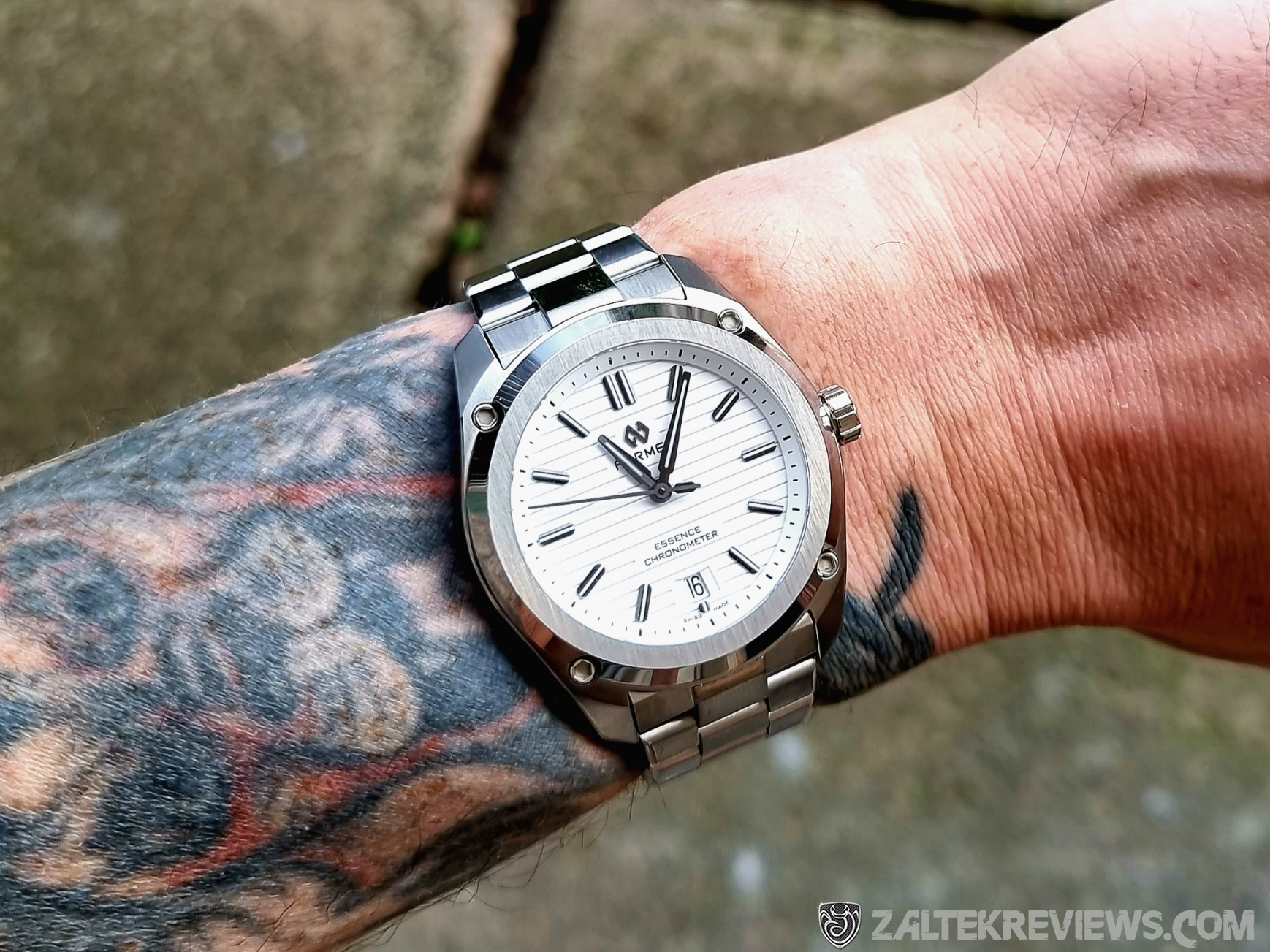 Full Specification
Dimensions: Case – 38.8mm, Thickness – 10.1mm, Lug to Lug – 45.2mm, Lug Width – 20mm
Movement: COSC Certified Swiss Sellita SW200-1, 28,800vph, 26 Jewels, Hackable, Self Winding, 38hr Power Reserve
Case: Brushed & Polished 316L Stainless Steel
Bezel: Fixed, Vertically Brushed, Polished, Patented Suspension System
Dial: CNC Machined, Polished Indexes & Hands, Colour-Matched Date at 6
Lume: Swiss Super-LumiNova® BGW9
Bracelet: Brushed & Polished 316L Stainless Steel, Solid Links, Screw Pins, Patented Adjustable Clasp
Rubber Strap: Black, Curved Ends, Quick Release Pins, Micro-Adjustable Carbon Clasp
Leather Strap: Brown, Blue or Black Italian Calf, Curved Ends, Quick Release, Micro-Adjustable Carbon Clasp
Crystal: Flat Sapphire, Multiple Underside Anti-Reflective Coatings
Water Resistance: 100m / 10ATM / 330ft

Caseback: Screw Down, Exhibition Display, Sapphire Crystal
Crown: 6mm, Push/Pull, Signed

Weight: 124g (on bracelet – sized up for my 6¾″ wrist)
Where to Buy: Formex / SeriousWatches (Authorised Dealer)

Warranty: 3 Years International
Formex Essence ThirtyNine Chronometer
"Formex Swiss Watches, established in 1999, is an independent family-owned watch manufacturer based in Biel/Bienne - known as the cradle of Swiss watchmaking. With our roots in high-end watch manufacturing, we develop and produce watches that meet the highest quality standards in the industry, and equip them with unique engineered features to add more functionality and comfort. Through an innovative distribution model, Formex offers an affordable luxury watchmaking experience for those who appreciate fine timepieces and exceptional craftsmanship. But what's our story? The Formex history goes back 20 years when two Swiss brothers, both watchmakers and enthusiasts alike, wanted to combine their passion for watches with their love for motorsports. "Formex = forme extrème, French for 'extreme shape'" Inspired by the engineering and mechanics of high performance racing cars and bikes, the two brothers developed the brand's signature patented Case Suspension System. This cushion-like system protects the watch's movement and considerably adds to the comfort on the wrist, while giving every Formex a very distinctive, robust and sporty look. All our watches are designed, developed and assembled in-house at our headquarters in Biel-Bienne, Switzerland and meet the current, more strict Swiss Made requirement, which entered into force on January 2017. Every single piece undergoes a variety of quality and functionality controls, before making it to your wrist."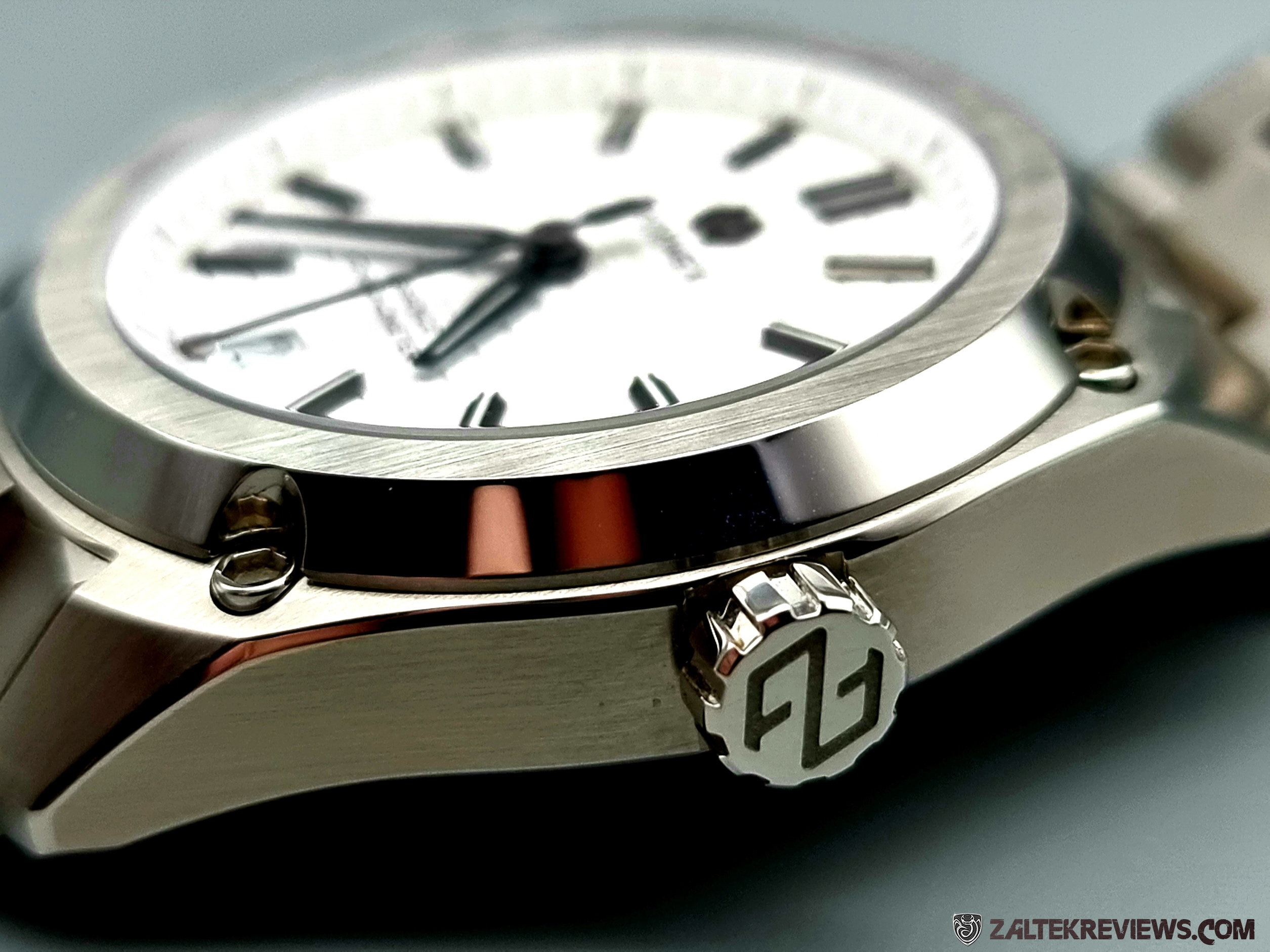 The case of the Formex Essence ThirtyNine according to my calipers, has a diameter of 38.8mm. The lug to lug is 45.2mm and the overall thickness including the sapphire crystal, albeit flat, I measured in at a svelte and rather luscious 10.1mm. The case, caseback surround, bezel, crown and bracelet are all 316L stainless steel. The finish of the watch is finely brushed, with the inclusion of some gorgeous polished accents, that run along both the top and bottom of the case, as well as around the lower section of the bezel. Overall, it looks utterly stunning and I can only describe the transitioning between both finishes as utterly flawless!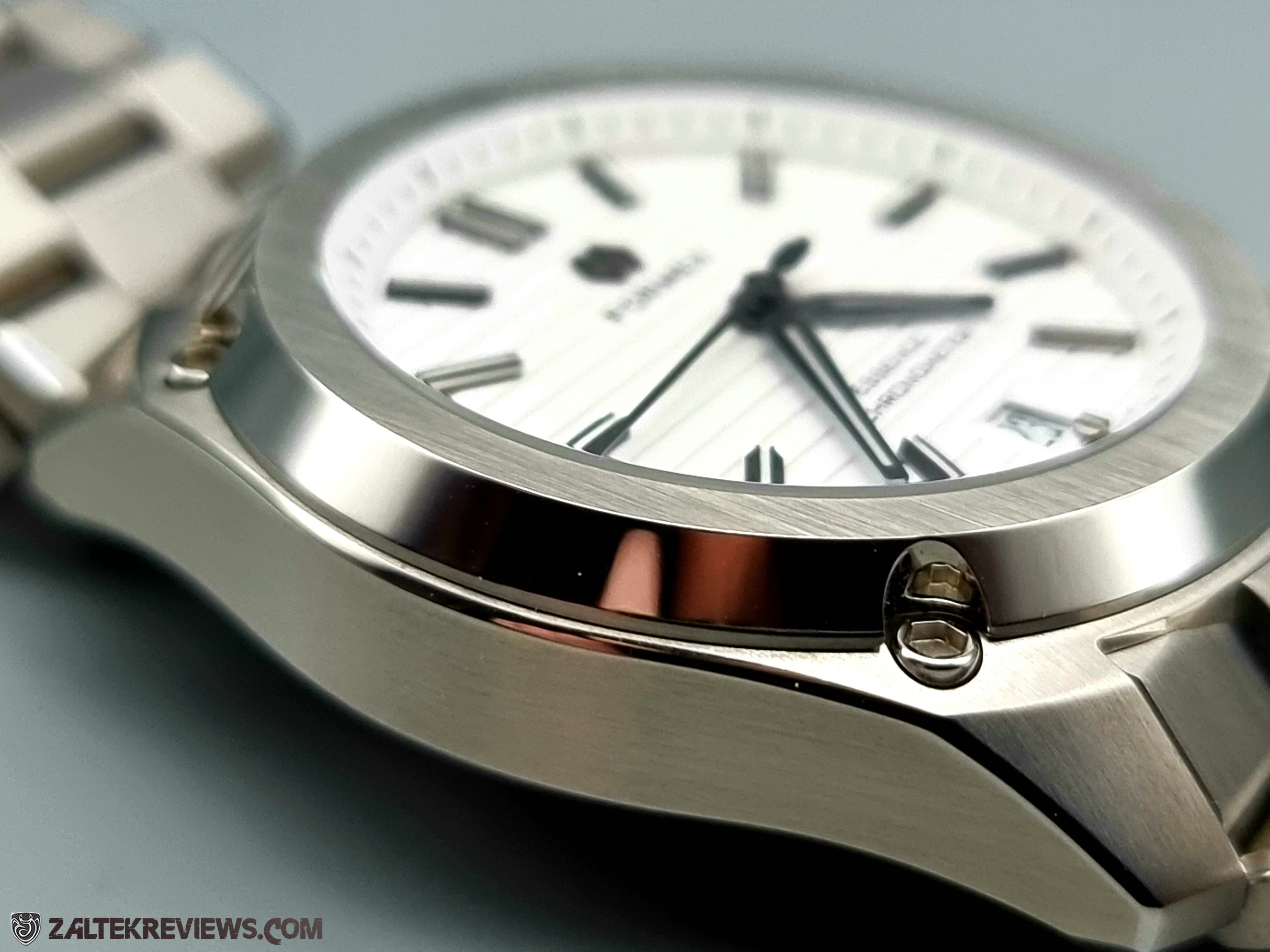 The Essence ThirtyNine has a total water resistance rating of 100m, thanks to the addition of a screw down caseback. 100m is also a perfectly decent WR rating for this 'go anywhere, do anything' sports watch. The proportions of the Essence in my opinion, are absolute perfection! 39 x 45mm is just utterly gorgeous and it wears so well on wrist that it will suit a shit ton of different wrist sizes. The signed crown is sized at 6mm, looks fantastic and is a total piece of cake to operate. There's absolutely zero wobble when the crown is in use and there's also a superb amount of grip. The exhibition caseback with sapphire is also extremely nice, allowing you to take a wee peek at the Swiss Sellita SW200-1 COSC certified movement, with its custom Formex skeleton rotor and highly detailed finishing.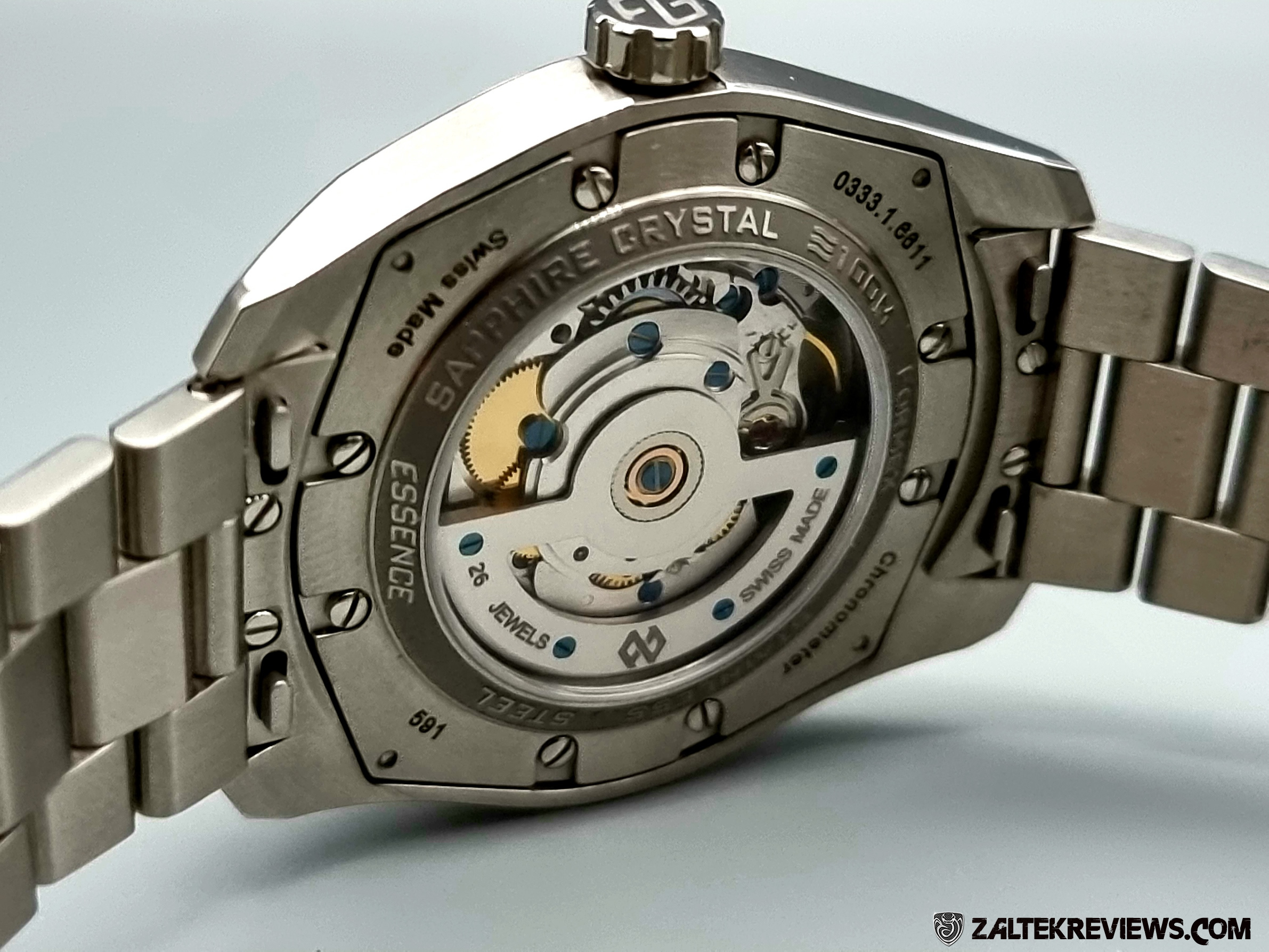 The Formex Essence ThirtyNine is available with a choice of leather straps, a rubber strap or the slightly higher cost option of a 316L stainless steel bracelet. As you're aware, I purchased this Essence ThirtyNine on bracelet, although after informing Markus at Formex of what I'd bought, he very kindly sent me their new rubber strap with a carbon deployant clasp to include in my review. Straight off the bat I have to say, this rubber strap and clasp combo is easily the best I've ever experienced! It is of very high quality, that is extremely comfortable with zero flappy part (the main reason I usually go for a bracelet option). The rubber itself is super soft & supple and I really like the way it fits flush to the watch head. The carbon clasp is what really makes this strap a dream to wear, that even has micro-adjustment on the fly, that ensures you get a perfect fit, no matter if your wrist swells in the heat or shrinks a little in size. The perfect strap!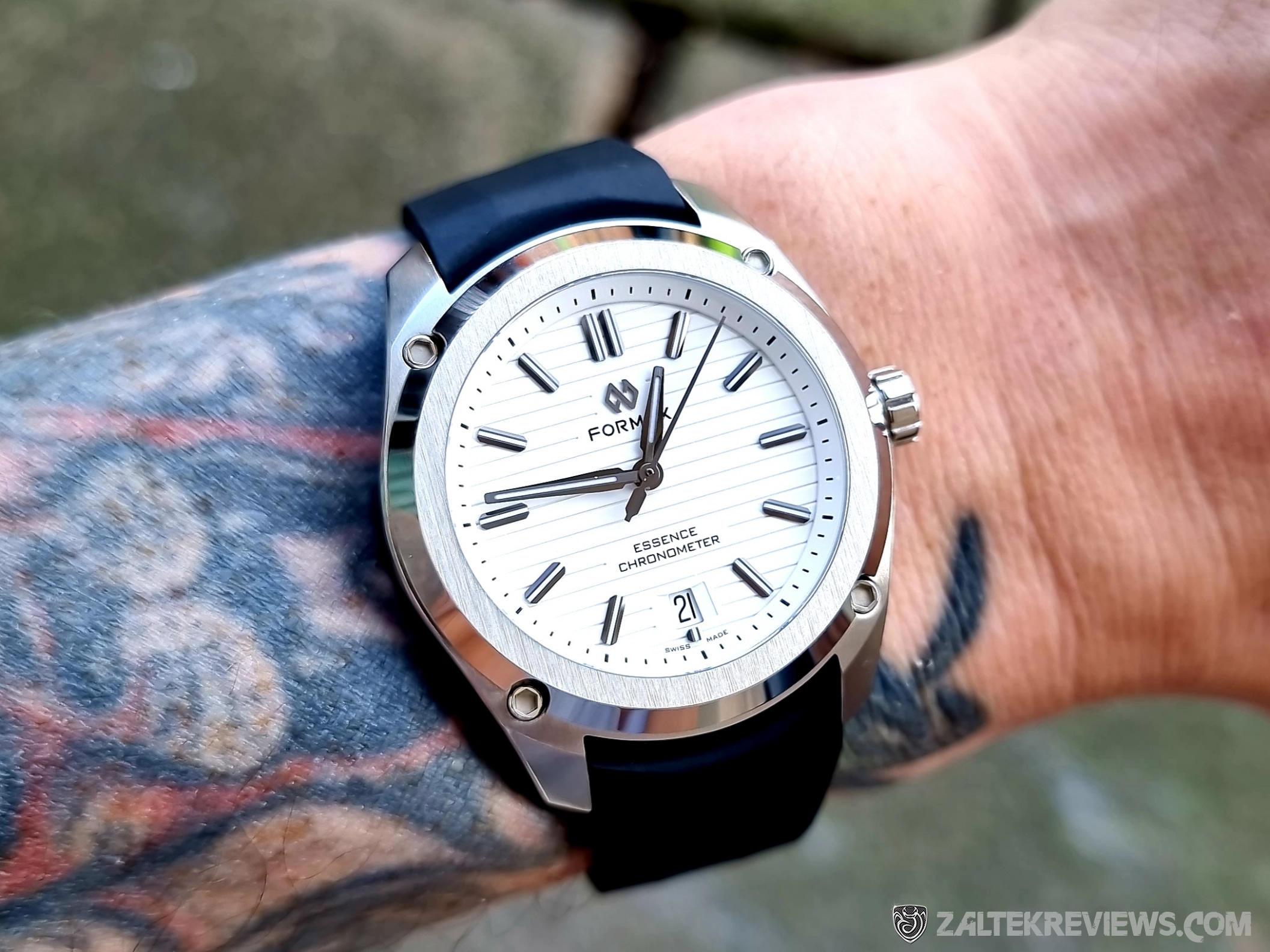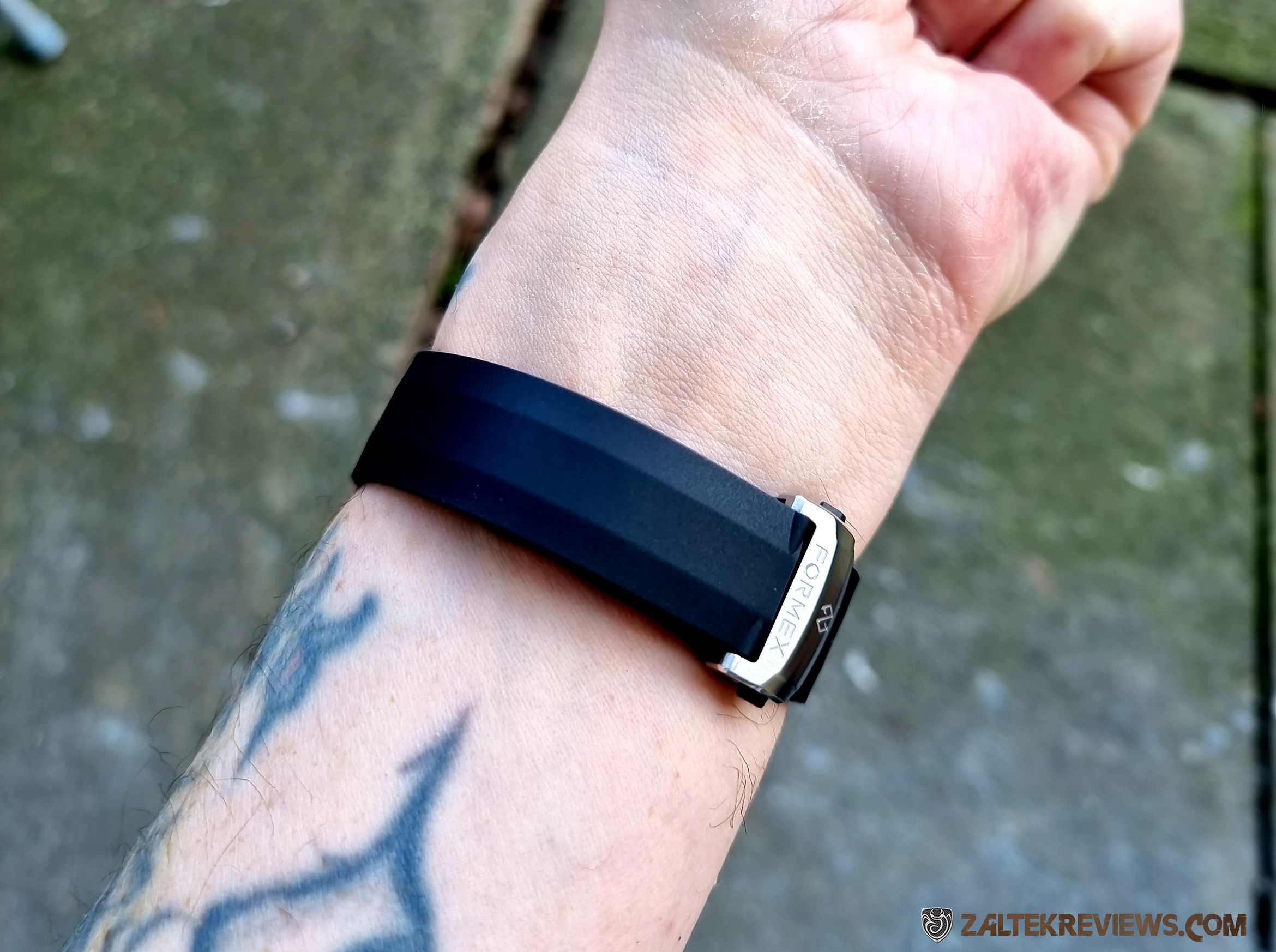 As bracelets go, this one from Formex is the absolute dog's bollocks and it's definitely worth every penny! In fact, I'd go as far as to say, it's actually a bit of a bloody bargain! The bracelet is mostly brushed, with a polished chamfered edge running along both sides on top. It's made with a 3-link design, with solid links throughout, quick release end links, screw pins, as well as an on-the-fly adjustable, dual button / friction butterfly clasp, It just screams premium, with truly fantastic build quality! Measurement wise, it's pretty much what you'd expect… 20mm at the lugs, tapering down to approximately 17.5mm at the clasp. If I had to say anything negative with regards to this bracelet, I would have much preferred to have seen female end links for immediate articulation, although saying that, the male links here are sloped to the perfect angle, so it does actually conform to your wrist pretty much perfectly, without increasing the effective lug to lug.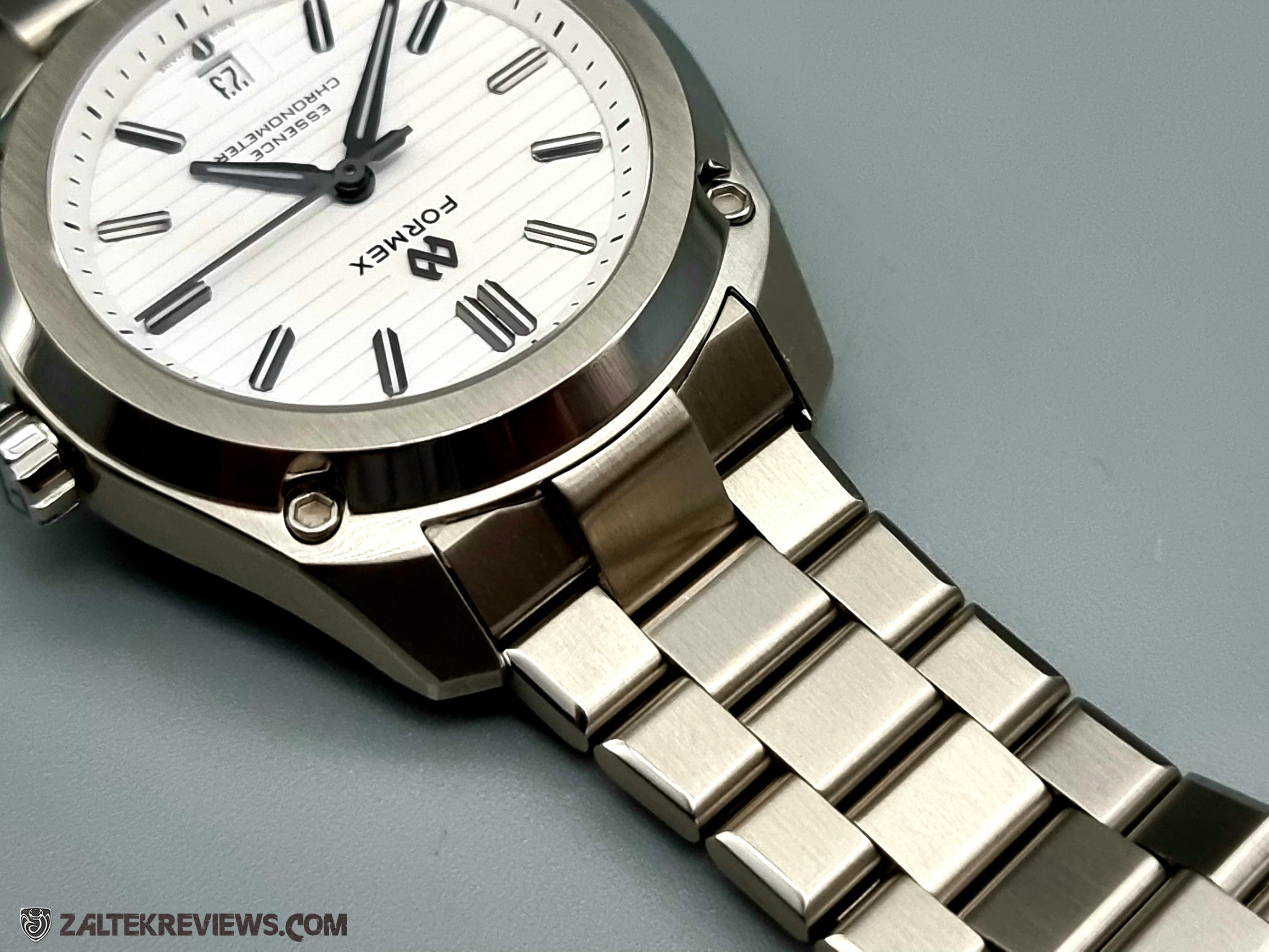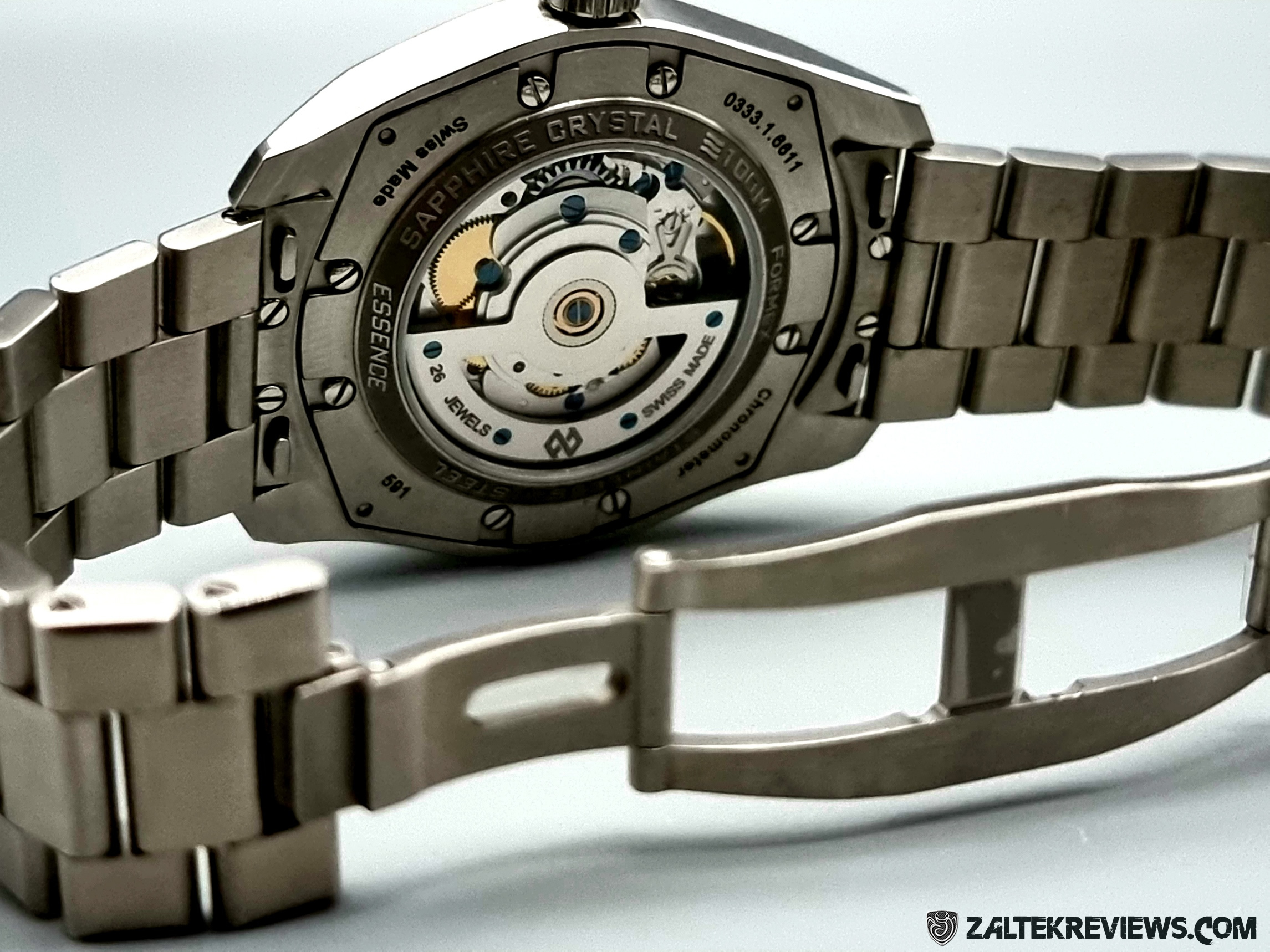 The Essence ThirtyNine is powered by a Swiss Made Sellita SW200-1 self-winding movement with a power reserve of 38 hours. Formex chose the highest quality Chronometer grade because it comes with premium components such as a Glucydur balance wheel, which is exceptionally hard and stable, very resistant to deformation, non-magnetic, and non-corrosive. The movement is also fully decorated and wound by Formex's in-house developed and custom made skeletonized rotor. Every one of these movements is certified by COSC (Contrôle Officiel Suisse des Chronomètres) and undergoes a meticulous two week test to ensure extraordinary levels of mechanical accuracy and precision. Checking the accuracy on my trusty timegrapher, after wearing this ThirtyNine for a couple of weeks, I was extremely pleased, with the Essence coming in at an average of just +1 second per day, with zero beat error. That's a totally fantastic result!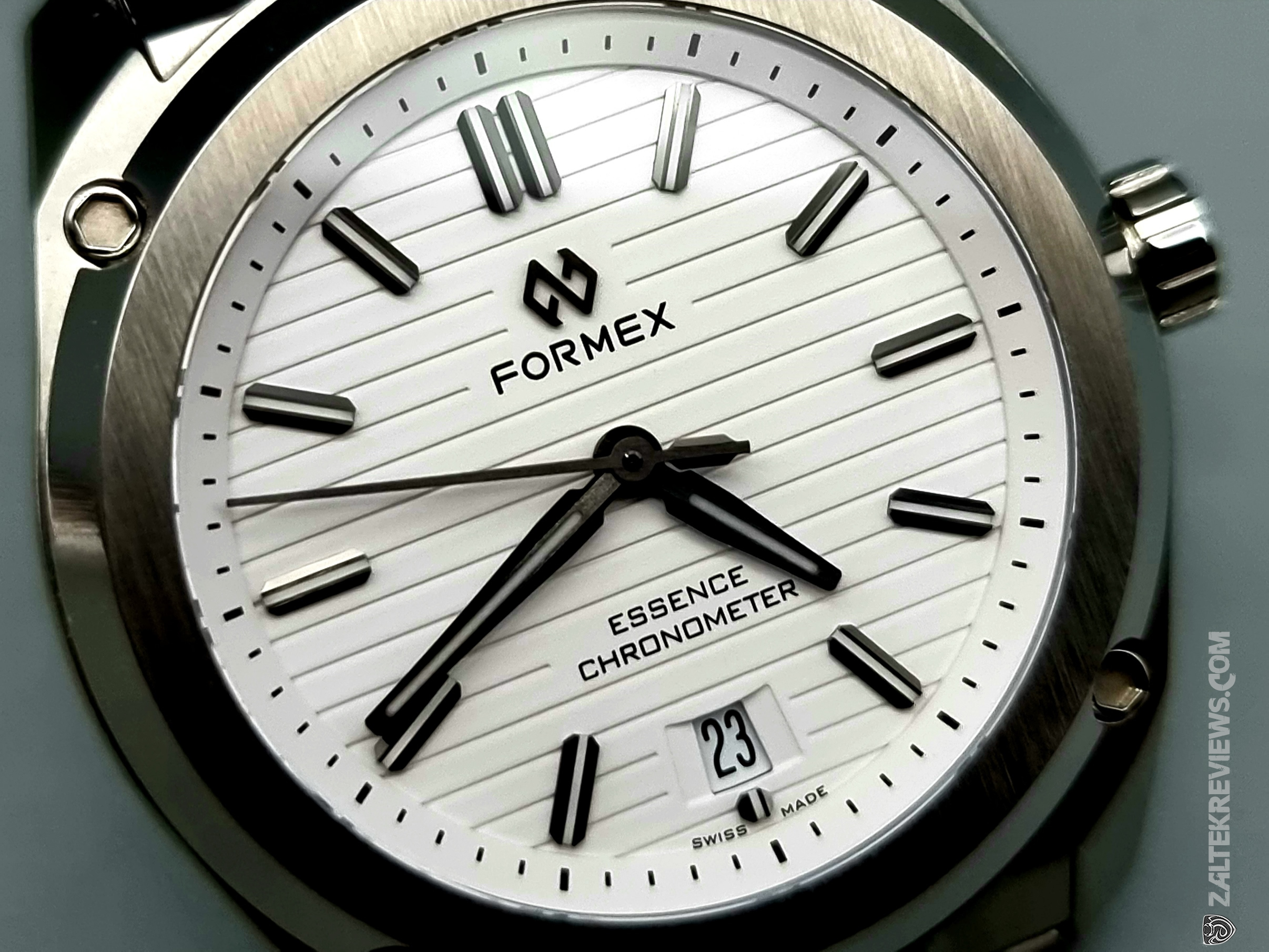 The Formex Essence ThirtyNine has an extremely nicely manufactured fixed bezel, there's a fantastic level of finishing with vertical brushing and polishing on the lower section, The printed text on this stunning white dial are the words ESSENCE and CHRONOMETER, with SWISS MADE  just below the date complication at 6. The new Formex logo is at the usual spot of just under the double batons at 12 o'clock. The dial itself is actually CNC-machined to showcase those horizontal lines, and I've also actually studied this dial under macro and it is without question, totally flawless! Taking absolutely everything into account, it all adds up to one of the most striking, yet beautifully designed dials I've ever seen. I actually prefer this dial over the similarly styled Christopher Ward C63 Sealander!!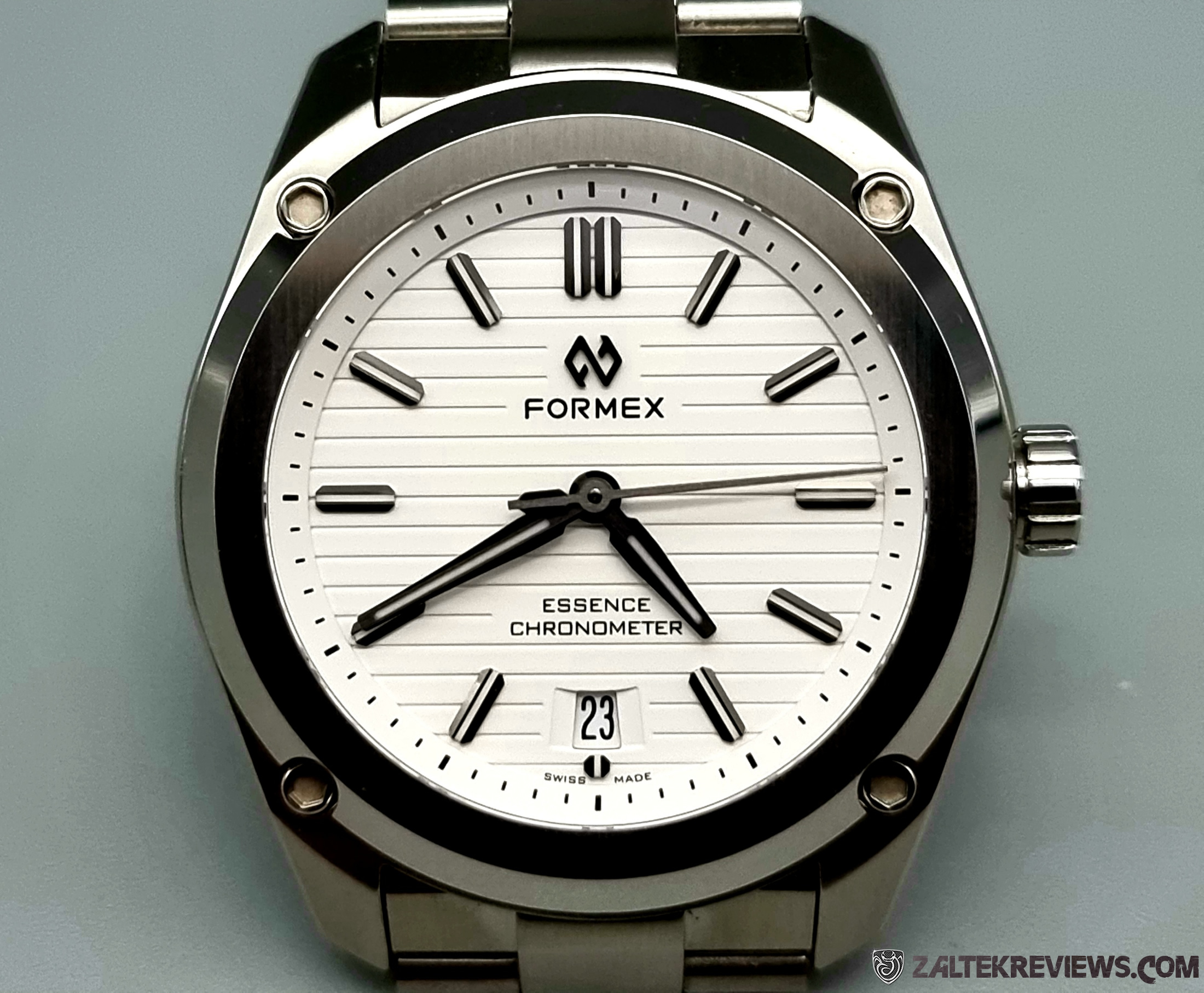 Yup, as you can probably guess, if you've read my previous reviews, I love the colour-matched date complication at 6 o'clock and before you ask… yes, the date wheels are also colour-matched on the other versions too. Next up are the hour and minute hands that are really nicely manufactured, with zero imperfections and are perfectly proportioned and I love the legible contrasting design. The seconds hand is rather nice too, although it's not not lumed anywhere, but the actual tip of the hand does reach right out to the very edge of the chapter ring. I have absolutely zero complaints regarding the Formex Essence ThirtyNine's dial. ❤️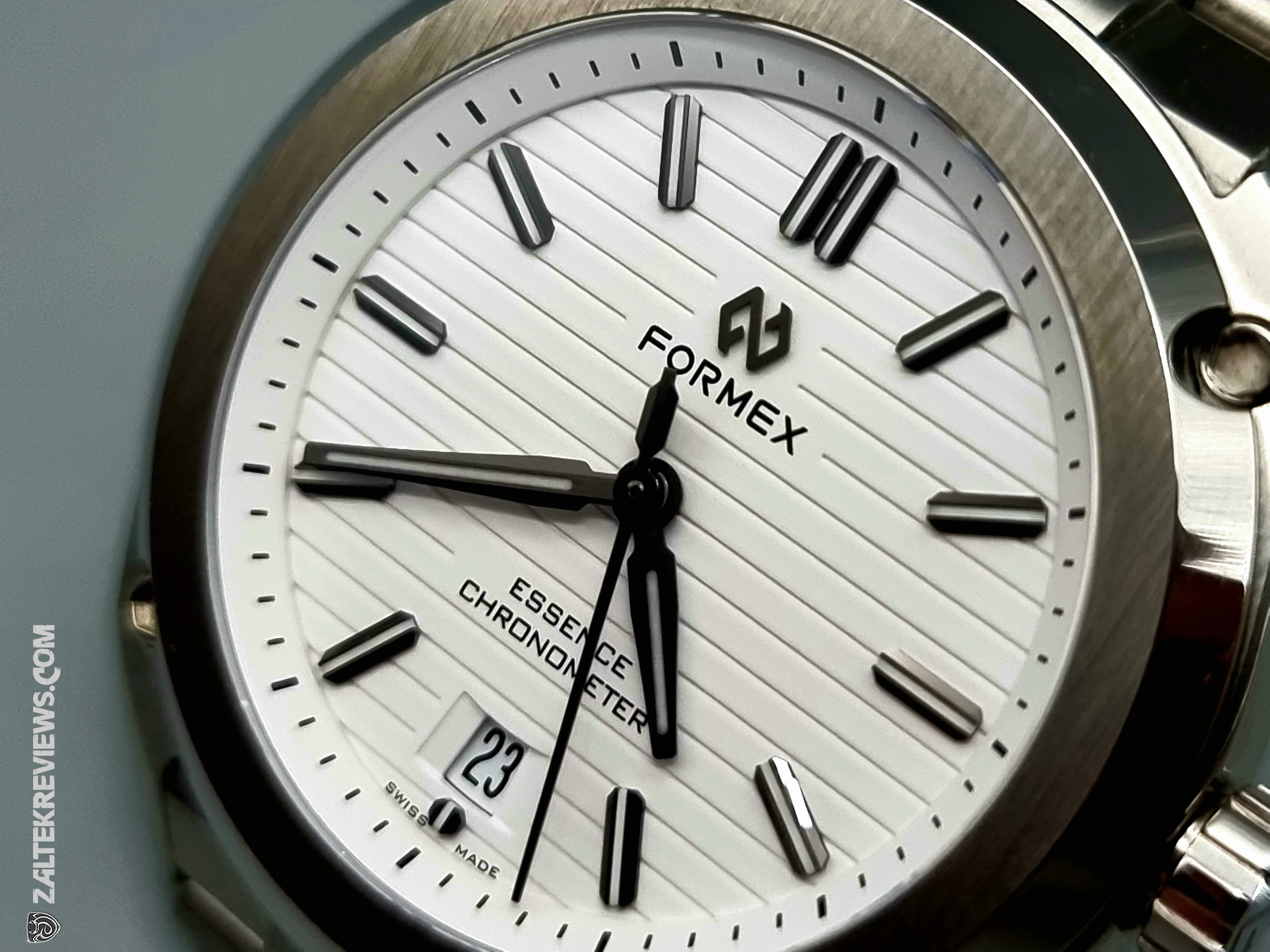 The lume of the Essence ThirtyNine is very nice indeed and I can honestly say, it's actually better than even some dive watches I've reviewed. The lume that's been applied is Swiss Super Luminova® BGW9, and trust me when I say this, the lume has been executed and applied 100% correctly, even when the watch doesn't really require outstanding lume. It is this attention to detail, is what really makes all the difference! The lume is not only vibrant, it also lasts for many hours. Lovely!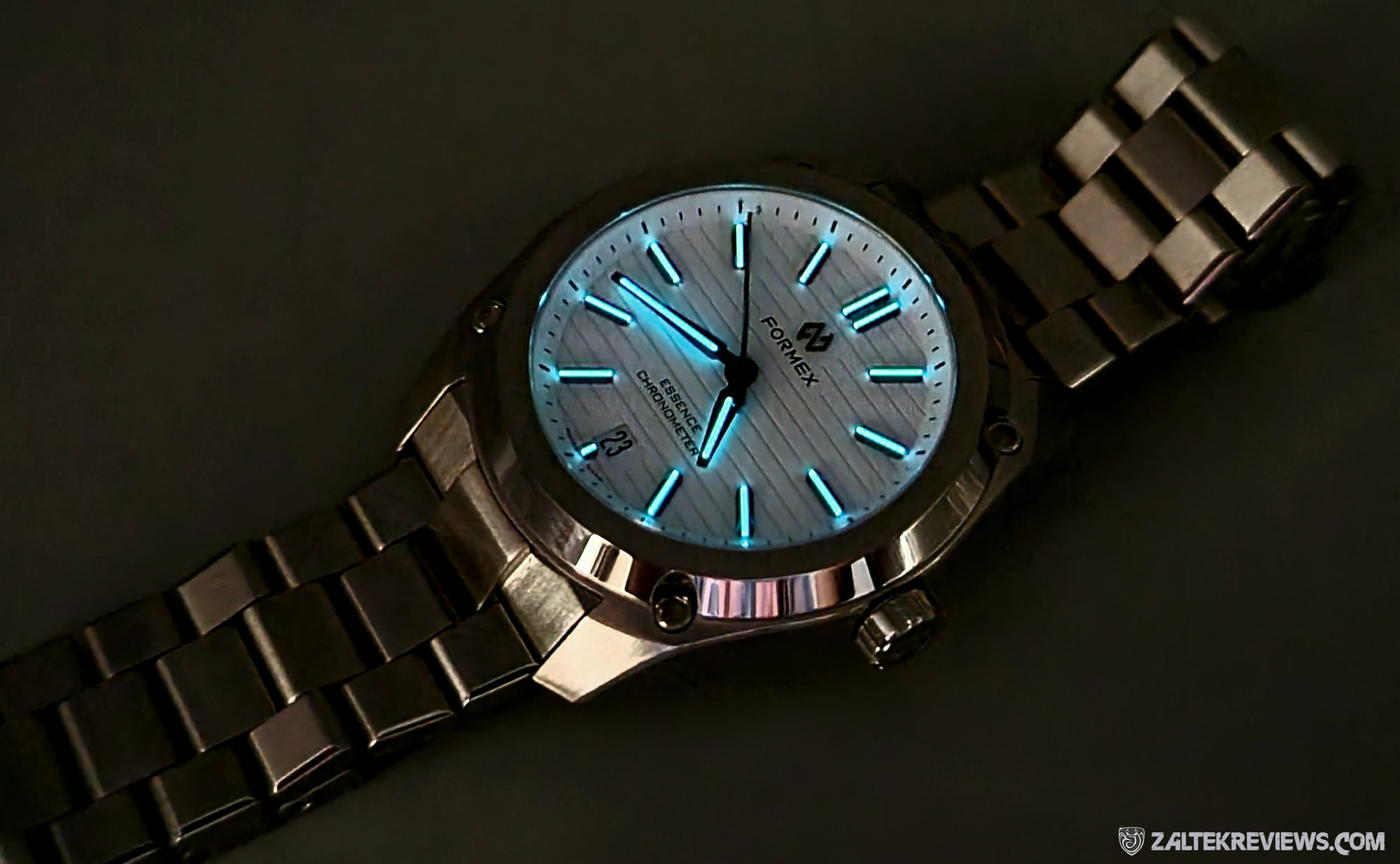 So, is this watch perfect? No. I'm still not a fan of the Formex patented suspension system found on the case. My main reason is I would've much preferred a clean look to the bezel, rather than those bolts of the suspension showing through. I understand that it's useful to some, probably those that wear their watches below the wrist bone. To me, that's just wrong, I see that a bit like those muppets that wear their jeans way too low, subsequently showing off their bloody underwear! Anyway, I digress… The Essence ThirtyNine is still an extremely beautiful watch, I love the dial so much infact, I could actually label it as my favourite of all time. However, you might have noticed I made reference to the Christopher Ward C63 Sealander earlier, as I do believe both of these watches are similar in style and can be easily compared to each other. You are getting a LOT more watch for the money with the Formex, but personally speaking, I prefer the "light-catcher" case of the Christopher Ward. Everything else is on-point with the Formex though and I also love the fit & comfort of these new rubber straps, they are the best I've experienced! I am hoping to review the Formex Reef dive watch soon and on paper, it might just be the perfect dive watch. Hopefully, Markus sends it soon.
A big thank you to Mark at SeriousWatches for sorting out this Formex Essence ThirtyNine for me. Very much appreciated buddy and thanks again for the first class customer service & support! To view what SeriousWatches have in stock, visit
seriouswatches.com
. Another shout out goes to Markus at Formex, for providing the rubber strap and carbon clasp on the day of release. To view the Formex website, or even to join their mailing list, visit
formexwatch.com
.
It takes me a fair amount of work (and time) to do these reviews, so if you feel like supporting Zaltek Reviews to help towards my running costs, or even if you feel like just buying me a coffee, then please donate using the PayPal button below. Unfortunately, 97% of my readers just scroll on past this section. If you feel like that I've given you maybe a few quids worth of knowledge and/or entertainment, then please take just a couple of minutes of your time to donate. Thanks.