Manufacturer:

Isotope Watches

| Price: from £379 GBP ($510 USD, €419 EUR)
I reviewed a rather early prototype of the Isotope Goutte d'Eau back in July of 2019, when Isotope had only just started taking preorders for the aforementioned compressor style dive watch. Back then, the Goutte d'Eau was only available in two different colours, blue and orange, with just a couple of additional aesthetic differencies between the two. Fast forward to over 18 months later, as we slowly creep into 2021, Isotope have decided to expand their line up of the Goutte d'Eau 200m diver with a light refresh and the addition of some vibrant new colourways;
green,
red &
yellow.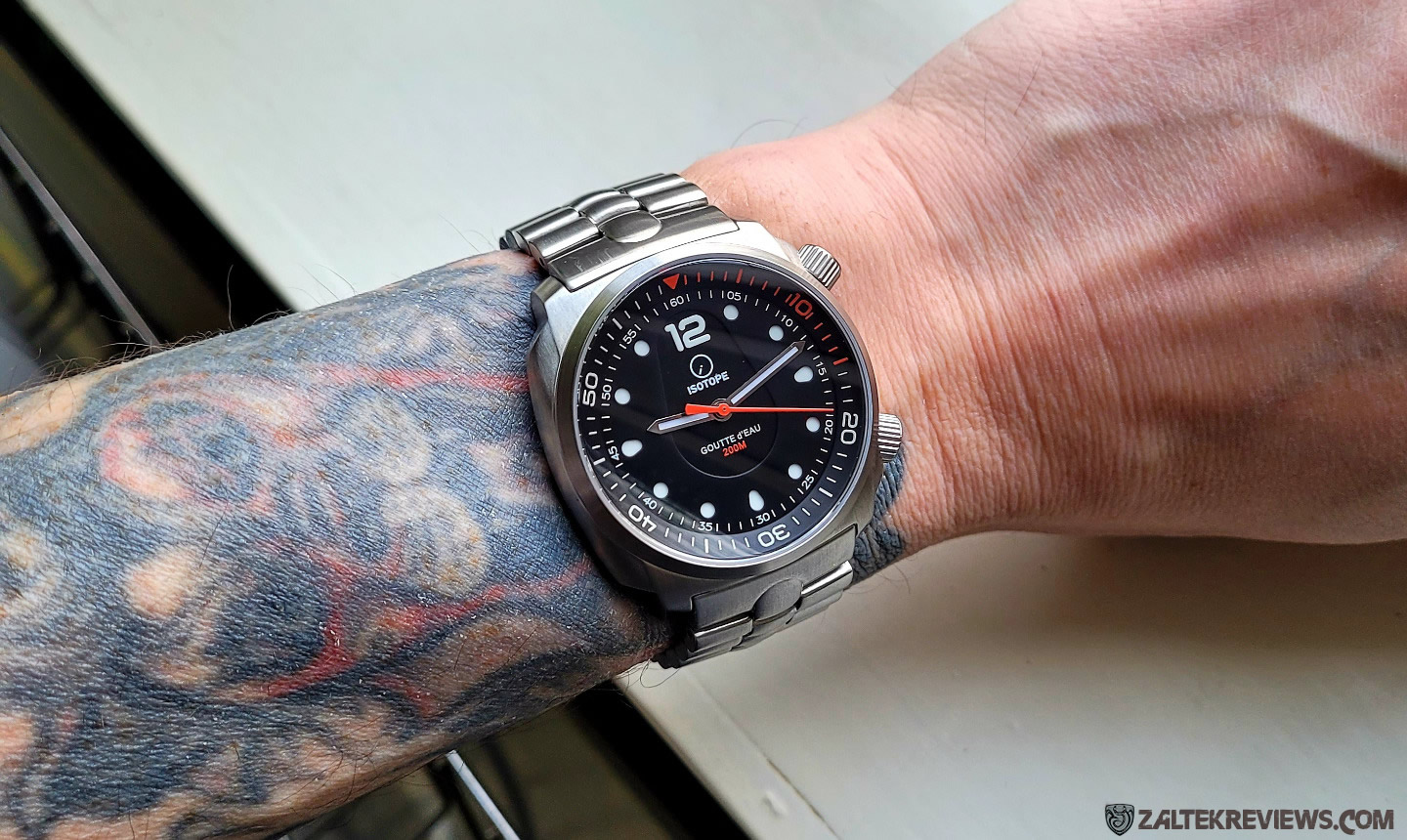 Back when I reviewed the prototype, I actually really liked the Goutte d'Eau, as it offered a rather unique design, with solid build quality, for not a lot of our hard earned cash. As microbrands go, Isotope have established themselves as a very reputable brand, with their founder José, being very well respected within the watch community and across various social media platforms. I contacted José just a few weeks ago, with my idea of reviewing a production piece in one of their new colourways. Just a hop, skip and drunken jump later, the new Isotope Goutte d'Eau Chilli landed on my desk.
Specifications – Isotope Goutte d'Eau Chilli
Dimensions: Case Diameter – 39.9mm, Thickness – 13.2mm, Lug to Lug – 43.6mm, Lug Width – 22mm
Movement: Seiko SII NH38, 21,600vph, 3Hz, Hackable, Self Winding, 41hr Power Reserve
Case Material: Brushed 316L Stainless Steel
Dial & Hands: Sandwich Construction, Pencil Style Hands, Red Accents
Bracelet: 316L Stainless Steel, Solid Links, Push Pins, Milled Clasp, Divers Extension
Crystal: Domed Sapphire, Underside Anti-Reflective Coating
Bezel: Internal Bidirectional, 60 Minute Dive Timer 
Lume: Swiss Super Luminova® BGW9
Water Resistance: 200m / 20ATM / 660ft      

Caseback: Screw Down, Exhibition Display       
Crown (1): 6mm, Crown @ 2 o'clock, 4 Gaskets, Controls Internal Bidirectional Bezel
Crown (2): 6mm, Crown @ 4 o'clock, Screw Down, Controls Time Setting/Adjustment

Weight: 171g (Sized for my 6¾″ wrist)
Movement Options: Sellita SW200 (+£130), Seiko SII NH35 / NH38 (Date / No Date)
Where to Buy:

Isotope Watches

     Warranty: 2 Years Limited
Isotope Goutte d'Eau Colours
Isotope Watches - Introduction
"Isotope Watches is an independent, enthusiast driven brand based in England, offering a 1:1 service, combining original designs with traditional solutions and boutique approach. The company was founded in 2016 by José and Joana Miranda. The Isotope brand name is derived from science; isotopes being different forms of a single element and in horology, the Isotope brand represents the individuality and originality that defines them as a company. Isotope have aligned their "i" in the logo with the seventh hour, considered by numerology experts, to be the worlds favourite number and a universal symbol of good fortune and unification. It is also very significant across all cultures and religions worldwide."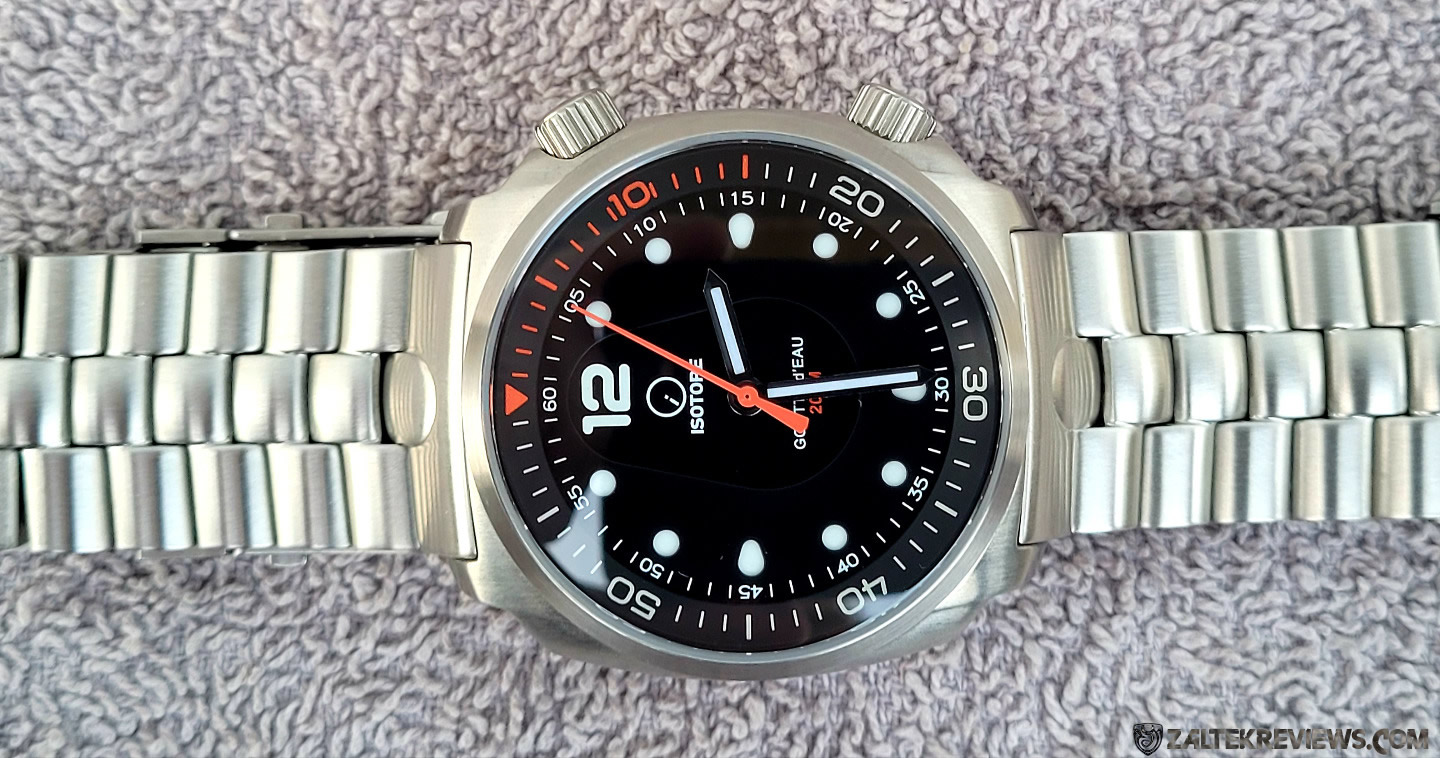 The case of this Isotope has a total diameter of 39.9mm. The lug to lug is 43.6mm and the overall thickness, including the domed sapphire crystal, I measured in at 13.2mm. The entire case, caseback surround, fixed bezel, crowns and bracelet are all 316L stainless steel. The finishing of the watch is entirely brushed. All colourways have a water resistance rating of 200m, thanks to the solid build quality and the inclusion of a screw down caseback & main crown. The crown for operating the internal bezel isn't screw down, but it does have a total of 4 gaskets to help retain that 200m WR.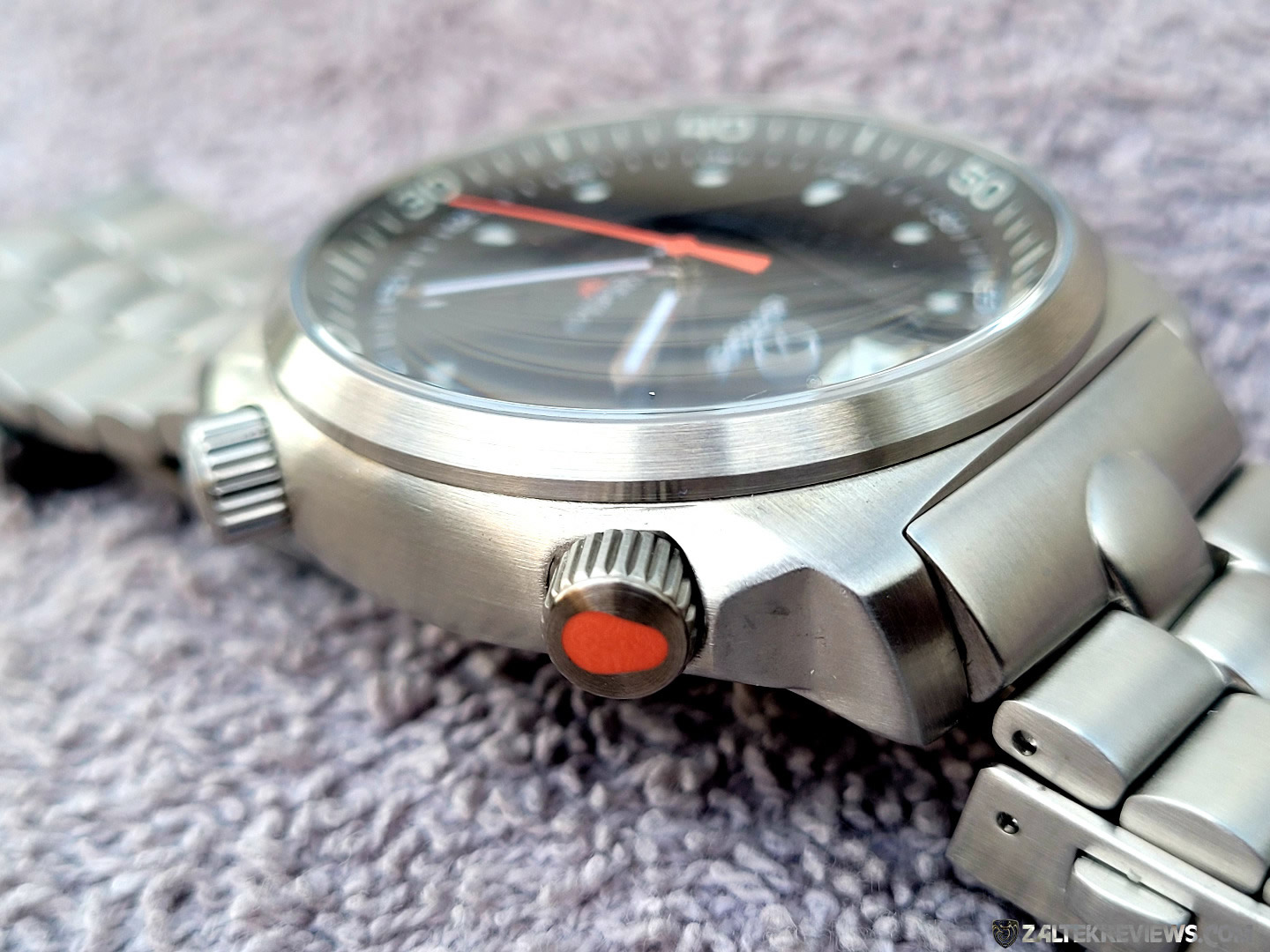 The proportions of the watch are quite unusual for a watch with a 40mm case, a very short lug to lug of under 44mm and a rather beefy non-tapering 22mm bracelet with 24mm clasp. If you just read those specs out to me without getting to actually see or wear the watch, I'd probably tell you to go and shove it up yer arse! Casting the KY jelly aside, there is absolutely no need, as surprisingly it wears spot on and it conforms to the wrist perfectly. The signed screw down crown at 4 is also very nicely executed, with tons of grip, zero wobble and the obligatory nice little pop as you unscrew it.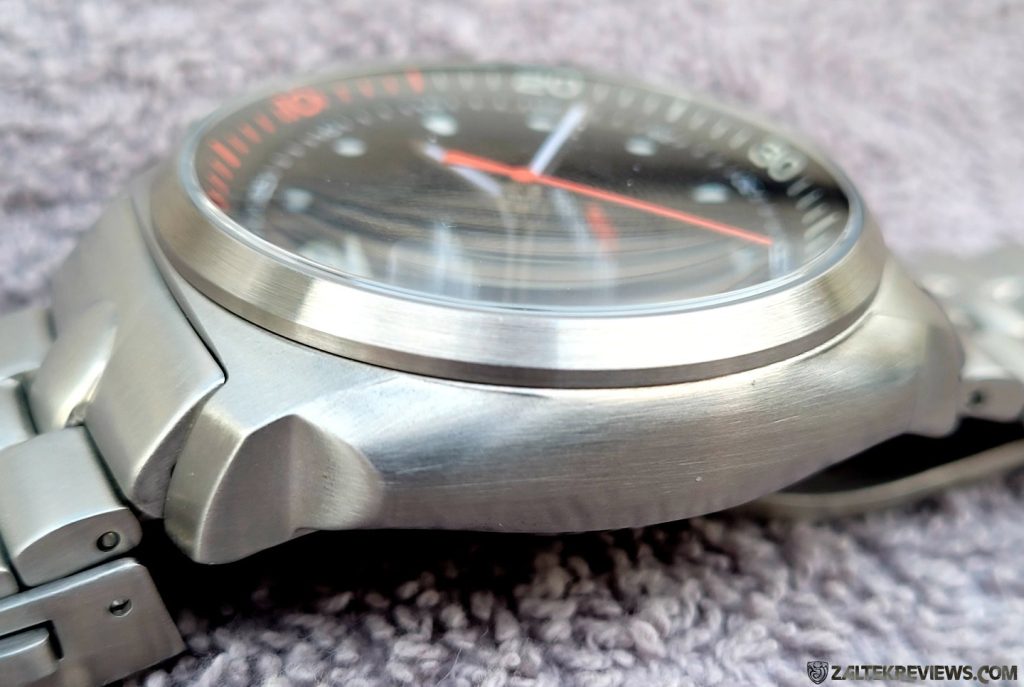 This is where the Goutte d'Eau really becomes a bit of a marmite watch per se, in both its style of bracelet and overall design. It's not very often you'll find a watch with an approximate case diameter of 40mm that has such a wide bracelet. Sure, I've seen a few, for example the Marc & Sons Elegance Series and the recently reviewed MMI Turret. Both of those watches though, have a lovely taper to their bracelets, which does make a huge difference, especially with comfort and how the watch actually wears on wrist. This bracelet is 22mm at every link, and the milled clasp is a whopping 24mm.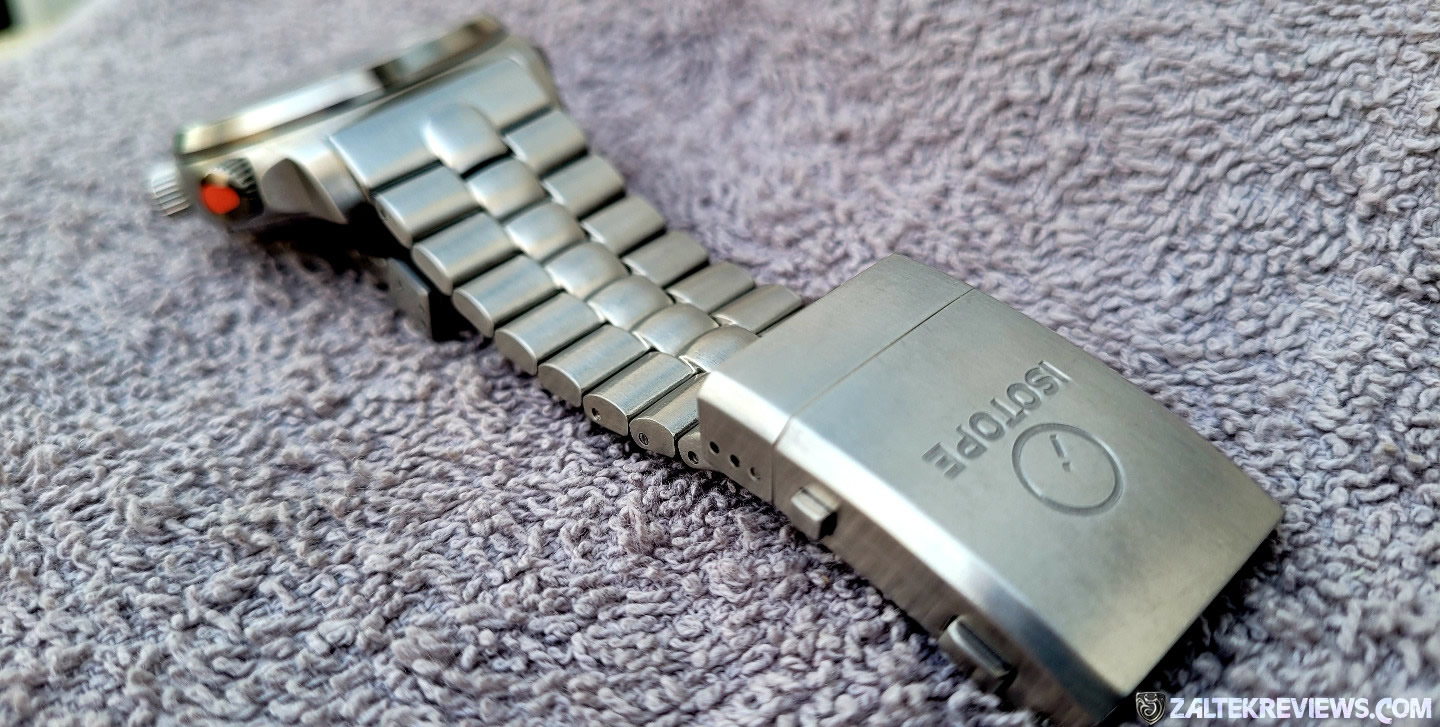 Disregarding the rather marmite dimensions of the bracelet and to be honest, I actually really like how the bracelet wears on wrist. I can however, forsee a lot of the great unwashed (general public) moaning their tits off. They always have something to moan or complain about, don't they? Well they do in Europe. Fuckin' bunch of twatwaffle, fucknugget, buttmunching, shitlicking, cockwomble wankers! (Try and get away with that on YouTube!
). There is always two sides of the fence, so to speak… The customer, and the manufacturer (who has put blood, sweat and tears into their product, not to mention a rather LARGE financial investment). Trust me, I've been on both sides of that fence and the customer is by far the easiest part of the constant headache, divorce pending, near alcoholism & fuckin' bankruptcy part of that entire bloody equation! Where the hell am I going with this? Ah, fuck knows. I've lost my train of thought again…
I digress.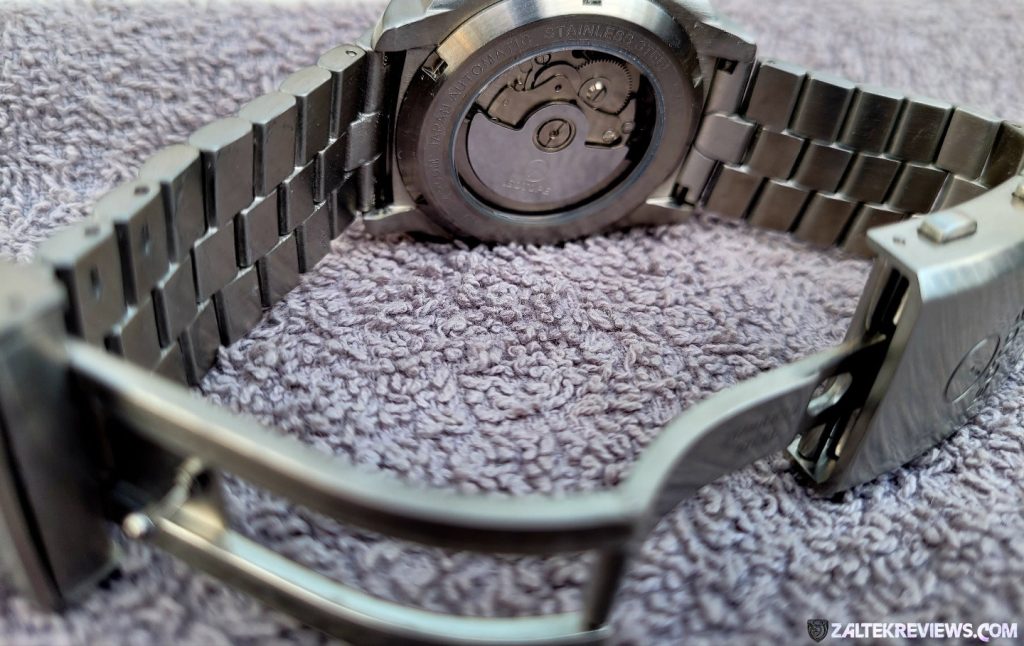 The chosen movement for this entry level model of the Goutte d'Eau is the Seiko SII NH38, however, there is the option of upgrading the movement to a Swiss Sellita SW200-1. Everyone knows the specification of the NH35/38 from Seiko, so the Swiss Sellita SW200 is self-winding, has 26 jewels and the oscillating weight spins up, giving up to a respectable 38 hour power reserve. The balance runs at 28,800vph (4Hz) and the movement is hackable. Checking the accuracy after running this NH38 powered Goutte d'Eau for a good few weeks, both on wrist, as well as occassionally in my watch winder, I was rather impressed with the results, with this Isotope Goutte d'Eau showing an average of only +3.9 seconds per day!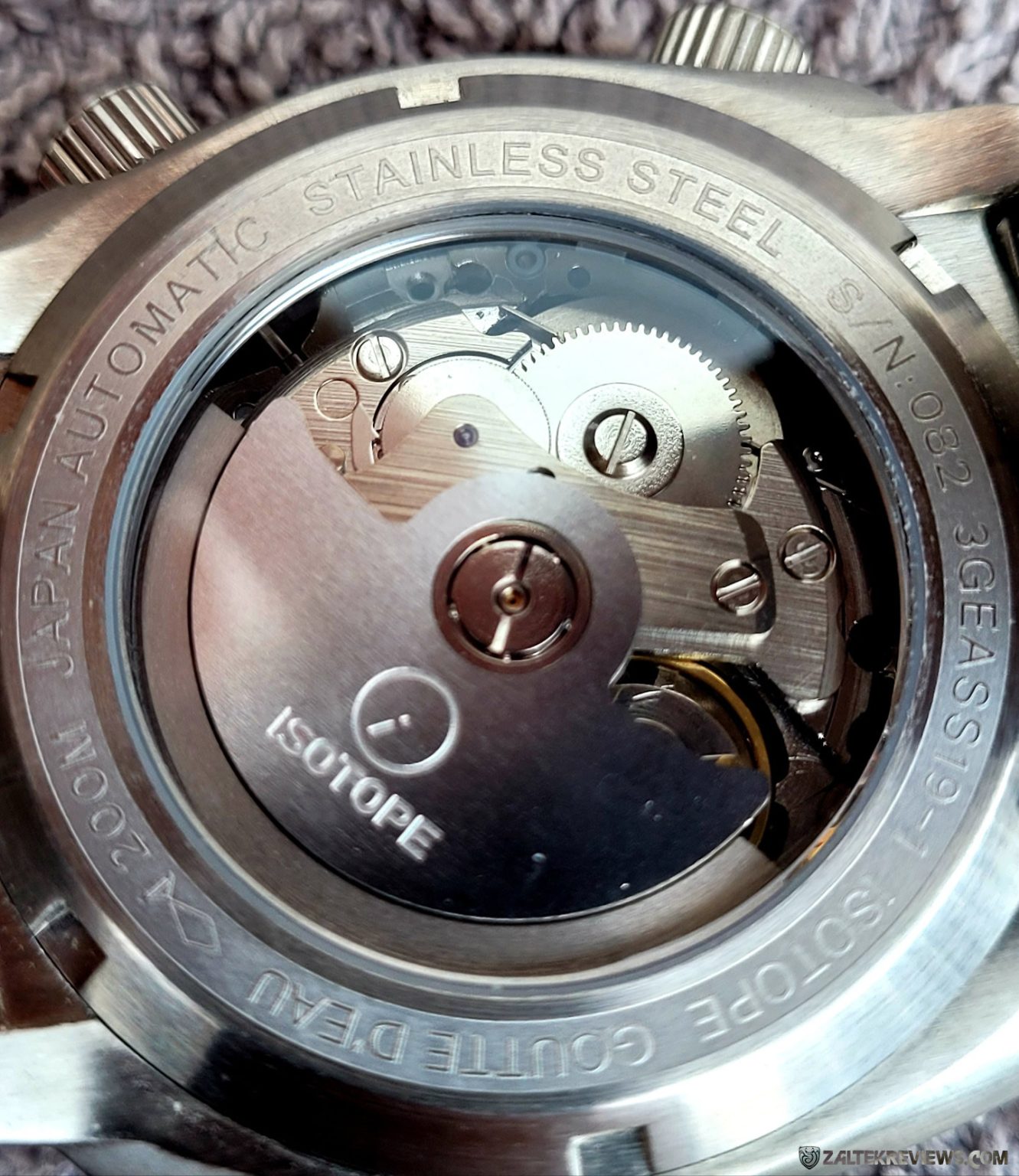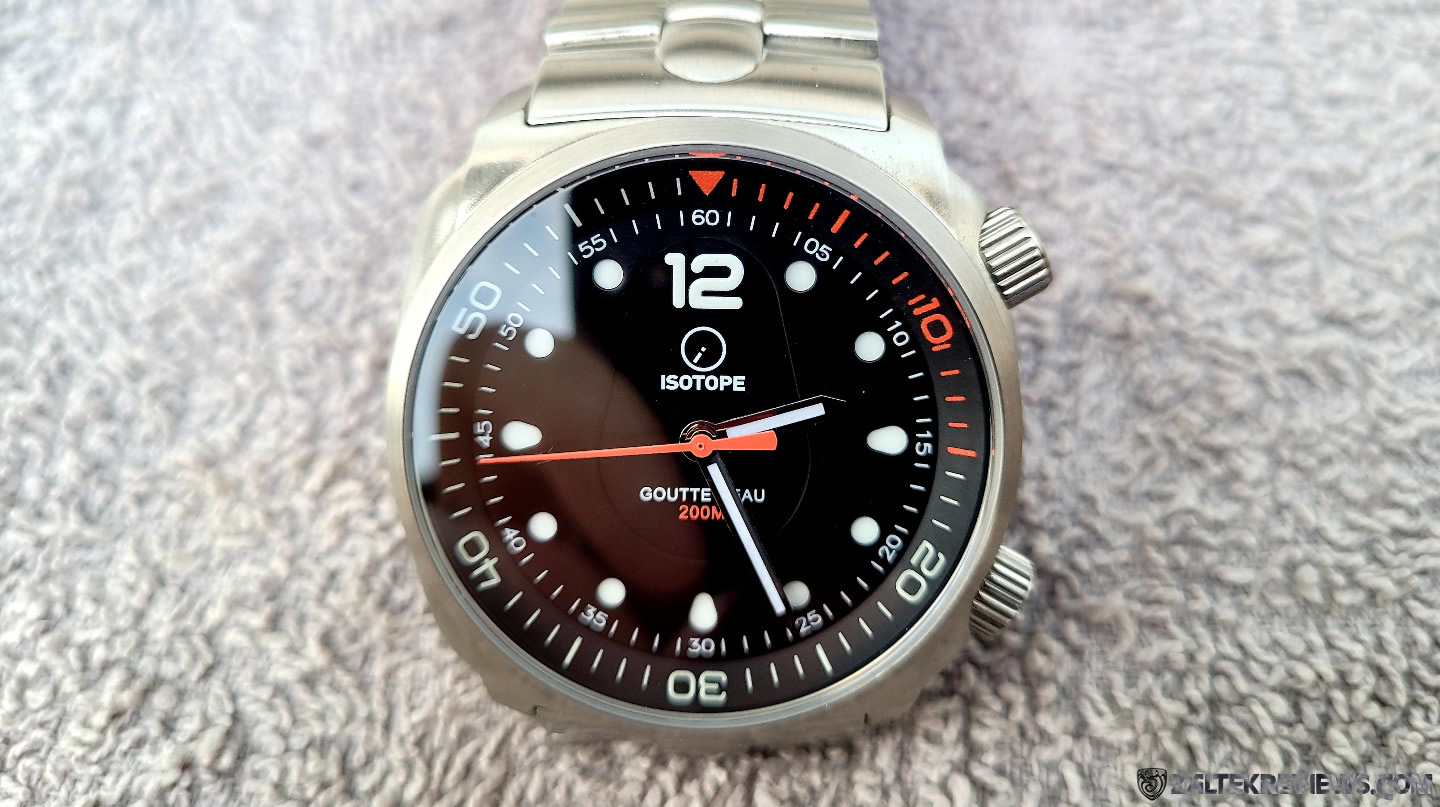 The Isotope Goutte d'Eau has an internal bidirectional bezel that is operated with the crown at 2 o'clock. The printed text on the dial is the Isotope logo and is placed at the usual spot of just under the large arabic at 12. You'll also find the model name and water resistance rating of 200m printed at just above the 6 o'clock position. All of the hour markers are cut out as part of the sandwich construction, with the lume disc underneath. I would say that the size of the hour markers are a bit too small in my opinion and gives cause to the lume problem, more of that below. Oh yeah, there's also a white minute track printed around the edge of the inner part of the dial, with small arabics at 5 minute intervals.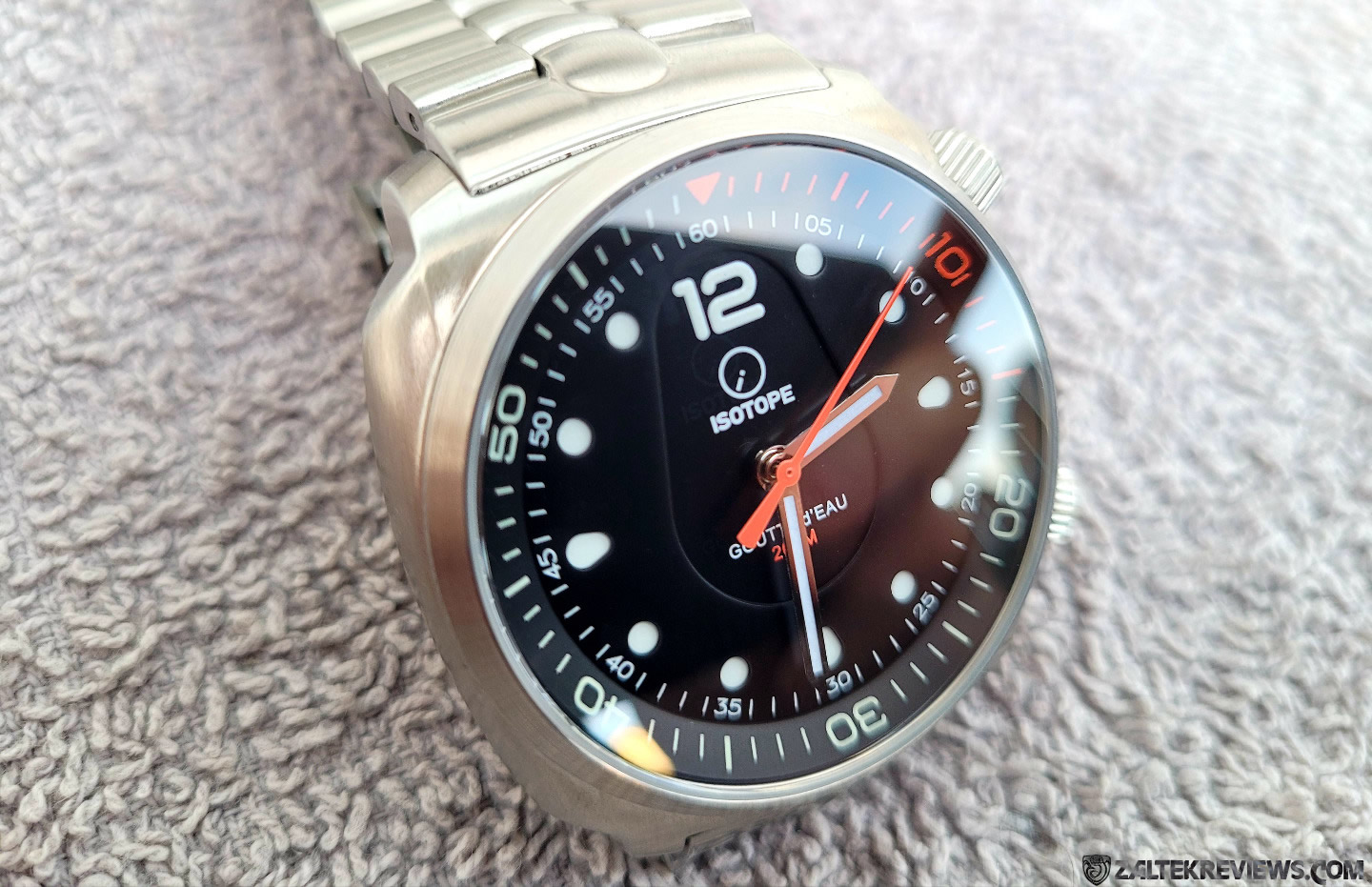 As you can see in the images, the arrow hour and minute hands are very nicely designed with their pencil style aesthetic. The matching seconds hand is nicely executed too, finished in red to match the other red accents of the watch. The internal bezel that is finished in matte black is partially slanted at an angle, with minute markers up to 20 minutes or the 4 o'clock marker also finished in red. There are arabics printed at every hour too, allowing you to use the bezel for timing a dive, boil an egg or whatever you choose to use it for. Last but not least, is the date complication of the date version. I actually fancied the date version last year, up until I saw where they planned putting it, at 4 o'clock on a non-matching white date wheel. A complete and utter deal-breaker for me! I'll stick with the no-date version please. Thank you!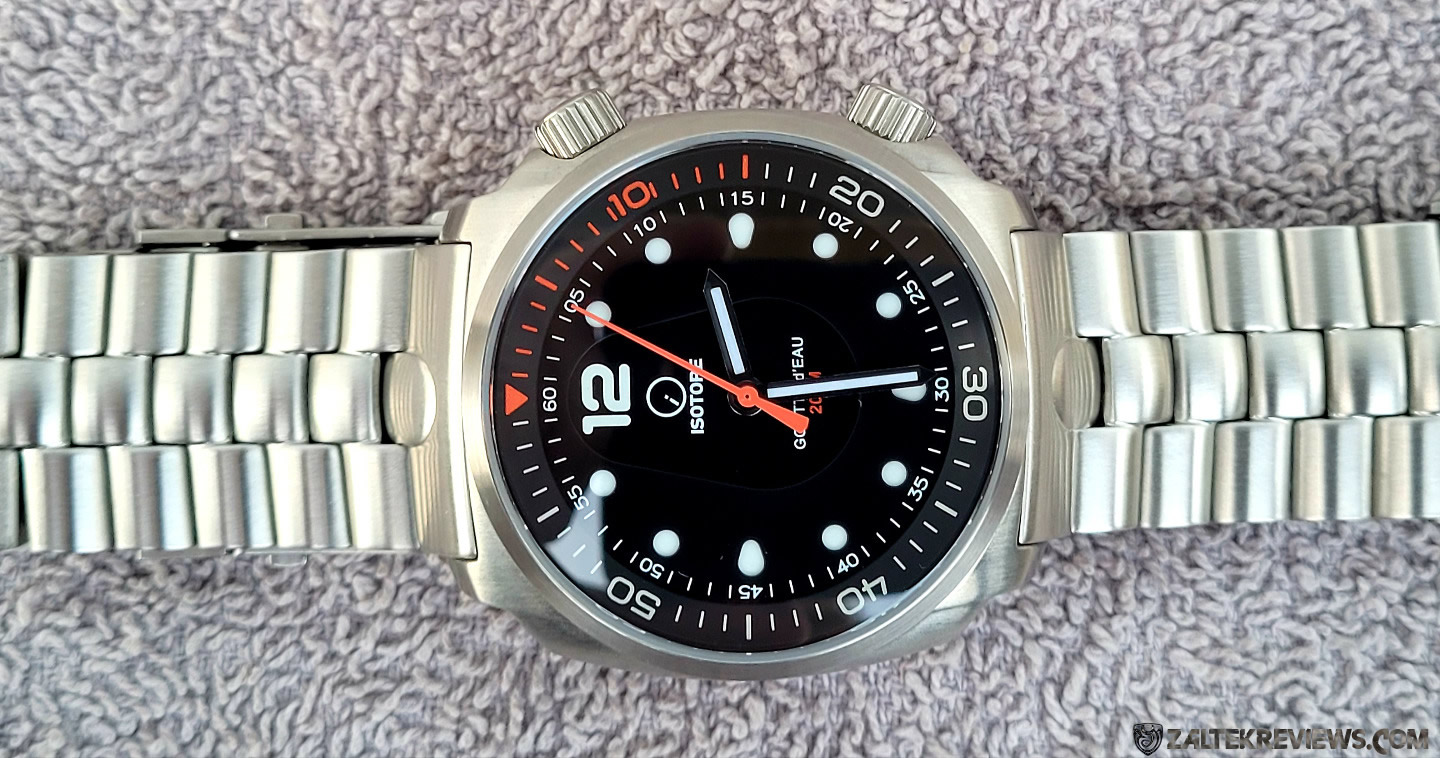 Unfortunately, I can only label the lume of the Goutte d'Eau as barely adequate. In fact, for a dive watch, where its redeeming feature should be fantastic lume, it's shockingly poor. I've had sports watches, even bloody dress watches that have had better lume than the Isotope Goutte d'Eau. I've thought about why this is… small cut-outs on the dial, an average application of lume to the disc underneath perhaps? Nah, it's just below-par execution in my opinion, as I've had watches in the past with sandwich dials and their lume was friggin' awesome! Sorry José, but this definetly needs work. Just look at the lume shot below. I even blasted it with a UV torch for ages, but it barely had any effect whatsoever.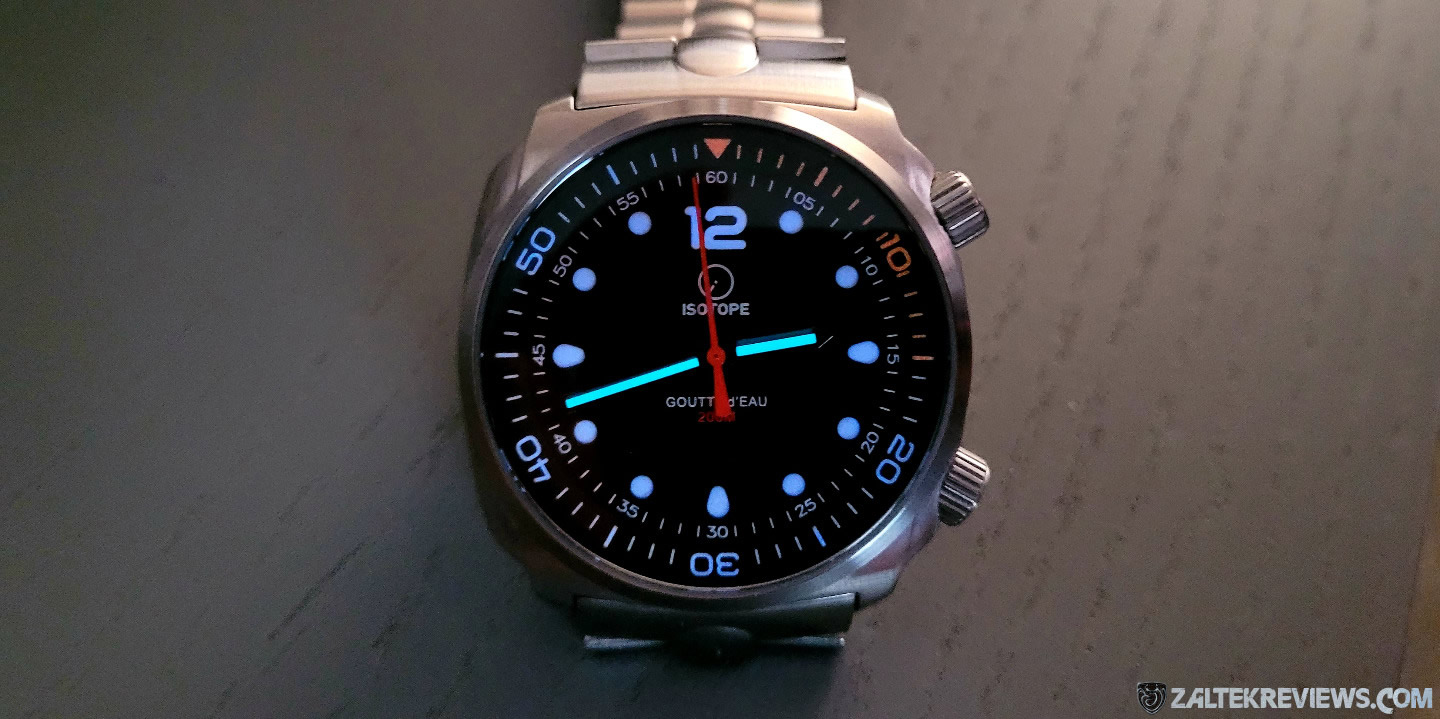 Trying to explain my scores below in a little more depth… The design is fantastic and I've only knocked the score down one point, due to the location of the date wheel on the optional date version; at 4 o'clock. STOP IT, just stop that for fuck's sake! Place it at 3 if you must, or ideally at 6 for perfect symmetry. Thankfully, the Goutte d'Eau is available as a no date.
Next up. Quality; it scores an 8 due to the lack, or poor execution of the AR coating(s) and the rather "adequate" lume. Last up, Value; the Goutte d'Eau is just too expensive now, compared to what it used to be by around 20% in my opinion, especially when compared to what you can get elsewhere from other microbrands. Zelos / Traska / Nodus for example.
I also think that the optional upgrade to a Sellita SW200 movement is a bit steep, with a total difference of £130 GBP ($175 USD) getting whipped straight out of the potential customers wallet. Jesus! Even if the price of Sellita movements have gone up, at least reduce the price of the NH38 powered Goutte d'Eau a bit more to balance things out. In summary, without coming across as a cunt, I actually think the prototype I reviewed last year was better than this actual production model. (I never actually thought I'd ever see the day, where I'd have to type that sentence).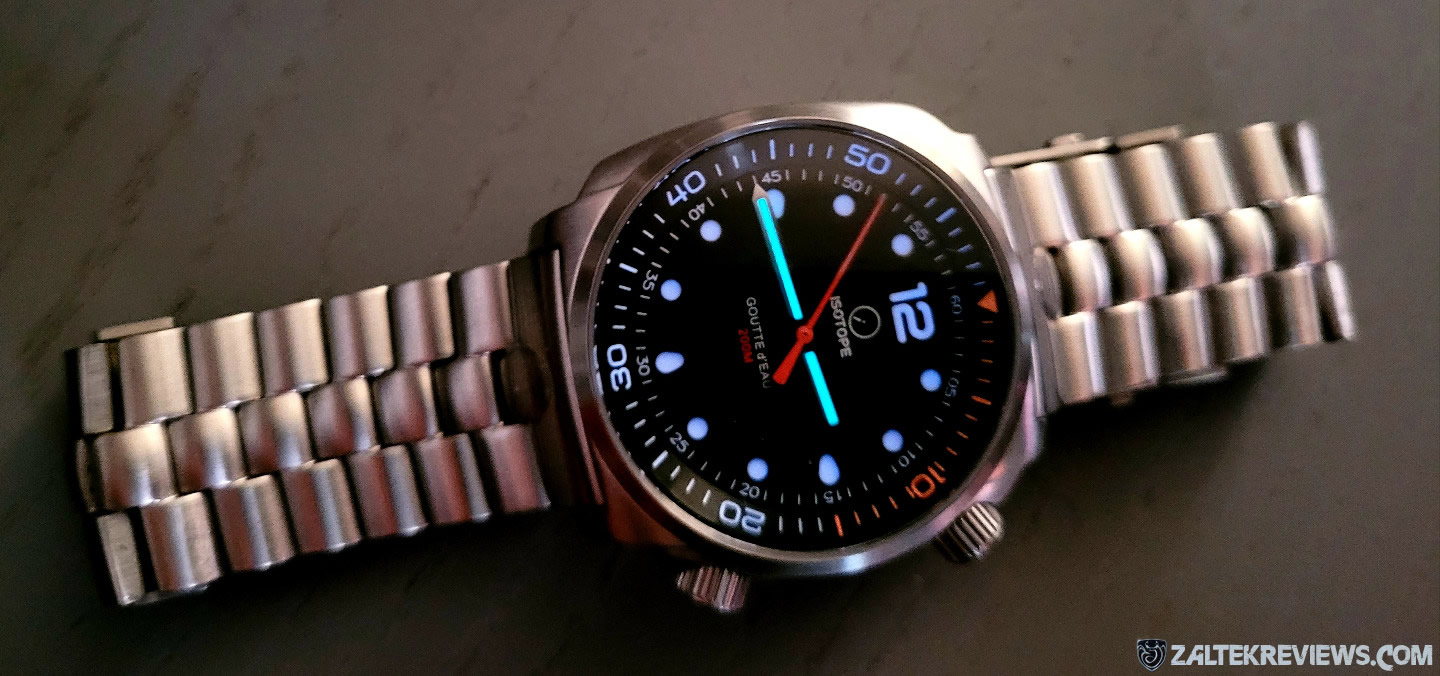 Yep, I know I've pretty much ripped the Goutte d'Eau a new arsehole in the previous few paragraphs of this conclusion, but the funny and rather weird thing is, I still find myself reaching for the Goutte d'Eau some mornings. Even with the small niggles / negatives that I've mentioned, I still think it's a rather cool watch overall and I do recommend it. 
If you've had the Isotope Goutte d'Eau on your wishlist for any period or length of time, I would just take a chance and drop Isotope a quick email to ask for a few quid off. At the end of the day, they can only tell you to go and get stuffed… Nothing gained, nothing ventured, as they say. 
I've known the owner José for quite some time now, and although we don't speak everyday, we do speak occasionally. If I know José as well as I think I do, I'm pretty sure he'll take my criticisms on board for a possible future version 2, with maybe just a small bit of "thanks for the feedback"… Either that, he'll slip off a shoe and launch it at his computer screen.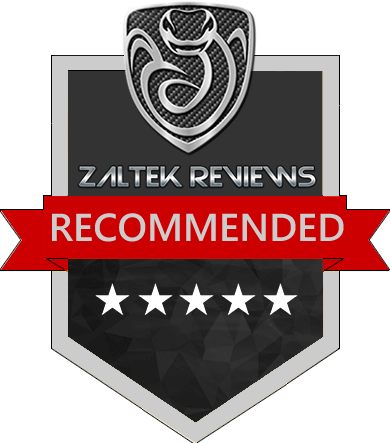 8.3/10 - NEGATIVES ASIDE, IT'S STILL A VERY COOL TIMEPIECE
A massive thanks to José at Isotope Watches for sending out the Goutte d'Eau Chilli for review. Very much appreciated.
To view the Isotope website, or to join their mailing list, to be informed of new models etc, visit
isotopewatches.com
.
It takes me a fair amount of work (
and time
) to do these reviews. If you feel like supporting Zaltek Reviews to help towards my running costs, or even if you feel like just buying me a coffee, then please donate using the PayPal button below. Unfortunately, 97% of my readers just scroll by this section. If you feel like that I've given you a few quids worth of knowledge and/or entertainment, then please take just a couple of minutes of your time to donate. Thank you.
[paypal-donation purpose="Donate to Zaltek Reviews" reference="Ref:Zaltek" button_url=""]