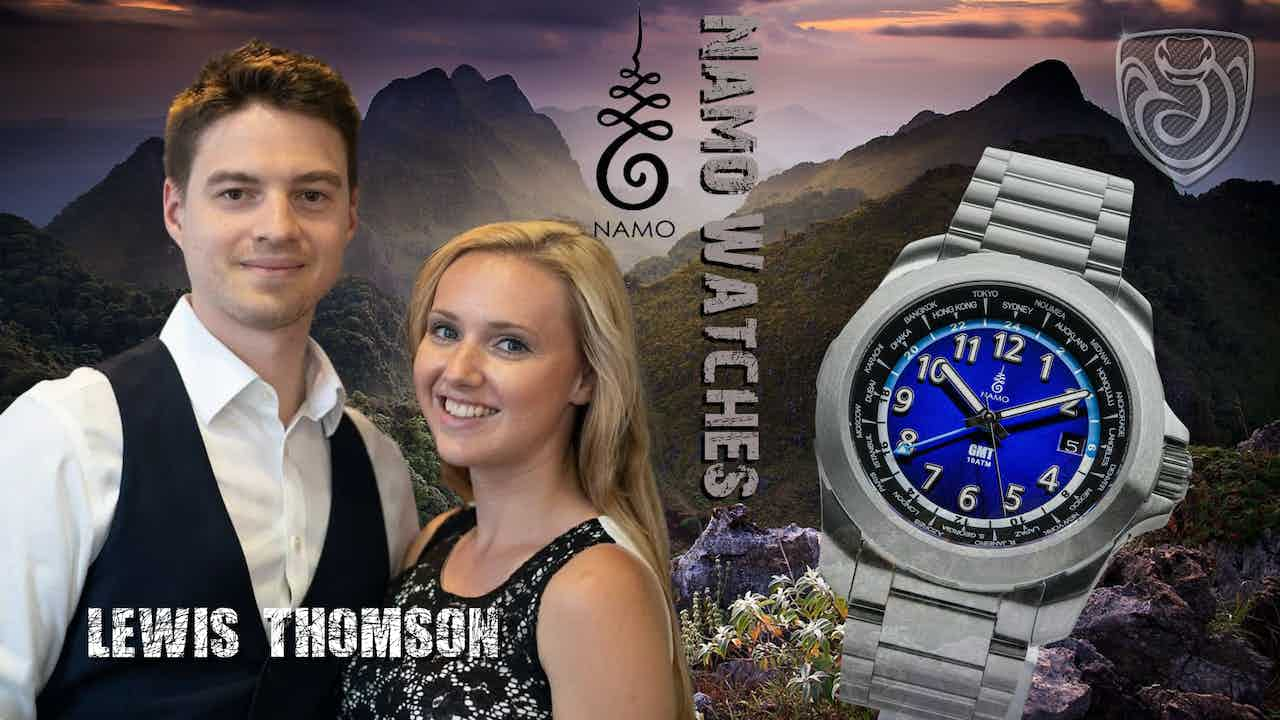 Brand: NAMO Watches | Owner: Lewis Thomson

My name is Lewis and I am the founder of NAMO watches. I've had a love for watches for as long as I can remember. In 2019 I had the urge to start my own brand, so I came up with a couple of designs and it all started from there. I have now been working on my brand, NAMO, for 3 years.
1. How did you first get into making watches?
I have always wanted to start my own company, I remember when I was a teen I used to design clothing for fun then as I got older I started getting into watches. Just before the very first Covid lockdown in 2019, I came up with a very basic design for a diver, a friend of mine then made a better design using Adobe Ilustrator. From there I hired someone to make 3D renders of the watch. Then I just reached out to different manufacturers to get quotes to make it, and thats how I got started.
2. Do you have a "normal job" or is this your full-time passion?
For my full time job I work as a Hewlett Packard specialist. I would love to be in a position just to make watches for a living, you never know, maybe further down the line.
3. What do you like best about being a micro brand?
I guess it would be the freedom to do what ever I like creatively. I make all the designs, ad campaigns, website, everything. And its nice having that personal connection with the people that love your product. It's such a great community.
4. Which of your watches is your favorite? Are you also a watch enthusiast of other brands?
So far I have only released one watch, which is the GMT worldtimer. But I have a couple of other designs up my sleeve. I think the current design I'm working on is very cool, I can't wait to show everyone. The first watch I designed was the Samui diver, Which was a 42MM dive watch with a lumed Lotus at the 6 O'clock position, this watch will always have a special place in my heart as it was the design that started this whole journey. I mainly collect luxury watches now, but I am a big fan of the microbrand scene. I have owned a Zelos and a couple of other microbrand watches. I love what Peter from Secondhour is doing, also Tayeb from Radcliffe is making some lovely watches.
5. What advice would you offer someone that was interested in creating their own brand of watches?
Really do your research on who you choose to make your watches, and follow your gut. When I first started out I was thinking of using MPI based out of Hong Kong, a friend of mine even went to visit their office. But when I started the Instagram page for the brand, I got flooded with manufacturers wanting to make my watch, and I went with one of them. The quality was rubbish and I had to start again! So do as much research as you can. Also pay attention to current watch trends, it may be tempting to just go with what you like, but you need to research what the market is demanding.
6. What do you think really sets your watches apart from others?
Its probably the Thai influence. I love Thailand and Thai culture so I tried to incorporate that into the brand. For future releases I will be using lovely pastel colours and incorporate bits of Thai design into the watches. The quality of the watches is also very good, the manufacturer I am working with now has very high standards, It took them over a year to make the GMT because they weren't happy with the finish of the prototypes, it didn't meet their high standards so they kept tweaking it unti it was perfect! completely different experience from the first company I worked with.
7. What are some things that you wish everyone knew about you and your work? Any interesting brand trivia? Any personal info you'd like to share?
I touched on it before but my love of Thailand has influenced the brand. I have traveled there 9 times and I have even learnt the language. My 10th visit will be this August! I love the temples, culture, food and people. Also, Thai art is amazing.
8. What has been your biggest surprise so far, as you have grown your Namo brand?
Probably the support from the micro brand community, it has been amazing. Also, the brand owners are very helpful and supportive. I thought they would be very secretive, but if you show you are genuine and have a passion for what you are doing, they are willing to help and provide advice.
9. What future plans do you have for your brand?
The NAMO GMT is currently on Kickstarter, once this is finished I will think about doing my next watch. I have already designed something, which I'm eager to work on. I have also been designing some hoodies and t-shirt for fun, using old Thai advertisement posters etc.
10. How many watches per year do you typically sell or plan to sell?
I will probably aim to do one release a year, minimum would be 300.
11. What is the story behind your brand name/logo?
NAMO is the first word of a Thai prayer, which in full is Namo tassa bhagavato arahato samma sambuddhassa' which translates to 'Honour to the Blessed One, the Exalted One, the fully Enlightened One'. The logo is called an Unalome, its seen a lot Buddhist culture and represents the path to enlightenment.
12. Who is your ideal customer?
honestly, anyone who will enjoy the watches. My brand has the Thai influence, so it may seem more attractive to people who like Thailand or who may have travelled there. But I hope I can make watches that everyone will enjoy.
13. Where do you see the Microbrand industry headed? What are just trends, and what is here to stay?
I think people are liking smaller watches these days, the big 43MM divers aren't as popular as they used to be. The more dressier type watches are doing well I think. I also think more and more people are starting to hear about the microbrand world thanks to brands like studio underdog and youtube channels such as watch finder doing more vidoes about them.
14. I believe your Kickstarter started March 4. after having gone through the process, what are your thoughts about Kickstarter?
Its an easy platform to use, I think within the micro brand community it has a mixed repuation, some people have been caught by dishonest brand owners. It makes it harder for people like me to get started if people are unwilling to back a kickstarter campaign.
15. I also noticed that you got help from other micro brand owners. How big of a role did this collaboration play?
Without them I proably wouldnt be where I am today, after the first run of prototypes came through and they were rubbish, I was devastated. But they picked me up and helped me out. Made some recommendations and gave advice regarding processes etc. It's been priceless! (you know who you are)
Auscar Tan Interview, Ikigai Watches
It takes a fair amount of work (and time) to do these reviews, so if you feel like supporting Zaltek Reviews to help towards my running costs, or even if you feel like just buying me a coffee, then please donate using the PayPal button or QR code below. Unfortunately, 97% of my viewers/readers just scroll on by this section. If you feel like that I've given you maybe just a few quids worth of knowledge and/or entertainment, then please take just a couple of minutes of your time to kindly donate. Thanks very much, Will Duncan, Editor.