Manufacturer: Marloe Watch Company | Price: £449 GBP ($580 USD, €525 EUR approx)
The Deep Blue Morar from Marloe Watch Company is their first automatic dive watch that takes its insipation from the full spectrum of colours as seen in Loch Morar, which is a freshwater loch in Scotland. It is the fifth-largest loch by surface area in Scotland, at 26.7 km², and the deepest freshwater body in the whole of the British Isles with a maximum depth of 310m. The Morar – Deep Blue from Marloe brings everything together with it's great build quality and very unique design.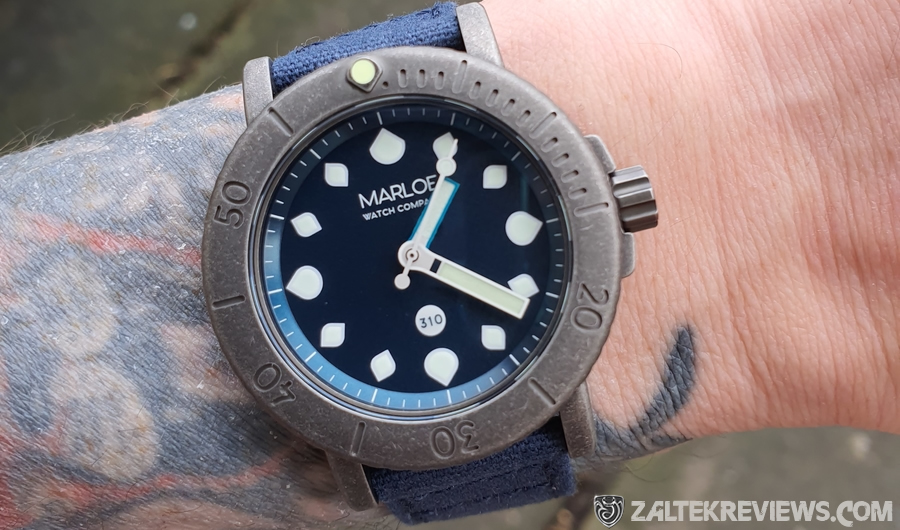 Specifications
Dimensions: Case Diameter – 39.6mm, Thickness – 12.5mm, Lug to Lug – 47.4mm, Lug Width – 20mm
Movement: Miyota 9039 Automatic, 28,800vph (4Hz), Hackable, Self Winding, 42hr Power Reserve
Case Material: Gunmetal Plated 316L Stainless Steel
Strap: Black Silicone, Gunmetal Plated 316L Stainless Steel Signed Buckle
Weight: 103g      
Crystal: Flat Sapphire, Underside AR Coating
Bezel: 120 Click Unidirectional, Deeply Engraved, Lumed Pip
Water Resistance: 310m / 1017ft
Lume: Swiss Super Luminova® BGW9 & C3
Crown: Signed, Screw Down      Caseback: Screw Down, Unique Serial Number
Warranty: 1 Year     Where to Buy: Marloe Watch Company

Options: Colourway – Emerald, Deep Blue, Sands, Beacon  |  Straps – Matte Brown Leather, Silicone

Marloe is an independent designer and producer of wrist watches based in Oxfordshire, England, owned by Oliver and Gordon. Having crossed paths in the spring of 2015, they created Marloe to reinvigorate the world of mechanical timepieces. Oliver turns the cogs; from production to logistics, accounts to marketing and the running of the company to make sure everything is running smoothly. He also dabbles in the odd sketch from time to time. Gordon is the designer; from design seed to video production, manufacturing to photography; Gordon controls all design work and visual output.
Taking their name from the town of Marlow, close to where Oliver grew up, the companys' values are strongly bound to tradition and design. And it's these values, along with a passion for timepieces, that inspired the creation of beautiful mechanical watches. As watches get smarter, and lives more complicated, there is a movement embracing the slow-living counter culture, going back to the simple things, celebrating tradition. So, as the technology brands fight it out over who makes the smartest watch, Marloe is proudly going against the grain to create the most traditional of all watches.
The case of the Morar has a diameter of 39.6mm. The lug to lug is 47.4mm and the overall thickness, including the sapphire crystal, I measured in at 12.5mm. The entire case, caseback, bezel and crown are all 316L stainless steel. The finish of the watch is of a matte gunmetal grey coating and very nice it is too, with an exceptional overall finish.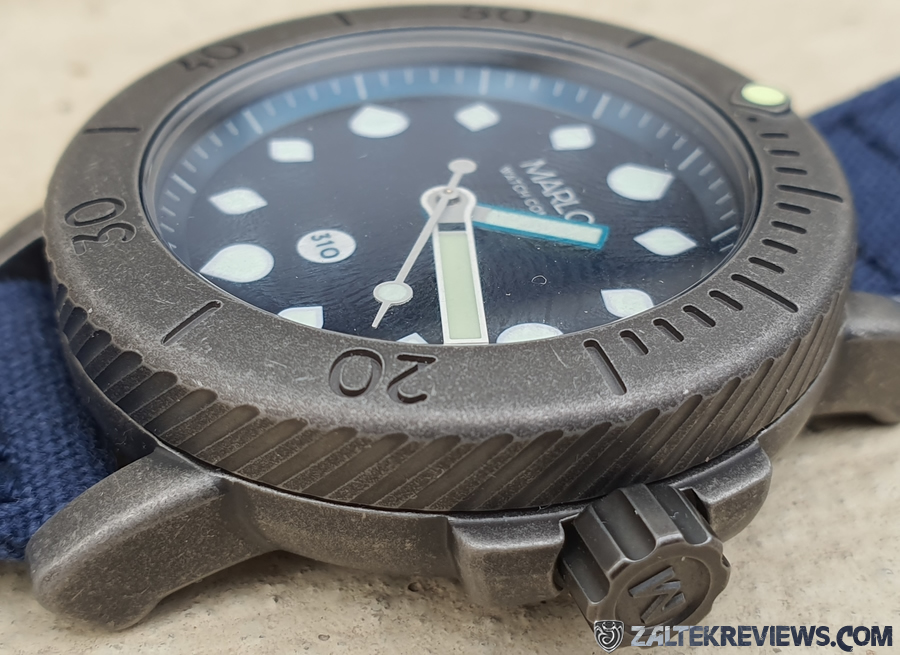 The Morar has a water resistance rating of 310m, a nod to the depth of Loch Morar. This is thanks to the screw-down caseback & crown. The proportions of the watch, in my opinion, are spot on for my 7″ wrist. The Morar wears very well on wrist and it's very comfortable. The signed crown is also superb, looks great and there is also absolutely zero wobble when the crown is pulled out to any position. The caseback is quite a simple affair but you do get a unique serial number.
The silicone strap that came fitted to the Morar is probably the worst part of the watch for me. Don't get me wrong, it's a very good silicone strap, but I've never been a fan of these for day to day use. The signed, matching gunmetal buckle is great though. You do get the option of a matte brown leather strap, but I don't have that here, so I can't really comment on the quality. From the images that I have seen, it does look very nice and would probably be my choice if I was buying the watch. I do find silicone straps a little uncomfortable, as this style I find a little bit bulky for my liking. As I wanted to enjoy the watch while it's here, I fitted a blue Barton canvas strap to the watch as you can see in the other images.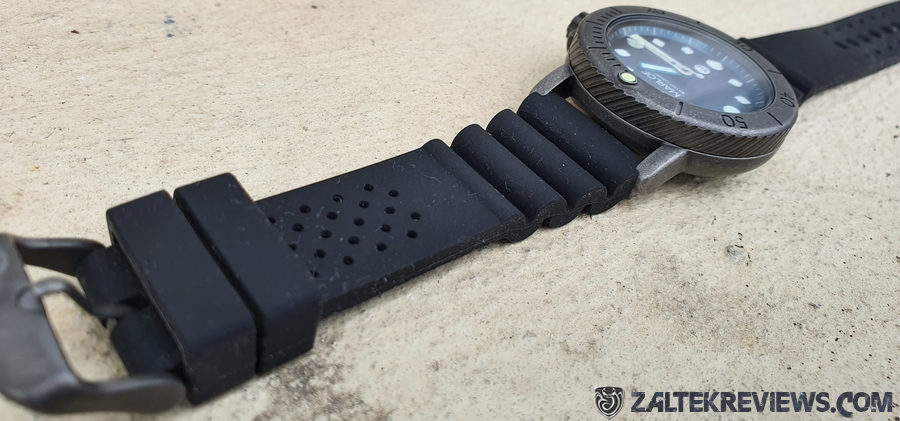 The chosen movement for the Morar is the 9039, a non-date version of the highly popular 9015 from Miyota. The 9039 is a Japanese made 28,800vph, 24 jewel movement. Checking the accuracy after running the Morar for a few weeks, both on wrist and in my winder, I was rather surprised with it showing an average of just +3.7 seconds per day. I'm not sure if my sample was regulated or not by Marloe before shipping, or whether it was just luck. Either way, I was very impressed.
The Morar has a one-piece bezel rather than the more traditional bezel with a seperate insert. I like this unique approach and it is of very good quality. There is a slight issue with it though, there's a tiny amount of backplay when using the bezel, although once it's into position it locks firmly into place and doesn't move. I'm sure this could be an easy fix and I'm positive they'll take my constructive criticism on board. The only text on the dial is the logo which is rather refreshing to see, not like some dive watches I've seen that can have up to 5 or 6 lines of text. There's never any need for that.
The main hour markers on the dial are very nicely done, although these have caused a bit of a marmite effect in our Facebook group
WatchChat
with a few members saying that the smaller hour markers look like lemons and not the intented shell shapes that Marloe portray them as. Personally, I like them, they're unique and are pumped full of lume!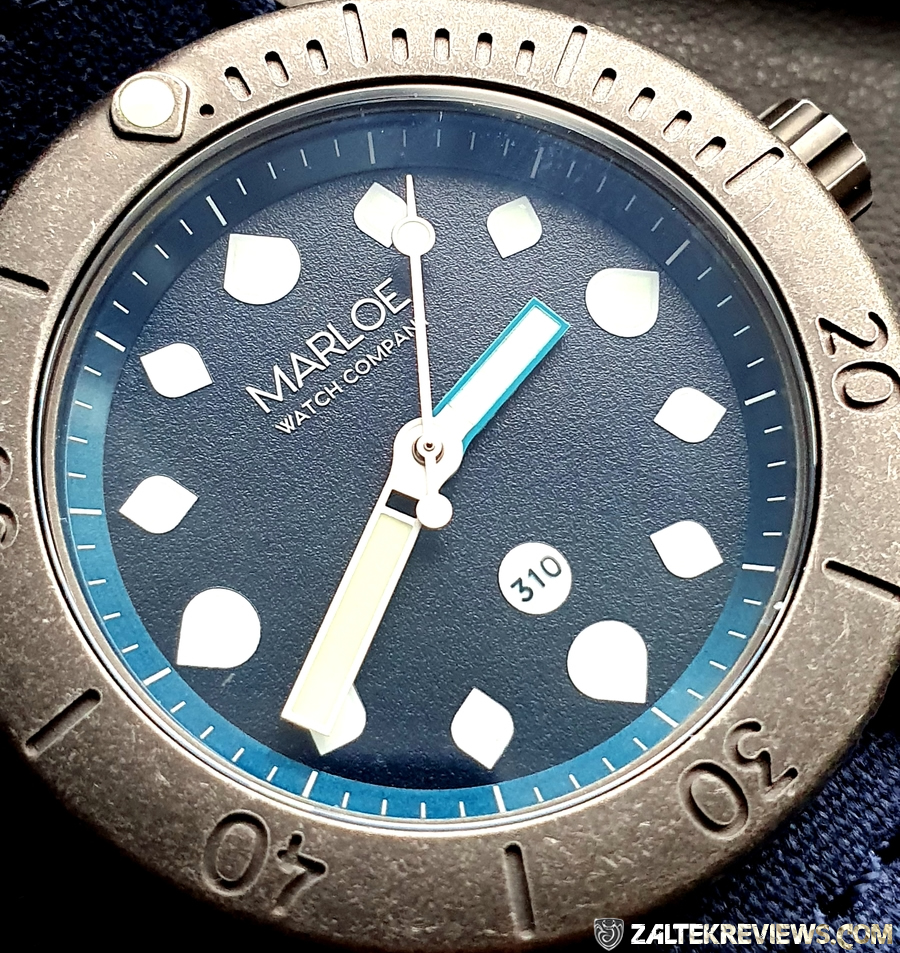 As you can see in the images, the hour and minute hands are very nicely done with their rather chunky appearance. Maybe a syringe tip on the minute hand would have been more useful, especially when trying to set the time accurately. The seconds hand is good though, with it's lumed lollipop section hitting just before the hour markers when sweeping round the dial. Although, just to nit-pick, I think Marloe could have extended the seconds hand just a wee bit so the hand tip reaches out to the minute track a bit more closer.
Marloe Watch Company doesn't state what type of lume they've used on the Morar, but I'm going to have a stab in the dark and guess that it's a combination of Swiss Super Luminova® C3 & BGW9. You can clearly see the difference on the minute hand and bezel pip compared to the rest of the lumed sections of the dial. Either way, the lume is fantastic, very bright and it does last for hours, easily lasting the majority of the night.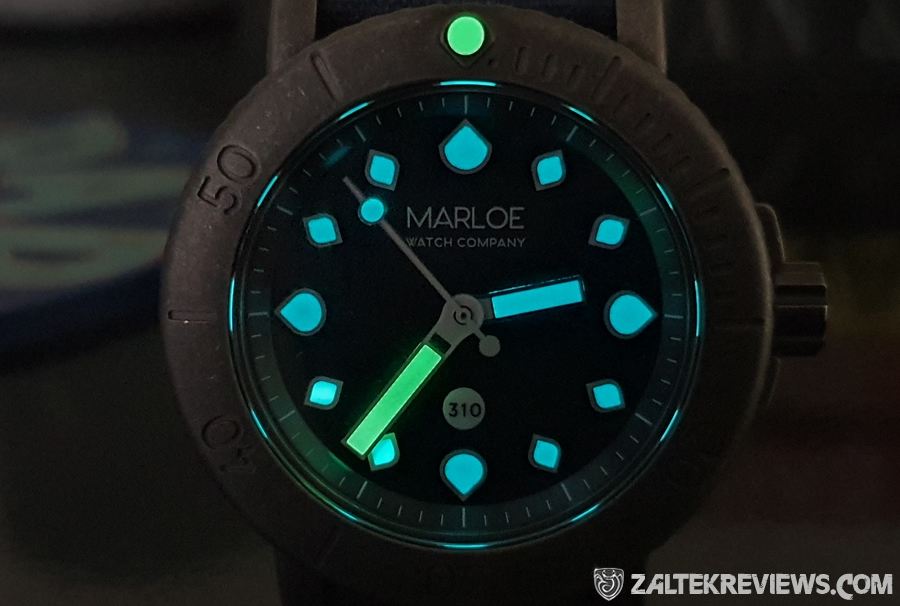 This being the first dive watch from Marloe Watch Company, I can honestly say that I am very impressed with the Morar. There are a couple of small tweeks that I'd personally make but there is nothing majorly wrong that stands out. At the stated retail of £449, it is reasonably priced, although as with anything else in this world, and of course being the true Scotsman that I am, I'd love to see it slightly cheaper.
I really like the gunmetal plated stainless steel finish, it really gives the watch a very distinctive aesthetic. The backstory of the watch taking inspiration from Loch Morar I really like too, but maybe there is a hint of bias with that one! The choice of movement is great too, not just only by using the non-date version, but opting for a smooth sweep 4Hz movement from Miyota rather than just the Seiko NH35 that seems to be in everything these days. Anyway… the Morar from Marloe Watch Company is a fantastic dive watch and if you like the look of the design, go ahead and buy it! I highly recommend it.
Marloe Watch Company – A very nice first diver, fantastic attention to detail, superb finish and a great overall design.
9/10 - HIGHLY RECOMMENDED!
A huge thank you to Oliver at Marloe Watch Company for sending the Morar – Deep Blue out for review so quickly.
To view the Marloe website, or join their mailing list to be informed of new models etc, visit
Marloe Watch Company
.
Follow us on
Instagram
and join our Facebook group
WatchChat
, a busy community for watch enthusiasts and collectors with tons of images and in-depth discussions.
At Zaltek Reviews, we encourage the companies whose watches we've reviewed to comment on our articles. We invite any company representatives to respond in the public comments section below. Thanks very much.