Manufacturer:

Northwind Watches

| Price: £295 GBP (€325 EUR, $360 USD approx)
Before I start writing this review, I want to make it clear that I can only review what is sitting right in front of me. I pride myself on telling it how it is, the truth, pure & simple. Under no circumstances will I ever do paid reviews. If it's crap, I'll say it's crap and obviously if it's great I'll recommend it. Now that I've got that out of the way, let's get on with the review.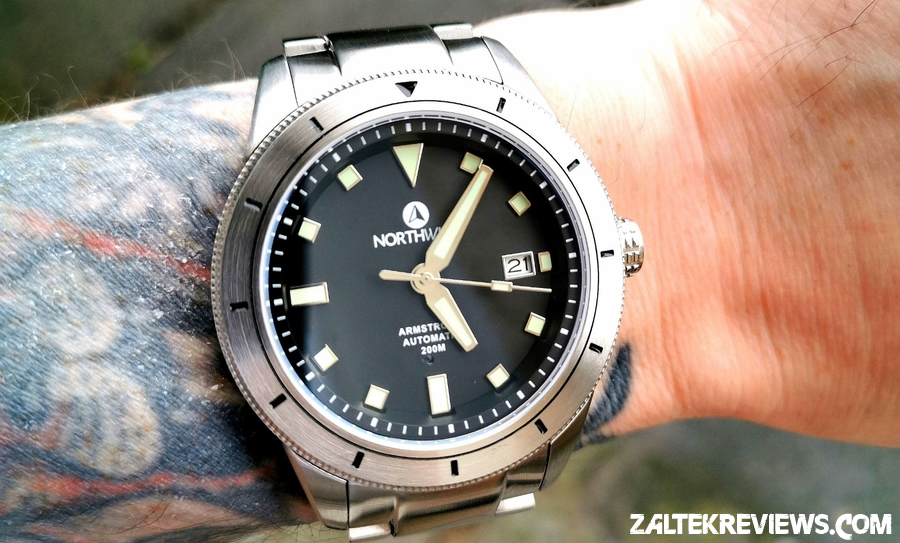 Specifications
Dimensions: Case Diameter – 43.6mm, Thickness – 13.4mm, Lug to Lug – 51.7mm, Lug Width – 22mm
Movement: Seiko NH35A Automatic, 21,600vph (3Hz), Hackable, Self Winding, 41hr Power Reserve
Case Material: Brushed 316L Stainless Steel
Bracelet: Brushed 316L Stainless Steel, Solid End-Links, Push-Pins, Signed Clasp
Crystal: Sapphire, Anti-Reflective Coating
Bezel: Fixed
Water Resistance: 20ATM / 200m / 660ft
Lume: Swiss Super Luminova® C3
Crown: Screw Down      Caseback: Screw Down Exhibition
Warranty: 1 Year     Where to Buy:

Northwind Watches
Northwind Watches - The Company
The northern man has shaped the world we live in. From the tribes that stopped the Roman Empire to the Victorian industrialists who shaped modern Britain. From the first train and first electric light bulb to the Venerable Bede or the scholarly monks of Lindisfarne. War, industry, innovation and the constant pursuit of knowledge have defined this area.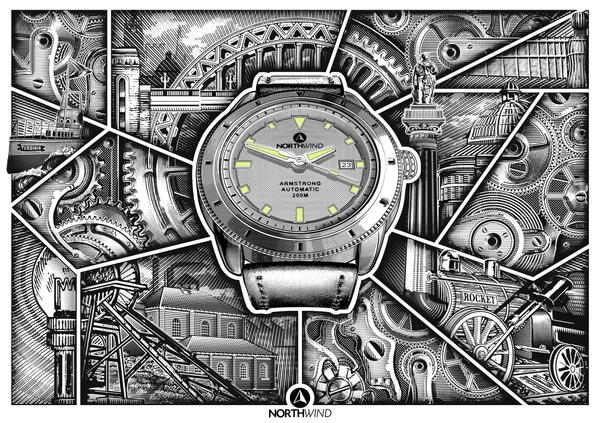 Northwind have created a watch brand inspired by these people and their history. Their mission is to make watches for the modern man that give more than a nod to our past. They are designed to be aesthetically pleasing, but rugged and reliable. They mix steel and leather to capture the essence of what our regions history most exemplifies; a contrast of heavy industry and beautiful landscapes. A region of unspoilt beaches and hills, but also one of mines and factories. 
Northwind pay homage to the men that were at the forefront of industry, invention and academic study. Designed in the North East, their mechanical watches are created for today's northern man who works and plays just as hard as his forefathers. Northwind believe that the North is more than just a geographical location. It's a state of mind.
The case of the Northwind Armstrong is 43.6mm. The lug to lug is 51.7mm and the overall thickness, including the sapphire crystal I measured at 13.4mm. The entire case, bezel, bracelet and crown are all 316L stainless steel. The finish of the case is entirely brushed and is machined and finished very well. The Armstrong has an exhibition caseback which I think is a weird choice considering the movement is a plain undecorated Seiko NH35. What's the point in that? A solid caseback would've been my choice. A Seiko NH35 is nothing to show off, even if it is a solid & reliable movement.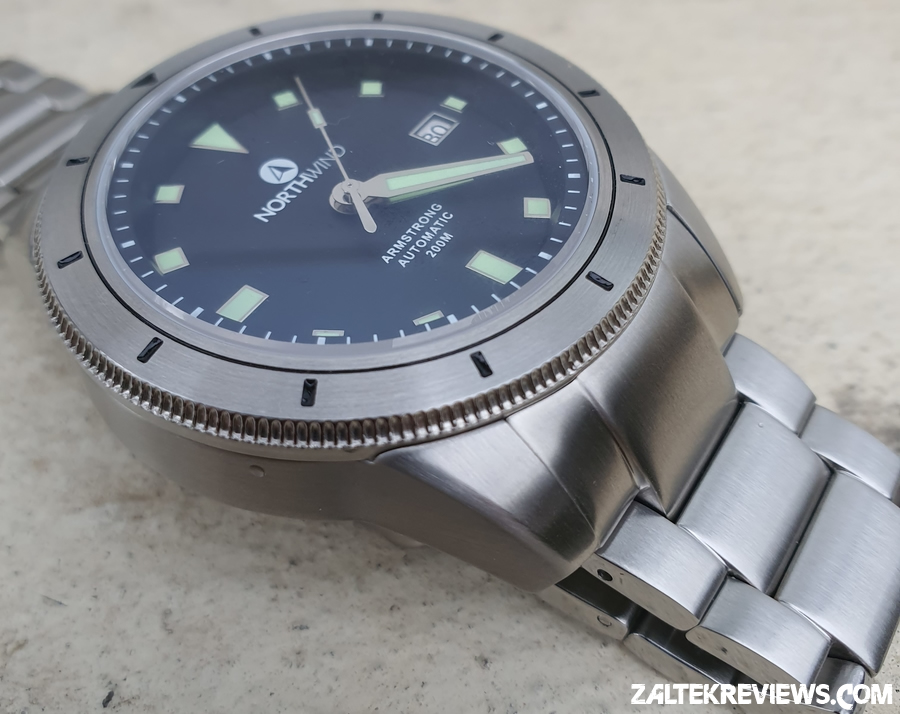 The Armstrong has a water resistance rating of 200m, thanks to the screw-down caseback & crown. The proportions of the watch, in my opinion, are huge for my 7″ wrist and I personally think it's just too big for the majority of wrist sizes. The crown is nice, however there is a fair amount of wobble when the crown is unscrewed. The crown isn't signed either, which is a bit of a disappointment as if you ask me, a signed crown shows pride from the company and also in their product.
The bracelet itself tapers from 22mm at the lugs to 20mm and back to 22mm at the clasp and to be honest, it is a proper hair nipper. Sized up for my 7″ wrist I had to remove 4 links, which was easy enough to do with the push pins for adjusting & re-sizing. Solid end links and brushed links throughout is a great choice. However, the clasp is pressed. Northwind chose what is esentially a good bracelet, but there is just no refinement or comfort with this one. It's just really disappointing that oozes cheapness.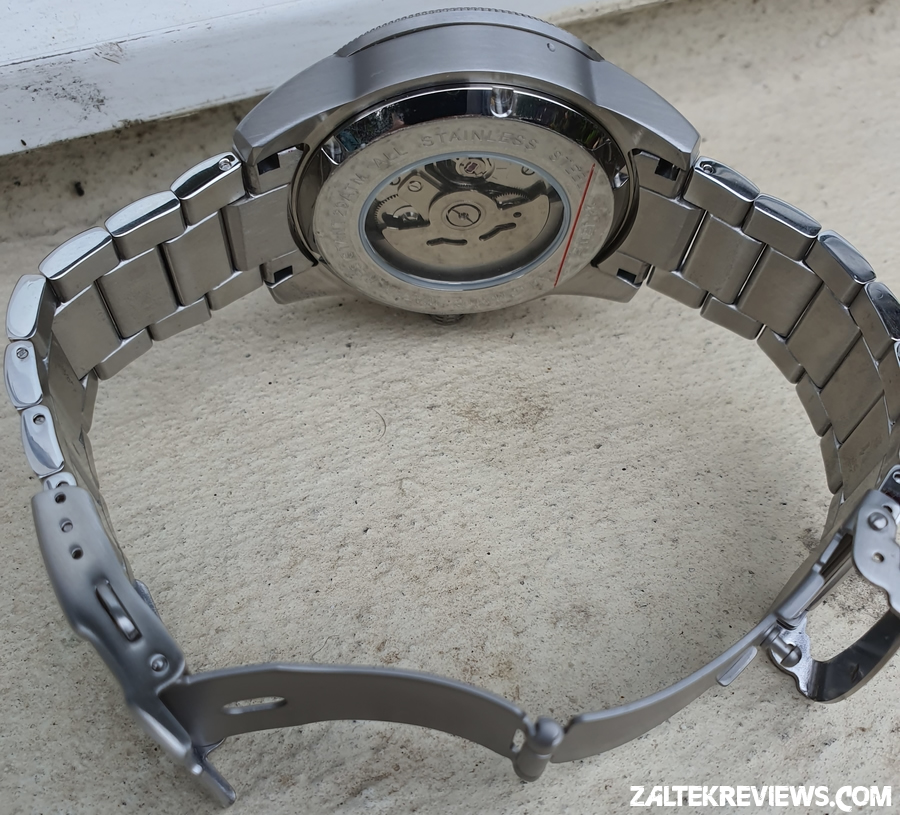 The chosen movement for the Northwind Armstrong is the microbrand go-to movement of choice, the super-reliable Seiko NH35. A great workhorse that is a 21,600vph, 3Hz, 24 jewel movement with self winding and of course hacking. Checking the accuracy after running the Armstrong for around a week, mainly in my Barrington Watch Winder, I thought the accuracy was pretty poor with it showing an average of +19 spd. WOW! Definitely no regulation been done on this one, although to be fair, it's still within the manufacturers tolerances.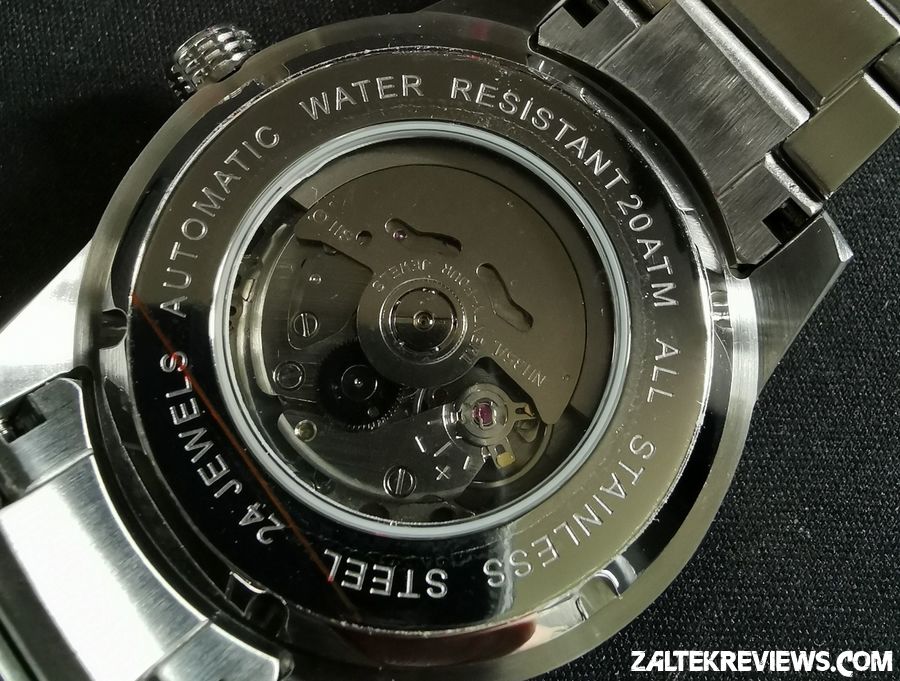 The Northwind Armstrong has a fixed bezel. It is of good quality but I don't see the point of it, other than for just aesthetics. The dial has very neatly applied indices, but Northwind haven't taken advantage of this with the lume application. It's poor, quite weak in fact. Taking it outside in scorching sunshine for around 20 mins done nothing with just a small amount of lume showing on the hour & minute hands. Even after blasting it with a UV light for around 5 minutes had no effect either. The logo and text on the dial are nicely printed and are very legible. The choice of font too is very good. I won't bang on like I usually do about a colour matched date wheel though. Simply put, it isn't, but I could have forgave that if the rest of the watch was great. But, it isn't. Not looking good is it? It gets worse I'm afraid…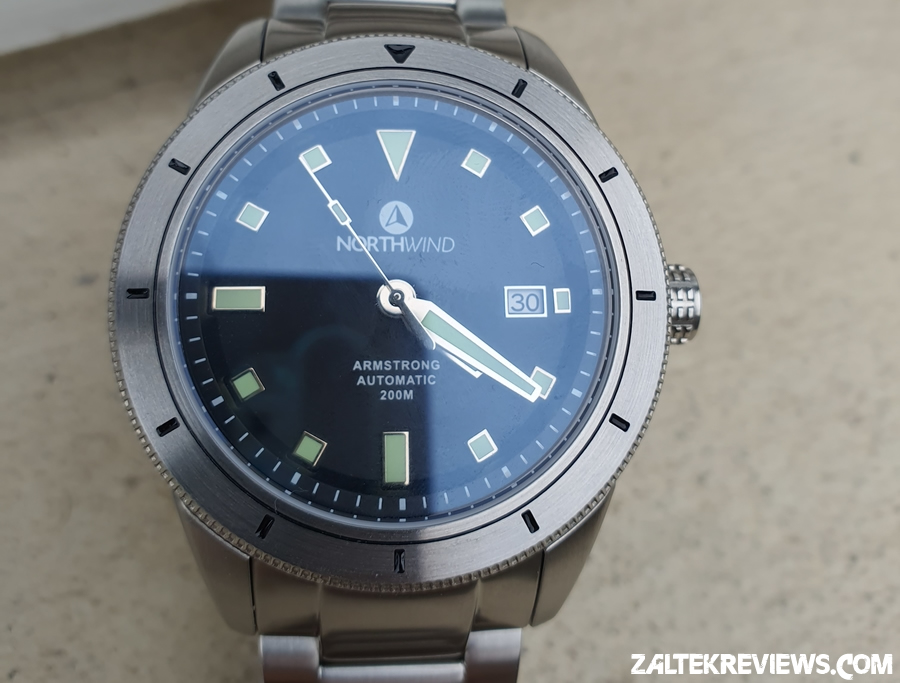 The first thing I noticed after taking the watch out of the packaging is, the damn thing has a misaligned chapter ring. It was after that I noticed other discrepancies throughout the entire watch. There is nothing more annoying than a misaligned chapter ring or a bezel that doesn't line up properly. As the Armstrong has a fixed bezel I suppose they can't f**k that up. However, this misaligned chapter ring would just do my tits in every time I looked down at the watch. I couldn't wear it even if the rest of the watch was half decent.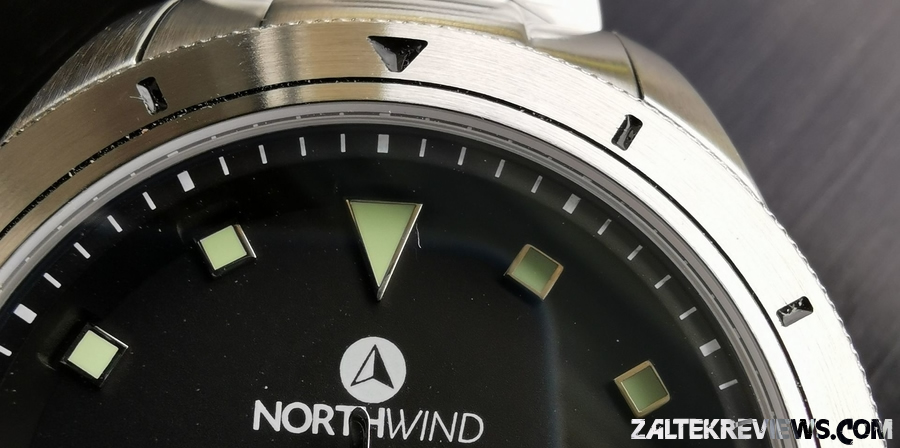 I think I've edited this entire review about 4 times, taking out various swear words and other parts as I went through it to try and stay at least as professional and polite as I possibly could be about the Northwind Armstrong. I'm a bit confused about this watch, hence why I've added it to the sports watch category. What I mean by that is, it's a sports watch that is trying hard to be a divers watch. Well, aesthetically it is. In my opinion. Fixed bezel, 200m WR…  Stop it!
Another main negative from me, that I haven't even mentioned yet is the price. 300 quid!! It's atleast £100 over priced for what is on offer here. If the build quality was outstanding then maybe £250 could be justified, but unfortuntely it isn't. Biggest reason for me I'm against the price is, look what you can get for £300. You could, at the time, have got a
Newmark 71
for exactly the same price. Even now, as we speak, you can get a
Zelos Swordfish v2
for just under the same price (and that includes the kick in the nuts when paying the import tax)! There are loads of options out there that I'd rather spend £300 on. If you really want an automatic watch on a budget, then you can't go wrong with an
Orient Mako
.
I heard a statement a while ago that someone said, I think it was Jody from JOMW actually, that went along the lines of… "One of the biggest mistakes a microbrand company can make before releasing a watch is they'll ask to themselves, what's the most we can charge for this watch whereas they should say, what's the best watch we can offer for this price". It was something like that anyway and I'm sure you can see what I'm getting at. I think the Northwind Armstrong has been put on the market with the sole purpose of making the maximum profit they can out of it. Just a bit of a cash grab I reckon. If they're not making money from it, it's because there are enthusiasts like you and me that can see through the bullsh*t.
Northwind Watches – Sorry guys, but this definetly needs work and more importantly, a lot more attention to detail. Guys, I totally understand that this is a bad review of your watch, but rather than spitting your dummy out, please take my points into consideration and fix them for a refresh of this watch or for your next release. #Peace, Out.

Thanks to Northwind for sending out the Armstrong. To view the Northwind website, or join their mailing list to be informed of new models etc, visit
Northwind Watches
.
Follow us on
Instagram
and join our Facebook group
WatchChat
, a busy community for watch enthusiasts and collectors with tons of images and in-depth discussions.
At Zaltek Reviews, we encourage the companies whose watches we've reviewed to comment on our articles. We invite any company representatives to respond in the public comments section below. Thanks very much.