Manufacturer:

NTH Watches

| Price: $650 USD (£520 GBP, €575 EUR)
After hearing so many good things about NTH Watches over the last few years, I finally went ahead and pulled the trigger on one in the Summer of 2019, a black NTH Odin with date. I'm pretty sure however, that it was a total coincidence, but at more or less the exact same time, I was sent a review sample of the same bloody model, but in blue! You can go back and read my full review, although I will warn you, the layout of the review is a bit crap and to be honest, I just can't be arsed going back through all my old reviews to amend them accordingly. Bollocks to that, I've got more than enough to do!
Anyway, what I'm trying to get at is, I love the NTH sub watches, hence when I reviewed the NTH Odin it recieved a full blown 10 out of 10! So when the boss man of NTH, Chris Vail, recently reached out to me and asked if I'd like to review another, I totally jumped at the chance. Around a week or so later, the NTH Tikuna arrived along with a NTH Näcken! A review on the latter model will be coming very soon.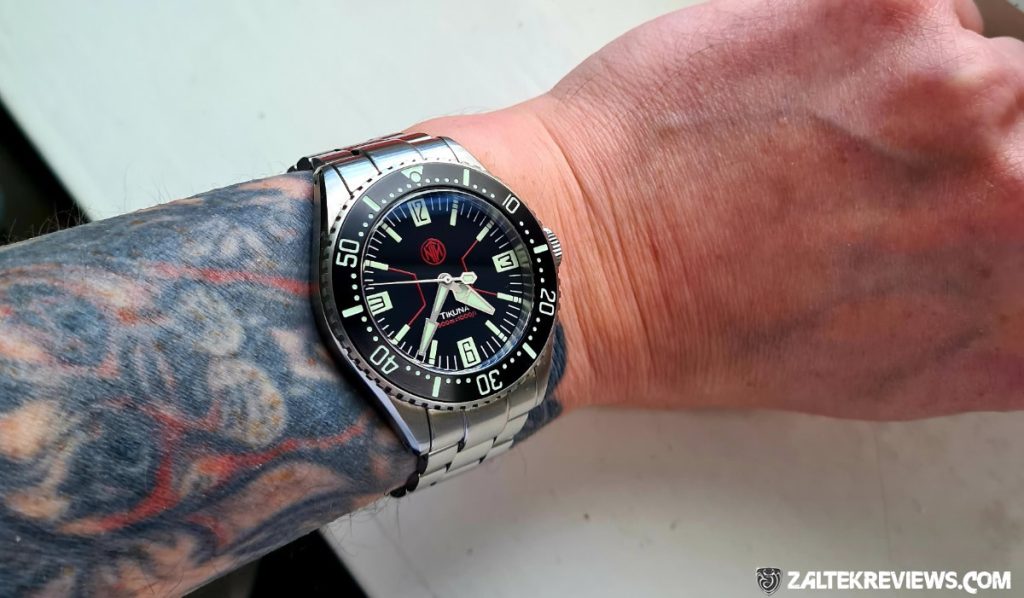 Specifications
Dimensions: Diameter – 40.2mm, Thickness – 11.2mm, Lug to Lug – 47.7mm, Lug Width – 20mm
Movement: Miyota 90S5/9015, 28,800vph, Hackable, Self Winding, 42hr Power Reserve
Case Material: Brushed 316L Stainless Steel (Polished Accents)
Bracelet: Brushed 316L Stainless Steel, Solid Links, Screw Pins, Milled Clasp
Crystal: Double Domed Sapphire, Underside Anti-Reflective Coating
Bezel: 120 Click Unidirectional, DLC Stainless Steel Insert, Fully Lumed
Water Resistance: 300m / 30ATM / 990ft
Lume: Swiss Super Luminova® C3
Crown: Screw Down, Signed, Lumed Logo      Caseback: Solid, Screw Down
Warranty: 6 Years      Where to Buy:

NTH Watches

| SeriousWatches | Watch Gauge

Options: Date / No Date, Beads of Rice Bracelet (+$150 USD)        Weight (Sized): 143g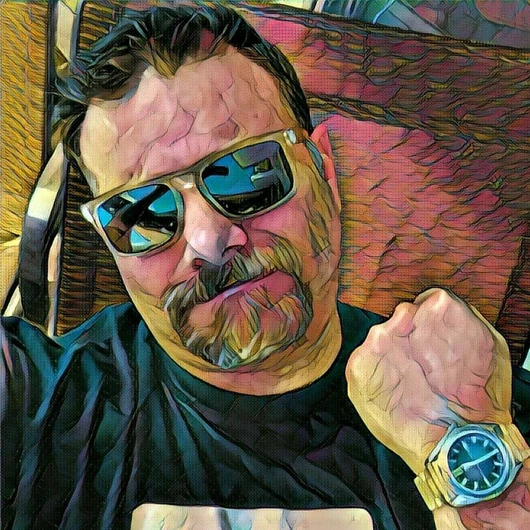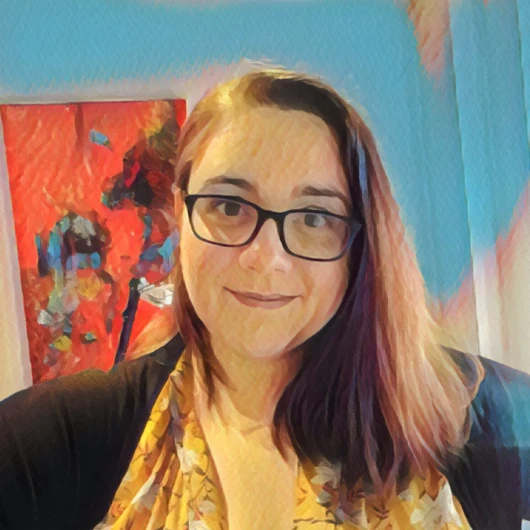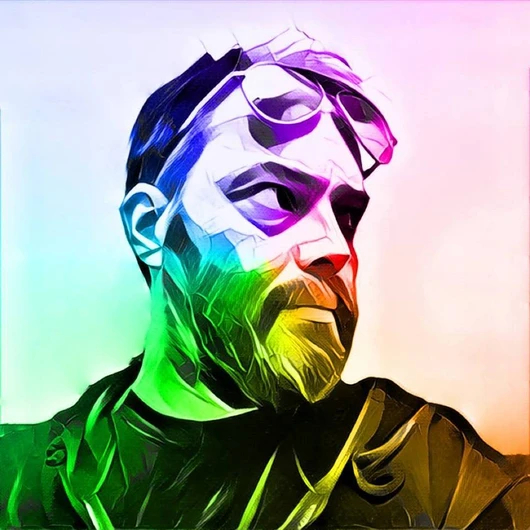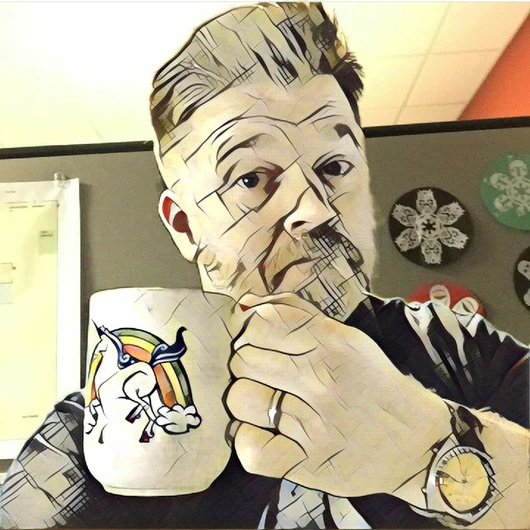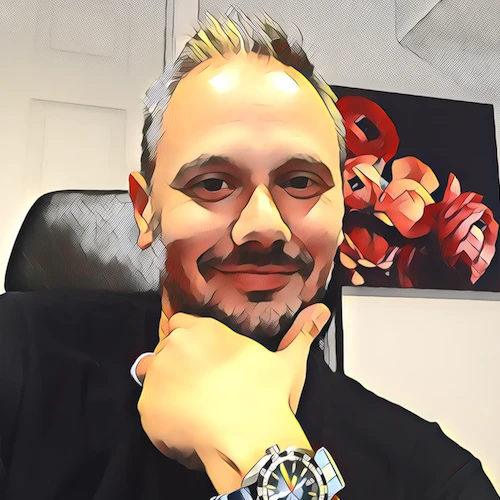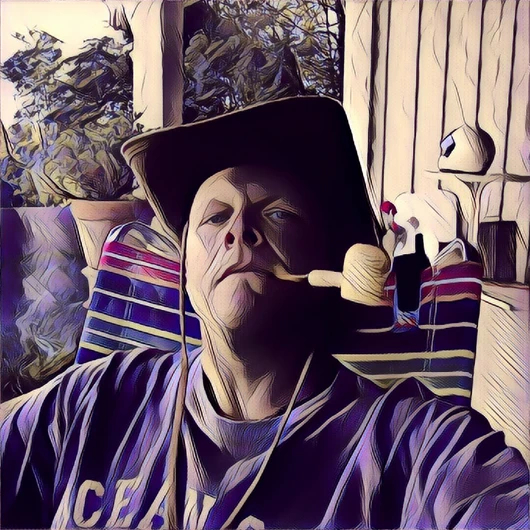 "NTH Watches were founded in 2016 on a simple guiding principle – to sell a great product at a fair price and back it up with outstanding service. NTH is about taking vintage inspiration and infusing it with fresh ideas, so you can think of it as either; "N-T-H" for "Nod to History", or "enth" for taking things to the Nth degree. Shown below are just a very small selection of NTH's current model line up, with many more to come in the near future."
The case of the NTH Tikanu has a diameter of 40.2mm. The lug to lug is 47.7mm and the overall thickness, including the double domed sapphire crystal, I measured in at a very svelte 11.2mm. The entire case, caseback, bezel, crown and bracelet are all 316L stainless steel. The finish of the watch is mostly brushed, but with the inclusion of rather sexy chamfered polished edges that run along the side of the case, as well as over and down the edge of the lugs. Talking of lugs, you'll also notice the handy addition of them being drilled. Perfect for removing the bracelet and/or strap swaps.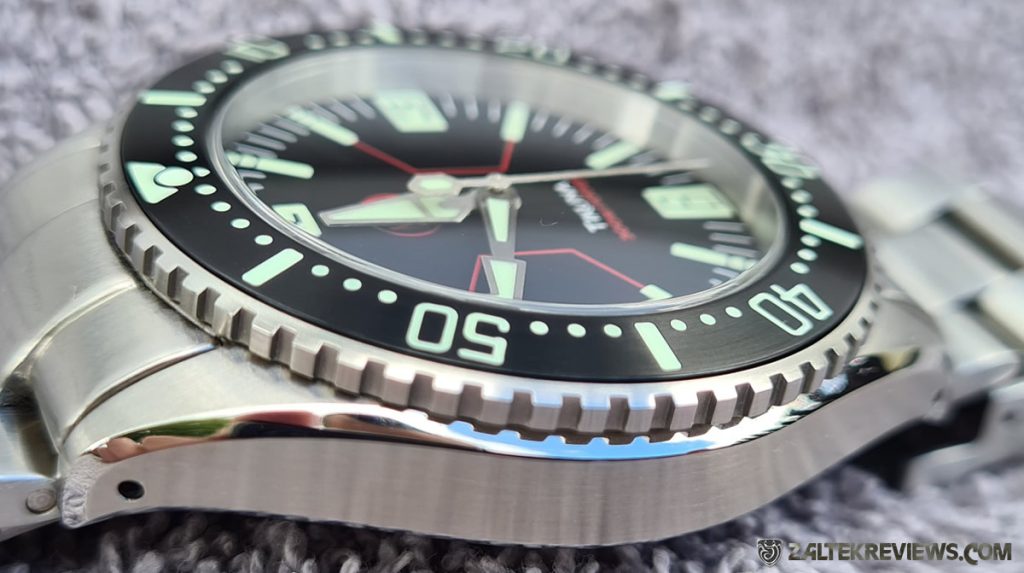 The NTH Tikanu has a water resistance rating of 300m, thanks to the screw down caseback & crown. The overall proportions of the watch, are absolutely spot on in my opinion. This is all great news for my 6¾″ wrist, with the Tikuna wearing perfectly, due to the relatively short lug to lug length of just a baw-hair over 47mm. The Tikuna just wears so fantastically well on wrist and it's extremely comfortable, as if NTH tailored made this watch just for me and me alone.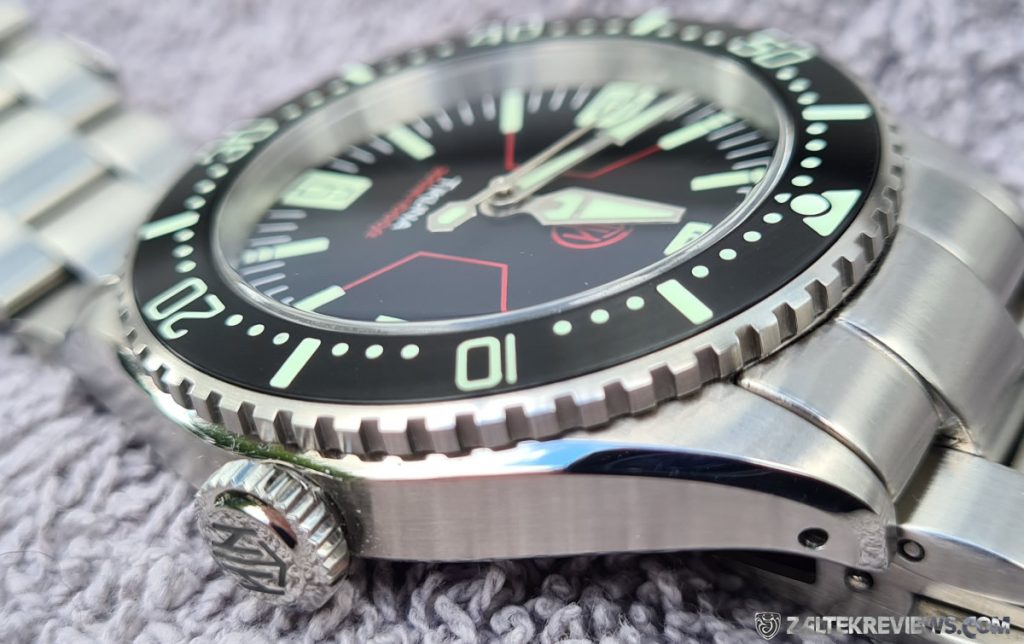 The signed crown is fantastic and is of a good size with a coin edge style grip. It also looks great with it's fully lumed logo. There is absolutely no wobble whatsoever when the crown is in use and you can also feel a very nice pop as you unscrew it. The caseback is a bit sterile, but it does have the usual various specs around the edge, as well as an etched NTH logos.
The fitted bracelet tapers from 20mm at the lugs, down to 17.5mm at the thinnest point and back up to 20mm at the clasp. Sized up for my 6¾″ wrist, I had to remove 3 links, which was simple enough to do, with the screw pins for adjusting & resizing. The milled clasp is also signed with the NTH logo and there are solid links throughout on this superb bracelet. The links themselves are all brushed and the milled clasp has a fold-over locking mechanism, as well as the dual push-button release on the sides.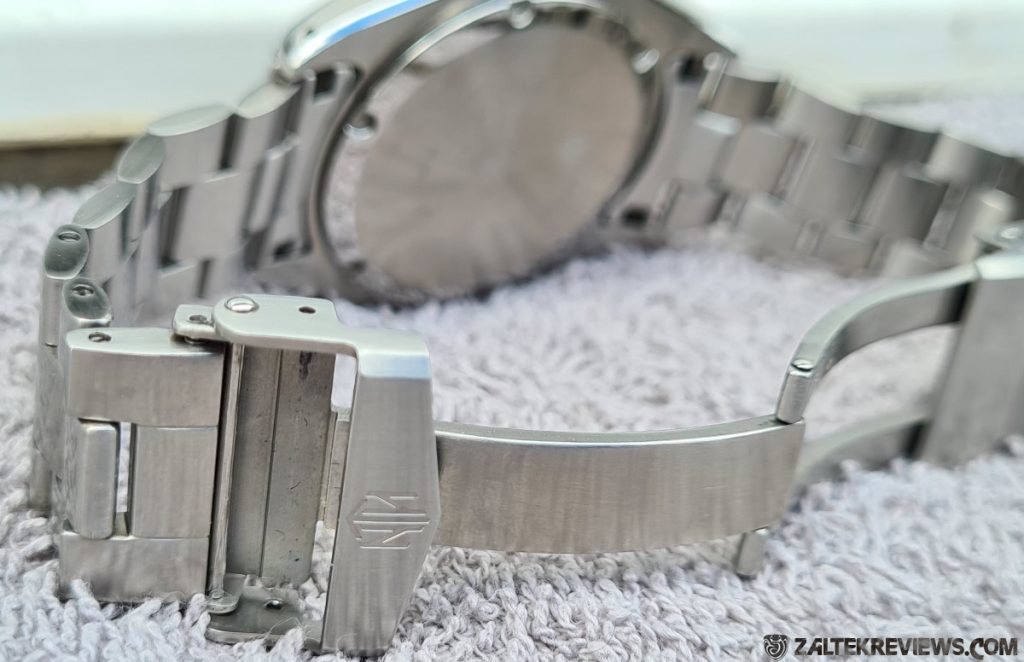 Additionally, the clasp has chamfered edges which is a very nice touch. There are also six micro-adjustment holes to ensure that perfectly snug fit. If I could change anything though, I'd change the end links to female, rather than these male variety. It's still a fantastic bracelet though, however if you fancy a change from the standard oyster style bracelet, NTH do offer a beads of rice bracelet with female end links & polished centre links for an additional $150 USD.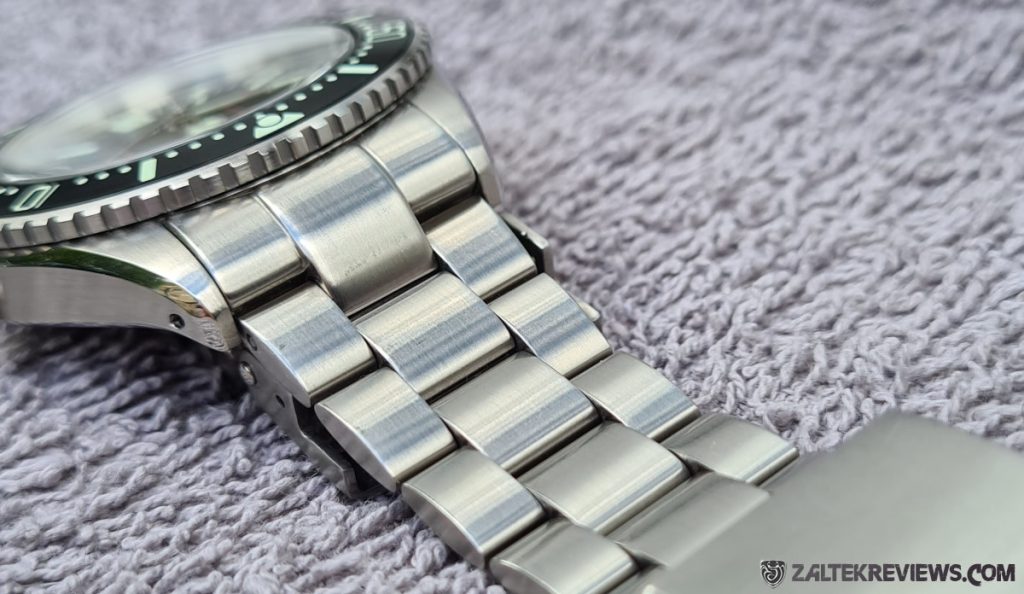 $150 USD for a spare bracelet might seem rather expensive to some, but I will state that I think it's most definitely worth it. Once you receive and fit it, you'll see that it's been money well spent as it just screams premium. Even although the NTH BoR bracelet suits the watch aesthetically very well, I would still have preferred if the centre links were brushed. Just my 2 cents, as I do know quite a few fellow watch geeks that have bought it and they love it just the way it is.
The chosen movement for this NTH Tikuna is the smooth sweep, high beat, Miyota 90S5, a true no-date movement. The subsequent date model is fitted with the Miyota 9015. These are very slim Japanese made 28,800vph, 24 jewel movements regularly compared to the Swiss ETA 2824. Checking the accuracy after running this Tikuna for just over a week, mainly on wrist and occasionally in my watch winder, I was more than happy with the results, with the Tikuna coming in at an average of just +6.4spd. That'll do nicely!
The NTH Tikuna has a 120 click unidirectional bezel with a fully lumed DLC coated stainless steel insert. It is of outstanding quality with everything lining up absolutely 100% perfectly. The bezel action is one of the best I've experienced with zero backplay. The printed text on the lower part of the dial is the word TIKUNA with the depth rating of 300m=1000ft just below, finished in red which I have to admit, works very well indeed, matching the red everywhere else. The NTH logo is also finished in red and placed at the usual spot of just under the 12 o'clock position. The red pattern can be a bit marmite to some, however I think it looks fantastic! I love that wee flash of colour.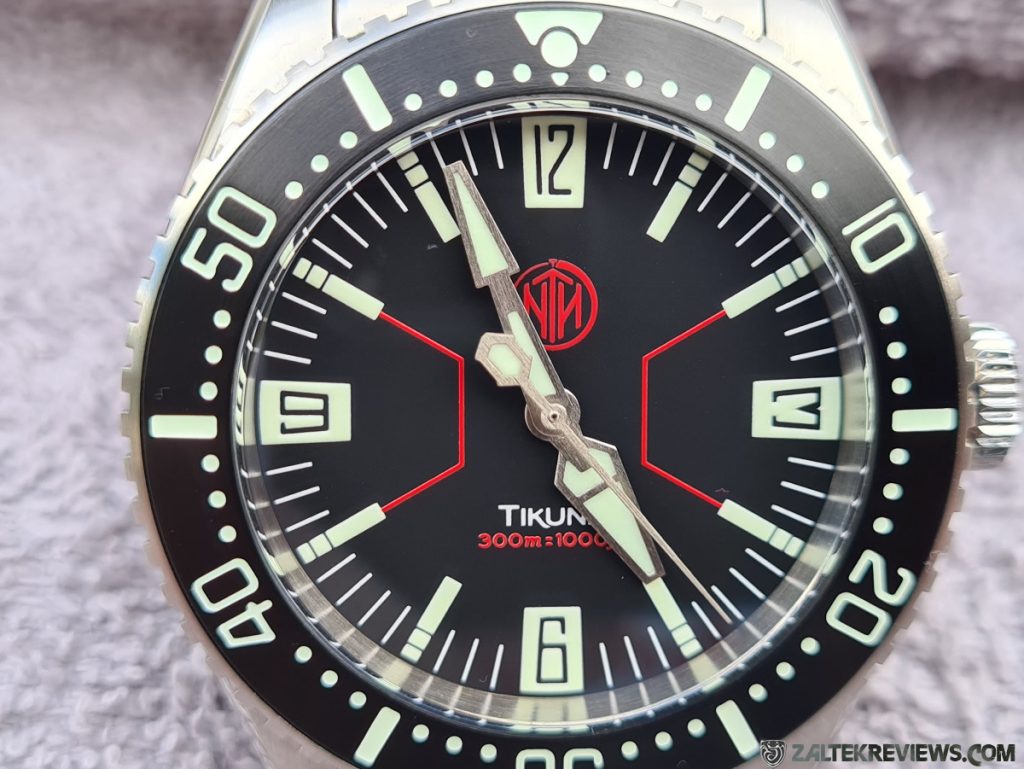 The hour markers at the 3, 6, 9 & 12 positions are larger than the rest and have that 1960's vintage style vibe that I have to admit, I really like. All the other hour markers are of a baton style & shape and like the rest of the markers are totally pumped full of lume. The hour and minute hands also have a ton of lume applied to them. More on that later though…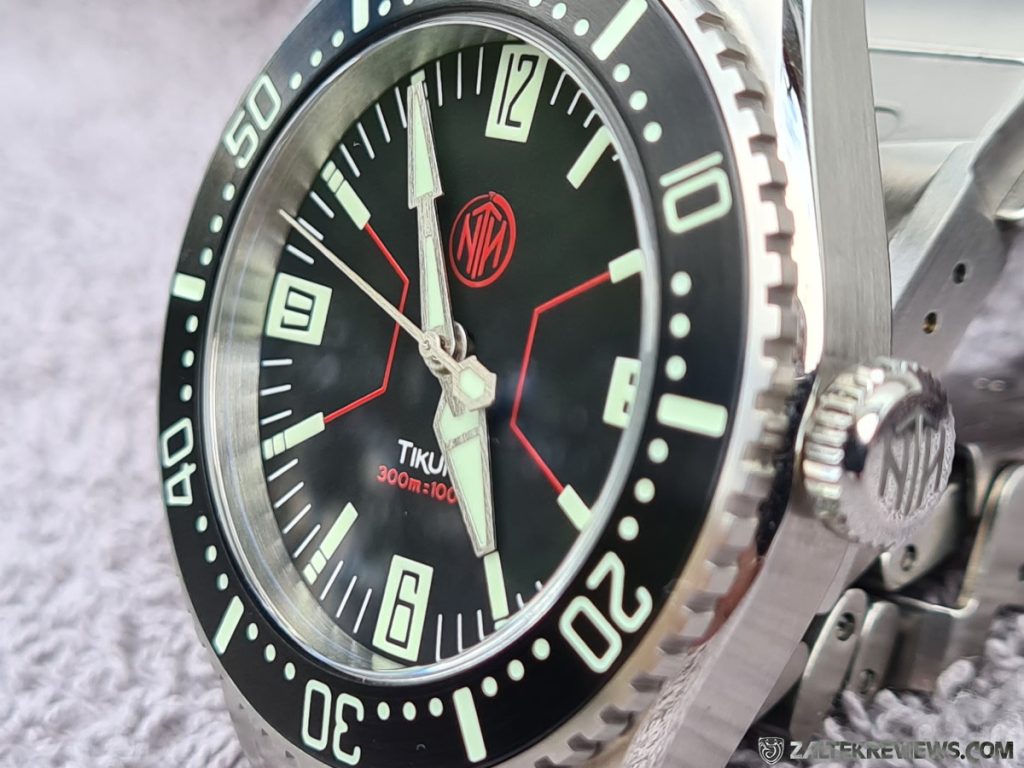 As you can see in the images, the hour and minute hands are nicely done, with their totally unique design. Rather chunky, with an almost sword / arrowhead aesthetic. The seconds hand is nicely done too, with it's wee lumed hex section being part of the counter-balance, whilst the other end reaches right out to the printed minute track when sweeping around the dial. There is the option of a date complication, however as you can probably guess, if you've read my other reviews, I hate it, due to the 4:30 positioning. I normally prefer a date with all my watches, but for this model, no-date thank you.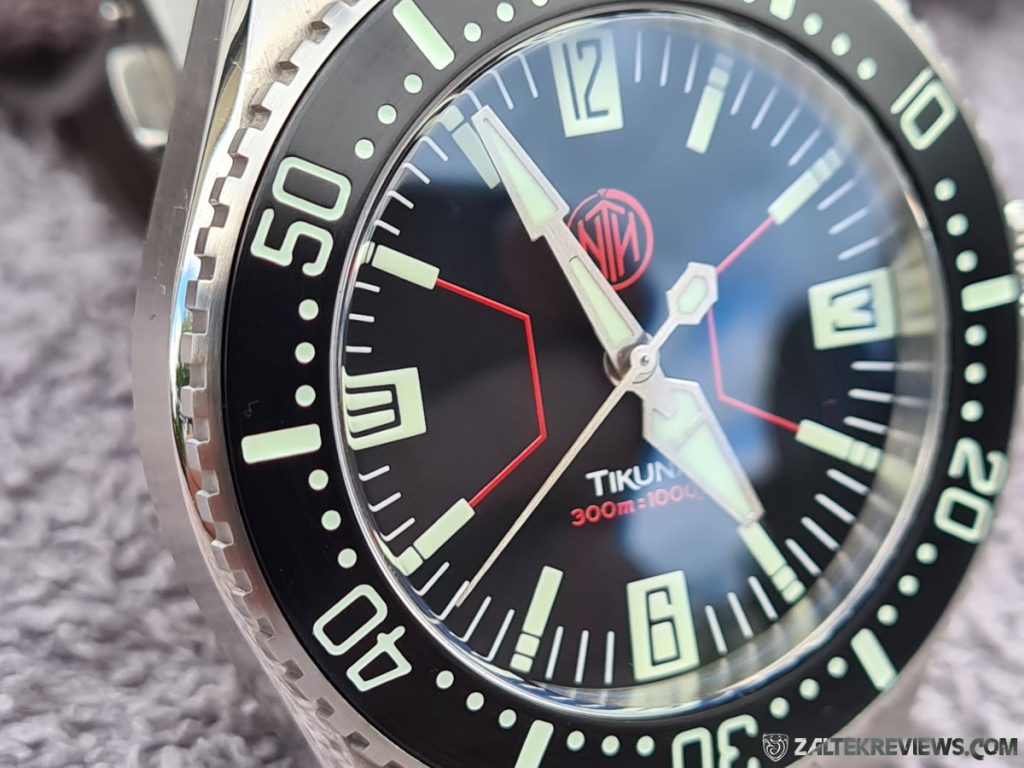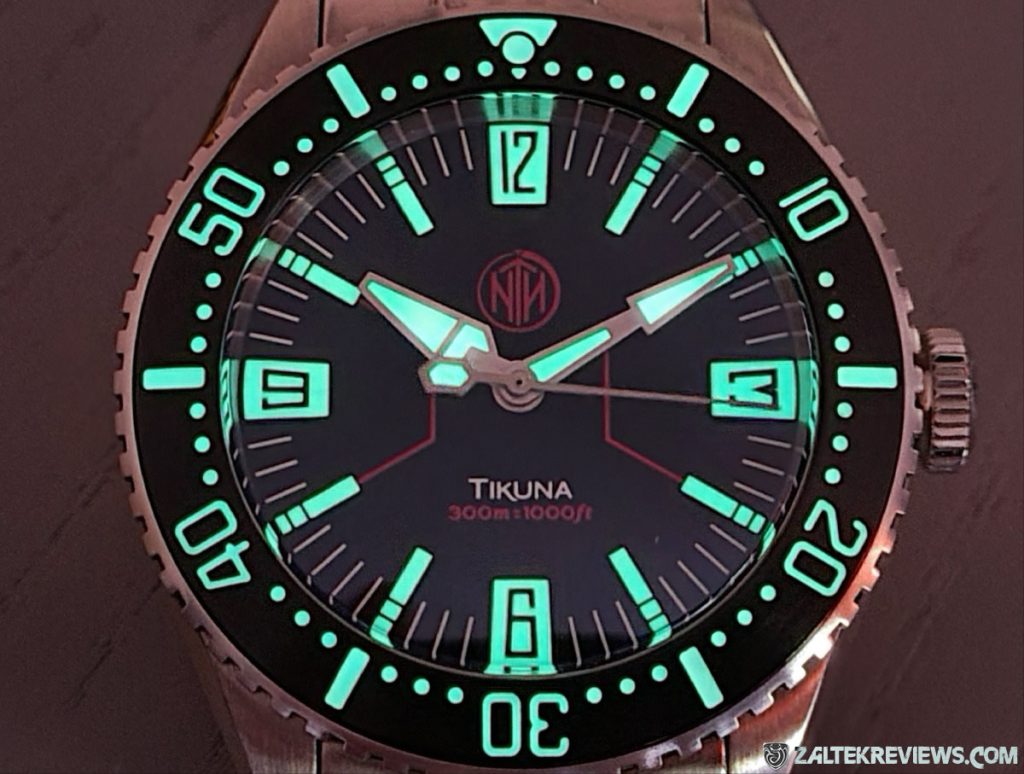 The lume on the Tikanu is absolutely phenomenal! I've seen very few watches with lume as good as this. I'd even go as far as to say, it's right up there and just as good, if not better, than the lume on any of my Zelos watches. The actual lume that has been applied to the Tikanu is Swiss Super Luminova® C3. To give you an idea of just how good this has been executed, not just with the initial potency, I've got up in the middle of the night and I can still easily see what time it is.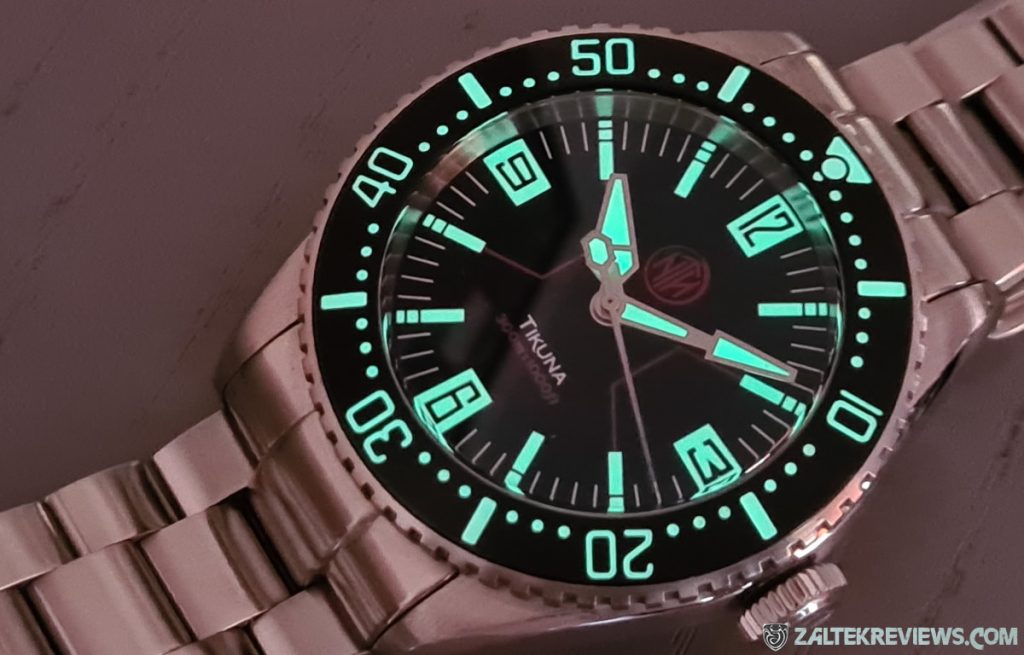 As previously mentioned in my introduction to this review, I pulled the trigger on a NTH Odin last year, which has the exact same case and bracelet as not only this Tikuna, but also every other watch in NTH's sub range. So obviously, it all comes down to what's left to make them all different to each other. That being, the design of the dial and choice of bezel. Oh aye, don't get me wrong by the way, that's NOT a negative, as I think that NTH have absolutely nailed the case and bracelet design. Although, I will add to those fuckers that always complain, "the watch is too small, I want something bigger… blah, blah, fuckin' blah!", there is a bigger watch coming from NTH that's due for release very soon, and NO, I'm not talking about the latest run of Devilrays. Take a look at NTH's Instagram to see loads of pictures & a list of specs.
Jesus, I'm always doing that… bumpin' my gums and rambling on until ultimately going off topic. Anyway, where was I? Oh aye… this NTH Tikuna. How does it compare to my NTH Odin that I spent my own hard earned cash on? Well, if I'm totally honest, I prefer the Odin. If the date version of the Tikuna had it's date at 6 and colour matched, I'd be all over it, as I really love the red accents on the dial, as it just brings that little bit extra to the design. So to summarise… if the NTH Tikuna and the Odin were to have a baby, I'd be shouting at NTH…  HERE, TAKE MY MONEY YA BASTARDS!!!
That however, won't be necessary for the design team at NTH to do, as I think I've already seen a sneak peak of an upcoming 40mm sub that I think is going to be one the best watches in my entire collection! Yup, even better than my Odin. If I don't get one to review, I will personally fly to fuckin' America, march into the NTH offices and boot Chris Vail square in the nuts!
Either that, or I'll just buy one. 🤣
NTH Watches – Chris and the team at NTH, another epic watch, very well done indeed! 👍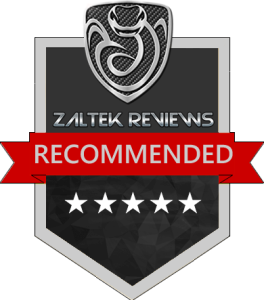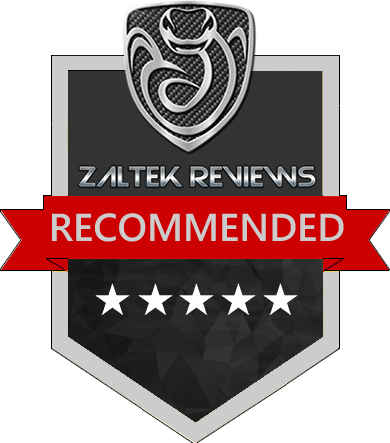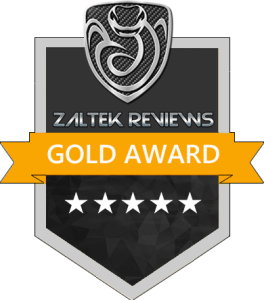 9.5/10 - HIGHLY RECOMMENDED!
A massive thank you to Chris and the team at NTH for sending the Tikuna out for review so quickly. Much appreciated.
To view the NTH website, or to join their mailing list to be informed of new models etc, visit
NTH Watches
.
It takes a fair amount of work to do these reviews. If you feel like donating to Zaltek Reviews to help towards my running costs, or even if you feel like just buying me a coffee, please use the PayPal button below.  Thanks very much. 👍
[paypal-donation purpose="Donate to Zaltek Reviews" reference="Ref:Zaltek" button_url=""]