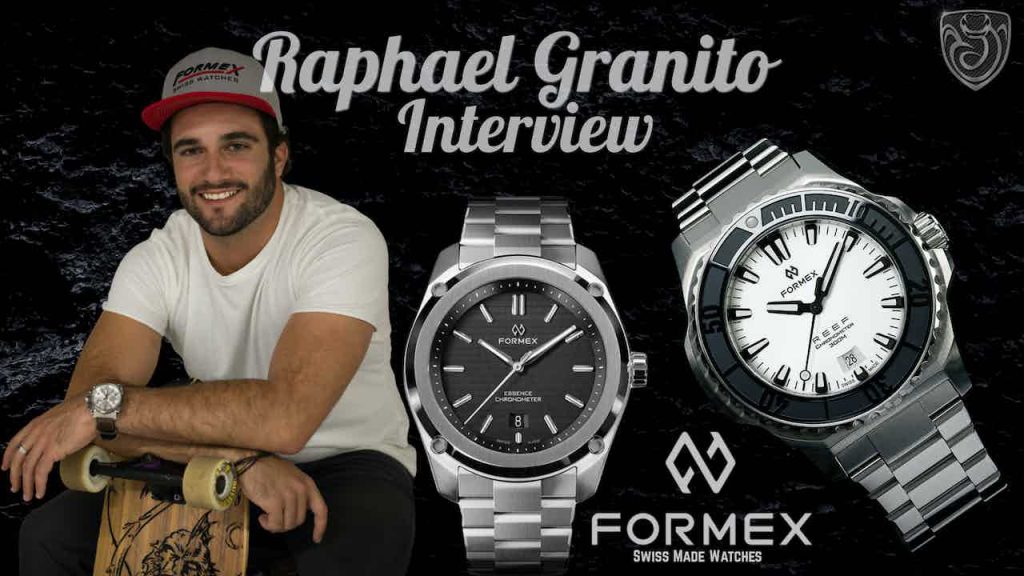 Brand: Formex Watches | Owner:

Raphael Granito
Thank you Raphael for taking the time to do this interview. I learned a lot and am confident our readers will also.
1. How did you first get into making watches?
My dad came to Switzerland when he was about 14 years old and has always worked in the watch industry. He went on to found his own company that has become a successful innovator and supplier of watch components in the industry. I've wandered around the company hallways and ateliers ever since I can remember and always had the chance of working there during school holidays. Later in life, before and after college, I started working at the company full-time in product development.
2. Do you have a "normal job" or is this your full-time passion?
This is my full-time job, but I'm also still somewhat active in my dad's company.
3. What do you like best about owning your own micro brand?
I like many different aspects of it, but my passion is creating watches, so if I had to pick one it would be designing and developing the products. I do follow what other brands do closely since watches are my passion but I'm more focused on specific models than the brands. Even though there is now a trend to buy the brand and not the model, I tend to really pay attention and specific models tend to catch my fancy.
4. Which of your watches and/or straps is your favorite? Are you also a watch enthusiast of other brands?
I don't really have favorites in life, I enjoy diversity and I pick the watches I wear according to my mood or the occasion. But I usually wear our newest prototype dailybasis since I'm our first tester. This allows me to catch small things that need to be improved before a new model hits the market. Yes, I'm a watch nerd and I follow other brands. I like the independent space but also some of the household names in the industry.
5. What advice would you offer someone that was interested in creating their own brand of watches?
That would be very specific to what area of activity the person comes from. First, I would ask if they're sure they want to do it. J But if somebody really wants to launch himself into that adventure it's probably most important to find the right people and talent to work with and decide early on what the brand or the product will stand for.
6. What do you think really sets your watches apart from others?
We put a lot of thought and effort into making our watches comfortable and ergonomic to wear. This shows on our innovative and well-integrated systems such as the micro-adjustment on the deployant clasp or our new quick release system to change bracelets and straps. Of course, a lot of effort is also put into the design of our timepieces but that is not necessarily something that sets us apart massively from others, as I'm sure they also invest into their designs. Another aspect that is extremely appreciated by our community, is our customer centricity. We listen to the community's feedback and try to go above and beyond to offer the uncomplicated, quick and satisfying customer service that we ourselves would wish for.
7. What are some things that you wish everyone knew about you and your work?
How much engineering, energy and budget needs to go into developing those systems. It's not easy to develop something that is simple, compact reliable and doesn't inflate the budget too much. Many of our customers appreciate this effort and even take the time to write us how surprised they were to find this level of innovation and quality at that price point. So, in essence, we're really blessed with this kind of customer feedback, and we can't complain about not getting enough recognition for going the extra mile.
8. Any interesting brand trivia? Any personal info you'd like to share?
I once destroyed my right wrist while on a shoot with one of our ambassadors. He's a freestyle skier and I was on my snowboard. Since I dabbled in freestyle snowboarding as well, we wanted to do a shoot together. But conditions weren't very good, and I had a very bad accident during the warm-up jumps. It took two metal plates, twelve screws and about a year of physical therapy to fix that. But I learned that I should focus on my business rather than freestyle snowboarding.
9. What future plans do you have for your brand?
Too many to list here. But in a nutshell, I'd like to stay on the path that we've been on for the past 5 years and further establish the brand among watch aficionados by releasing models that are going to be the pillars of our brand going forward. I'd like to broaden the collection a bit more in terms of price range but also in terms of watch genres. It's not so important how many watches we can sell or how much turnover we can generate as long as the business is healthy enough for me and the team to keep doing what we love in a fun work environment.
10. I know that "Breaking boundaries, taking risks and testing limits was always a part of Formex." It's easy to see now that this was a great path to follow, as you are one of the most successful Microbrands out there. But was it a bit scary at first? How did you know you were on the right path?
It still requires taking risks today and it will never cease, as is usual for any entrepreneurial adventure. If I focused too much on being scared or on the potential dangers or what could go wrong, I would probably not be very good at what we are doing. It looks like we're on the right path now and I'm very thankful for that but that can also change if we rest on our laurels or let our guard down too much. We're going to keep driving the innovation and the design spirit that put us on the map and I'm confident we'll remain successful with this approach. I think one aspect that is also very much appreciated by our customers is that we are a very approachable company and that our customer service is extremely personalized and efficient.
11. You embraced the idea of online sales without brick-and-mortar locations very early in the game. What caused you to do this when many others were not?
It was partially born out of me understanding the reality of the watch retail landscape at the time. I did do research and reached out to many retailers here in Switzerland. Many of them had pressure on their cash flow by having to take on inventory from a large selection of the group brands to get the most desired brands within a group. This made them reluctant to take on new brands and I never believed in consignment. I also am very realistic and coming from the product development and manufacturing side of the industry, with no connections in the distribution and retail landscape. So, I opted for d2c pricing and slowly building the brand directly from us to the consumer. I have to say that I didn't think I could learn as much as I did in such a short period of time. It was a very rewarding journey as we get to know our community and what they want from a watch and its brand. I was also motivated by the fact that we have a whole new set of tools at our disposal to get our watches out there and that we had to use them creatively as our marketing budget has always been very modest and remains that way today. I liked the idea of connecting a very traditional and nuts and bolts craft with the new possibilities e-commerce offers.
12. In addition to being a watch aficionado, I know you are also a downhill skater, car racer, snowboarder, freediver, surfer, skydiver and paraglider. What influence have these other passions had on your watchmaking?
I think they have had more influence on me as an entrepreneur because I'm comfortable taking risks and working in a fast paced and dynamic environment. The way it influences our products concretely is probably that I myself place a lot of value in wearing comfortable watches that are made for every day wearing.
13. Bonus Question: I've heard Formex referred to as a Microbrand and as a Boutique Brand. Which do you prefer, and why?
I personally don't care too much about labels but depending on the definition, calling us "Microbrand" might give off an inaccurate picture of us. We're 10 people now and do all our own design, development, assembly, fulfillment and customer service in-house. Ariel Adams of ABTW has mentioned in one of his articles about us, that we had officially evolved to Boutique Brand, which I think is a nice term to use when describing Formex.
It takes a fair amount of work (and time) to do these reviews, so if you feel like supporting Zaltek Reviews to help towards my running costs, or even if you feel like just buying me a coffee, then please donate using the PayPal button or QR code below. Unfortunately, 97% of my viewers/readers just scroll on by this section. If you feel like that I've given you maybe just a few quids worth of knowledge and/or entertainment, then please take just a couple of minutes of your time to kindly donate. Thanks very much, Will Duncan – Zaltek Reviews.