Dealer: SeriousWatches | Location: The Netherlands | Website: seriouswatches.com
I felt like treating myself to a new watch. I've had my eye on a NTH Odin for quite some time and after reviewing the NTH Holland recently, I knew I had to add a NTH watch to my collection. After browsing the NTH website and searching their list of authorised dealers, I settled on SeriousWatches for my purchase. Was the experience bad? Lets find out…
SeriousWatches - The Company

SeriousWatches was founded in 2011, as a natural result of a passion for watches. They started off with just the Orient brand but quickly expanded to other brands. Their vision is that they offer high quality brands that have unique aspects that you won't find on every street corner. The SeriousWatches team currently consists of 8 motivated watch enthusiasts including a fully certified watchmaker. Their passion for watches ensures their service goes beyond Monday-Friday, 9-5. SeriousWatches are available 7 days per week and try to make online shopping a personal experience by going the extra mile for every customer. As an authorised dealer of every single brand they stock, all of their watches come with the international warranties offered by the brands as well as their own additional 2 year warranty. The list of brands that they stock is far too many for me to list here, but as a watch enthusiast, the few brands that do jump out for me are; Alpina, Boldr, Edox, Hemel, NTH, OceanX, Orient, Venturo and Zelos to name but a few.
Ordering from SeriousWatches
Ordering online from SeriousWatches was just like any other online shopping experience if I'm honest. A perfectly 100% secure website which is always reassuring as it's a fair amount of change I was spending, €669.00 to be exact. This is broken down during the checkout process with a subtotal of €552.89 and EU taxes of €116.11 bringing us to the aforementioned total. If you live outside of the EU you won't need to pay this tax but you'll be subject to import taxes. After placing my order, I received an email instantly confirming my order details and shipping tracking details followed soon thereafter. With my order coming from The Netherlands to the United Kingdom I expected delivery in 2-3 days.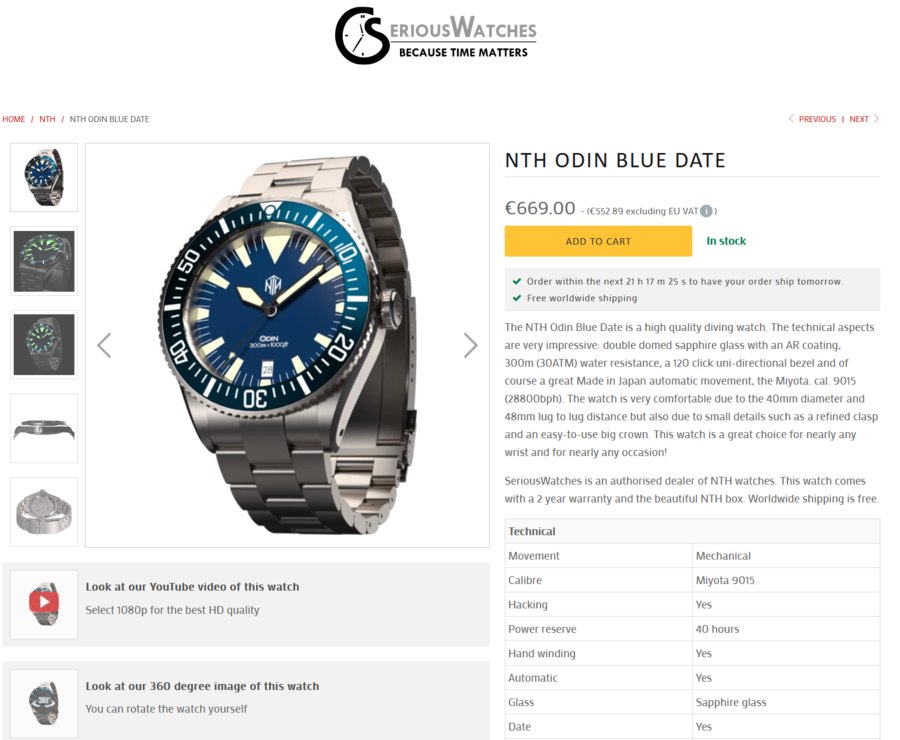 I ordered the NTH Odin – Blue Date on the Thursday so I didn't expect delivery until early the following week going by the estimated delivery of the tracking information. Being the idiot that I am and after watching and reading various reviews on the NTH Odin I came to the conclusion that I wanted the black version instead of the blue that I ordered. Oh CRAP!! I emailed SeriousWatches on the Friday hoping to change my order before it was despatched. I received an email about an hour later confirming my order had been changed. Sweet!
Monday morning came after a loooong weekend of reading more reviews. Around 10:30am there was a knock at the door, and there stood a delivery driver from UPS with my parcel. Quick signature later, I shot into the kitchen for more coffee in preparation to open the package and to let the drooling commence!
No need for me to type anything, I'll just let the images of the unpacking experience do the talking… Oh, by the way, the included caramel waffle was absolutely delicious!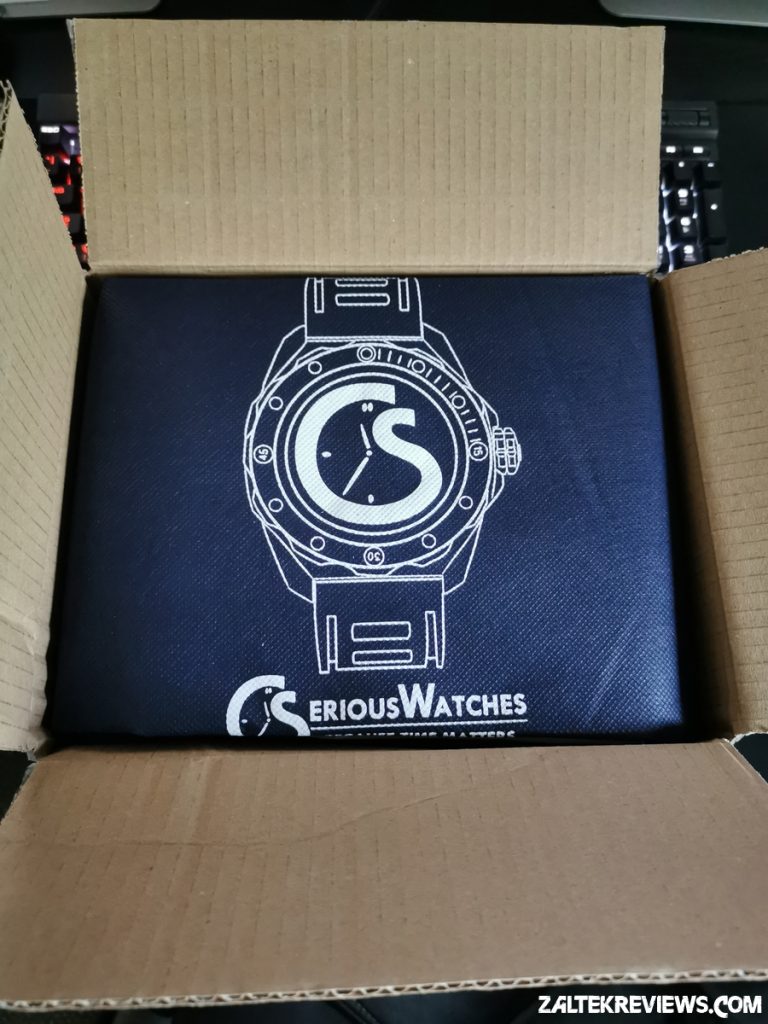 I don't know about anyone else, but I get nervous spending this amount of money for something online. As a reviewer, I get sent a ton of watches to review, but it's just not the same when you're putting your own cash down, hence why I thought I'd share my experience of buying from SeriousWatches from start to finish.
SeriousWatches – A truly outstanding service! It really shows from my experience that you do go the extra mile for your customers. I look forward to without hesitation, my next purchase from SeriousWatches.
10/10 – HIGHLY RECOMMENDED

To view the SeriousWatches website, or join their mailing list to be informed of new models etc, visit
SeriousWatches.com
.
Follow us on
Instagram
and join our Facebook group
WatchChat
, a busy community for watch enthusiasts and collectors with tons of images and in-depth discussions.
At Zaltek Reviews, we encourage the companies whose watches we've reviewed to comment on our articles. We invite any company representatives to respond in the public comments section below. Thanks very much.