Manufacturer: Time Factors | Price: £325 GBP ($415 USD, €375 EUR approx)
This 36mm version of the Smiths Everest PRS-25 from Time Factors is not the usual size of watch that I'd be interested in, as I just think it would be too small for my 7″ wrist. I was initially interested in their 40mm version, however after chatting to Eddie (owner of Time Factors), he actually suggested that this was an better overall package and suggested I review the 36mm version over the 40mm. So is it any good? Is it an affordable alternative to the more expensive Rolex Explorer?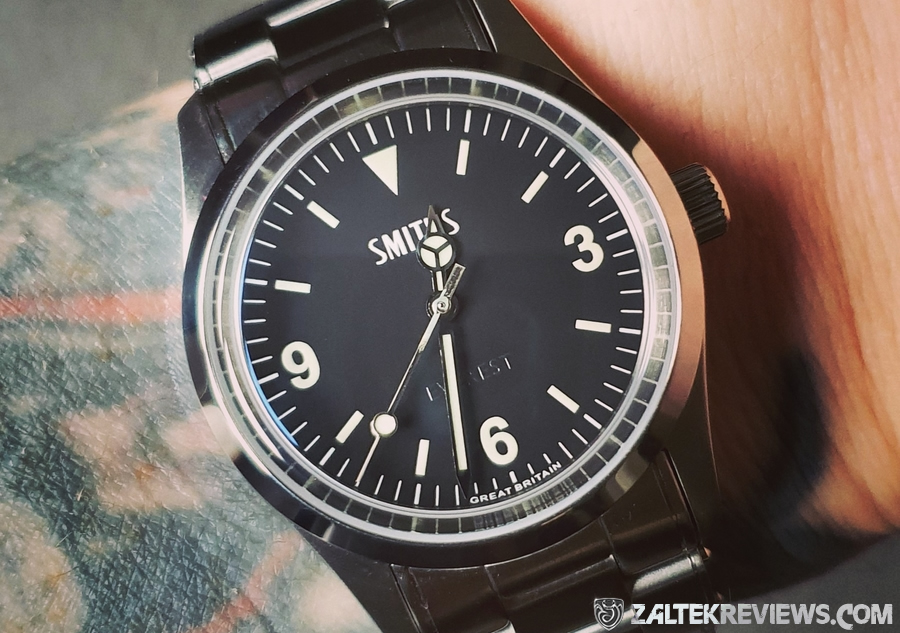 Specifications
Dimensions: Case Diameter – 36.2mm, Thickness – 10.9mm, Lug to Lug – 43.9mm, Lug Width – 20mm
Movement: Miyota 9039 Automatic, 28,800vph (4Hz), Hackable, Self Winding, 42hr Power Reserve
Case Material: Brushed 316L Stainless Steel with Polished Accents, Drilled Lugs
Bracelet: 316L Stainless Steel, Screw Links, Solid End Links, Milled & Signed Clasp
Weight: 140g      Antimagnetic Rating: 4800 A/m
Crystal: Domed Sapphire, Underside AR Coating
Bezel: Fixed, Polished
Water Resistance: 100m / 10ATM / 330ft
Lume: Swiss Super Luminova® X1 C3
Crown: Signed, Screw Down      Caseback: Screw Down, Anti-Magnetic
Warranty: 2 Years    Where to Buy: Time Factors

Options: Case Size: 36mm, 40mm | Colour: Black Dial, White Dial (36mm only)
Time Factors - The Company
"Greetings! My name is Eddie Platts and I was born in Sheffield, South Yorkshire (where "The Full Monty" was filmed) and where I have lived all my life, with the exception of ten years army service. I am married to Carol Ann, whom I have known since I was eight years old and we are owned by at least four cats at any one time, depending on how many strays adopt us. I enjoy amateur radio (callsign G0OLL), computing, photography, gardening, reading, films and music amongst other things. Digital photography is my latest passion (I love the immediacy) but I'm still struggling with correct lighting for my watch photographs.

My interest in watches dates back as long as I can remember and I still recall the excitement of receiving my first; a Hopalong Cassidy Timex at Christmas 1956. I made my first internet purchases mid-'96 (my first ever purchase was from Paul Lonnquist of Texas Time) and in November 1996 set up a simple website to trade the surplus from my collection. I continue to add to my personal collection of wristwatches via the net and my website has gradually evolved into what you see today. With very few exceptions, I only buy watches I would be happy to wear myself.

I served for 10 years in the army and wore military issue watches during my service. I remember being issued with an Omega military in 1972 and was horrified at the prospect of having to pay £15 if I lost or damaged it. If I had known then what I know now, I would have "lost" a hundred! Please do not think that my website is for sales only, I am happy to receive questions about timepieces and will answer them if I can. As my website continues to evolve, I will be adding more general horological information and maybe some non-horological. I continue to be passionate about watches, something which my wife simply doesn't understand. Am I unique in having a wife who doesn't understand my passion for watches? I don't think so!

I like most types of music, from early Baroque to heavy metal. I am a great fan of Queen, having seen them live during their "Kind of Magic" tour. What a performance and what a man! Freddie is sadly missed. I enjoy reading biographies and non fiction, but also enjoy Stephen King, Shaun Hutson, Graham Masterton, Tom Clancy, Dean Koontz and James Herbert. In my youth, I read "MAD" magazine, which probably explains my sense of humour - often described as "twisted"!".
The case of the Everest has a small diameter of 36.2mm. The lug to lug is 43.9mm and the overall thickness, including the domed sapphire crystal, I measured in at a rather slim 10.9mm. The entire case, caseback, bezel, bracelet and crown are all 316L stainless steel. The finish of the watch is brushed with polished sides. The transition between the brushed and polished finishing is exceptional, and to be honest it does actually make the watch look more expensive than it actually is.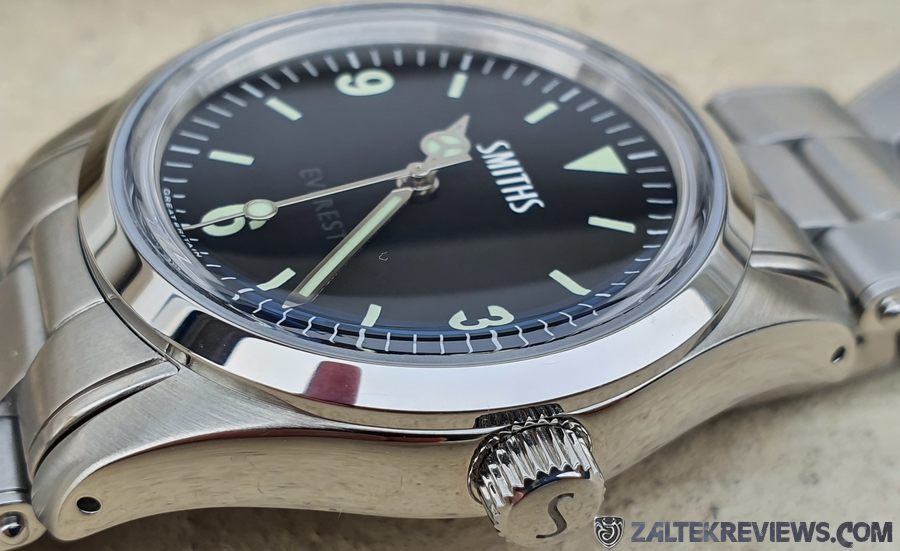 The Everest has a water resistance rating of 100m thanks to the screw-down caseback & crown. The proportions of the watch, even although I thought it was going to be way too small for my 7″ wrist, it actually wears surprisingly well. The signed crown is also superb, looks great and there is very minimal wobble when the crown is pulled out to its fully extended position. The caseback is quite simple with just a Smiths logo however, Time Factors state that the cover also helps with the anti-magnetic rating of 4800 A/m. I don't have any way of testing this, so I'll take their word for it.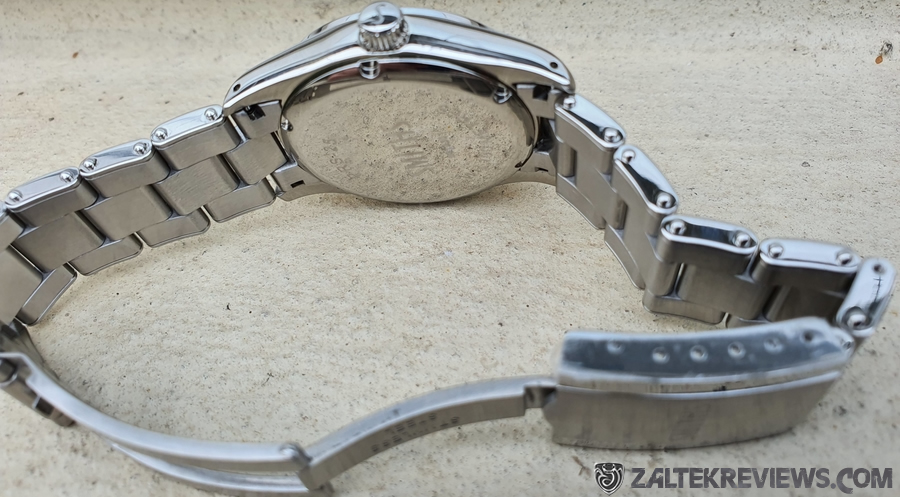 The bracelet itself tapers from 20mm at the lugs to 18mm and back up to 20mm at the clasp and it's of fantastic quality. Sized up for my 7″ wrist I had to remove 3 links, which was simple to do with the screw pins for adjusting & re-sizing. Solid links throughout, a fully milled clasp that is also signed with the Smiths logo are also present on this outstanding bracelet. Additionally, the clasp itself has a brushed centre with polished detailing on both edges. The links themselves are all brushed with polished sides and there are also 5 micro-adjustment holes to ensure a perfect fit. Overall, it's a very beautiful bracelet and to be honest, it's probably one of the nicest I've seen on any watch at this price point.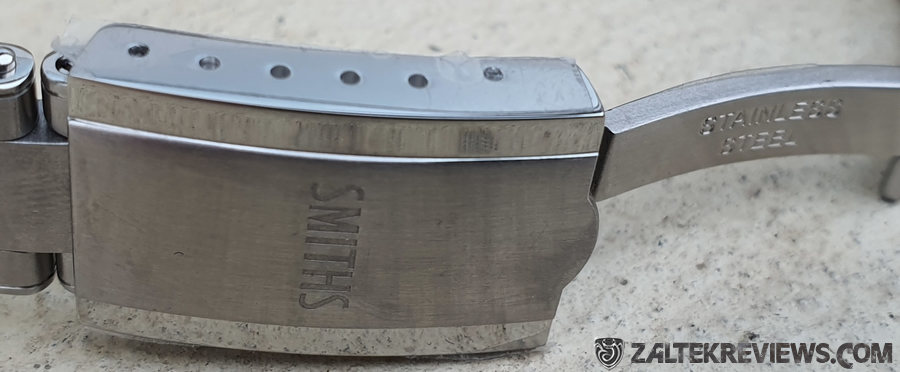 The chosen movement for the Everest is the 9039, a non-date version of the highly popular 9015 from Miyota. The 9039 is a Japanese made 28,800vph, 24 jewel movement. Checking the accuracy after running the Everest for a couple of weeks, both on wrist and in my watch winder, I was rather pleased with it showing an average of just +5.3 seconds per day.
The Smiths Everest has a polished fixed bezel. The dial itself has very neatly printed hour markers and arabics at the 3, 6 & 9 o'clock positions, all of which have a good helping of X1 C3 lume. The logo on the dial is nicely printed and the only other text on the dial is the word Everest stealthly printed at just above the 6 o'clock position. Nice, clean and simple.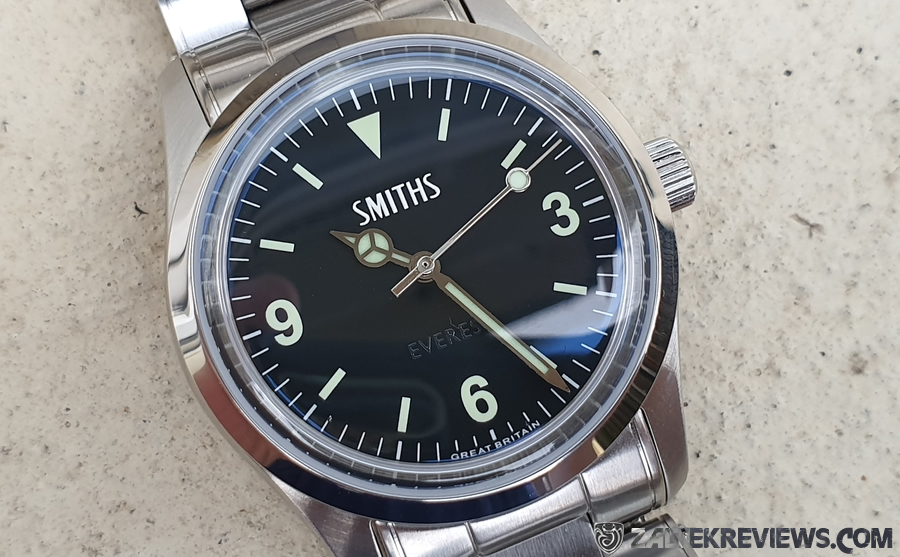 As you can see in the images, the hour and minute hands are nicely done with the very familiar Mercedes style hands. The seconds hand is also what you would expect too, with it's lumed lollipop section near the end of the hand, but before the hour markers, as it sweeps smoothly around the dial. The X1 C3 lume that's been used on the Everest is nothing more than outstanding. I was really surprised at how bright it is and that it easily lasted right throughout the night.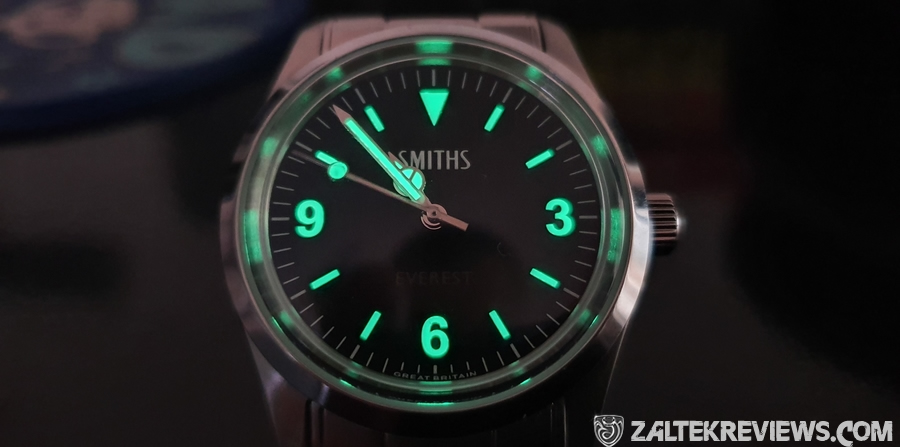 A fantastic watch that really surprised me. Before it arrived, I honestly thought I was going to hate it mainly due to it's size. I was wrong though, as this would easily find a spot in my collection as the one & only dress/sports watch. I'm still intrigued by the 40mm version, as it's the size of watch I would normally wear, but as a sporty dress watch, you really want them to be slightly smaller than average. I'm definitely going to buy one of these for myself, but as I've mentioned, I'd really like to try out the 40mm version before I pull the trigger on the Everest.
If you've been thinking of buying one of these yourself, I would 100% recommend it. It's an absolutely brilliant watch at a very affordable price. Oh yeah, if you already have one of these, I suggest you treat yourself and buy this new and improved bracelet that's now available as it's a huge improvement over the old version.
Eddie @ Time Factors – A very nice watch indeed, with great fit & finish. I'd still like to review the 40mm version though.
9.5/10 - HIGHLY RECOMMENDED!
A huge thank you to Eddie at Time Factors for sending over the Smiths Everest so quickly for review.
To view the Time Factors website, or join their mailing list to be informed of new models etc, visit
Time Factors
.
Follow us on
Instagram
and join our Facebook group
WatchChat
, a busy community for watch enthusiasts and collectors with tons of images and in-depth discussions.
At Zaltek Reviews, we encourage the companies whose watches we've reviewed to comment on our articles. We invite any company representatives to respond in the public comments section below. Thanks very much.