Manufacturer:

Steeldive

| Price: £105 GBP ($135 USD, €120 EUR)
I'm not going to bullshit anyone that's reading this review, but I'm pretty sure, like most of you, when I first heard of Steeldive, my thoughts were… no!!!! Here we go again, yet another rinky dink, cheap knock off, pile of shizzle, that's going to be as much use as tits on a fish!
As it turns out, I got to hear so many good things about Steeldive, specifically this SD1970 aka 'Captain Willard', I had to get one in, just to see what all the hype was about. I mean for christs sake, it can't be as good as everyone says it is, can it? It's only 100 quid for fuck's sake!
After reaching out to Matthew, the distributor of Steeldive watches here in UK, just 24 hours later the Capt Willard was here, sat on my desk, taunting me, winking at me with a glint in its eye (crown), whispering, "c'mon ya dick, review me ya complete & utter fanny!" I know what you're all thinking… YES, for I am the "WATCH WHISPERER!!". Fuck my life, I'm gonna have fun proofreading this shite. I NEED TO GET OUT MORE… Aarrgghh BOLLOCKS, we're still in lockdown…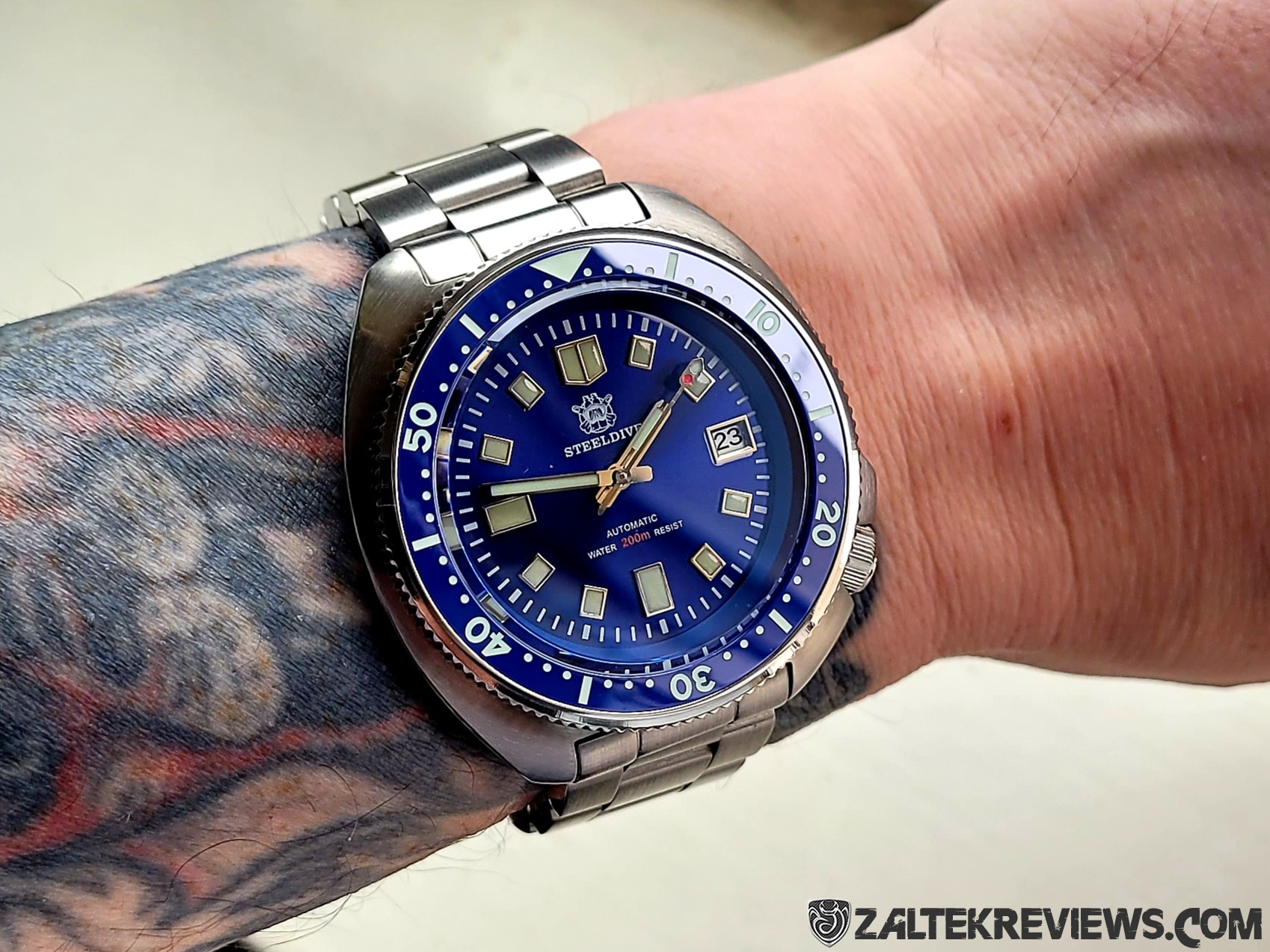 Specifications
Dimensions: Case – 43.4mm, Thickness – 13mm, Lug to Lug – 46.6mm, Lug Width – 20mm
Movement: Seiko SII NH35A, 21,600vph, 3Hz, Hackable, Self Winding, 41hr Power Reserve
Case Material: Brushed 316L Stainless Steel, Polished Sides
Bezel: 120 Click Unidirectional, 60 Minute, Ceramic Insert, Fully Lumed
Dial: Applied Indexes, Date at 3, Flat Polished Hands, Paddle Seconds Hand
Bracelet: Brushed 316L Stainless Steel, Push Pins, Solid Links, Pressed Clasp
Crystal: Flat Sapphire, Bevelled Edge, Underside Anti-Reflective Coating
Lume: Swiss Super Luminova® BGW9 & C3
Water Resistance: 200m / 20ATM / 660ft

Caseback: Solid, Screw Down, Steeldive Logo
Crown: 6mm, Screw Down, Signed
Weight: 169g (Sized up for my 6¾″ wrist)
Where to Buy:

Steeldive UK

/ AliExpress
Warranty: 6 Months (UK Distributor) | 3 Years (Steeldive International)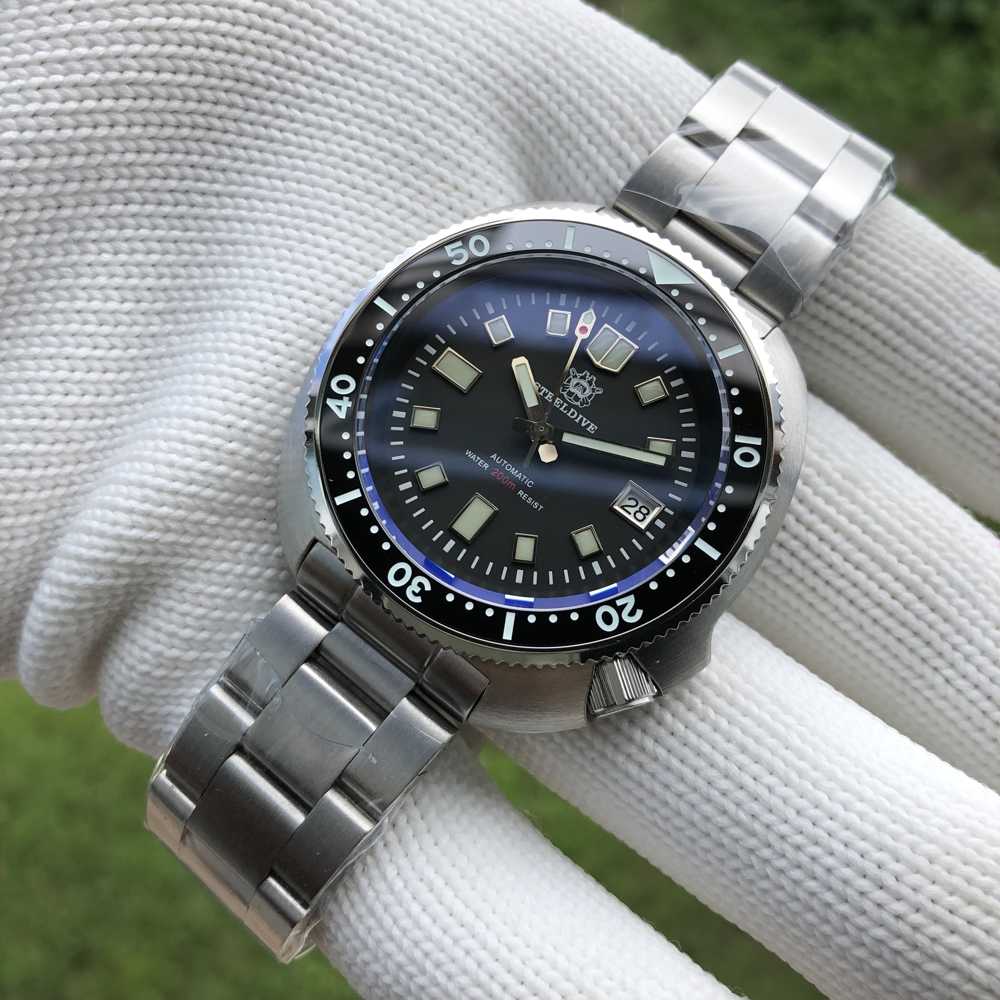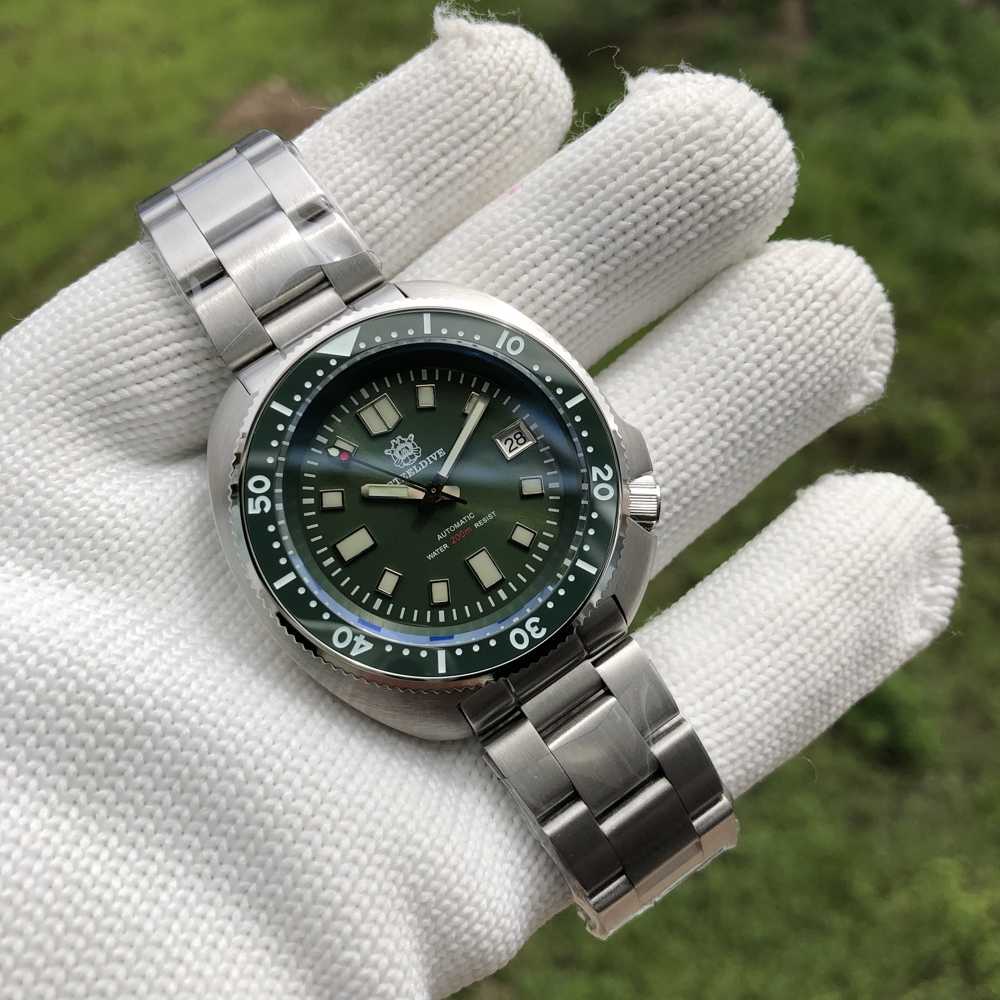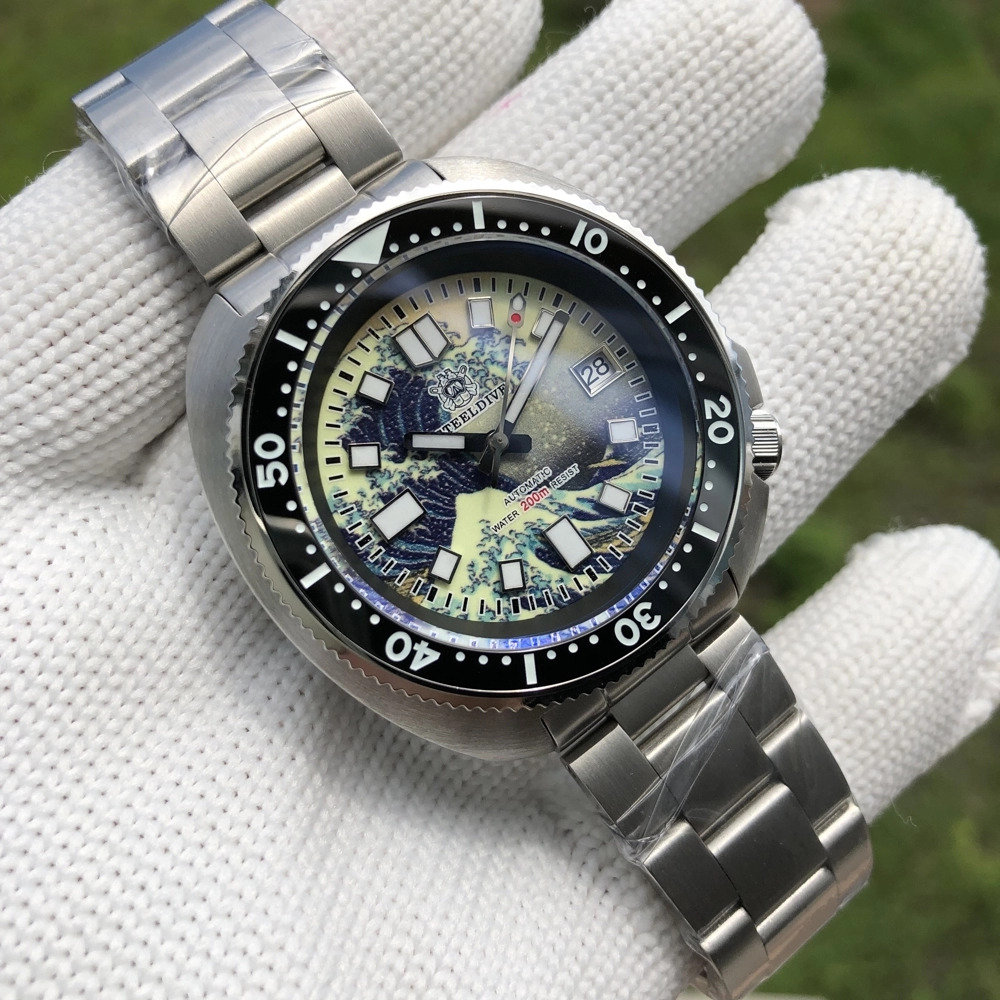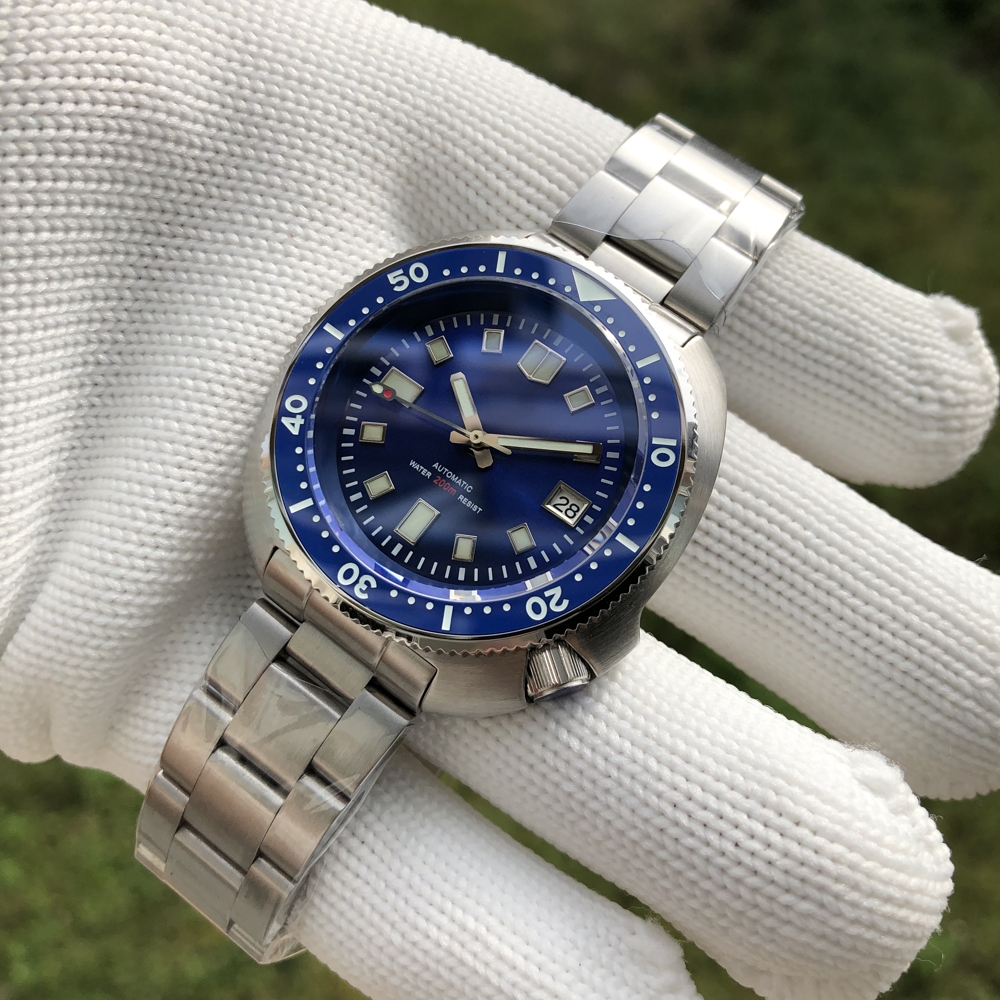 Steeldive UK - Introduction
"Inspired by famous dive watches of the past, Steeldive is a young, ambitious microbrand that produces a range of classic watches, powered by the reliable & robust NH35 movement. All watches are all faithful to the ideals and design aesthetics of the originals. The watches look superb, are manufactured to a very high standard and the value is unbeatable! We are watch collectors and enthusiasts at heart, based in Cardiff, South Wales. We were so impressed with the quality and value of the Steeldive watches that we owned, we wanted everyone to own and enjoy wearing an affordable, classic dive watch from Steeldive too. So we asked if we could become the sole authorised distributor for the UK and European market."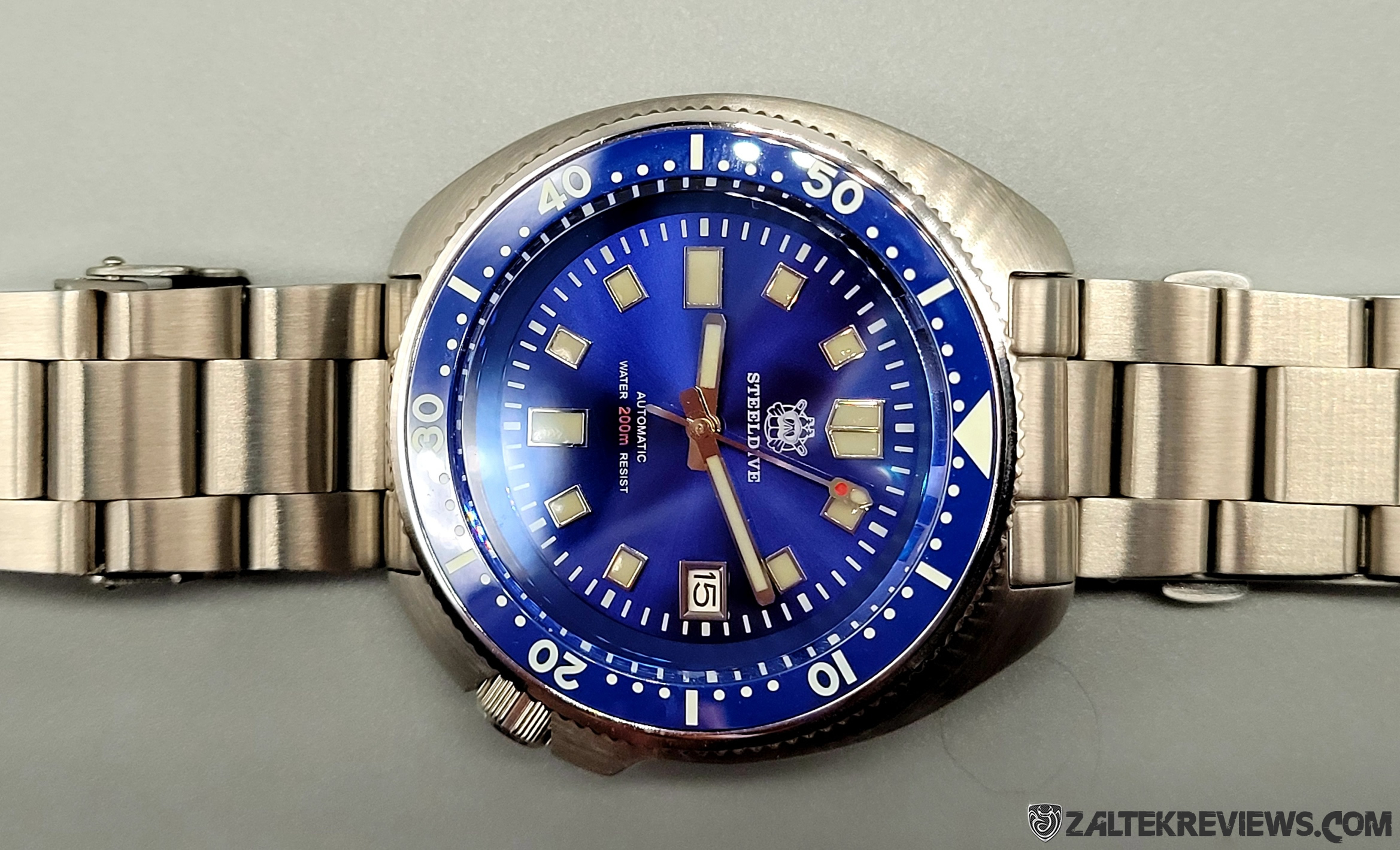 The case of the Steeldive SD1970 has a diameter of 43.4mm, but don't let that put you off, as the lug to lug is relatively compact at only 46.6mm, so will easily fit on the majority of wrist sizes. The overall thickness, including the sapphire crystal, albeit flat, I measured in at bang on 13mm. The entire case, bezel, caseback, bracelet and crown are all solid 316L stainless steel. The finishing of the watch is mostly brushed, with the exception of the case sides, that are fully polished. The Captain Willard has a water resistance rating of 200m, thanks to its solid build quality, a screw down caseback & threaded crown.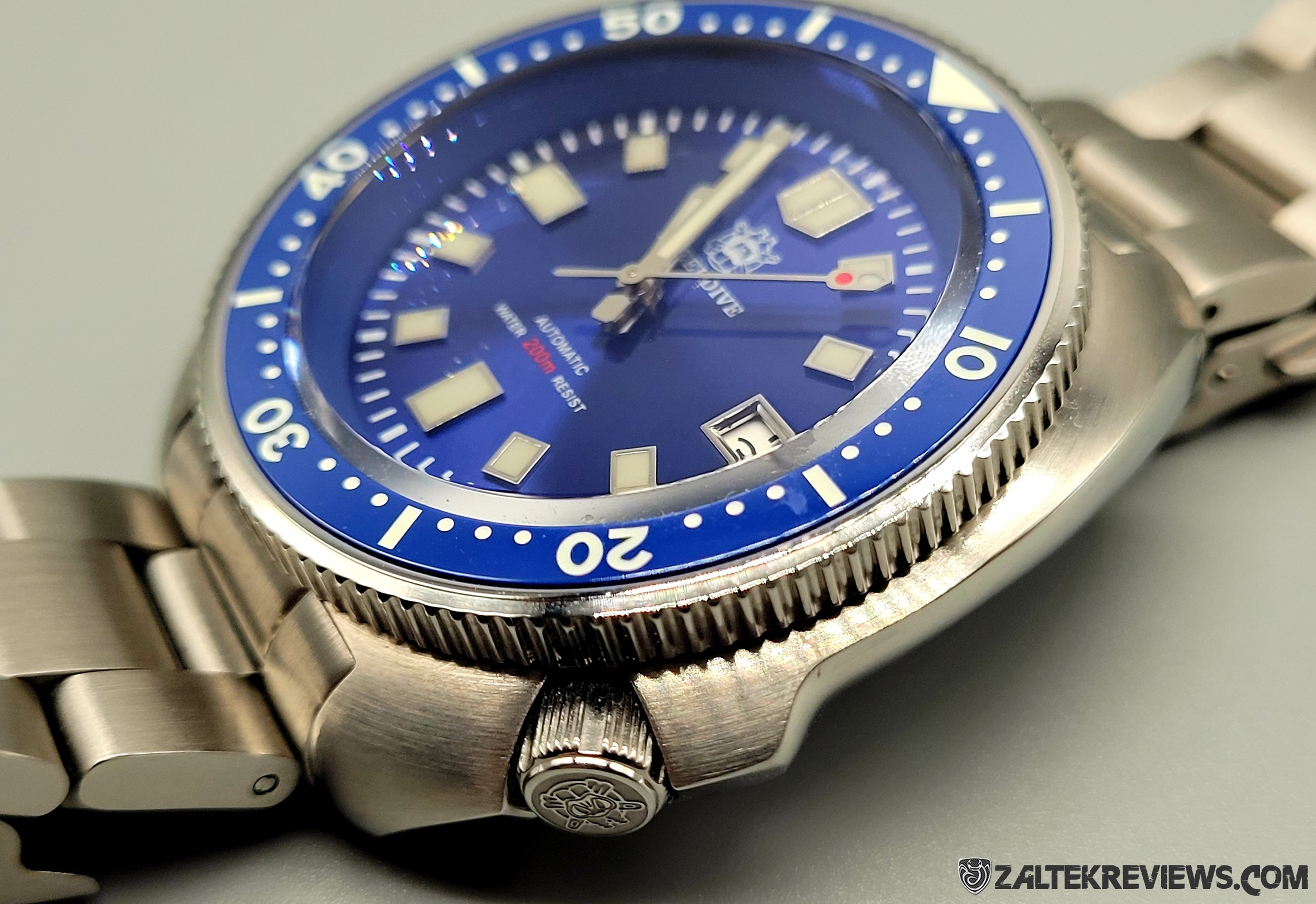 The signed crown is of fantastic quality, giving a nice wee pop when you unscrew it and there's no wobble either when the crown is in use, also the etched logo is also a nice touch. The overall proportions of the watch are bang on and exactly like the Seiko SPB153J1. The caseback of the Willard is quite sterile in appearance, with just a lightly etched Steeldive logo and some basic specs around the edge. To be fair though, I'm surprised that there's anything at all on the caseback, considering the price point. The same goes for the crown, and even the clasp. Yup, they're all signed too. Lovely jubbly!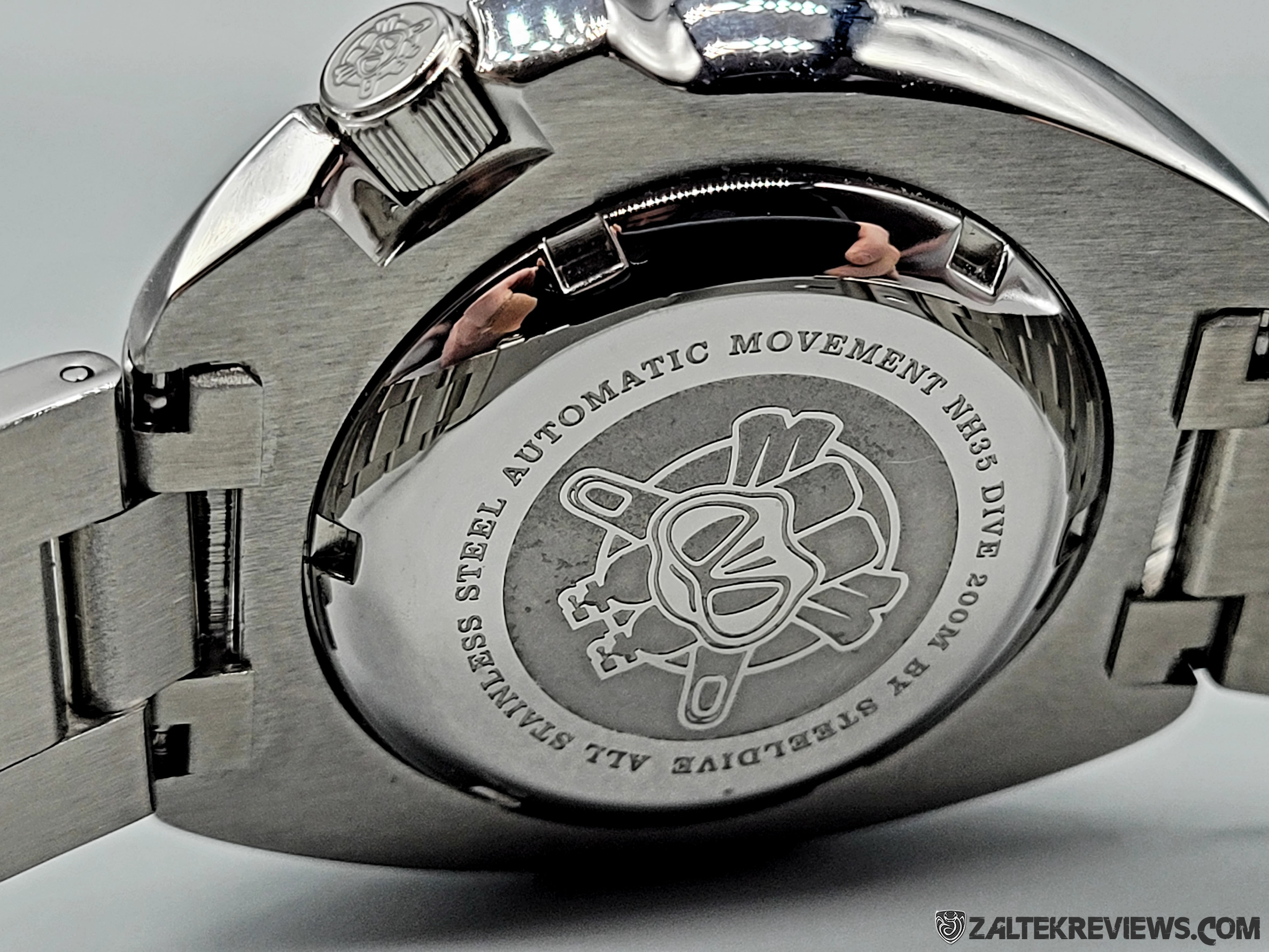 The bracelet that's fitted to the Capt Willard is surpisingly rather good, a LOT better than I expected! It is certainly very nicely made and there isn't that much, other than the clasp, that I can fault it on. It has the majority of what you'd want in a good quality bracelet. First and foremost, it's nicely manufactured with no squeaks or rattles. It has solid links throughout, push pins for adjusting and re-sizing. To be fair to Steeldive, I did expect a pressed clasp and even although it is signed, it wouldn't cost that much to upgrade it to a milled clasp. I just ordered one from AliExpress for only 4 quid!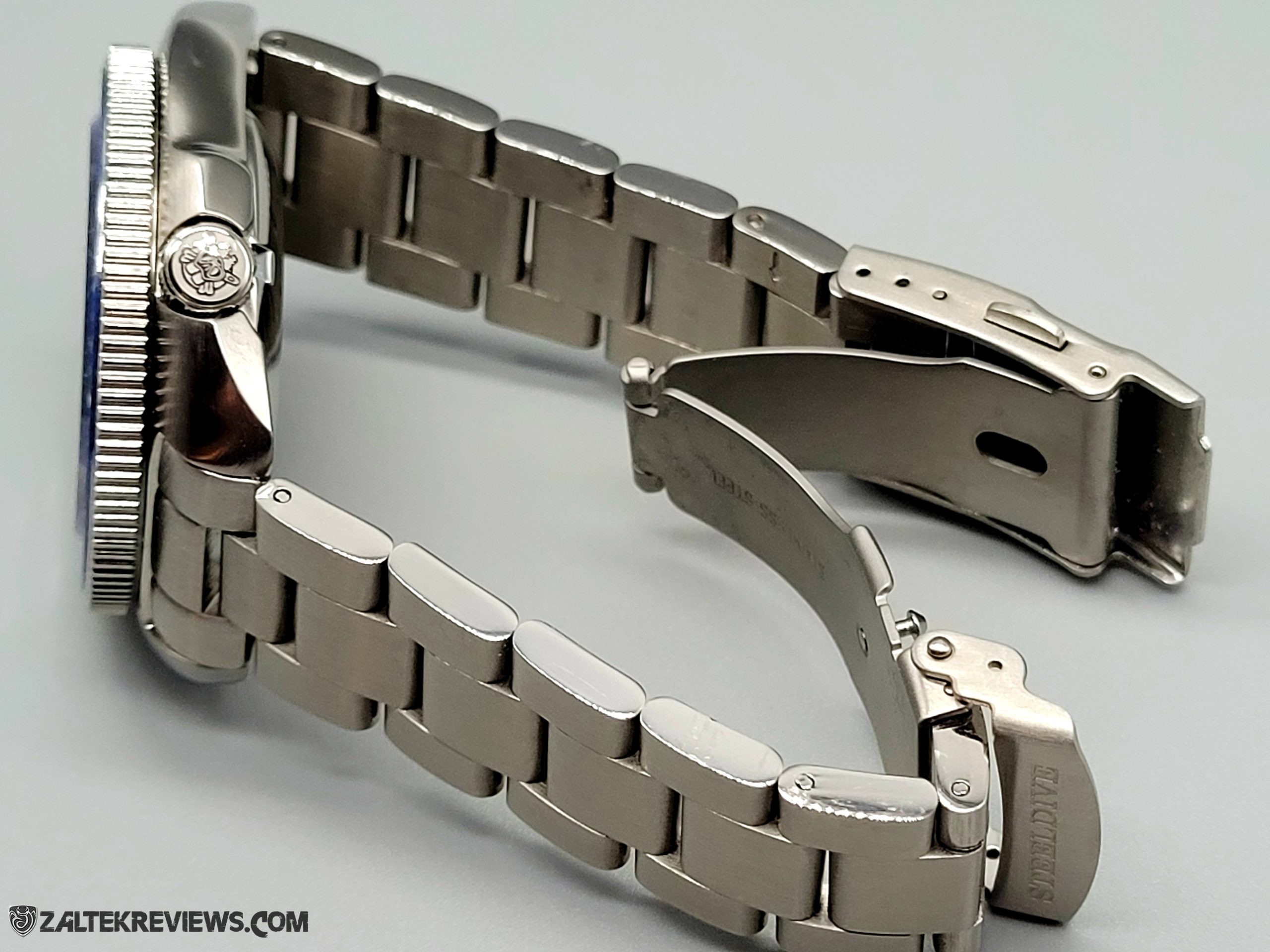 Yet again, I'm totally astonished with yet another feature on this Steeldive, solid female end links for immediate articulation and superb all-round comfort. Measurement wise, the bracelet is 20mm at the lugs with no taper, so if you're ordering one of those milled clasps from AliExpress, you'll need the 20mm version, not the 18mm.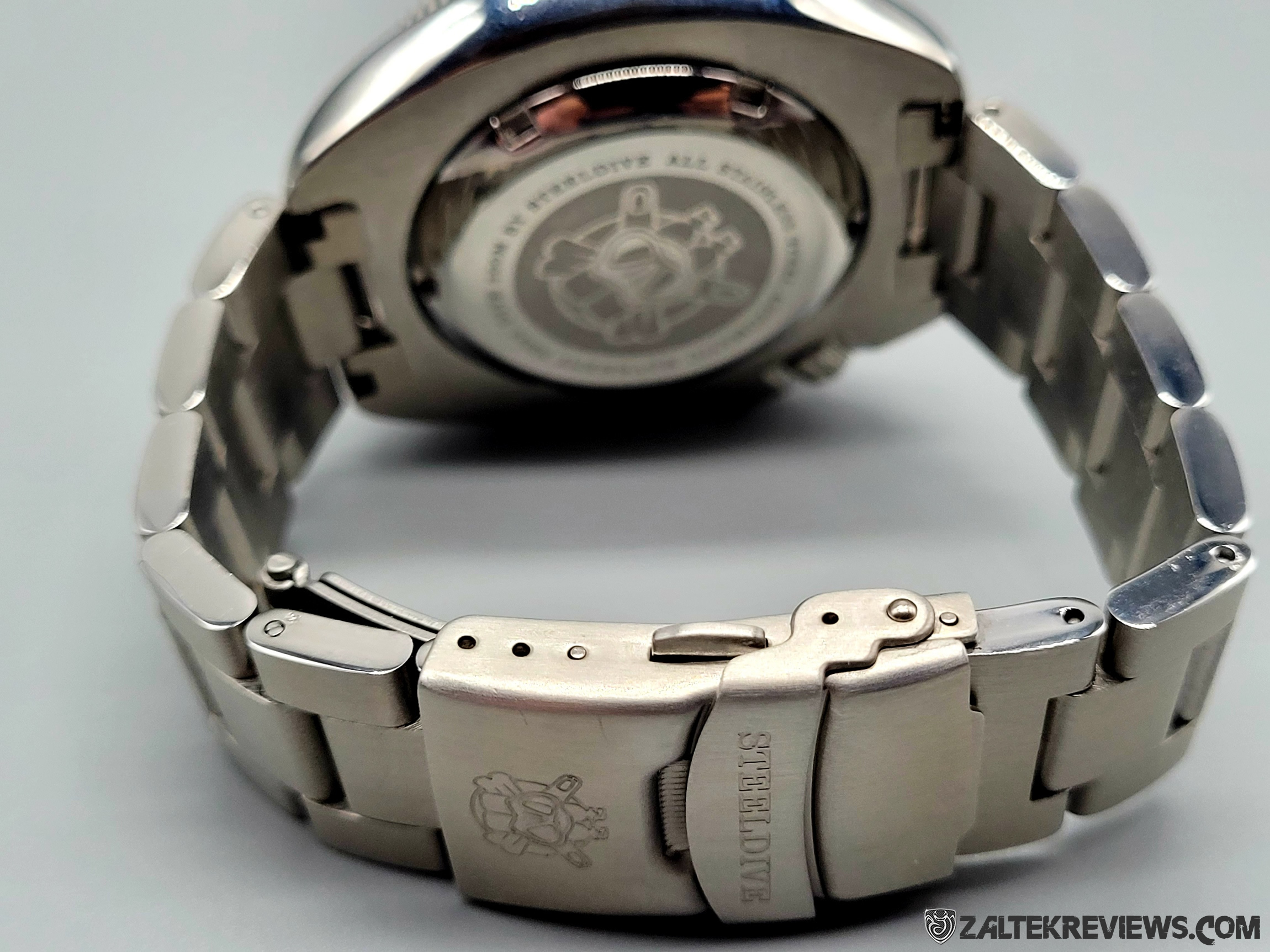 The movement selected for the Steeldive SD1970 is the microbrand go-to movement of choice, the super reliable SII NH35 manufactured by Seiko. The SII NH35 is a fantastic workhorse with 21,600vph, 3Hz, 24 jewel automatic movement with a 41hr power reserve, self winding and of course hacking. Checking the accuracy after running the Capt Willard for almost a fortnight, mainly on wrist and occasionally in my watch winder, I thought the accuracy was pretty bloody awesome, with it showing an average of just +1.2 seconds per day. That's fuckin' excellent and a result that really took me by surprise.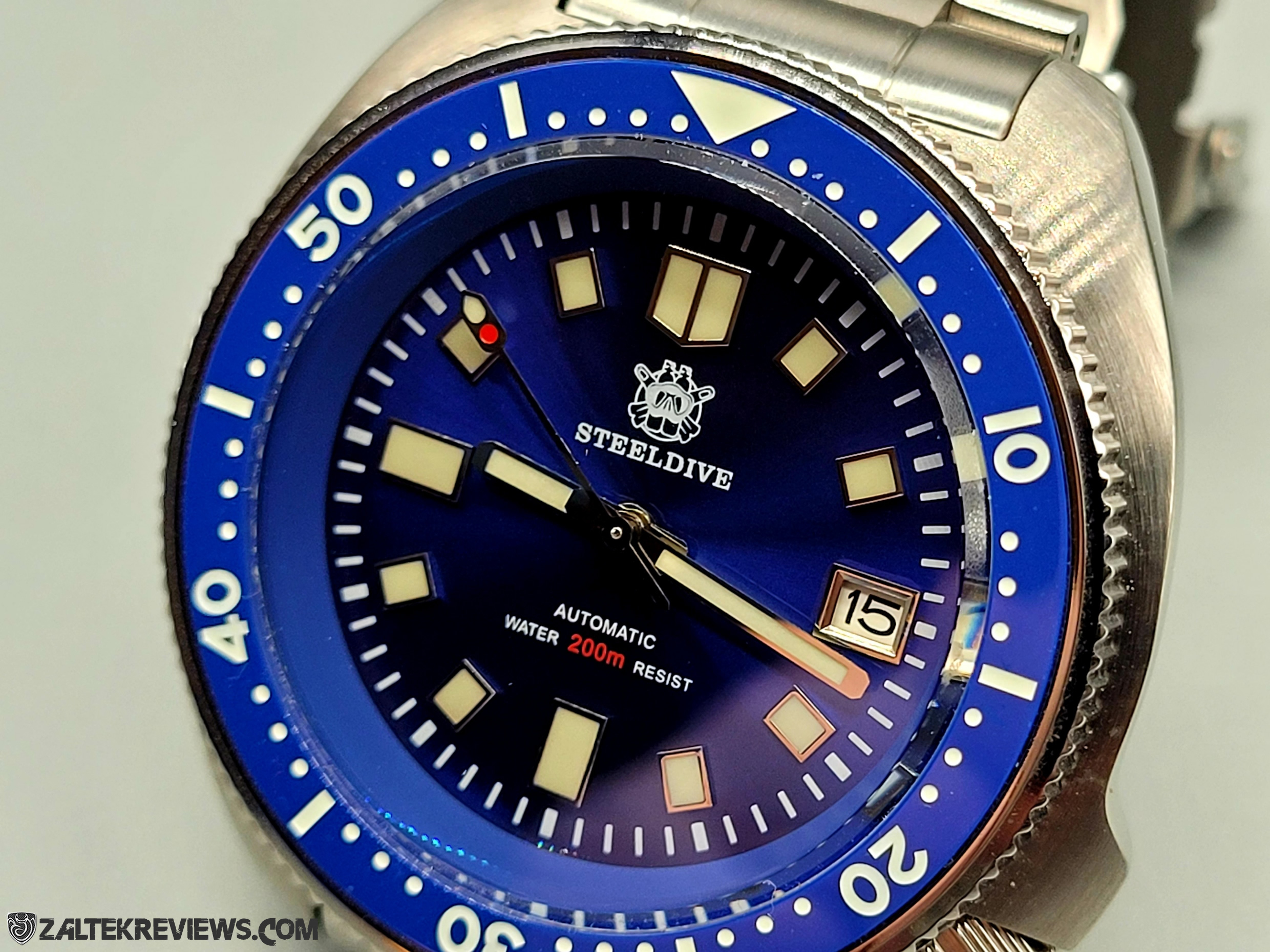 The Steeldive SD1970 has a 120 click unidirectional bezel, with a fully lumed ceramic insert. It's all of great quality with everything lining up just as it should (take note Seiko, your QC is shite!). The bezel action is also great, not too slack, nor too tight, with no backplay or wobble that I could notice. The printed text on the dial is clean & sharp, with the Steeldive logo at the usual position of just below the 12 o'clock position. Above the marker at 6 you'll find the word AUTOMATIC, with the depth rating of 200m just below, printed in both white & red. All of the hour markers are surprisingly applied, with a double marker at 12 and slightly chunkier markers at 6 & 9. There's also a nice contrasting white minute track.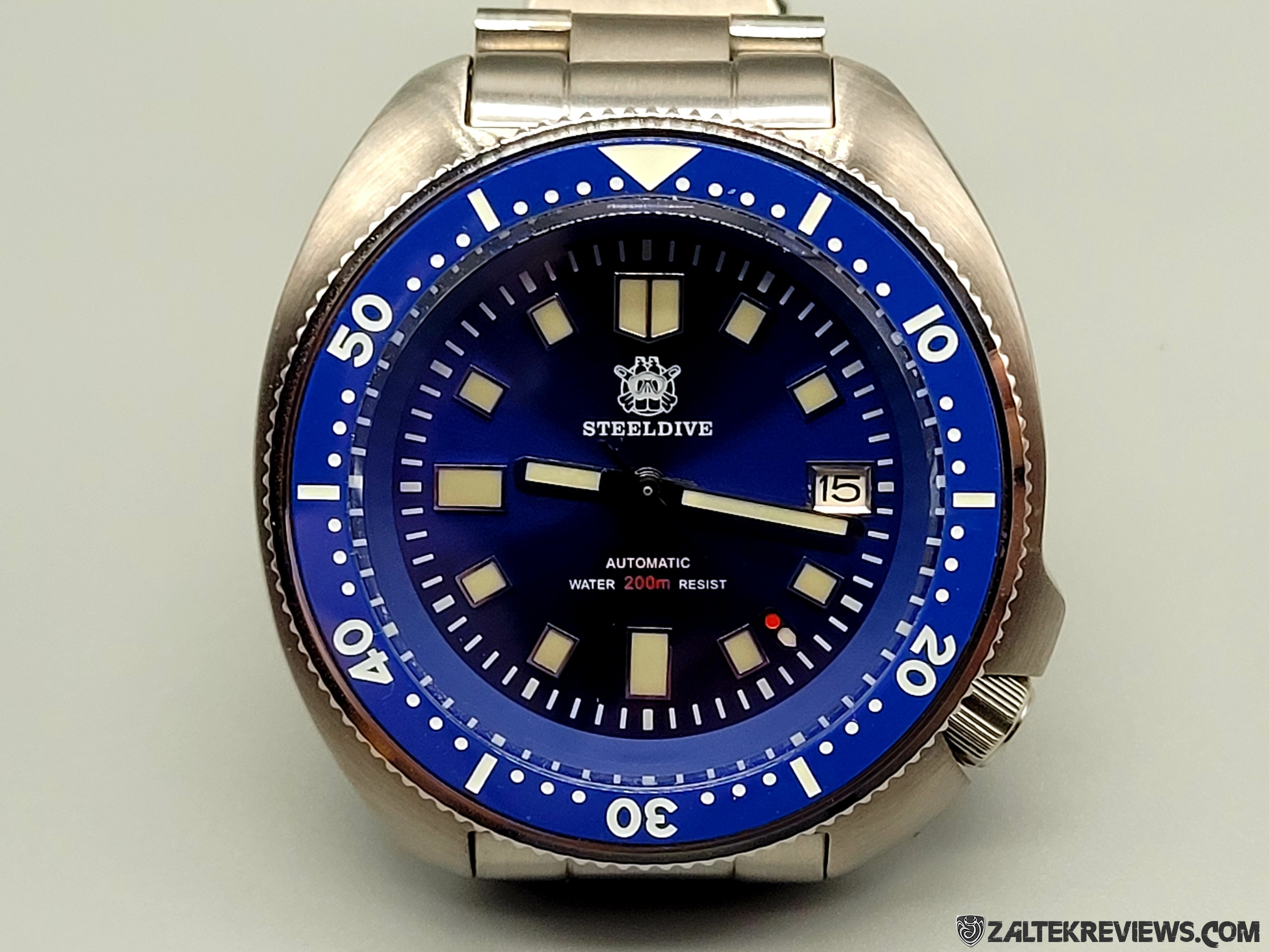 As you can see in the images, the relatively slim hour and minute hands are very nicely finished, with their proportionate  scale and overall design. The seconds hand is lovely too, with its two-tone paddle section and lumed marker. There's also the inclusion of a framed date wheel at the 3 o'clock position, with the expected black numbers on a white date wheel.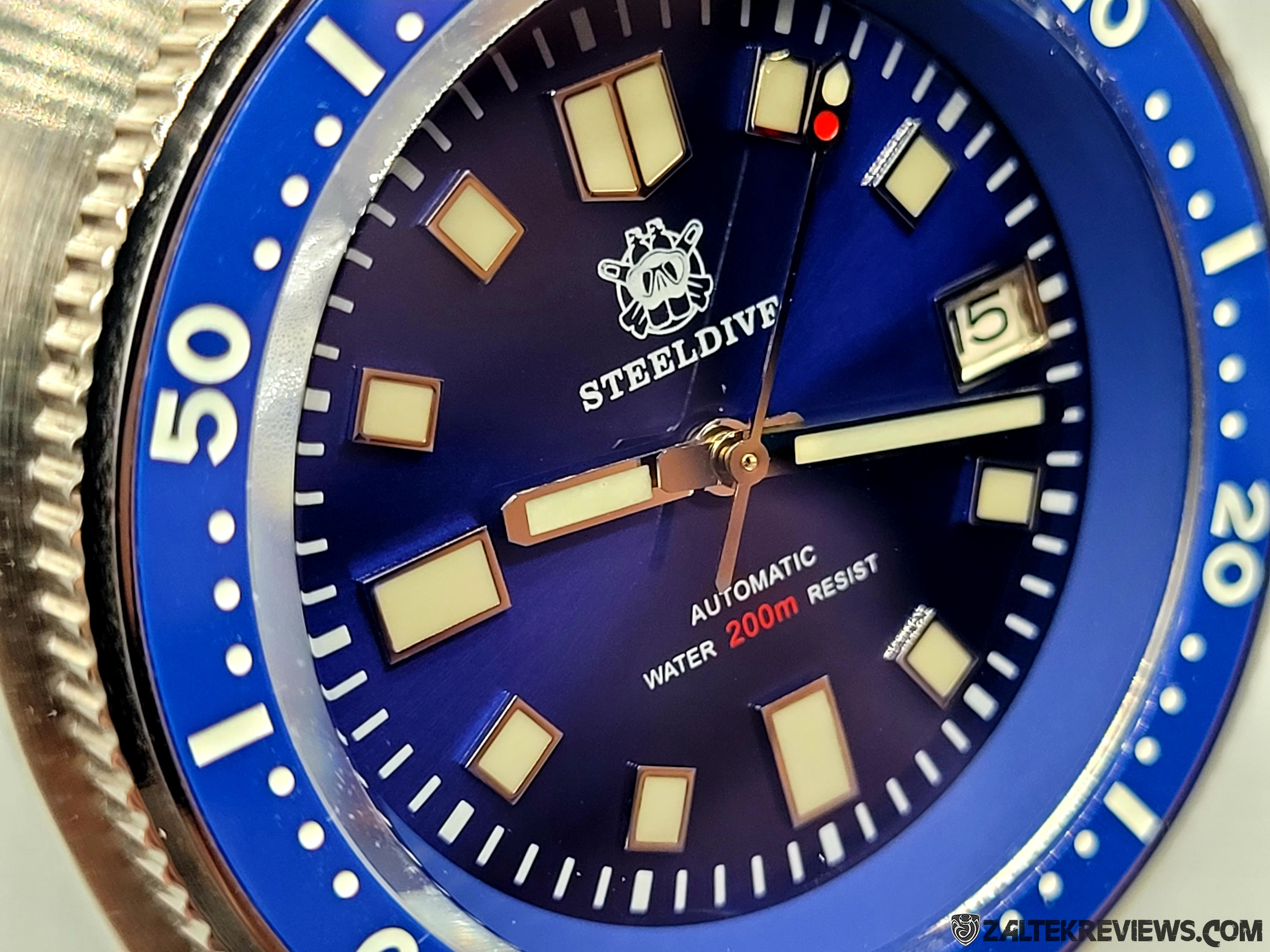 The lume of the Steeldive SD1970 is a bit of a mismatch if I'm totally honest. There is a combination of both C3 and BGW9, yet I don't think they've been applied to the same sort of level. The BGW9 used on the bezel has been done perfectly and it lasts longer than pretty much any other watch that I've reviewed. The C3 used on the markers though, is just average, and when you compare it to the lume on the bezel, it just makes the watch look inconsistant. Don't get me wrong though, the lume is actually useable and way better than what you might expect on a watch that costs just £100.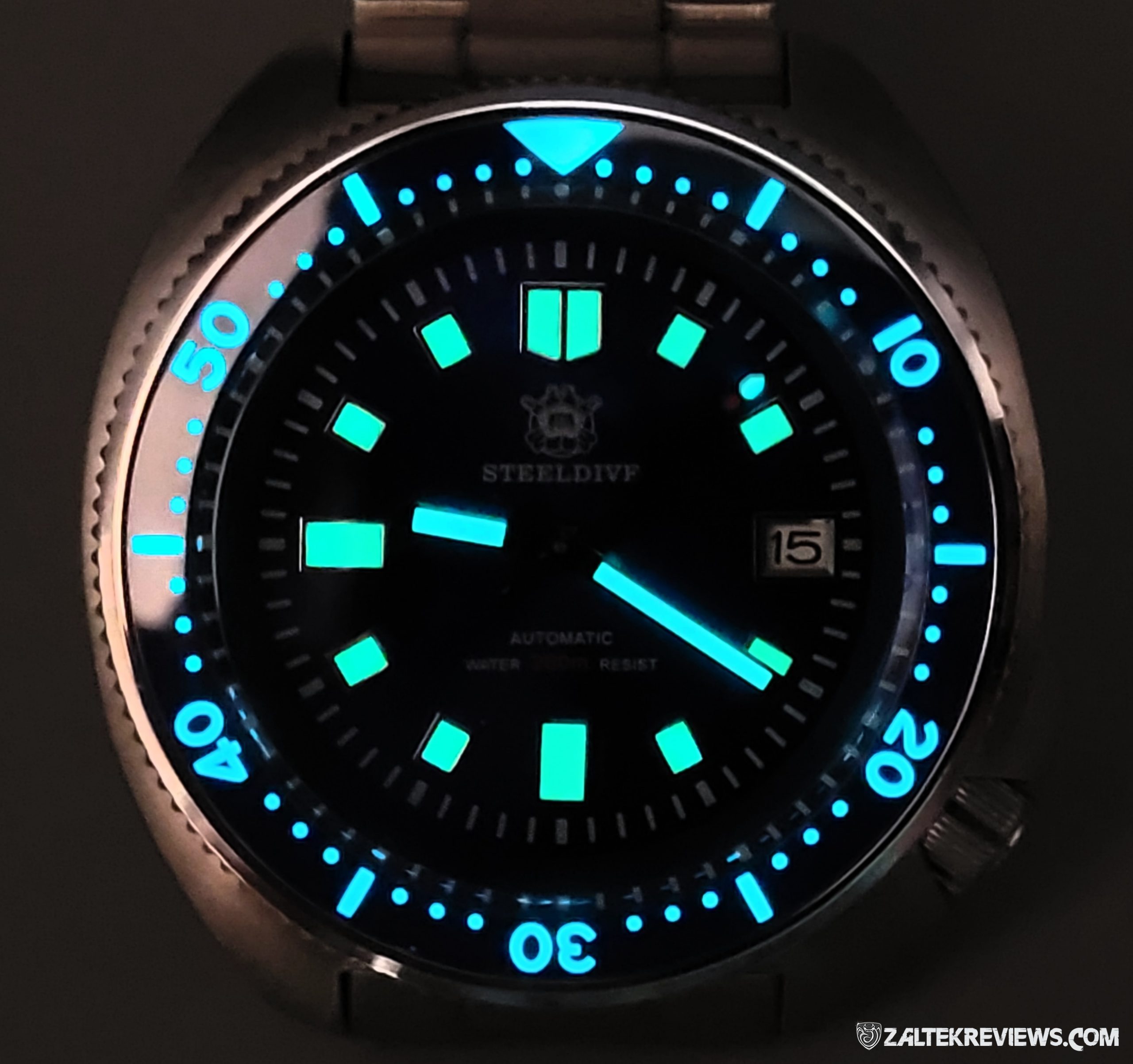 The most common question that I get asked, is normally from those that aren't even into watches yet, and that is along the lines of, "what entry level automatic watch would you recommend?" I've lost count the amount of times I've been asked that, yet my answer has changed over the years. Years ago, I would recommend the Seiko SKX, but they're pretty much gone and the new examples that do remain are just way too expensive for what you get. I also used to recommend the Mako / Ray dive watches from Orient. These are fantastic watches and are still available at a very reasonable price.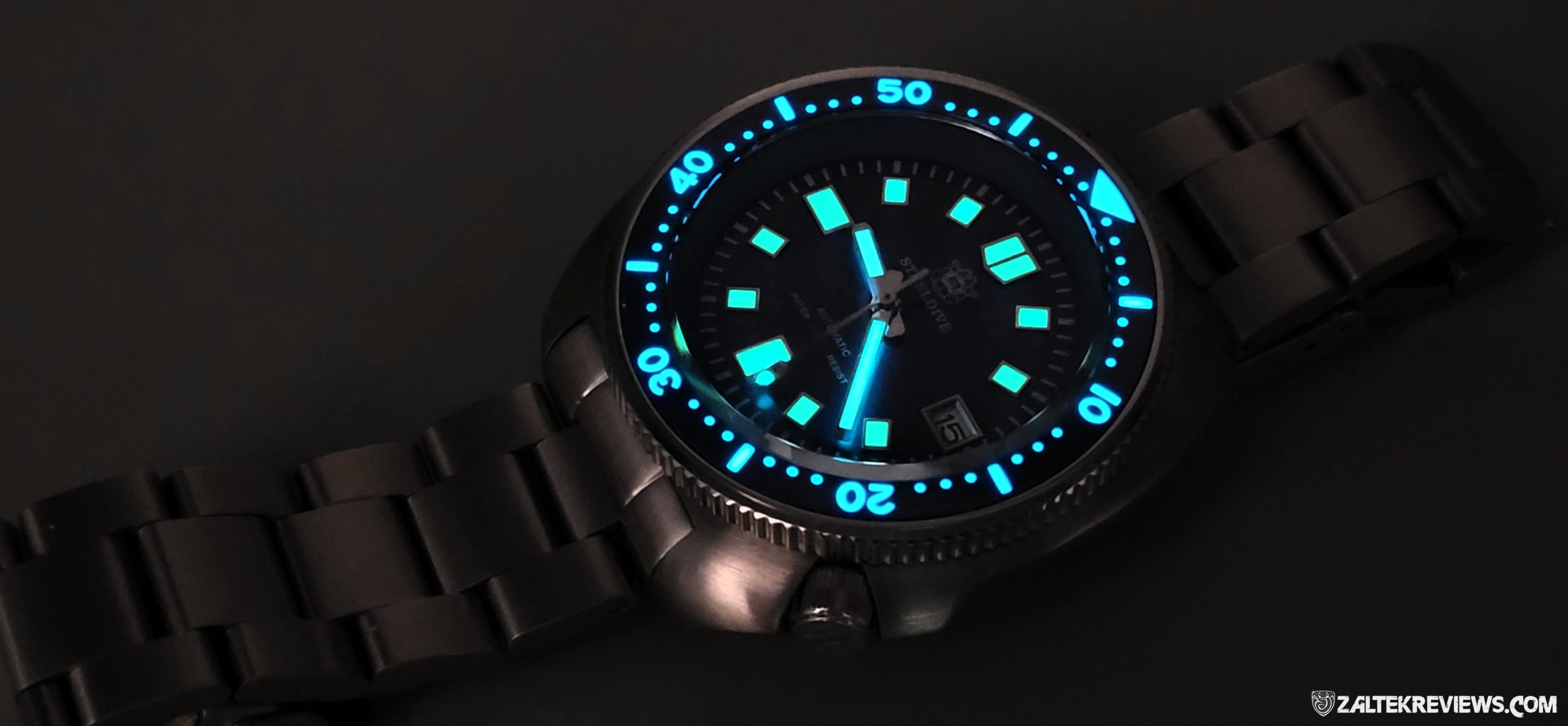 However, everything changed when I got my hands on an Islander from Long Island Watch. Spec wise and the overall value for money truly is phenomenal, with the majority of their models coming in at just $299 USD. I've been recommending these for quite a while now and I'll continue to do so, considering that the vast range and colours that are available and usually in stock. One key spanner in the works though, depending on who's asking for the recommendation and what kind of watch they're looking for, I'm going to start steering them in the direction of Steeldive UK. I am most certainly impressed and truly amazed at what can be had for the ridiculous asking price of just £100. Is this Capt Willard just a one-off though? Well, I'm certainly going to speak to Steeldive UK, to see what else I can get in for review.
A massive thanks to Matthew at Steeldive UK for sending out the SD1970 Capt Willard for review. Much appreciated. To view the Steeldive UK website, or to join their mailing list, to be informed of new models etc, visit
steeldiveuk.com
.
It takes me a fair amount of work (and time) to do these reviews, so if you feel like supporting Zaltek Reviews to help towards my running costs, or even if you feel like just buying me a coffee, then please donate using the PayPal button or QR code below. Unfortunately, 97% of my viewers/readers just scroll on by this section. If you feel like that I've given you maybe just a few quids worth of knowledge and/or entertainment, then please take just a couple of minutes of your time to donate. Thanks very much, Will Duncan – Zaltek Reviews.