Manufacturer: TSAO Baltimore | Price: $350 USD (£265 GBP, €305 EUR (approx))
I originally heard of TSAO Baltimore back in 2018, 12 months after they were founded. Their first watch, I'm led to believe, was their Founders Edition dress style watch and very nice it looks too. I've tried to buy one a while ago, but that fell through, TSAO Baltimore are also totally sold out on their website. I've additionally been trying to find one on the used market, but they are as rare as rocking horse shit💩. Alan, if you're reading this… search your stock for me please!
Anyway, fast forward a good few months, I actually backed their campaign in 2019 for the hugely popular Torsk diver and some time later in the year it arrived. However, as things go, I didn't even get the chance to review or even wear the bloody thing, as my father in-law, who is also a complete watch fanatic, fell in love with it and wouldn't stop banging on about it. So, me being the big softy that I am, I gave it to him as a present last year. To say that he loves it, is a total understatement. He still wears it today with his other watches doing nothing but collect dust in his watch box.
Anyway, enough of me bumping my gums. My history of TSAO Baltimore brings us to the present day… and when I heard that they were releasing a "chrono-diver", I reached out to Alan Tsao (the company founder) immediately, to see if he would kindly send me a review sample. Not only did Alan oblige, he sent me the "panda", my preferred choice! 👌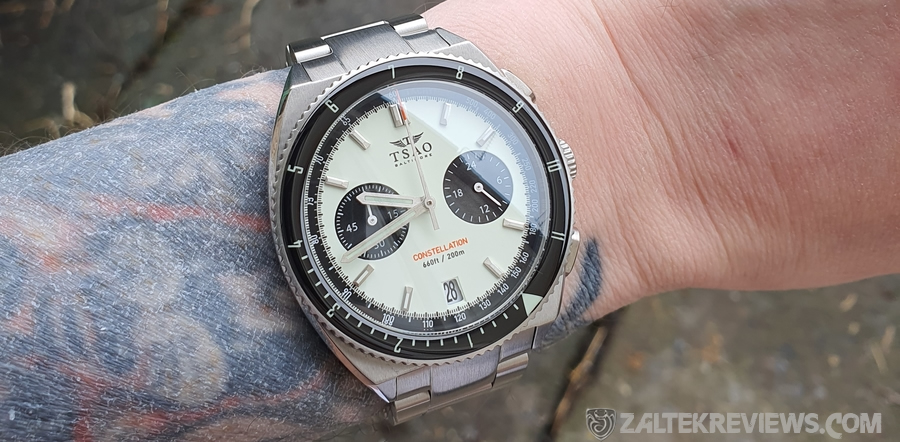 Specifications
Dimensions: Diameter – 40.5mm, Thickness – 14.4mm, Lug to Lug – 47.3mm, Lug Width – 20mm
Movement: SII VK64 MecaQuartz, 3 Year Battery, 24hr & 60min Sub DIals
Case Material: Brushed 316L Stainless Steel with Polished Accents
Bracelet: 316L Stainless Steel, Solid Links Throughout, Pin & Collar, Ratcheting Milled Clasp
Crystal: Double Domed Sapphire, Underside Anti-Reflective Coating
Bezel: 120 Click Unidirectional, 12hr Dual Time, Sapphire Insert, Fully Lumed
Water Resistance: 200m / 20ATM / 660ft
Lume: Swiss Super Luminova® C3
Crown: Screw Down, Signed, Lumed
Caseback: Screw Down, Deeply Stamped Star Insignia, Unique Serial Number
Warranty: 2 Years    Weight (Sized): 156g      Where to Buy:

TSAO Baltimore



Options: Dial – Mystic Blue, Panda, Reverse Panda, Sea Green
TSAO Baltimore - The Brand
"TSAO Baltimore LLC is a premium watch company, established in 2017. Each timepiece is proudly designed and assembled in Baltimore, Maryland. Since designing and launching our first timepiece in 2017, we have incorporated two key points. The first is our attention to detail and the quality of each piece. We strive to produce high quality timepieces using premium components and backing it with our outstanding customer service.

The second is our passion and loyalty to Baltimore. Every design plays a tribute to Baltimore and the people within it. Whether it's the design, or the story, Baltimore flows deep within the heart of each TSAO Baltimore timepiece. Our ultimate goal is to not only continue designing and assembling watches in Maryland, but to eventually manufacture them locally, as well. If you have any questions, please don't hesitate to contact us. We look forward to you joining the TSAO Baltimore family!"
The case of the TSAO Baltimore Constellation has an overall diameter of just 40.5mm. The lug to lug is 47.3mm and the overall thickness, including the double domed sapphire crystal, I measured in at 14.4mm. The entire case, caseback, bezel, crown and chrono pushers are all 316L stainless steel. The case itself also has a rather angular design which I have to admit, aesthetically, works extremely well.
You'll also notice in the images below, TSAO Baltimore took their design and incorporated polished chamfered edges that run along the sides of the case and down to a point at the edge of the lugs. The overall finish is superb and the transition between the brushing and polished chamfered edges are on point. Great attention to detail TSAO Baltimore! The overall weight of the watch, on the supplied bracelet, which is sized up for my 7″ wrist, came in at a total of 156g.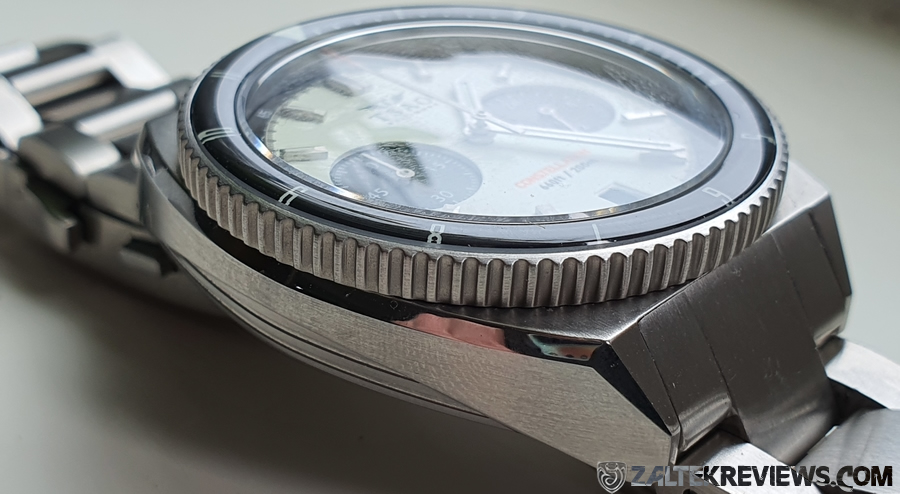 The Constellation has a water resistance rating of 200m, thanks to the screw down caseback and crown. The proportions of the watch, in my opinion, are spot on and the watch wears extremely well on wrist thanks to the relatively compact lug to lug. The whole design and dimensions of the Constellation makes for a very comfortable timepiece.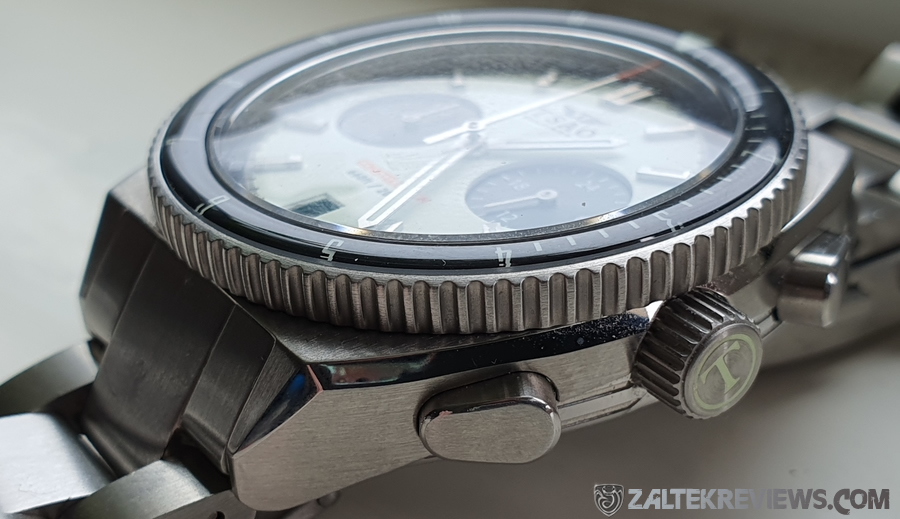 The signed crown is very nice and looks great with it's fully lumed 'T' logo. There is absolutely zero wobble either when the crown is in use and you can also feel a nice wee pop as you unscrew it. The caseback has a deeply stamped star insignia design on it that looks brilliant and there is also the usual specifications etched around the edge, as well as a welcomed unique serial number. I'm led to believe that there will be 200 of each colourway produced, but don't quote me on that.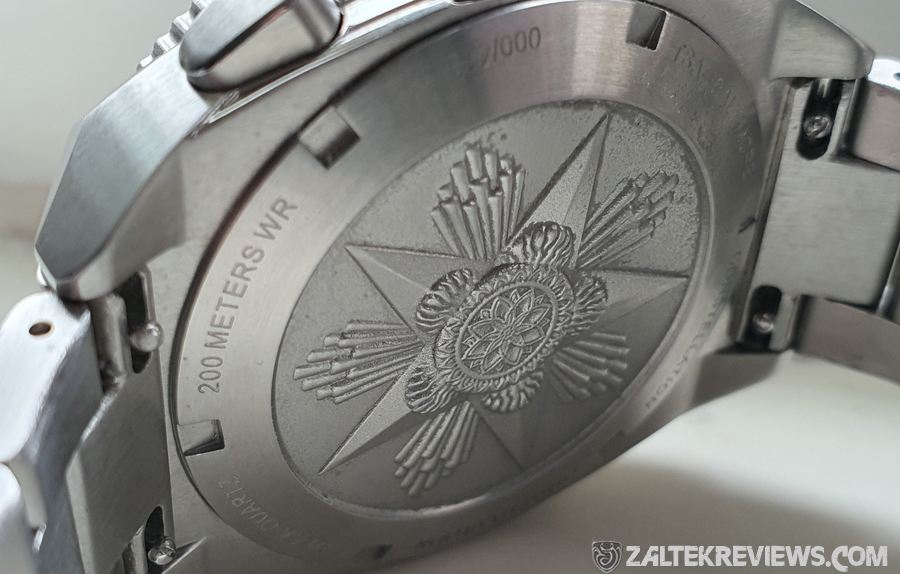 The TSAO Baltimore Constellation chrono-diver comes fitted as standard with a very nicely made 20mm stainless steel bracelet that's fitted seamlessly to the case. Seriously, the way it's fitted is outstanding and the finish is perfectly matched. All the links are solid, including the end-links, all of which, are held together with the 'dreaded' pin & collar system. No need to worry with this one though, as the actual collars are the whole width of the mid-links.
I found it very simple to resize, took me less than 5 minutes and there was no swearing involved. The clasp that you can see in the image below is very nice too, fully milled, 3 micro-adjustment holes, a ratcheting extension as well as being signed with the company logo. You'll also find very nicely done wee chamfered edges on each side of the clasp.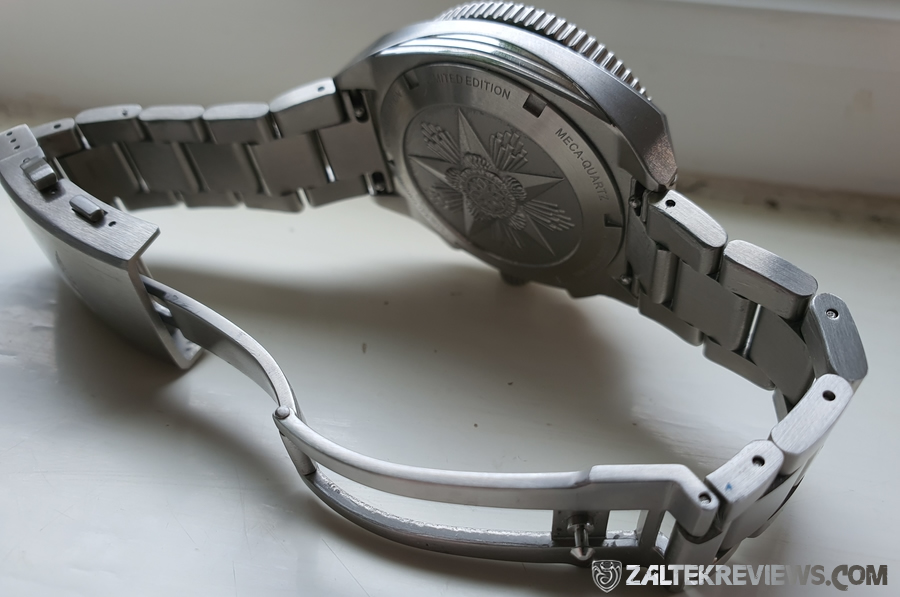 The Seiko SII VK64 that's used in the TSAO Baltimore Constellation is part of the hybrid mechanical quartz (mecaquartz) movement line. It is a chronograph movement that uses quartz technology for the main functions of the watch, and a mechanical module for operating the chronograph. Seiko states that the expected accuracy of this movement is less than +/- 20 seconds per month! The battery life is around 3 years with normal operation / average usage. For more information on mecaquartz movements, head over to Caliber Corner.
The Constellation has a 120 click unidirectional coin-edge bezel with a fully lumed sapphire insert. It is of very good quality with everything lining up perfectly. The bezel action is very nice too, smooth yet precise with no backplay. TSAO Baltimore also made the decision to go with a 12 hour dual time insert, which is much more useful for every day use in my opinion, than the normal diving bezel.
I think that this was a great decision and not just doing what everyone else does. The orange text on the dial that's printed is the word CONSTELLATION with the depth rating of 660ft/200m done in black just beneath. The company logo is also printed and is situated at the usual position of just under the 12 position.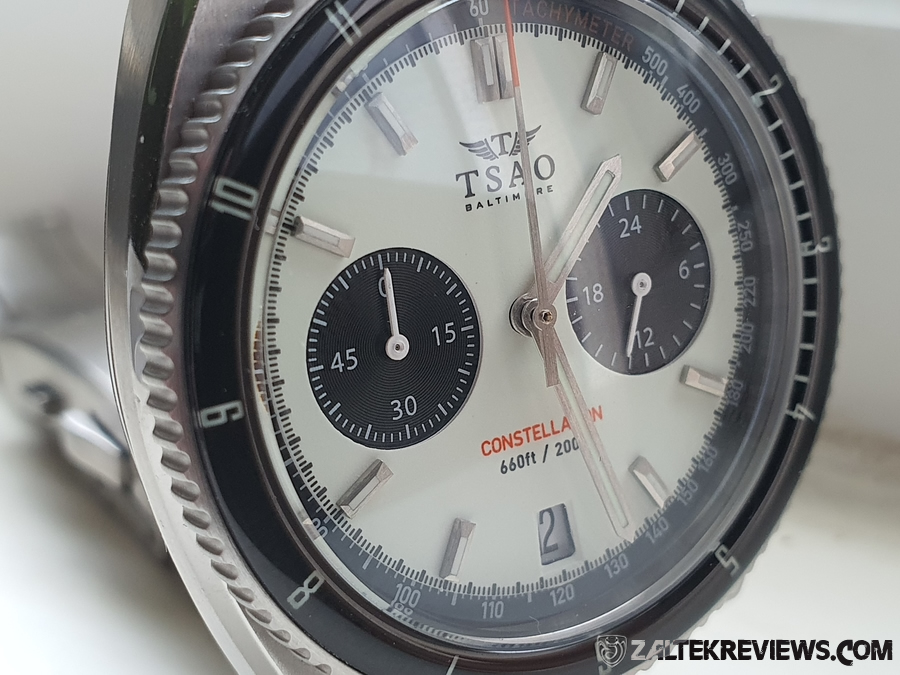 As you can see in the images, the hour and minute hands are nicely done and finished in brushed silver. The matching chronograph hand is silver too, with an orange tip that matches the orange printing on the dial. There is also a borderless date window down at my preferred position of just above the 6 o'clock position, which looks fantastic, and did I mention that it's colour-matched? Well it is on the panda version! I'll take that! Seriously though, it's a shame that TSAO Baltimore haven't colour matched the date wheels on the other models, but I suppose you can't have everything.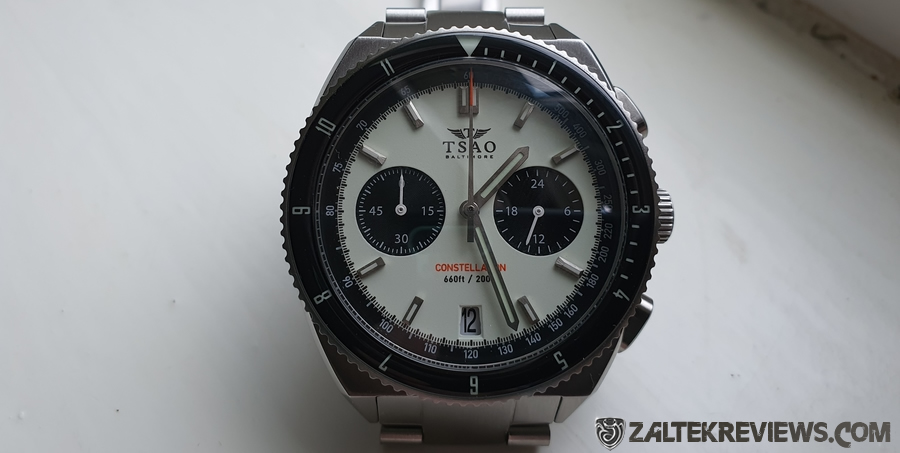 The lume on the Constellation is nicely done, on both the bezel insert and of course the fully lumed dial on this panda version. The lume that's been applied is Swiss Super Luminova® C3. Another nice little added extra is TSAO Baltimore decided to lume their logo on the screw down crown. Sweet! Loving that attention to detail! As for the performance of the lume itself, it's bright at first, but it does fade quite a lot over time. I still find it legible though half way through the night.
As you've probably guessed from my small introduction to this review, is that I might come across as a bit of a TSAO Baltimore fanboy. I've tried to get my hands on their first model, I backed their Kickstarter campaign for their second model and here we are with a prototype of their latest model sat on my desk while I write this review.
So you might come to a assumption before I've even finished writing my conclusion that I probably like the TSAO Baltimore Constellation. Wrong! I don't like it at all, I absolutely love it!! I will be honest though, it's only the panda version that really grabs my attention, it just works for me.
Don't get me wrong though, the real-world pictures that I've seen of the other models look equally good, with their lumed sub-dials etc… however, it's just a personal taste thing that I can't explain. The panda just does it for me. Probably the worst part of being a watch enthusiast and reviewer though, is that occasionally something very nice comes along and it just screams, "buy me, I belong on your wrist!" Well, guys n' girls, this is one of those times. (again). 😭
TSAO Baltimore – Great job! An excellent value, very comfortable 'chrono-diver' with superb fit & finish.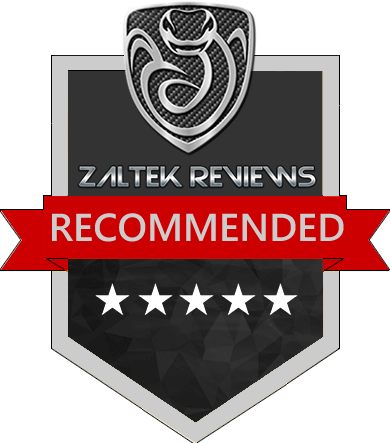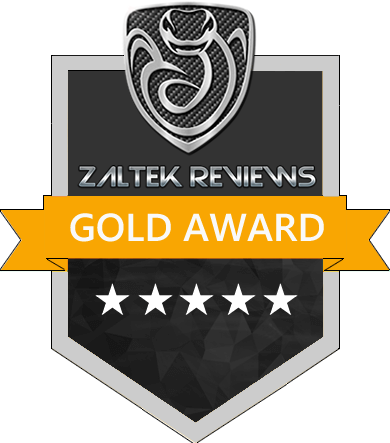 9.7/10 - HIGHLY RECOMMENDED!
A massive thank you to Alan for sending me the Constellation out for review so quickly. Very much appreciated!
To view the TSAO Baltimore website, or to join their mailing list to be informed of new models etc, visit
TSAO Baltimore
.
Follow Zaltek Reviews on
Instagram
and
Facebook
and please feel free to join our Facebook group
WatchChat
, a busy community for watch enthusiasts and collectors, with tons of images and in-depth discussions.
At Zaltek Reviews, we encourage the companies whose watches we've reviewed to comment on our articles. We invite any company representatives to respond in the comments section below. Thanks very much.