Manufacturer:

VARIO

| Price: £220 GBP ($295 USD, €245 EUR)
Having been in the Army (Infantry) myself for 12 years, I had an instant connection with the VARIO 1918 Trench Watch as soon as I clapped my eyes on it. It's not that I'm anywhere near old enough to have served during either World War, I have however, stood in many a soaking wet miserable trench, freezing my bollocks off during my days. When I was in the Army, the timepieces that I wore, were either an issued G1098 quartz, or a basic no-frills, black plastic 1st Gen Casio G-Shock.
Looking back and thinking about the G10 quartz piece, it was really small and compared to the watches that I wear and review these days, it was, to be honest, fifty shades of shite! Although, credit where it's due, it did do it's job flawlessly. Fast forward to 2020, VARIO are giving us a homage to the first wristwatches circa the First World War. Still maintaining the similar tool-watch aesthetic of 1918, but brought bang up to date and into the modern era of the 21st century.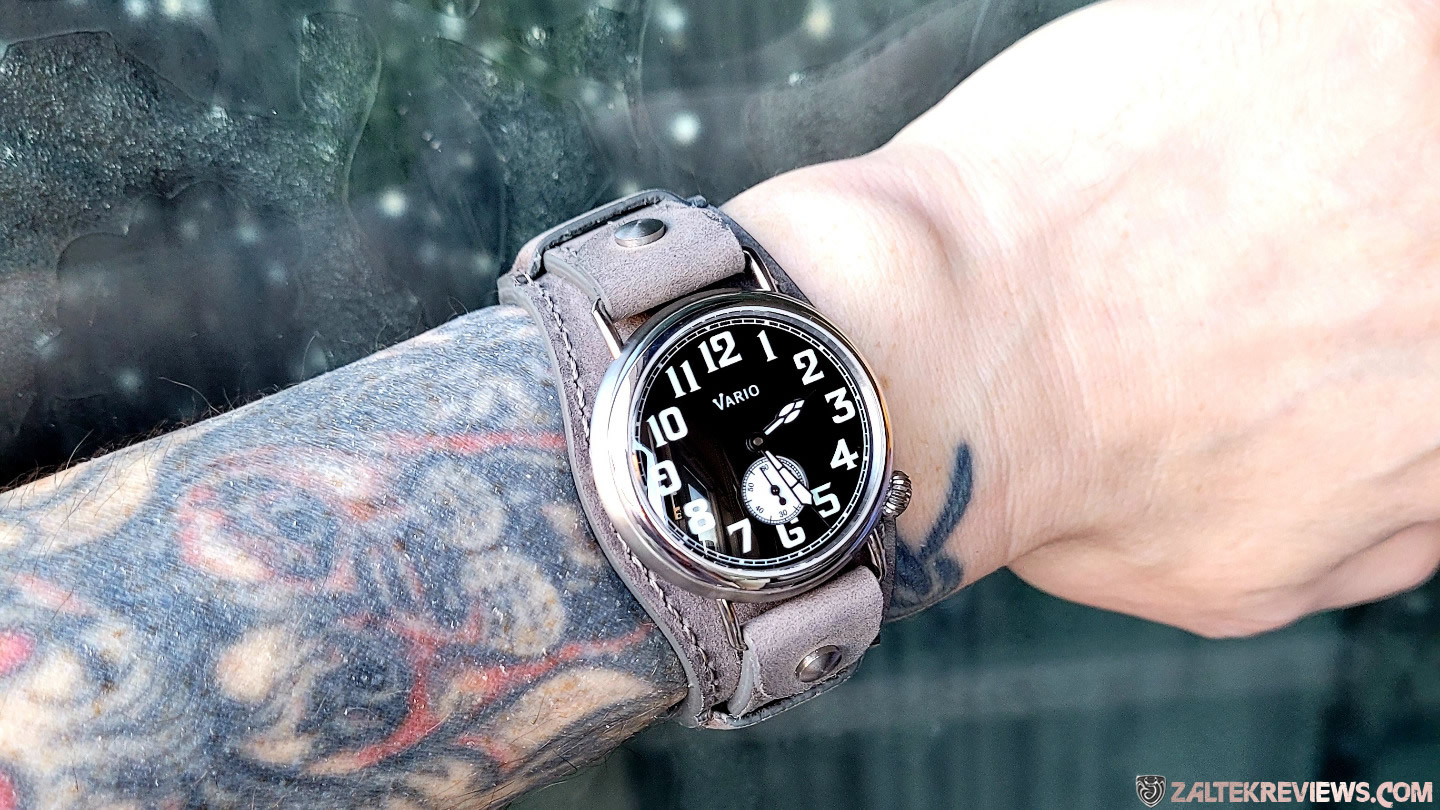 Specifications – VARIO 1918 WW1 Trench
Dimensions: Diameter – 36.9mm, Thickness – 11.4mm, Lug to Lug – 44.3mm, Lug Width – 18mm
Movement: Miyota 82S5, 21,600vph, 3Hz, Hackable, Hand Winding, 42hr Power Reserve
Case Material: Brushed 316L Stainless Steel with Polished Accents
Dial & Hands: Enamel, Printed Arabics, Cathedral Hands, Two Hands/Small Second
Strap: Crazy Horse Leather with Bund Pad
Crystal: Double Domed Sapphire, Underside Anti-Reflective Coating
Bezel: Fixed, Polished        Crown: Screw Down, Signed     
Lume: Swiss Super Luminova® C3
Water Resistance: 100m / 10ATM / 330ft
Caseback: Solid, Screw Down        Weight: 70g (Including Strap)
Optional Extras: Personalised Engraving, Sapphire Exhibition Display Caseback
Where to Buy:

VARIO

       Warranty: 1 Year
VARIO 1918 WW1 Trench Dial Options
VARIO - A Brief Introduction
"VARIO is an online store for watches and watch accessories that allows you to vary and expand your unique style and grow your personal watch and accessories collection. Our brand is about variation and striking the balance between sophistication, quality, and fun. As we all know, there is no better statement of your sophistication than a smart looking wrist watch. However, sometimes the watch strap might fail to live up to your image that you have for yourself. My watch designing journey began when I couldn't find a watch strap that shouts out my personality and thus VARIO was born in 2016.

We believe that quality products with timeless designs can be exclusive and affordable too. Most of our products are proudly designed in Singapore and we work with the best manufacturing partners to bring that high calibre adding something unique to your look. These small touches show you like putting effort into the little things, which can say a lot about you! All of our watch models are released one at a time, with small production runs so they all receive the attention they deserve. As such, your VARIO timepiece will always be a limited edition piece and we will stand behind each and every one we've made."
The case of the VARIO 1918 Trench has a total diameter of 36.9mm. The lug to lug is 44.3mm and the overall thickness, including the 2mm thick, double domed sapphire crystal, I measured in at a rather impressive 11.4mm. The entire case, wire lugs, caseback, fixed bezel and crown are all 316L stainless steel. The finishing of the watch is mostly brushed with the addition of tastefully done polished wired lugs and fixed bezel. All colourways of the 1918 Trench have an impressive water resistance rating of 100m, thanks to the great build quality and inclusion of a screw down caseback & crown.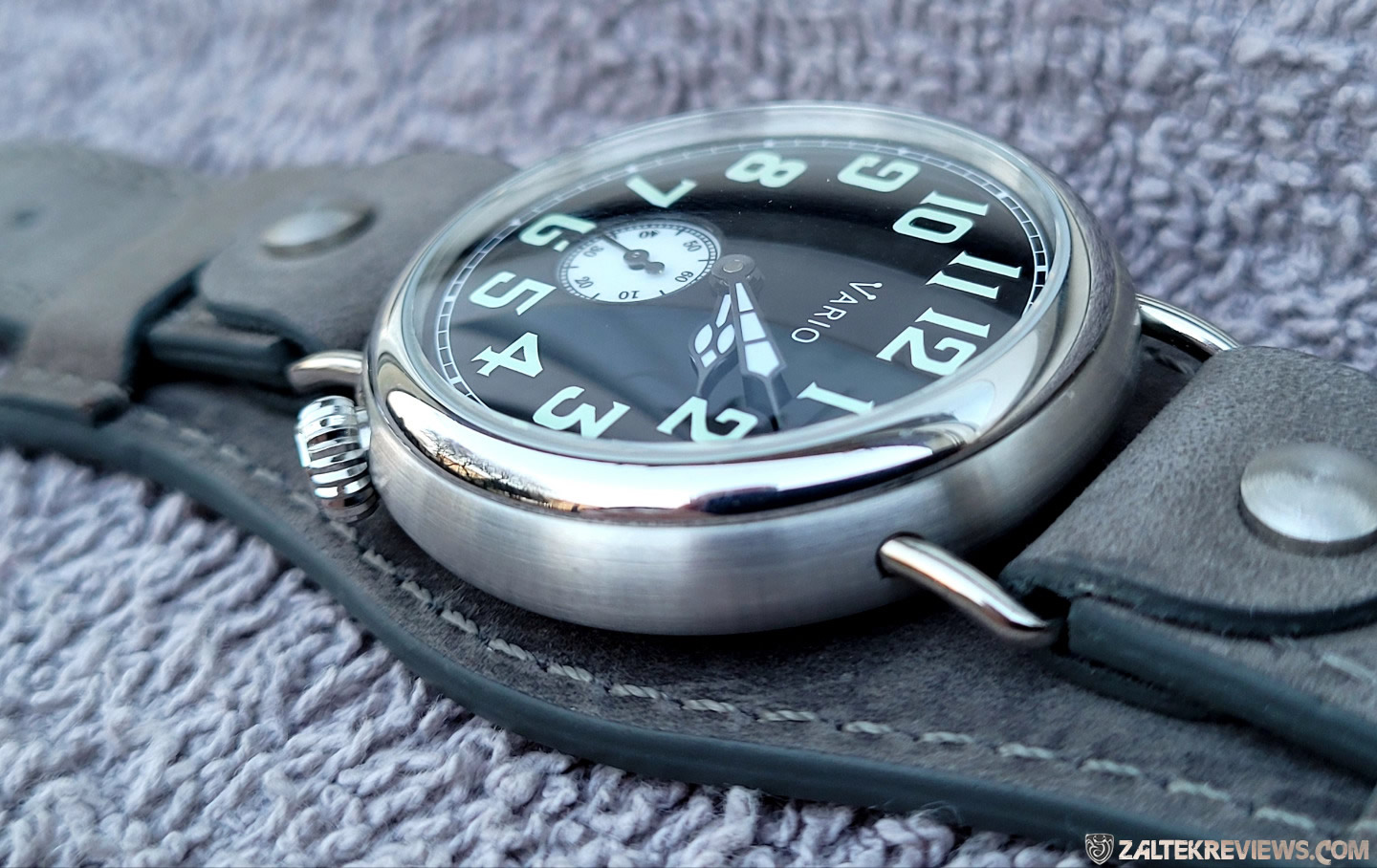 The proportions of the watch are fabulous too! It fits and conforms to the wrist perfectly, all down to the downward slope of the wired-lugs, the fantastic strap and the overall tip to tip length of just over 44mm. The signed screwdown crown is also very nicely executed, with plenty of grip and zero wobble when in use. VARIO are also offering an optional personalised engraving service for the solid caseback, although at an additional cost of just £17.00 GBP. At the same price, VARIO also offer an exhibition display caseback, with sapphire crystal. What a bloody bargain!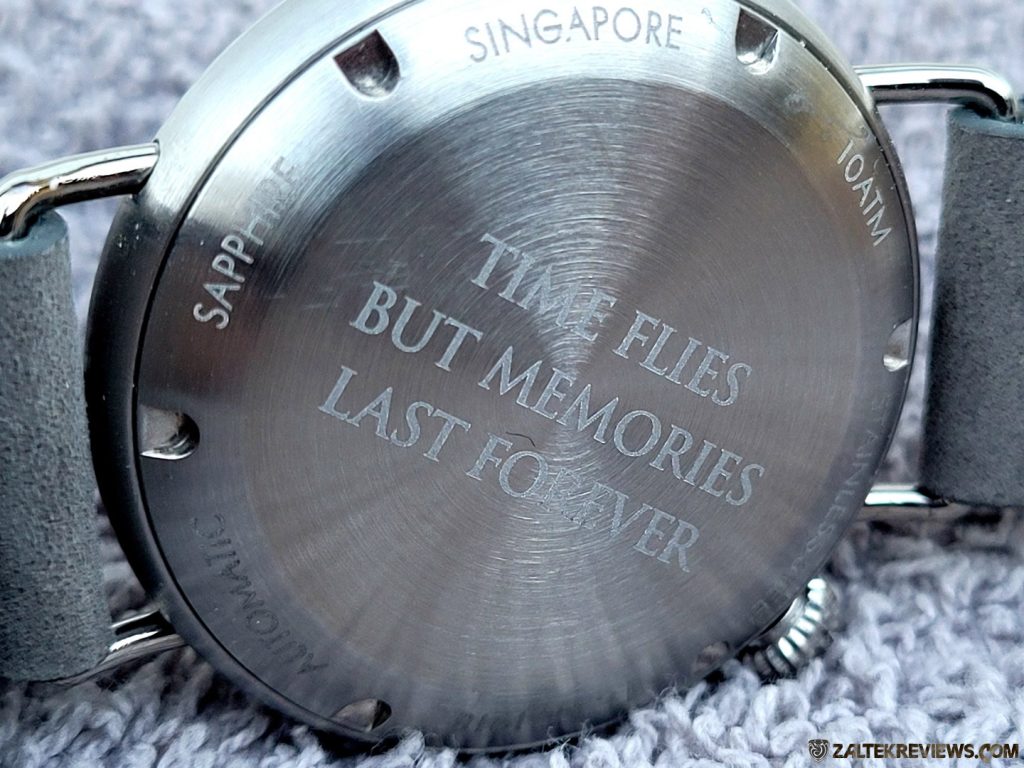 In my opinion, this is where the VARIO 1918 Trench really excels in its design, with this fantastically manufactured strap. I've never owned, or experienced a strap with a bund pad before. Sure, I've seen them, but I've always avoided them, thinking that they would be rather uncomfortable. Jesus, how wrong was I?! As most us watch enthusiasts will probably be aware, VARIO started out in the industry as a watch strap manufacturer, before heading into the actual production side of things with their own watch models. These straps are a fantastic testament to VARIO, as they certainly know what they are doing when it comes to producing high quality, comfortable and very wearable straps.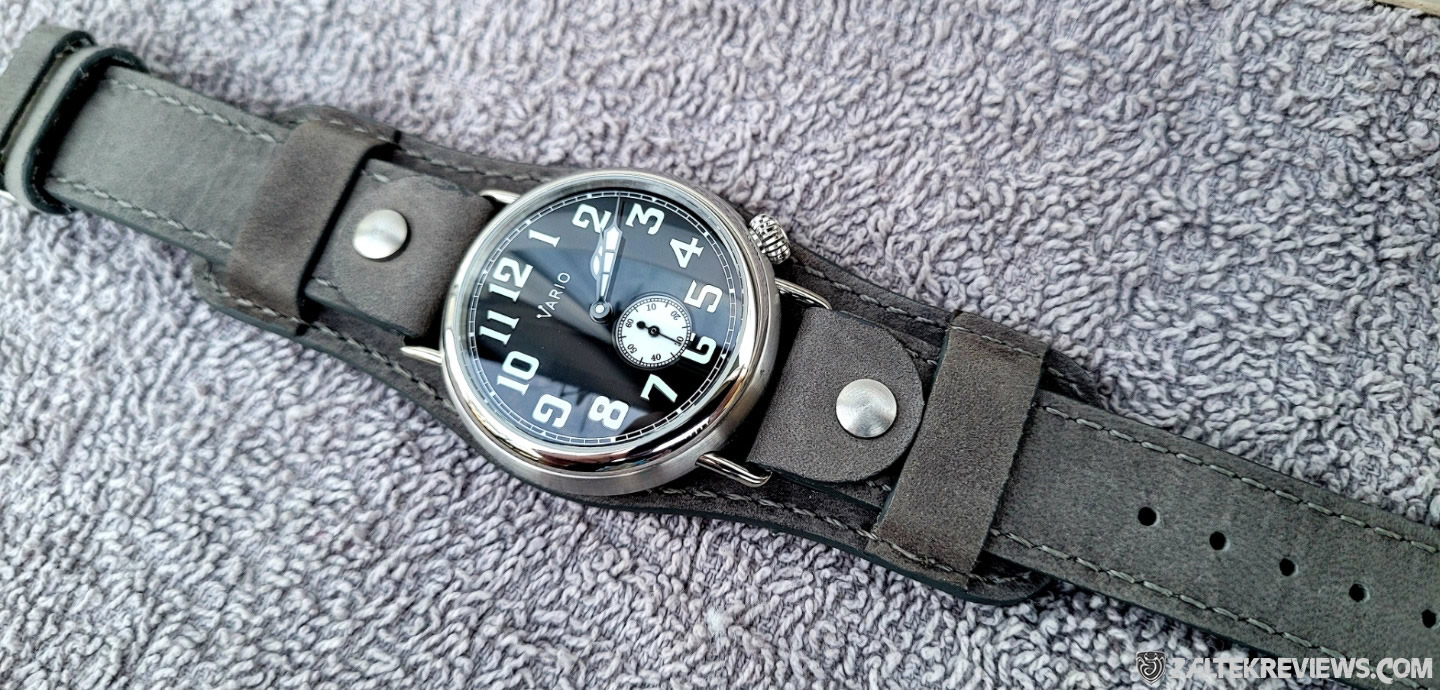 There is a huge array of different strap options when ordering your VARIO 1918 Trench, like a single-pass NATO strap for example. Personally, I wouldn't waste my time with those, get one of these bund straps instead, they really do make the watch stand out and are very comfortable. There are plenty of colour options too, as you can see in the image below… My favourite one, being the grey one. Luckily enough, it's the one they sent me. Sweet!
The chosen movement for the VARIO 1918 Trench is the Miyota 82S5 movement, from the 8215/821A series. This Miyota movement is a slim Japanese made 21,600vph, 21 jewel caliber, often compared to that of a basket of fuckin' kittens within the watch community, due to the bloody racket the 8 series makes while in operation.
It is possible to hear it, but due to the decent quality of the VARIO, it isn't as bad as other watches I could mention with the same movement. Anyway, moving on… power reserve is great at 42 hrs and Miyota claim that the 82S5 offers an accuracy of -20/+40spd, measured within 10-60 mins after a full wind. For a full wind, you're looking at about 35 turns.
The VARIO 1918 Trench has a totally fixed bezel with a fully polished finish, which is of very good all-round quality. The  printed text on the dial is only the VARIO logo and it's placed at the usual position of just under the 12 o'clock position. All of the arabics are also printed, along with a white contrasting railroad style minute track around the edge of the dial.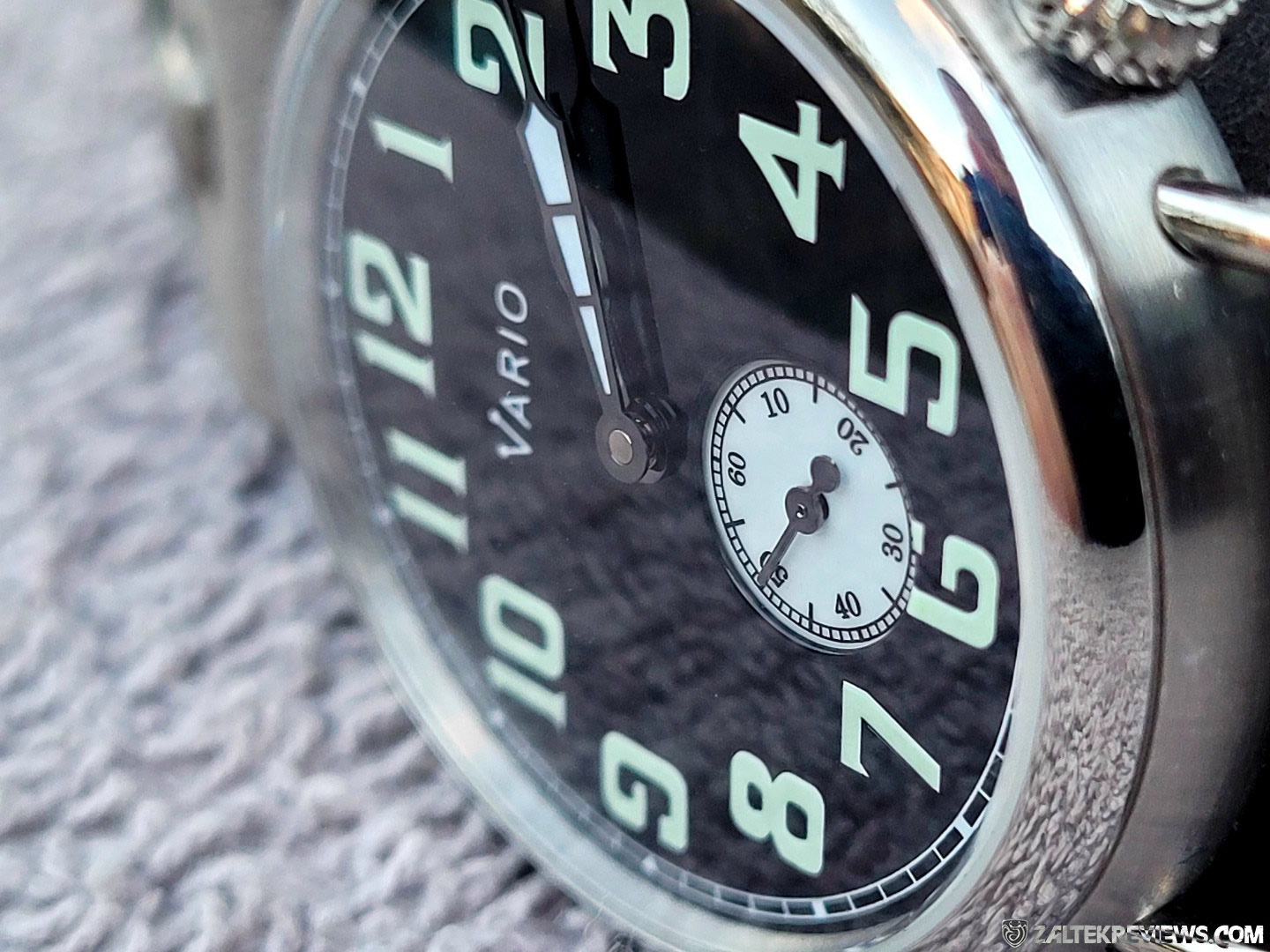 As you can see in the images, the cathedral style hour and minute hands are nicely done with their proportionate design. There's a slightly recessed small 60 seconds dial at just above the 6 o'clock position, which looks great, even if it does cut into the arabic at six slightly. Personally, I would go for the grey dial version, as I prefer the small seconds dial being colour matched to the dial. Talking of which, the enamel dials are simply gorgeous, this one being a very deep inky black.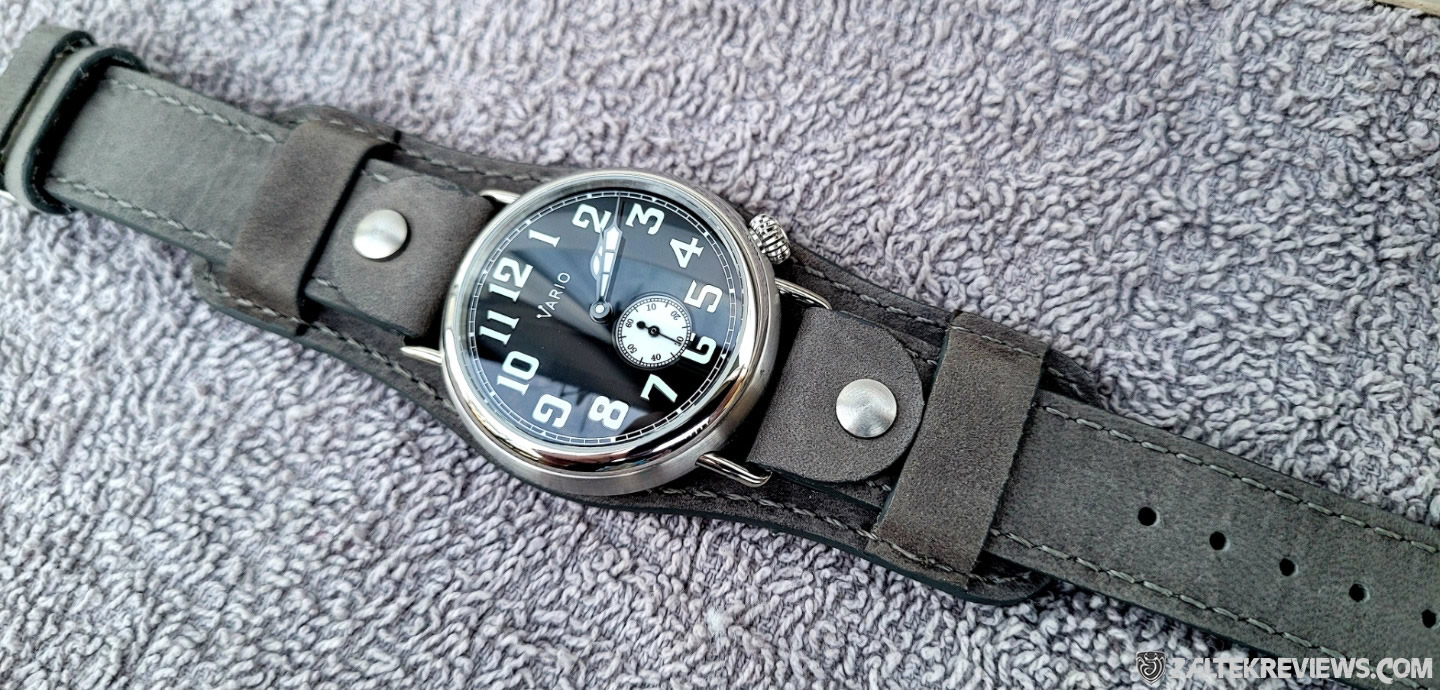 Much like the water resistance of the VARIO 1918 Trench, the lume is definetly a bit of a surprise! VARIO didn't really have to go with these levels of WR or lume on this style of watch. Don't get me wrong though, I'm certainly not complaining! When I first gave the 1918 Trench a blast of UV light a couple of days after it arrived, I was like, holy fuckin' moly, good job VARIO! The formula that's been applied to the 1918 Trench, is Swiss Super Luminova® C3, and not only has it been applied very generously and 100% perfectly, it's as bright as a friggin' divers watch! Move over Seiko, you're sacked!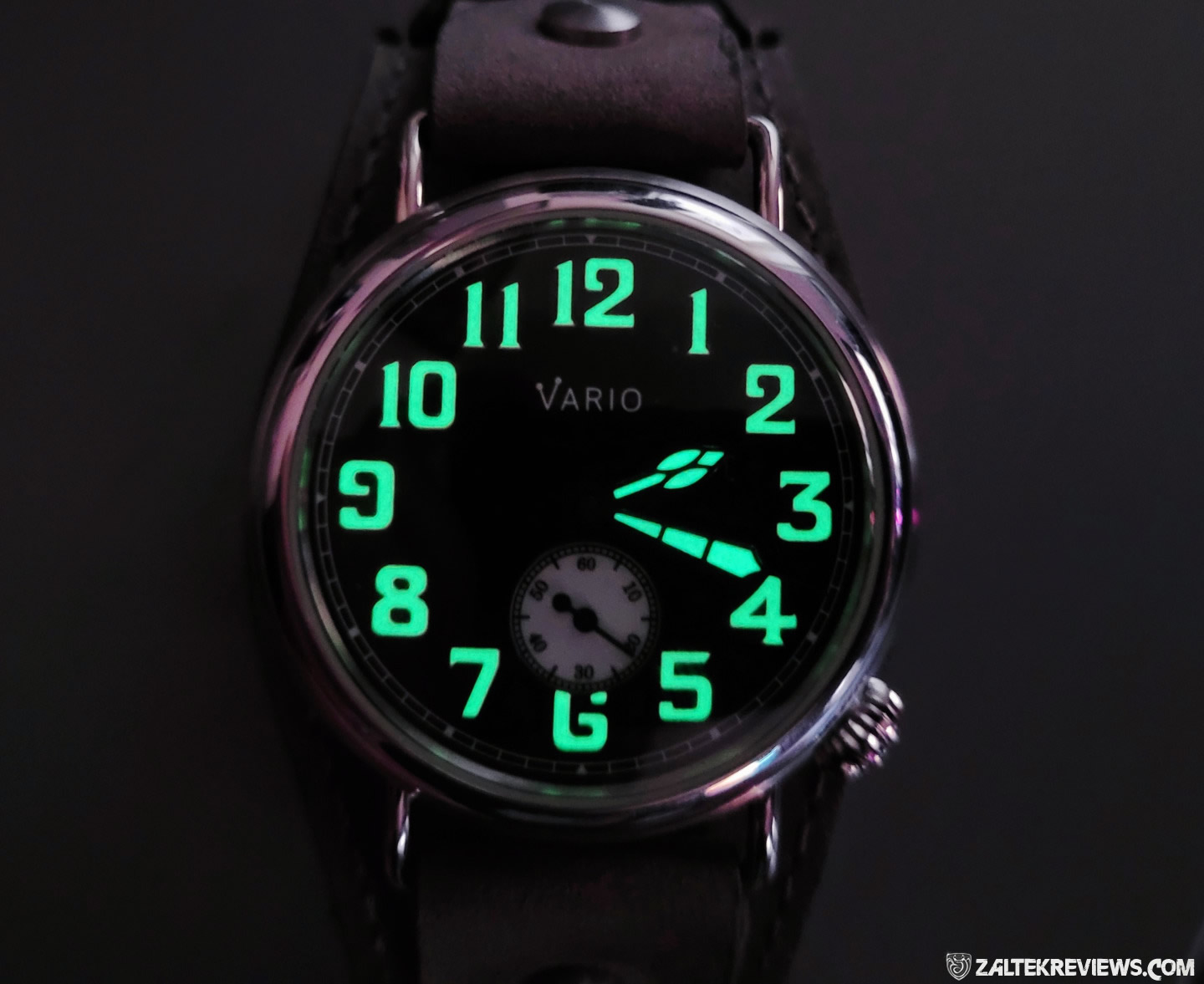 The conclusion for this 1918 Trench watch is quite an easy one to write, now that I have spent a decent amount of time with it. It's not the usual style of watch that I'd normally agree to review, but I am so glad that I did. I love the overall aesthetic and that strap is so bloody comfortable! Also, being the 100% certified lume junkie that I am, this watch really surprised me on both the lume front, as well as the rather substantial 100m water resistance. Top marks for effort!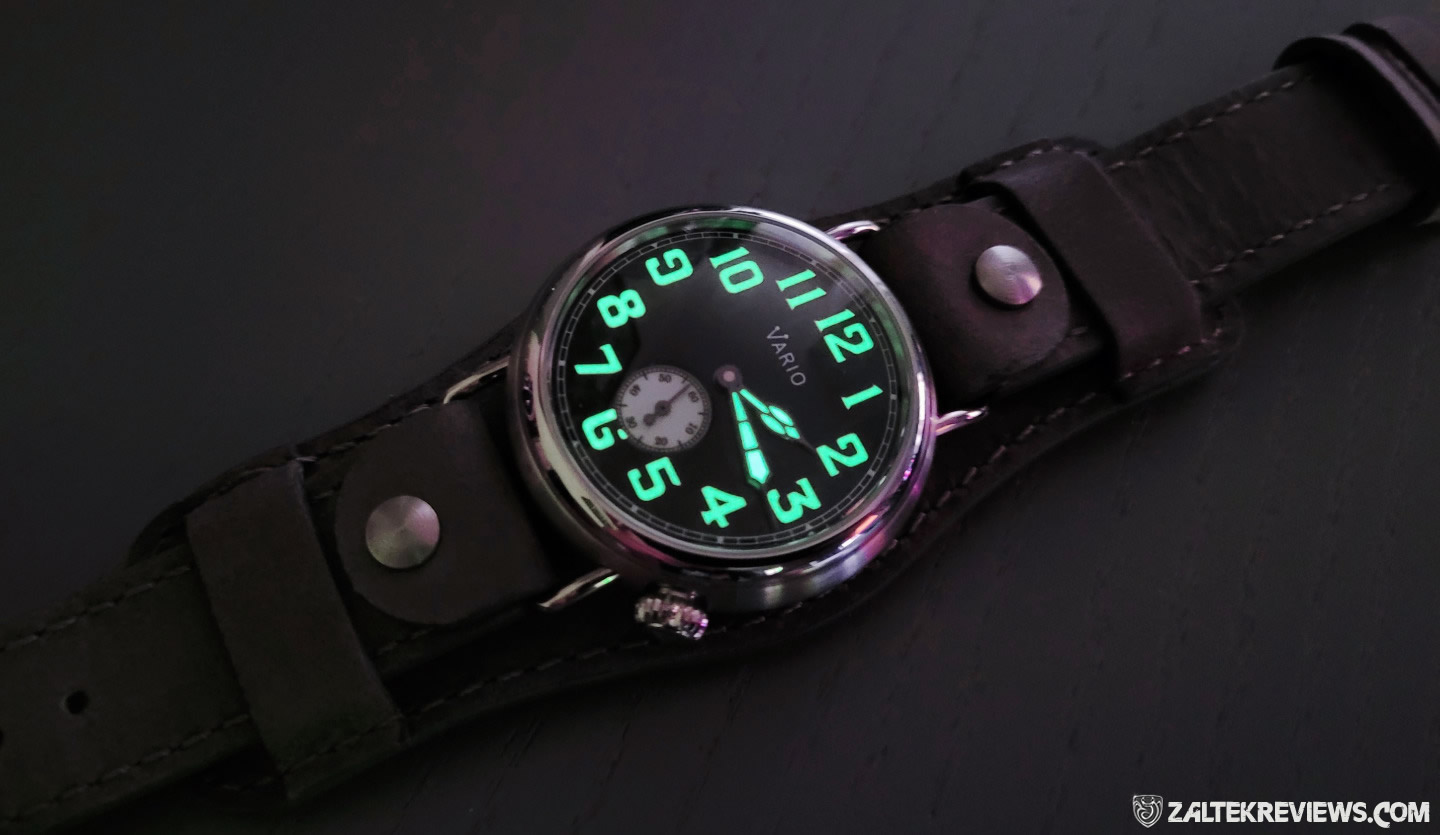 The build quality is fantastic, even if I did give it a slightly lower score below, on the quality side of things, but I'm putting that down to just the movement. The rest of it is just superb! Even my wife keeps commenting on it, saying how much she likes it. Trust me, that's a very rare occurance, she normally doesn't give a shit. I had a Rolex on earlier today and she didn't even bat an eyelid. Good job VARIO… a watch that's better looking than a Rolex! (according to the wife). 😉
VARIO – 1918 WW1 Trench; a truly fantastic watch, I love it! Now, if only that bloody movement was a wee bit quieter.
9.7/10 - HIGHLY RECOMMENDED!
A massive thanks to Ivan at VARIO for sending out the 1918 WW1 Trench Watch for review. Very much appreciated.
To view the VARIO website, or to join their mailing list to be informed of new models etc, visit
VARIO.sg
.
It takes me a fair amount of work (
and time
) to do these reviews. If you feel like supporting Zaltek Reviews to help towards my running costs, or even if you feel like just buying me a coffee, then please donate using the PayPal button below. Unfortunately, 97% of my readers just scroll by this section. If you feel like that I've given you a few quids worth of knowledge and/or entertainment, then please take just a couple of minutes of your time to donate. Thank you.
[paypal-donation purpose="Donate to Zaltek Reviews" reference="Ref:Zaltek" button_url=""]