Manufacturer: Égard Watches | Price: $550 USD (£415 GBP, €495 EUR approx)
For quite a few months I've seen more and more of these engraved bracelets and watches pop up on social media, so I thought it was about time I got one in for review. I asked Égard Watches to send me one of their Poseidons as it had the full swansong, with both the watch head and bracelet being entirely engraved. To be honest, I never checked the spec of this watch before requesting one… as I was more interested in just getting a watch with full engraving. Oops, my bad!! 🤣
*WARNING! – There will most likely be a fair amount of swearing during this review. So if you're a certified snowflake and easily offended please look here.*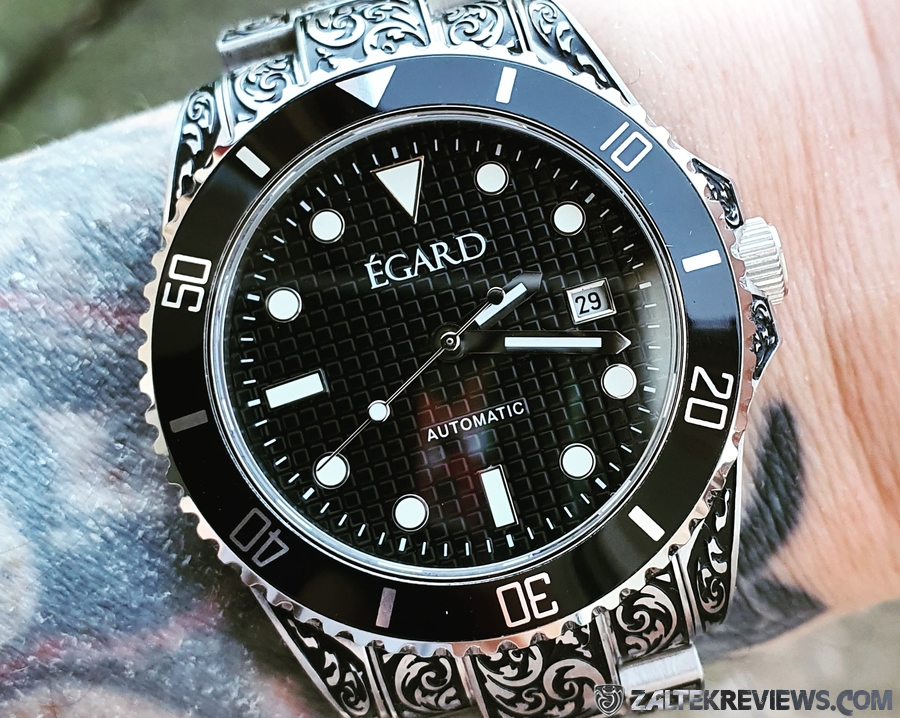 Specifications
Dimensions: Case Diameter – 41.4mm, Thickness – 12.7mm, Lug to Lug – 48.9mm, Lug Width – 22mm
Movement: Miyota 8215, Automatic, 21,600vph (3Hz), 40hr Power Reserve
Case Material: Fully Engraved 316L Stainless Steel
Bracelet: Fully Engraved 316L Stainless Steel, Solid End Links, Push Pins, Signed Pressed Clasp  
Crystal: Flat Sapphire, Underside AR Coating
Bezel: 120 Click Unidirectional, Aluminium Insert
Water Resistance: 100m / 10ATM / 330ft
Lume: Swiss Super Luminova®
Crown: Screw Down, Signed     Caseback: Screw Down
Warranty: 2 Years     Where to Buy:

Égard Watches



Options: Dial/Bezel Colour – Black, Blue | Stainless Steel – Gold, Silver | Engraving – Filigree, Octo
Égard Watches - The Company
"Égard debuted in 2012 with an intricate layered-dial design that makes a bold statement. Égard luxury timepieces are unique expressions of style and prestige, built with the highest quality movements produced in Switzerland and Japan. Life is a series of moments, many of which define us as individuals. Often, when we look back, these defining moments include someone who stood by our side when we needed them the most. In our story, that person is a father, Peter Srulovicz. His son Ilan designed his first timepiece to honor the unbreakable bond between parent and child. It was his goal to create inspiring luxury pieces that embody the depth of emotion we each feel for the person in our lives who has defined our own important moments. Ilan, a true designer, adopted only the finest technical specifications and materials. He found inspiration in his memories and his own innovative sense of style. And thus, Égard was born. Ilan and Peter work together in their Atlanta and Toronto offices to design and manufacture all of Égard's pieces.
The case of the Poseidon has a diameter of 41.4mm. The lug to lug is 48.9mm and the overall thickness, including the sapphire crystal, I measured in at a 12.7mm. The entire case, caseback, crown and bracelet are all 316L stainless steel. The finish of the watch is engraved with a rather nicely done design that is hand stained. The engraving covers most of the watch including the case, bracelet and clasp. There is also a matching design that's been done on the caseback.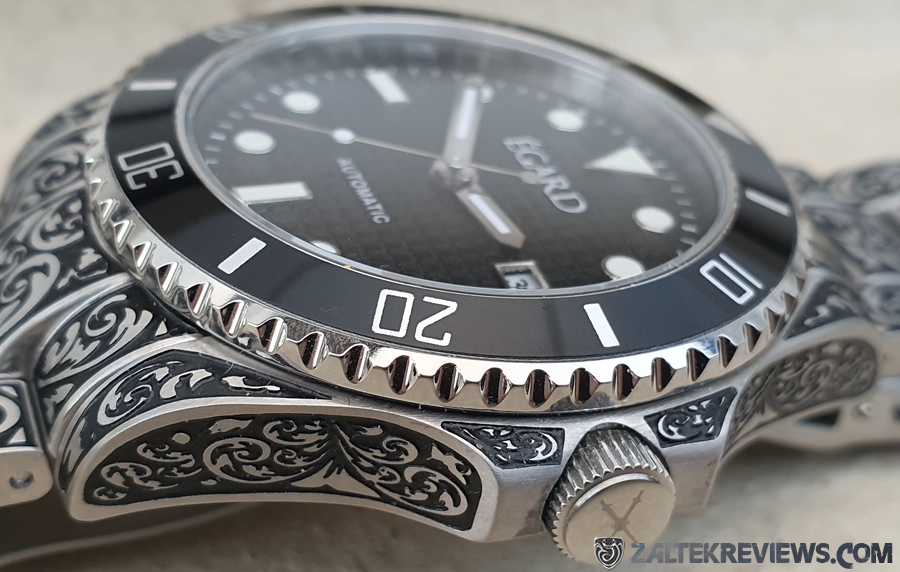 The Poseidon has a water resistance rating of 100m, which I think is a bit poor considering the watch has a screw down caseback & crown. The proportions of the watch, in my opinion, are good for my 7″ wrist as it wears pretty well on wrist, but I didn't find it very comfortable mainly due to just bad finishing and overall piss poor quality. Not impressive at all!
The bracelet that comes fitted to the Poseidon is nothing more than utter shite! It's fitted to the watch head decently enough, but it is so uncomfortable with sharp and unfinished edges I just couldn't wear this thing for any extended period of time. As I write this review, I'm actually wearing the Poseidon and even just sitting at my desk it's friggin' annoying me.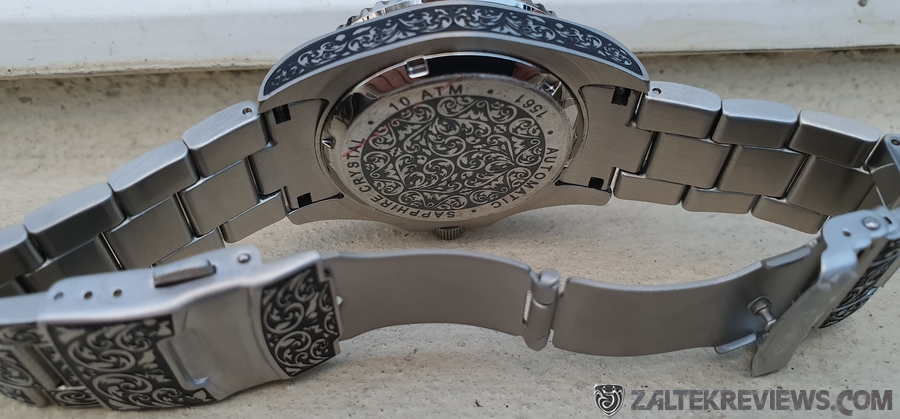 The whole bracelet & clasp just oozes cheapness if I'm honest. Don't get me wrong, I like value watches (Orient Mako II is a fantastic example) but when you're charged over £400 for this, it's just shocking. The entire bracelet rattles more than an OEM bracelet on a Seiko SKX. In fact, wearing the Seiko SKX is like wearing a Rolex compared to this utter shite!
The chosen movement for the Égard Poseidon is the Miyota 8215. It has 21 jewels and an approximate 40 hr power reserve. The balance runs at 21,600vph (3Hz) and the movement is not hackable. Checking the accuracy after running the Poseidon for a couple of weeks, mainly in my winder, I was rather disappointed with the results, with the Égard Poseidon showing an average of +23.2 seconds per day, although I should add, it is still within tolerances given by the manufacturer. Overall though, it is still disappointing that a watch that you've blown over £400 on runs as crap as this. I would also like to state that the movement is friggin' noisy, with it sounding like a basket of kittens!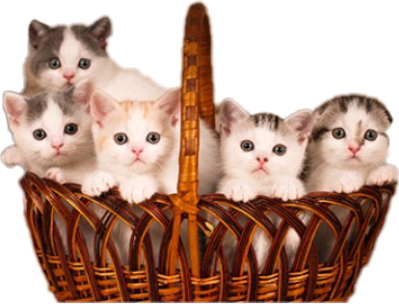 The Poseidon has a 120 click unidirectional bezel with an aluminium insert. It is of piss poor quality with various alignment issues. The bezel action is what I'd expect from a £40 Chinese special as it has way too much backplay. The text on the dial is printed, showing the words ÉGARD & AUTOMATIC. The black version that I have here, sports a waffle style dial. In my opinion, it gives the dial a very cheap look and feel. Surprisingly, the hour markers are applied with batons at the 6 & 9, with a triangular marker at the 12 o'clock position. There is also a framed date complication at the 3 position.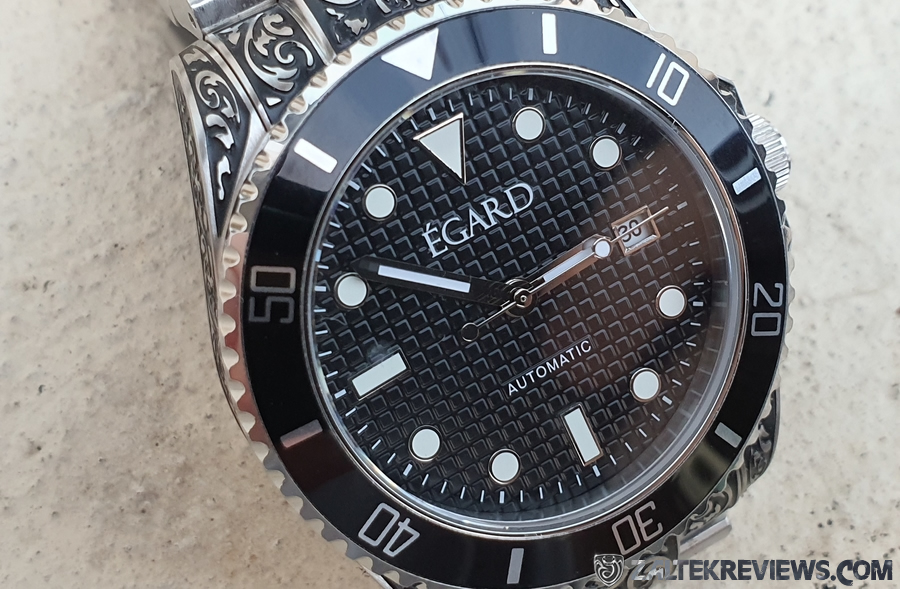 The hour and minute hands are decent with their fence post style appearance. The seconds hand is not bad either, with it's wee lumed lollipop section. All the hands are done in silver with a flat polished finish. I posted up pics of this watch to our facebook group WatchChat and to be honest, I don't think a single person said anything positive about the Poseidon.
The lume on this Égard I can only describe as satisfactory. The actual lume that has been used on the Poseidon is some form of Swiss Super Luminova®, I'm guessing BGW9, but it's not heavily applied as it's extremely weak and doesn't last long whatsoever. After just 2 minutes, it died of death and to be honest, I even tried giving the Poseidon a fair fight, blasting it with loads of light from a UV torch to try and charge the lume to its best. Disappointing is an understatement.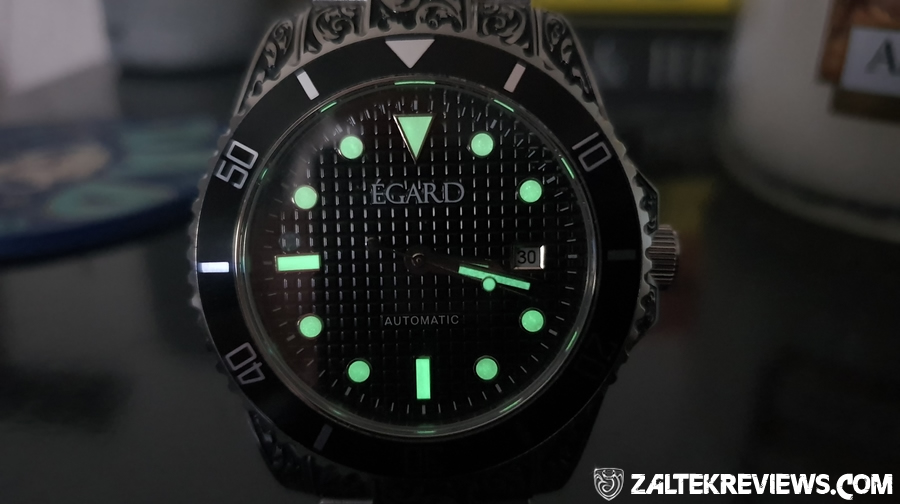 Well, what can I say to sum up this Poseidon from Égard Watches other than it's totally and utterly SHITE! An extremely cheap movement that's about as much use as tits on a fish, extremely bad build quality throughout and I think this is nothing more than a cash-grab from Égard. If you buy this, you seriously need to give yourself a slap and return it! Over £400 for this? Talk about shit value for money!
As I've mentioned, it's extremely uncomfortable to wear and it's a total relief to take it off your wrist. I hope I never have to review another watch that's as bad as this pile of crap. The finish that's on this watch is marketed as hand finished. I can confirm through an external source that it's not. It's machined and probably costs about a tenner to get done or more likely, just an off the shelf item from some factory in China.
Égard Watches – Over £400 for this! Are you drunk!? You should rename your company to "Dick Turpin Watch Co" as I'm pretty sure you wear masks on a daily basis. Please, for the love of f**kin' christ, sort out these watches and your quality control as currently, I don't think it even exists. Either that, or Stevie Wonder must have started working at Égard Watches.
2/10 - KEEP YOUR HARD-EARNED CASH AND BUY SOMETHING DECENT!
Follow Zaltek Reviews on
Instagram
and
Facebook
and please feel free to join our Facebook group
WatchChat
, a busy community for watch enthusiasts and collectors, with tons of images and in-depth discussions.
At Zaltek Reviews, we encourage the companies whose watches we've reviewed to comment on our articles. We invite any company representatives to respond in the comments section below. Thanks very much.